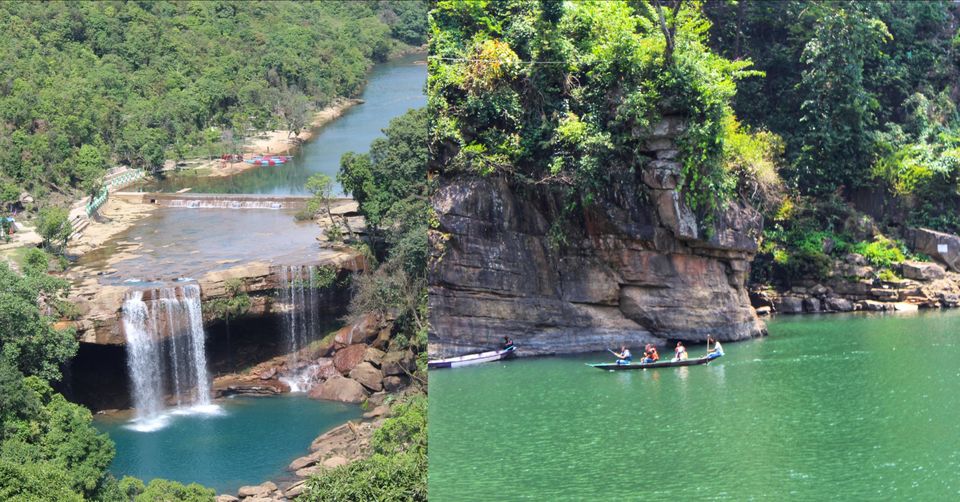 It all started with an image of the turquoise waters falling down a cliff . And the words beside the picture competed against the enchanting blue waters to reveal themselves, "Krangshuri waterfalls". And Google told me that Krangshuri, unlike unaffordable swiss landscapes , is in India, waiting to be revealed, hidden in the cloud state of Meghalaya.
Krangshuri was a stimulus, the dream of visiting transparent waters in Umngyot river flowered into a plan. Because, you can start from Shillong( the capital of Meghalaya) towards Dawki( where Umngyot river is situated), and once you proceed through a well maintained road (thanks to the strategic Indo-Bangladesh border), you will reach Krangshuri falls, and the road further takes you back to Shillong.
Public transport is not dependable to visit these attractions. Bikes can be rented from Shillong( ensure that the bike gives sufficient mileage for fuel) . To complete Krangshuri and Dawki in a day , set off by 7 in the morning. The road is well maintained except for the final few kilometres to Dawki. (PS: If Mawlynnong, the cleanest village in Asia, is in your bucket list, take one extra day and halt in the village at night, which is at a slight deviation from our route).
The road is deserted with only some taxis that seldom come in your way. I haven't travelled in any other roads with fewer petrol stations. No restaurants are there except some shops selling biscuits, placed miles away as if they have serious enmity towards one another. BSNL has always been there for me even in the remotest hamlets of India, but here it didn't come at my behest. Quite opposite to its habit, jio gave uninterrupted signal, and it was the panacea if I run out of fuel.
The road lay into the infinity, the azure sky ensured Meghalaya is beautiful even without clouds, lush green meadows and multicolored rocks aligned obediently on the sides of the road, making the entire landscape an alluring painting.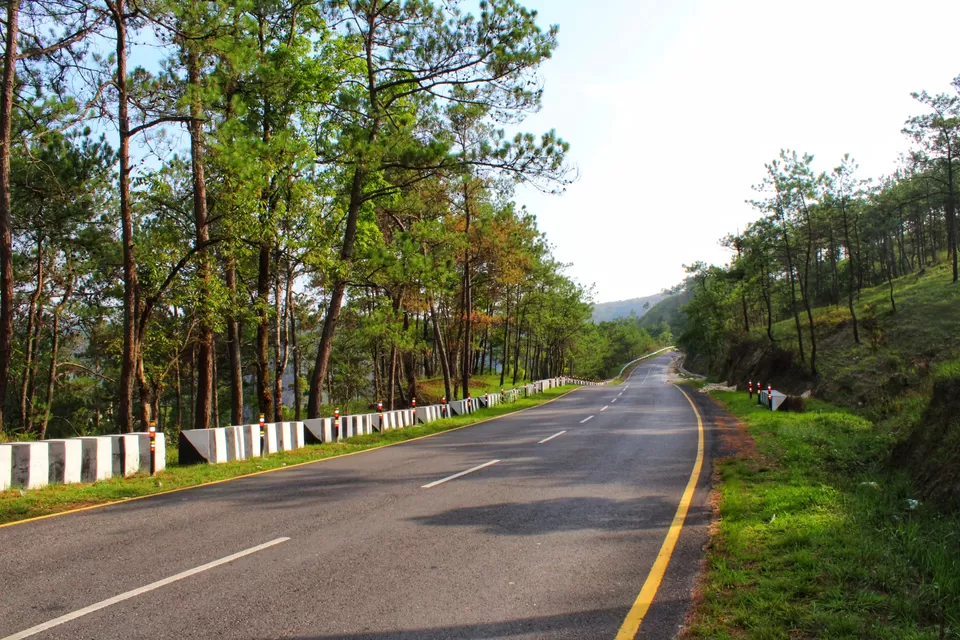 The travel junkies in you must have seen one crystal clear lake, in innumerable pictures, recently. It's the Umngyot river, situated at Dawki town, forming natural boundary between India and Bangladesh. It has a suspension bridge above, where these acclaimed pictures were taken. Unfortunately, photography is prohibited on the bridge now. The river was not transparent, though extremely beautiful, when I visited in April. The locals told the river is perfectly transparent from October to December. So make the plans accordingly.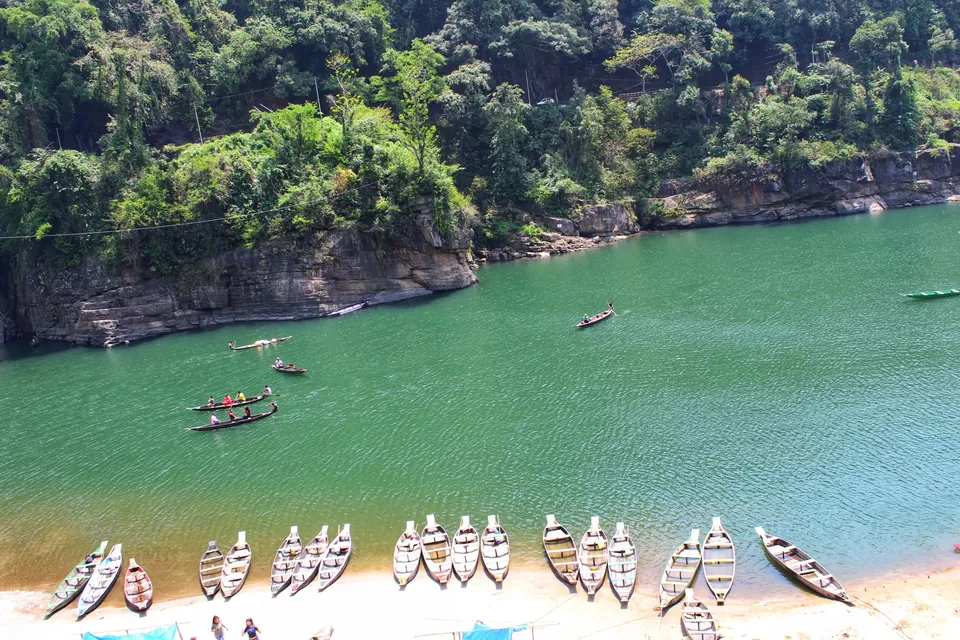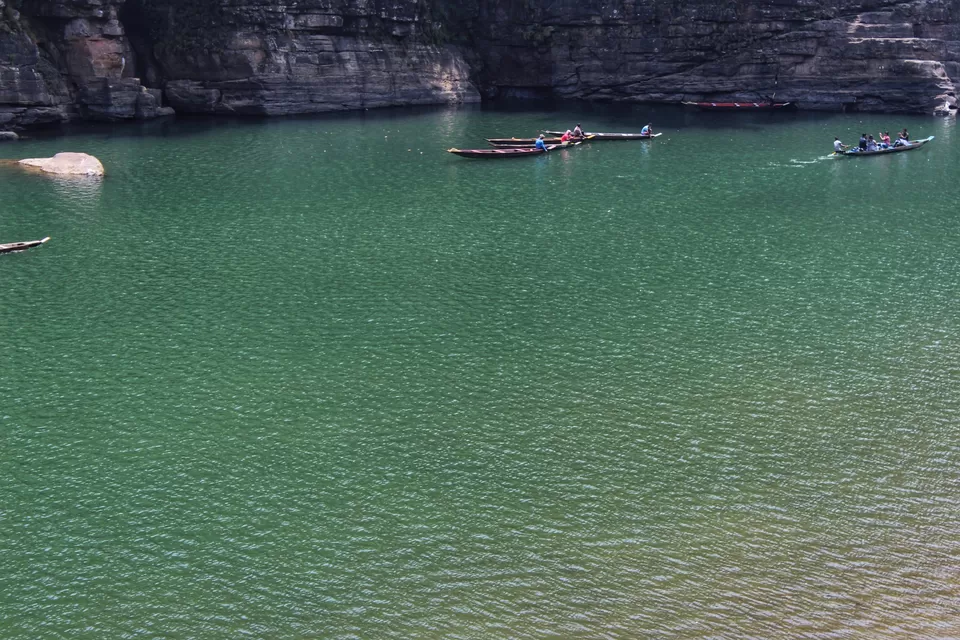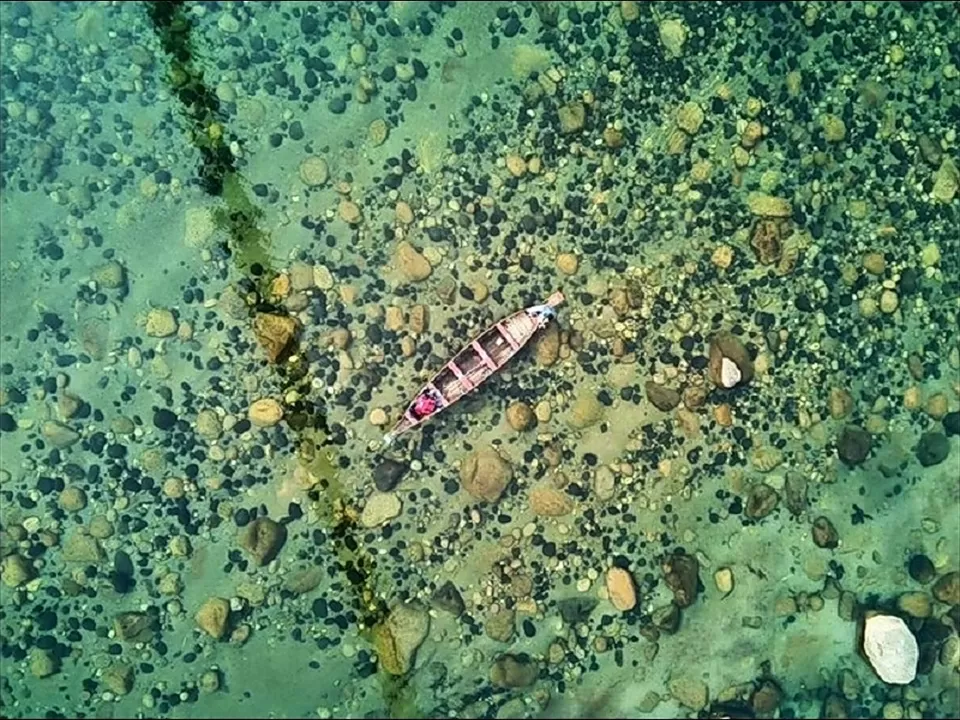 Since I was travelling alone, a local person warned me against travelling towards Krangshuri since the road will have infinite number of curves and so the number of trucks plying. I moved on, and the person was talking hell of a truth. The rest 30 km stretch had only me travelling in my lane, and the other lane had not less than a thousand trucks parked. No shops, no houses, no petrol stations, and as time passed the gigantic trucks too left me. Just before the destination, a place called Amlarem blessed me with a bank and a petrol station and some good hearted people. Quiet relieved, I deviated towards Krangshuri waterfall. It had no visitors then, and I saw the beauty in its entirety. If you wish, you can pitch tents there and spend a day appreciating the serenity of the nature.
The unknown road further took me miles ahead, passing through many surreal landscapes. When I reached Shillong by dusk, I was happy that these were literally hidden treasures waiting to be unearthed. Happy travelling! :)