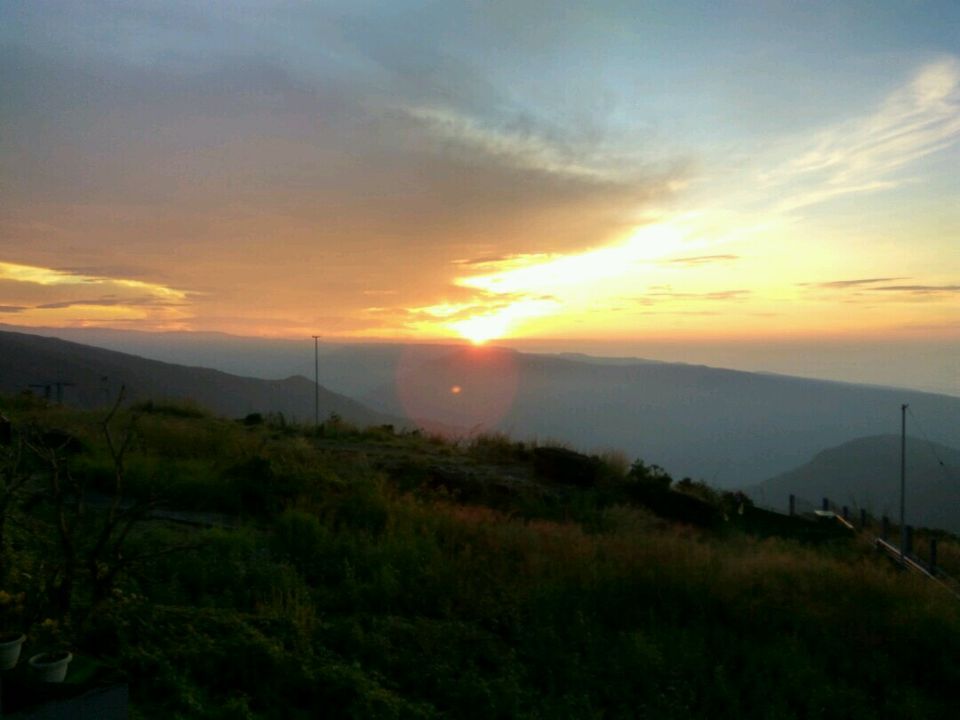 If you want to relax and unwind yourself, visit north-east (India). It is generally assumed that its best to take a long break and then visit the seven sister states, and in that slander the entire visit is washed out. On the contrary, I feel that this place is too big and beautiful to be completed in just one visit. Its best to plan small trips covering one place at a time to truly enjoy the beauty and relax.
I recently made a quick trip to Cherrapunji recently renamed Sohra. It is mostly remembered as the wettest place on earth (as recalled from our chilhood geography textbooks). We had visited in the month of September so didn't see the fervour of he monsoon but the green beauty of the place was explicit. Infact, it was like an extended trip from Guwahati where we were traveeling for professional purposes.
We started in the evening from Guwahati by a cab, a driver who was well versed with the route (and I also think was confusing himself to be driving a plane rather than a car). At godspeed we reached Sohra very late in the evening in a travel time of about five hours. As north-Indians, It was the first experience an overtly early sunset with darkness plunging as early as 6:30 p.m. It was completely dark when we reached Sohra. We checked into our resort called Polo Orchid Resort. The Log hut of the resort provided a comfortable stay with a chic ambiance.
The location of the resort was excellent and one could not have asked for more. Nestled on the border of India and Bangladesh, we could see the mountain ranges of Bangladesh from our hotel balcony. The phones were either out of range or in some cases even caught the network of Bangladesh mobile network. As the dawn broke quite early (around 5:30a.m), the picturesque beauty of Sohra was now conspicuous in front of our eyes. The shades of red and orange enthralled the morning skies making us realize that we were standing in the land of the rising sun - eastern India. These scenic views were all comfortably accessible from our balcony and even the bed. It also ensured that our day started early. After having a satisfying breakfast from a restaurant which had the overview of the Seven sister falls, we started to look around places as we were short on time.
The first place to visit was the Seven sister falls which was just next door to the resort. The spectacular view engrossed us. The best part about it is that it is pristine, untouched beauty with no changes brought in for tourism and commercialization. The seven falls interspersed by thick greenery reminded me of the famous quote,"A thing of beauty is a joy forever." There is also provision of binoculars at a throw away rental which can be used to have a closer look of the falls. We realized that the amount of time spent here will never be enough to fulfill our joys and with the hope of seeing more such beautiful places, we left from the famous falls.
Our next stop was Nohkalikai Falls which was may be an hours drive but the roadside beauty kept us wide eyed. Nohkalikai Falls is the tallest plunge waterfall in India. It is to be viewed from a mountain top but when we reached the place, a playful cloud decided to play hide and seek with us and obstructed the view by standing right between the mountain top (us) and the falls. All we could see was a dense white, slightly humid yet refreshing big white mass standing in front of us. Although what the cloud didn't realize that even this sight was a pleasure for us. We decide to meanwhile roam around the flat landscape till the cloud relents. What we were going to experience next was something which can neither be imagined nor described. The small road went on to become stringent in its breadth till it got lost in the vast green surroundings with a green signage claiming "Sohra - wettest place on earth" and a milestone saying "Sohra 0". We were standing in the midst of grasslands, immaculately green, white clouds hovering over it completely obstructing the streaming of the sun rays. there could be just one caption, "Sohra- where heaven meets earth" . It was an unforgettable sight which got etched in our hearts and minds till date. Our only wish was, only if we could continue to spend the rest of our lives in this beautiful and peaceful environs. As I had mentioned earlier, the virgin beauty of this place added to the subtle glamour. Switzerland was right here in front of our eyes. There were some roadside stalls of eatables and locally made products of wood. Each piece was aesthetically beautiful but problem of carrying it back home was the only deterrent. Cinnamon packed in small bundles was being sold for a mere Rs.20 per bundle. Believe me it is the best quality of Cinnamon I have come across and it was more than value for money.
By now the cloud had cleared the path and we came back to the cliff from where we could see the Nohkalikai Falls. It is tallest plunge water fall in India forming a plunge pool with unusual green water. Again, a beautiful sight of nature worth cherishing for ages. After spending some time in the vicinity of the nature, we started for Guwahati. On our way back, we also came across various points of zip lining adventure from one peak to another. There were many people going for it which was being conducted with utmost caution and precision.
On our way back to Guwahati , we also stopped at Umiam Lake/Barapani. The lake serves as a major tourist attraction and also a popular destination for water sport and adventure facilities. But what I enjoyed the most was sitting on the banks of the clear waters seeing the setting sun. Being dusk, the adventure activities had come to a halt and a calm serenity enveloped the place. The calm waters occasionally rippled by the steamer boat at a distance, pleasant weather and a fluffy grass to sit on just a few centimeters away from waters - a complete recipe to relaxation. The time seems to rush when one is experiencing joy. As the sun was about to dip in the clouds, we decided to start our journey to Guwahati.
So, this was our trip to Sohra. Although we missed few places like the caves but the joy of having wonderful memories of the places we visited is more than enough for us to bear the loss. Sohra/ Cherrapunji is a highly recommended tourist spot which is a place with pristine beauty. I think everyone should make atleast one trip to this place. I am sure it will give memories of a lifetime.