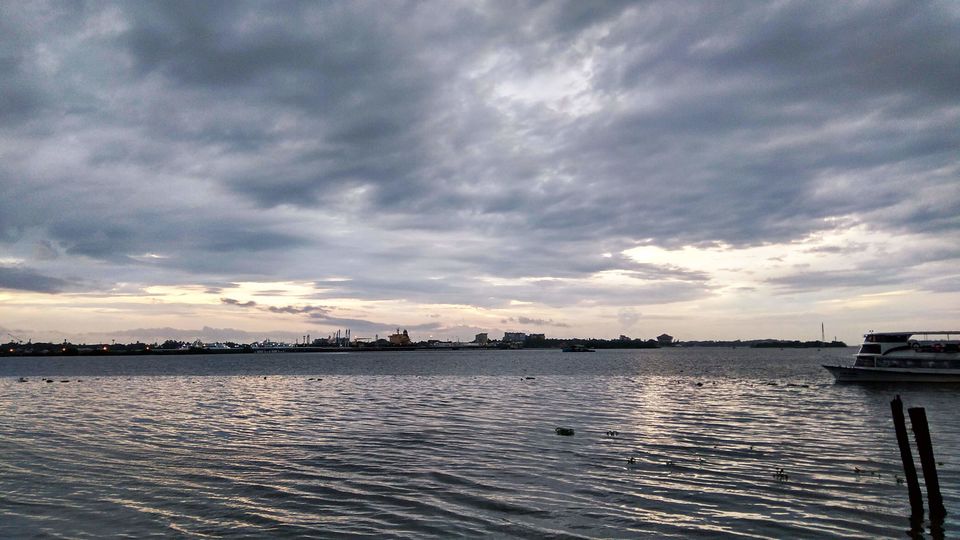 What would you do when you have a long weekend ahead of you, your friends have gone to their hometown, and you have nothing planned. Will you sit down; eat, sleep and watch series and movies all day. Or would plan a trip somewhere. The later becomes more difficult when you are used to travelling with your friends, a journey which all of you plan over a month and do it as per the fixed itinerary. I came along such a situation, and I decided to step out of my comfort zone.. Yeah yeah, you can definitely say, why, a guy, who is from a big city like Mumbai, has been moving through different towns from the last two years is finding it difficult to go on a solo trip... Believe me, not everyone is same, and I'm one of those people who need to plan everything before going somewhere, who always flinches before trying out something new.. And you know what, I'm glad that I really took this opportunity. Instead of sitting in my room for 2 days, I went on my first solo trip to Kochi...
I started my trip from Mysore. I booked a bus of 6:35 PM from the KSRTC bus stand. As I'm used to planning my trips, so I had already booked my bus tickets to Ernakulam and back and also for my stay, I had booked in Zostel, Kochi. I hopped into my bus, and as usual, it departed 15 mins late... Huh... When will they understand the importance of time... Now I'm used to it... It was an overnight bus and the total travel time is approximately 8-10 hours.. Which depends on the bus you book and also on the weather and traffics conditions.
The bus was supposed to reach at 4:30 AM. It arrived an hour late. No issues here as I got an hour extra sleep. I stepped down and asked around the nearby auto. Seeing me as a tourist and non-mallu, they were overcharging me. I booked an Ola and hopped into it. Normal Auto would have costed me Rs. 500 while the Ola cab costed me just Rs. 200. The journey to my place was the first thing that I liked. To reach Kochi, you need to cross two bridges. One to Willingdon island and then another one to Kochi. You'll get an awesome view of the harbour from both the bridges.
P.S. : Willingdon island is the biggest man-made island of India.
I reached Zostel in half an hour, got fresh and took a nap for some time.. Woke up, refreshed myself, munched on some biscuits that I had and headed out to explore.
The very first thing that caught me was silence.. And the weather.. It was monsoon, so it wasn't sunny, even at 11 AM. It was so calm and peaceful.
First, I went to Santa Cruz Basilica. Well, not a religious guy but I need to say, the architecture of the place was eye-catching. Its gothic style structure is something you don't get to see very often in India. I didn't spend much time here and headed towards the beachfront to see the Chinese fishing nets of Kochi. You can then visit the tourist centre nearby for the local info and places to visit.
The only downfall of Kochi is that despite being a coastal location, it doesn't have any good beaches. It just has a pathway along the sea where you can have a short walk and have some snacks. It was overcast, and it was possible to take a walk but still, the best time would be to in the evening. If you are interested in fishes, you'll get fresh fishes from the nearby market. They had many varieties of fishes including crabs, lobsters, octopus and squids.
You can then visit the Dutch Cemetery, which is just behind it. It's usually locked, but there were some workers inside it. We requested them, and they let us in. It's the oldest Dutch Cemetery in India which still holds the graves of some of the Dutch people who arrived here.
Yeah, by we, I'm referring to a bunch of medical guys that I met at the gate of the cemetery. They were exploring the city on cycles while I preferred walking. We discussed a few places to visit and then we parted our ways.
I then bumped into a rickshaw driver for asking direction to the St. Francis Church. He asked about me, and when I told him I don't know Malayalam, he started talking in English. I was absolutely shocked because he was so fluent in the language and seeing an auto driver speaking English is something that you don't get to see every day. We struck a deal that he wanted me to visit a spice and saree shops for which he will drop me later anywhere for free. On that short drive, he told me so many things about Kerala, its meaning, the religious harmony in the state and many things. This was the best thing of the day, to hear about the rich history of the state from a local. He then dropped me to the Indian Naval Museum.
The museum houses two old bunkers, built by the British which they have now converted into libraries. One hosts the naval history of Kochi while the other houses the Indian Navy history. There's a short movie too which they play in intervals, but I missed it because it was lunch hours. There are other exhibits like bombs, guns, helicopter.
Now it was almost 2 PM, and I was looking for some cafe to have something. I walked for around 20 minutes and reached Princess Street where I had kalamari biryani in one of the cafes. I didn't check what was Kochi famous for in food and just ordered something. But it was actually delicious.
I had planned to go for either a Kathakali or Kalaripayattu show by evening. So, I roamed around and first went to St. Francis Church. This is the place where the last remains of Vasco Da Gama were kept before it was shifted to Portugal. Then I went to the Indo Dutch Museum. It houses various artifacts about the Dutch and the Portuguese culture and their influence in Kochi
At 4 PM, I went to the Kerala Kathakali Centre for the kalaripayattu show. I went into the theatre, and there were around 7 people in the audience, including myself. I was the only Indian in the audience, which made me a little upset. I knew that we, Indians, don't appreciate our culture and traditions much, but this was the first time I was witnessing it. After a while, a few more people joined, and the show started.
The show started at a slow pace. Some warm-ups and basic techniques. But it got more aggressive later when they began using knives, sticks, swords and urumi. At one point, it got so intense that the knife slipped and flew from one the warrior's hand and landed in front of the first row. In the end, they displayed some basic defence techniques for which I happily volunteered. I talked to one of the organisers of the place, and he gave me some more info about the art form.
I had tea at a small thekka and then went back to Zostel. Got freshened up and met my zostelmates.. Most were solo travellers like me.. I went out to David Hall Cafe for dinner with Aditya (Fellow Zostelmate) and had pizzas.. On coming back, all other guys had gathered on the rooftop and had a small party like a session with Jenga and chats till late morning.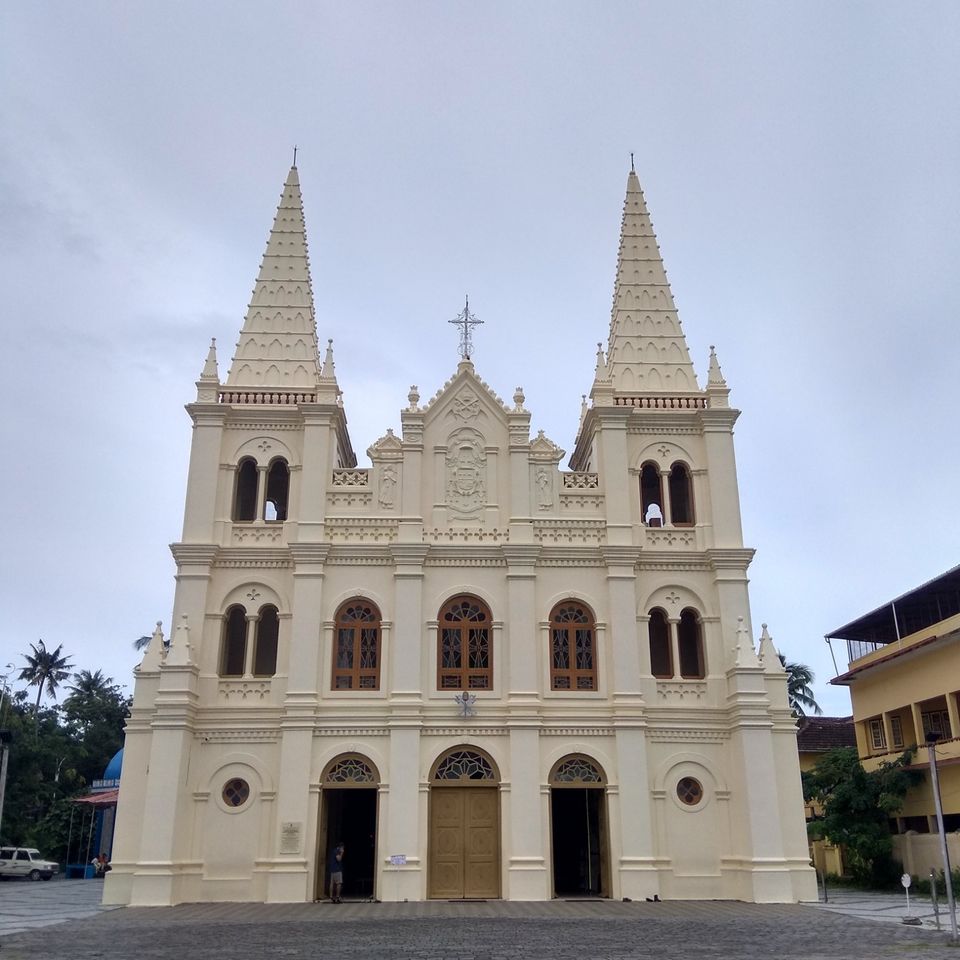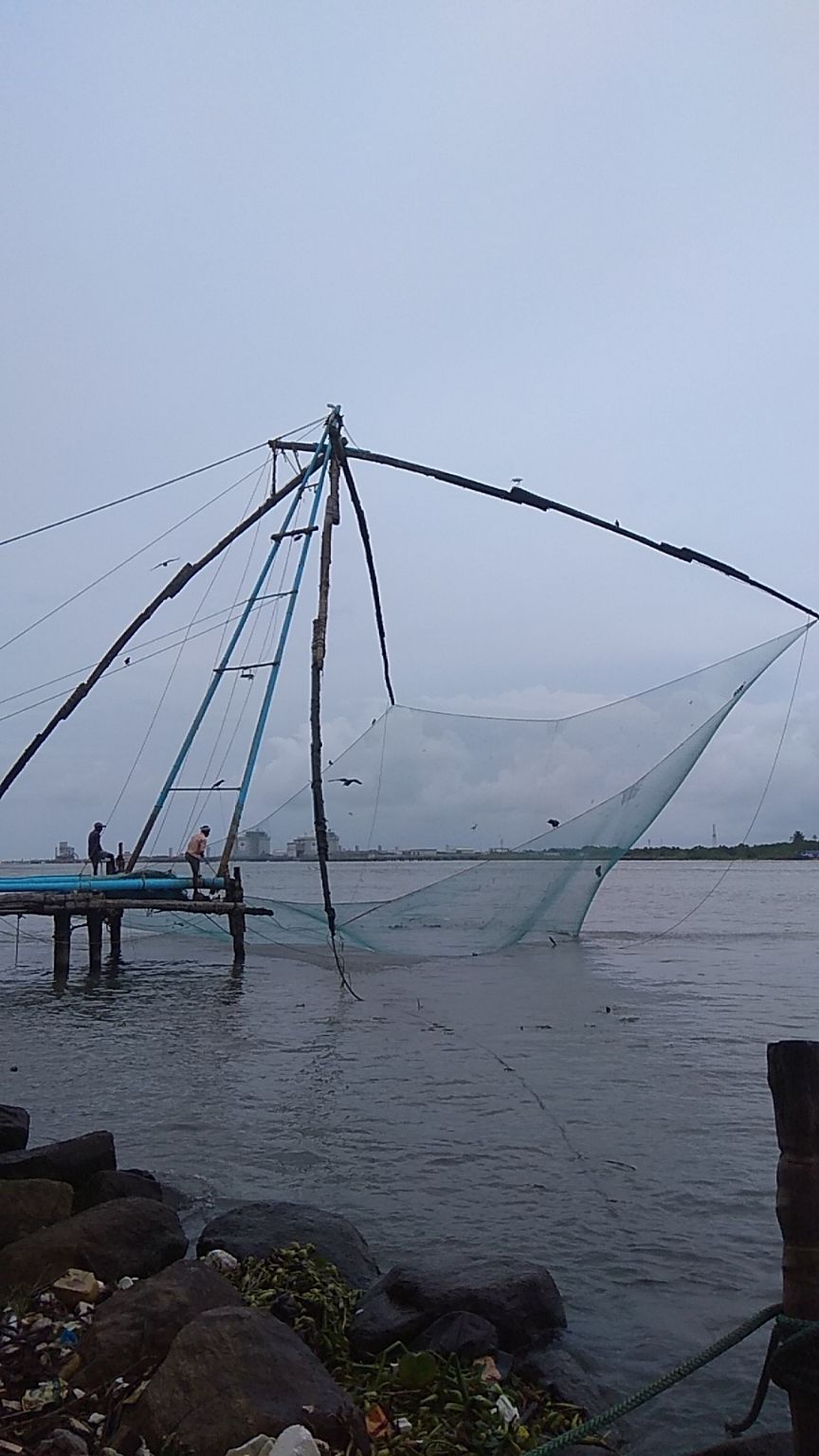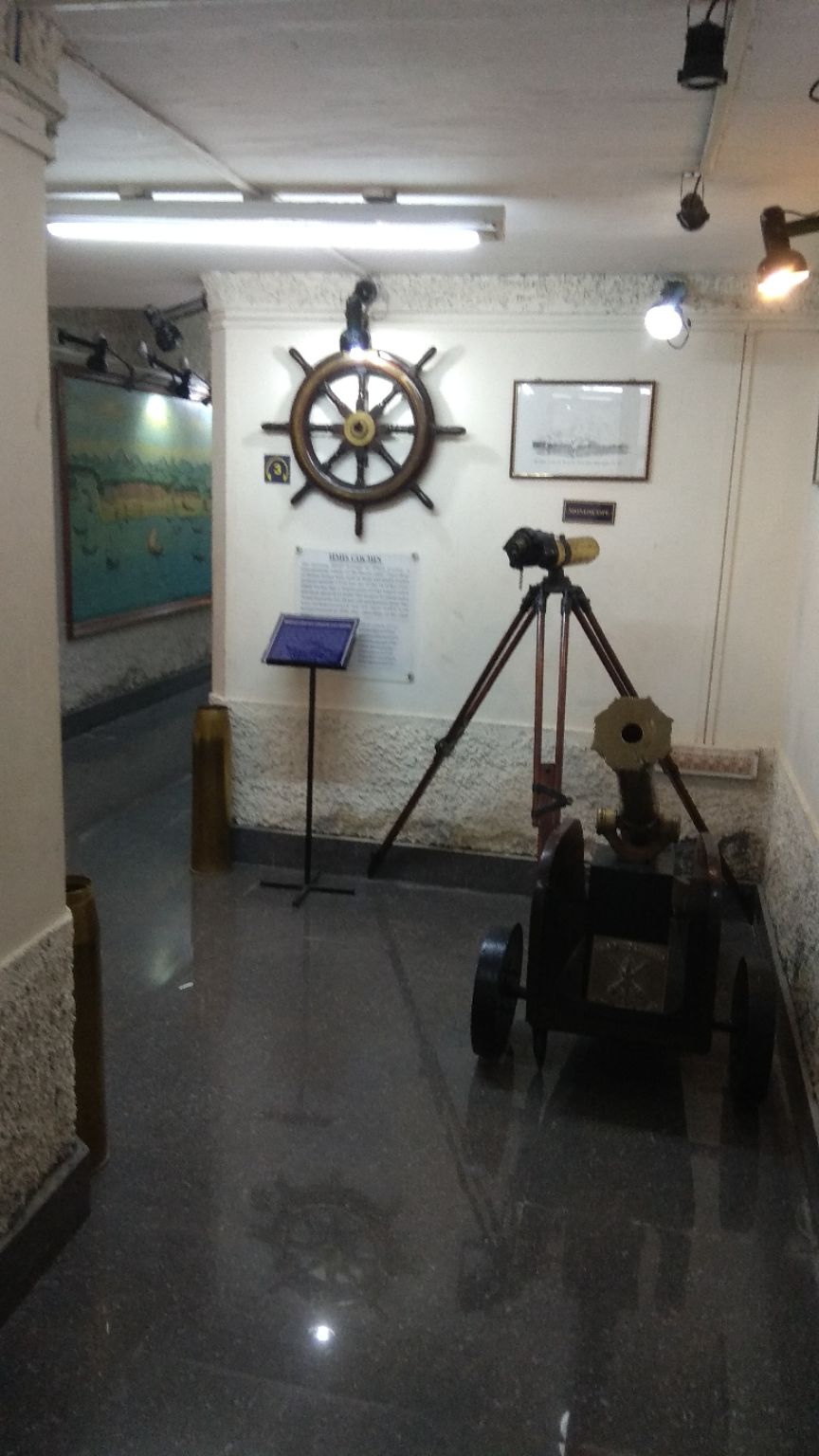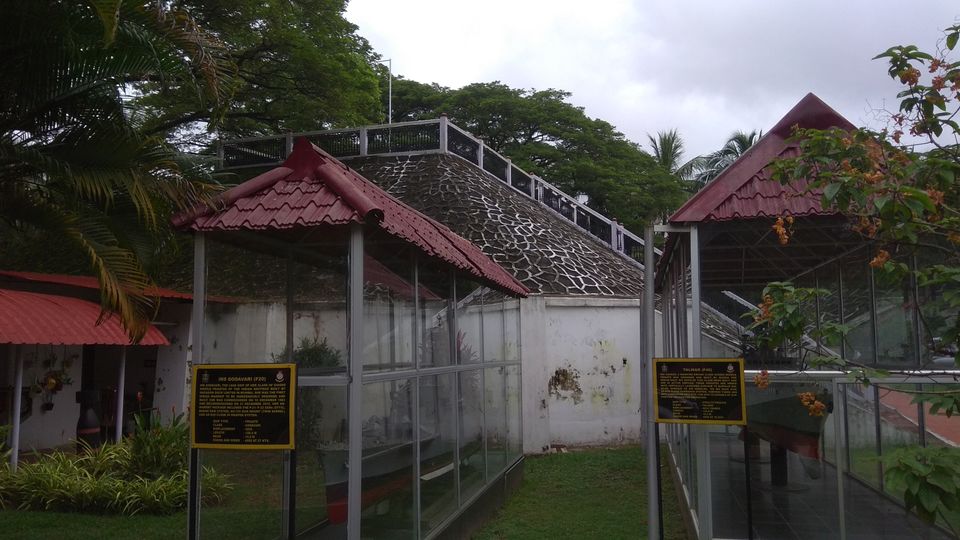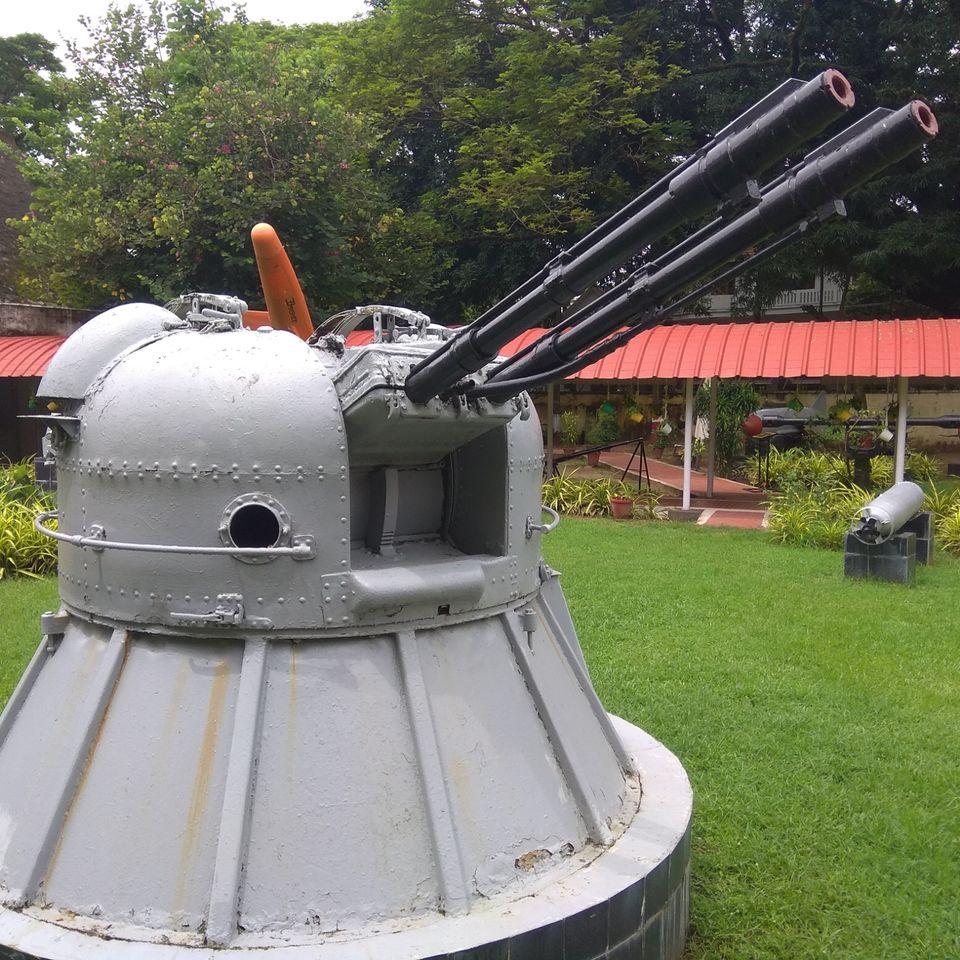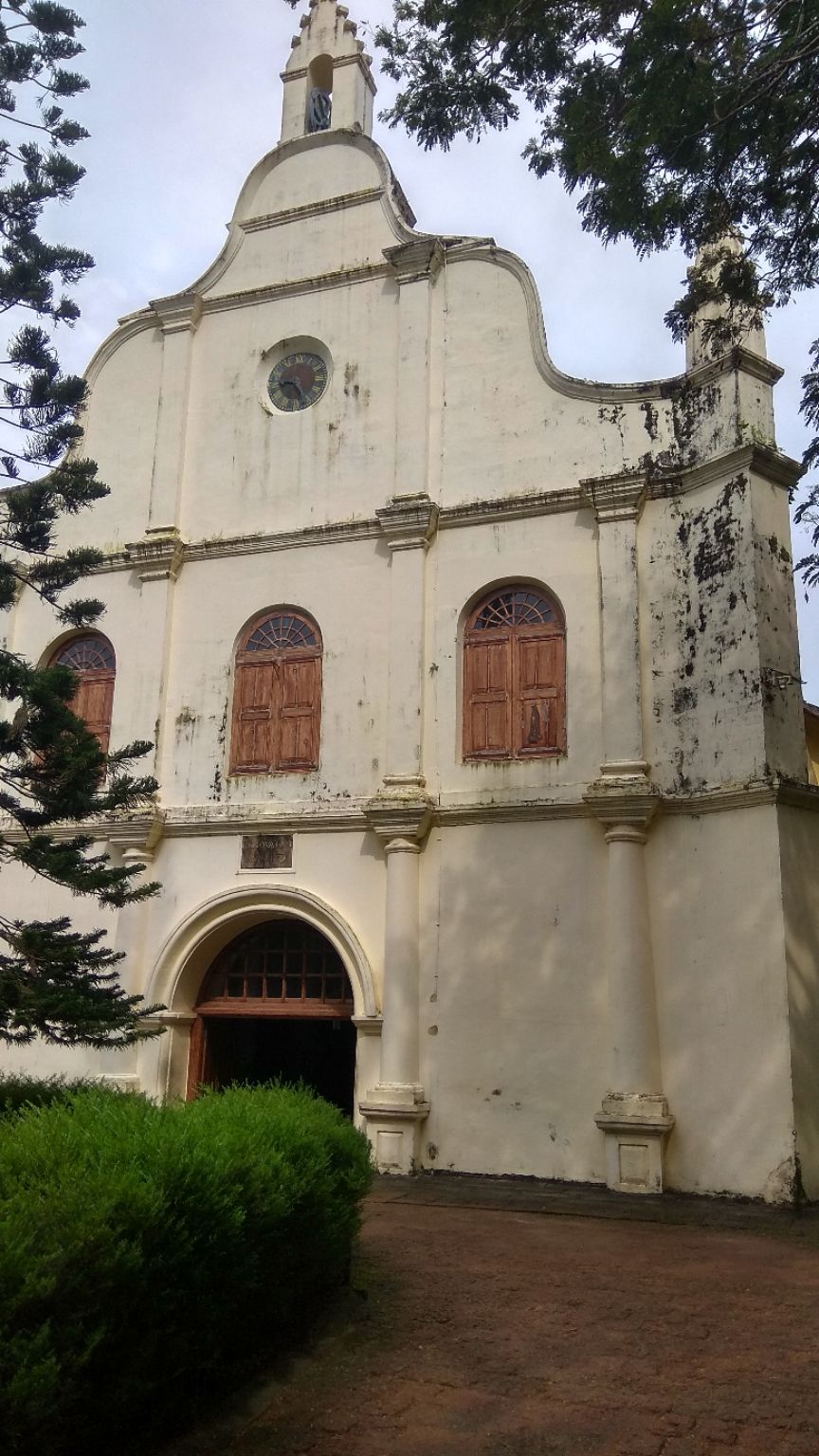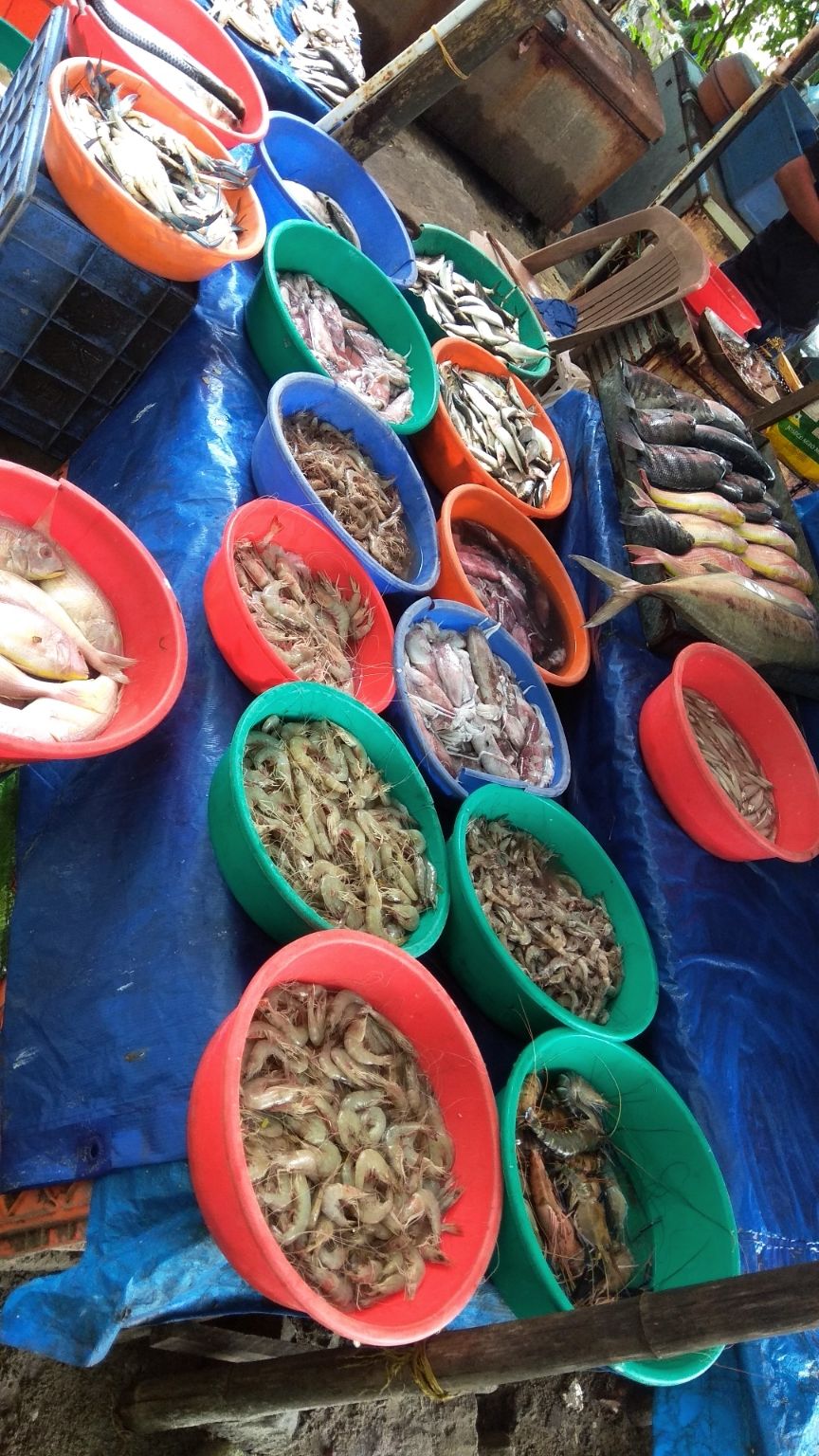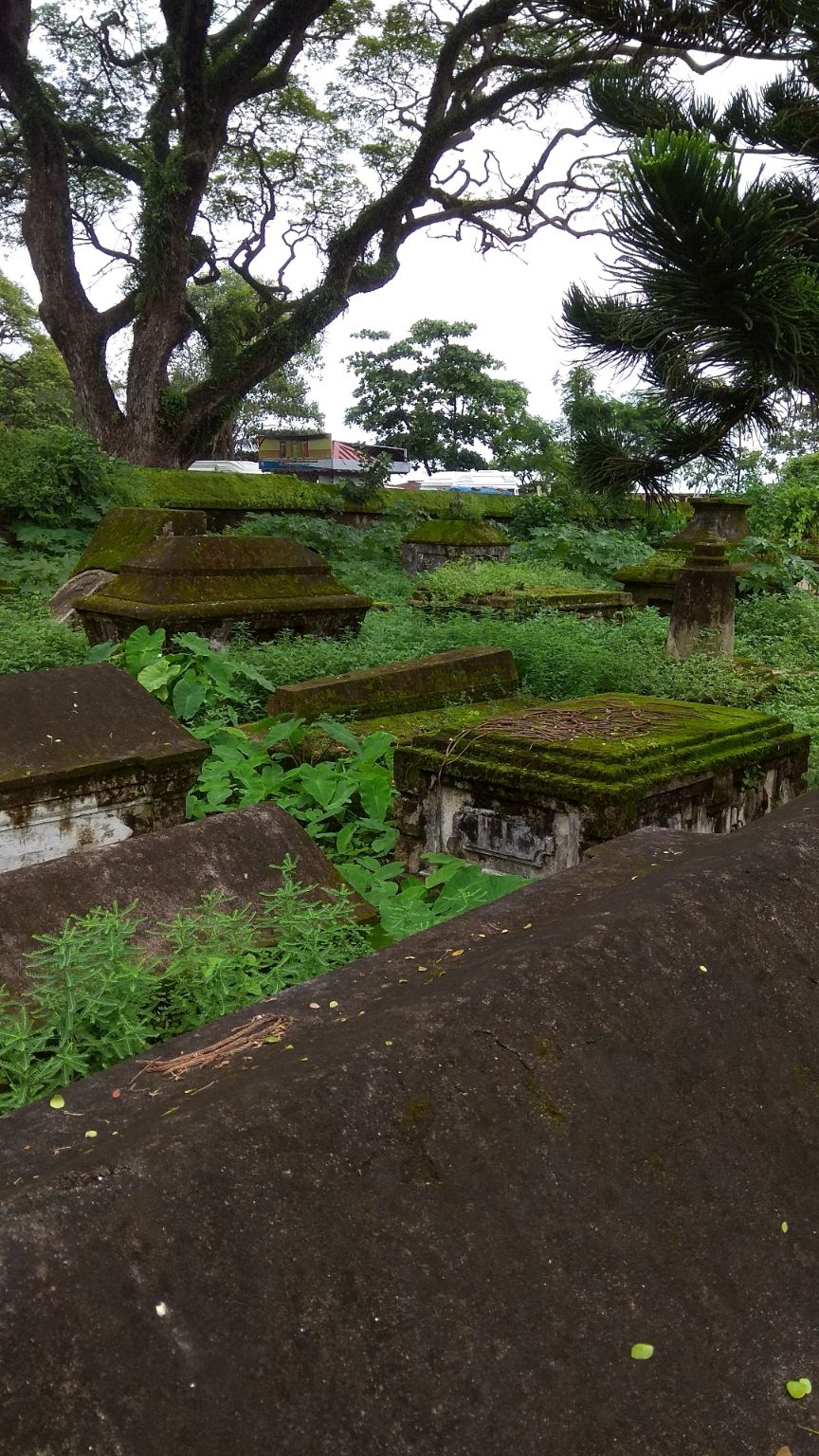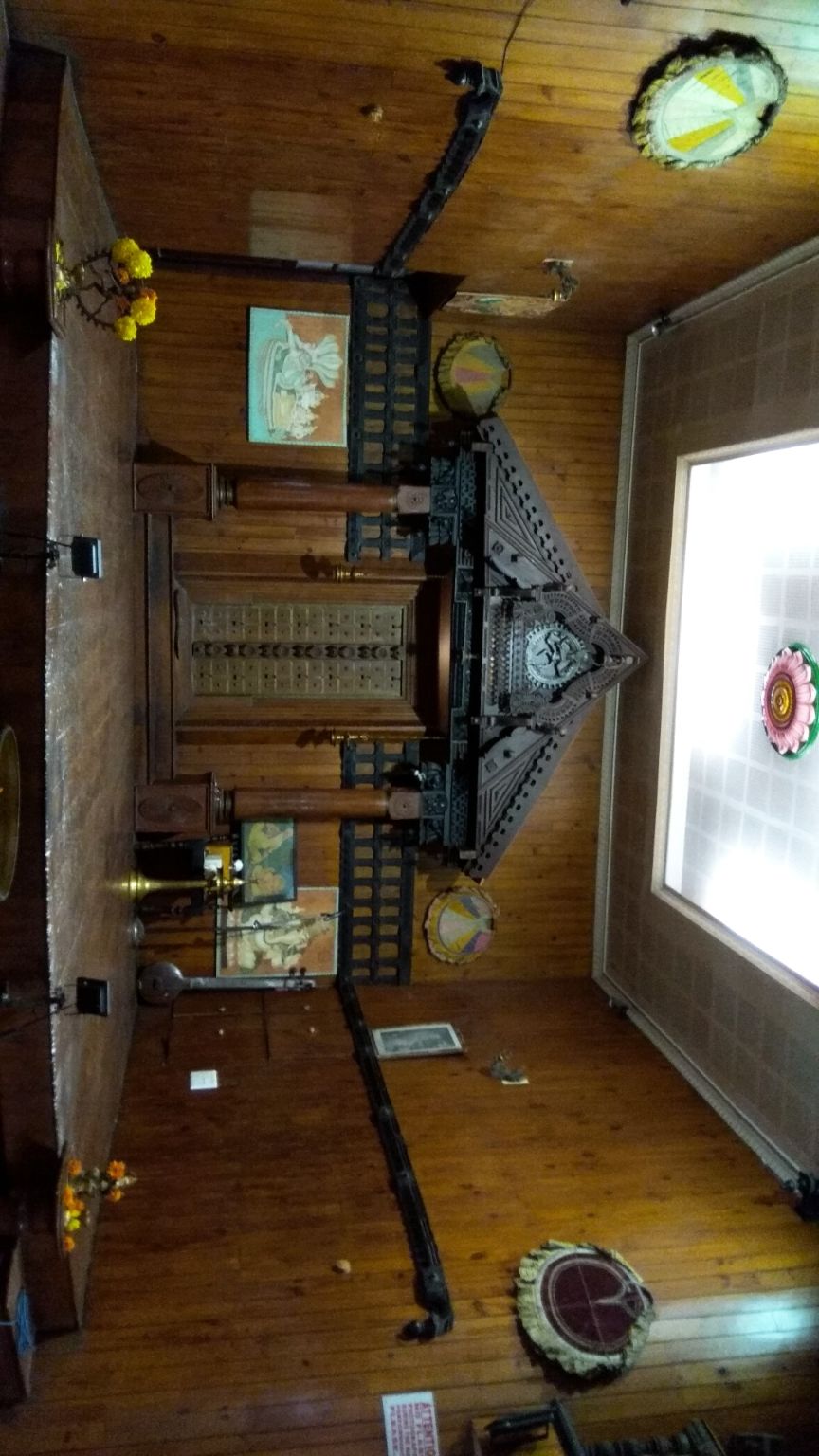 Woke up around 9 AM and got ready by 10. Then I went to a local restaurant called Lucky for breakfast. I had idiyappam (Rice noodles) with some stew and a cup of tea and was ready to explore again...
As I crossed the junction, I witnessed a completely different Kochi. Earlier the streets were empty and mostly lined with houses and bungalows. But now, it got crowdy, and there were shops along both the side of the road. This side Fort Kochi was exactly opposite to what I witnessed yesterday.
I walked towards the Jain temple to witness the pigeon feeding thing, but unfortunately due to some religious occasion, only Jain people were allowed inside the temple for that day.
Every day at 12:15 PM, a priest comes out to feed the pigeons. The pigeons take 3 rounds of the entire temple and then come down to feed on the grains. An impressive phenomenon one must really witness.
A few minutes walk from there is the Mattancherry Palace. It looks like an old, wooden house from outside but it is very well maintained structure once you go inside. It was actually built by the Portuguese people for the Royal family of Cochin. There's a small entry fee to enter it. You can take photos, but they are prohibited in some section, so you should be careful about it. Also called as the King's Palace or the Dutch palace, the walls of the palace are filled with murals depicting scenes from the Ramayana and the Mahabharata. It also exhibits portraits of the Cochin royal family, their history and culture.
Then I went into the Jew town and saw a different Kochi again. There were shops selling handicrafts and antiques on both sides. Again bad luck, as I couldn't visit the synagogue as I reached late and it was already closed. So I wandered around the town and came across this antique museum. It was free entry and who doesn't likes free things. It was filled with many antique musical instruments, cameras, electrical appliances, furniture, utensils. I wondered around the town for a while and then headed back to Zostel and relaxed for a while with my new friends.
I left zostel around 4 pm and walked towards the customs jetty to catch a boat for Ernakulam. It took me 20 mins to walk there. The ticket cost was only Rs. 4, and the journey took around 20 mins to reach Ernakulam. I directly headed over to marine drive as it was the last destination on my planned list. But the moment I arrived there, it started raining heavily, and I had to take shelter in the shopping complex. I was there for around 15 mins and left when the rainfall reduced. I had hardly walked for 5 mins when it again started pouring. Luckily, this time I got into a small restaurant where I had tea and some snacks until I waited again for the rain to stop. It was already getting dark, and I thought I won't be able to enjoy the evening if it continues to rain. Well, it stopped raining, and finally, I got the chance to explore the place. The evening turned out to be the best part of my entire trip. All the elements were perfect for me, no crowd, seaside, breezy and a cold climate. I went to the Rainbow Hanging Bridge and was mesmerized by the harbour view from there. It was a calm and serene moment with the sound of the sea waves in the background. I spent the next half hour just sitting on a bench nearby and listening to my favourite tracks while watching the sunset at the long horizon.
I left the place around 7:30 pm and just wandered around Ernakulam. I had striked out all my places to visit and there was nothing much to see around except for some parks in which I was least interested now. I still had time to spend as my bus back to Mysore was at 11 pm, and it was hardly 8 pm now. So, I walked for a while letting the city surprise me with something. But the only thing I found was crowded streets and some dark alleys. Not a religious fellow but as it was Ganesh Chaturthi the same day, I went to a temple which was nearby to ask God about his whereabouts. From there, I went towards the Bus stand and waited for my bus to arrive, which was late as expected. My bus came at 12 am, and my first solo trip finally ended.
Kochi showed me many things. This being my first solo trip, I was expecting many things to happen. Luckily, I didn't had any bad experience here. I left with few regrets, not being able to witness the pigeon feeding thing at the Jain temple and also missing out the Paradesi Jew Synagogue. I also didn't go for any Kathakali show as I was on a stringent budget. But these things are still there on my list, and I would definitely come to revisit this city to get lost in its awe and splendour. But that would mostly be a group trip with my friends. Because, here is a place which most may have heard of, but one can only experience its real richness on by coming here.