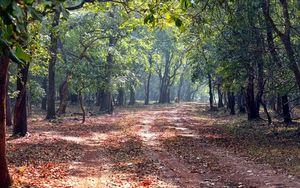 Cotigao Wildlife Sanctuary
Places to stay near
Cotigao Wildlife Sanctuary
Reviews of
Cotigao Wildlife Sanctuary
•
3
A World Heritage Site, the Bom Jesus Basilica contains the tomb and mortal remains of St Francis Xavier. The guides outside will show you the entire place for around ₹100.
About 9km from Palolem, is the beautiful and second-largest sanctuary of Goa, Cotigao Wildlife Sanctuary. The sanctuary is known for its dense forest of tall trees and the wild inhabitants – frogs, snakes, monkeys, insects and exotic birds.
Cotigao Wildlife SanctuaryA canopy of tall trees hardly lets light reach the ground here. It is situated around 2 km away from Poinguinim, a town in Canacona Taluka of south Goa. A lovely but hidden place, relaxing yet adventurous, and dominated by mixed deciduous woodland vegetation, it is a treat for all nature-lovers.
Attractions near
Cotigao Wildlife Sanctuary