The first thing that strikes you whenever and wherever you hear "yellow walls" is the pretty little coastal town of Pondicherry. With its vibrant Franco-Tamil culture and a breezy laid back lifestyle, Pondicherry has made it to the fancy list of the 'Best places in India you must visit before you die'.
Ticking it off, of my bucket list, I visited this lovely town on the long weekend of Independence Day, 2019. It definitely was one of the best decisions I made; for two reasons: One, it ascertained its credibility of housing the best colonial heritage homes that royally take you back in time and two, it evidently brought to light the fact that this union territory is touted and high-priced due to a handful clichéd touristy places and things when in reality, it has quite an ordinary yet unique side which needs to be explored better and more.
Having said that, here is a list of things (plus my take on them), including the typical ones and the offbeat ones that you must do to fall in love with Pondicherry despite its clichéd guise:
Explore the French Colony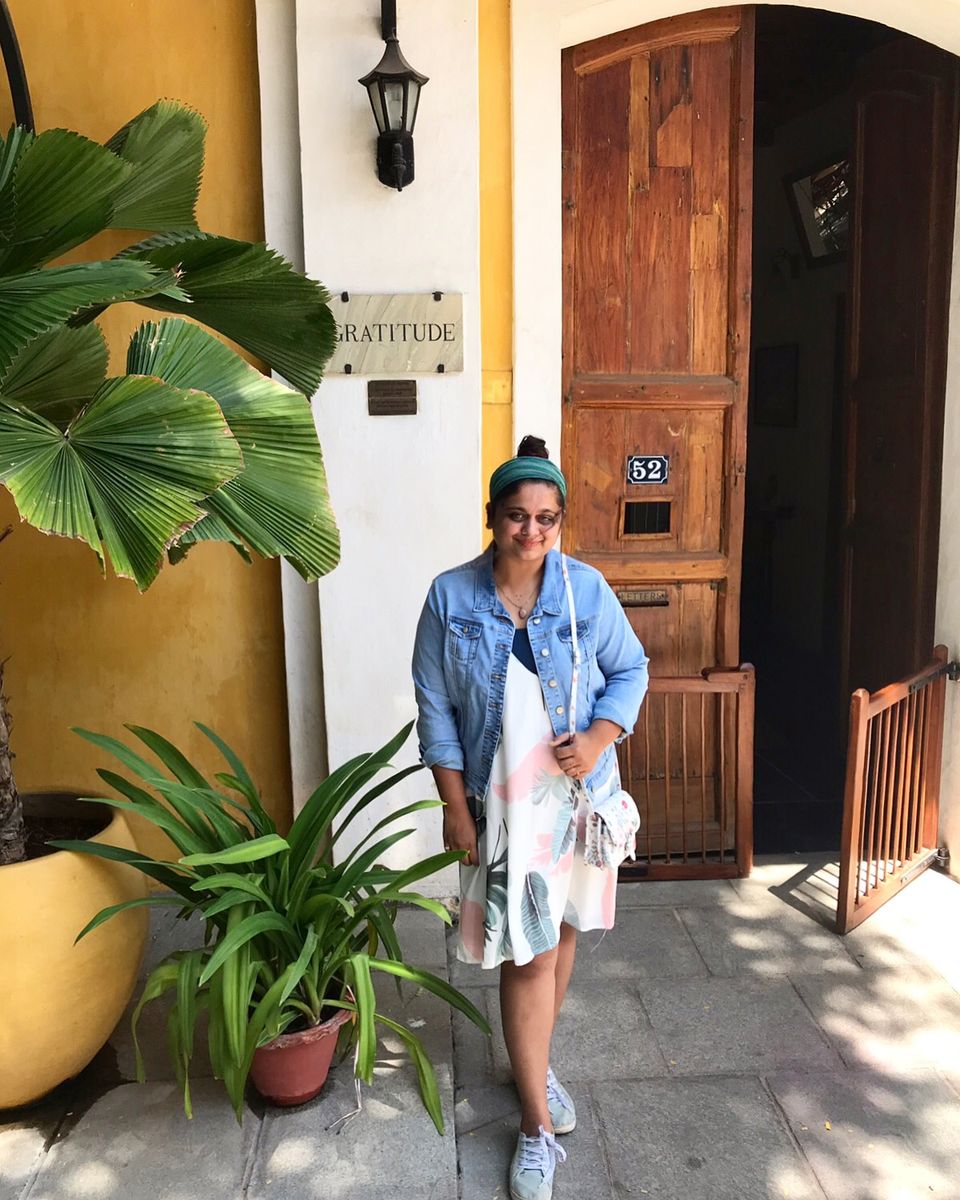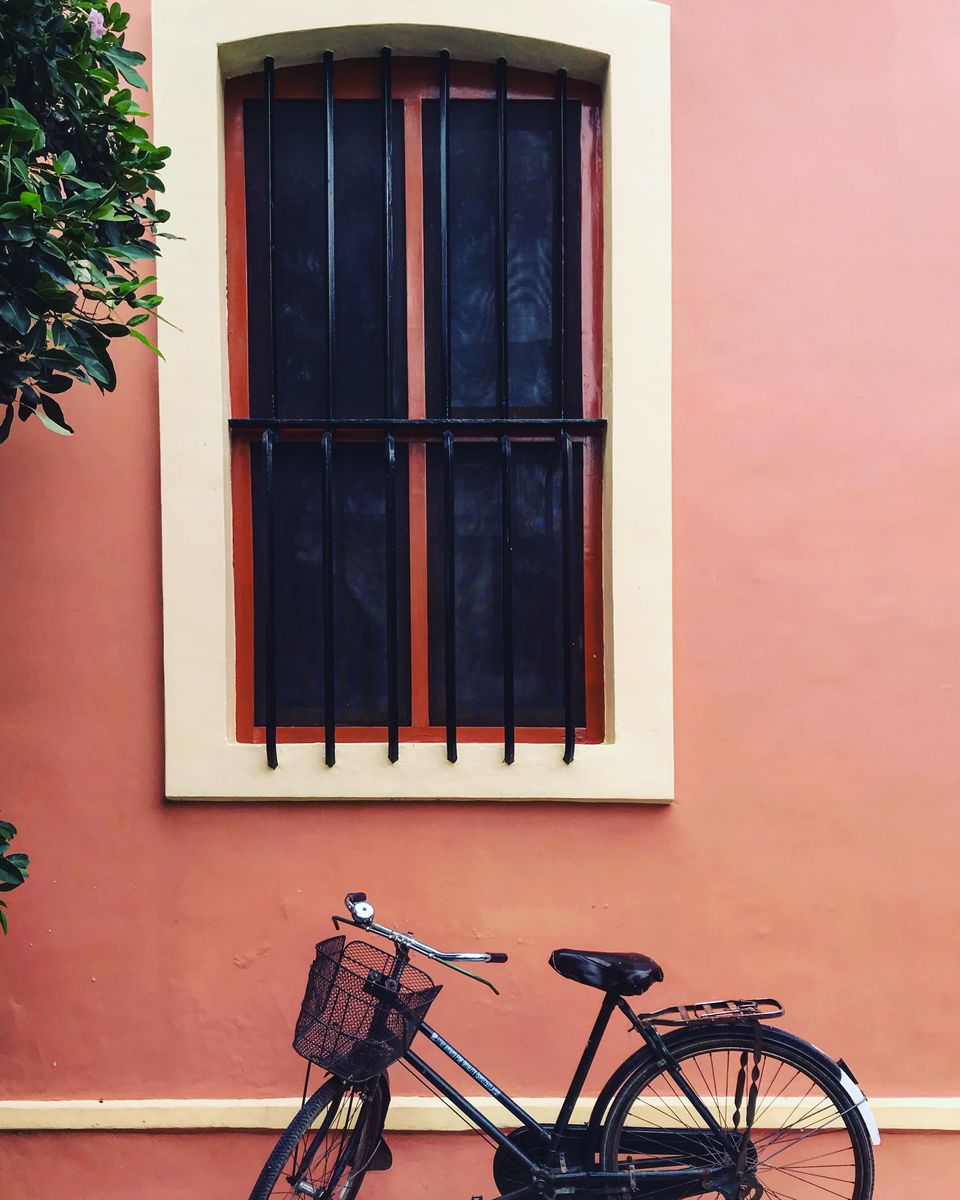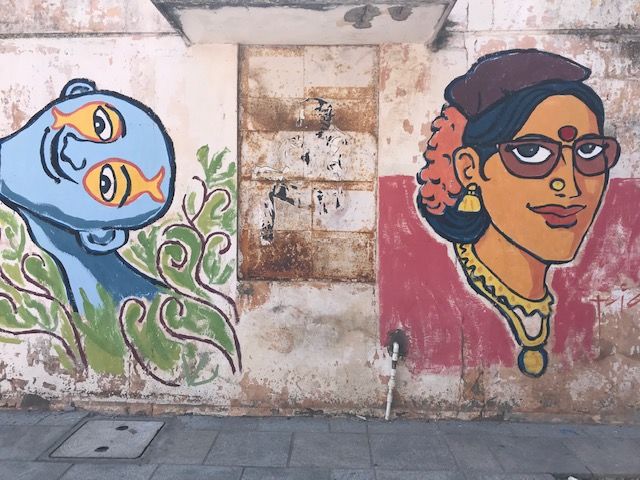 This is unarguably the most popular and most photographed place in Pondicherry. With many streets and their fancy names, French Colony/Quarters has some of the best preserved colonial heritage homes that are now converted into homestays and hotels, colourful graffiti walls, food joints that offer you everything right from authentic South Indian tiffin meals to freshly baked croissants as also several handicraft and antique shops. The best way to explore this place is to leisurely stroll through the lanes and absorb the essence of Pondicherry or rent a bike and explore it.
DISCLAIMER: However beautiful this colony is, there are a certain turn-offs that we must acknowledge.
1. TOO crowded. You will practically see people waiting for their turn at every other colourful wall to click the 'classic Instagram photo' and this ruins the entire experience. I am definitely not against them because despite being unoriginal, the photos look pretty and shout out the Pondy vibe. But then it's always better to first sink in that vibe and then capture it.
2. Quite overpriced. Except for the authentic South Indian places, the upstreet Continental and French Café's around the place are quite overpriced, especially for Indian tourists, in comparison to the taste they offer.
My recommendations: Suruguru Restaurant for a delicious South Indian thali and Bakers Street only for its croissants.
3. Stores are pretty but cost you a bomb. There a number of decked up stores here that flaunt an excellent collection of antiques, hand-woven garments and organic cosmetics but then they cost a bomb (again majorly for Indian tourists) and can only be appreciated. So if you wish to shop you better head to several local and roadside handicraft vendor stalls where you will be able to bargain and buy good local souvenirs.
My recommendations: Craft Bazaar for affordable ceramics because everywhere else they are way too expensive. Grand Bazaar and roadside handicrafts for scented flower embedded candles, soaps, lights and Tamil Nadu special Bommai dolls.
Ditch the typical and book a heritage hotel/home to stay: If you are a fan of vintage things and colonial households, book a heritage hotel or home instead of a typical four star hotel. There a number of great options in the French Colony that will make your stay memorable and let you completely blend in the culture.
Watch a play at the Indianostrum Theatre
If you are an art and literature lover and want to do something non-touristy, check out the small Indianostrum Theatre in the French Colony and definitely buy a ticket to their English play, whichever is running at that time, because the troupe is extremely talented, hard-working and ambitious. Though in a small place, their concepts are unique and mostly are a contemporary rendition of popular literary sagas, right from Shakespeare's Romeo and Juliet to Mahabharta. The one I saw, titled 'Flying Chariots' was a modern-day take on Yudhishthira's flying chariot and was worth spending two hours on a rainy evening in Pondicherry.
Visit the Art Colony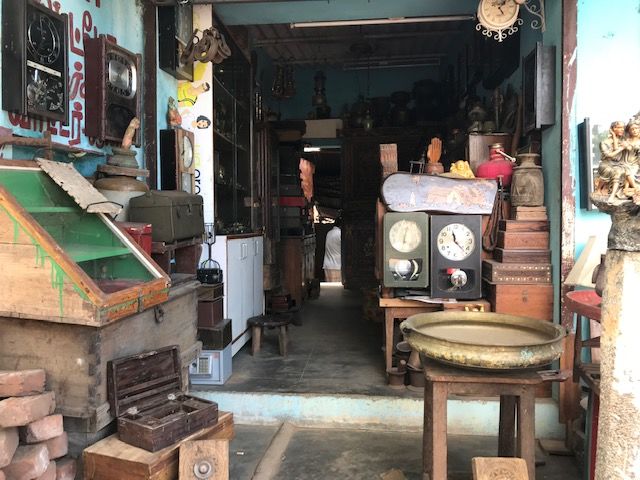 Around 6 to 7 kms from the French Quarters, this Art Colony is like a hidden gem that will be viewed by most regulars as a scrap market but for art lovers, as a paradise of antiques, colonial heritage furniture pieces and sculptures. Drive on a bike with the GPS on because most locals do not know much about this place. Art Colony is not a colony per say but just few small shops on either side of the road that have a huge collection of different kinds of colonial doors, windows, clocks, ceramic wears, furniture, photographs, wall frames, brass utensils, old lamps and things alike that date back to more than seventy to hundred years.
Check out the Police Museum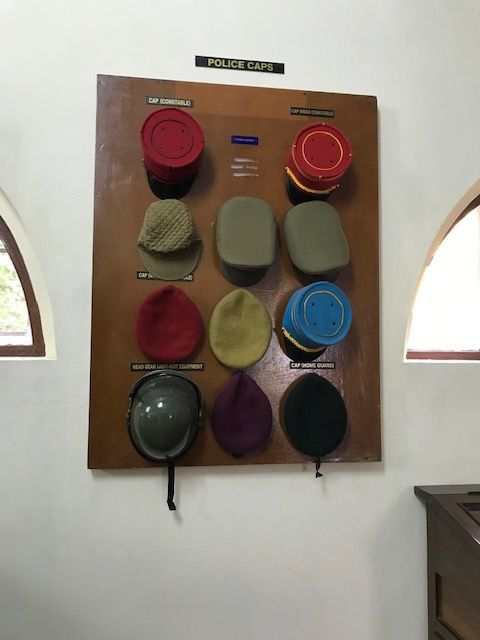 Adjacent to the police headquarters, in the French Colony, is the police museum which happens to be the only one of its kind in the country. It showcases an exclusive collection of the classic French style police uniforms, caps, guns as well as provides information of the history of this unique Franco-Tamil police force in Pondicherry.
Learn paper making at the Sir Aurobindo Handmade Paper Mill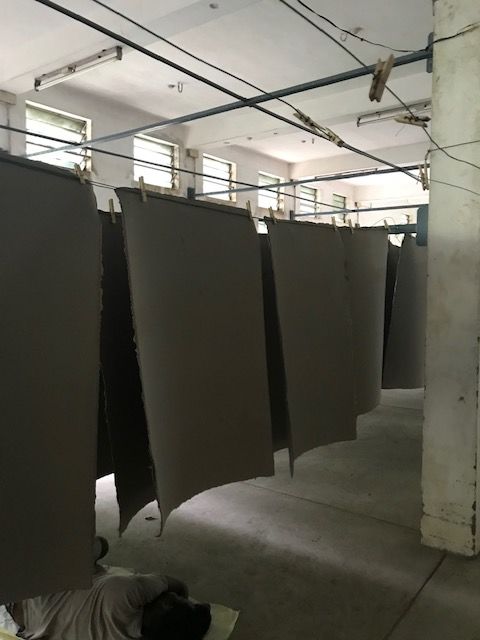 If you are fond of coarse handmade papers in pretty colours and embedded floral designs, this place is for you. Visit this small paper mill and take a tour inside to see the process of paper making and go on to their store to purchase tons of small, cheap products created from handmade paper as well bundles of a variety of papers that can be used for various creative purposes.
Only VISIT the Cluny Embroidery Centre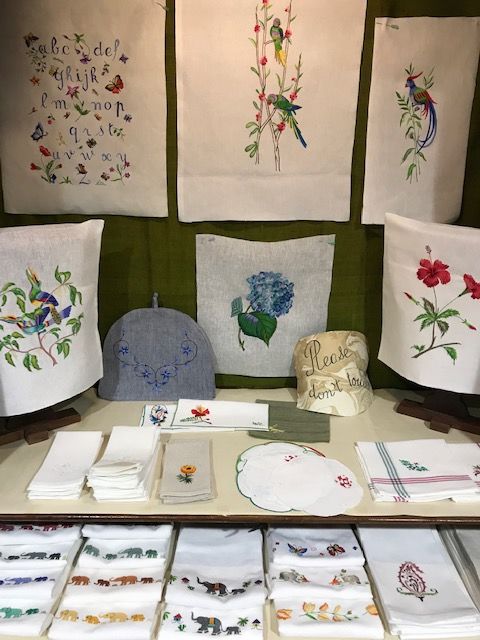 To see the dedication of women and the efforts being taken to empower them, visit the Cluny Embroidery Centre in White Town where underprivileged women make beautiful embroideries on a variety of cloth products like tablemats, coasters, table runners, handkerchiefs, handtowels and such others. It is a noble task being carried out because the money received from all the sale is given to these underprivileged women with the aim of making them self-reliant. However, the only downside is the price of every product. They are too expensive in Indian currency. Affordable prices could actually uplift their sales.
Take a morning walk at the Promenade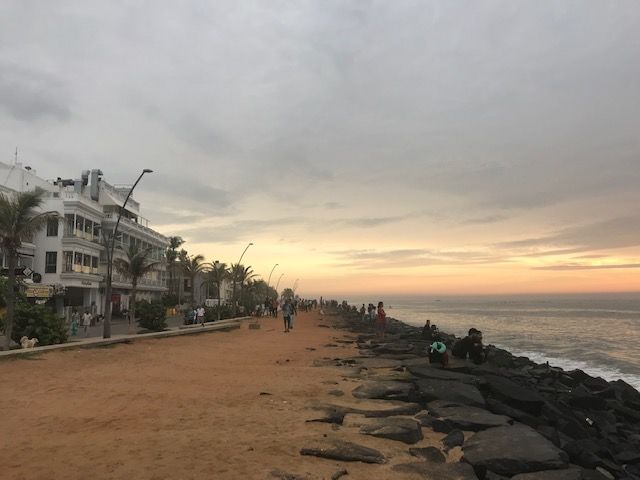 Most people opt to sit by the beautiful Promenade at night, eating a gelato and sucking in the winds but I would recommend a morning stroll to see the spectacular sunrise and the various shades of the sky. Morning breeze, orange hues and calm water make for a perfect start to a Pondicherry day.
Spend an afternoon by the beach
The best beach in Pondicherry is definitely the Paradise Beach. Around 12 to 15 kms from the French Quarters, this beach is blue, pristine and quite clean. It is perfect for a quick dip or a serene walk under the blue skies. Also, the entire 15 km stretch upto the beach passes through typical Tamil sector that is starkly demarcating from the French Colony. It is bustling, colourful, vibrant and warm.
PLACES YOU CAN SKIP IF YOU AREN'T REALLY MADE FOR THEM
Auroville: I am risking saying this but Auroville is an experience, not a visitors spot. Hence only those people who believe in its philosophy, want to stay there atleast for a day or have faith in the power of meditation, should visit Auroville. Do not flock only for the sake of it because it's far, huge and holds meaning only if you actually sit inside the Matrimandir and meditate. Lately, visitors need to do a 2 to 3 days prior booking for a 15 minute meditation session inside the Matrimandir. It is this meditation experience that is enchanting and makes it worth a visit, not the photo spot. Also, you cannot really purchase anything from there either because again, it costs a fortune for barely any reason.
Shri Aurobindo Ashram: Unless you are a devotee or wish to purchase books on Shri Aurobindo Ghosh's philosophies, you can skip this place. It is a Samadhi centre and basically has photographs of Shri Aurobindo and his collaborator Mother Mirra Alfassa and books on their philosophies and life.
Churches and temples: The churches and temples here are beautiful but like any other of the kind you have seen before. You can visit if you have never been to either of them even once, otherwise it can pass.
Pondicherry Museum: I am a fan of museums but this time I opted not to. It certainly has great collectibles citing Pondicherry's history but then the entire town for that matter, has things that speak for itself.
When you skip these places, you happen to save a complete day which you can rather spend in visiting Mahabalipuram, around 95 km from Pondicherry. Mahabalipuram is another heritage site housing some of the best ancient ruin temples that are now under the ASI.
The key attractions here include the Pancha Rathas, Krishna's Butterball, Arjuna's Penance, the Descent of the Ganges, Krishna's Cave Temple, Thirukadalmallai temple and the sparkling blue Mahabalipuram Beach.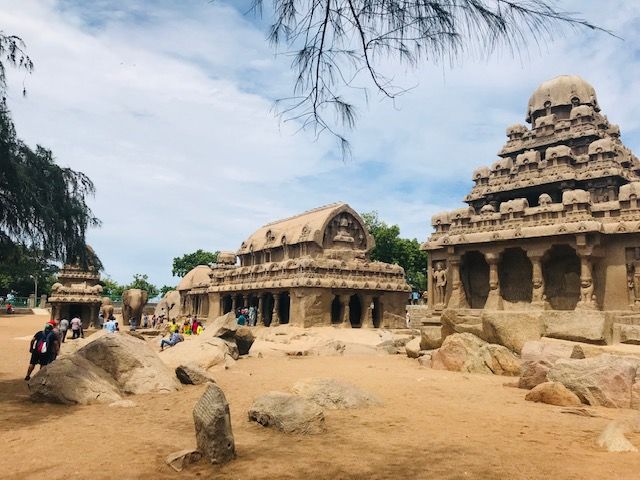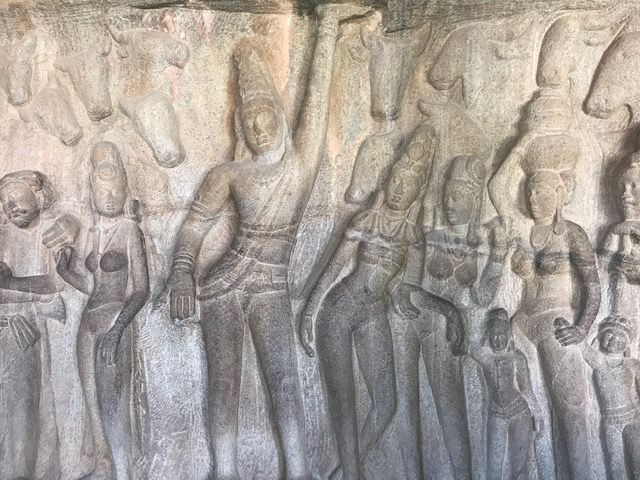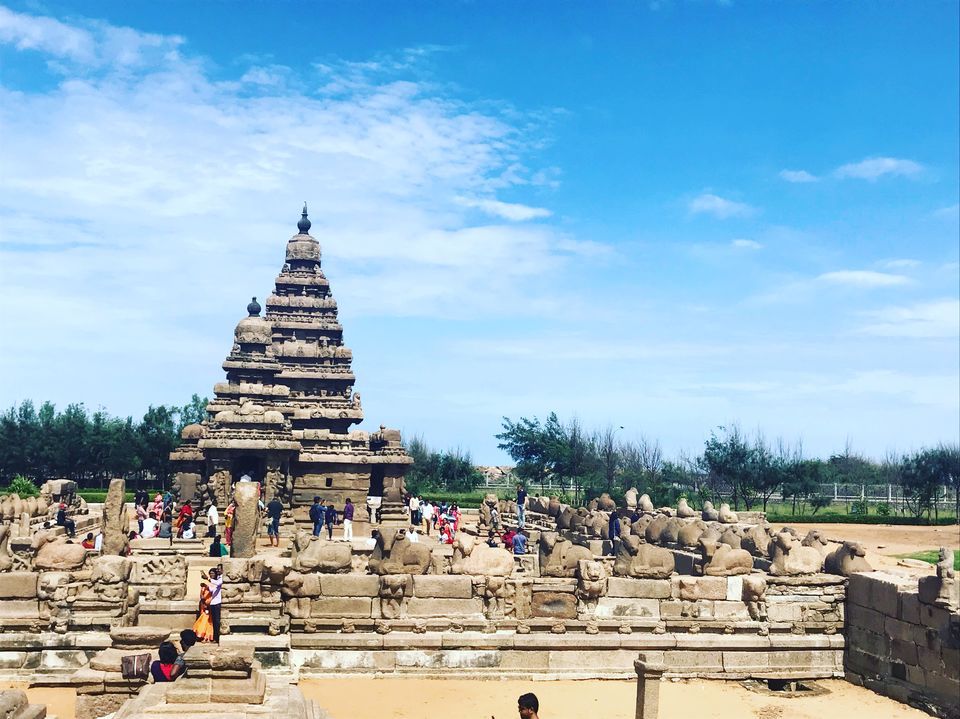 In around three to four hours you can cover the entire place and either return back to Pondicherry or head ahead to Chennai if you have a flight back home.
Bon Voyage!