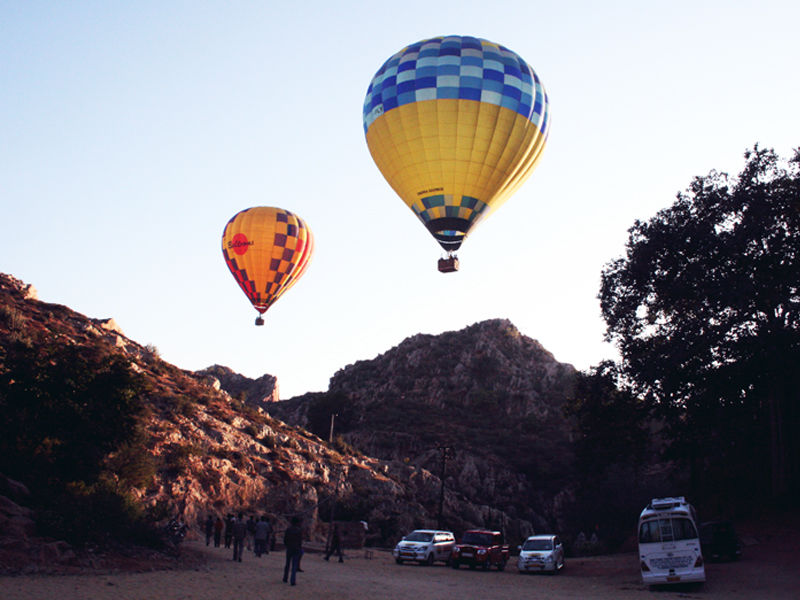 Steady as a rock, the occasional roar of the burners and a 360 degree panorama ! Adventure or Life Style, an Adrenalin Rush or an Emotional Explosion, decipher it any which way you like !
Ballooning in Jaipur
Jaipur, famous the world over as Pink City, is an ideal destination for Ballooning, after all, it is what you see when you are up there which is equally thrilling as the ride itself. Jaipur is synonymous to beautiful palaces, rugged forts, amazing handicrafts and an extremely hot cuisine!
The city itself with all its varied surroundings is an ideal place for hot air balloon flights giving a completely different experience each time, as per the destination's peculiarity.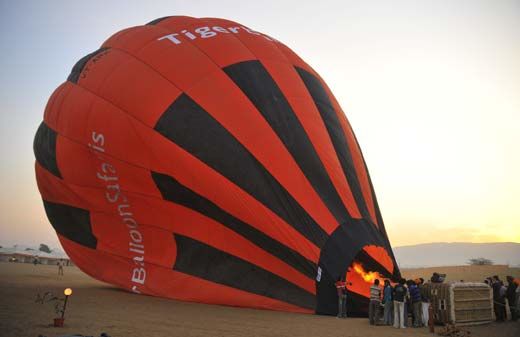 The Ballooning Experience
What to expect.
Expect to be picked up an hour and a half before the flight. This will allow you to witness the inflation of the huge balloon with special fans and the roaring burners. Once the basket is up-right and the Pilot has run through the safety checks, you will be asked to board the strong wicker-basket. You will not feel the lift-off and will decipher your movement only by the shifting landscape below. Silence as you drift with the wind.
The flight normally lasts a fulfilling sixty minutes. What you see depends on your launch site and the direction of the wind. The Pilot will vary the altitude of the balloon to allow you different vantages and to vary your flight direction using wind conditions in various atmospheric layers.
Your pilot will be in touch by walkie-talkie with the Ground Retrieval Crews below, who chase the balloon as best they can from experience and directions from the pilot who is all seeing.
You huddle down in the basket as you touch down. Do not be alarmed if the basket tilts over, you are safe and it is fun. You can then watch the balloon being packed and loaded, and then drive back to where you were picked up from.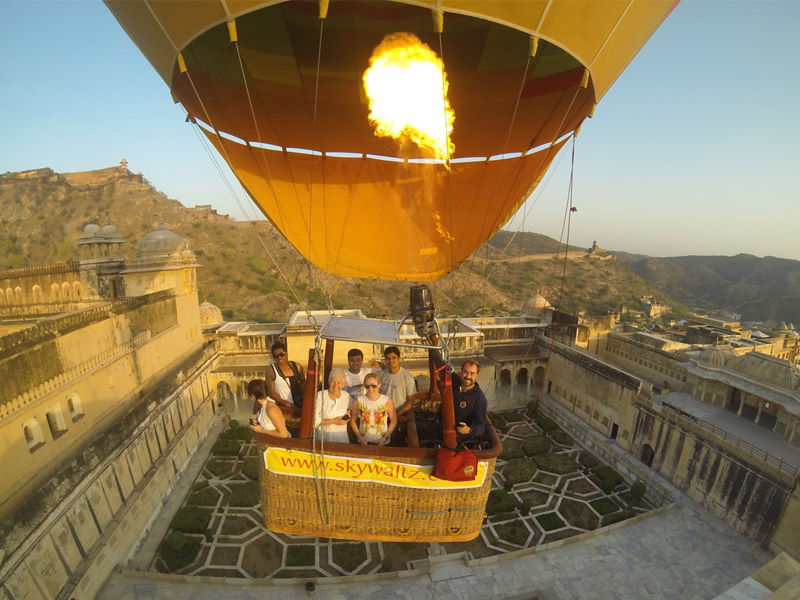 Dress and Accessories
Do verify with your doctor that you can take a balloon flight. Preferably wear long trousers and strong shoes. Robes, sarees and skirts are a no-go, as you have to climb into the basket as you would climb a wall. Strong shoes allow you to walk around watching the balloon inflation and deflation, plus you may have to touch down in a slushy field, so slippers and sandals can get broken and lost. Bring your camera and binoculars, glasses and a cap if you wish. Drinking water is usually provided, but there is no harm in carrying your own, as you can always leave it in the car that fetches and returns you.
Make the Most out of Ballooning
While Sky Waltz offers regular flights around Jaipur, both Sky Waltz and Tiger Balloon Safaris. offer their balloons to charter for joy-rides, special occasions, filming and advertisements.
Since the ballooning company has a fair idea on its launch and approximate retrieval site as wind conditions are sort of historical, you can arrange for a fancy meal in a palace, fort or quality hotel, pre or post flight.
Get Engaged or Wedded in a Balloon. Corporates can offer tethered rides while displaying their advertisements in venues such as Select City Walk in Saket, Delhi.
Season
Ballooning is entirely dependent on weather. If the wind is strong, it is hot or raining, flights are cancelled for safety. Other than that, one is normally ready to go.
September through March, there are normally two launch times, around sunrise and about two hours before dusk. In the warmer months, April to June, early morning flights normally launch. There are no flights during the rains in July and August.
Price
Balloon flights do cost quite a bit more than most attractions. A ticket on Sky Waltz is priced at Rs.13,000 per person, but you can negotiate this down. A onetime charter flight costs substantially more than package for three days and more.
Where to Balloon
You can chart a complete ballooning itinerary in Rajasthan, which is a balloon conducive state. Sky Waltz also offers flights over the Ranthambhore National Park and the Pushkar Fair.
Depending on wind direction, popular launch sites for ballooning are the Amber Fort area, Samode Palace area and the Dera Amer area.
Organisers
Licensed by the Director General Civil Aviation, branded Hot Air Ballooning is here to stay in India. The DGCA NSOP (non-scheduled 'flight' operator) License is essential to meet the stringent safety requirements of aviation, which include certified commercial pilots, equipment fitness and insurance. There is no such assurance on free-flights or tethered rides in a balloon at a carnival or at a balloon club. There are presently two licensed balloon operators in India, Sky Waltz and Tiger Balloon Safaris.
Sky Waltz
A 49, Sector 67, Noida
Uttar Pradesh 201 301
Tel. 1800 103 8838, +91 9560387222, 95603397222
eMail goballooning@skywaltz.com
Tiger Balloon Safaris
3rd Floor, 10 Satya Niketan
New Delhi 110 021
Tel. +91 11 32988460, 26119096, 9999742000
eMail tigerballoonsafaris@gmail.com
Images http://www.skywaltz.com/gallery.html http://www.hotairballooninginindia.com/picture_gallery.html