There's something in the air of Rajasthan that makes it effortlessly luxurious and romantic. The magnificent havelis, vibrant culture, and the scrumptious food, what more could you ask for? Among these things, one bonus that the people of Rajasthan have is to be able to spend some beautiful time at some of the most scenic café's. Here are few of the favourites, among them:
A Visual Treat
Located right opposite to Amer Fort, this café offers the most splendid view that'll be worth your time. Basic, affordable, and popular, The Stag Café is sought out for its minimalistic menu and a great ambience to spend an evening.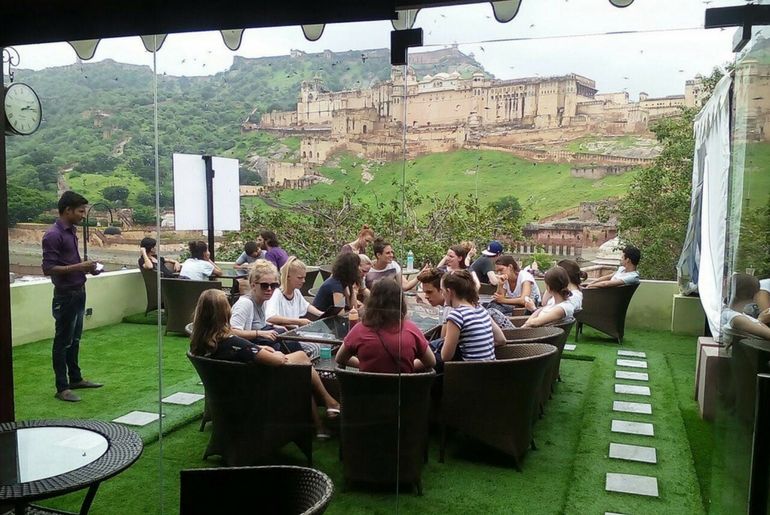 Where: Amber road, Devisinghpura, Rajasthan
When: 6:00 AM to 11:00 PM
Must try: Sheesha, Iced-Tea, White Sauce Pasta
Cost for two: Rs 700 (approx.)
Contact: 099297 62420
Reflection of Jaipur's Luxury
This opulent café makes for a great dinner date with both indoor and outdoor seating. Be it an evening with friends or a date night with that special someone, or a simple dinner with family, the soothing vibes and elegant décor will surely make you fall in love with this place.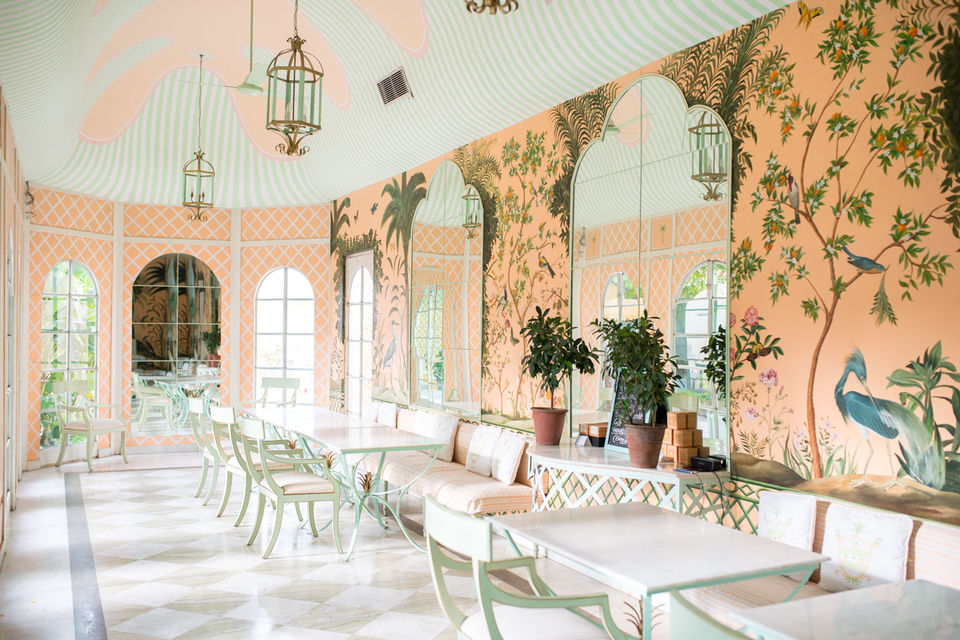 Where: 100 JLN Marg, Santha Bagh, Jaipur
When: 12:30 PM to 10:30 PM
Must try: Prawns Pasta, Coffee Cake, Salads
Cost for two: Rs 2000 (approx.)
Contact: +91 141 2563533
Freshly Brewed Coffee on Order
Highly rated and appreciated by the locals; Curious Life Coffee Roasters is known for serving light breakfast items consisting of sandwiches and omelets. This café is primarily dedicated to brewing fresh coffee to help the visitors instantly pick up their cup of coffee and occupy a space in the indoor or outdoor seating.
Where: C 54 A, Sarojini Marg, Panch Batti, C Scheme, Ashok Nagar, Jaipur
When: 9:30 AM to 10:00 PM
Must try: Avocado toast, Egg platter, Mushroom Sandwich, Coffee
Cost for two: Rs 450 (approx.)
Contact: 0141 403 2456
Overlook Lake Pichola
Be it for a quick breakfast, a mid-noon cup of coffee or an evening with friends sipping over some tea, Jheel's Ginger Café offers the most serene view of Lake Pichola. Besides a good cup of coffee, they offer a wide range of breakfast items along with delicious desserts to satiate your sweet-tooth cravings.
Where: 52, Jheel Guest House, 56, Gangaur Ghat Marg, Udaipur
When: 8:30 AM to 9:00 PM
Must try: Pizzas, Sweet lemon soda, Walnut cake
Cost for two: Rs 600 (approx.)
Contact: 0294 242 1352
Sunset view with Kulhad ki chai
Overlooking Hawa Mahal across the street, this café adorns the look of a basic rooftop eatery with an outdoor seating. The ideal time to visit this café is during early evening with a classic sunset view beaming through Hawa Mahal and a hot cup of Kulhad ki Chai after a long blissful touristy day.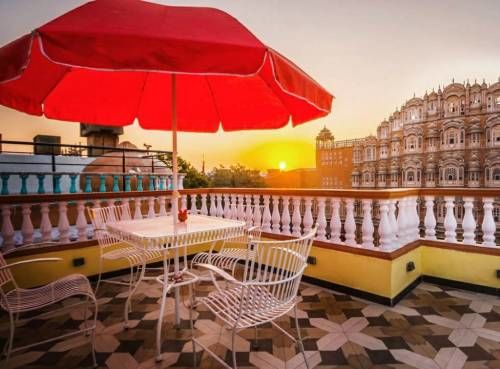 Where: 3rd Floor Rang Bihari Temple opposite Hawa Mahal, Hawa Mahal Road, Badi Chopad, Jaipur
When: 8:30 AM to 8:00 PM
Must try: Cheese sandwich, Kulhad chai, Paneer Pakoda
Cost for two: Rs 700 (approx.)
Contact: 093142 54223
Black & White themed
Known for its fancy black and white themed interiors with Bollywood and Hollywood posters stuck on the walls, Café NOIRWOOD makes for the ideal place to get a frizzy respite. The café has a contemporary ambiance and serves delicious food in the coziest corners, which takes you away from the humdrum of city-life.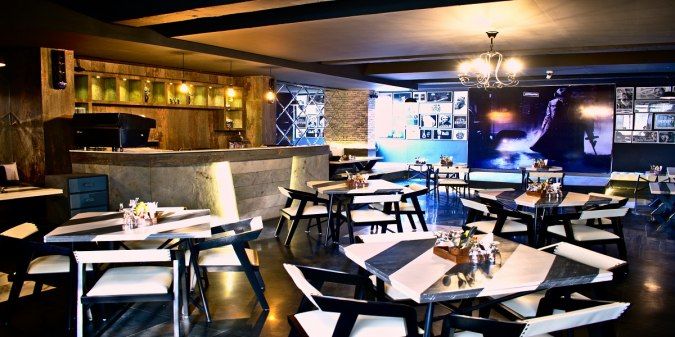 Where: 20, Main Shakar Marg, Near Sahkar Bhawan, Jaipur
When: 11:00 AM to 11:00 PM
Must try: Chocolate Mousse, Apple Cinnamon Strudel, Honey Chilli Potatoes, Éclairs shake
Cost for two: Rs 800 (approx.)
Contact: 099821 00448
Organic food at cozy corners
With the popularity that this little modern café has gained as one of the best spaces for having organic food in the city; Poppin café has undoubtedly become the first choice among locals while planning to sneak-out in the evening. Known for serving the best salads and risottos in town, its ambiance, and staff wins over all the other choices you'd want to visit.

Where: E-145, First Floor, Ramesh marg, C-Scheme, Jaipur
When: 10:00 AM to 11:00 PM
Must try: Smoothie bowls, coffee, Cottage cheese sizzler
Cost for two: Rs 800 (approx.)
Contact: 097996 28666
Book lover's paradise
Easily rated as one of the top-most spots to visit in Jaipur, Stepout Café prides in offering the most energetic vibes that would welcome and hold you once you enter. With local handicrafts, wall arts, and a panoramic view from the window, every corner in this café is a masterpiece in itself. For those of you who love to read while sipping onto some coffee or tea, this place is your go-to destination while you're in Jaipur.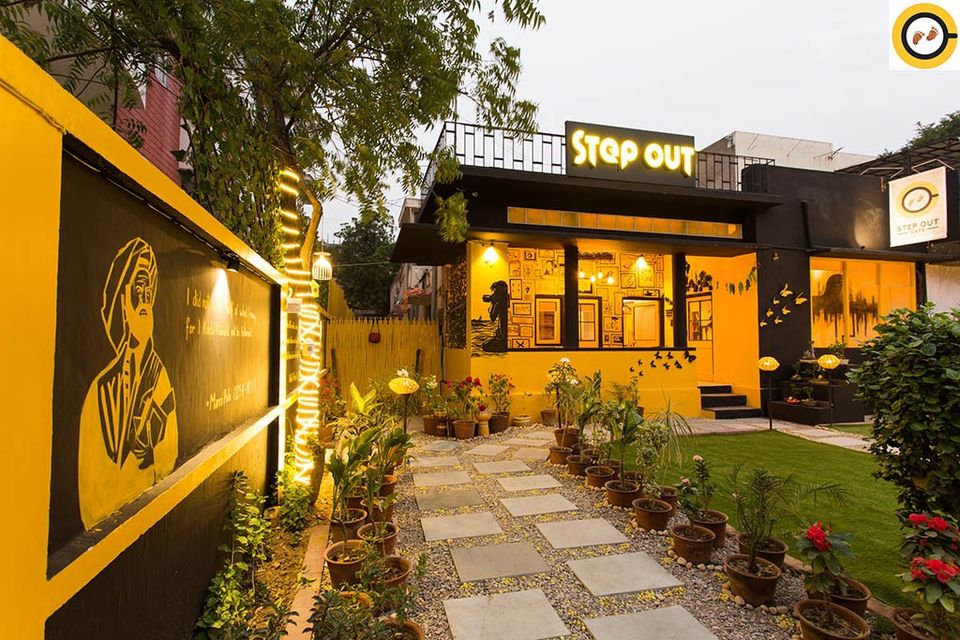 Where: P14, Sahdev Marg, C Scheme, Ashok Nagar, Jaipur
When: 8:30 AM to 10:30 PM
Must try: Falafel wrap, Chocolate pancakes, Mixed-fruit smoothies
Cost for two: Rs 800 (approx.)
Contact: 086192 46464
Sunset view with some scrumptious food
Publicized as an ideal destination for couples in the city, Padao restaurant offers a fashionable ambiance, a handpicked menu, and the best of romantic rooftop seating. Watching a panorama of the city with the setting sun in front of your eyes, the experience is nothing less than magic when you're there, relishing over a good drink and some quick bites.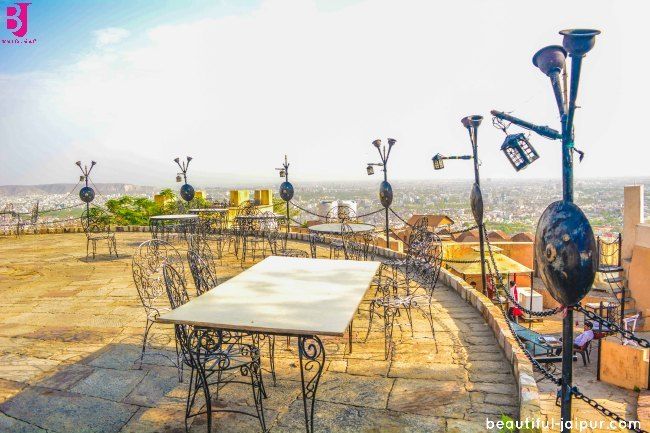 Where: Nahargarh Road, Nahargarh Fort, Amer, Brahampuri, Jaipur
When: 10:00 AM to 11:00 PM
Must try: Pakoda's, coffee, Thali
Cost for two: Rs 900 (approx.)
Contact: 0141 514 8044
Heritage Ambiance with Soulful Music
Offering a majestic view of the city from the top, the serenity engulfs the fort and its surrounding, making it perfect for a romantic dinner date spot. Set amidst the luxurious heritage at Nahargarh Fort, the sunset view from this restaurant is something you wouldn't want to miss!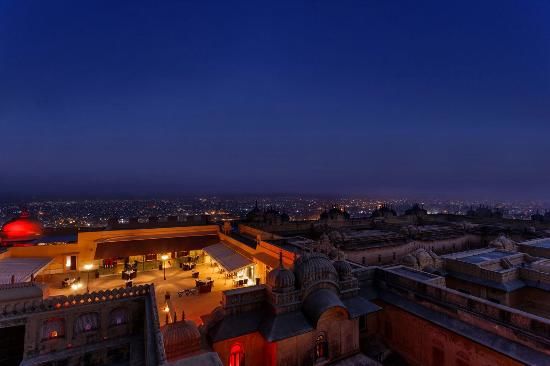 Where: Madhvendra Palace, Nahargarh Fort, Jaipur
When: 11:00 AM to 11:00 PM
Must try: Fish with Green Masala, Laal Maas, Daal Makhani, Gatte Ki Subzi
Cost for two: Rs 3000 (approx.)
Contact: 091160 48101