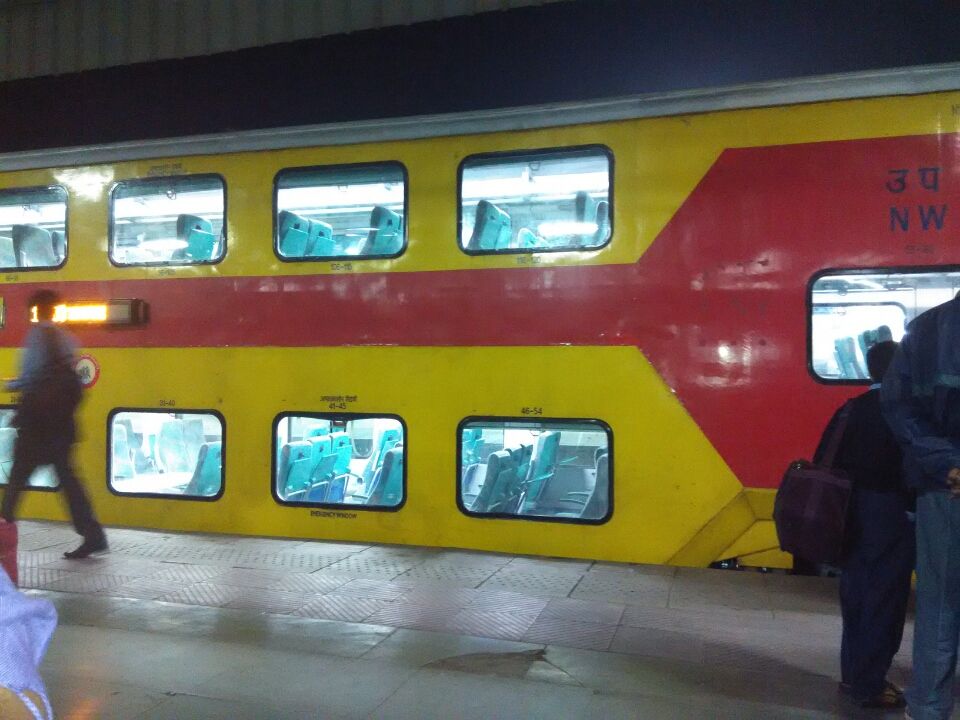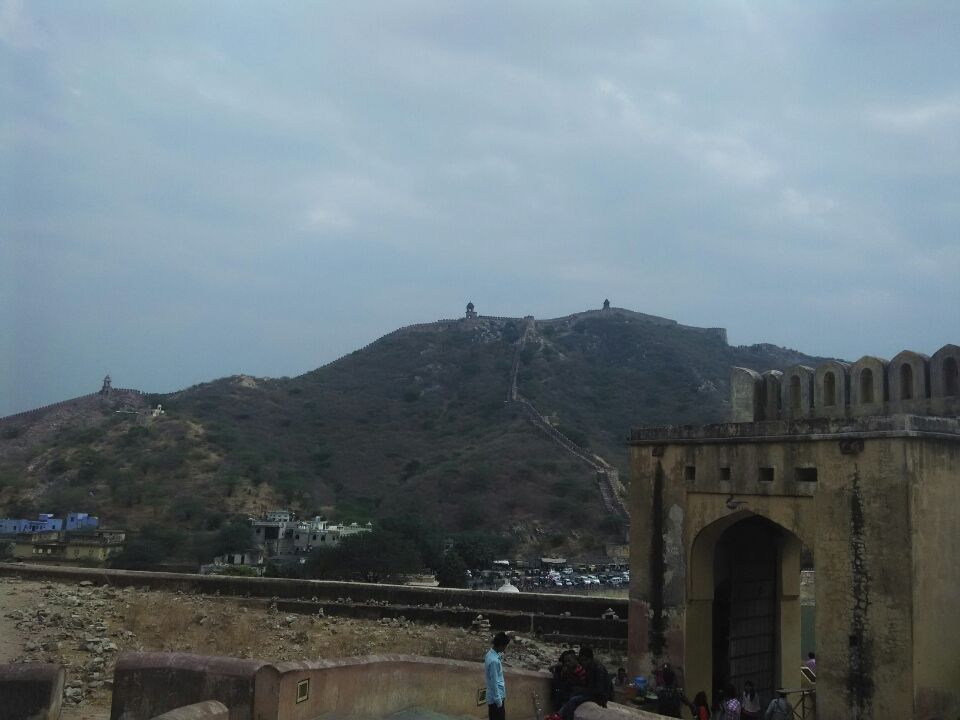 Finally the much awaited all female trip. 6:53 Shatabdi from Gurgaon station. So my first trip  from Gurgaon railway station, first time to Jaipur and most importantly first time going for vacation with only females. Gurgaon station was absolutely neat and clean, well maintained and a low crowd affair. The Shatabdi was an absolutely neat and clean train, felt more like a royal affair. As always my daughter super duper excited at the very first sight of train. But the interiors of the train were what excited me. Simply beautiful. Moreover, getting to have tea, breakfast, newspapers served on the go felt like an extravaganza. 
10:40 we reached jaipur. I had chosen my hotels  after a detailed planning, hotels near to station  and at the same time near to famous places. So, by 11,i was there in my hotel. Lemon tree premier , a truly beautiful and indulgent affair, even my words cannot describe the exceptional charm of the rooms. Against our original plans, we indulged in the royal laziness ;-) 2:30 we left the place for city Palace (Ola cab, 95 rs).Entry fee  for palace 100 rs per adult for Indians and guide charges extra (if reqd).  Well, it was undoubtedly huge and it's walls  had preserved the feel of past but the place gave more feeling of being in a commercialized place. Moreover, it had shops selling handicrafts along with museums to show the royal attires, carpets, ornaments of the past too . Nice place if you are someone keen on learning history of royalty, else better to move on. Just opposite the exit of city Palace stood the famous Jantar Mantar. Rs 40 entry per adult, guide charges extra. I am happy I opted for this. It was beautiful huge Park and the devices inside were an absolute heaven to look out for, specially if you like studying about celestial bodies, sun signs and their calculations. It was absolutely neat and clean, well maintained collection of all huge devices . but what my daughter enjoyed here the most was beautiful open space to play and run around. Very near to this is Govind jee temple and just behind it inside the Gali, maybe just less than 1 km stands the local  gurudwara sahib. Take a cycle rickshaw(10rs pp) and you can enjoy local markets around. Try Kachori and mirchi bada's at Marwari Bazaar. From here we took an auto and opted to check Bapu Bazaar. These all places are within approx 3kms of each other. I am not much into shopping but this Bazaar will make you shop. It has so much to offer. Although there are many Bazaar's, but this one was my favorite. From AC spreads to famous jaipuri quilts to lac Bangles to bandhni suits to puppet to torans to exquisite ear pieces, it has it all. Wrapped up for   day 1 after some exploring around hotel area. 
Paying for such an amazing hotel and not spending time in it is such a waste. So next morning was a pretty relaxed one, just enjoying inside our hotel, my daughter just loved the pool and floaties. Around 12 we took a cab(195 rs) and left for Jal Mahal. Since it was a cool rainy day, the water and the sight of the mahal in it provided for a good picnic spot. Nice place to take a walk and enjoy some idle time, take a camel or an elephant ride or play with your kid in open. However, somewhat less maintained than other places. Next we took an auto (70rs) till Amer Fort. But the auto leaves you at the foot of the fort. Next comes the climbing part . there are two ways to climb up, one way is via stairs and the second one is sloped road. So if you are someone who loves to  walk or trek or hike,  you are going to love it. Other ways to go up are jeep(350 rs) and  elephants. And before you start climbing try some local food around, maybe papdi chaat (their papdi is huge as compared to Delhi papdi)  or namakpaare (again very long)  or mirchi bade. After the climb up to the fort, there is a ticket of Rs 100pp for seeing the actual palace (Sheesh Mahal, Janani Deudi, tunnels, their palaces....). The place is absolutely neat and clean and worth spending time on it. We explored the place at our own sweet pace, running around in the open parks, running after endless pigeons and sitting in the beautiful gardens. We decided against any further forts and came back to the foot of the fort. This time we decided to try jaipur' local conveyance. We boarded an A. C local (11rs pp) and got down at Ajmeri Gate bus stop for seeing the Jaipur Zoo. However my daughter slept on the way, so we decided to instead enjoy shopping at Indra Bazaar. But after checking out few shops, we decided to check Nehru Bazaar instead. Again a great place for shopping and while you are here try some heeng (asafoetida) flavored Kachori at Sardarji Kachori wala shop or enjoy some yummy ice creams just a few shops from them. End of day 2 after enjoying some chaat around the hotel area. 
Next morning we took a cab and left for the station. Our double Decker train was waiting for us there. This train is again very neat and clean and an actual feast if you are looking for something new . my daughter jumped in excitement after seeing it(she loves trains). This superfast brought us back in just 3.5 hrs to gurgaon. Me, my mom and my daughter, we all just loved everything about this small teeny-meeny time that we got to spend amongst us..