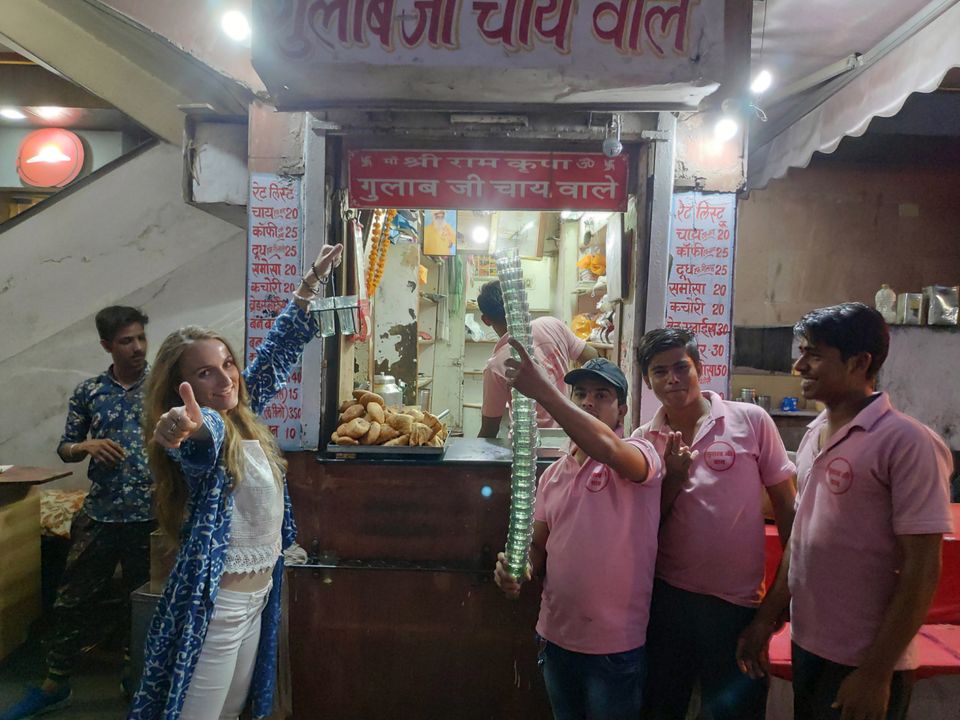 Alright, this is post is to motivate those who travel to Jaipur to explore bit beyond the mainstream places such as Hawa Mahal or Amer Fort. Jaipur has an enormous scope when it comes to old yet maintained traditions, culture and life style. You really can get deep insights into authentic corners of people's lives.
One such example is "Gulab ji chai walla". But not the one on the main road. No. That's the new one. I am talking about the original one that is inside of a rather hidden lane. No tourists, no sightseeing worthy spots. Just the chaiwalla and his 70 year old tradition.
His chai is special. It's stronger, less watery with much more ginger and masala.
If you come at 6/7am you will see lots of locals sitting around, chatting about politics and reading newspapers. In other words:  working on changing the country :)
If you come on a good day ...which no one knows which day that is, you will see the staff of this small stall to wear their pink polo shirts perfectly representing the meaning of "Gulab". They are super nice and appreciative.
If you are lucky you will spot the first founder, today already a Grand-grand father "Gulab ji" himself in his white traditional gown and hat. It is his grand son that is managing the chai stall.
They use the proper cloth to drain the chai and coffee. Glasses are perfectly arranged and they will serve you with double glasses so you don't burn your fingers.
I love their chai 😍 ❤️
And it is my tradition that whenever I go to Jaipur I have to visit the stall:)
The butter bun is the cherry on the top. It completes the whole experience and gives you a great start of the day with positive vibes of people around you.