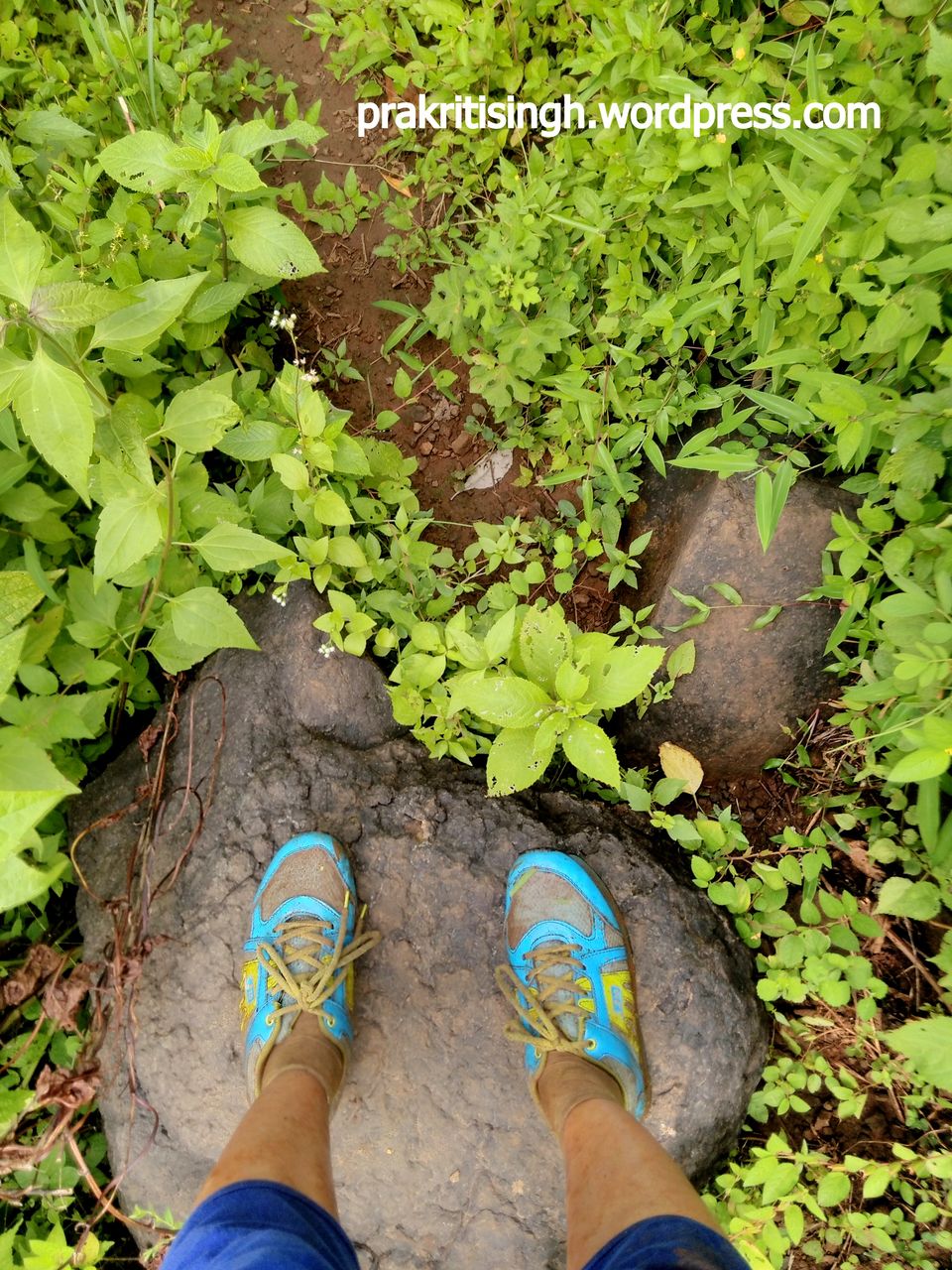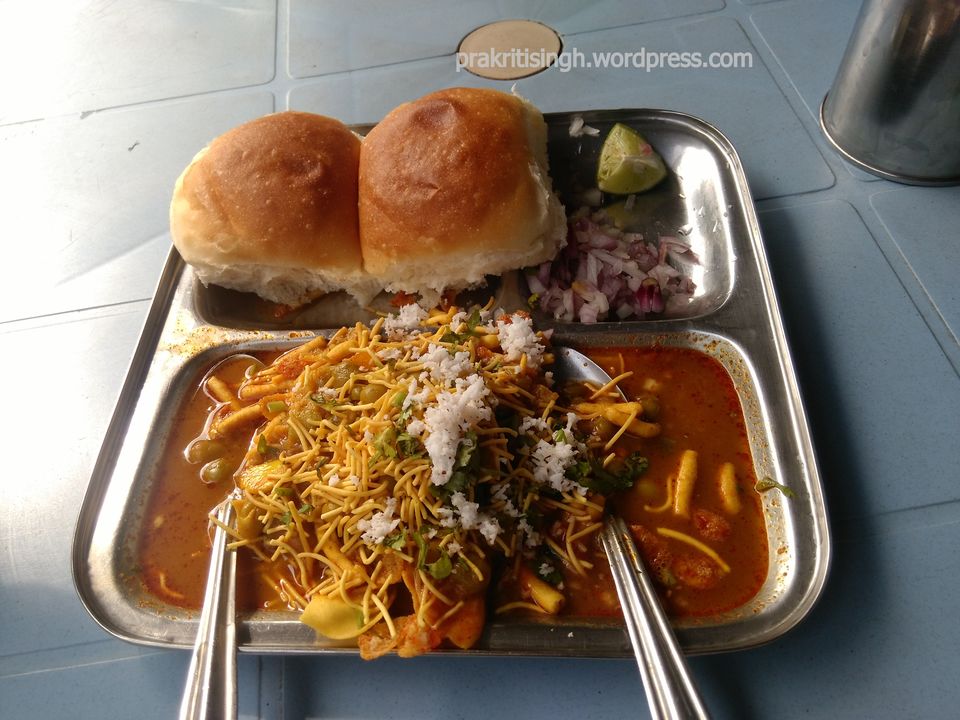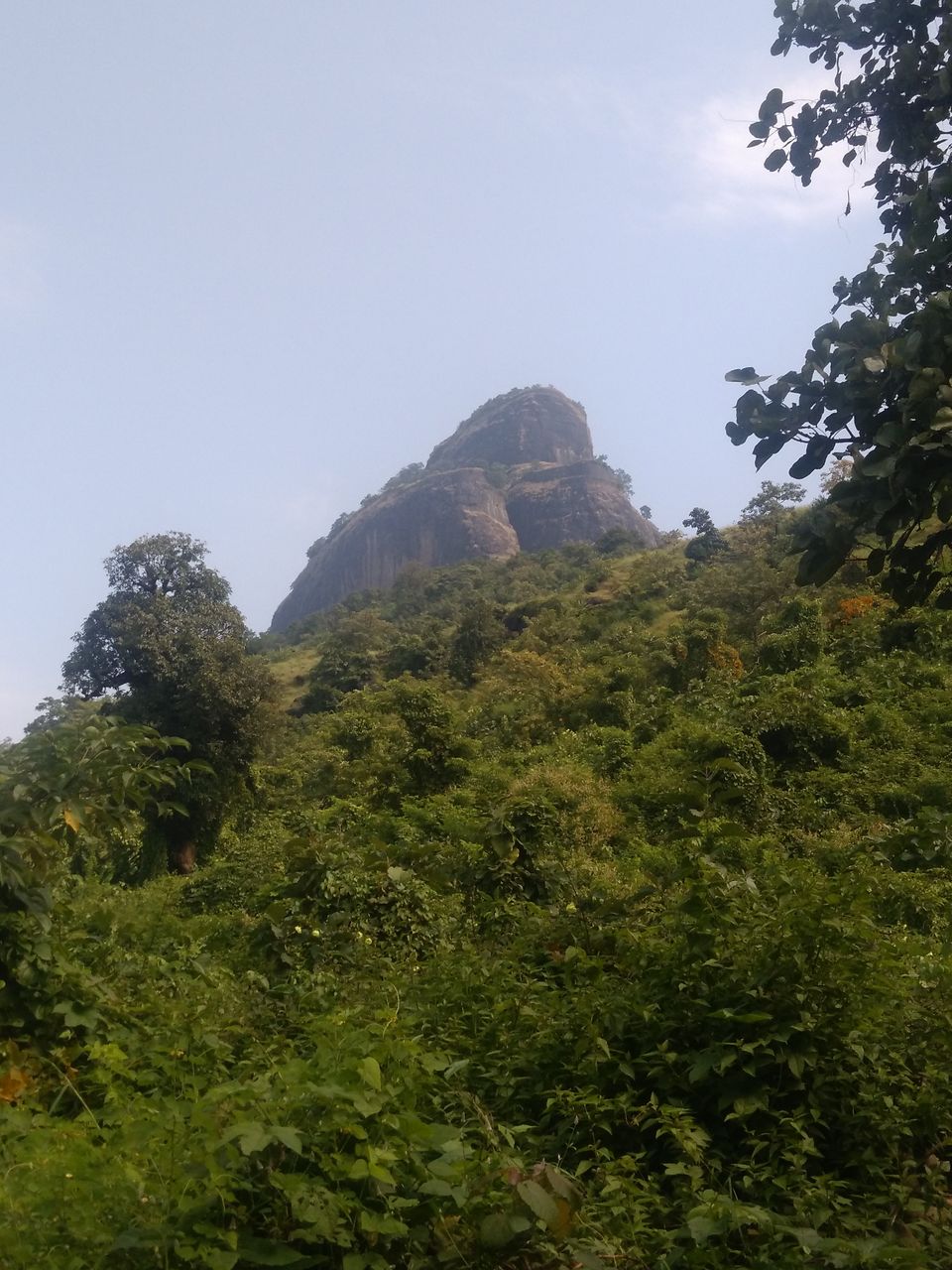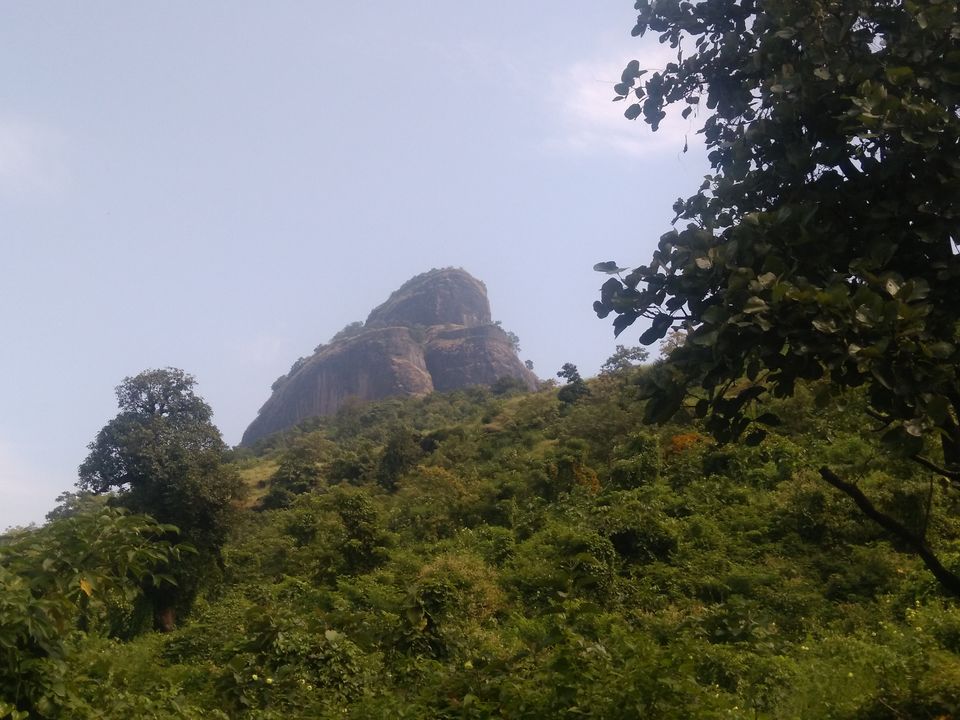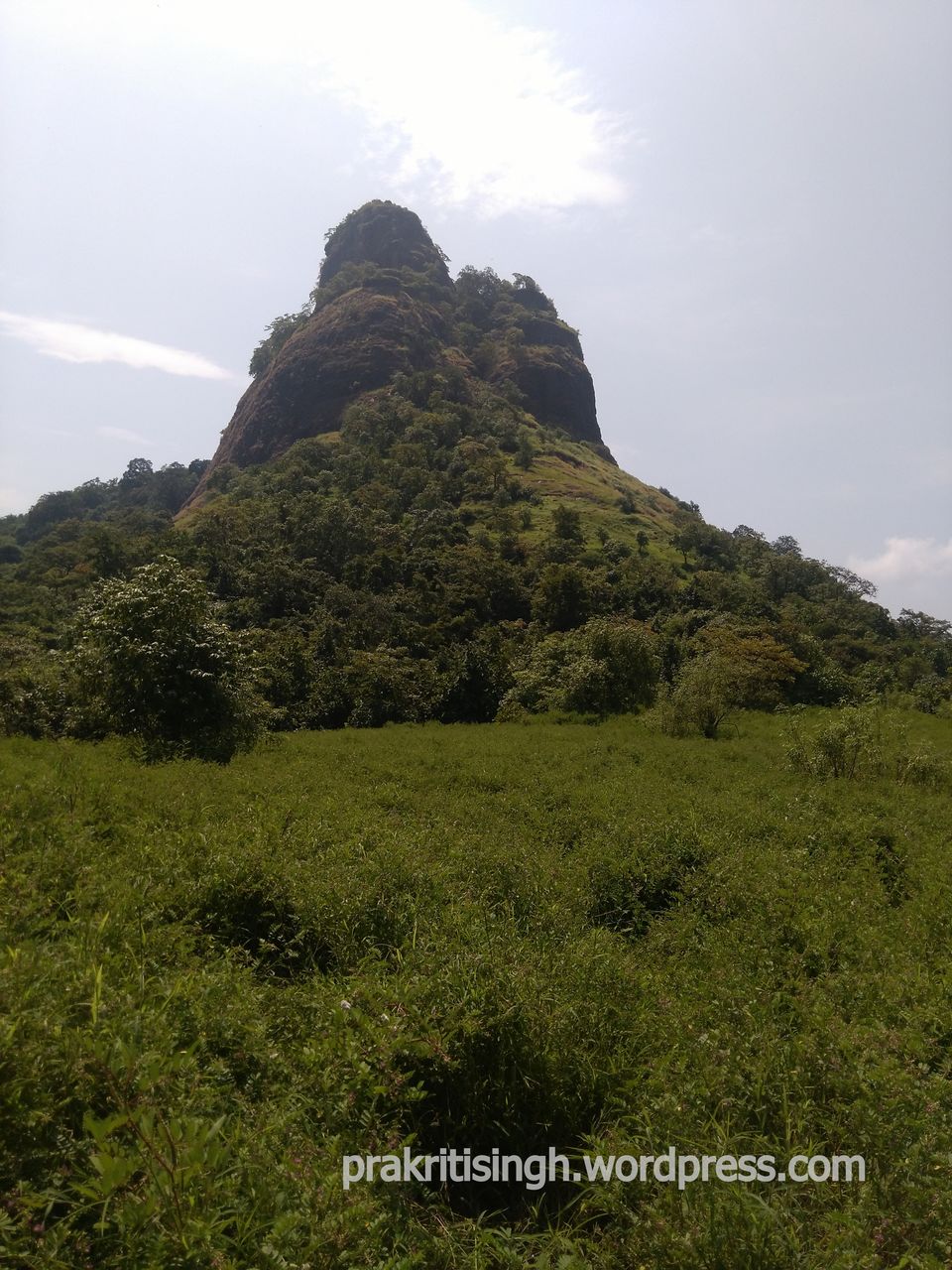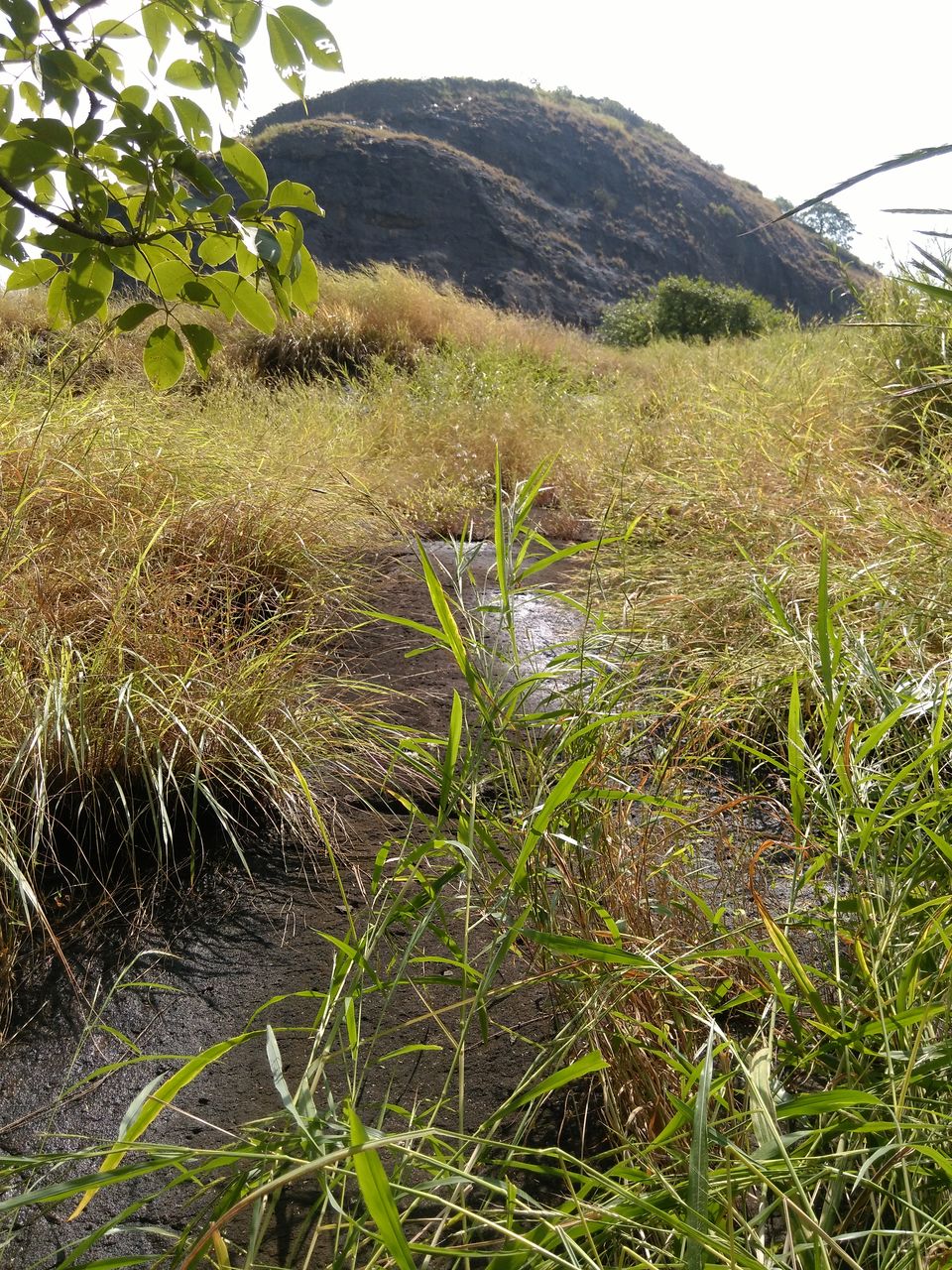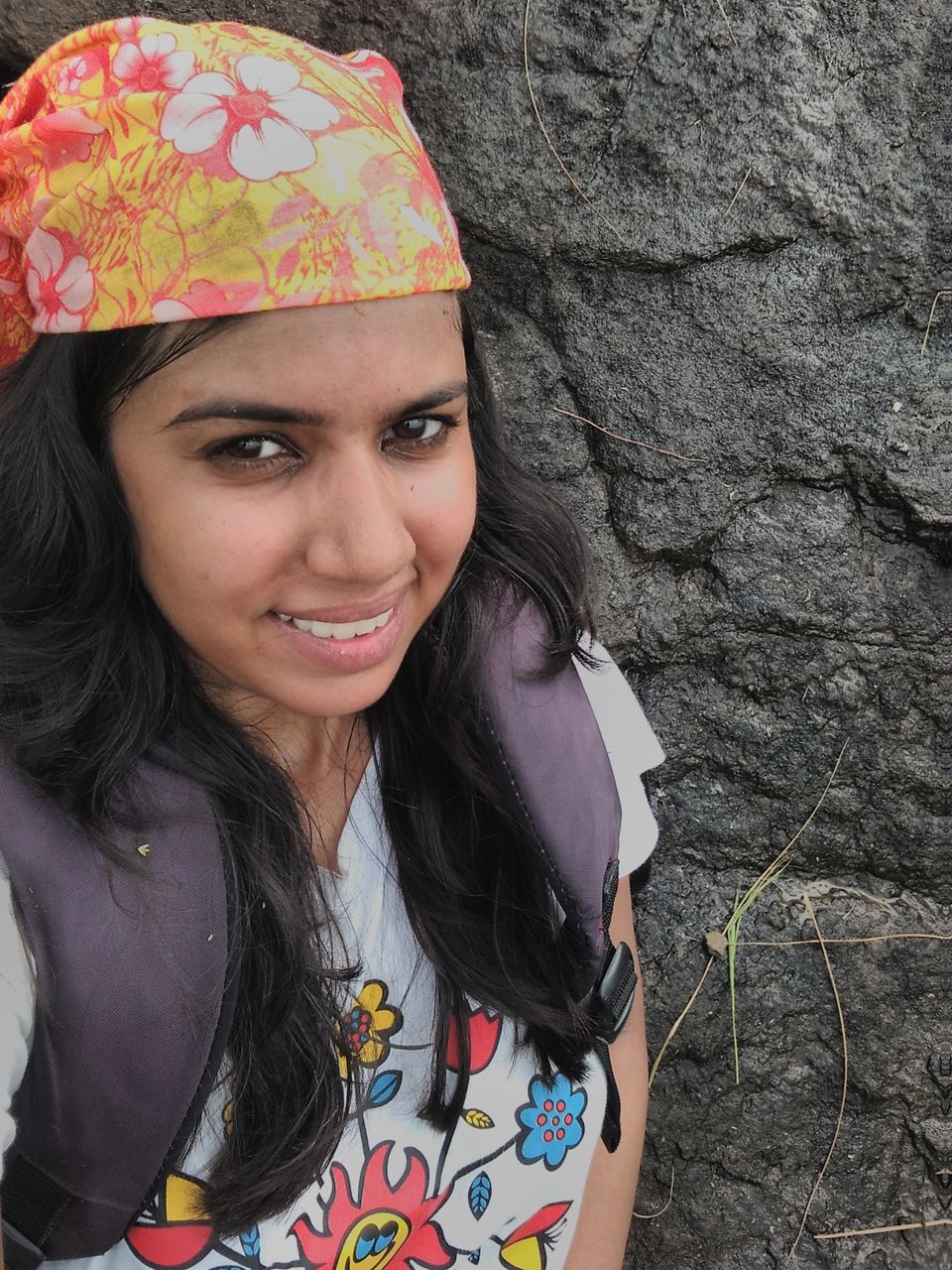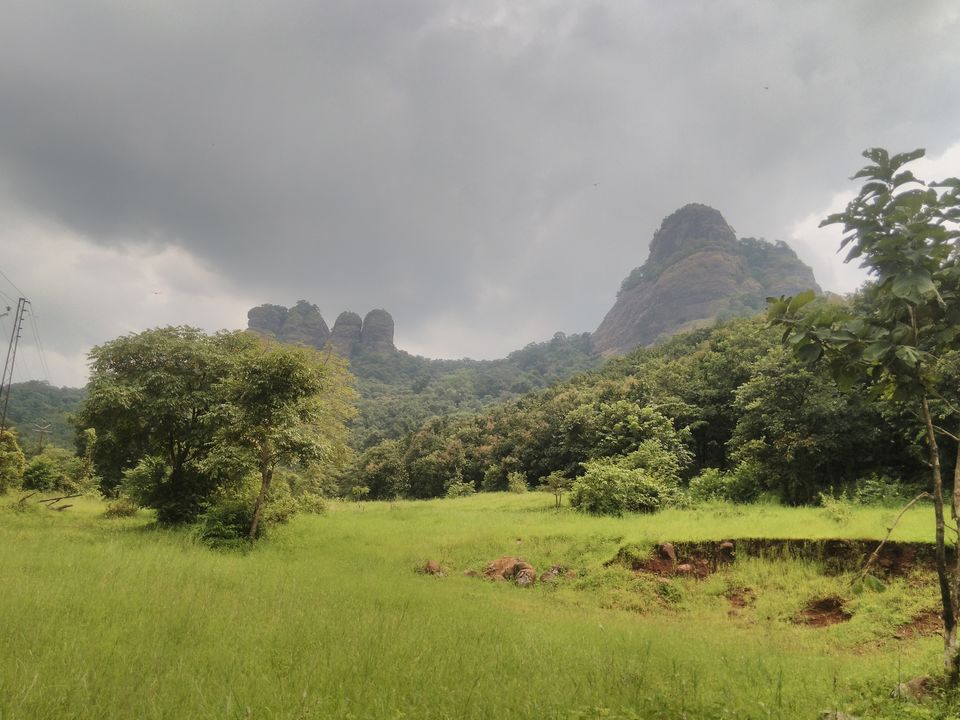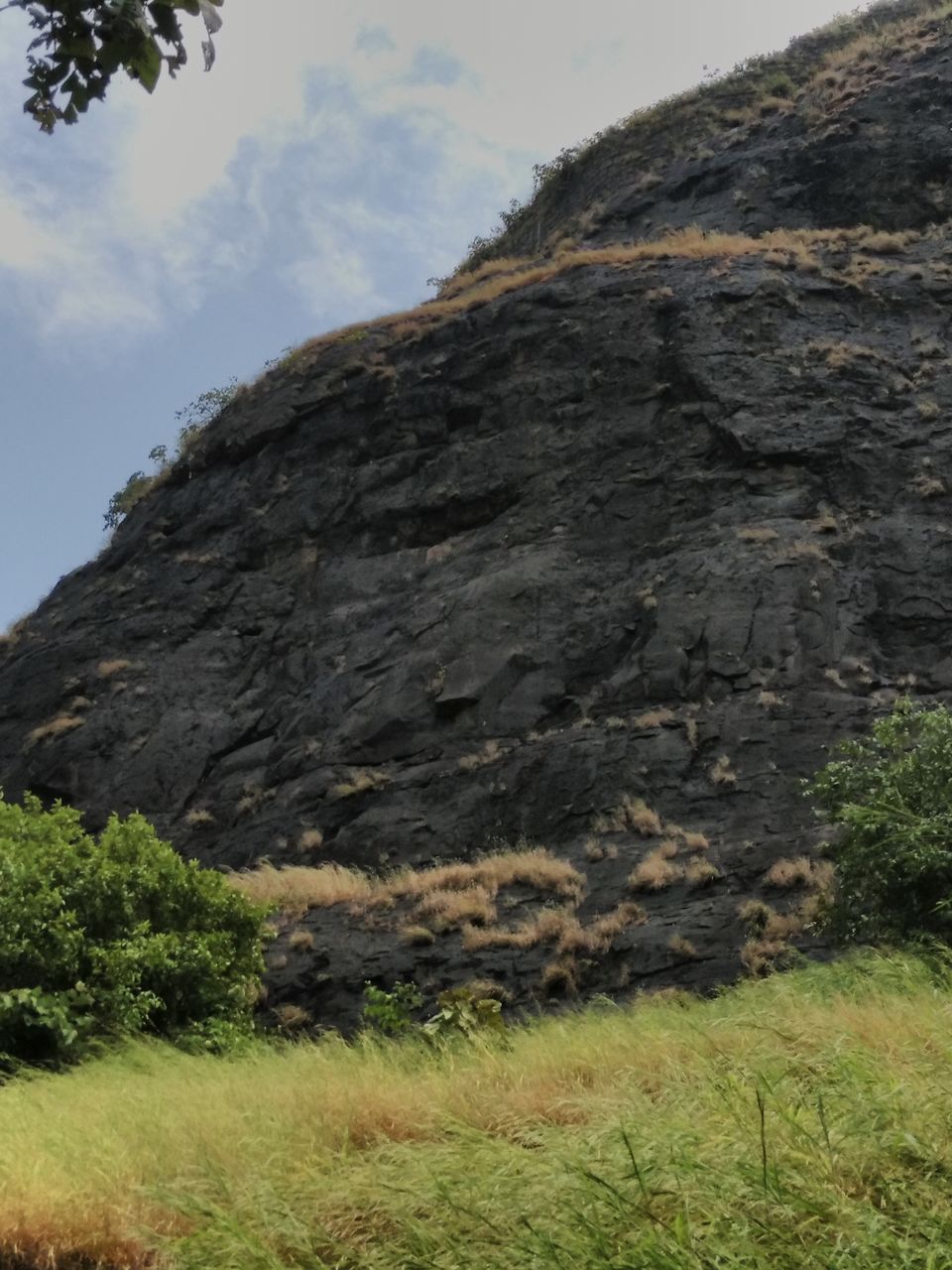 I left, all alone for my first solo trek. But no, I wasn't alone, I had the spirit of adventure with me, I had the desire to explore.
It was not a pre-planned solo trek, it was supposed to be a group one, but later all backed out, some because it was risky in the season (it rained heavily one day before). But once I make up my mind for something, I go for it. So I decided to conquer Sarasgad fort, the base village for which is Pali, alone. At first, the thought seemed very scary, but then I planned for it. I decided to take 7 am ST bus for Pali from Panvel. As it's very unsafe for a solo female hiker, I kept my pepper spray with me, and even practised few kicks, punches and aims with the pepper spray. I packed my bag with overall 1.5 L water bottles, stole, cap, extra clothes, sanitizer, towels and some fruits. There were many constraints which I was aware of, the major one that I had no power bank, and my phone has a battery problem; Imagining myself lost(worst-case) with no humans around, without any means of communication, made me question my decision. Later as a solution, I decided to keep mobile data off, and use my phone in battery saver mode throughout the journey, that meant no snapchats, no maps, just me and the people around in case I need help. I even made a milestone list to track my journey, and even motivate myself at every step. Once done with planning, I slept early to reach on time at Panvel. Both excitement and nervous filled me, somehow managed to sleep.
Milestone 1: Boarding Panvel-Pali bus
The next day, I was on time, it was all dark when I left home. On reaching Panvel, I enquired about the bus for Pali, and within few minutes got it. For the first time in my life, I was travelling in a ST bus. There was a weird hesitation inside me, or I can say, a kind of fear, which accompanied me. This feeling was there inside since morning, when I was packing up, going through my checklist, wearing my shoes and when I left. Ignoring this weird feeling, I concentrated on the surroundings, the view and decided to forget all tension. The song "Yuhi chala chal rahi, yuhi chala chal rahi, kitni haseen hai yeh duniya"( The traveller travels… just like that, The traveller travels…just like that, How beautiful is, this world) was running in my mind. The route was full of greenery, green hills, green grass and green trees all around. The bus takes the Bombay-Pune road, from Khopoli, it enters the Khopoli-Pali road and enters taluka Sudhagad.
Milestone 2: Reaching Pali, Having Breakfast
As planned, reached Pali at 9, luckily the bus was on time. By this time, the weird feeling, the fear, the hesitation was vanished. Reaching Pali, was a major milestone of my plan. I decided to start by visiting Pali Ganpati temple, which is one of the "Ashtavinayak" Lord Ganesha.
Before starting I wanted to have proper breakfast, my friend Dinesh had given me a contact of a local resident Harshal who had a food joint there. I called him, but he didn't pick up. I kept walking and found a good place and ordered misal paav, one of my favourite breakfast item. I found some people staring at me, maybe because I was alone, and everyone in group of friends or family, the only person seemed welcoming and smiling was the boy who got my order. Confirming the way to the fort from him, I continued.
Milestone 3: Start of the hike
Walking for few minutes landed me to the start of the journey. I could see the map, and a narrow way between houses.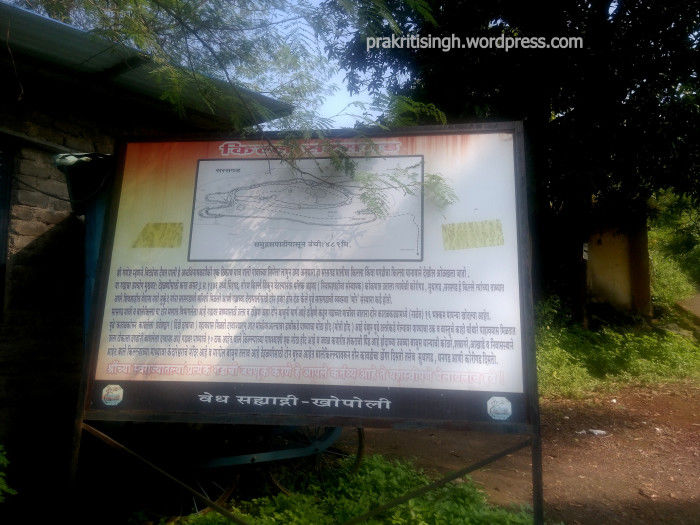 Wondering if it is the right way, I confirmed again from a female who was passing by. She confirmed back that I was on the right way, but after knowing that I am going alone, she started shouting that its very risky and I shouldn't be going. She managed to gather few people too. Everyone said the same. Apparently there was no hiking group which started for the fort that day, and few "bad boys" according to them who went up. No this was something unanticipated, and shattered my confidence I had gained from Panvel to Pali journey. I could see the fort from below, and I thought it would be very stupid to return from there, hence started. I walked for few minutes and I came across a diversion, both ways I could just see narrow pathways surrounded by tall grass. I took one for way which seemed obvious, took few steps and all I found was, tall grass. The pathway was blocked completely because of grass and plants. No way was seen through it. It was very risky to get into it, now I could understand why the villagers reacted that way. Unwilling to give up, called up Harshal (the localite), hoping this time he would pick up. He did in sometime, and came rushing there too, he was the same friendly guy who got the breakfast for me. Unknowingly we met before, had a conversation too, like we were destined to meet. After discussing with him, came to know that there is a separate route too, which is actually meant for hikers and trekkers, it's from the opposite side of the fort. He suggested that his brother will guide me to that route.
I thought it would be a simple route, but it was steeper, more challenging and through dense forest.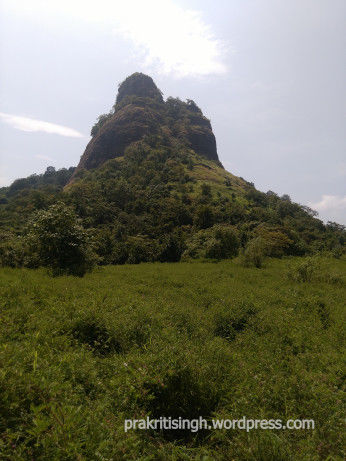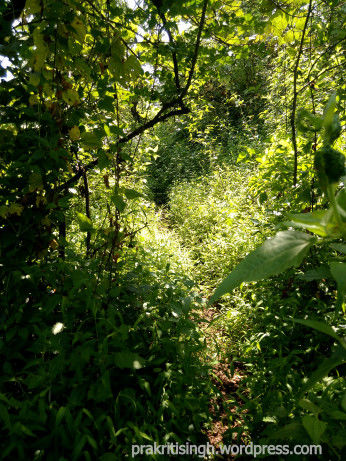 Harshal's brother insisted me not to go alone, but I insisted him to let me, as otherwise it wouldn't serve the purpose. Finally, he agreed; and I went by myself to continue.
Milestone 4: Reaching the top
With a stick in hand, eyes and ears alert, I kept walking and climbing. Tall grass, rocks in between, slippery hills, nothing could stop me.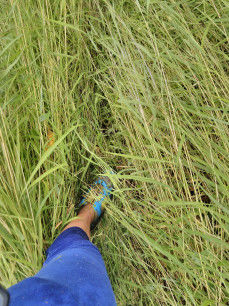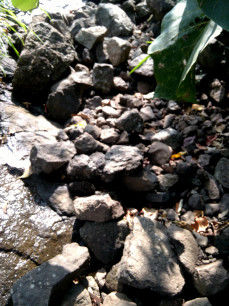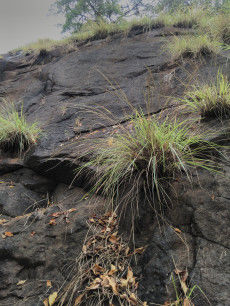 I just had one thing in my mind, I have to reach the top. There were places when I felt I won't be able to go further. The first time I came across a probable block, totally steep rocks, I panicked, wondering how would I manage. It was like a big challenge for me, but I managed, the grass which seemed hurdle for me, came to rescue, it gave me better grip while climbing. Similar blocks kept coming; I found my own way to keep moving forward. It became more and more humid, and the route more and more difficult. At a point later, I felt lost again, couldn't find the way ahead. With no humans within kilometres, there was no point in shouting for help too. I halted, took deep breathes, and felt good about reaching so far. The small, quaint village of Pali was visible. I settled on a rock somehow.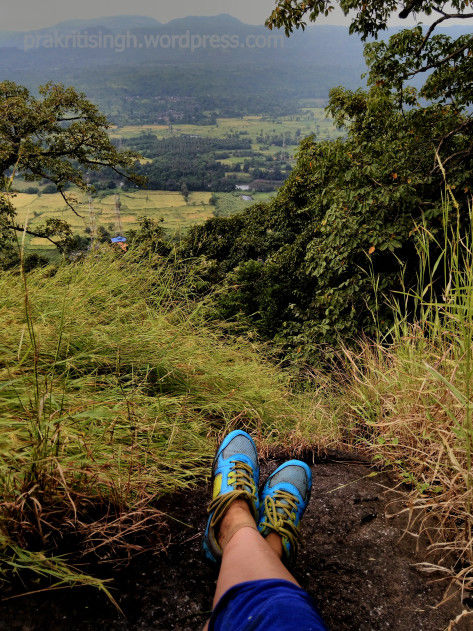 By this time, I started enjoying the silence; the silence of nature. I started enjoying being alone; I began my introspection, trying to find answers to the questions I had within myself. Then suddenly I hear a hissing noise, and felt something crawling near my feet, Yes, it was a snake !! Startled initially, but dint make any movement, and it just passed quietly. That time I realized, Nature doesn't harm humans, humans harm nature.
Gaining confidence, started again. It was cloudy by then, something which was both a reason for being happy and worried, happy as the scorching heat won't trouble me, worried as it would be really difficult if it starts raining. Hence I increased my pace to avoid getting stuck between insects and snakes. I climbed and climbed, and finally almost reached the base. I could see the fort, and was curious to get to the top, and other side.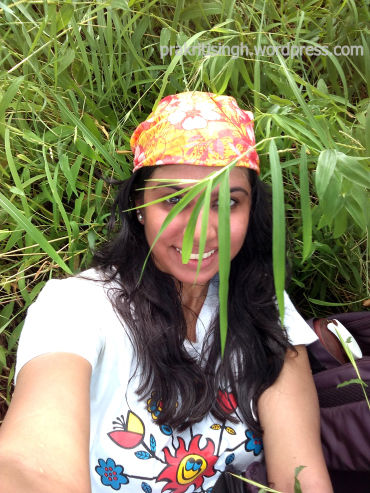 Completely exhausted due to the humidity, I decided to give my back some rest. Lying on the grass, with a sense of satisfaction, was a beautiful feeling that nothing can replace. I walked a little further, and decided to stop, and go back. Not that I gave up, but my purpose was fulfilled, the journey gave me answers I was searching for. Also it was a calculative decision, as continuing the return journey, when it rained would be difficult; and I couldn't afford to wait.
Milestone 5: Return Journey
I thought the return journey would be very easy, but again, obvious assumptions tend to be wrong. I was confident and bold, with no fear at all, but there were times I literally sloped down the steep rocks. Finding the way was another task, I got confused between the trees and landmarks which I thought would help me in my return trip.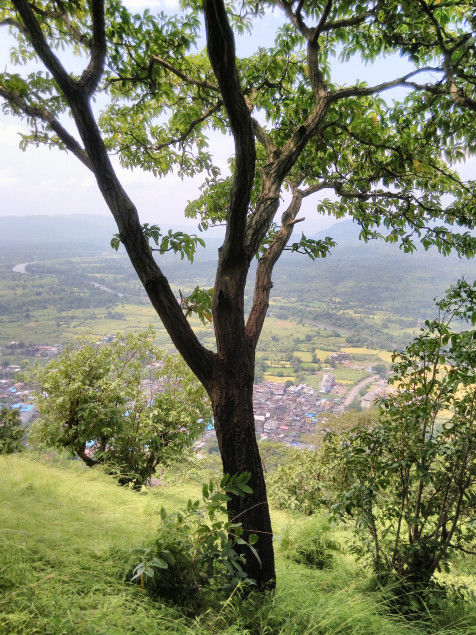 Instead of descending vertically, I started going horizontally, like a crab. Using this technique, I covered most of the area. I reached near to the village. But I knew I was going on a different route than I started. Looking at the village, managed to find the way. And this way, I reached down. I could see the twin fort of Sudhagad too.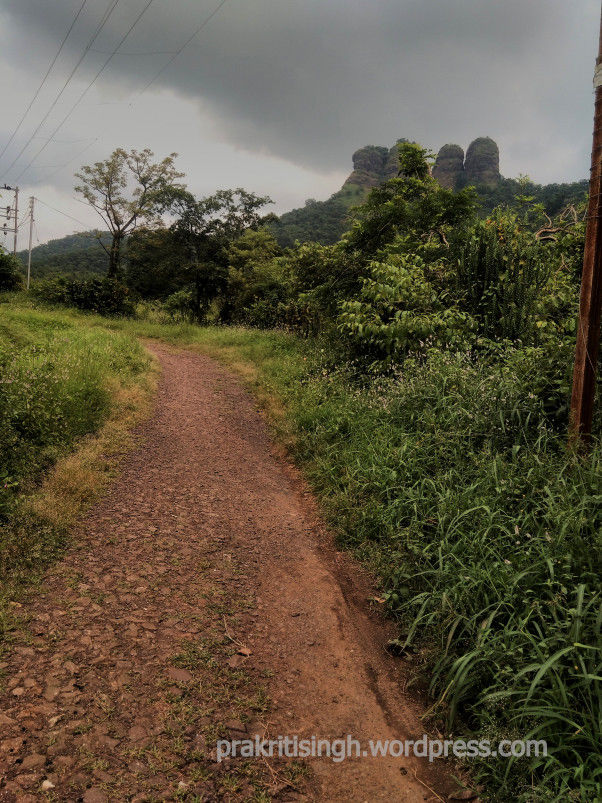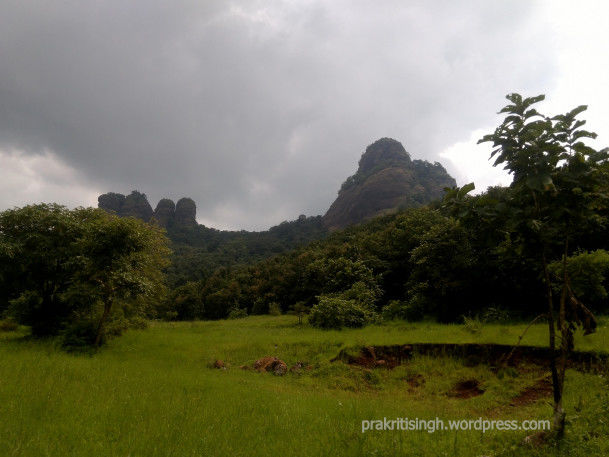 Harshal had come to pick me up. He was still worried, but happy to see me happy and safe. He told me it was a risky decision, to continue it alone, that too from the opposite side. I also became aware that monkeys in approximately groups of 20, attack hikers, particularly in that season. He purposely didn't tell me prior to the start. I felt grateful, that I didn't encounter such attacks. He dropped me at a restaurant near ST bus stand and returned to his.
As soon I entered the restaurant, it started raining heavily. I looked back, and thanked God again. Feeling dehydrated, ordered fresh lime soda and puri bhaji after changing my clothes.
The Conclusion
I couldn't conquer the fort, but I conquered one of the biggest fear, which every human share, the fear of being alone. An extrovert by nature, can enjoy being alone too. The writer within me loves to spend time alone, get lost in nature, because nature has its own way to answer questions, and provide guidance.The journey made me firmly believe something which I always read and found beautiful, Paulo Coelho's quote, When you want something, all the universe conspires in helping you to achieve it. Connected everything to it- me unknowingly halting at Harshal's restaurant, those villagers warning me, the snake passing by, my decision to descend, me being safe and not attacked by monkeys… and then it all made sense…
Straight from my Heart,
Prakriti Singh