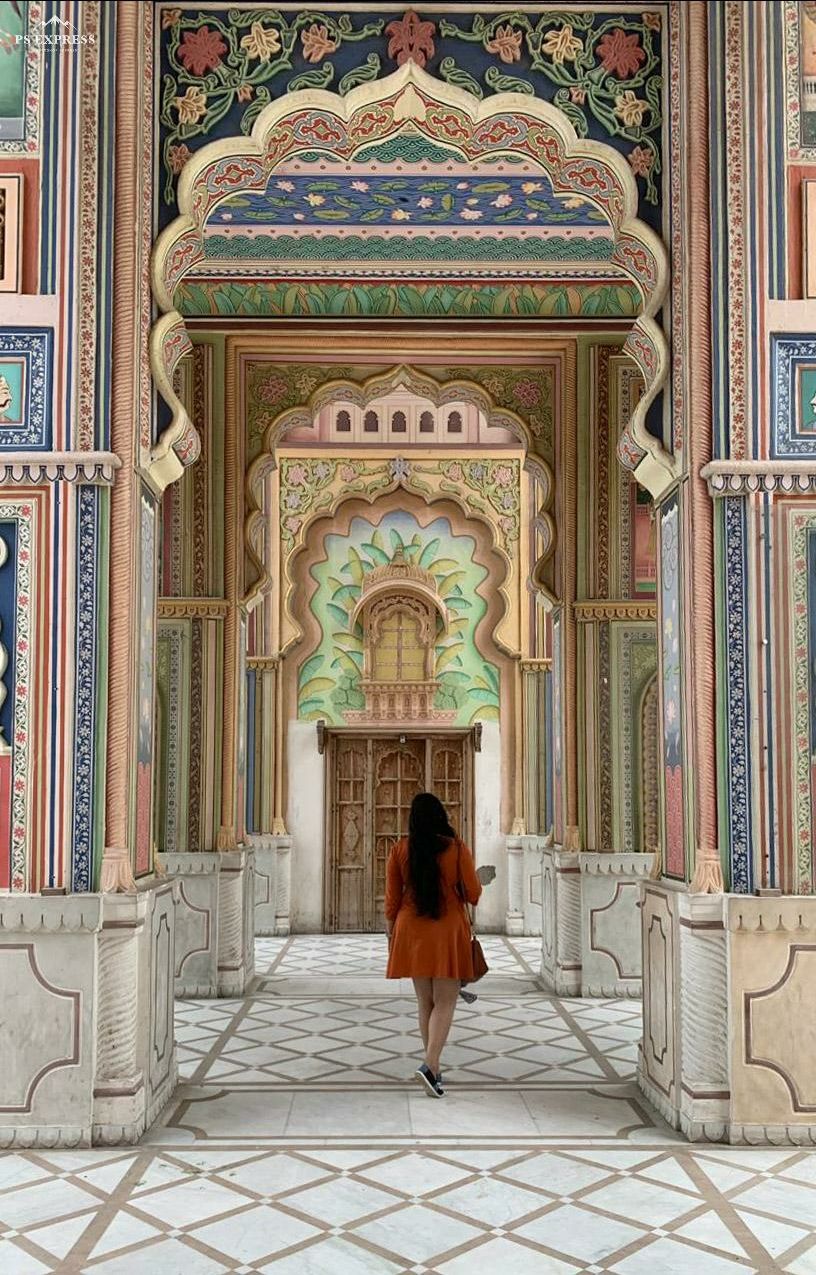 The second day was supposed to start a little early as I hoped to go till Bhangarh fort and come back, but laziness made me miss out . It takes atleast 2 hrs drive to Bhangarh and one would need to start off really early in morning to come back by evening to Jaipur at a safe time, specially if you are traveling alone with a cab driver.
So instead of going to Bhangarh, we took an ola Rental for the whole day , which was affordable and gave us the liberty to cover the far off places at our convinience.
We planned to visit Amer fort , Nahargarh fort and Panna Meena ka kind which are little far from Jaipur main city , all these 3 places are close to each other and can be easily covered within 2-3 hrs of reaching there.
Amer Fort and Nahargarh Fort are huge and beautiful places with astounding feel of the history attached to them. It rained the day we went there which made it even more beautiful. The lush greens contrasting on the Pinkish tint of the Amber Fort is no less than a post card.
You will need to take tickets from the ground floor once you enter the Amber Fort and then get through security gate etc, it's a huge fort to cover on foot and the best thing is mobile photography is allowed, so to add a little excitement to your Instagram account.
At times they even have elephants to climb down from fort till parking, it was raining so they had Golf cars which was affordable and a delight for the kids ofcourse.
There are even some good Shops to buy different kind of sarees and dress materials just below the Fort.
Panna Meena ka Kund : It is a Staircase well, and is a beauty for sure. If you are a Bollywood fan you might have seen something like this in Shahrukh Khan starrer movie "Paheli". This structure is actually a called 'Baori' in local language, and is found in a lot of Rajasthani Towns. It is supposed to be very deep and risky to climb down, specially in rains as the stone gets slippery.
I skipped Nahargarh Fort visit as we were short on time, but it is a must visit if you are big on aerial views considering it is on a much more higher altitude than Amer Fort and gives a full view of Jaipur.
Be careful of cab drivers insisting to go there if you are traveling alone, as they might cheat you on money for climbing up by their own vehicle.There are also tourist Jeep's available to take you up till the fort.
There are restaurants inside both Amber (Amer) and Nahargarh fort, but obviously a little pricey considering the location. Nahargarh has a restaurant called "once upon a time" which gives you a good night view of City with lights, only if you want to give a little liteness to your pocket.
After covering these spots we came back on our way to City and stopped for a few 15mins at the lake palace ,which is now not reachable via boat, you can look at it and click pictures from around the lake. Local people say you could visit it via boat a few years earlier, but now it's not it's a little damaged and hence is risky as it is in middle of the lake.
While coming back, our cab driver did get us to a handicrafts centre, a good place to shop anything ranging from blankets, textile, silver jewelry and artifacts of marble etc. Our driver was honest enough to tell us later that they do get there own 'cut' if we shop from these places they take us.
Covering this, we came back to the hostel around 5 pm in the evening, took some rest and then decided to experience the Royal services the City offers in it's Palace hotels.
We had dinner at one of the most beautiful Palace hotels of India, and I think the most beautiful Property of Taj hotels : Rambagh Palace.
Rambagh Palace has multiple restaurants in their campus ranging from Verandah cafe best for a brunch, to a unique cafe called Steam with a train and platform theme, to the original Rajputana glory of Suvarana Mahal and Rajput Room.The latter two serve authentic Rajasthani cuisine.We chose Suvarana Mahal because of the Majestic Glory and the heritage decor along with the craving for Dal Bati Churma, the authentic Rajasthani Dish.
This experience is expensive but worth every penny just because of the service .You feel like you are at home and yet a Royalty.Food is amazing, but you can find the taste it in other places too if you don't want to be too hard on your Pocket. Other than food, Rambagh Palace is still worth a view and hence i have no regrets. This is my view considering i am hardcore emotional about heritage and palace, basically everything old school and with a history. You can choose to even spend the night exploring food around the city and lights of Albert Museum etc.
My day ended feeling like a Royalty and a belly full of food.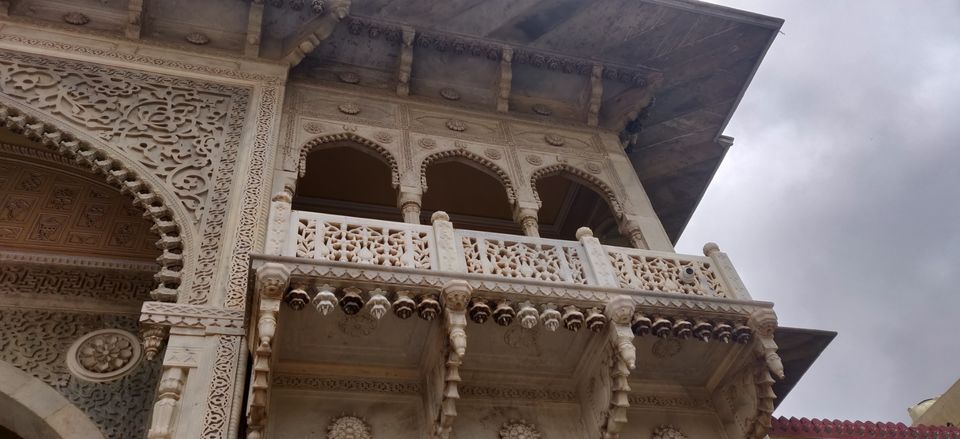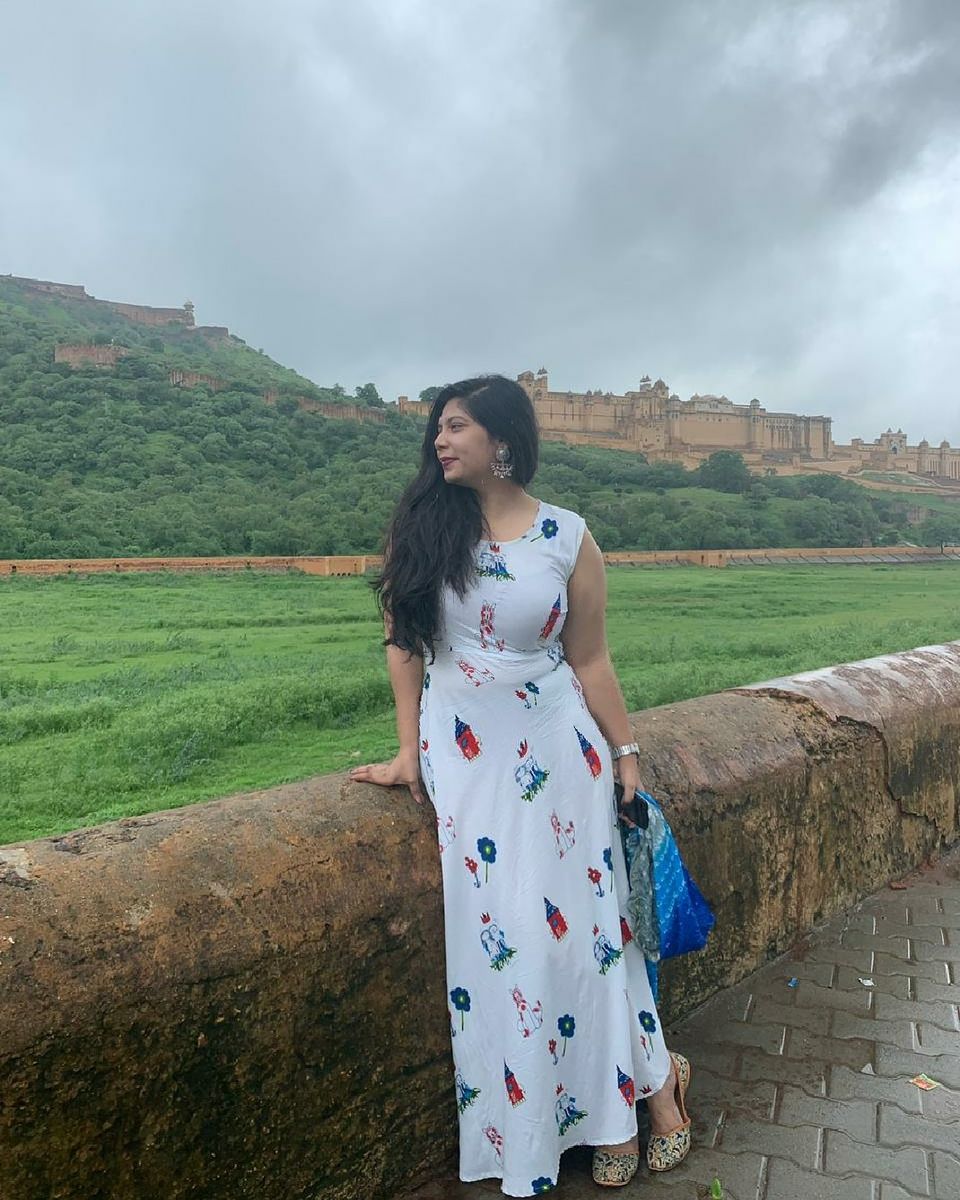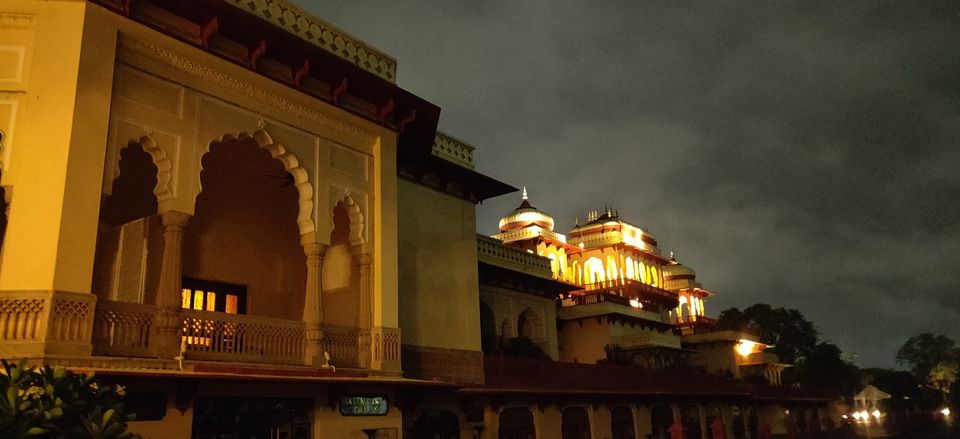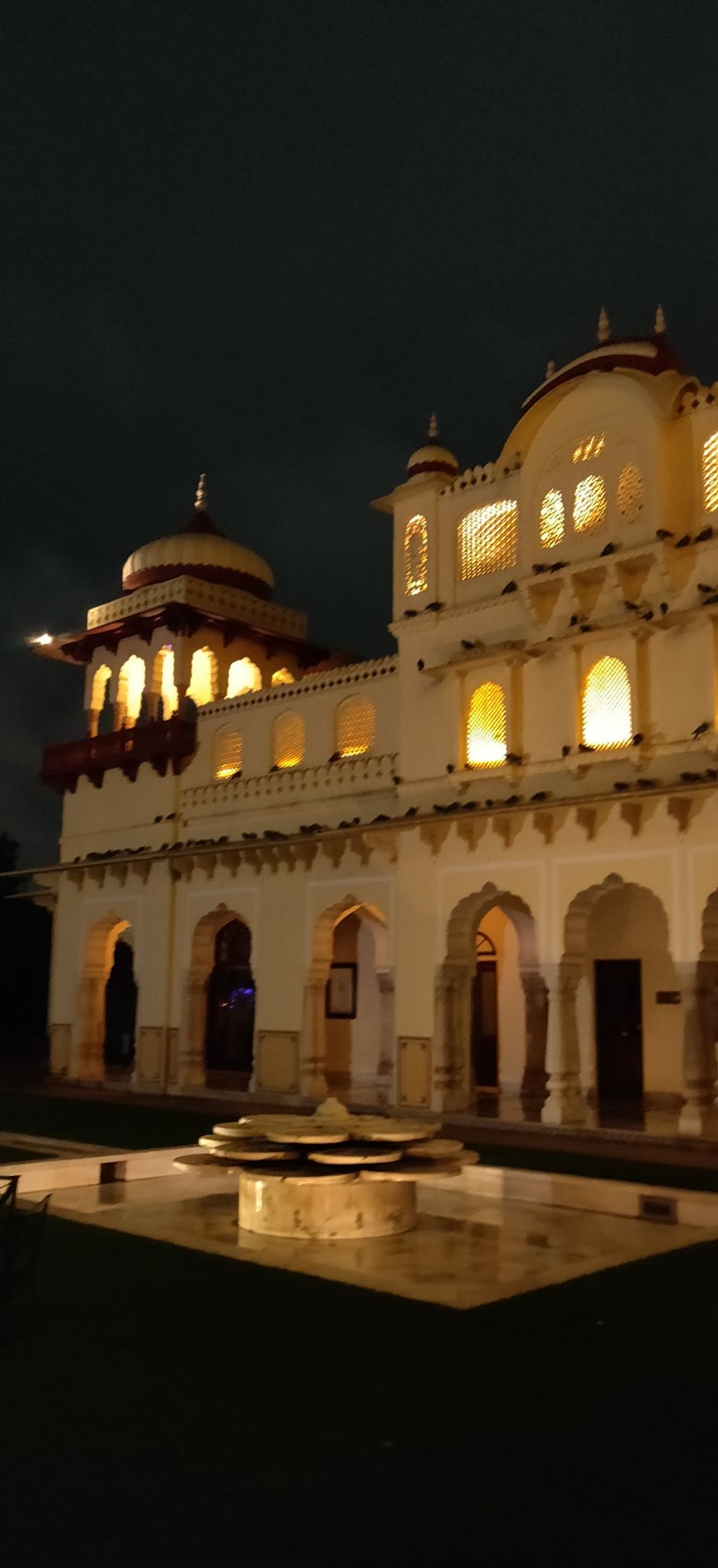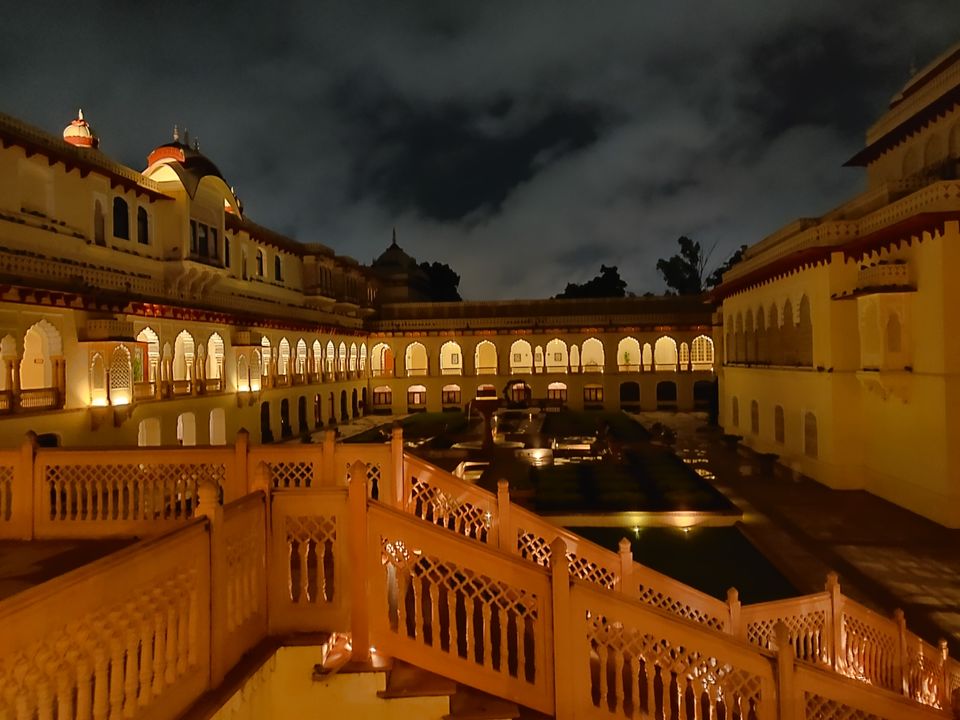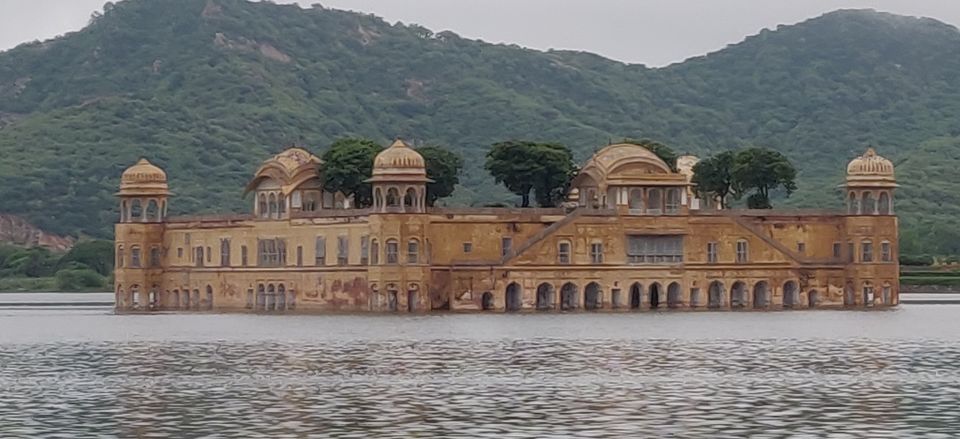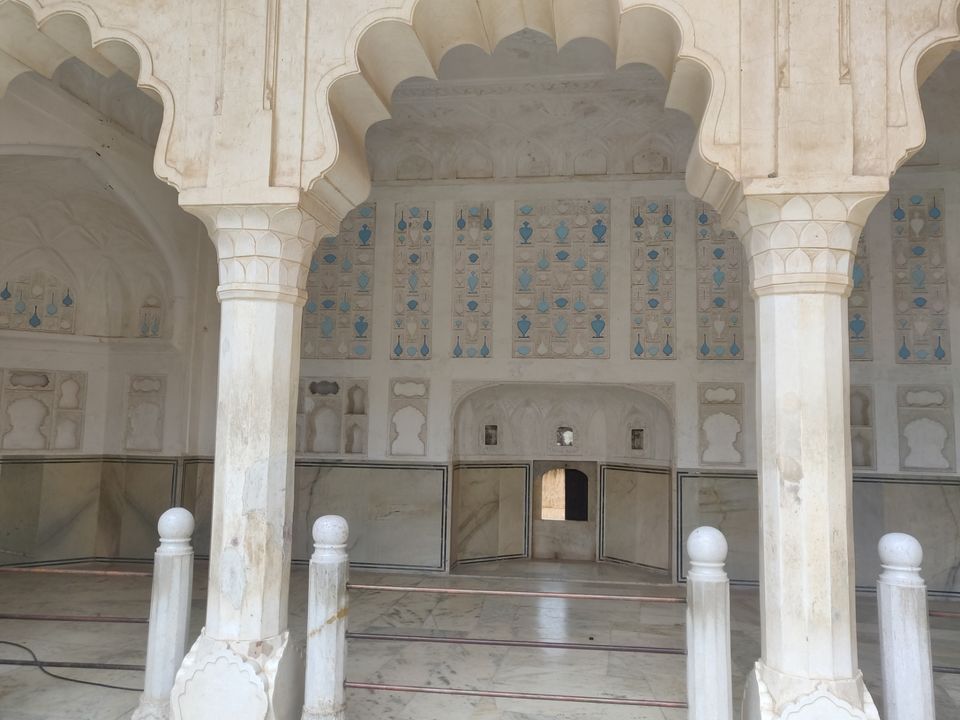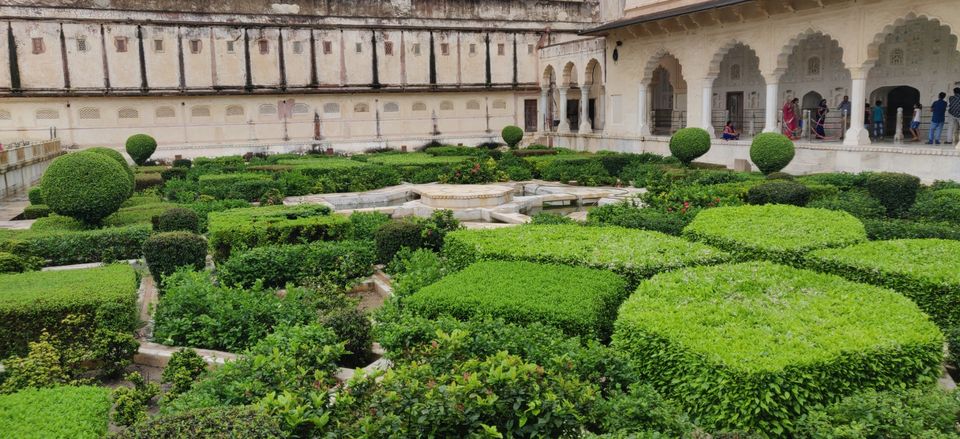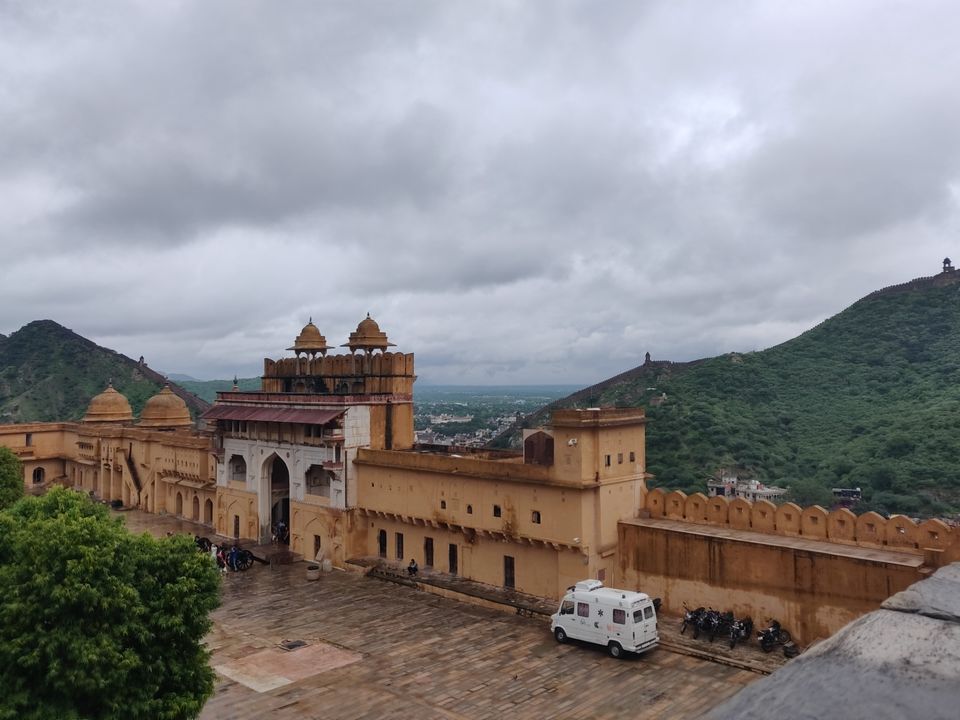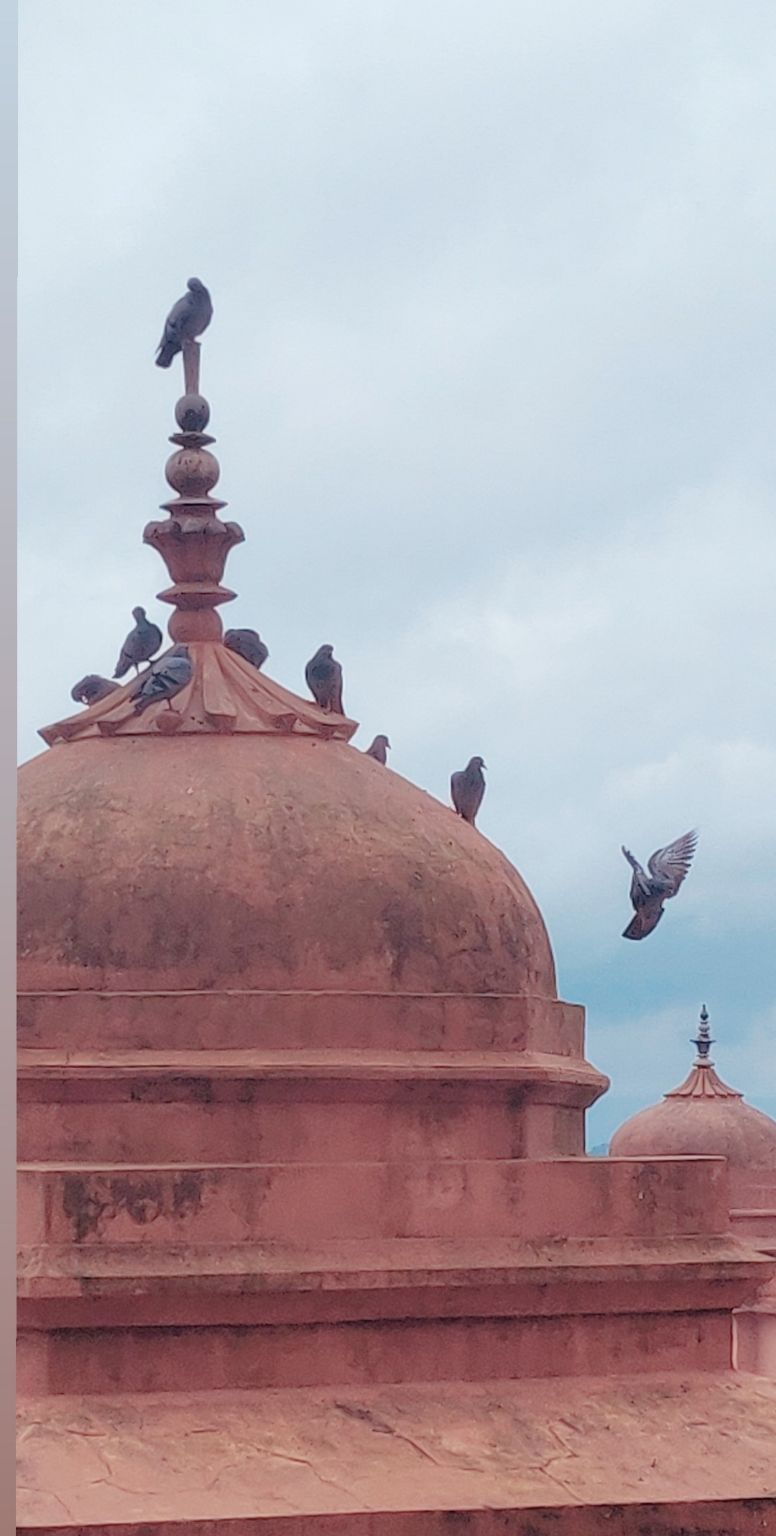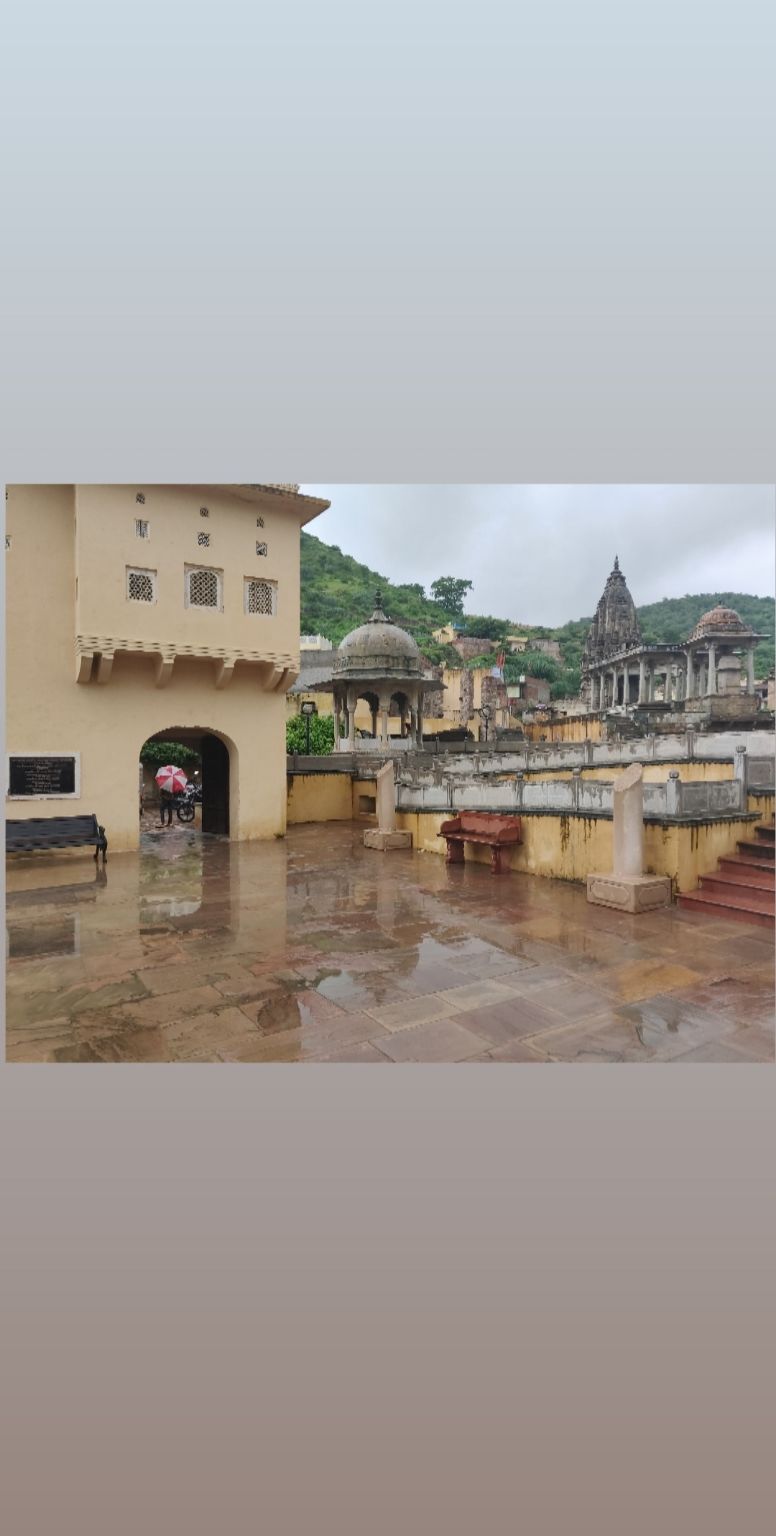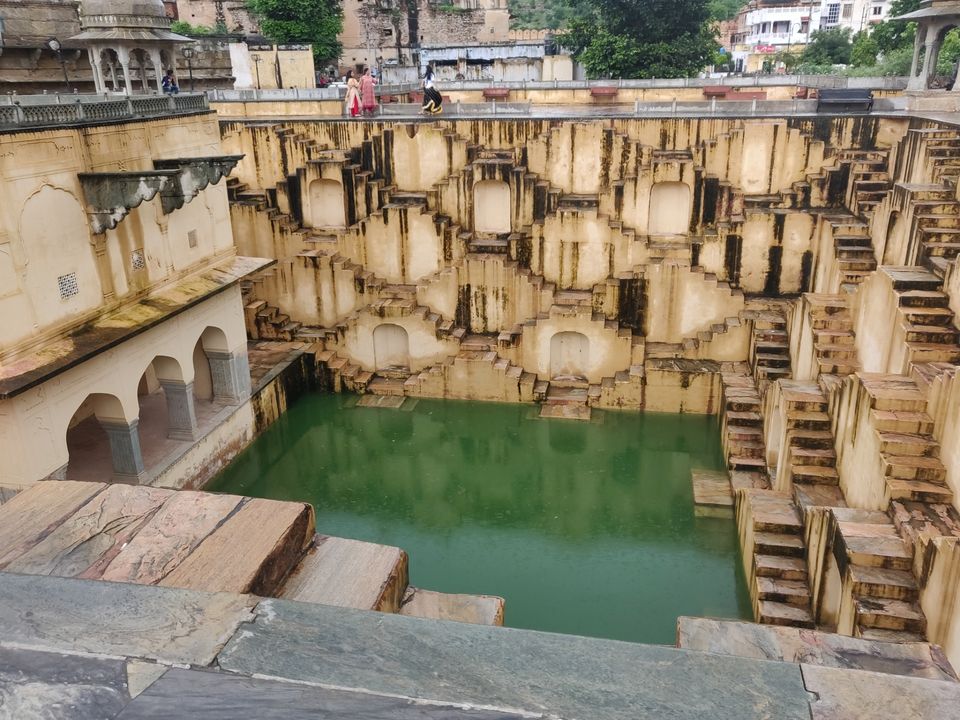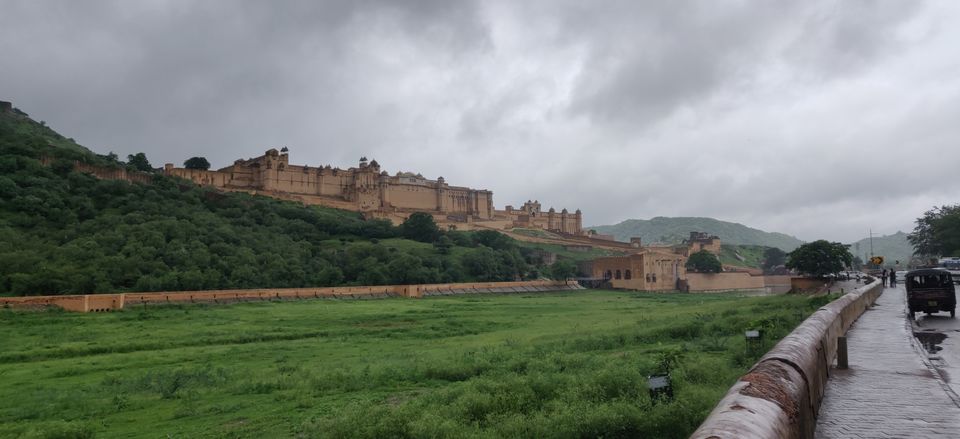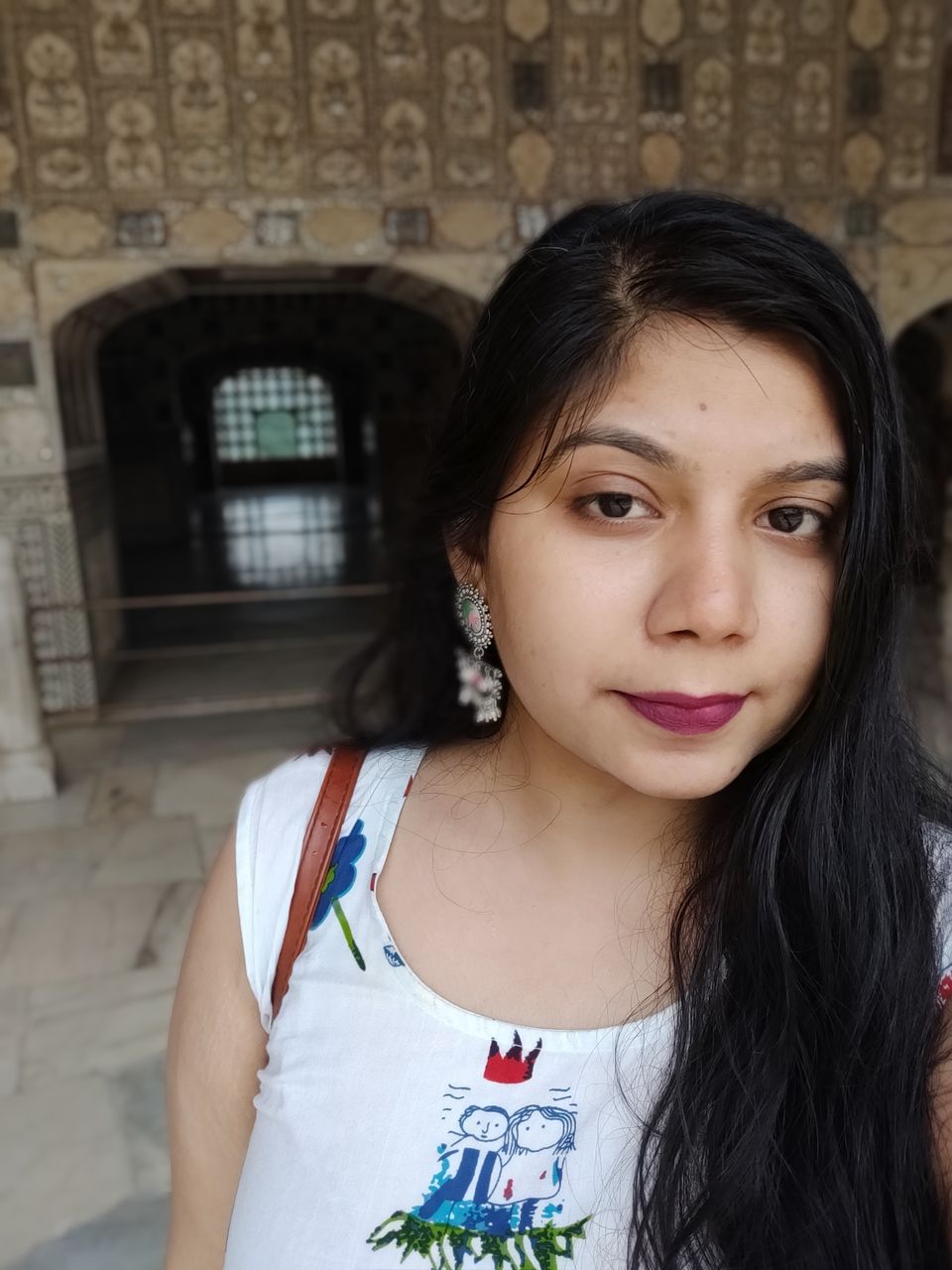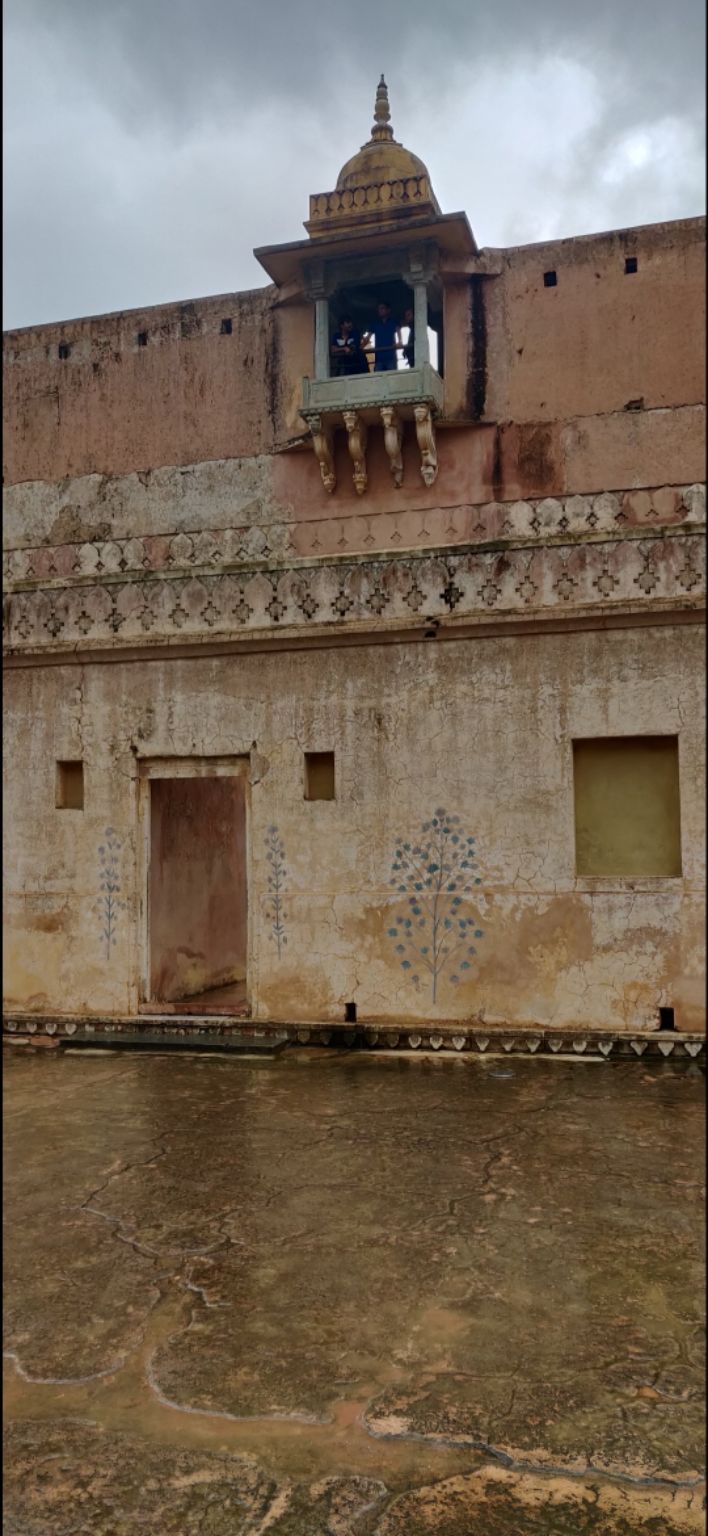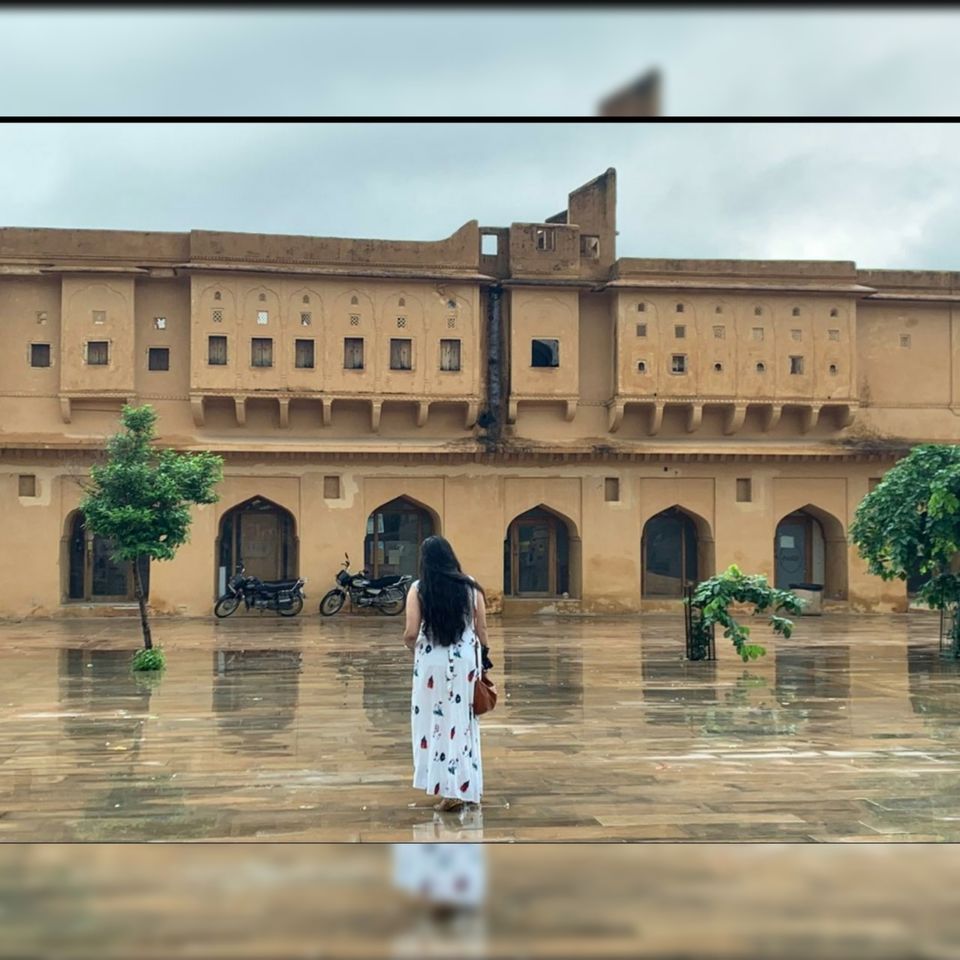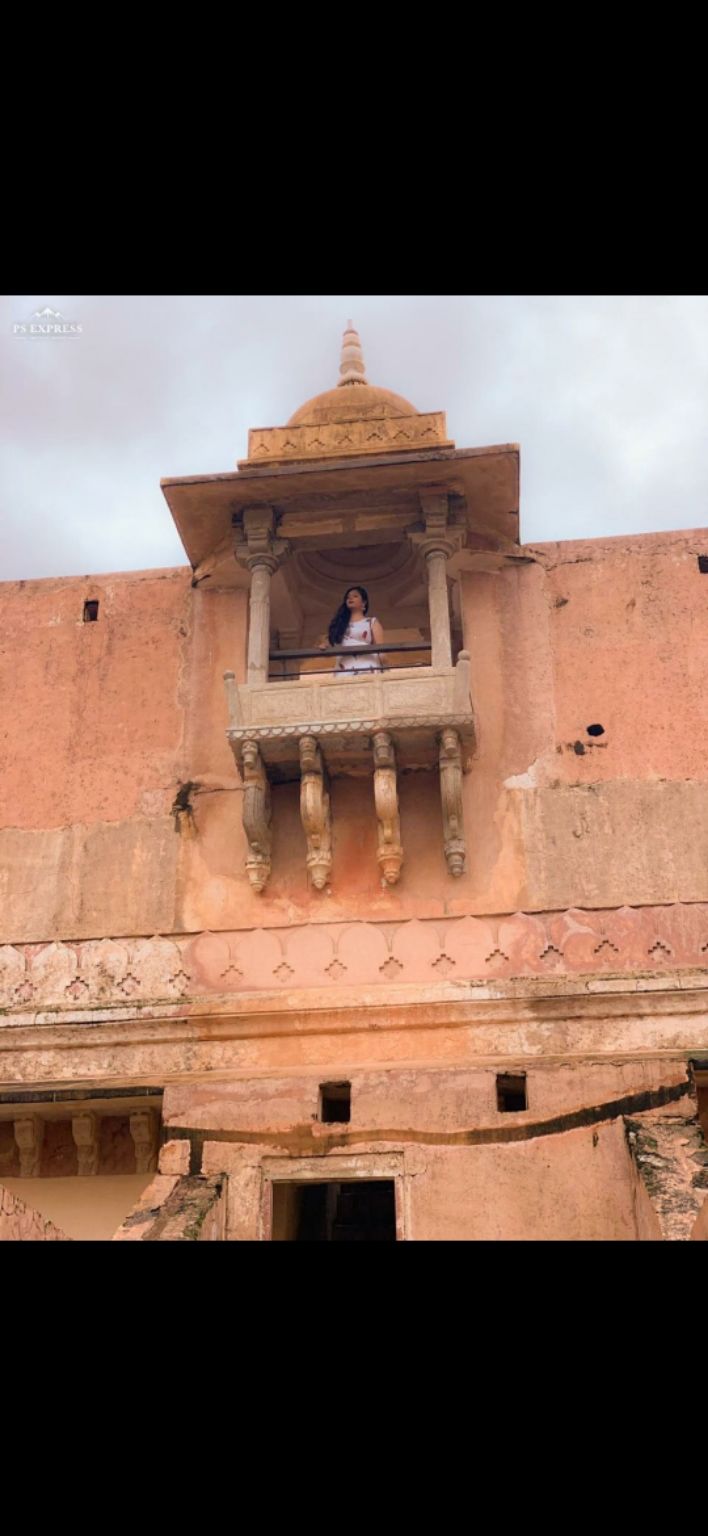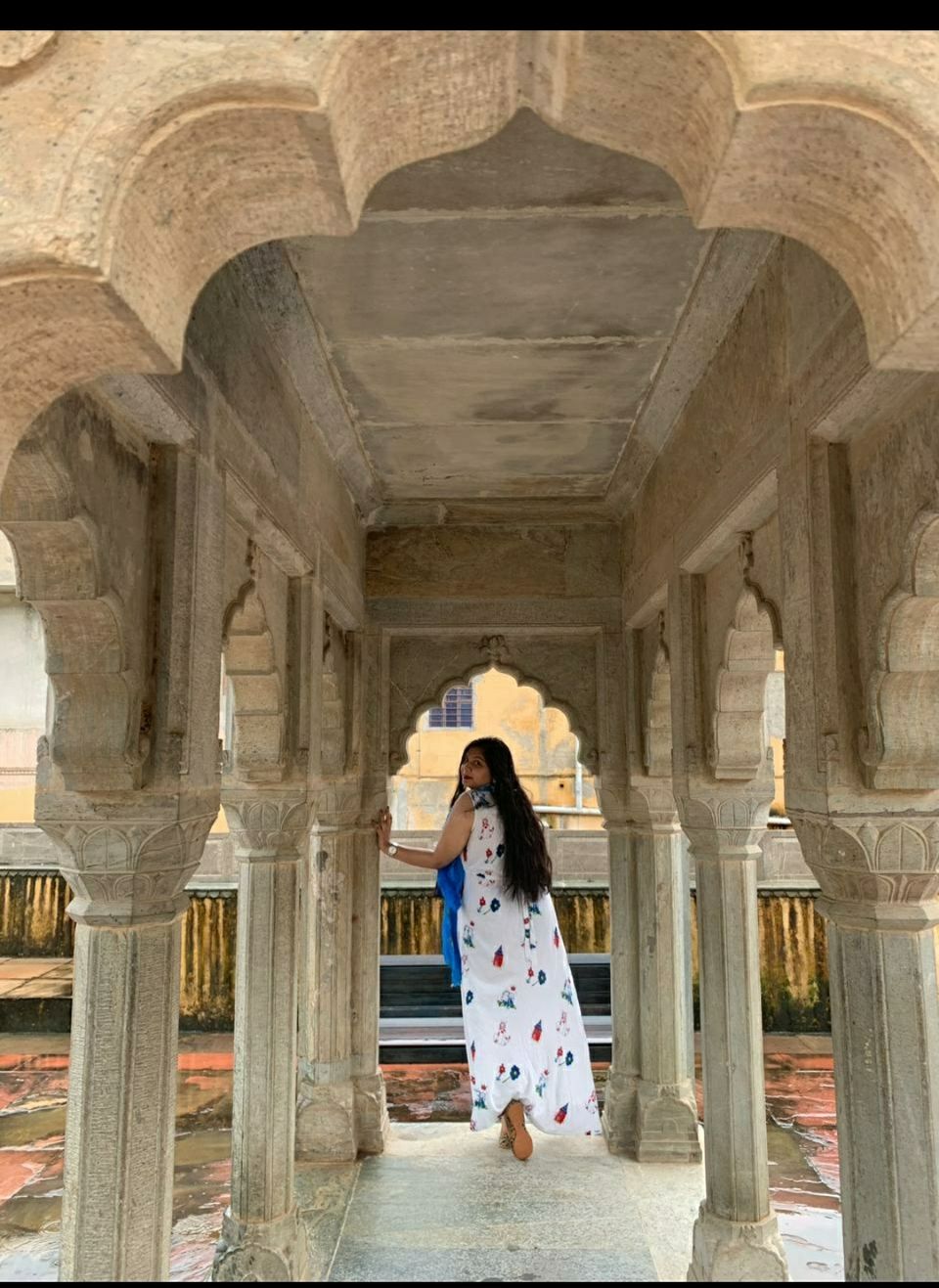 Day 3 was to start with a good brunch at Rambagh palace and We did visit Rambagh Palace again in the morning, but ended up having lunch somewhere else.
We did manage to get a very good lunch , and elaborate Rajasthani Thali , and some good time spent at Jawahar circle park.
We were told by the rickshaw driver that it opens at 4 pm so we skipped visiting and headed to Jawahar Circle straight.
It is good monument specially for Photography and inside is a park where you can see localites and tourists altogether.
After this we kind of took a break and went back to the hostel to take a break, in the evening I went shopping in and around the colonies of Jaipur where people have their own boutiques inside houses. If you have a good eye you can actually bag something good for yourself.At night we went to watch the panorama projection show in the water at Jawahar circle but unfortunately could not as the area of city was having a power cut. If you are lucky try to catch it.
Albert Museum lights are worth a view from the outside although we didn't have the time to go in.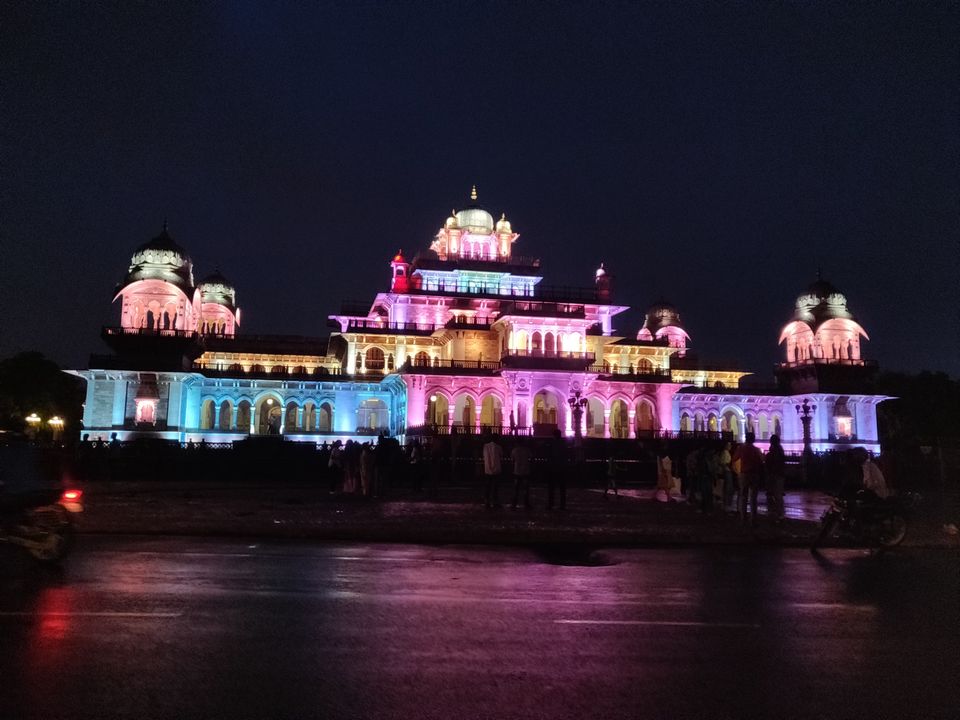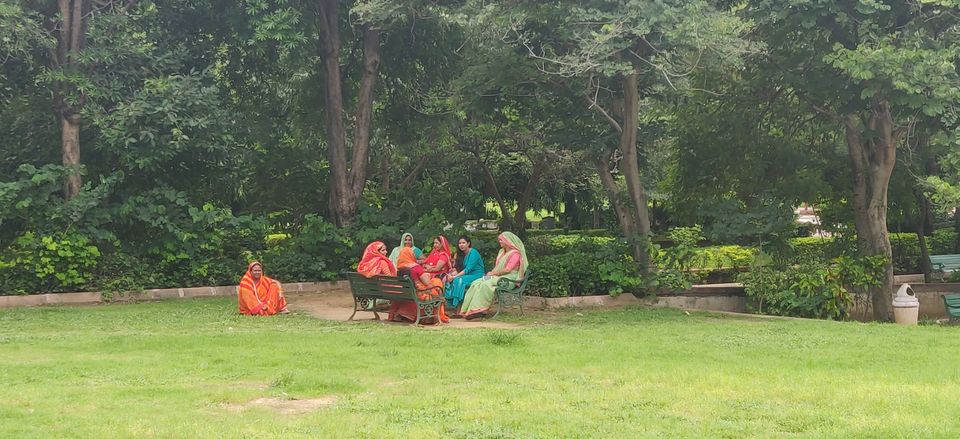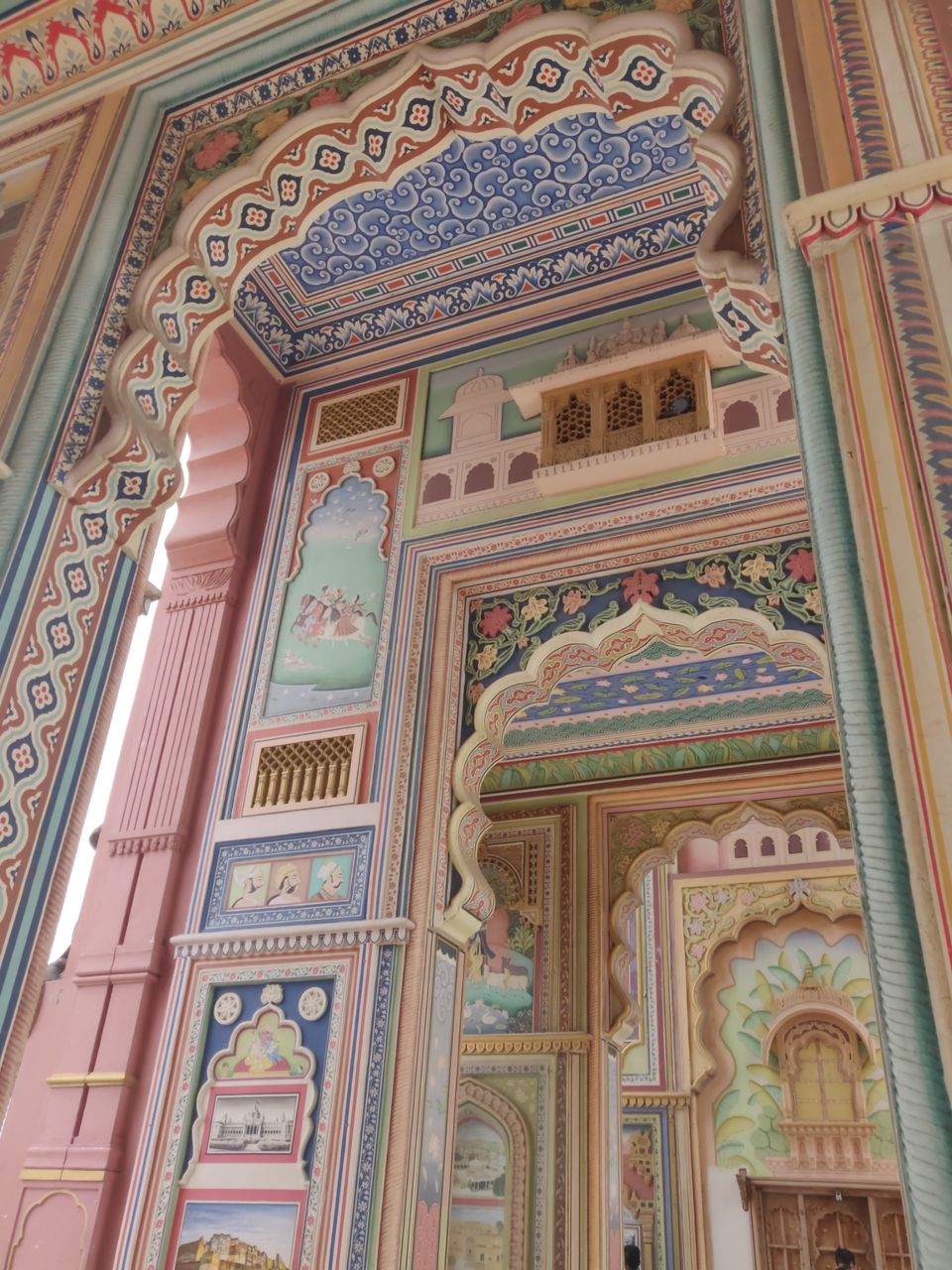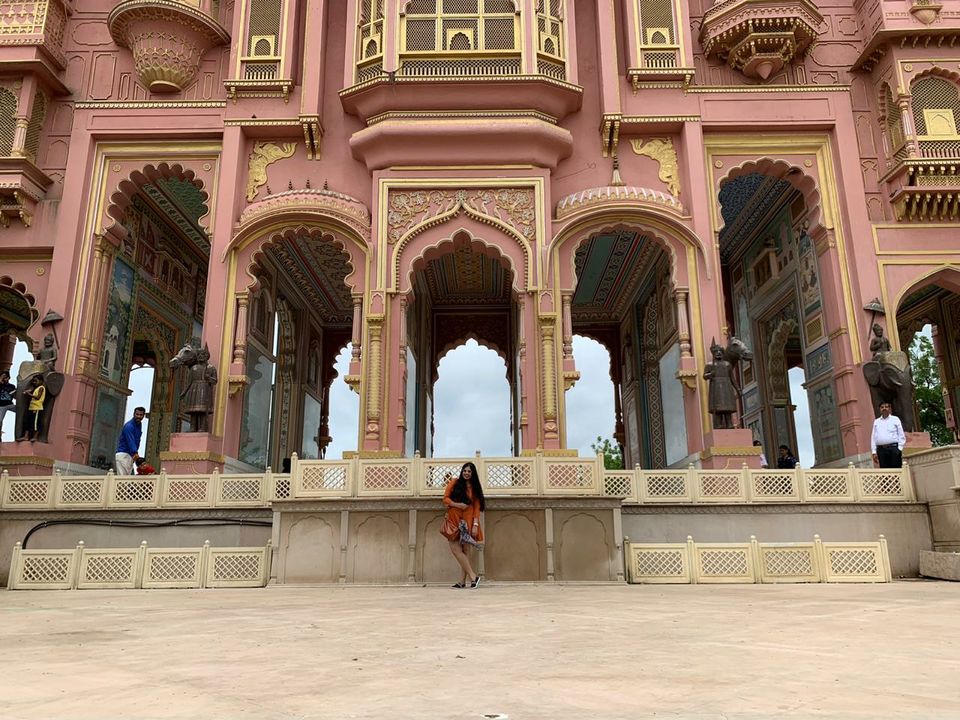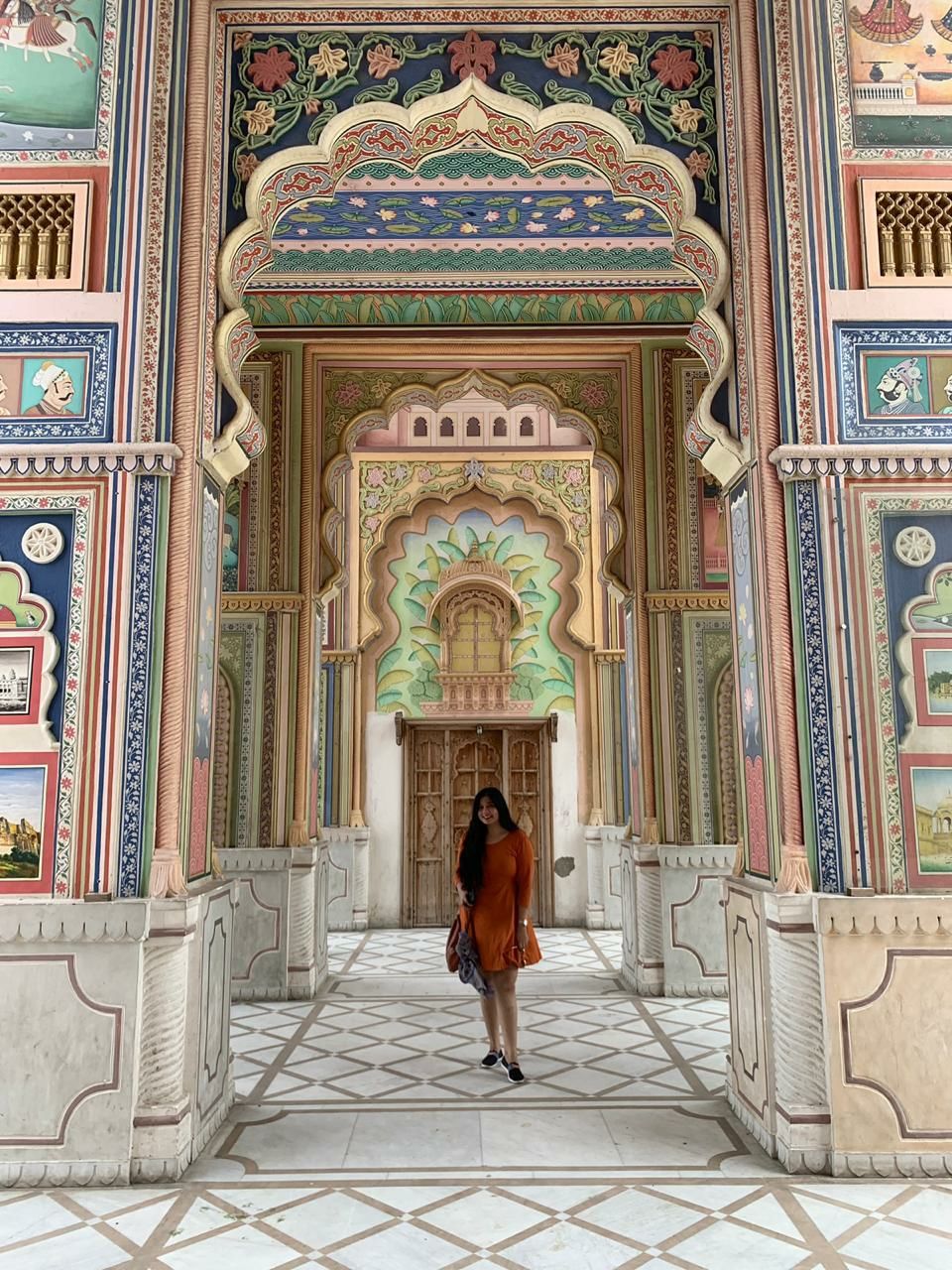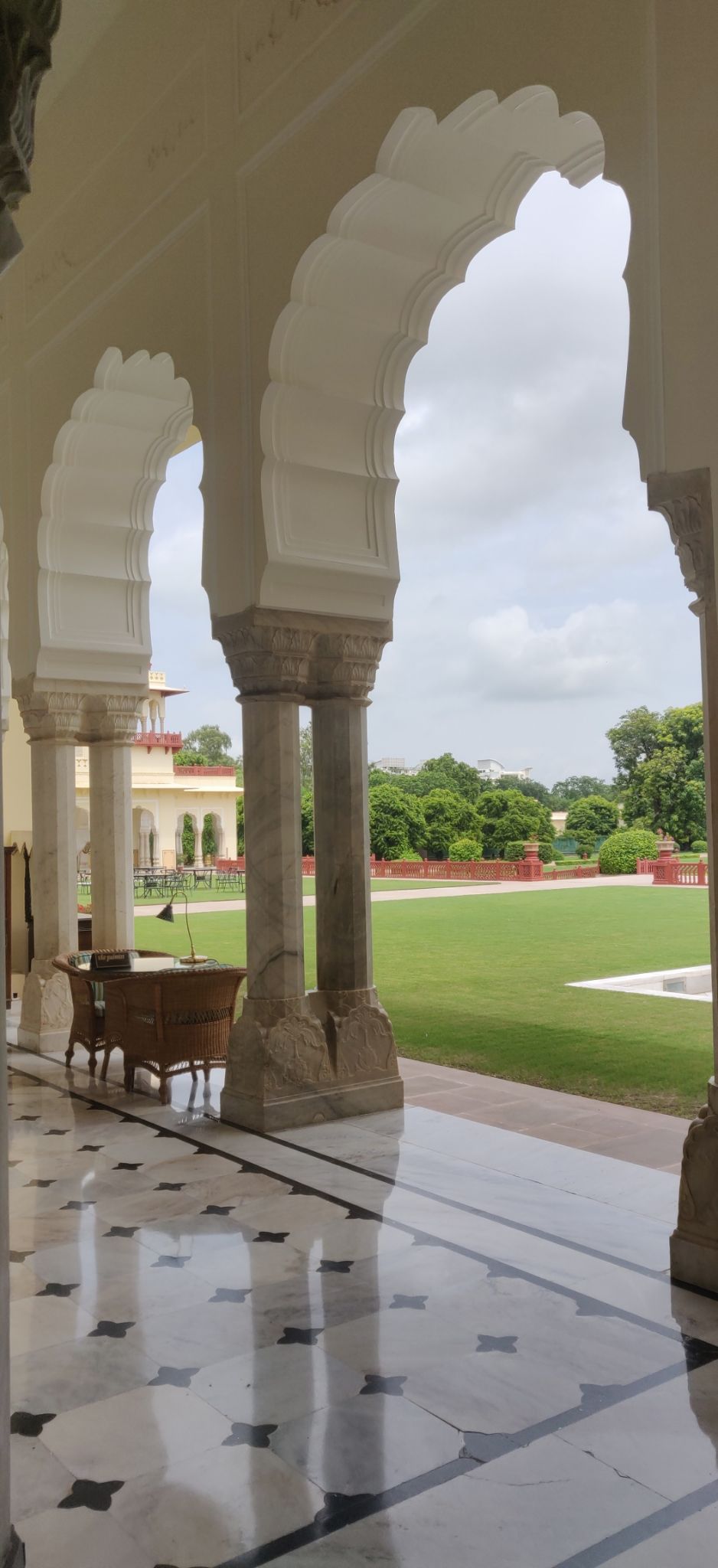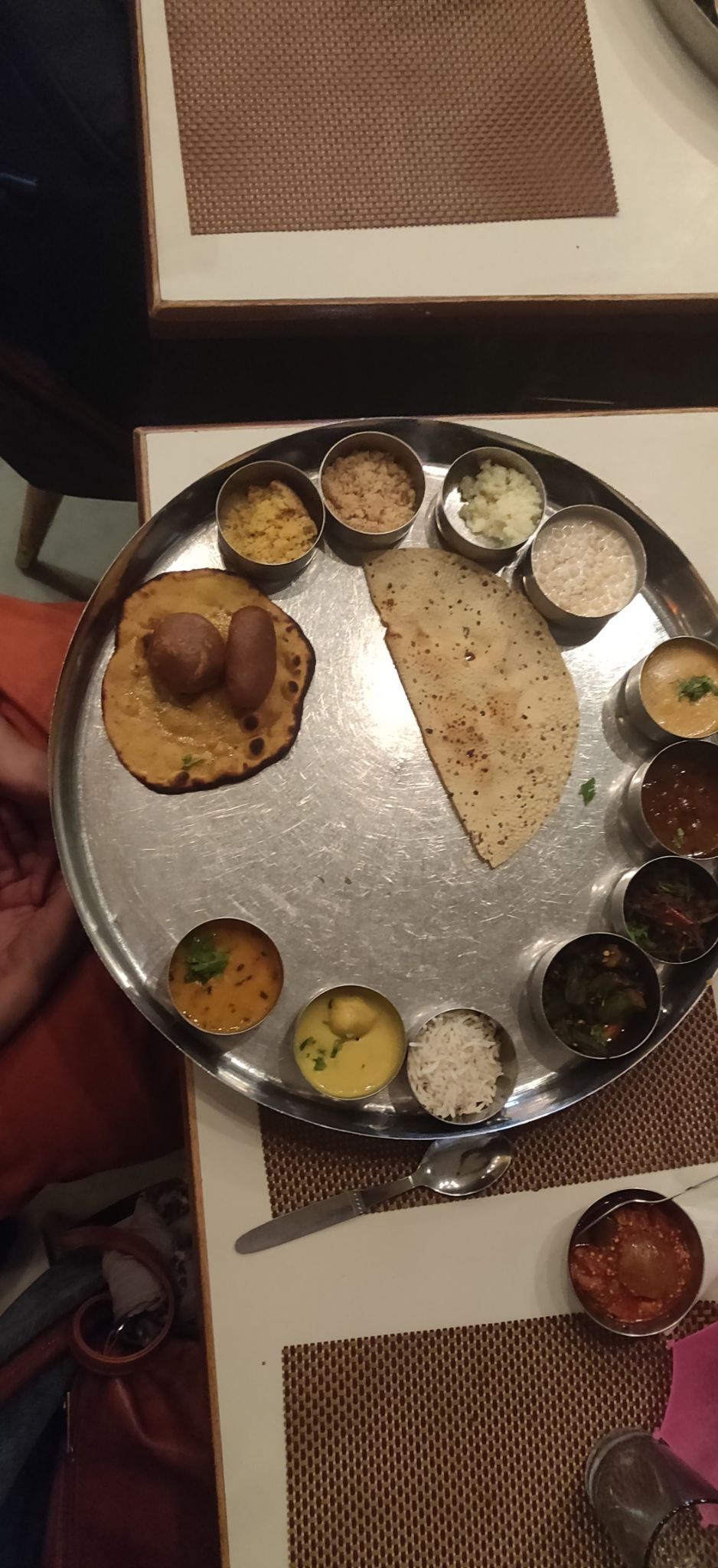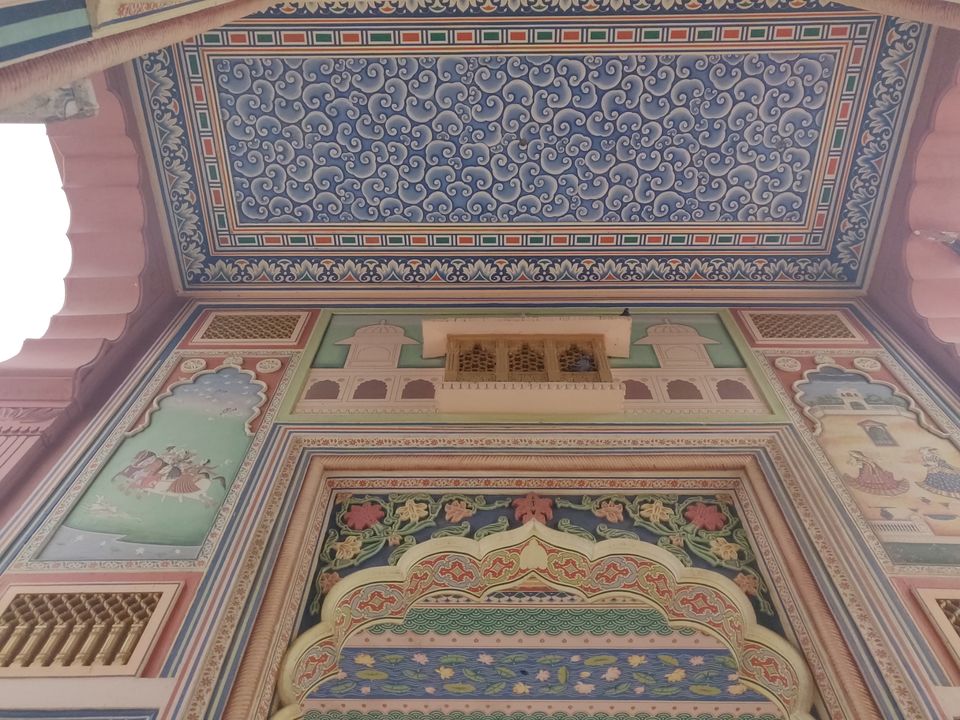 I arrived at Jaipur on the morning of 16th August, full of excitement, as this was my first solo trip, and there was nobody i knew in the city. The hostel I had booked had given me an option to be picked up by an auto rickshaw, which I chose in order to give myself a buffer time in understanding the city, the transport system etc and not get fooled into a very expensive ride till hostel because of being a tourist.
It was hardly a 15 min ride from the airport. Once i checked in, within a few hours the common room of the hostel became the place where i found new friends, who turned out to become my co-travellers. It was one hell of a diverse group ranging from an Australian guy ,to an American girl an Indian American Man, and a Mumbai woman with her kid , and ofcourse me a solo traveler from Mumbai.
We took a rickshaw from our hostel to the City palace, as this was close to us. We took a ticket for just the outer area and museum of city palace.There are different kind of packages at different rates, some even allow you to enter deeper areas of the palace,where the Royal family still resides. Also the rates vary for Indians and foreigners.
City palace has a decent museum with some artifacts, clothes, weapons and even throne etc which were used by the Royals. Photography is strictly prohibited inside the exhibits, unless you are a professional and want to pay extra for tripod and camera etc ( you should speak about it at entrance). Phone camera is also not allowed to be used in museum, they are very strict and vigilant about it.
After the City palace we walked to the City's greatest and famous attraction and also the main center which is the Hawa Mahal. It is a great place to have a view from, specially the Nahargarh fort situated at the Mountain is a clear view if you climb up the Hawa Mahal.
We actually skipped the climbing part and instead chose to go into a rooftop cafe directly opposite to Hawa Mahal , which gives an amazing view of the city Market and a frontal view of Hawa Mahal ( a great view point for clicking Hawa Mahal I must say).
Since we were in the area, we chose to explore the main market surrounding the Hawa Mahal area. Because it's a straight road , which keeps on going while the kind of stores keep changing from the whole row of jewellery shops ,to utensils, to clothes, etc.
Ps; I went in Mid August so the weather kept changing between Humid to a little shower, which adds to the beauty.
The evening ended with us getting back to the hostel having dinner and going out for a few drinks, as the few of us were leaving the next day.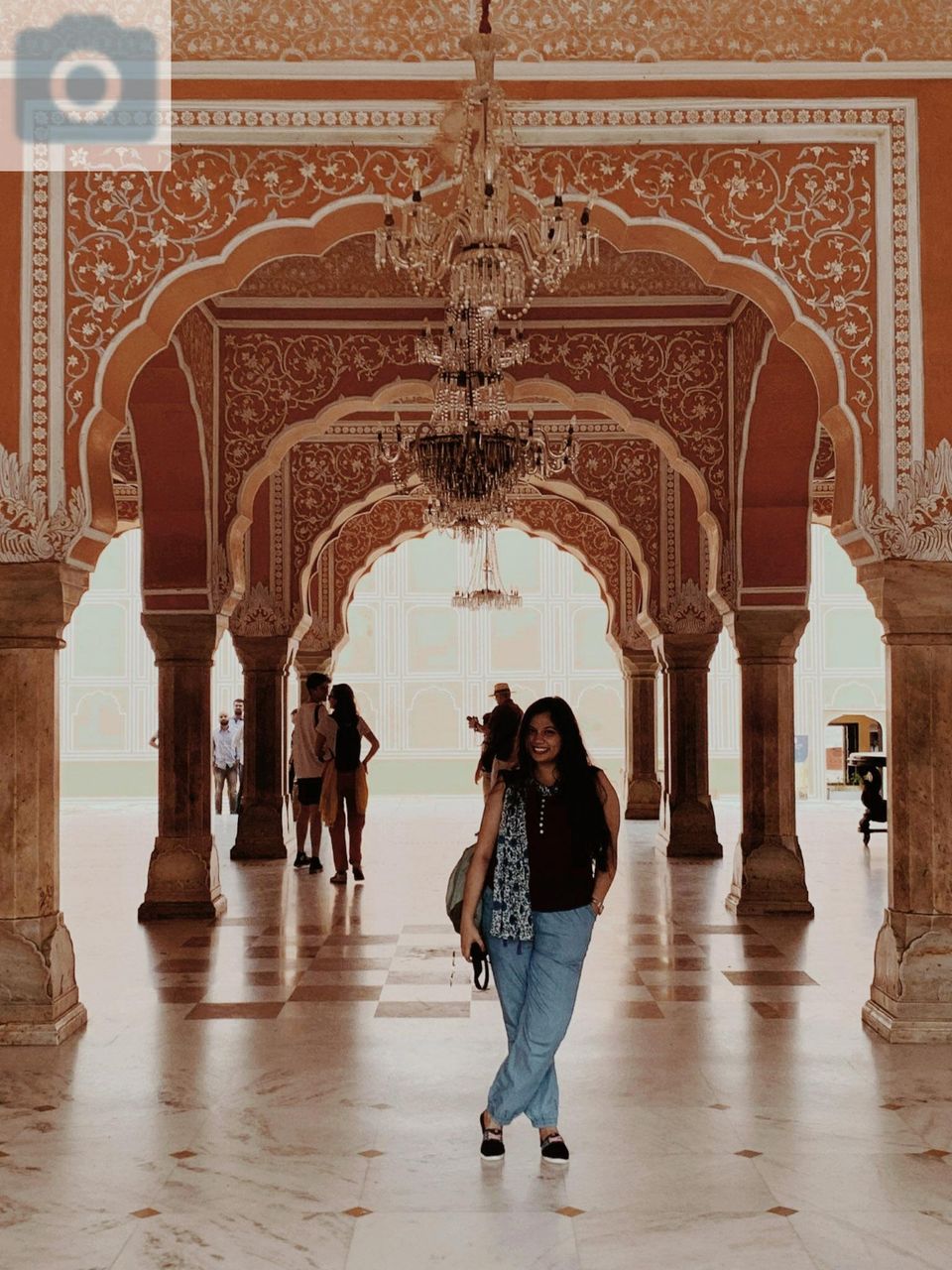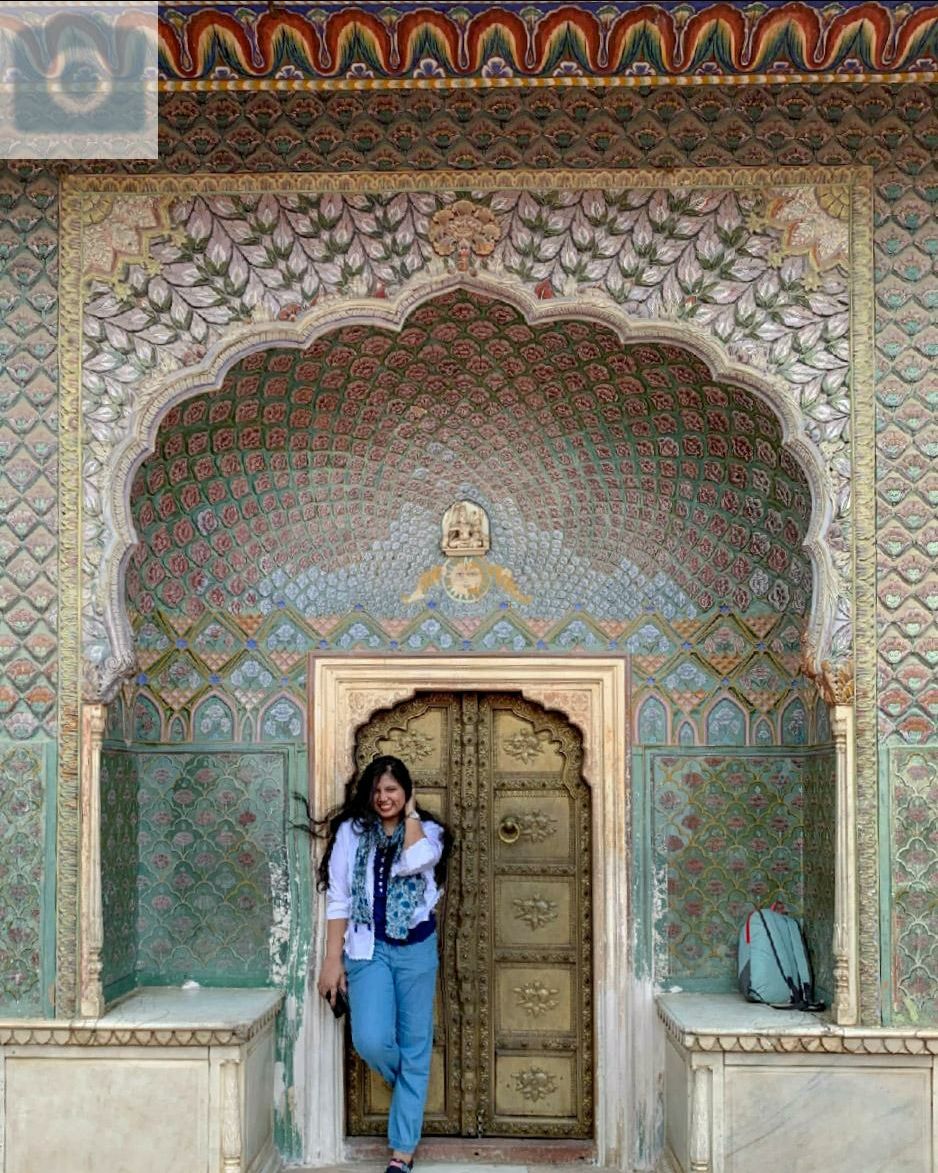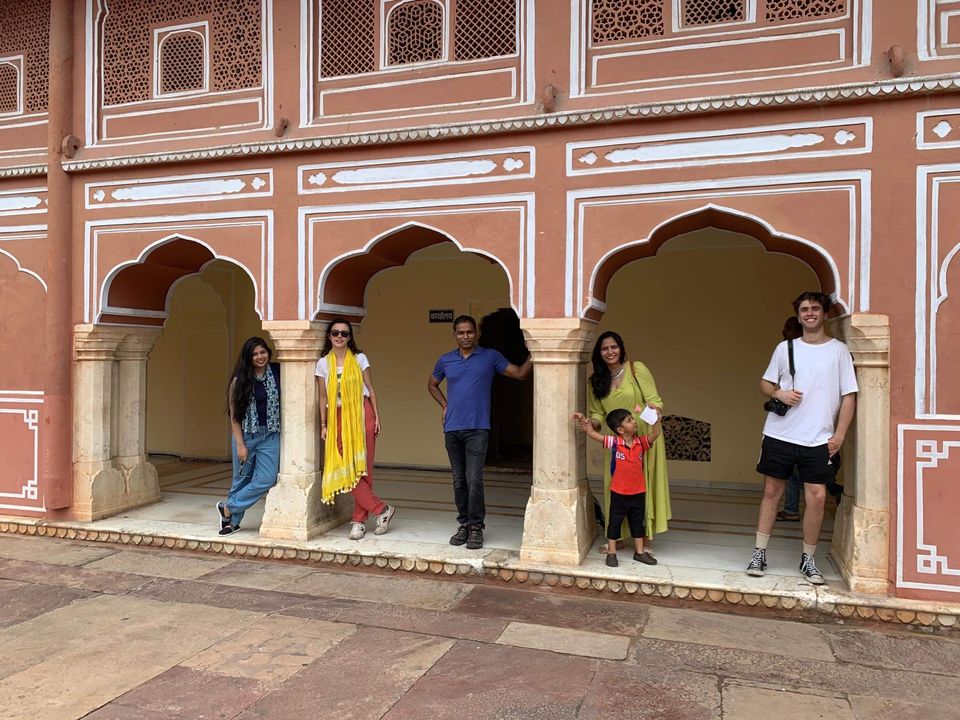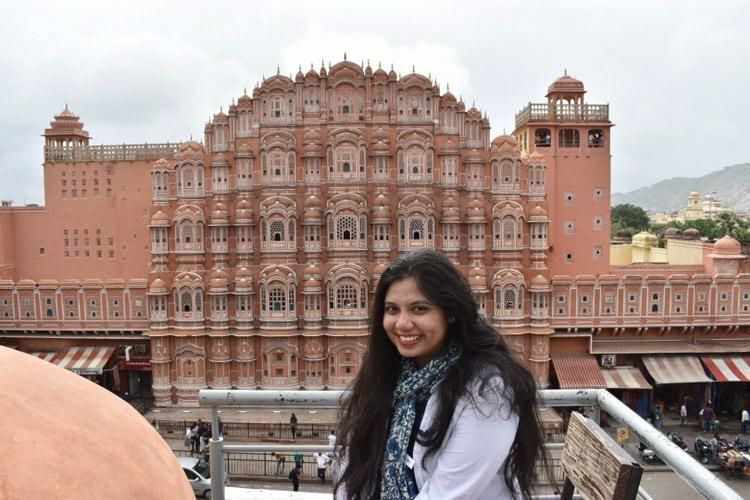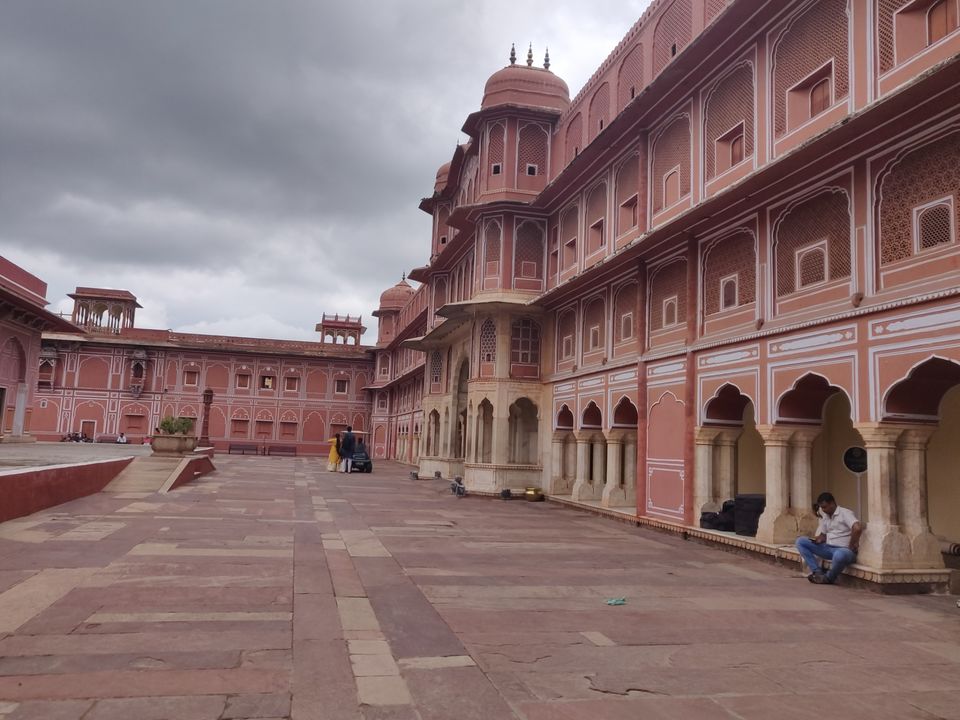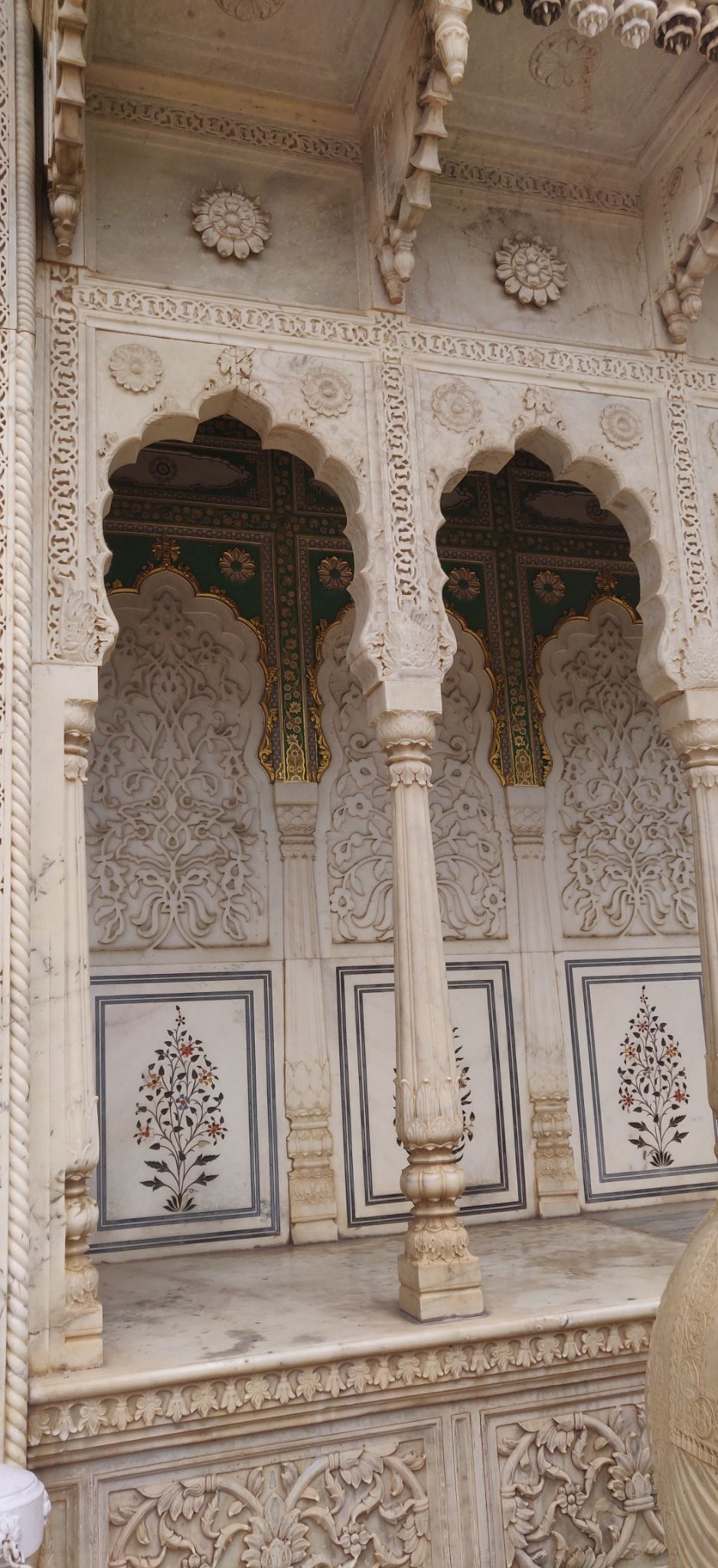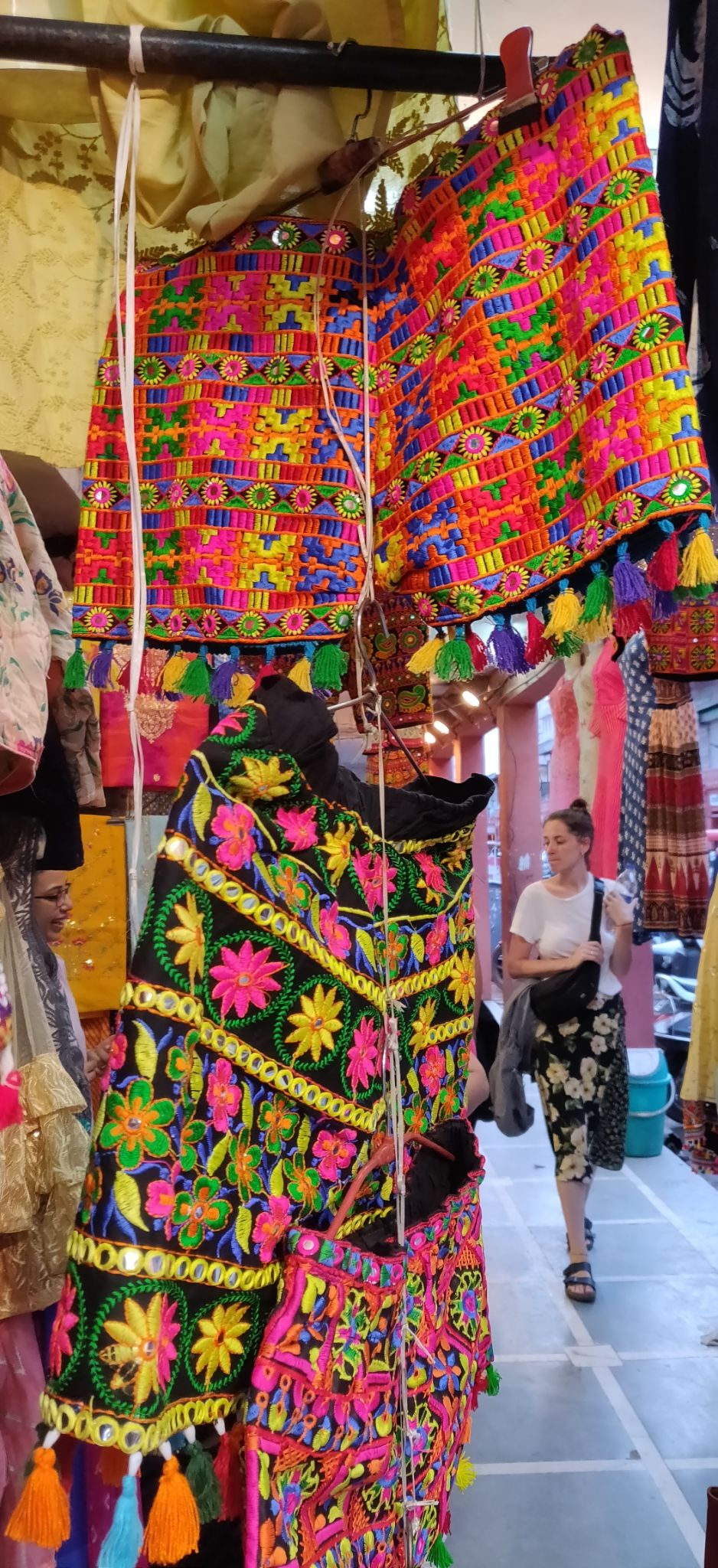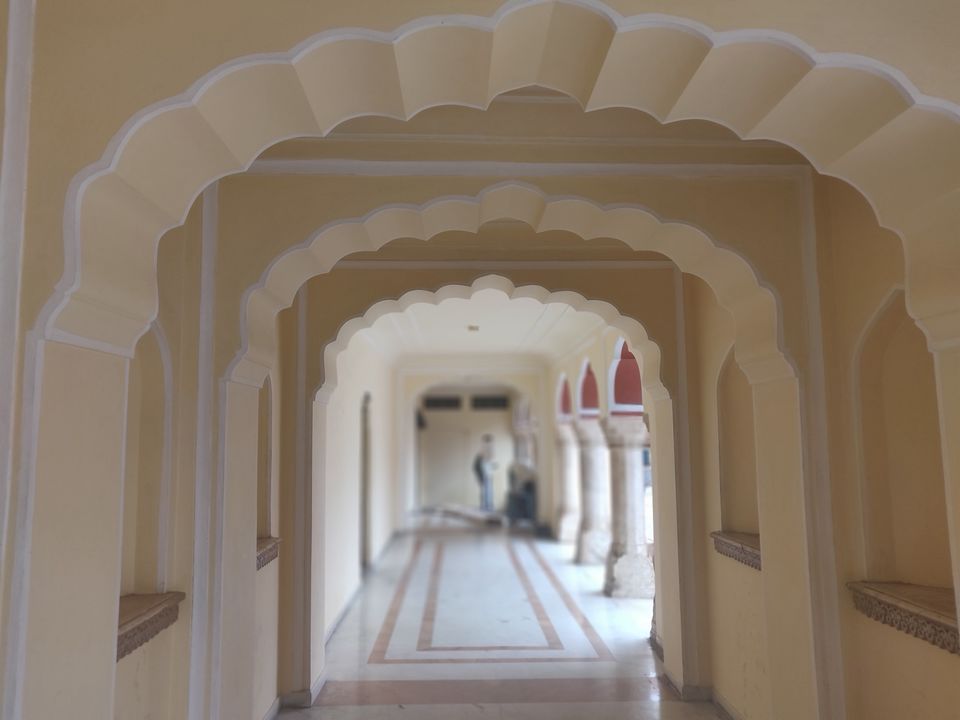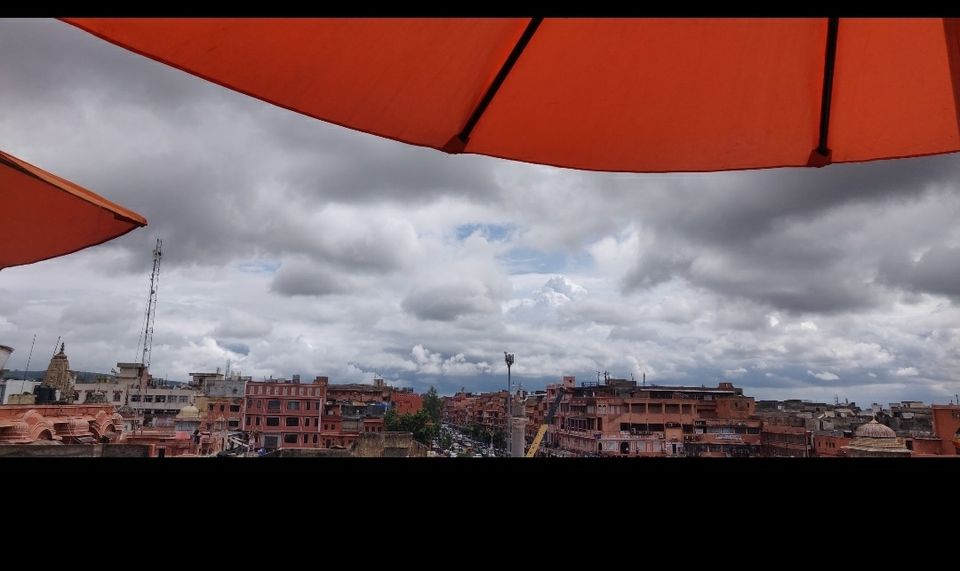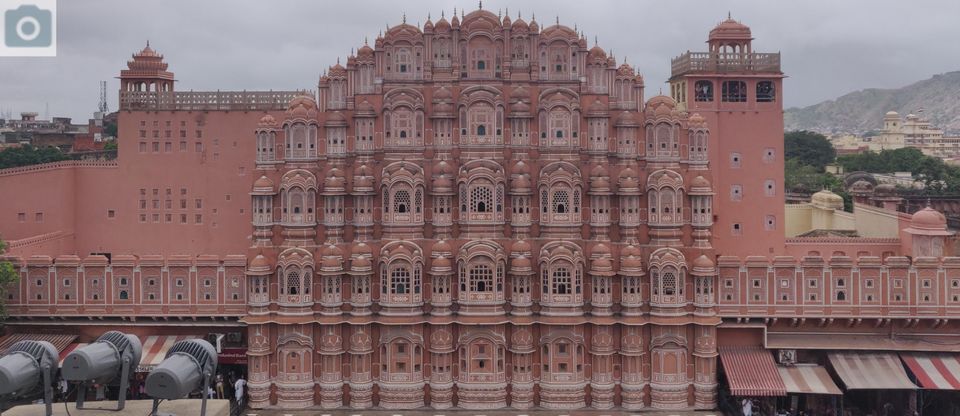 My last day at Jaipur was a very happy exploration into the unpopular places. My first destination was into the other end of town, a big shop of blue pottery which Jaipur is famous for. It is near the Jain Mandir in Amer road. They sell a variety of hand painted clay Pottery, from decor to mugs and coasters and even ashtrays. It's a good place to get your souveneirs from, if you are into this stuff.
Near by, i again found a local shop with huge collection of printed Jaipur textile, if you are interested they even get your dresses tailored. They even had amazing bed sheets at affordable prices. Jaipur bedsheets are anyway famously beautiful.
I took a rickshaw back to Hawa Mahal market and explored shops of hand printing blocks/tamps, brass shops,and went into the very center of the local streets where is a hidden wonder; a very old bakery shop which serves amazing cookies. They have this just one shop and amazing variety both in Dalda ghee and pure ghee. You will have to look for it in Kishanpole Bazaar and walk till inside, auto rickshaw will hardly know about it .
My last evening in Jaipur was well spent like a localite, roaming around streets of Janpath, where there is Amar Jawan Jyoti memorial. A light show about soldiers was going on there when I was passing by.
A localite even got me to drink the local popular cold coffee from Statue circle. Believe me, it is worth being popular. And that's how I said good bye to the city which was rich,and kind and full of colors and history , gave me freinds from around the world and made my first solo trip memorable.