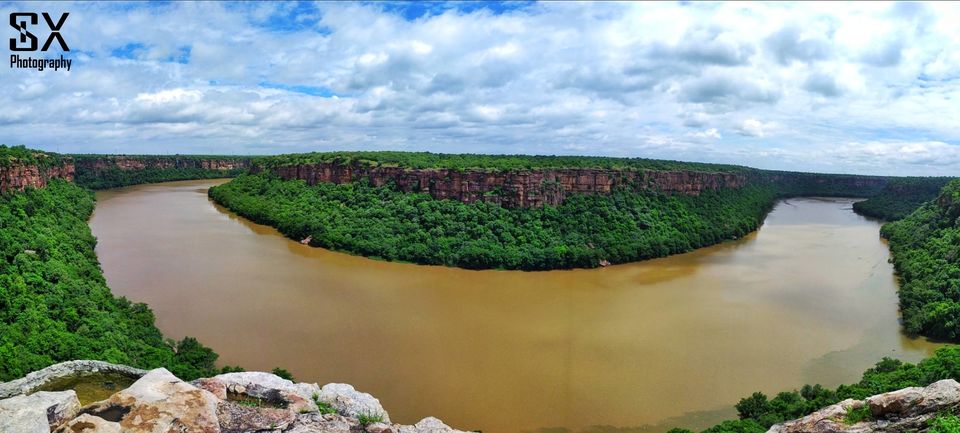 If I stood mesmerized after seen a place in Rajasthan, it was the chambal river canyon ! The moment I saw it, I went to the edge of the rock, sat down for a while and forgot myself and absorbed its beauty!
After trying to talk to it and losing, I took my camera without trying again. It was a bit difficult to capture its beauty in a single photograph. Because it is such a wide and steep valley. Then i took panoramic view of canyon which is in cover photo of this article.
The plains all around, the canyon about 300 feet deep, and the 1.2 kilometer wide U shaped chambal River mesmerize anyone who sees it.
Come to the chambal river trip!
While thinking about where to go on Independence Day vacation (3 days), I had an idea to travel 1200 km round trip from Jaipur - Mount Abu-Udaipur-Kota-Jaipur. But at least the fact that it takes minimum 6 days to explore well and the crowds during the holidays really make me worried.
Finally, I decided that we will visit Kota only for two days. Some of my friends said that nothing special in Kota. But i know very well Garadia Mahadev Canyon will make worth of visit.
Me, My wife and my son are ready on the day of trip and planned to leave morning at 5 am, but food preparation took time and could left at 6 o'clock only !
On the first day, plan to visit Garadia Mahadev Temple and Gapernath Temple. On the next day, I decided to visit Bhimlat Mahadev Temple, which is around 35 km from Bhundi.
You may think whether this is a holiday trip or Lord Siva spiritual tour? If you think that I will say that it is right and wrong too.
Jaipur to Kota is 250 kilometers of single stretch National highway ! Precipitous clouds brought cool weather. At one place on the way we had breakfast at around 9 o'clock and again the journey continued. All the way monsoon makes its own colour.
There were rained at a couple of places.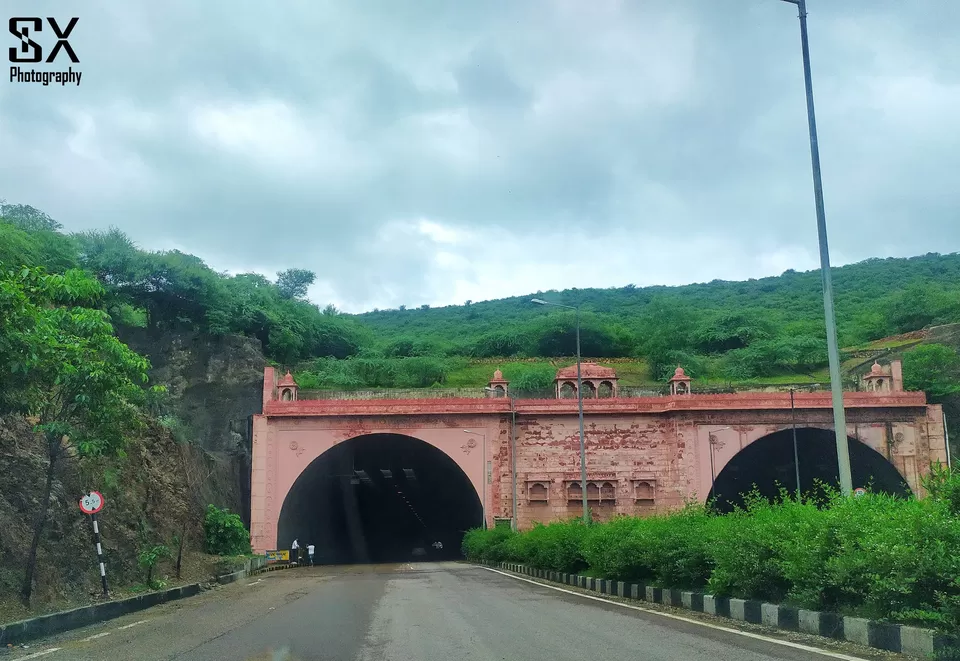 The journey was blissful because of this rain!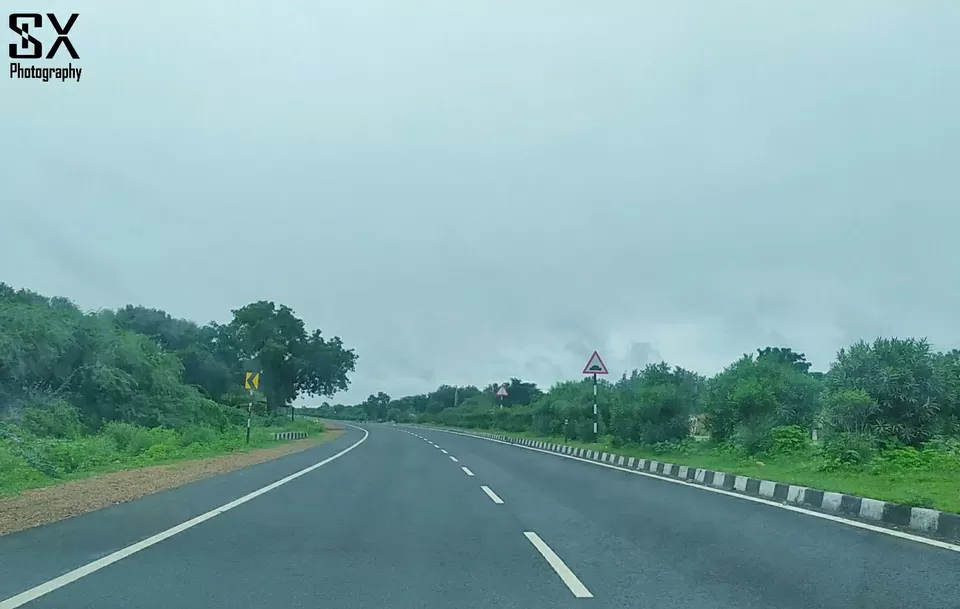 By 11 o'clock the highway ended and the jungle trail to the Garadia Mahadev Temple began. In one place, road completely washed out due to stream of water body.
In next 5 minutes the entrance gate came. As it is under the control of the Forest Department, there is an entry fee for vehicles and persons. Although there are no tigers in this place, it is part of the Mukundara Tiger Reserve!
However, 600 rupees for a car, 150 rupees for a person, totally 900 rupees is very, very high for 2 people with car !
Another option is that we can park our car here and can go by walk to Temple by 2km to avoid 600 entry fee.
At exactly 11.30 am, I went near the temple, parked the vehicle and got down. Looking back, there was beautiful chambal River! I went to its rocky tip and sat for a while enjoying its beauty. After taking some photos, i moved to the temple!
I went to the Garadia Mahadev temple and took a holy dip in the rock-flowing stream, worshiped.
To summarize landscape and beauty of this place ,
Green plains everywhere,
Small trees bearing grasses, Big trees protecting it here and there,
Flowing streams,
Joining all the hands and form a river,
A branch of the stream penetrated Into the rock,
Immerse the God,
Delighting the devotees with holy water,
Jumping into the Chambal River,
Not knowing where to go,
As silver and copper mingled,
A flow under the river!
You can spend maximum half day at here to enjoy atmosphere & it's beauty.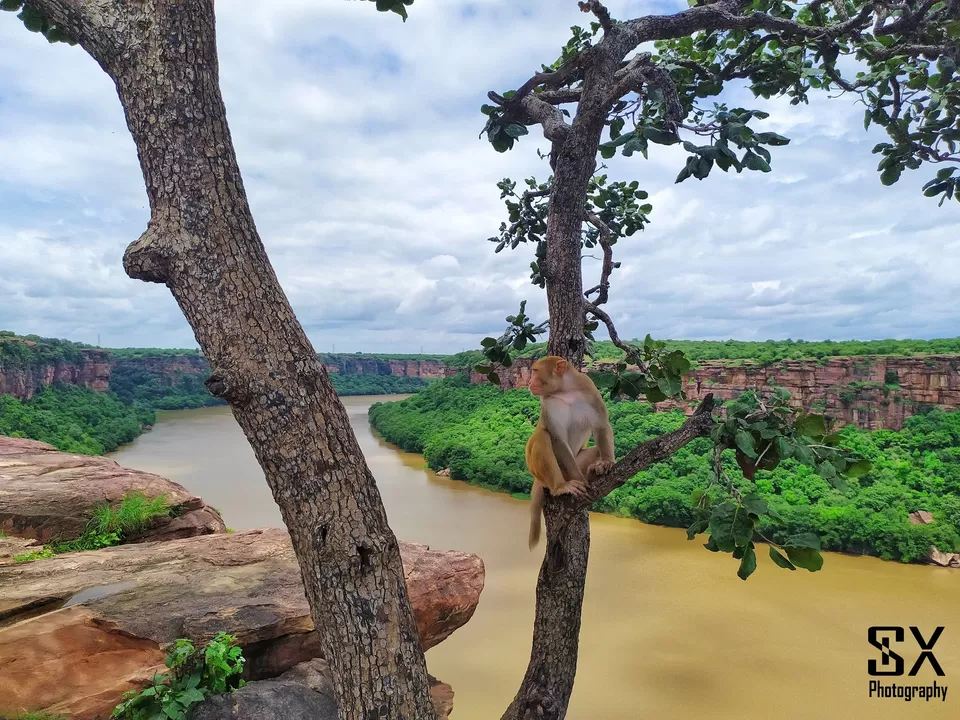 There are no facilities almost. No toilets, No dress changing rooms or shops. At least forest department can provide basic needs.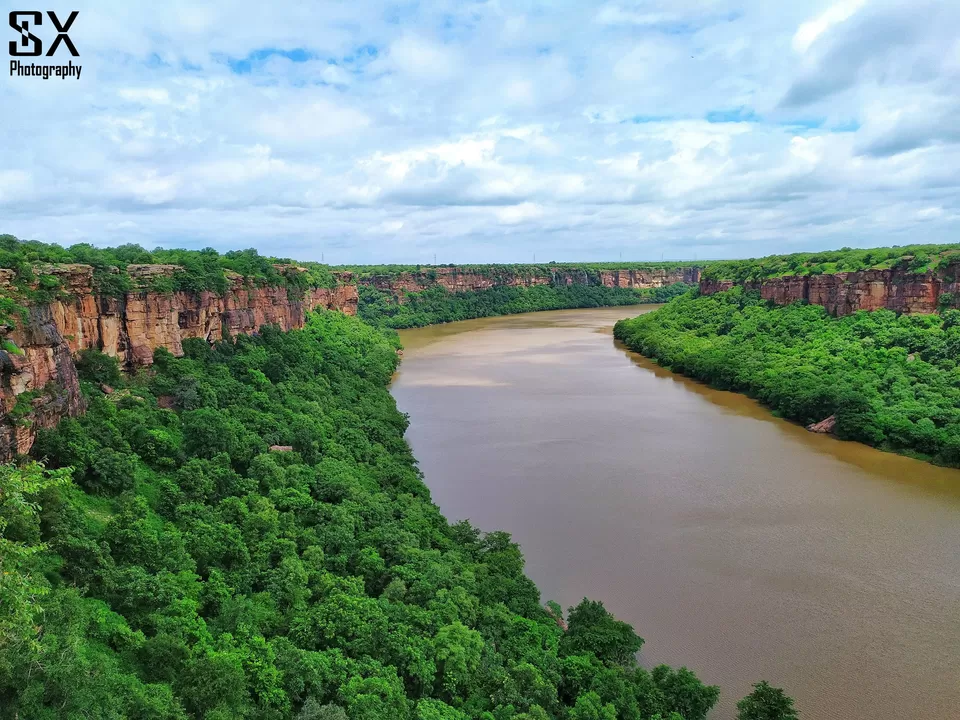 Again my photography hungry started!
I took photos as desired and ate the food that was brought.
I moved unwillingly to leave this place.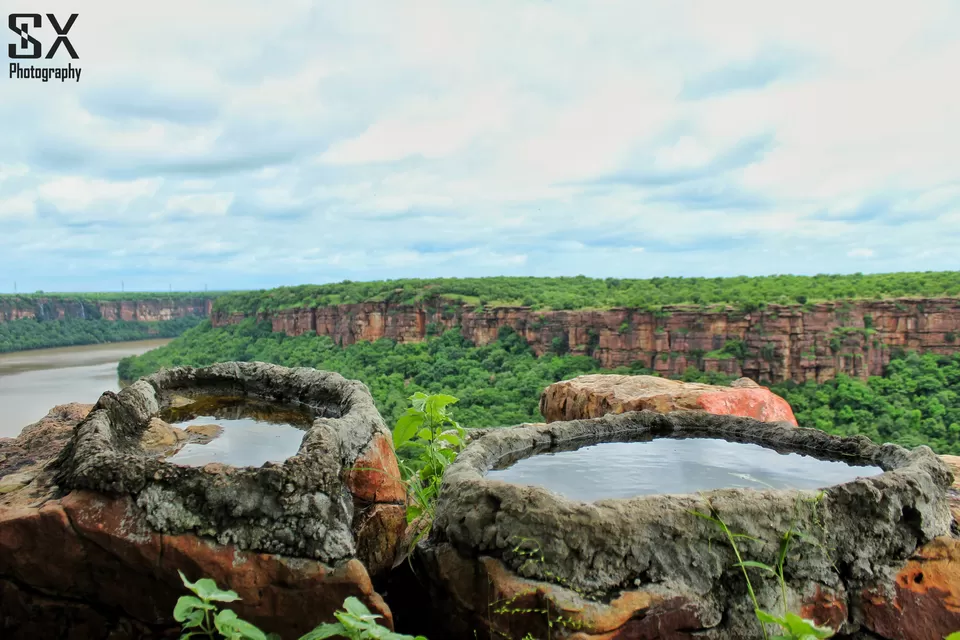 Gapernath temple is only allowed till 5 pm so we travelled fast. As the temple is 25 kms away on the other side of the river, we have to reach Kota city and go back.
On the way we have enjoyed beauty of the hanging bridge.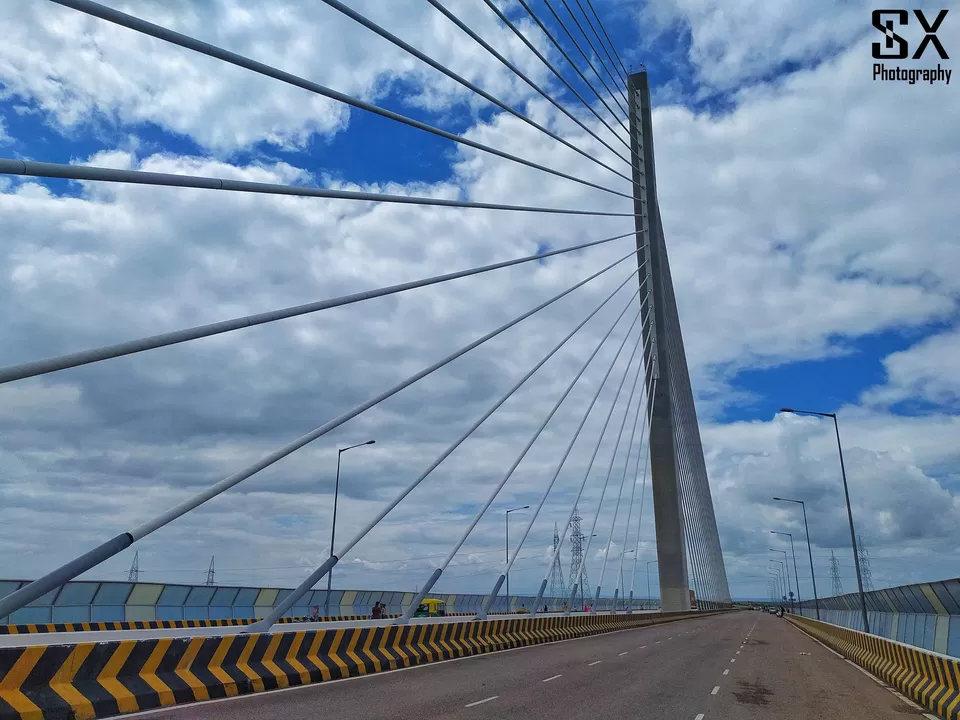 After reaching Gapernath temple entry gate, They said no one was allowed to go there as the river water level had risen. What can be done ? Thinking that we moved to the nearby Jawahar Sagar Dam.
It must be said that the condition of the road is very very bad. To get there in the next one hour, the Public Works Department officials said, "We can go up to the dam, but we can't cross it," so we thought we would see the Chambal River Dam (Jawagar Sagar Dam) and walked.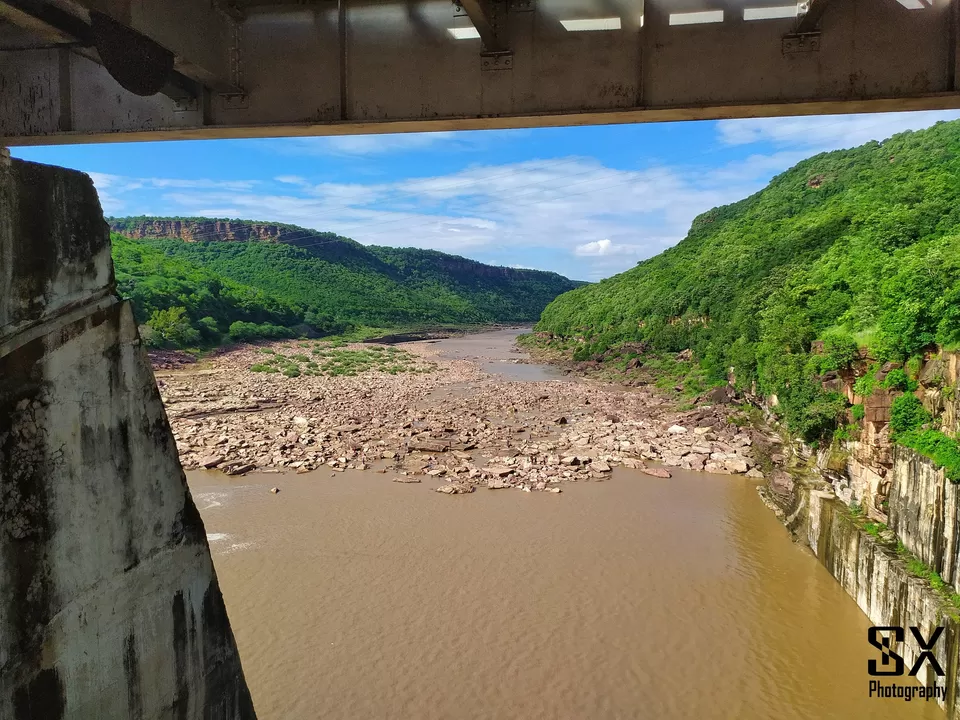 No one is allowed to cross to the other side as the retaining walls of the dam are undergoing maintenance work. On the other side, you can enjoy a boat ride on the river, Forest stay and even find the way to Garadia Mahadev Temple.
After Half an hour from there, we started to move Kota city.
The day ended in exhaustion with dinner at the hotel.
Next day morning around 8 am we all left and were going to Bhimlat Mahadev Falls.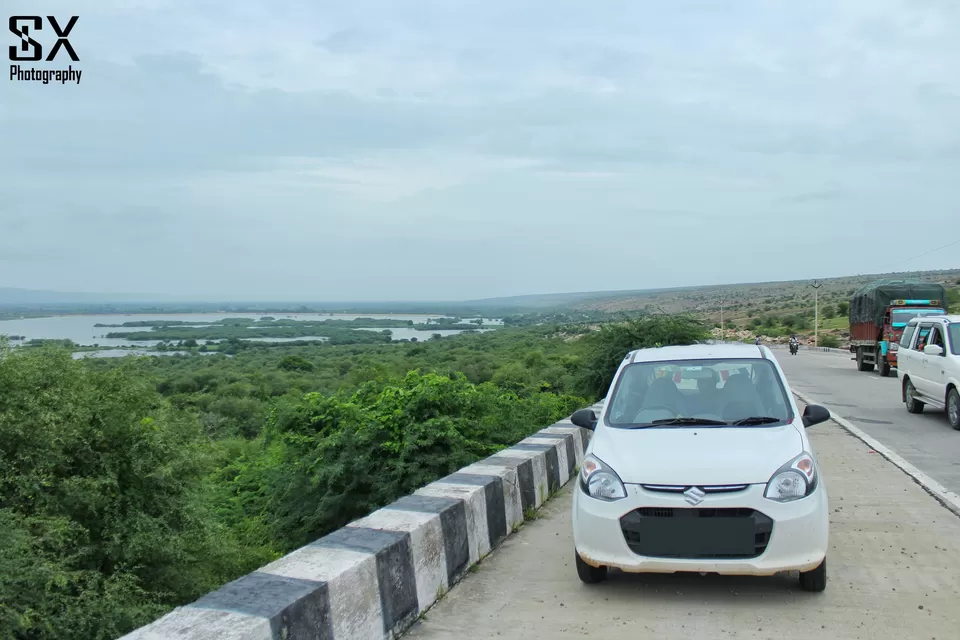 After reaching Bundi and going 35 kilometers from there, the forest route started again!
A plain valley appeared, befitting the claim that a bad road leads to a wonderful place.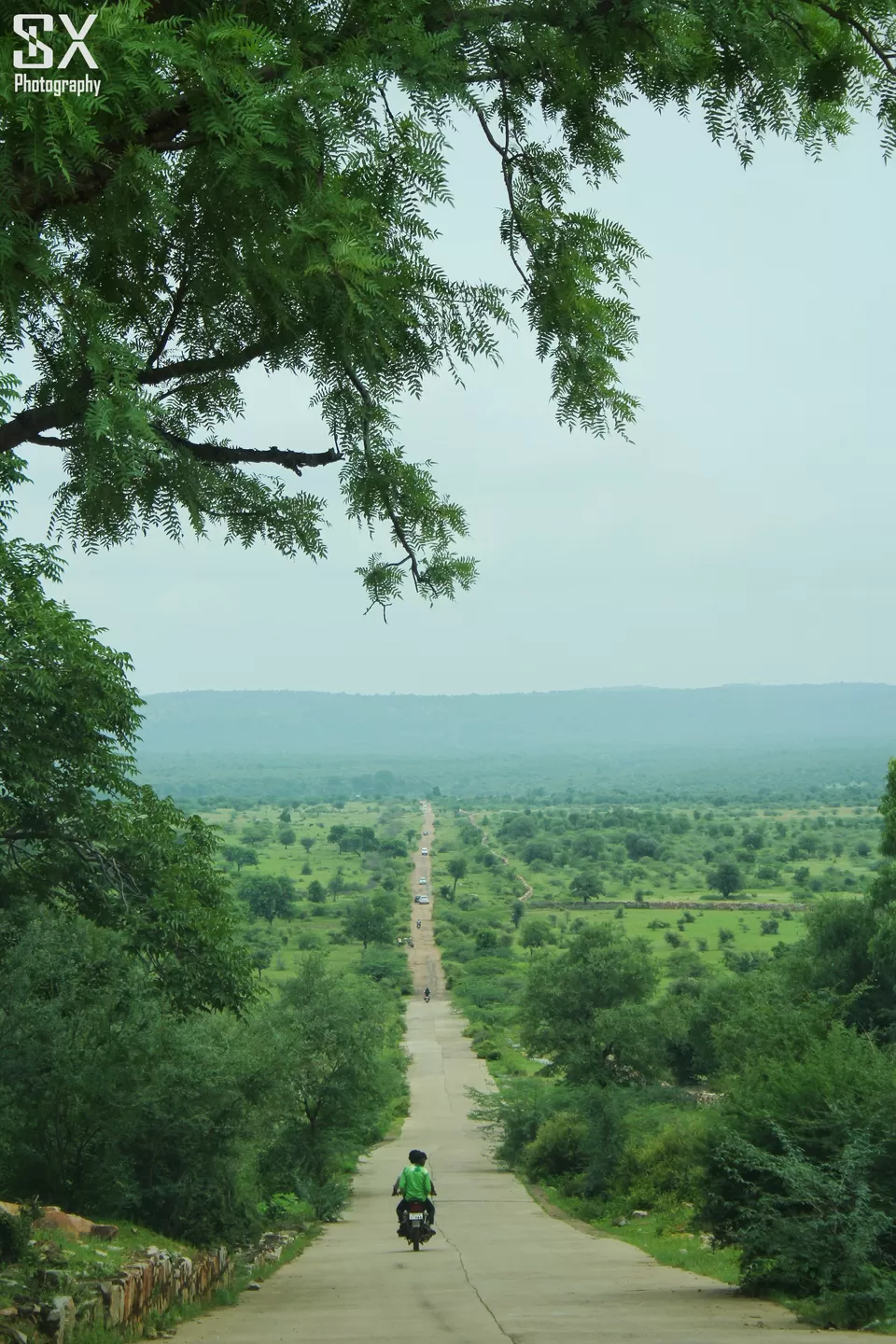 Then we stopped the cab in theparking area and crossed the railway track. I thought there was a temple and waterfall with less water at least make interesting to visit this place.
Passing the shops and small blocks, noise coming to our ears little by little and final moment you will be speechless!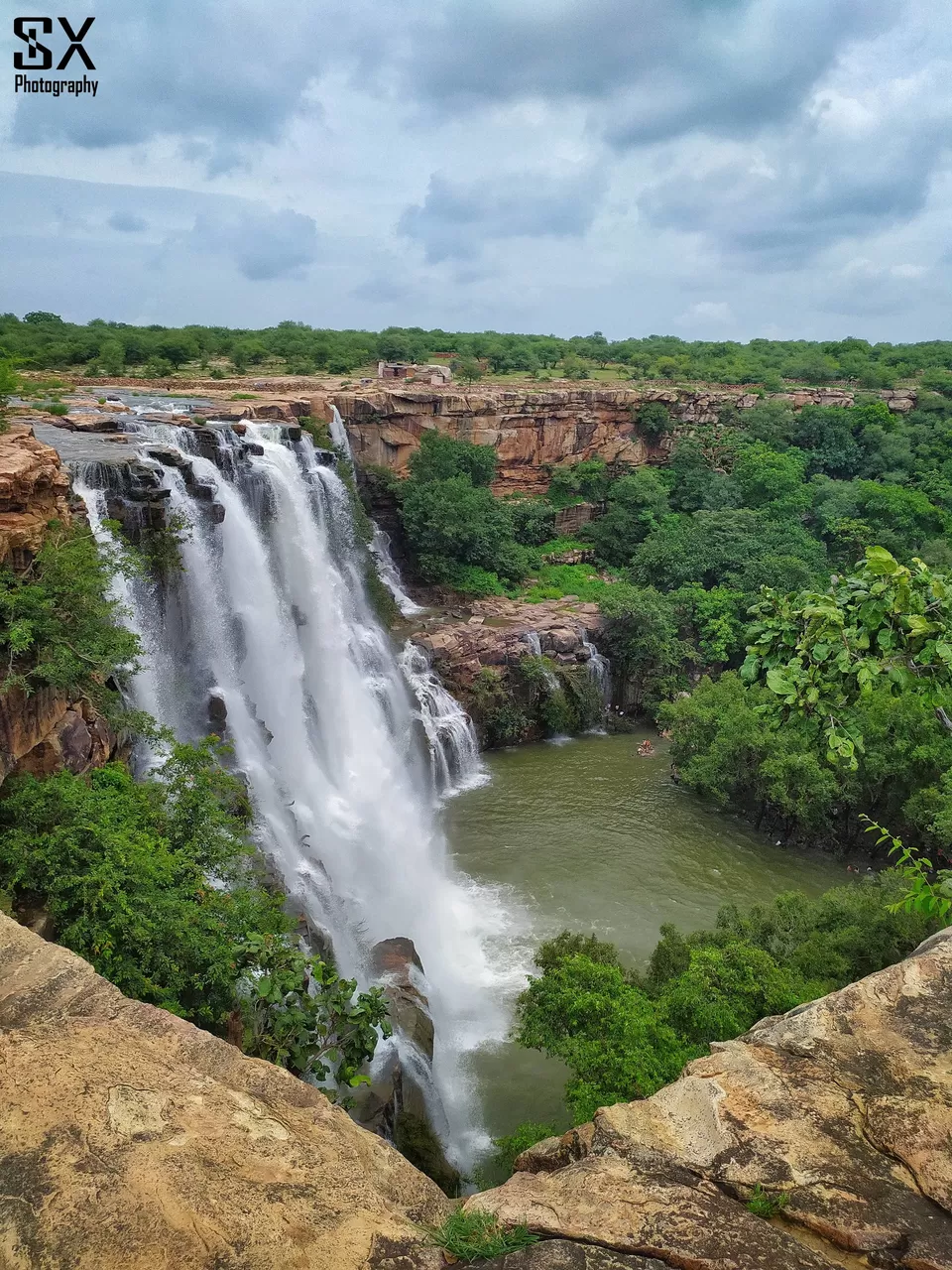 We can say Niagara of Rajasthan or replica of Athirapally Falls (in Kerala). So beautiful and grand!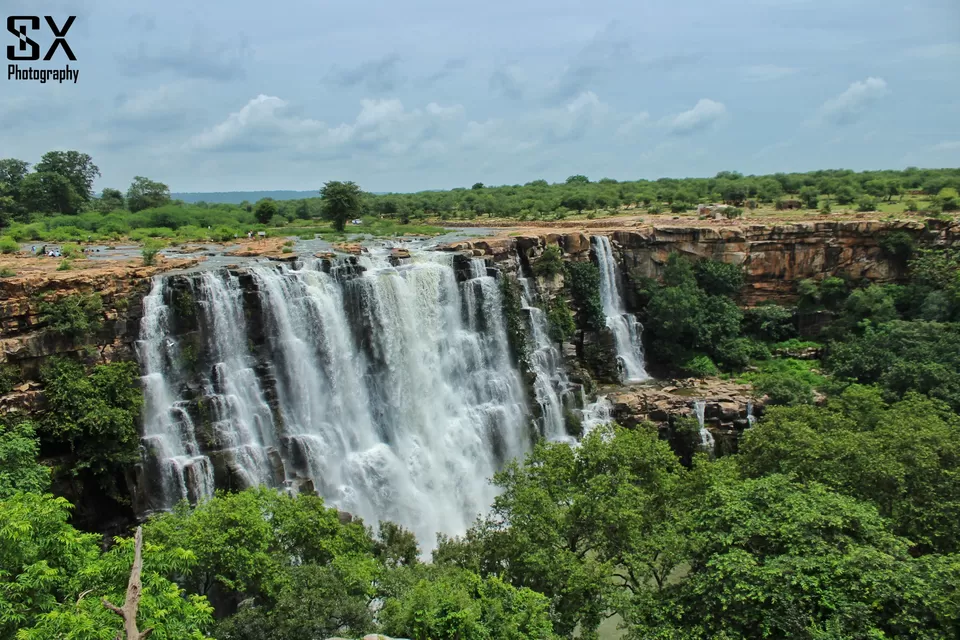 I thought I could spend the whole day here. Because not only can you see it from the top, but you can also go down to the waterfall shed!
We took some photos and headed down. The staircase led almost to the waterfall shed.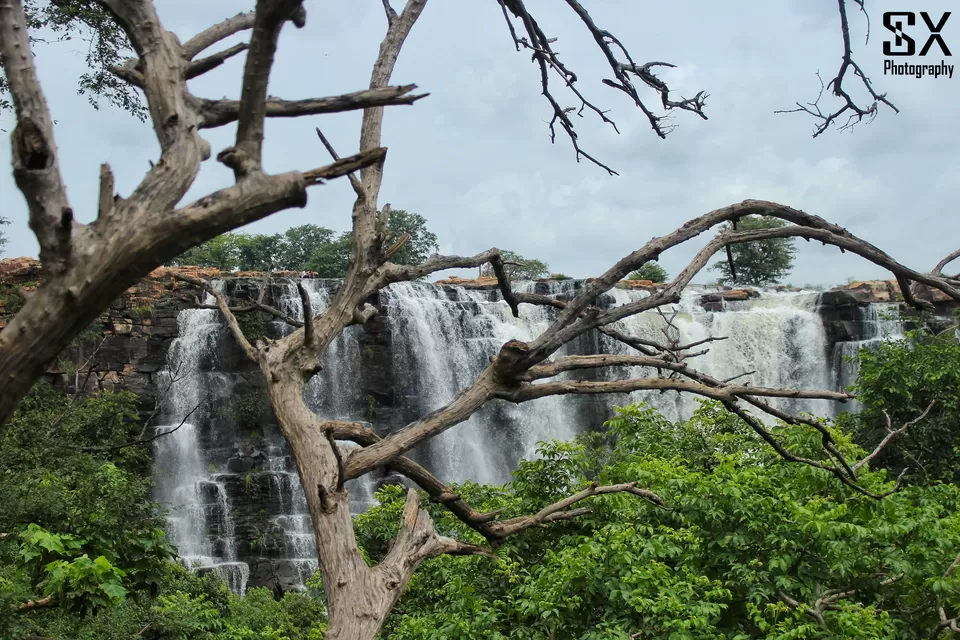 On the way down, water droplets from falls washed off my sweats and showered me. It was beautiful to see the waterfall through the trees but its slush.
Whenever I try to take a photo, droplets wets the camera lens before taking it! After a few minutes,my son started crying and decided to go up, we left from there! Then we tried to cross the river thinking that droplets would not come if we stopped behind some trees.
Slippery rock, flipping stones, rushing river, drifting sticks, with camera bag in one hand and my son on the other hand, I passed carefully.
What a miracle! Water shower on the other hand is completely absent!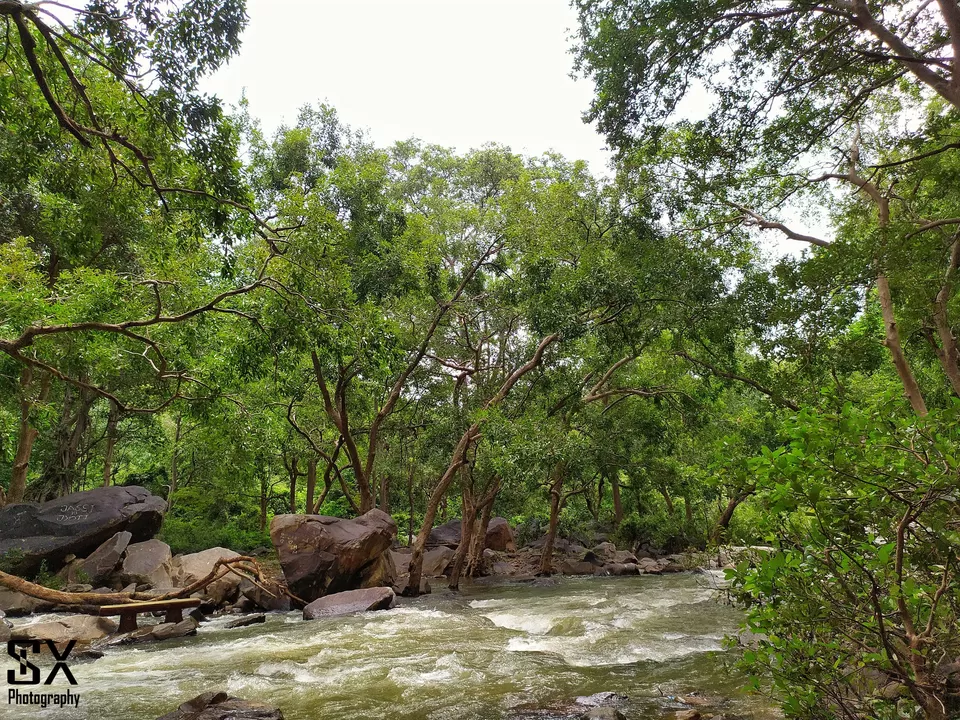 Looking up at the waterfall from the below, it feels like pouring milk from the sky. That is the beauty that comes up from the rock!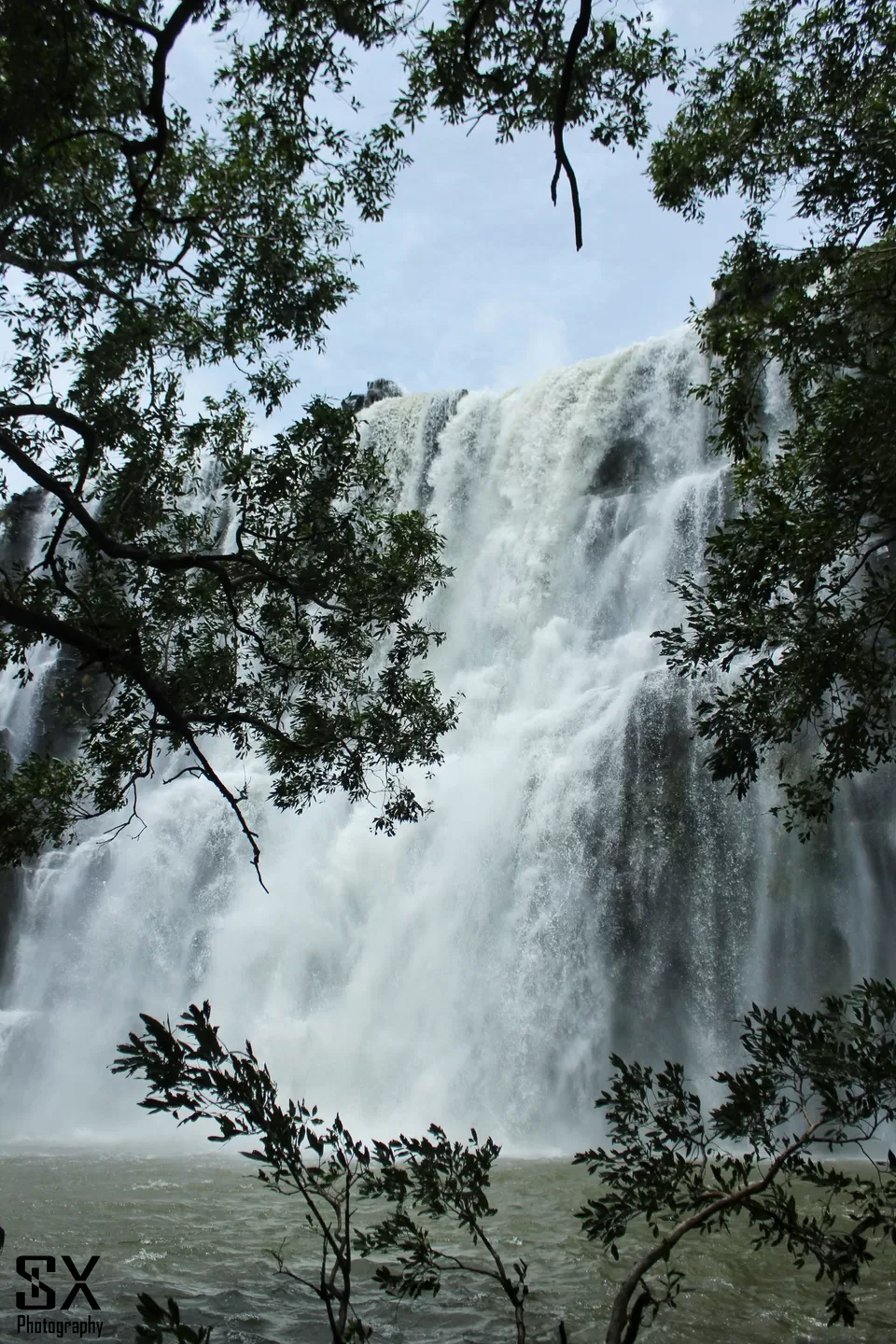 Then we went to the nearby Bhimlat Mahadev temple and worshiped and came up!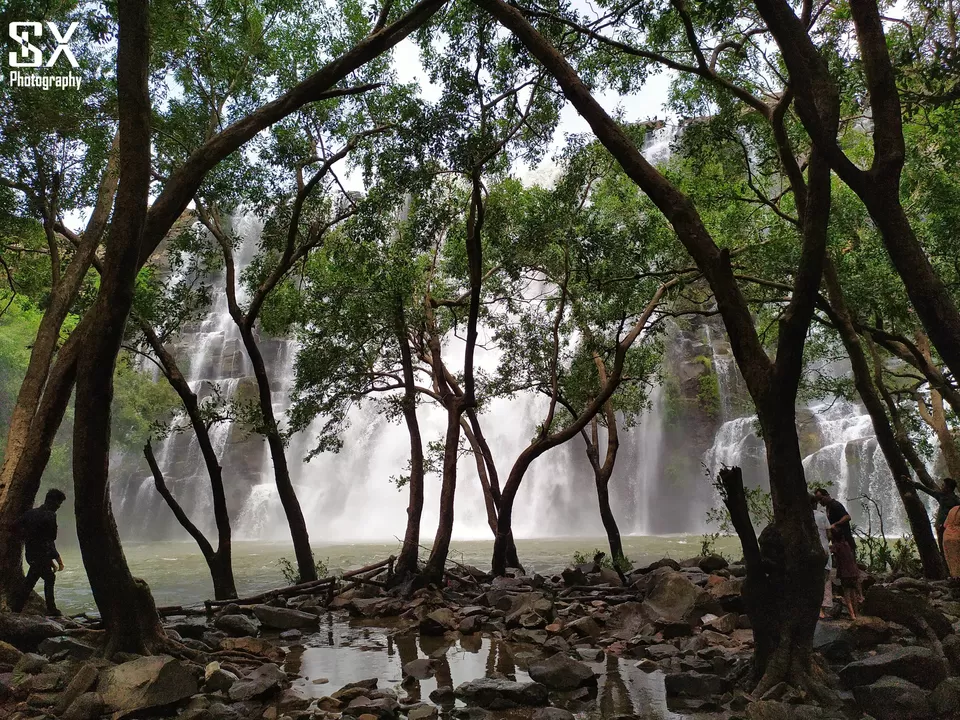 We went a bit back to the waterfall shed and bathed for a while sitting in knee deep water flowing over the rock ledges.
The beauty of the water pouring down from all the plains surrounding the falls during heavy rains is a joy to behold.
After bath, have lunch at the nearby shops and start the journey back home.
Apart from these places on the same vacation, friends who visited Udaipur and its nearby areas were amazed after seeing my photos!
Many people know the place but not its beauty and grandeur.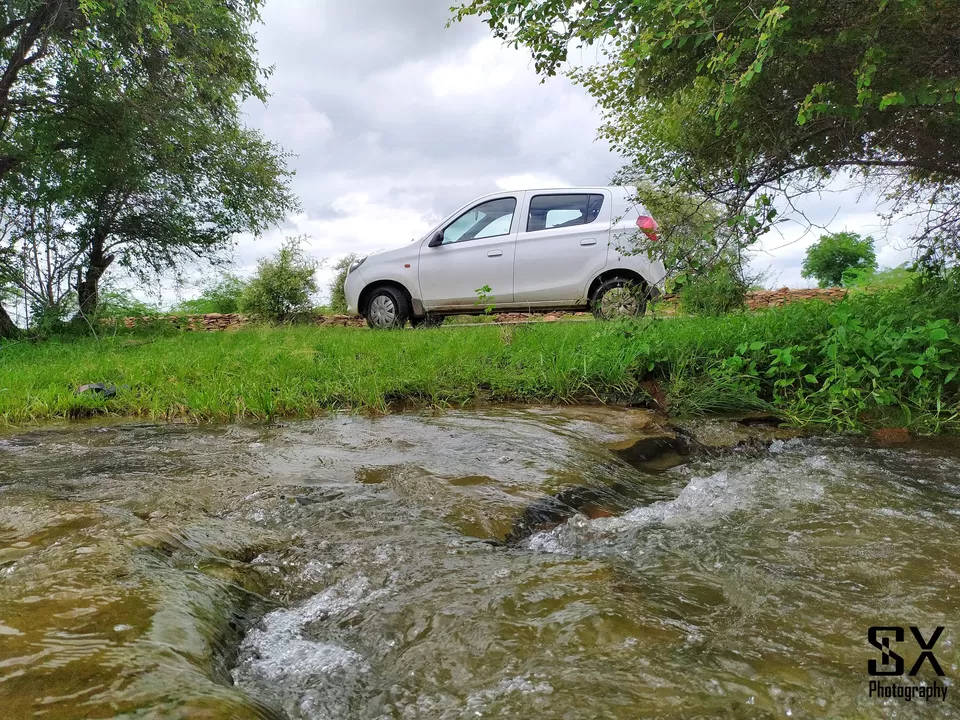 What other place is need to mingle with nature in two days? We returned home happily!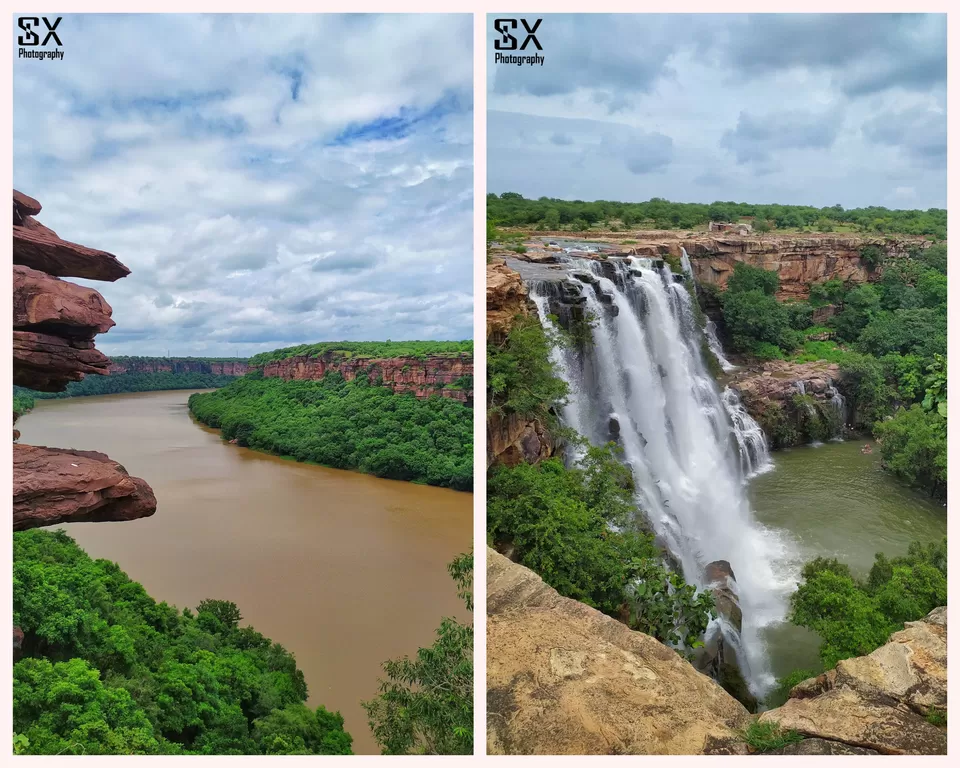 If you also go on a Rajasthan tour, do not miss such places! As far as I know, the idea of this state is that dry and desert land.
You may also like to read: kadampuzha temple

Although it is 60-70 percent of dry land,the rest is dense forest, Aravalli range, Agriculture land, forts, cities, plains and single state with all kinds of landscapes.
Lovely RJ at Monsoon!
You could enjoy my Youtube video also !
Thanks,
Sivalingam