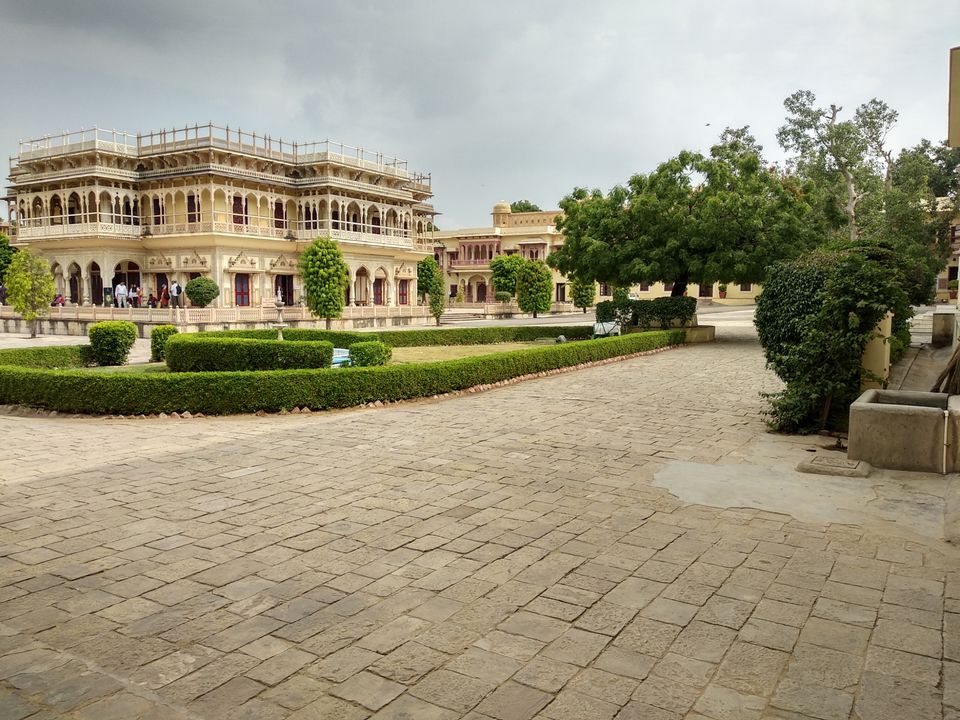 Hi everyone, This is my first try as a travel blogger. So, pardon me for any mistake.
A quick introduction about myself: I am 23 year old guy from Himachal Pradesh working in a MNC in GURGAON. I love to explore places in my short 2 days weekend & I try to explore at least one place in a month. Recently, I got a chance to visit the beautiful city - Jaipur, Rajasthan.
12 Aug,2018- Sunday morning at 7'o clock, We took our sleeper volvo bus from dhaula kuan bus stop which I booked using Travelyaari.com app.
I prefer sleeper Volvo buses as they give me enough rest & sleep, so that I have more energy & time to explore the city. The bus reached Sindhi camp bus stop,Jaipur at 01:30 PM in the afternoon.
Bus Ticket cost: 1100/- for two person.
Pick-up: Dhaula kuan @ 7:00 AM
Drop: Sindhi-Camp @ 01:30 PM
From Sindhi-Camp, we booked a Uber cab to our Hotel which I intentionally booked near to Amer fort. The Hotel name is Amer Haveli which is just opposite to the entry gate of Amer fort. The Hotel is fantastic has rich feel of Rajasthan traditional architecture. It has open dining place & traditional looking doors & windows in their rooms.
Room cost for for two per night : 1800 /-
We reached our hotel at 2:15 PM. The reason why I booked the hotel closed to Amer fort is to have enough time to explore the wide-spread Amer fort.
3:30 PM - Entry to Amer fort:
When you'll enter Amer fort, you will be astonished by the wide-spread view of Amer fort. You'll see birds flying in the blue sky, structures spread through the extent of your eye-sight & a destination.
There are multiple options to go up to the Palace including elephant ride & battery cars. You can even walk to the palace, it not more than 1 KM distance. The main palace has beautiful architecture & has great view of the whole area. It took us 2-2.5 hours to view the whole Amer fort.
As we were roaming around for continous 2 hours, we went directly to our hotel to have meal & rest.
It was almost 6:30 when we went out to check the market area. There are 10-12 shops in a smaller area near to fort which includes some sweet shops & some generic shops. Don't miss to taste the most delicious sweet of Rajasthan - Ghevar. You'll easily find it in local sweet shops.
And with sweet taste of Ghevar we finish our first day in the open dining area of our Hotel with a nice view of Amer fort before us.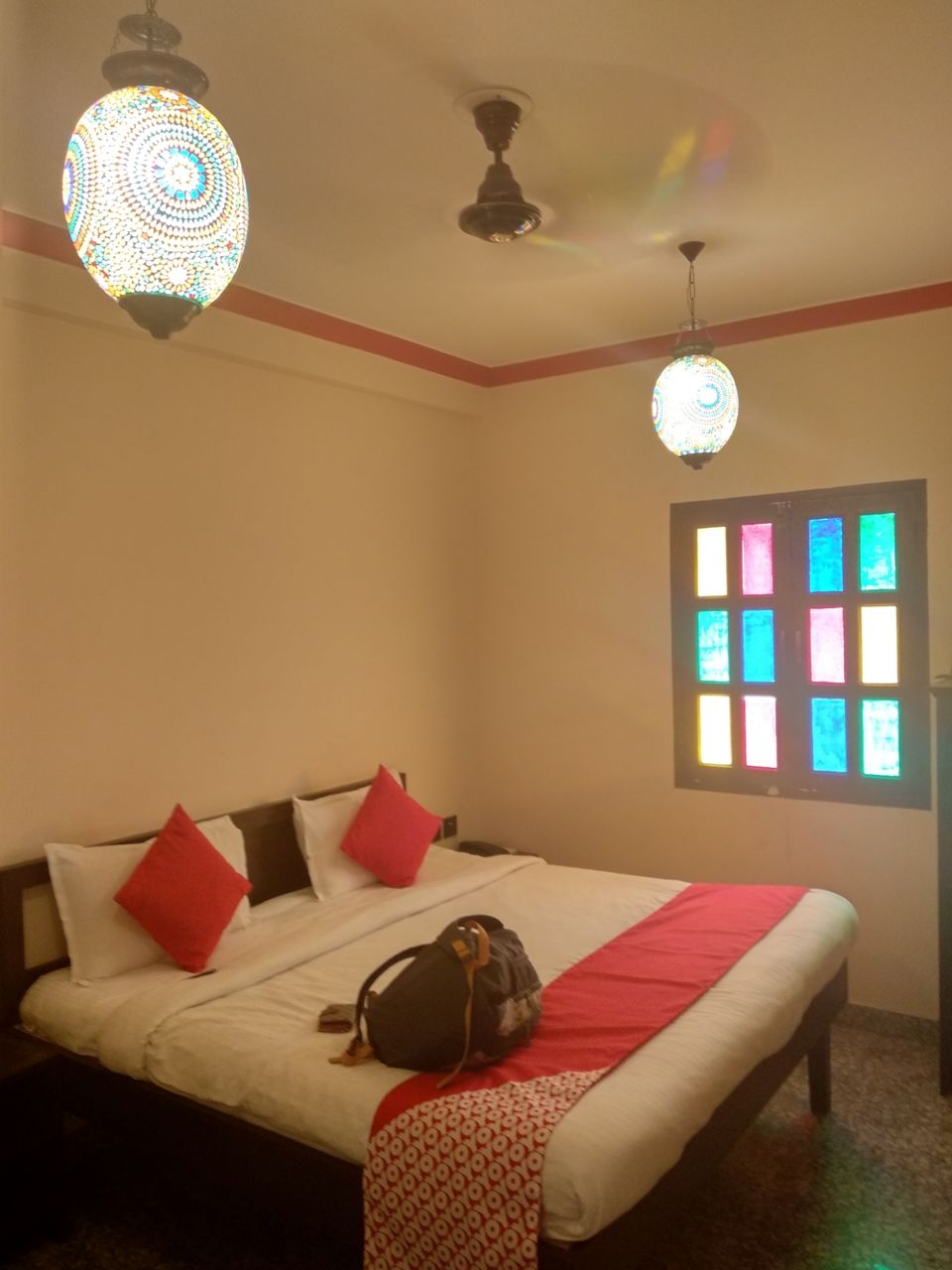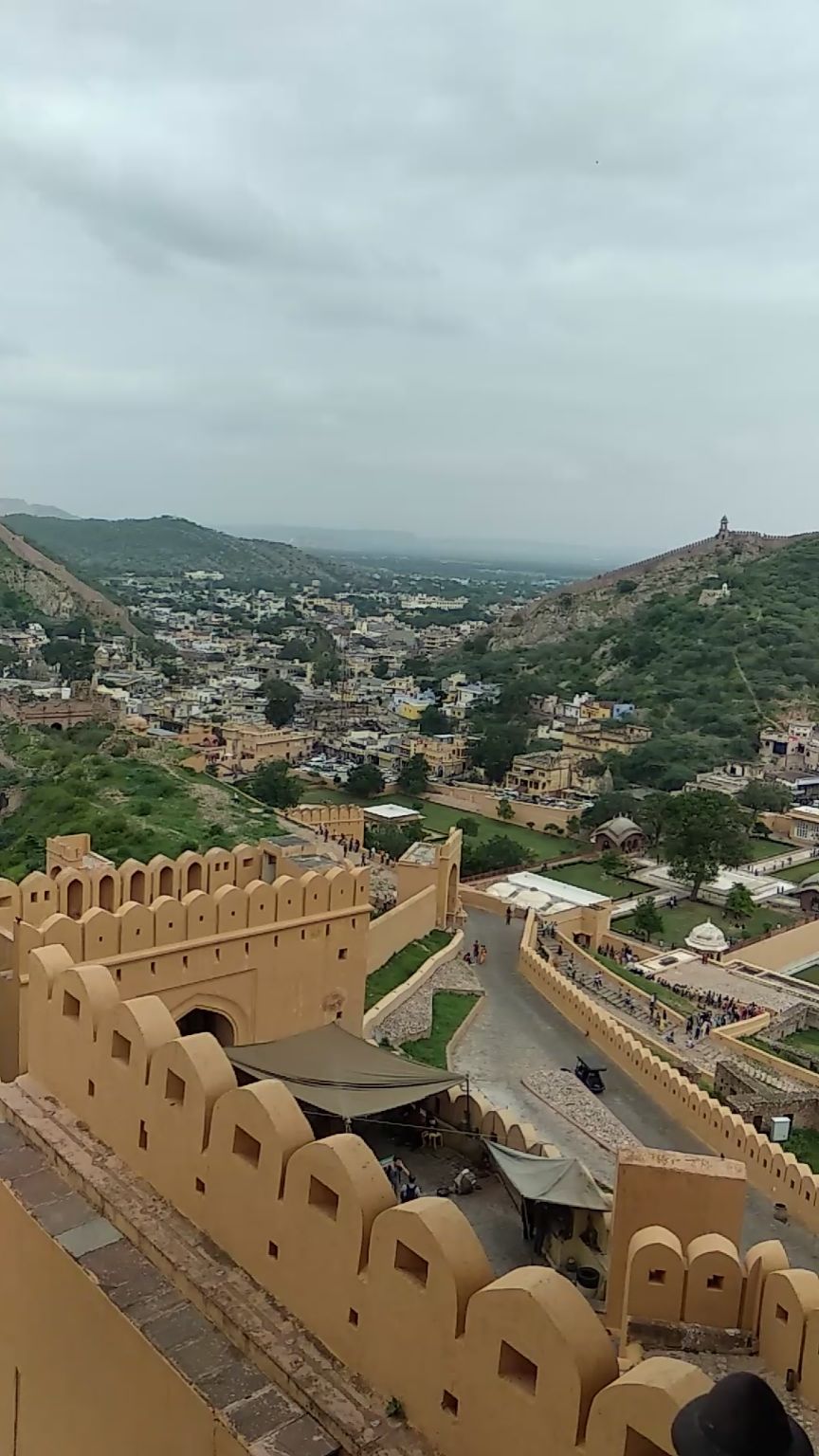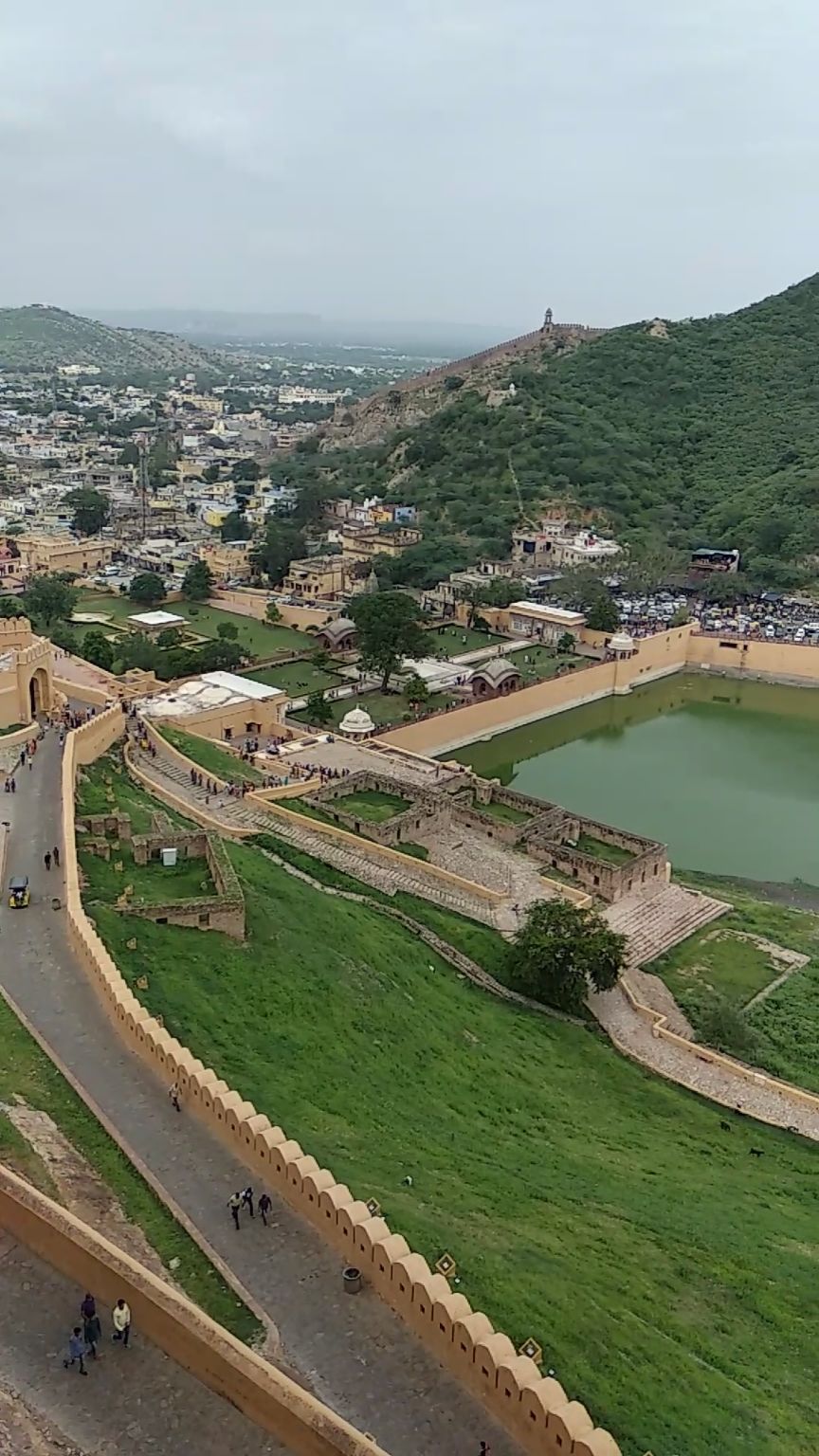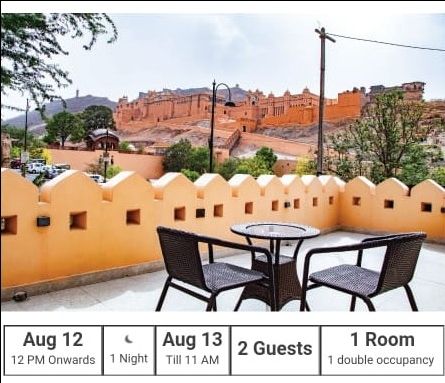 We checked-out from our Hotel at 10:30 AM in the morning. Then we move to Jal mahal which is in the midway from Amer fort to Sindhi camp bus stand. These days they have banned boating & entry to the main palace. So, maximum you can have a nice view of the lake &  the palace built in the mid of a lake.
We have booked our next day hotel near to Sindhi camp bus stand to make it convenient for us to board our bus in the night.
After Jal Mahal, we move to our hotel and after dropping our bags, we quickly move to our next location which was City palace.
City palace is located in the mid of Jaipur city and has many art galleries in it which also included my favorites weapons gallery. It has all types of war time weapons like swords,guns,shields,armour suits & cannons. There were other beautiful galleries as well like handicrafts gallery, paintings gallery etc.
After city palace we moved to the nearby beautiful monument Hawa Mahal.
Hawa Mahal is at approx 10 min walking distance from City Palace. Hawa Mahal is in the mid of the city & from the highest building of the Hawa Mahal one can see half of the city from there.
After Hawa mahal, we roam around the streets of Jaipur local market & we find this shop- Ramchandra kulfi bhandaar. They have 25+ desi-videshi options for ice creams. This shop is located  in the opposite street of Hawa Mahal entry gate. Try it & you'll love it.
The whole activity took our 4-5 hours & at around 3:30 PM we came back to our hotel, Hotel Kohinoor which is very close to our pick-up stop for our return bus.
We took our return bus to Delhi at 11:00 PM which was a sleeper Volvo and dropped us at 6'o clock at Dhauala kuan bus stop.
The same day I report to my office at 9:30 AM in the morning with full energy :)