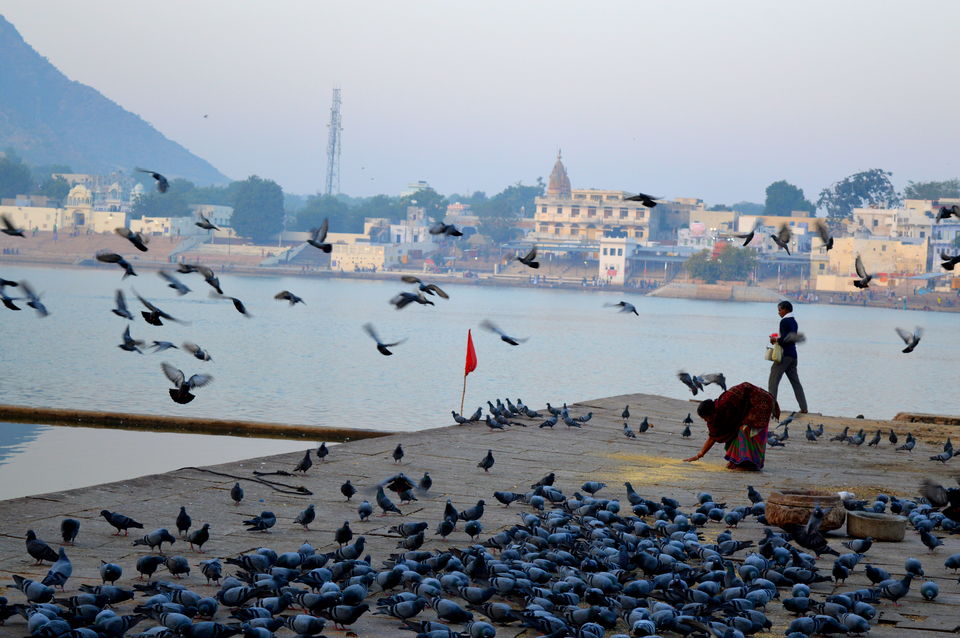 I left my hotel at 6:00 am in the morning to see something that I never saw earlier, A sunrise at the ghat. I was in Pushkar.
Pushkar is a small town in Rajasthan, hence you can walk around your destinations easily. It took me 10 minutes to reach the ghats. I was solo, but the presence of many travel enthusiasts like me gave me company.
I sat and looked at everything around; the people, the birds, the Pujaris. I could hear the birds singing. I felt some connection with the place. I just wanted to sit and observe everything around me. Its not the comforts and luxuries always, sometimes you get connected to very simple things around. It just happened to me. I felt connected with the birds, the people, the place. I found happiness.
It was only me and my Camera, that thing I use to capture my moments. I sat there for long and kept gazing at the lake. It was time for the sunrise and birds started chirping more now. The beauty of the sun coming up, the birds dancing never looked so beautiful.
I got up and started walking. I saw people bathing in that chilling morning at the lake. The Pandits shouted at anyone who walked with the shoes/slippers on the ghats. People were busy with their rituals. It is considered holy to take a dip at the lake during these 5 days (Pushkar Fair) that is celebrated from the Karthik Ekadashi to Karthik Purnima. Lakhs of people take bath in the sacred waters of Pushkar on the full moon day which is considered to be an auspicious day.
Soon I reached the same place where I started. I just completed my parikrama at the ghat. I sat again. I never saw a beautiful morning than this earlier. I would always choose disconnected places like the mountains or the jungles. I liked depeopled places more. But inspite of the crowd I found peace here, there was noise here, still I found solace.
I visited Pushkar solo in November 2015, during the Pushkar Fair, but the ghats was an enchanting experience which is definitely taking me back to the place.