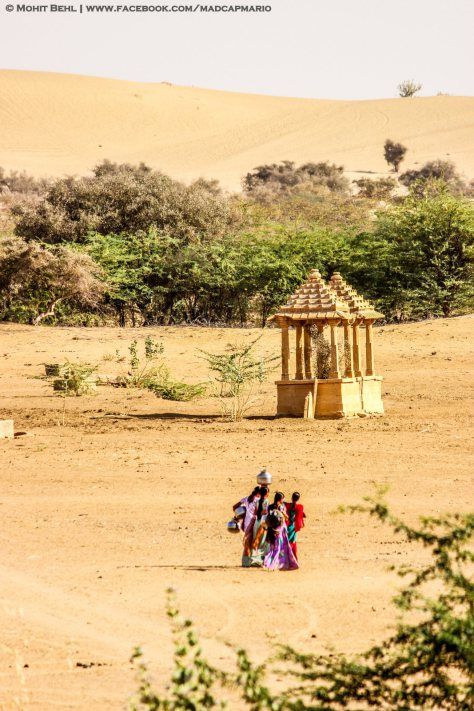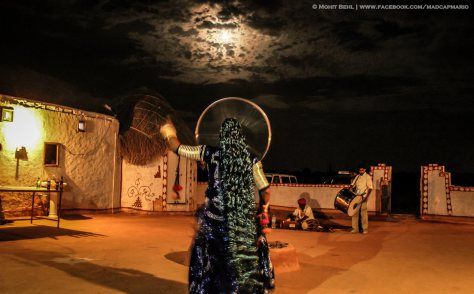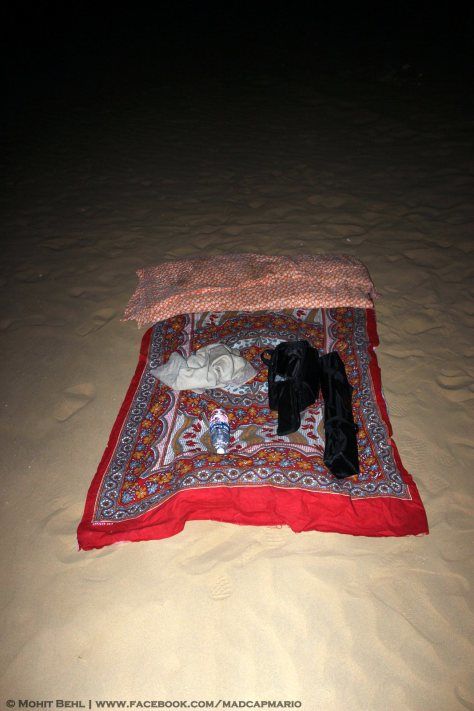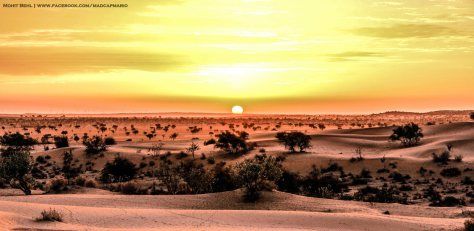 Located about 45 km from Jaisalmer in Village Dhoba, Khuri, Registhan Guest House is the ultimate desert experience one could ask for. Made of mud huts overlooking the Khuri Sand Dunes, which are just a 10 min walk from the property, and nestled in a thriving village, life is a stark contrast to what city people are used to. But people here are full of warm-hearted zest, and love to serve and please every traveller, whether with family or solo, to provide an extremely comfortable, safe, and a wonderful experience that makes you want to come back time and again! I know I want to be back in the company of these people, and peacocks that roam around unafraid, and a few very shy black bucks.
I came here a solo traveller but was welcomed with much graciousness to make me feel, well, not alone. Special mention to Pappu Singh Ji and his brother Kalyan Singh Ji for taking care of every little thing, from picking me up from Jaisalmer to dropping me off, making sure that I don't miss my train even if the roads are blocked (as it was the day of Holi). My room (deluxe) was comfortable with enough quilts to keep me warm if it got cold at night (it's a desert, it will get cold even if it feels a 100 degrees during the day). The in-room toilet could have been cleaner
I, however, wanted to sleep on the dunes and Pappu Singh Ji and Kalyan Singh Ji were kind enough to escort a comfortable mattress and quilts to the dunes, on a camel cart. There was one other Indian family and a solo traveller from Germany, who was sleeping on the dunes and our hosts, ensured that a little boy, a local, named Samandar (sea), was by our side if we needed anything. It was a never before experience to be sleeping under open skies and light of the full moon.
In between all that, there was camel safari as well, lead by the wonderful and full-of-stories local boy named Gyan, who took me from the guest house to the nearby village and then on to the dunes and back after 3 hours. You could even do without the camel safari but hey, what fun is it if you're in the desert and don't ride its ship. Do it at least once. In the evening, back at the guest house, our hosts arranged for a special cultural song and dance program, which had me hooked, followed by a buffet dinner of local cuisine. The chutney, which I mistook for a sabzi, was hot but delicious. And rest of the food was plain and simple, just how locals would have it.
I'm glad I didn't choose Sam over Khuri, for Khuri is not littered with herds of public or plastics & bottles, or hawkers that try to ruin your peaceful tryst with the desert. And Khuri Sand Dunes may not be as popular as Sam, but they are worth it if you're looking for a wonderfully quiet experience with your personal sand dune to sit on and have a gander at the vast, dusted but visually striking and beautiful, landscape and just watch the sun go down and rise up in its full glory. I hope it remains this way.
Tip: Opt for the cheapest room to keep your luggage and have a bath, but at night, sleep on the dunes. It's worth it. Ask Pappu Singh Ji or Kalyan Singh Ji to arrange your sleepover.