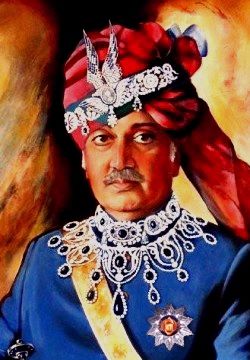 Scene 1- Right next to Mehrangarh Fort
We took a tour of the massive Mehrangarh fort walking all the way and sneaking into the hidden sections of the fort.
We got tired and sat on the wall to take a break.
I was looking at the blue city while he was staring at the fort.
A stranger walked up and said, " You two seem to be on a journey. I like this frame how you are just sitting there and admiring the beauty and there is no conversation happening and everything is quiet."
We smile.
The man said, " Do you mind if I take a picture of you both like this?"
"Sure". Click!
We introduce ourselves and we end up having an interesting conversation (carefully strewn from the strangers end to not reveal his identity). Simply dressed in loose linen pants, cotton shirt, Jodhpuri half-jacket and a black hat, he narrated stories of his trips to Europe in impeccable english.
Curious we asked, " where are you from?"
"Jodhpur"
The conversation went on from one topic to another. He now knows a lot about us.
"Wait you didn't tell us your name and who you are."
"Let's just say if you ever see your photo published anywhere you will know who I am." He bid good-bye and walked away.
Scene 2- Inside Umaid Bhawan Palace Museum
"Isn't this the guy we met yesterday at Mehrangarh Fort?" Varun said looking at a picture in the museum.
I did not believe him but still we started checking other pictures to be sure and discovered he is the current Maharaja of Jodhpur. Is it possible we got that lucky!?
Scene 3- Right next to Umaid Bhawan Palace (20 minutes later)
We could give anything to just confirm that what we think happened, actually happened. I needed at least one more person to say that its not unrealistic.
"Do you think its possible that we met the Maharaja of Jodhpur while he was taking a tour of his kingdom in disguise last evening?" I asked food stall guy behind ticket counter.
"Why do you think so?" He did not seem surprised. That was reassuring!
"We saw pictures of the royal family and recognized him from the pictures. Plus he was wearing the same black hat in one of the pictures from yesterday. Is it possible?"
"Well then, I think you met the Maharaja of Jodhpur!" He smiled.
-----------------------------------------------------------------------------------
PS: Picture is taken from http://www.royalark.net/India/jodh16.htm