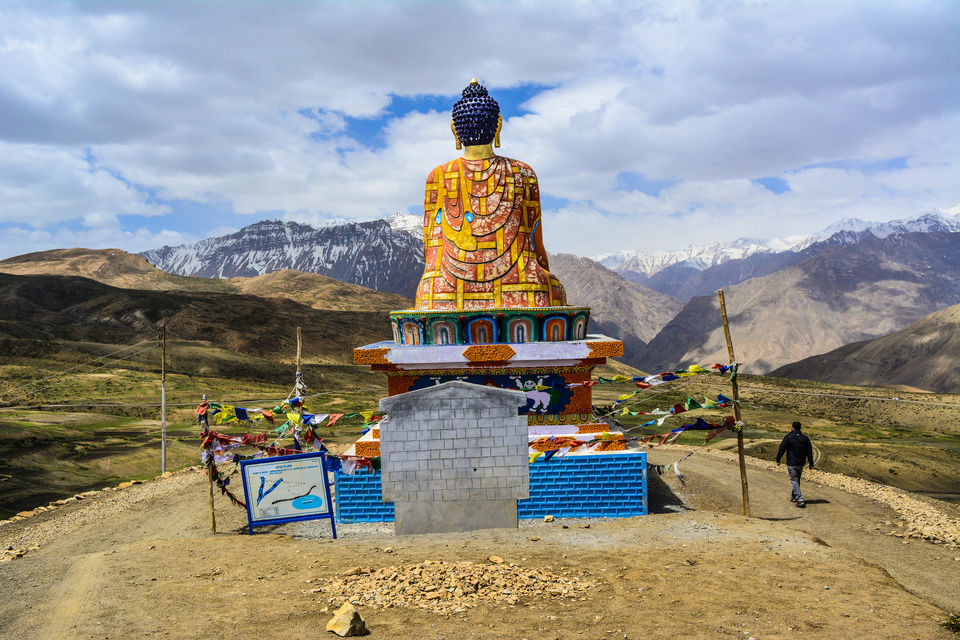 It was day 5 of our journey which began with a nippy morning, no sunshine, wind whistling, rain drizzling which made us skeptical whether we could make it to our scheduled places or not. Langza, Komic, and Hikkim are in the vicinity of 10- 15 Kms and are approximately 30KMS from Kaza, the main town of Spiti valley and our abode.
But as they say, "when you got to go, you got to go". Surpassing those helical roads, luxuriating that scenic beauty and weather we went ahead without any break. At the one point, we could see the whole Kaza town nesting in between the mountains while we were sitting on the top of the mountain. Kaza which is engulfed by mountains and between it lays Spiti River making its way all along the town is nothing less than a feast to the eyes.
As we were cruising ahead then all of a sudden my eyes started gleaming and I was lost in the mere beauty of what my eyes were witnessing. My eyes glued to the stupendous view of village Langza. The view of the village looked like a perfect postcard.
We stopped there and just soaked ourselves in the sheer beauty of it. We found this bulldozer placed right there as if it was there to take us further.
Our first stop was at Langza situated at an altitude of 4300mtrs. It is best known for fossils of marine animals and plants. One can also visit Chaudua fossil center for better knowledge of fossils. And then came the most amazing and probably the best part of Langza, giant Lord Buddha statue placed there just like a guardian angel looking after the valley.
Langza is known for Lord Buddha statue
Langza is divided into 2 parts known as Langza Gongma (Upper village) and Langza Yongma (lower village). One can find few home-stays here to hog in.
Having said about home-stay it is important for people to understand that these people are providing their homes to stay. They are allowing you to enter their privacy so keep a note on that and try to maintain that dignity, respect their place, their family for they are providing you with food and shelter. This is not your hotel where you can do your stuff.
Young kids over here usually explore the place and find a fossil and pursue travelers to buy them in exchange for money or maybe some chocolate or food.
After Langza we headed towards Komic, highest village (situated at 4587mtr) connected with a motorable road.
Komic is known for having the highest village connected to a motorable road
Komic is around 14kms from Langza which is approximately half an hour. There is a little trek down the village although we didn't do that. It is nestled between mountains and hills with roughly 13-14 houses. The best part about Komic was the café named "Spiti Organic Kitchen". Despite the lack of transportation, I had one of the best tea and coffee here. 
Food over here is to die for. One can find a monastery which is supposed to be more than 500 years old. We just enjoyed the view and tranquility of the place while hogging on to the food. Our belly got satiated but heart craved for more.
After having filled our belly with so much we moved towards Hikkim. Hikkim is famous for having the world's highest post office situated at an altitude of 4440mtr.
Hikkim is known for Worlds highest post office
Hello World! We operate from here. It also has the world's highest polling booth. I got my fossils from here from kids in exchange for milkshake and chocolates. Don't forget to send a postcard to your loved ones which cost just Rs. 20/-. Mr. Rinchen Chhering is the postmaster here operating from the beginning.
There were not many houses here while few were under construction. I saw few Yak skin hanging around and when I enquired it is used to provide warmth during winters.
Finally, the day ended with exploring KAZA market. I would highly recommend visiting these places if you are in Spiti valley as they offer the best view and World's highest post office and village connected by a motorable road
Follow : 
Instagram: https://www.instagram.com/travelshareninspire/?hl=en
Website: https://travelshareninspire.wordpress.com/
Youtube: https://www.youtube.com/channel/UCx7jOECRU2vdoqxJh9jENtQ?view_as=subscriber