There is something very contagious about Himachal which makes it impossible not to fall in love with that place. Himachal holds the old travel adage true- a piece of you stays back in that place and a piece of that place stays back with you.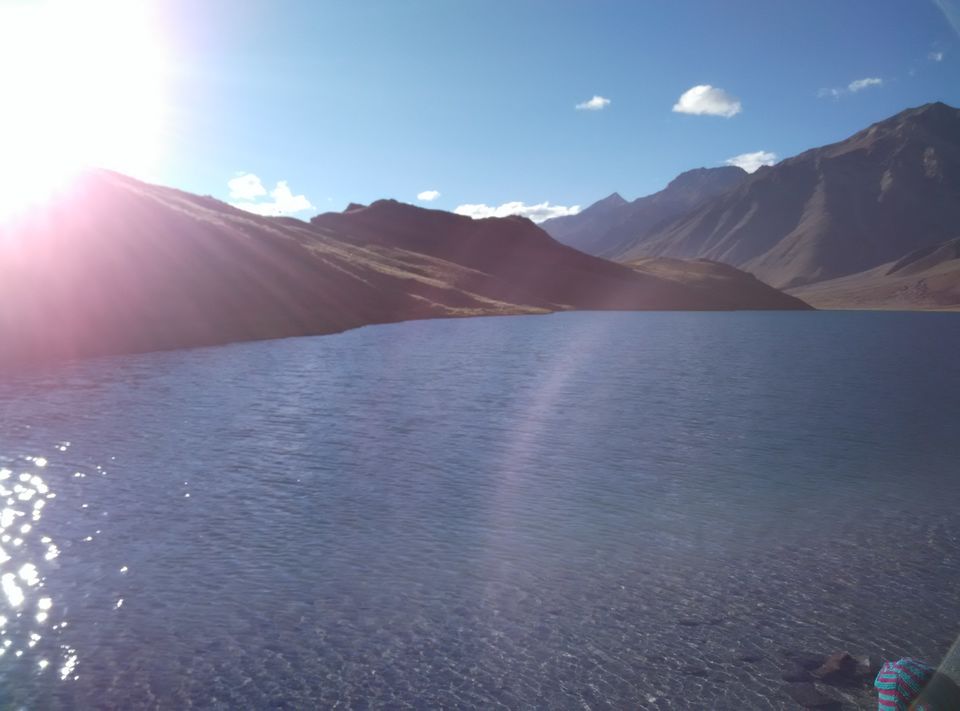 Chandratal Lake- An artist's perfect sketch
If perfection was a sight, Chandratal Lake would be it. No photographer's lens, no writer's words and no artist's pastels can do justice to this place. I could write a thousand lines for its beauty, but in one line this is what it would be. "Listen to your favourite music that soothes your soul, now imagine you could see it and now feel it. That is Chandratal for you." Surreal? Well that is what it is. One of the many people we met on our Himachal trip described Chandratal as the most beautiful place in the world and has been there thrice already.
Nature has its own way to make its humans appreciate its beauty. Chandratal Lake lies protected between mountains on all sides. If Chandratal is as artist's sketch, the mountains guarding it are the artist's colour palette. To see the colours of these mountains change as you get closer and as the sun sets in- is an experience in itself.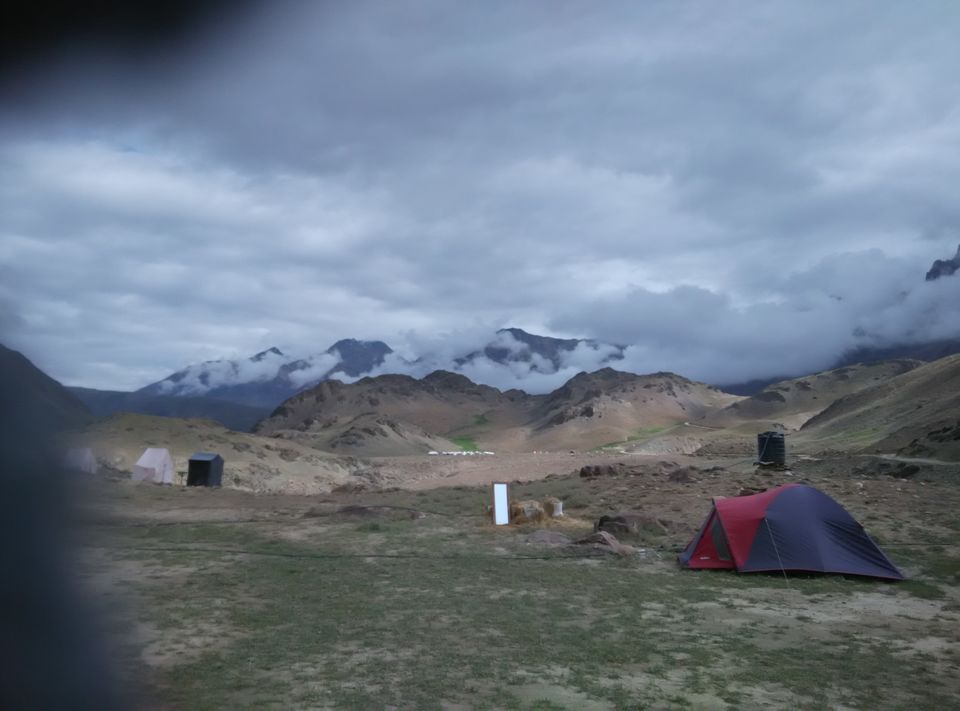 The only way to set foot in this beautiful water body is to trek from the base-where cars drive up to. The trek from the base to Chandratal Lake is 30-45 minutes. At that altitude for someone who has no trek experience, the 30-45 minutes could prove to be quite grueling. We had skipped lunch that day and that made the trip a little more difficult. But the moment you get a small glimpse of the beauty that awaits you, peeping at you from the mountain ranges, it definitely becomes one of your best travel moments. My friend and I, forgot hunger, forgot the trek drill, forgot everything and all we could do was smile. The lake was inviting us as it enveloped us with the warmth of its beauty, to come drown in its splendor. And we did.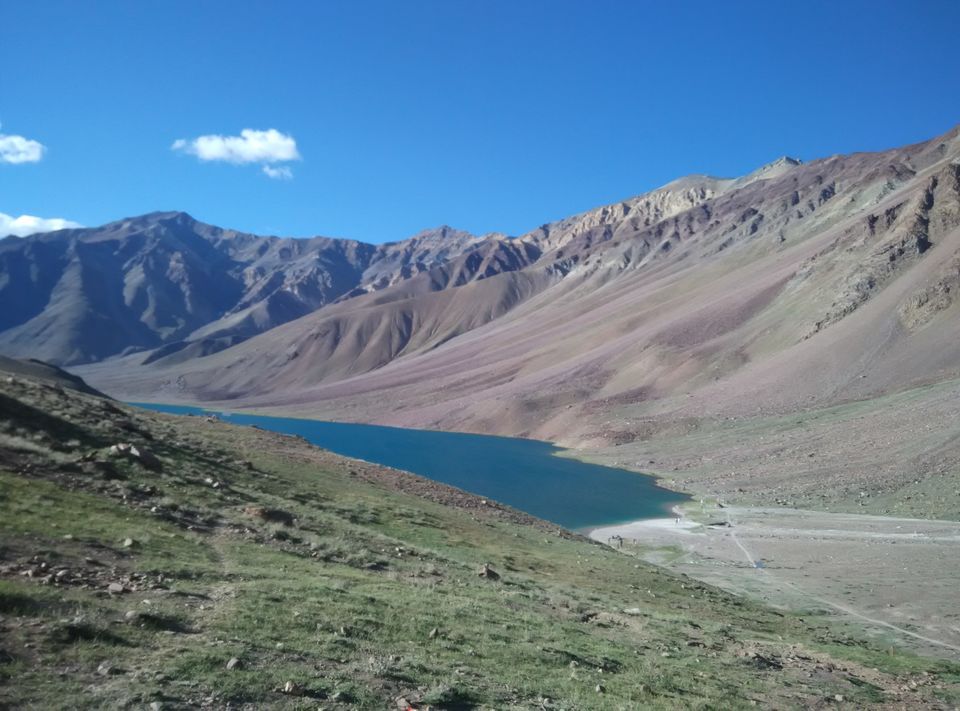 Ever known how it feels walking in a pool of refrigerated water? I don't. But I am sure it would feel similar to walking at the Chandratal Lake. Cold water at your feet, dazzling beauty around you and just nature's song to hear- that is how it feels. One of the best things about Chandratal is, very few tourists frequent it. Our driver, who has a local from Himachal Pradesh, had never been to the lake before.
You feel blessed to have a piece of heaven to enjoy with no one else vying for the same pie. We decided to lie by the lake and devour the clear blue sky's beauty. Do that and you would know what 'overwhelmed' means. Chandratal's charm is capable to disarm and over power you as you stand helplessly like a spec in a vast sea of beauty.
Once back, someone asked me is the water salty. The lake is music to ears, beauty to the eyes, soothing to your skin, then how can it disappoint in taste? The water was as sweet and as fresh as first love could be.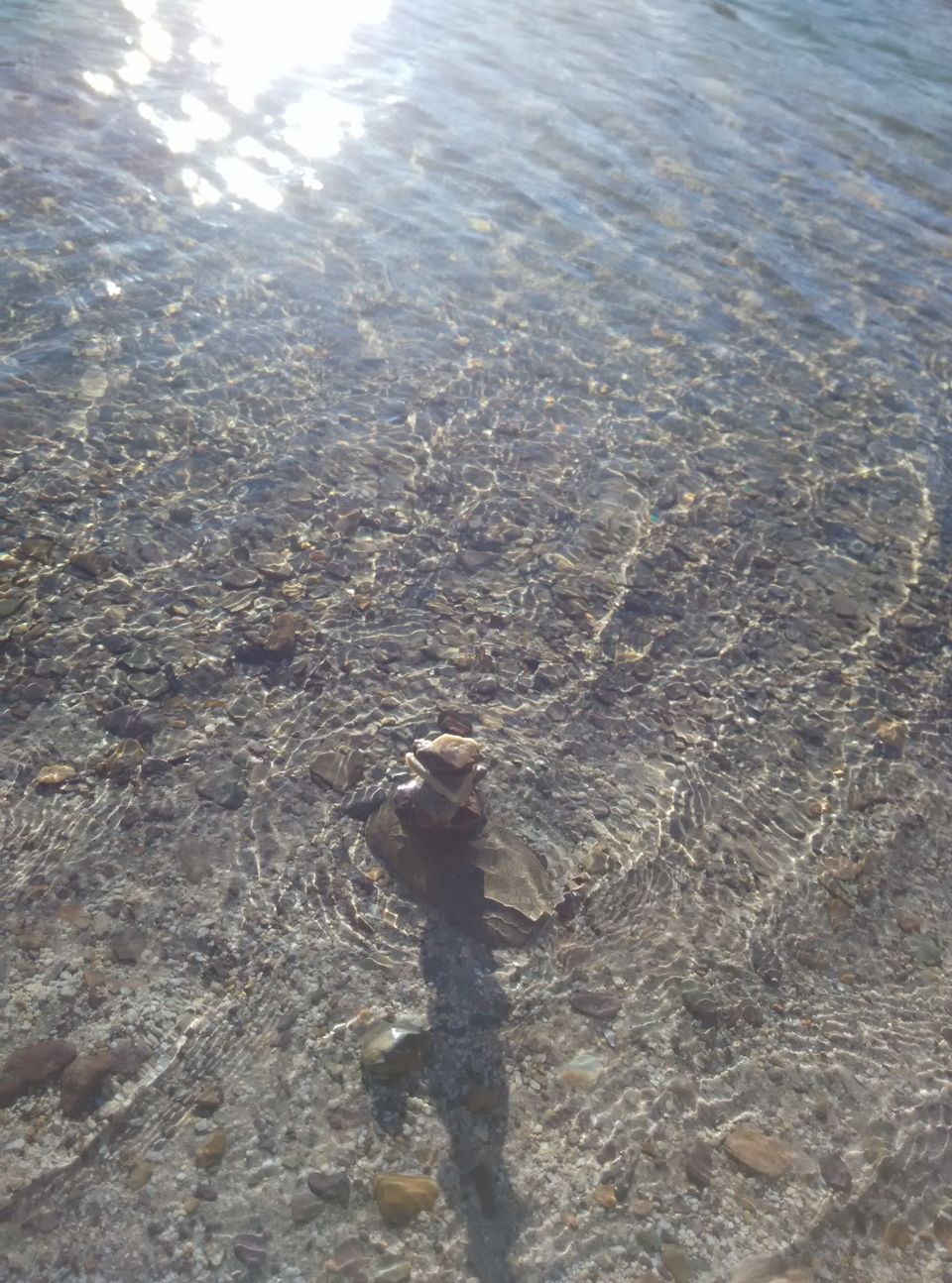 P.S. The lesser mortal in me chose to leave a part of myself there by making the eight -stone structure of small stones in the lake. The mini stone structures are a common sight in Spiti which was earlier used to mark ways for fellow trekkers to follow.
Himachal Diaries is a series of some short and some long blogs from my recent 10-day trip to Himachal with four of my friends. The multiple blogs will cover places we saw, people we met, funny experiences and some instances which amuse us at a personal level. This is part three of the Himachal Diaries series, Hope you enjoy, feedback welcome!