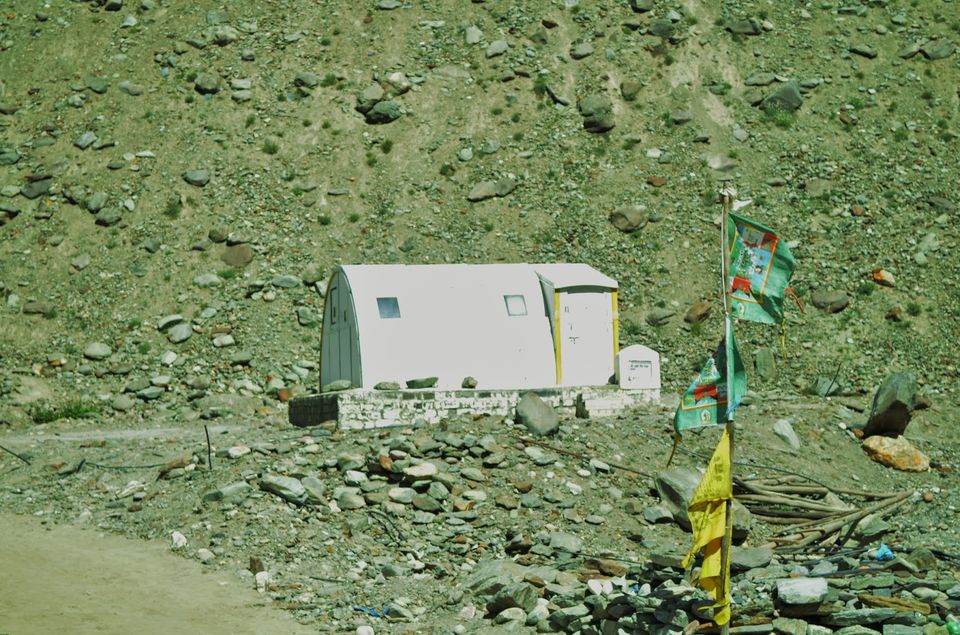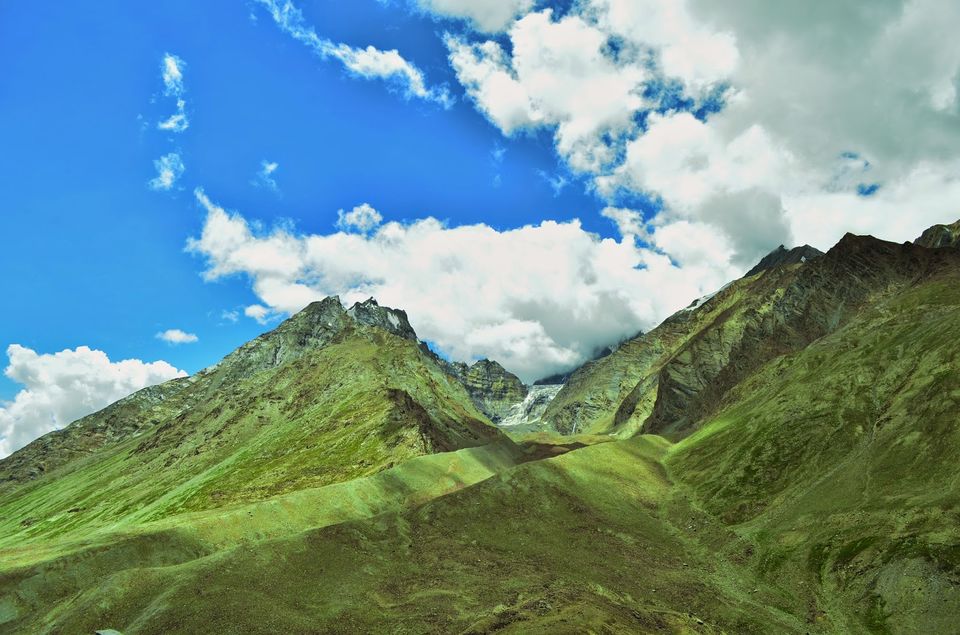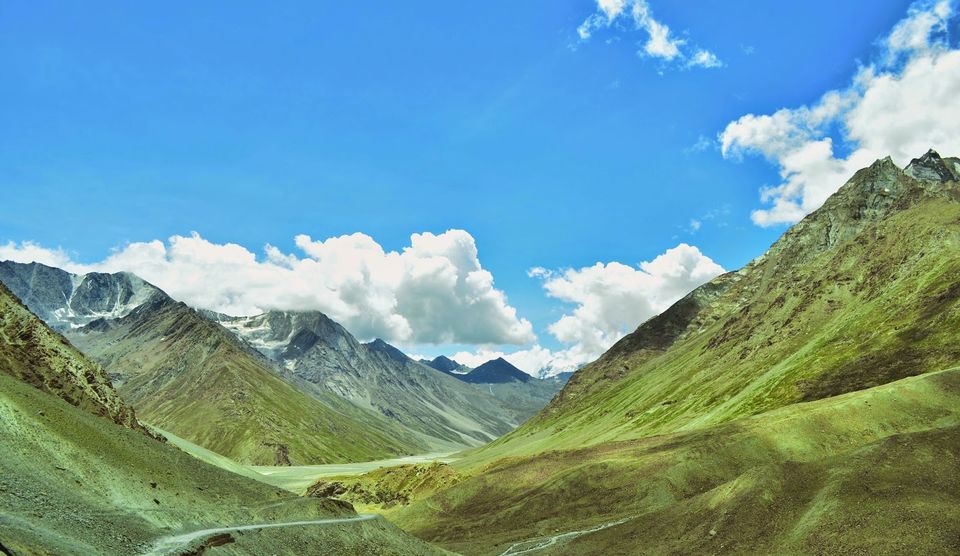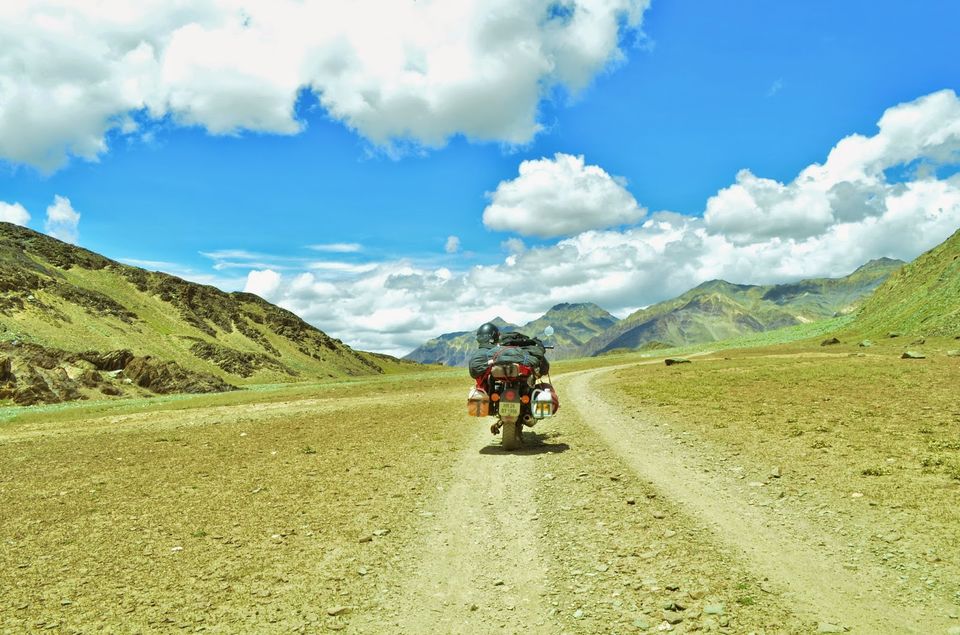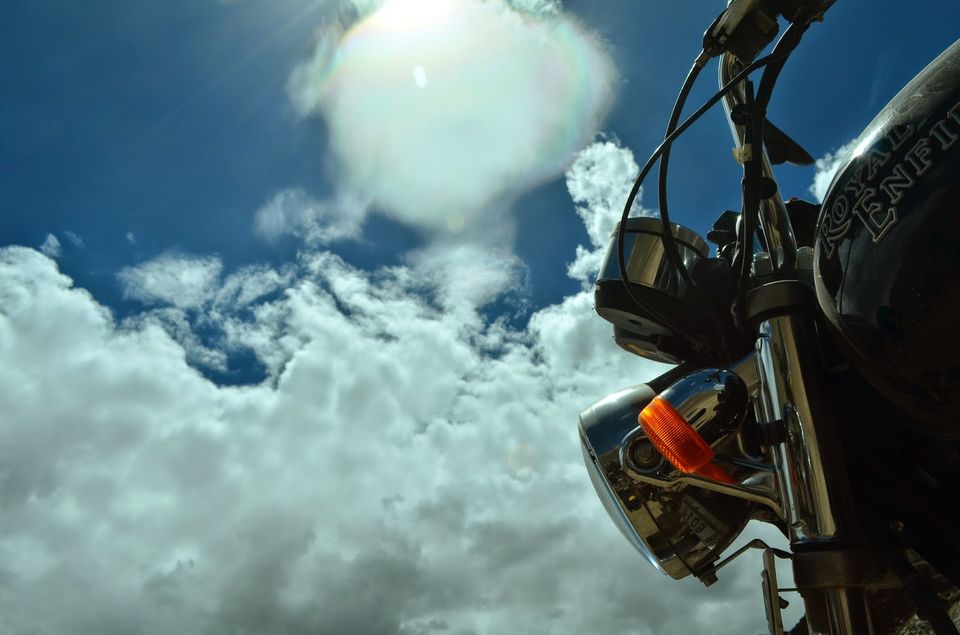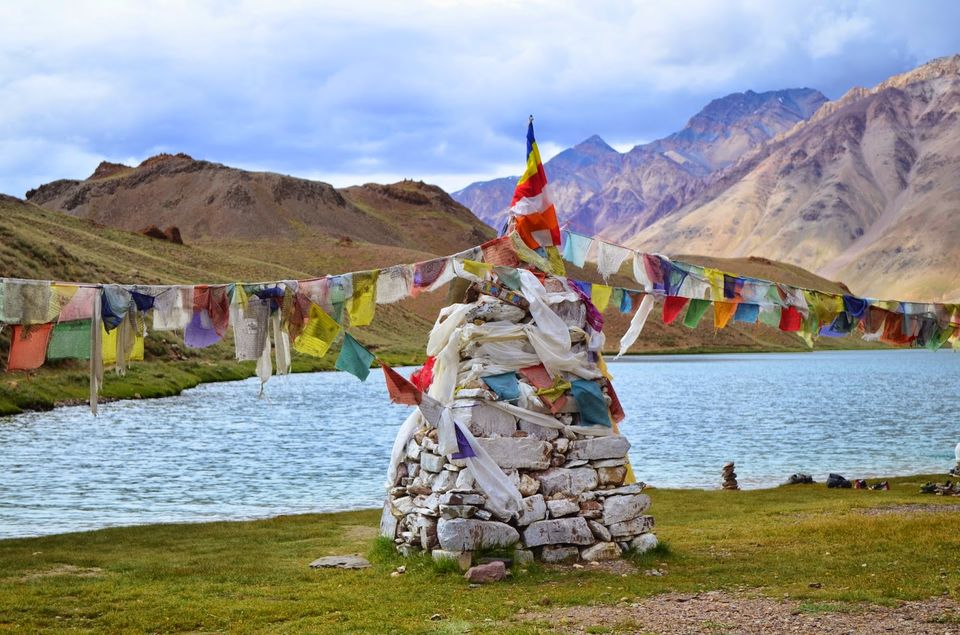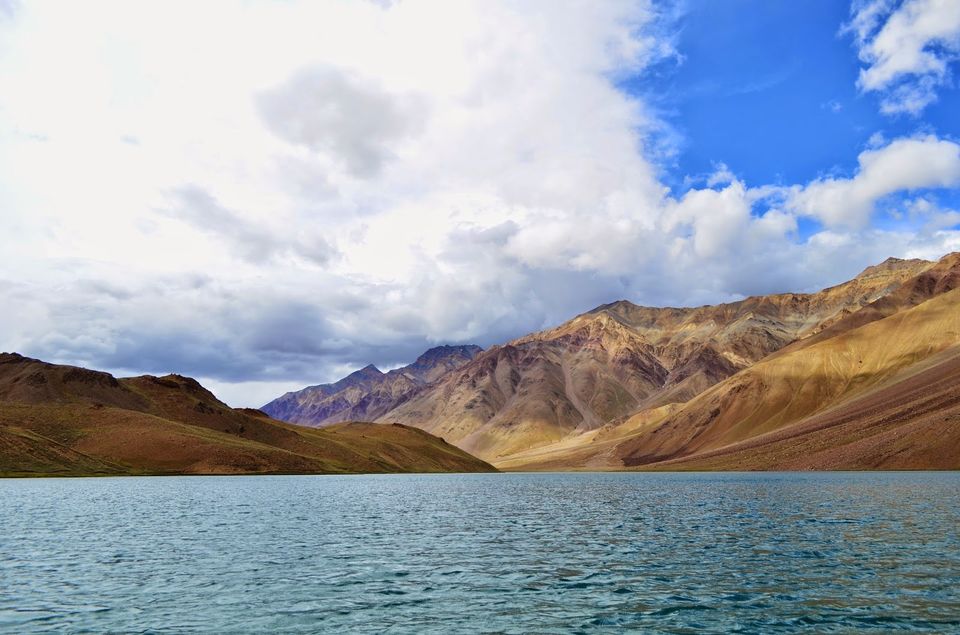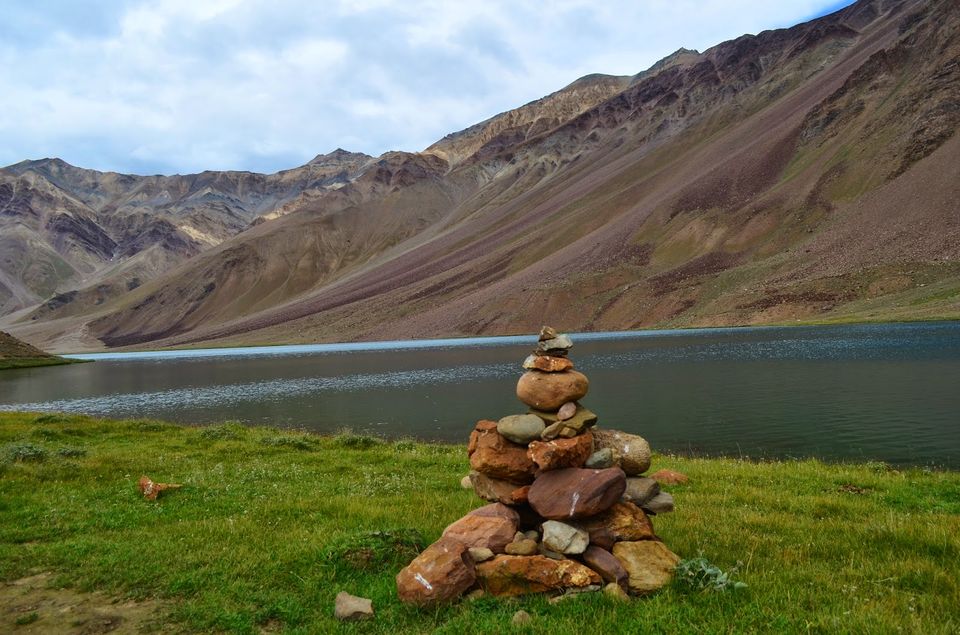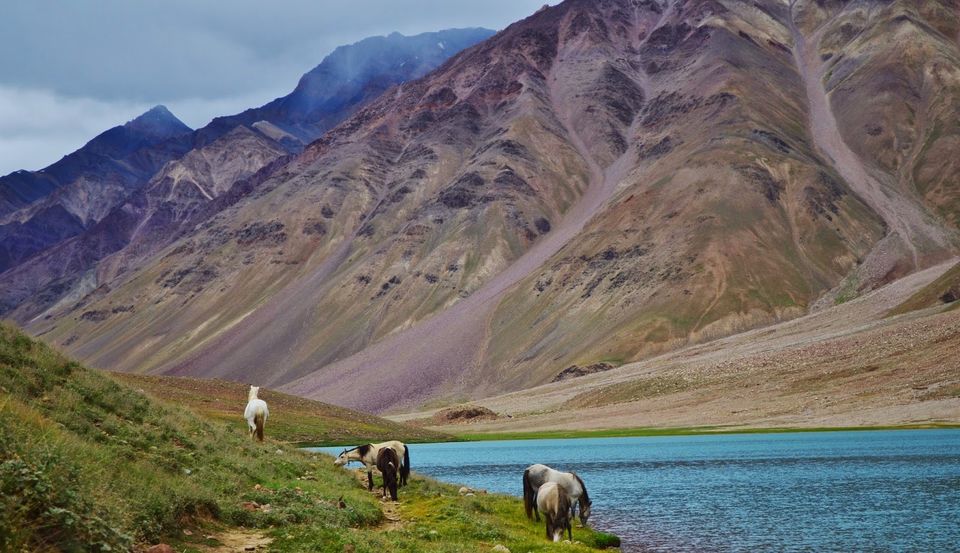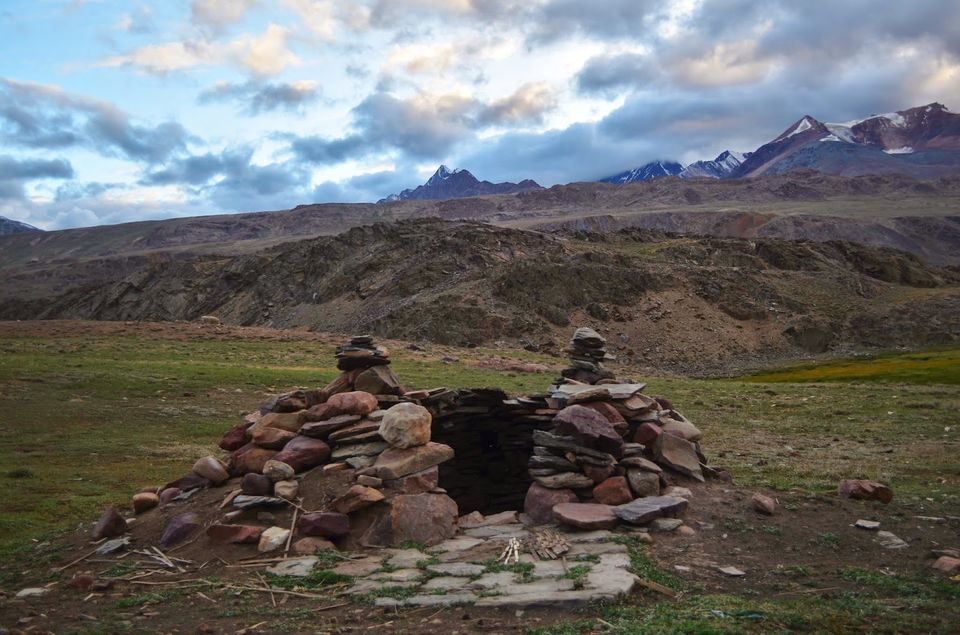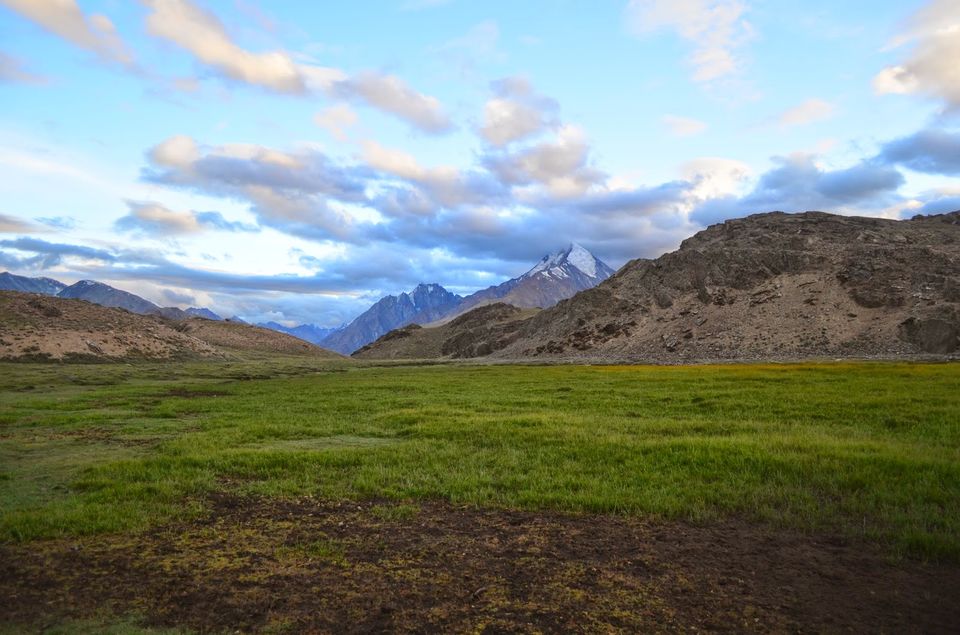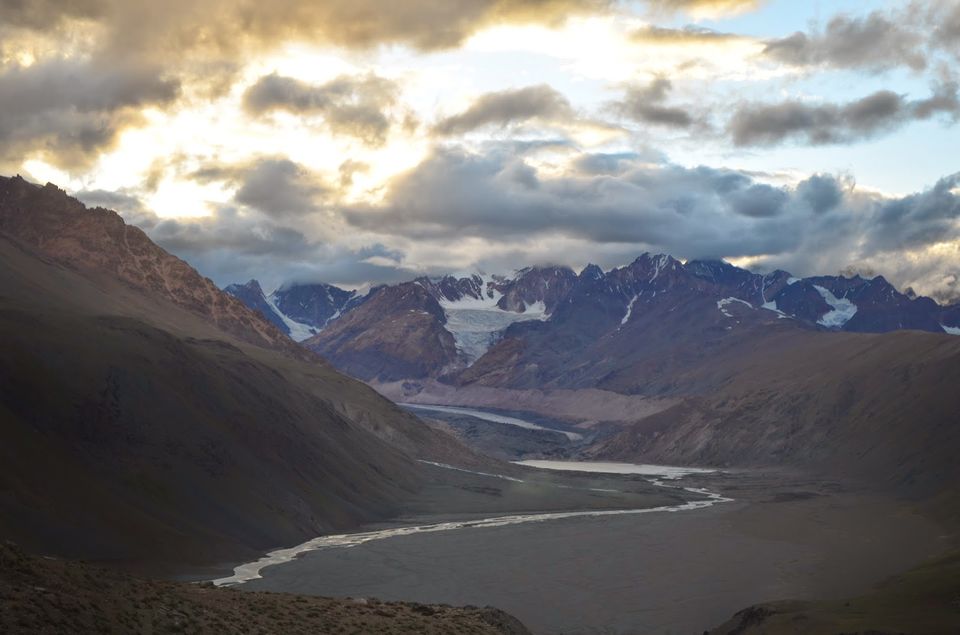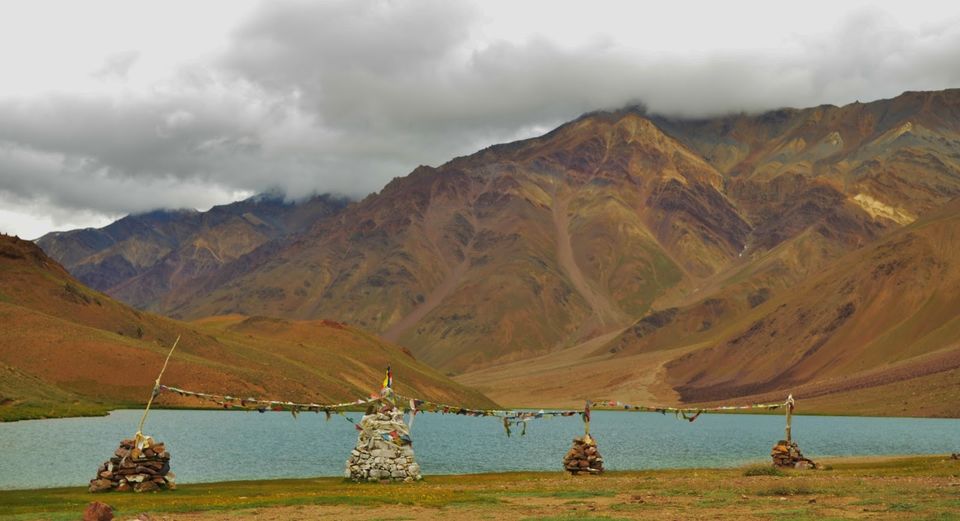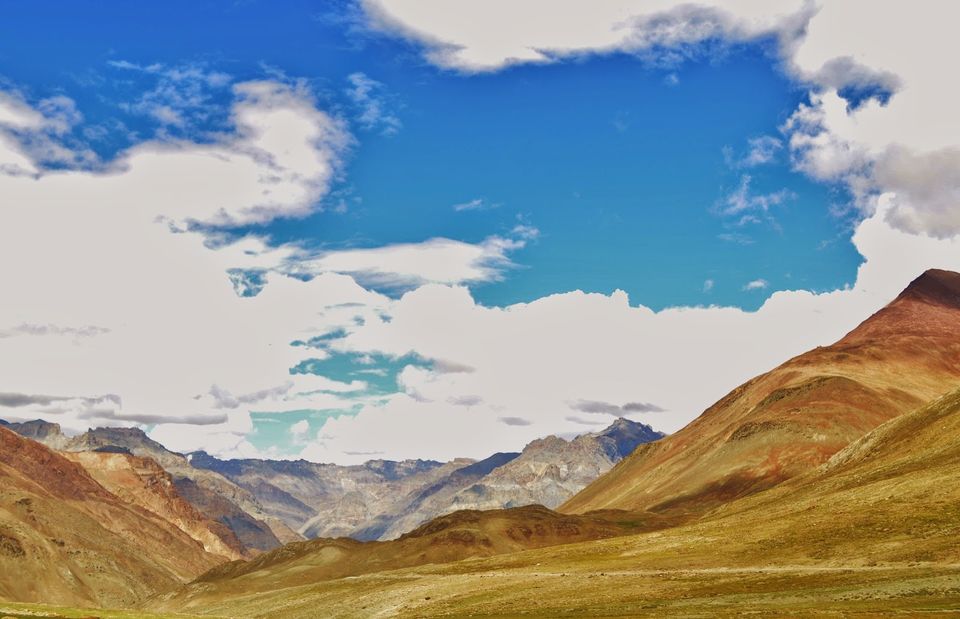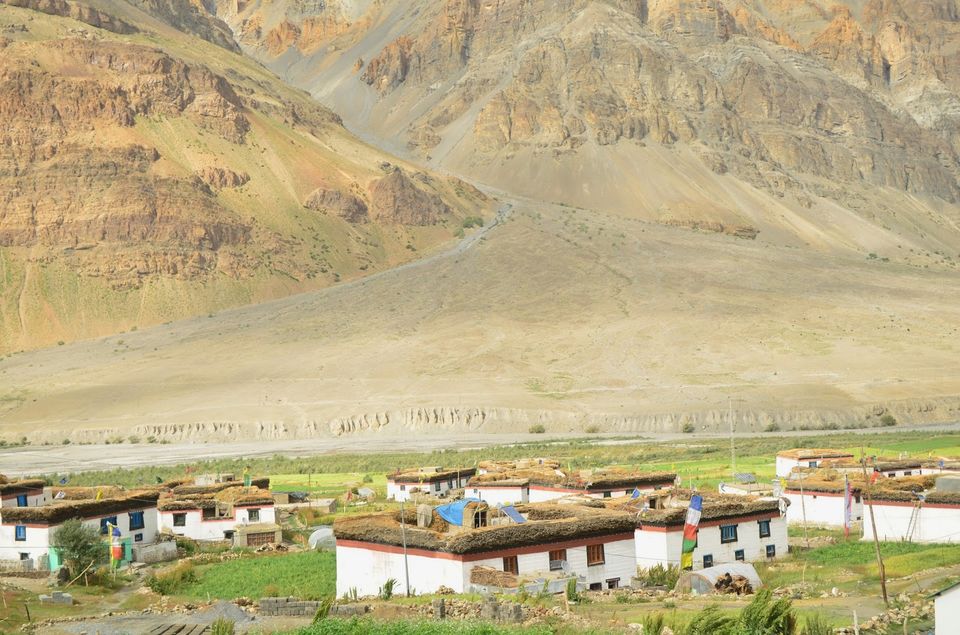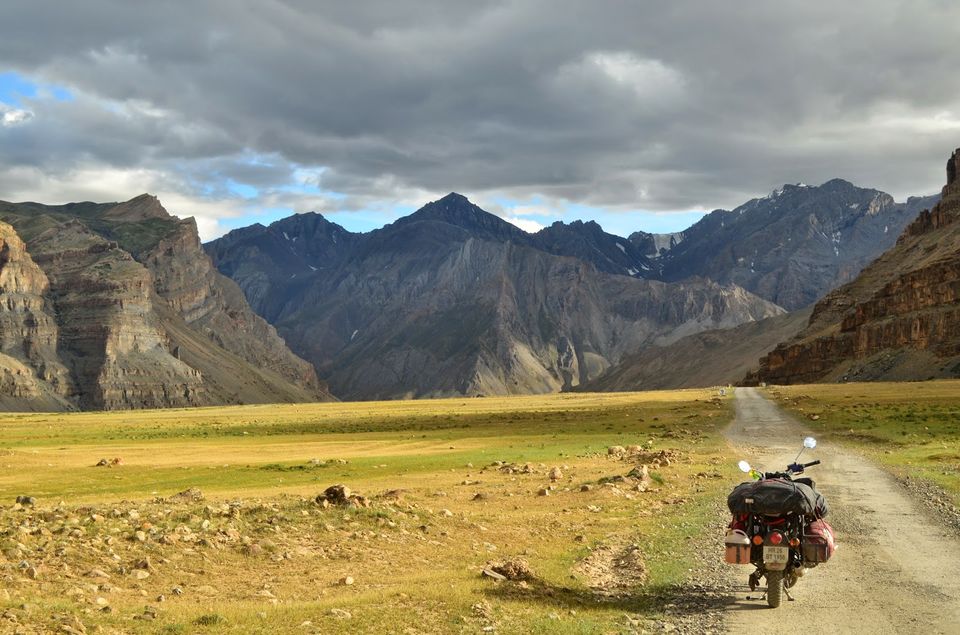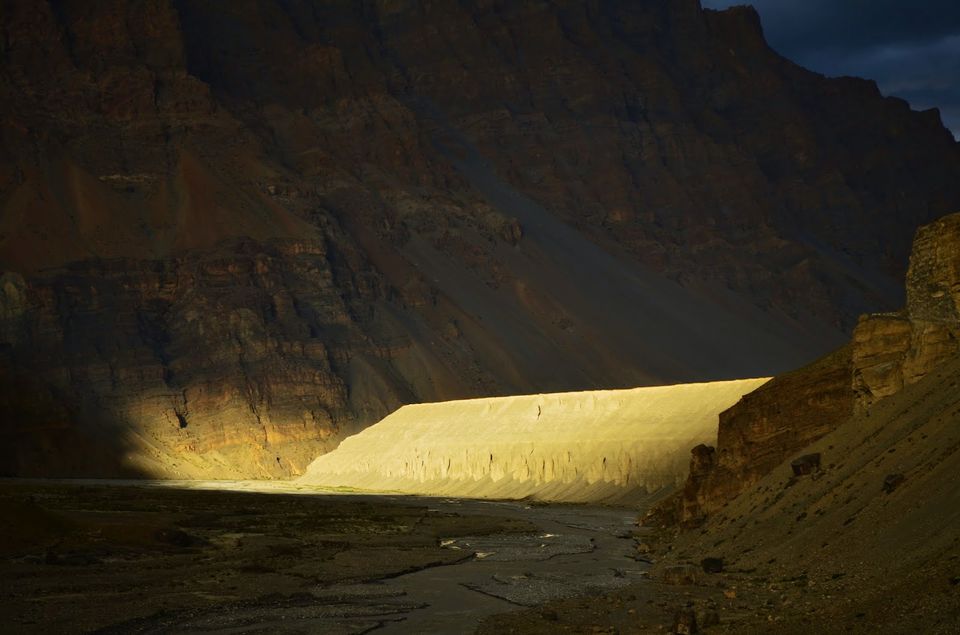 Thank God before starting for this trip, I somehow managed to run my brains and buy some spare fuse for my bike. As it had burnt so many fuse frequently I was a bit cautious about the FUSE thing. 
The first thing I did was to open the left hatch of my Enfield to look for the burnt fuse in the morning in Baatal. Yeah!! I got it. I hurriedly took it out and replaced it with a new one. Happily started the bike, pressed the horn button but nothing happened. What!! my adamant bike burnt the new one also. So I tried another one and the same happened. I had only one left now. Should I try it or should I keep it as a spare for main ignition fuse? Obviously as an intelligent person would do, I did the opposite and tried it. And obviously what was expected happened. Now I was just praying for the ignition fuse to not to go off.
Our backs were still paining because of the roller coaster ride we had yesterday. We actually now thought to not to go back through that road and instead head towards Shimla straight from Kaza. I was happy at hearing this while having some tasty aloo ke paranthey with some local made exclusive chutny in the morning. But soon my happiness was turned downed by a car driver who was coming from Shimla. No!! You cannot cross the nallah. Its broken. The infamous Maling Nallah had cut the road and it might take 3-4 days to recover the part. So we decided to visit ChandraTaal and then head to Kaza. My plan was to visit ChandraTaal while returning back through this way on a full moon night. We started our bikes and headed to Chandrataal. I still didn't had my headlights working but the distance was not too much so it was not a problem at that time. 
What do you guys do? Engineer, Doctor, Engineer, Doctor, A white person who was riding a BMW DR bike with Thailand registration, asked us as if he knew the answer. He was slightly correct in his assumptions, and I replied. Engineer. But can you guess what the other two guys do? Not everyone in India is an engineer or a doctor. Well! He couldn't. We introduced ourselves to him and his travel mate who had hopped on his bike from Leh. She was an Australian who had come a long way to see what India is. And the guy, he was just awesome. He rode his bike from Bangkok via China and Nepal to India, all alone. Then came few more bikes with Maharashtra number plate. I first thought it was a Norton, but then I realised it was a modified enfield. It was time for us to visit trek to the Taal.
 I do not wish to mention Chandrataal as a lake as it would degrade the aura or whatever image it has in my mind. At 14000 ft above sea level, you understand really what lack of oxygen is. Walking just a mere 1 and a half KMs through green pastures was the most hectic walk I had ever done. In that small distance I stopped for about 2 to 3 times on the way to rest. And then I saw an old fat aunty, around 55 she must have been, trekking back to the camping place. I was surprised and felt shame on my stamina. 

I could see it from a distance, a Taal in middle of huge mountains. Crystal clear it was. I went near, touched the cold water and silently prayed. I thanked God for giving me this beautiful scene. I thanked God for letting me come to his abode. Sitting at the side of Chandra Taal felt like sitting in a far away land. Far away from all the worldly matters, from day to day life, from every little or big thing that was monotonous in my life. I was at peace there. No one can ever describe what it feels like sitting next to Chandra Taal. It had some magical aura that kept me staring at it. We sat for few minutes there and savoured the beauty of it. During my visit in Himalayas, I very often would see stones piled up in a specific manner. But never could get a satisfactory answer to what it signifies. I only know that these are a part of a belief!!. 
We then decided to trek to the other side of the lake. What a unique sight it was to see wild horses running together on the mountains. I had never been so close to wild horses. My luck struck and they came to the Taal to full fill their thirst. And then I got my chance to click them. I crawled slowly so as not to disturb them and freeze something natural in my camera. I could take few shots and then someone came from behind rushing towards them. The horses ran away. I sarcastically thanked Ankit for this. I could have gone more closer to them but they were not there now. They were again running and playing with each other in the open uneven green pastures. It was time to head back towards out camping place. There was a lot of stuff to do. And the most important was to pitch a tent. 
We unpacked my small 2 seater yellow wildcraft tent and tried our hand on it. I was the only one having experience in pitching a tent, and that too only once in my bedroom for trial. Thanks to Jamaica, who helped us pitch it. Jamaica was the owner of the rented tents there in the camping place. He is someone who is known to whoever plans to visit Chandra Taal. He is the only option there. A small hut type kitchen made from stones and tarpaulin worked for everyone who could pay for the food. Either you make your own or buy it from him. For sunset we hiked to some height through the pastures till we could see the magnificent Samundar Tapoo. 
It was a huge glacier sitting on the top of a mountain. And a magnanimous glacier bed below. Though the clouds had dominated the scene and had blocked the sunset, I still cannot forget that beautiful yet dangerous moment. It was dark now. Ankit had already headed back to the tent. Me and Bhaavik were now thinking of how to return back. We were sort of lost now and didn't know the way we came. Still some research helped us and we managed to return,walking down slowly and cautiously. 

There was another person who joined us for dinner. He was from Bengaluru with his family. The old fat aunty I had met while hiking towards the Taal, was his mother. Some old monk pegs and not too tasty food with some exciting stories specially from Jamaica and his partner made our night. It was first a bit uncomfortable sleeping in the tent, but it didn't matter after a few minutes. 

I came out of my tent at 6 in the morning next day only to see Jamaica ready to start the breakfast preparations. I was amazed to see his energy. I asked him if I could help him in bringing water from the stream down the hill, and we went. Waking down the hill was manageable but hiking up the hill with 2 big cans of water was something to think about. I managed, somehow. Then I realised the importance of saving water. And also the importance of staying fit. As I came close to my tent I saw Bhaavik coming out. I told him I was going to Chandra Taal for the early morning view, when there is no wind to alter the reflection of the mountains in the water. He asked me to wait for him and my bad luck I did. I missed the morning view. And just because of him. I still regret that part. I should have just hiked up to the Taal alone. Still I in anger walked to the lake, a little late in the morning. I knew I had missed the view for what I had seen in my dreams. A silent taal with reflection of those huge multi coloured mountains standing next to it as if Chandra Taal was in small cradle in this big endless Chandrabhaga range of The Great Himalayas. I then decided to trek along the complete perimeter of the lake. 
It was about 4 KMs, a treacherous task at 14000 ft. Still I walked. I walked along the pristine blue water of the Taal. I kept thanking God for letting me here in the lap of nature. I  kept walking until I came to the other end of the Taal. It was beautiful there. Sheer silence prevailed. Vast green flat pastures. Far away I could see few people, they might be heading towards the famous suraj Taal. Another beautiful taal that I had encountered during my Leh trip. I started my hike towards my camp, from the other side of the taal. Through huge boulders of landslide to green patches, I made my way back to the camp. Bhaavik had started looking for me, as it was getting late now. 
We headed towards Kaza via the Kunzum La, which had been on my travel wish list. The ride up to the Kunzum La was nothing less than an adventure. Uneven road climbing up on the mountain, reminded me of the Gata loops from Manali-leh highway. But at least the gata loops had tarred road. This one was a hell of a ride. We rested few times on the way till we reached the top. There is a small temple dedicated to Kunzum goddess. One who protects travellers and anyone who crossed the mighty Kunzum La. This mountain pass at the height of 15000 ft remains closed for most of the months throughout the year. This is the main cut off point for Kaza in winters. We prayed for our safe travel and thanked goddess Kunzum for passing through her abode and headed to Kaza via Losar. Kunzum pass is almost mid distance between Baatal and Losar. One can stay overnight at any of the place if one does not wishes to cross Kunzum the same day. We had heard that road would be better after Losar. So we had eagerly waited for Losar since we entered the un-tarred roads of Spiti valley.
After lunch at Losar and signing at the only police check-post,we had Kaza as the next main stop. I had decided to take a lead and reach Kaza before evening, so I could visit a mechanic there and get my bike repaired. The road was now in good condition, and I rode fast. I crossed some beautiful flat plains, small bridges on the rivers, through Peas farms, enjoying the solitude I had felt in love with, until I came to a point where I could not imagine what I was seeing. 
It was something bright with golden light. So I rode faster to reach to it. I could not even imagine what it was until I came near to it. It was a beautiful and a unique experience I was having. I first thought it was God's light and I have to reach it.
Though it didn't come out literally, but it was somehow God's light. A spot , surrounded by dark shadows of the mountains in the valley, lit so brightly and prominently during the sunset. I was awestruck and I stood there for several minutes without any hurry to Kaza now. I had to enjoy this beauty. What a welcome I had received from Kaza, I still thank for that view. 

I reached Kaza only to learn that the mechanic was not available. So I had to come early in the morning. We booked a hotel room in Kaza for reasonable price and settled down. Had some great tibetan food in the market. Kaza is a small and quaint town in middle of the mountains of Spiti valley.  With Chandrabhaga river flowing near by and a view of parvati valley across the mountains, Kaza gives a beautiful scenic view. We were ready to surrender ourselves to the bed with peace that there was nothing to rush the next day. Until the hotel staff told us to be ready at 4 in the morning. 
I said what? He said Yes!! I said Why?
Well!! the problem was in the petrol pump. It was the only petrol pump for about 200 kms on both sides, and worked only in the morning hours when the machine is cold. Ohh god!! I said, and volunteered to go there first. With all the body pain and beautiful memories, we all fell on the bed.

What a ride it was today!! What a RIDE!! Through beautiful landscapes and small serene villages surrounded by peas farms, I had my day. I slept thinking about all the turns and ascents and descents and the thump of my love still in my heart.