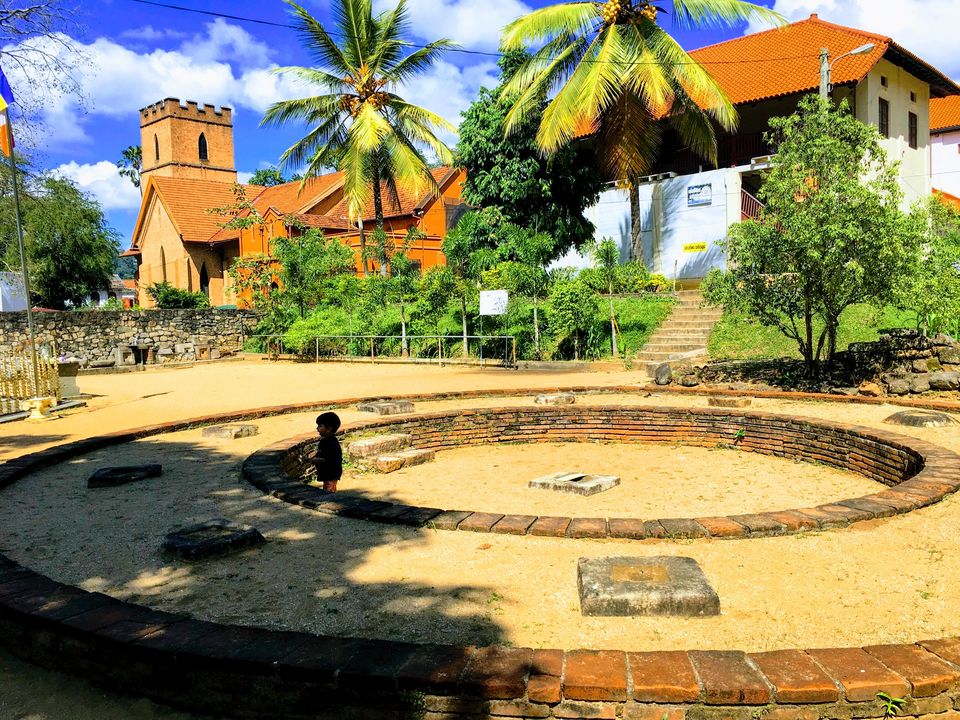 Sri Lanka is one of those destinations which feel so close (to India) that you may not feel like you are travelling abroad. And yet, if you are looking for budget foreign destination which offers little bit everything of city, temples, hills, and beaches then you should definitely check out Sri Lanka as your next location. We travelled to Sri Lanka during winter break in 2018 for 10 days of which 8 were in Sri Lanka and 2 in travel. Itinerary was completely self planned and booked using travel guide which I published earlier.
Visa
Visa to Sri Lanka can be obtained very easily online ($20 per person, kids free) or on arrival ($25). Do use official website and no paperwork or travel agent need to be involved. I got approval within 30 minutes of filling in details. Your ETA approval will be recorded in the system but you may carry print out just in case. Visa will be valid for 6 months from date of application and for 30 days from date of entry for up to two entries.
Foreign Currency
Sri Lanka tourism industry (hotels, taxis, private attractions, etc.) quotes prices in USD, but payment is accepted in both USD or local currency LKR. Most places accept cash only so forex card will not be useful. Prices mentioned in this article use mix of currency, where ₹10 means INR 10, 10/- means LKR 10, and $10 means USD 10. Exchange rate at time of travel was ₹1=2.44/- and $1=180/- and $1=₹70.76.
You can estimate expenses of roughly 5,000/- per person per day for sightseeing, local public transport, budget food, and budget lodging on twin sharing basis, not counting flights expenses. You can increase this by 3,000-5,000/- per person per day if you are into fine dining and prefer mid-range hotels. If you are booking dedicated taxi then that will be extra as well.
You should obtain sufficient USD or EUR or GBP or major currency before hand at home country before travel. After you clear immigration at Colombo airport, you will see multiple currency exchange booths in arrival hall which are open 24 x 7. I found rate to be exactly same at all of them, and bought LKR from Sampath Bank's booth. No additional commission was charged. You should keep the exchange slip till end of the trip so that when you are returning you can sell LKR back and if you sell to the same bank then you will be waived commission (buy-sell spread will still be there).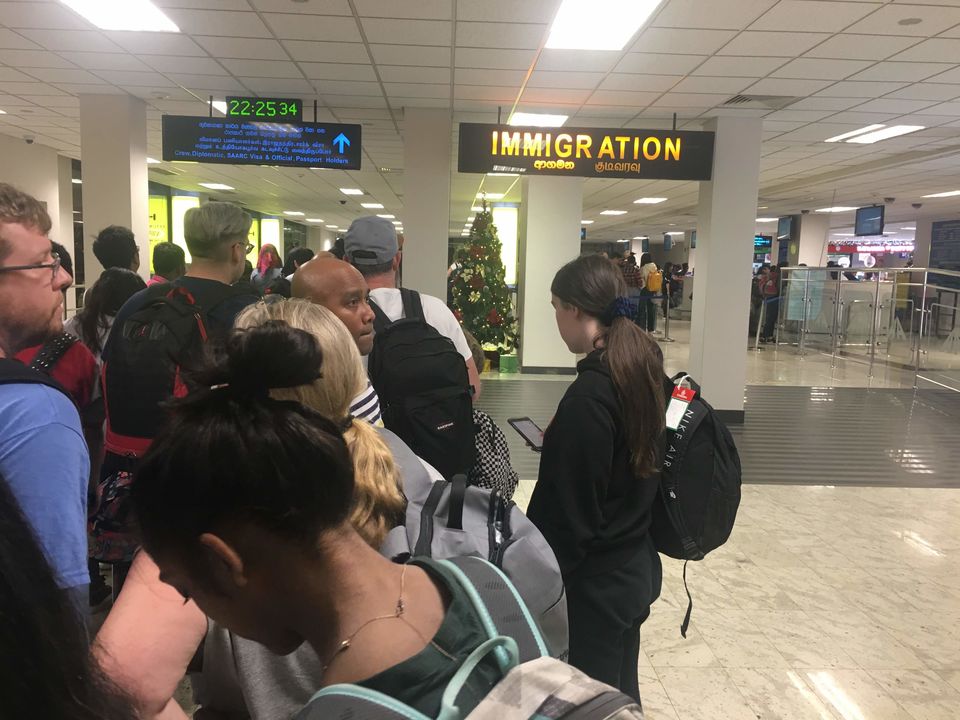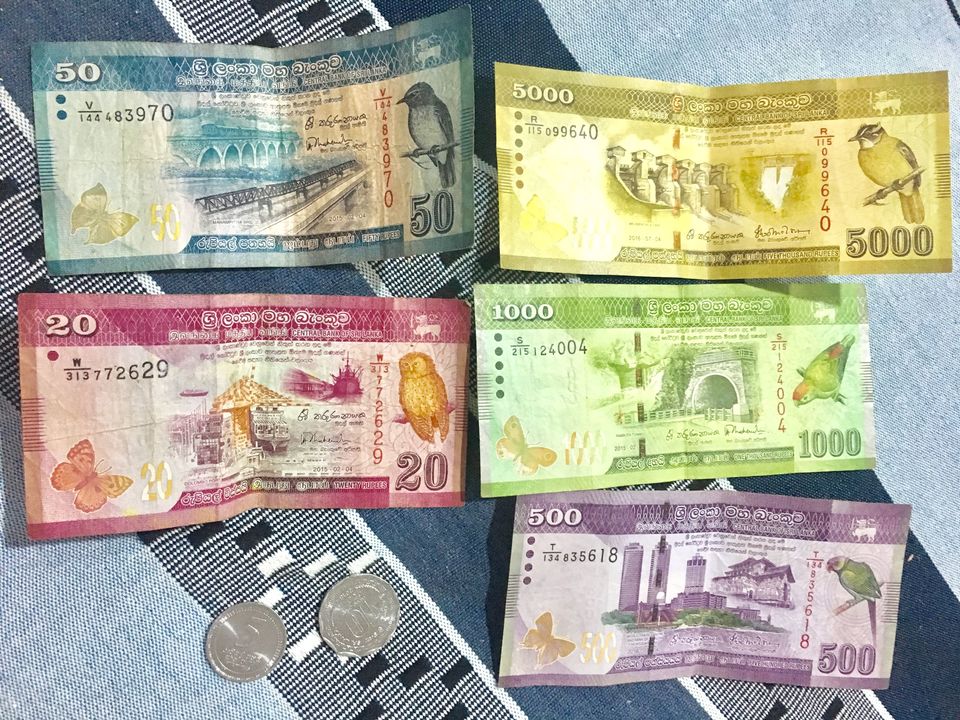 Many websites inform that you may get slightly higher exchange rate in city outside airport if you find licensed money changers (aka 'jewellery shops') but I would recommend to not bother as difference will not be worth the time to find one. These shops also won't take your excess currency back. I also found that many of these money changer shops and mobile SIM shops don't open on Sundays in Colombo.
Also, you are theoretically likely to get better rates for large (say, $100) bills than small (say, $10) bills, but again difference is not likely to be large enough to bother (180/- vs 179.75/- when I checked).
Foreign SIM
In arrival hall, you will also find many mobile SIM counters where you can purchase tourist SIM. I had read that rates in market are cheaper, tourist SIM for 1,300/- vs local resident SIM for 300/- so I didn't bother to buy at airport. Later on, I couldn't buy because it was Sunday and ended up not buying at all. Pretty much all hotels and guest houses offer free WiFi but if you need to make call or need data on the go, then I will recommend you buy SIM at the airport itself for convenience. Two large telecom companies are Mobitel and Dialog and both have good coverage at common tourist circuit. I used my driver's Etisalat and found that to be sufficient too, at least for calls. So just go with whichever plan works out good enough.
Electricity sockets in Sri Lanka follow standards similar to India's so your chargers will fit in without any adapter. You may want to carry a pencil stub to use one of those pesky three-pin sockets, though.
Local Transport
We had arranged for dedicated private taxi for whole trip which costed about $50 per day, plus additional $10 daily for driver's accommodation for on-demand unlimited mileage all inclusive AC cab by Fantasy Lanka Tours. Driver accommodation is charged separately and new expense in Sri Lanka compared with India. You can pick taxi operator from TripAdvisor or have them bid for you at srilankacaranddriverhire.com. I was quoted rate from $360 to $580 for same duration, and you have to use ratings, reviews, and your comfort factor to pick one. They will accept both USD and LKR in payment, and some may demand 20%-50% advance. We were demanded 50% advance only on first day of tour.

You should verify if any and all of fuel, toll, parking, driver lunch, driver dinner, driver accommodation, full insurance, mileage limit, English speaking driver, guide services, etc. are covered. Further, you should specify itinerary as clearly as possible so that they don't bother at last minute about going outside the estimate. You should also specify sedan vs vans as later is fairly common too. TripAdvisor Sri Lanka forums have good guide on trade off between dedicated cab and point to point cab booking, though I suspect their prices are bit outdated. Lastly, do note that drivers expect tips at the end of service which could be 500/- or $10 per day depending on your comfort level.
Public transport is cheap and similar to India so if you are adventurous then you can try local buses and trains. You will miss on the way sightseeing stops though if you go for buses. Auto-rickshaws, called tuk-tuk, are fairly common but charge 100-200/- per km from tourists. Buses cannot be be booked online or in advance and you have to just walk to nearest bus stop. Trains can be, though. Two-wheeler are available for hire to within cities, and while I don't have direct information, I am told that rates are 2,200/- per day plus fuel extra.
My Itinerary for 10 Days