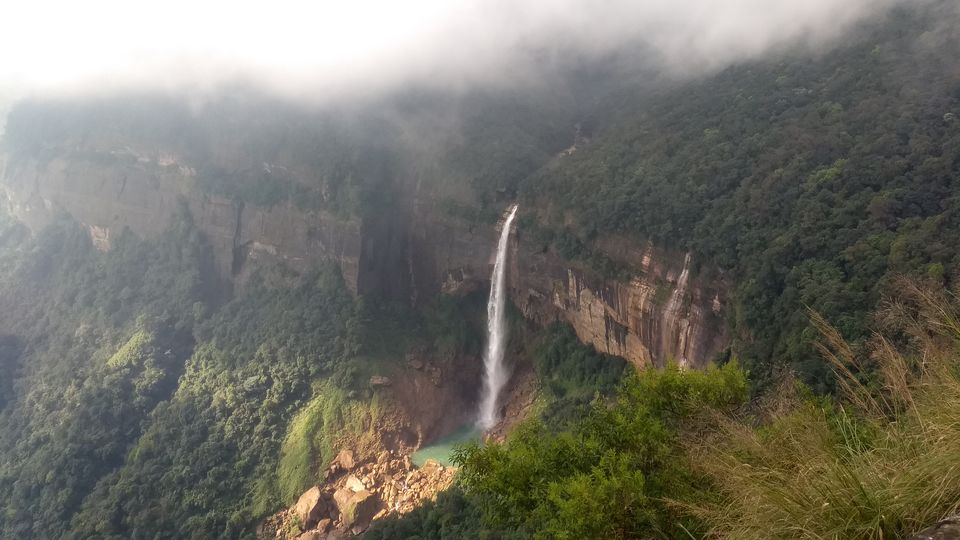 "Sit back and loathe or churn out an alternative"
When my Goechala trek got cancelled, I contemplated enough and charted a solo trip, via Meghalaya, Nagaland and Assam. After all it hurts to scrape off flight tickets and a traveling mindset. There may have been few flaws in execution or minor setbacks in a hastily planned itinerary, but at the end, it turned out to be blissfully rewarding. Such is the beauty of North East, the place and its people.
(Oct 7)
With a stopover in Kolkata, I got the ILP (Inner line permit) done at the Nagaland house at Shakespeare Sarani Road and explored the maddening city, enjoying luscious street food and deluge of bengali sweets, before my evening bus to Siliguri.
(Oct 8)
Darjeeling was sort of an impromptu plan when in Siliguri I learnt that transport had resumed which was earlier disrupted due to Dokhlam and Gorkhaland issues, the reason my Goechala got cancelled. Anyhow, with a spare half day, I went with it. The bus ride took almost three hours, winding through misty verdant hills, a refreshing sight, eventually coming to a halt at the highest altitude railway station, Ghum (7300ft). Sporadic but intense rain called for some tea. I then paid a visit to "Guru Sakya" and "Yiga Chholing" monasteries; so serene just to be in the sanctity of these places. A monk shared some insights to the recent state affairs, how demands for a separate Gorkha state was creating unrest, etc. Thankfully things have returned to normalcy that made this visit possible. Darjeeling was rather nippy, toy trains and the quaint hills making for a picture postcard. Ethereal views of valley, by the window made lunch all the more satiating. In the evening, I left for New Jalpaiguri to catch my train to Guwahati.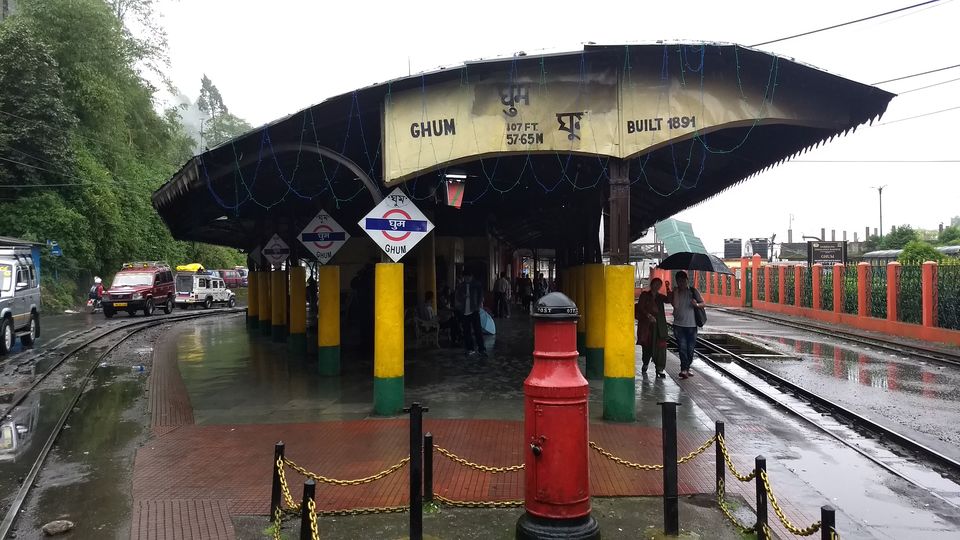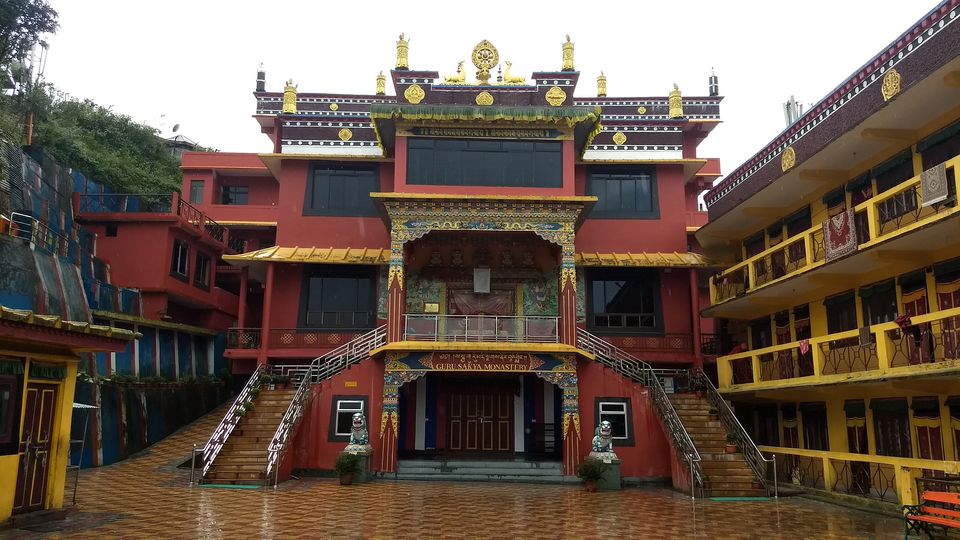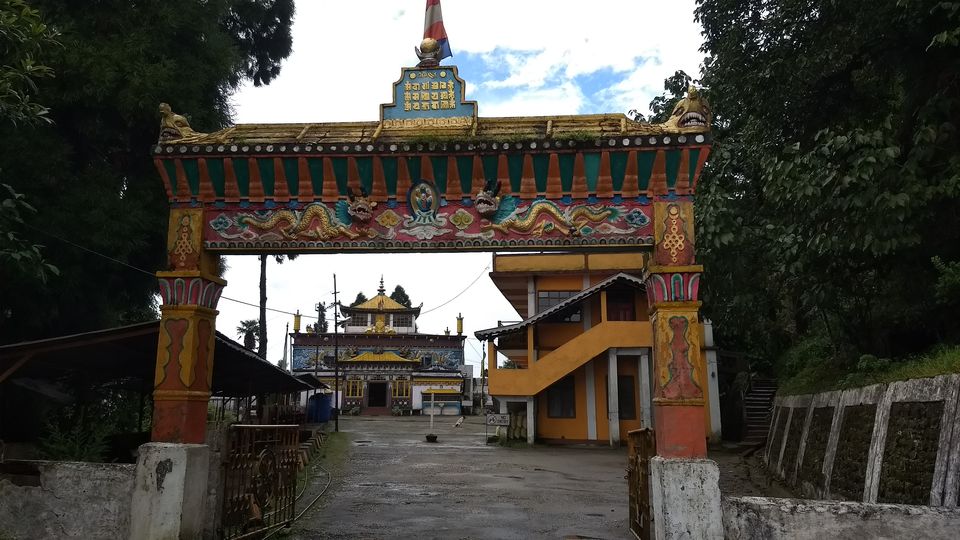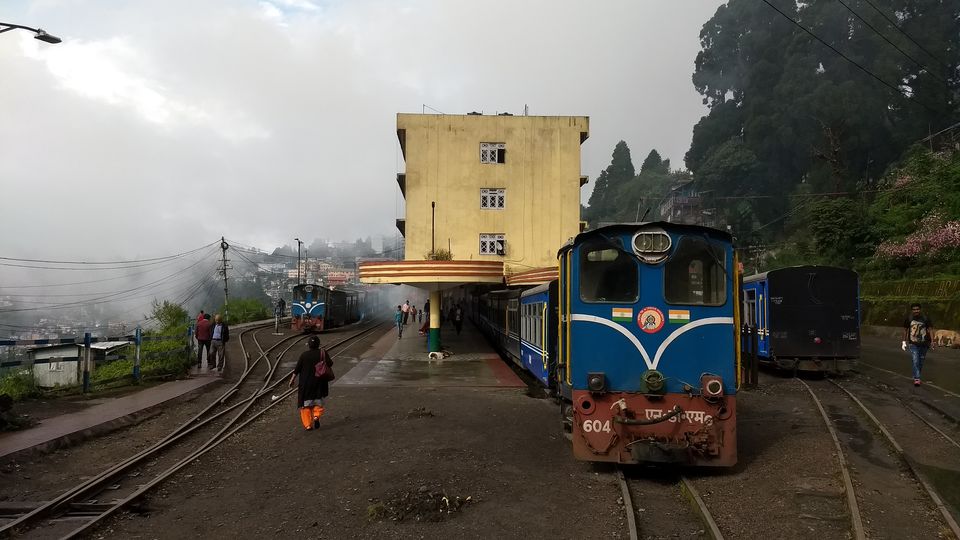 (Oct 9)
From Guwahati, a bus to Sohra and then a cab drive through rain glutted clouds, I reached Tyrna, from where my trek towards Nongriat started. Spiralling concrete stairs, dangling steel bridges and living root bridge, paved way to Serene guesthouse, managed by Byron. His kids, the loads of cuteness they are, ran around, filling the ambiance with innocent cackles. The little girl loves kicking her football. A fellow traveler advised me to drop everything and enter the natural pool which I later thanked him for. The dip in the cold waters was so relaxing with the fish giving a foot spa. Try resisting the forceful waterfall giving a massage or sitting on the rock with the water gushing over like a wave providing you a surfer's nirvana. Oh and what a marvel, double decker root bridge is, intricately built over time, and sturdy af. Later that evening, I made some really cool friends over carrom, finishing the day off with an excellent dinner prepared by Byron and his wife.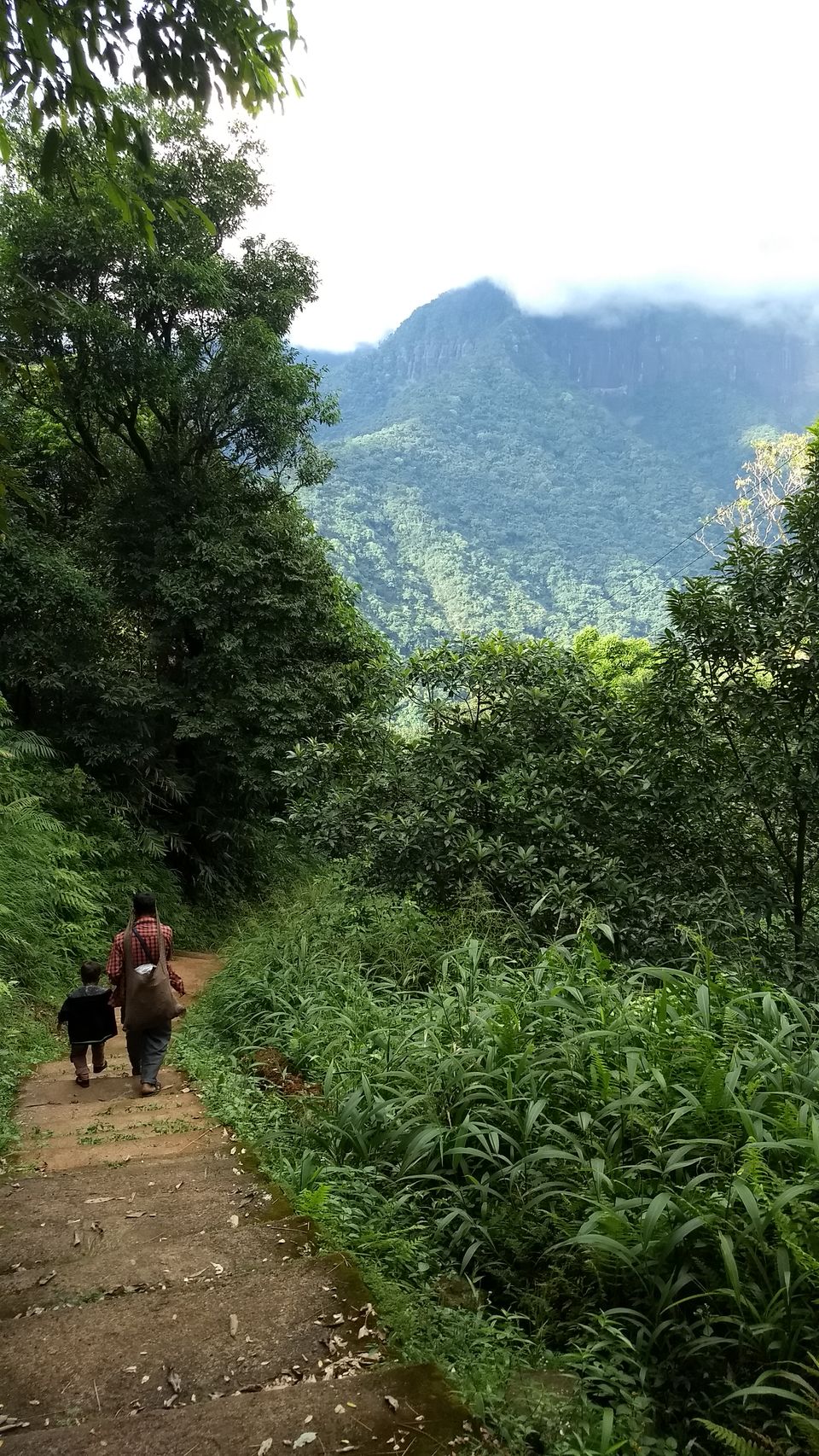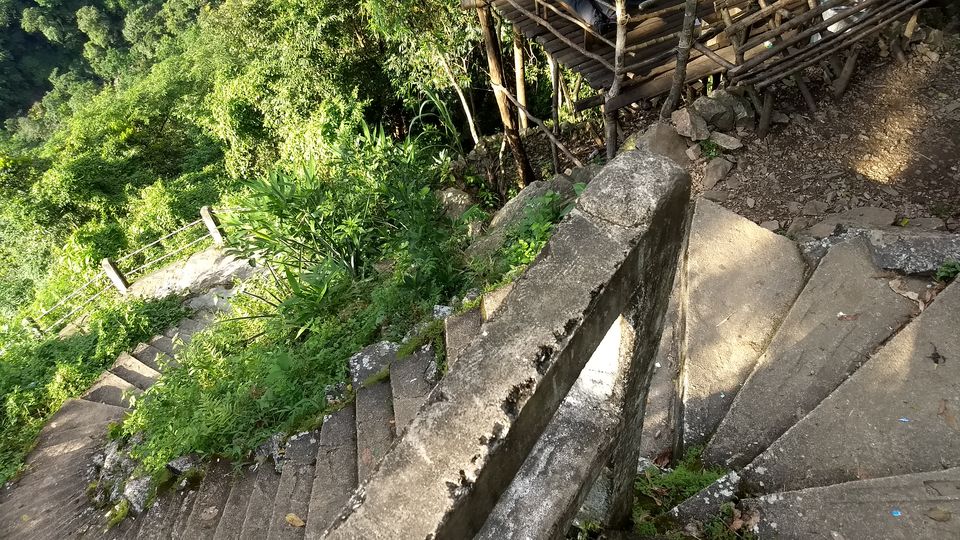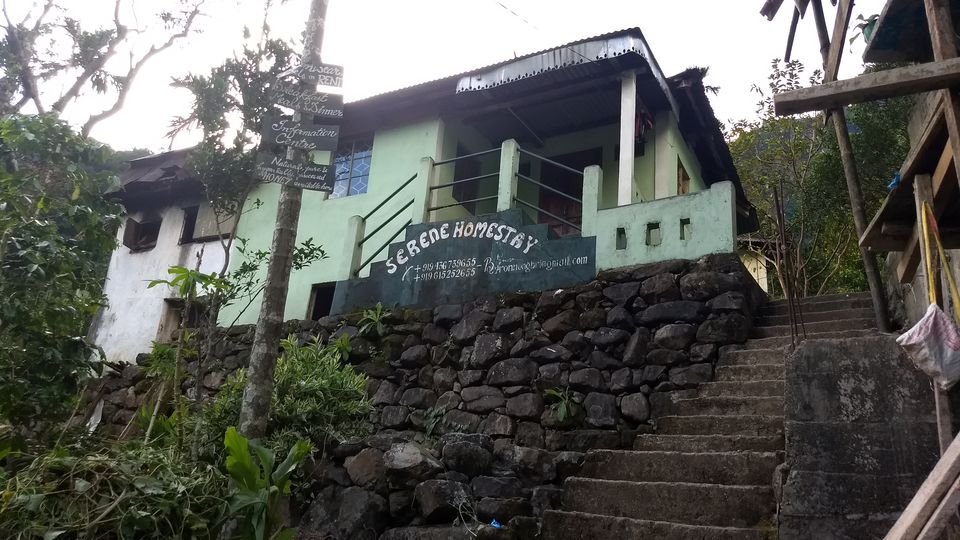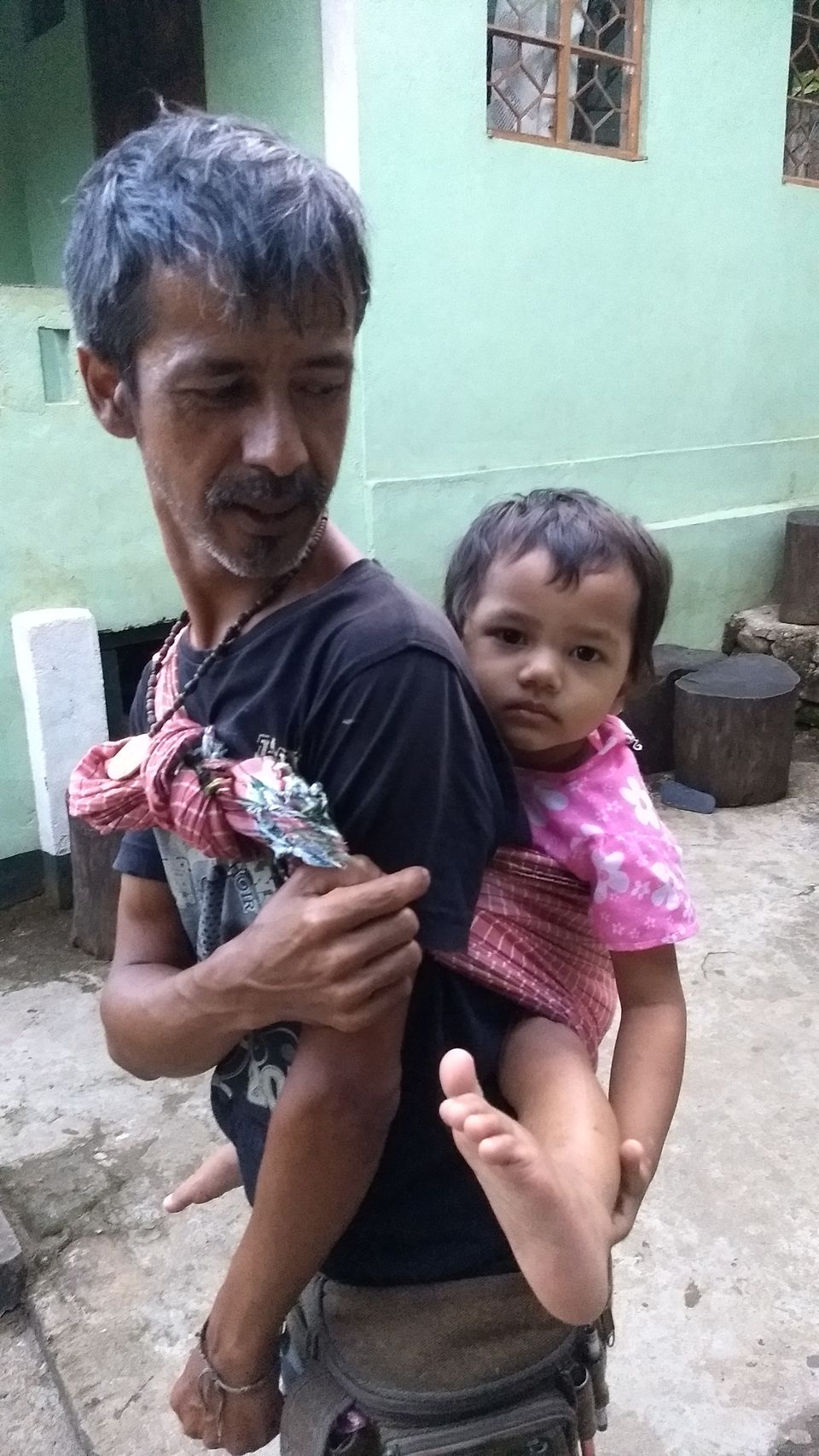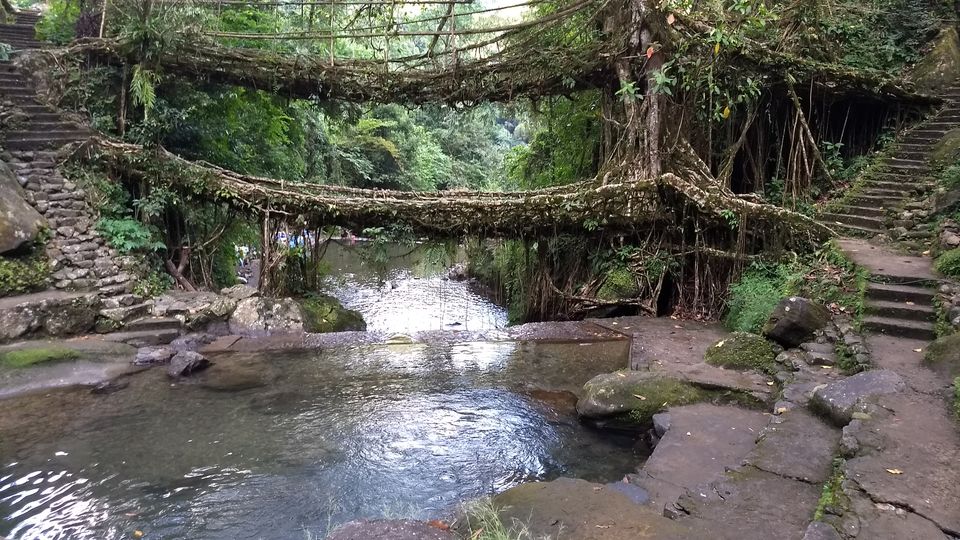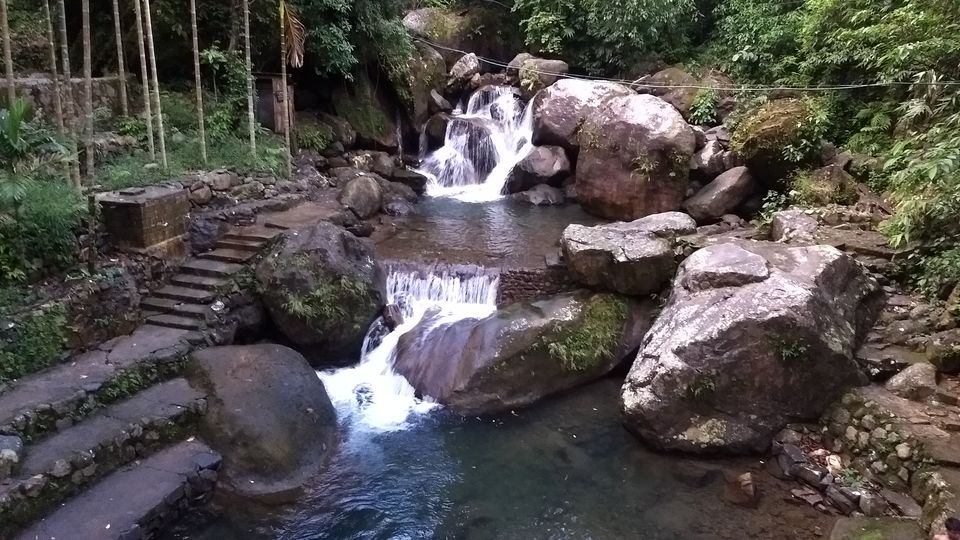 (Oct 10)
Early morning, I joined couple other trekkers for a two hour hike to the Rainbow Waterfalls. We crossed the double decker root bridge, a football field, a steel bridge, another root bridge and then a long cobbled trail. Soon the clamorous roars could be heard that made for a soothing reality; a beautiful rainbow cut across misty droplets, spewing as the water plunged on the rock. We couldn't find a way to go down so sat there for a while soaking in drops of joy. On our way back we found what is called "blue lagoon", a pool of water fended by small cliffs on three sides. Swim or simply lie in the water or if adrenaline runs through your veins jump off a rock cliff. Sadly I stayed on the shores for I can't swim. Other peeps had a splendid time, clicking pictures and recording videos of each other jumping, frolicking in the water, using MY PHONE. Time flew, couple hours gone in a blink. Later that afternoon, mild rains in the Khasi Hills were subtly pleasing, befitting to the abode of clouds that is Meghalaya. I wished to trek to Nohkalikai today but thought to give it a rest, enjoying the rains. In the evening, same routine followed, but with new friends including a French couple who deeply enjoyed carrom and bluff (card game). It was a treat to hear their travelogues while they shared numerous travel stories in their ongoing sabbatical. It's so cool that companies there encourage such culture of long term travels. I so now wish to move to France.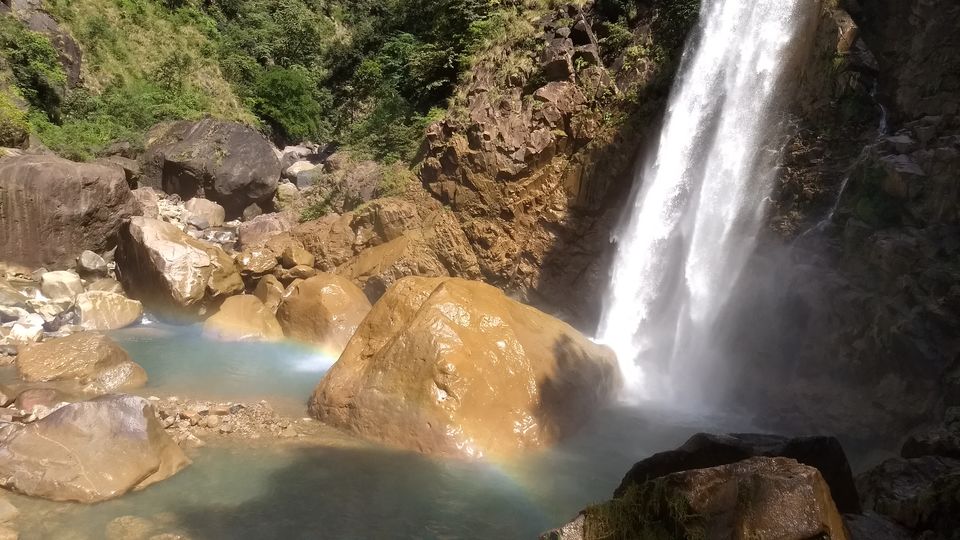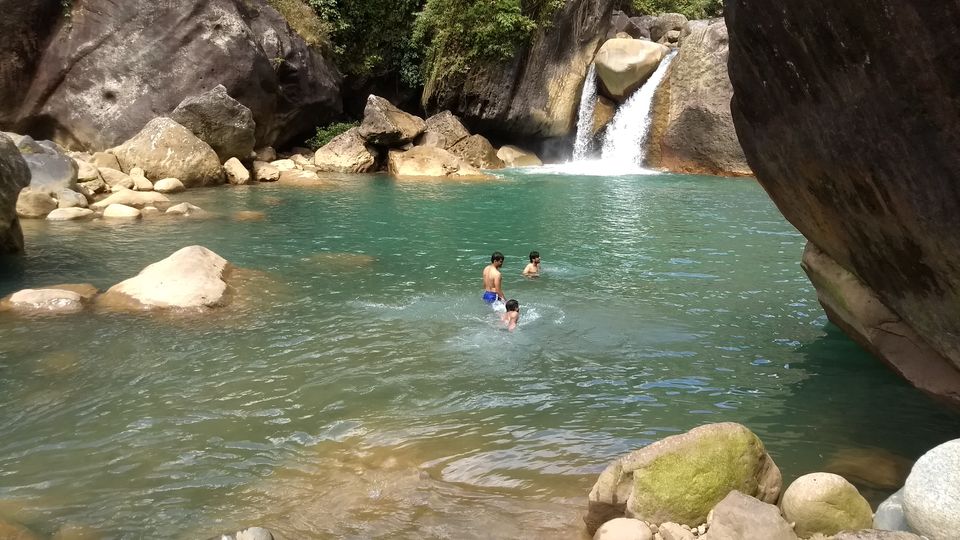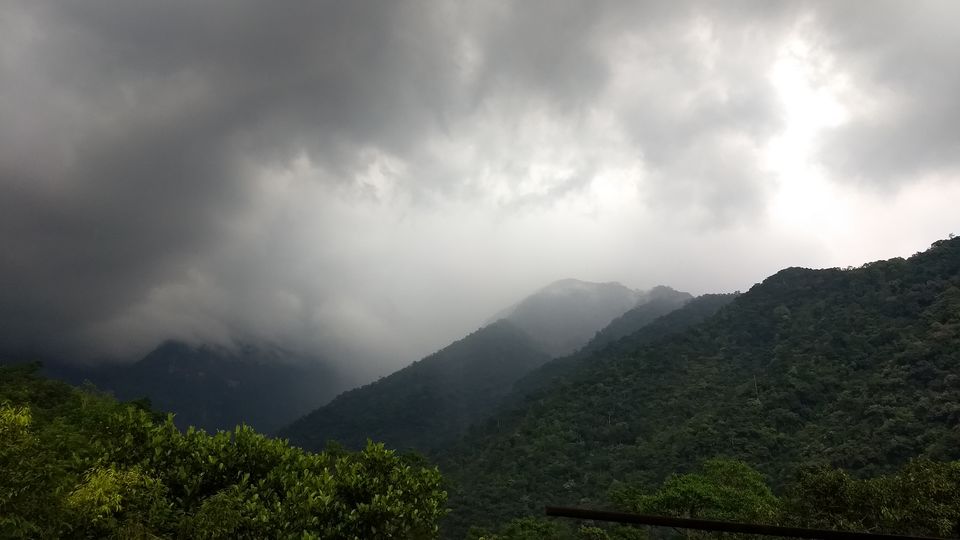 (Oct 11)
While having breakfast, the kids jumped around laughing and enjoying their naive selves looking into the camera, making funny faces that made for some great memories. Once done, I cleared the expenses and bid goodbye to Byron and his family. Such warm stay and great hosts!. Today I committed myself to reach Nohkalikai via the 4 hour hike route (a diversion on rainbow fall route); little did I know I'd be trampling through spider infested jungle in my polyester shorts. It took some time to figure out the narrow trail wedged between two big boulders. Actually I wasted one and a half hours, missing the diversion, thinking now it will come and ended up doing the rainbow fall trek again, returned only to realize it was there at the very start (root bridge). Incessant calling and assistance from Byron, helped me spot it. Anyhow, relieved and with renewed frenzy, I started thereafter. Trying to negotiate countless spinnerets on that steep ascent, I ended up squishing one that left orange squirts and a rash. Thankfully it was nothing major. With only a liter of water and some biscuits, it became a bit tiring and somewhat after 3 hours, I felt like taking a nap. That would've had been crazy. I pushed myself, slapping, talking to myself, repeating in my head "almost there" just to keep alive. In the wake of mistakes committed I was happy to make it to the top alone, a streak of self belief instilled within. The moment I spotted a stall, I ate cucumbers, guava, chips, sodas, practically anything I could lay my eyes on. Famished stomach felt some respite. The heavenly views of Nohkalikai Falls and the cool breeze wiped away all the emotional draining and tiredness I had endured. Along the walkway, I found a perfect spot to sit and spent a good one hour, enjoying the waterfalls, and listening to some soft music. Such vantage points are so relaxing. A cup of tea later I was cheerio to walk till Sohra which was four kms away. The beautiful landscape glistened in the waning sunlight. It's sad to see such a beautiful place littered by packets of chips all along the road; I picked up a few and tucked between my backpack and raincover. Walking some distance, a truck stopped by and a boy waved at me, to hop in the back with him. I stood, swallowing wind, with Frankie smiling at my childlike gusto. Reaching the Sohra market, when I walked to the front of the truck to thank, turns out it was the same lady from the tea shop who had recognized me by my backpack. I may have earned some good karma perhaps. From there it was another 2 kms to 'By the way hostel', a popular budget hostel now turned into a hotel by the owner Heprit. He has closed the two floor hostel for he had bad experience with some hippie travelers creating chaos just in the name of cheap accommodation. Now, he has two classy wooden furnished rooms (he plans to increase in future) with wide array of novels for the bookworm. With a quick bath, beef curry and rice, I called it a day and drifted into a deep slumber.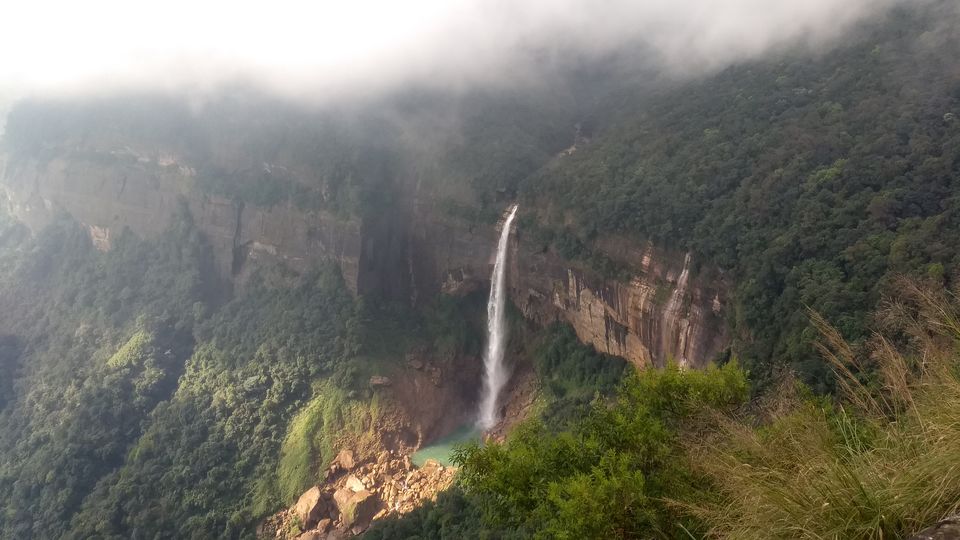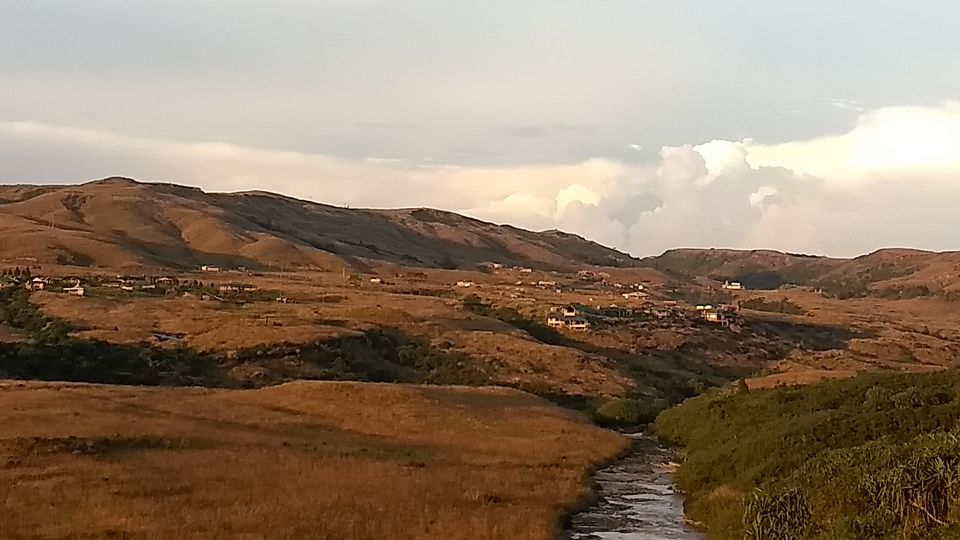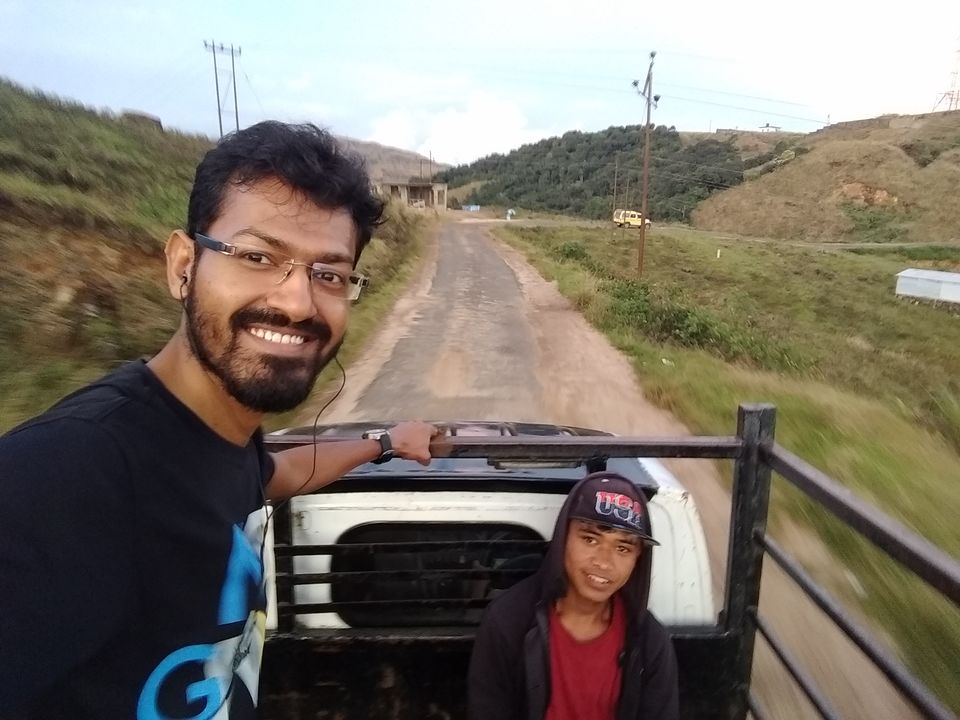 (Oct 12)
I went as Heprit suggested, Eco park, Mawsmai caves and then Nohsngithiang (seven sisters waterfall), all walkable. Eco park is fine with some good views of valleys. The missing falls is interesting though, few streams disappearing into the dark abyss of a pit. Mawsmai cave was brief with hardly any prominent stalactites/stalagmites. It sort of ends within a mere 150m stretch. Must try here, Jadoh rice (mustard flavor) with tungtap chutney (fish chutney). Arwah caves, suggested by Heprit is a better alternative which have well preserved fossils. I wish to explore it next time. Nohsngithiang waterfalls was a beautiful sight, playing hide n seek behind the mist but not all seven streams showed up, probably not the best season as in monsoons when all the streams cascade in their full. The road on to the left towards the polo orchid resort provides a better viewpoint. The main road running parallel to this resort will take you to a viewpoint from where you can see vast expanse of lands that is Bangladesh. Done with the sight seeing for today, I returned back to Guwahati to catch late night train for Dimapur.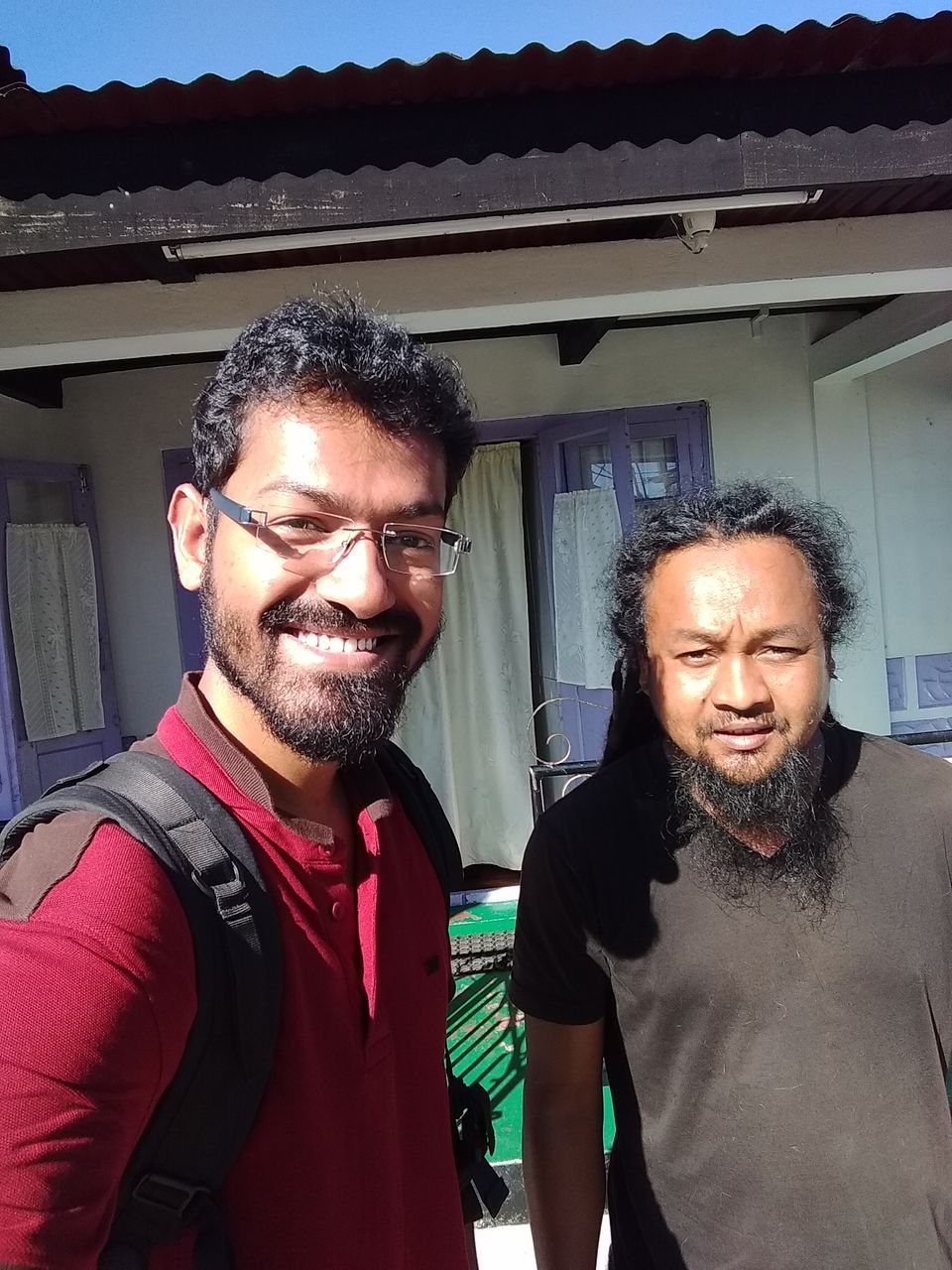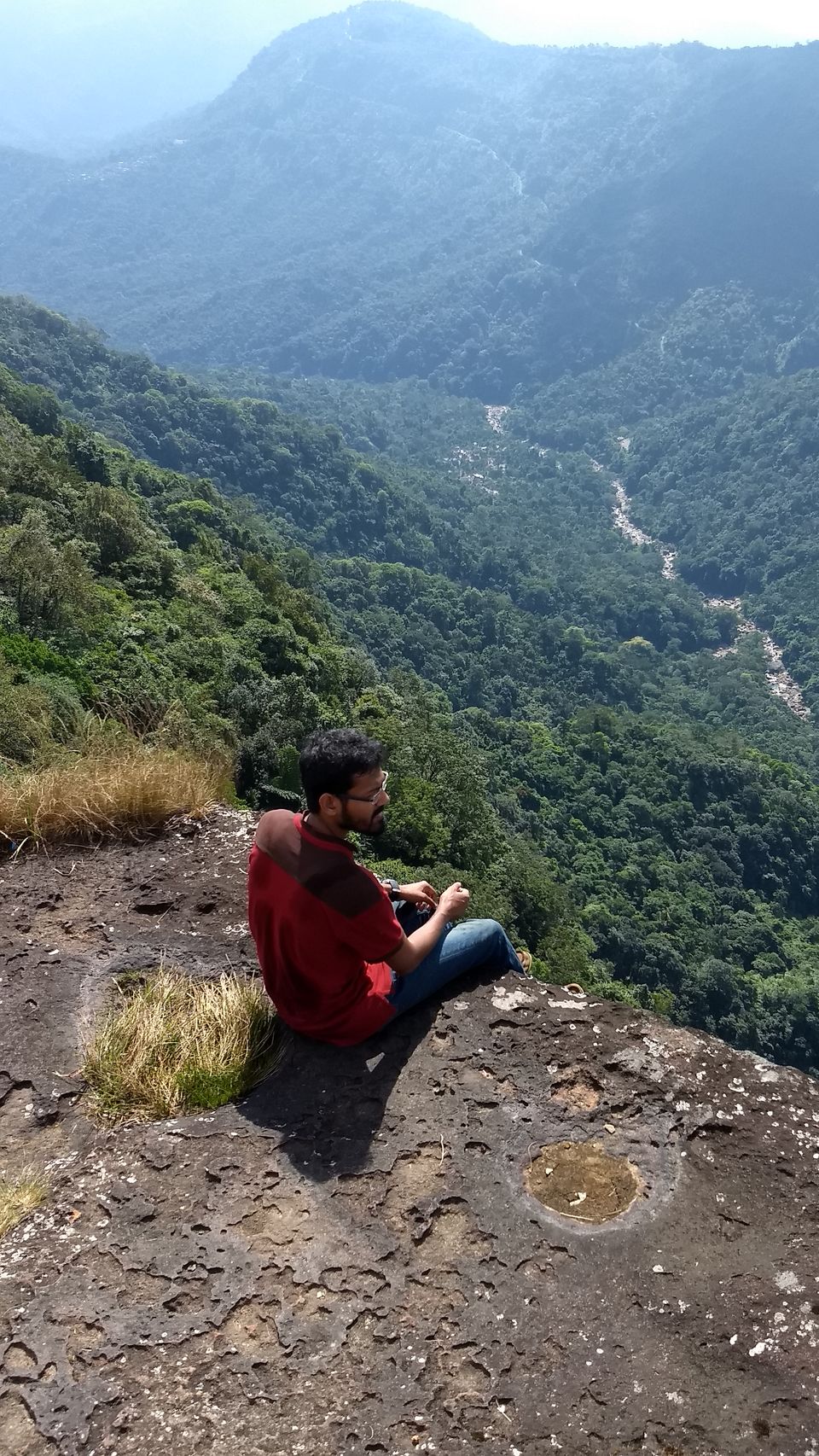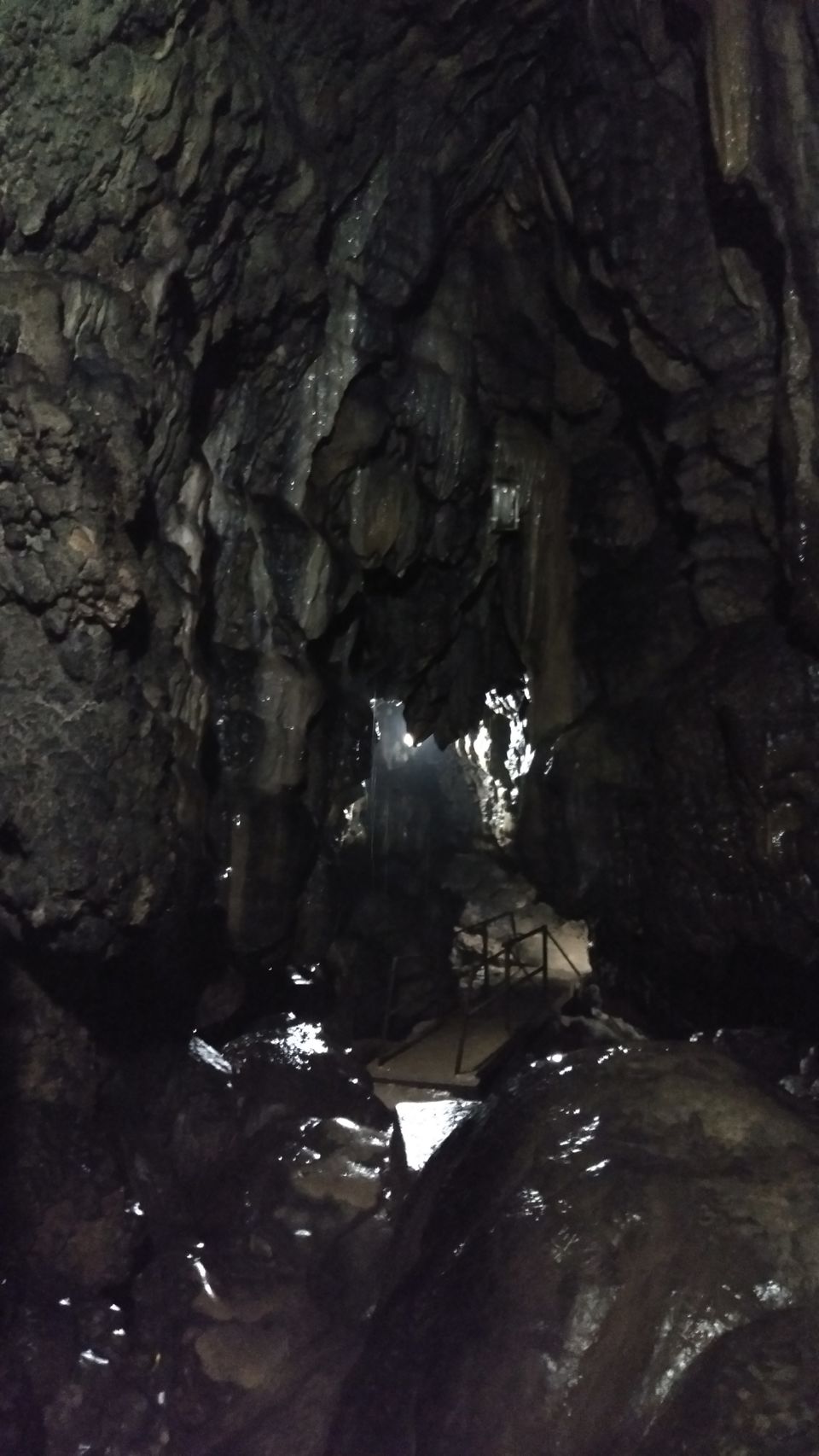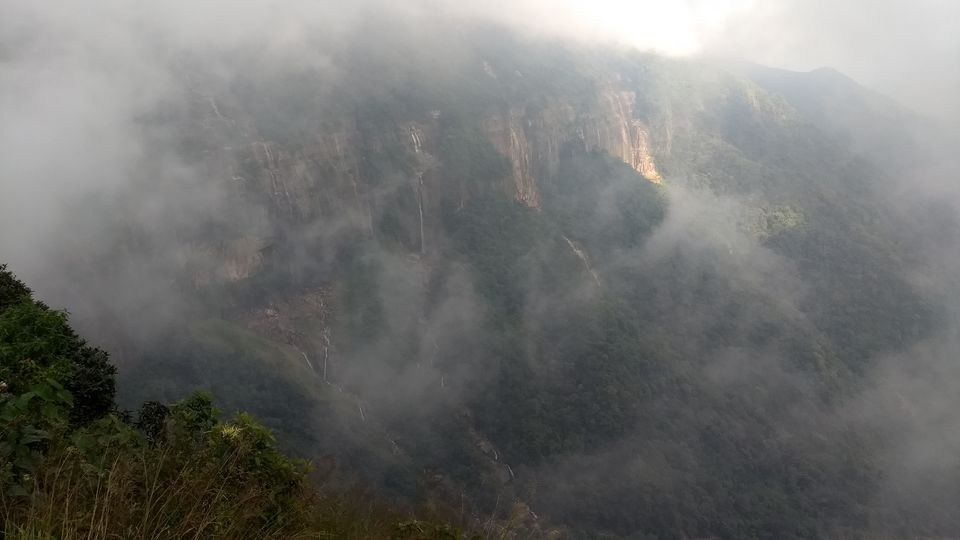 (Oct 13)
Outside the Dimapur station, the first thing shared taxi driver asked me "do you have ILP" and I confidently nodded. It took almost three hours to reach Kohima tumbling over innumerable potholes. But the green vistas and the wonderful, warm Naga people will make your day. A guy, Eden in the same taxi, literally walked with me till BOC market place after reaching Kohima and ensured that I get a shared taxi till Zakhama. I couldn't thank him enough. He reciprocated with a broad smile and a hug. I reached Zakhama and started the Dzukou valley trek around 12pm. Zakhama trail is short (6kms) and steep as compared to long and flatter route of Viswema (13kms). Some locals showed up who directed me but were also quite concerned to see me trekking alone. I waded through tallgrass, crossed streams and even discovered a snake skin. Again in my polyesters! Almost halfway into the trek, I got stuck; the trail was lost under a fallen tree due to a landslide. With mist developing, the day turned cold and darker by the second; with no one around, anxiety overtaking. "What do I do?". I did the stupidest thing, trying to climb up a steep stretch of dried up stream bed, thinking if I can manage to cross over the logged up tree that way, I may find the trail. I did manage to climb up a little, bruised badly in the effort, crossed over but couldn't locate any trail in that dense flora. Sanity ensued timely that I retracted back. One slip could have initiated an avalanche of stones! Or I could have been bitten by a snake in those shorts. That would have been the end. Made me realize not all treks are meant to be done solo. I was relieved to have made it to the city by 6pm and took a dormitory bed in Blue Bayou hotel, with two guys, one of whom had spotted me going forth on my foolish endeavour. We exchanged stories and laughed about mine.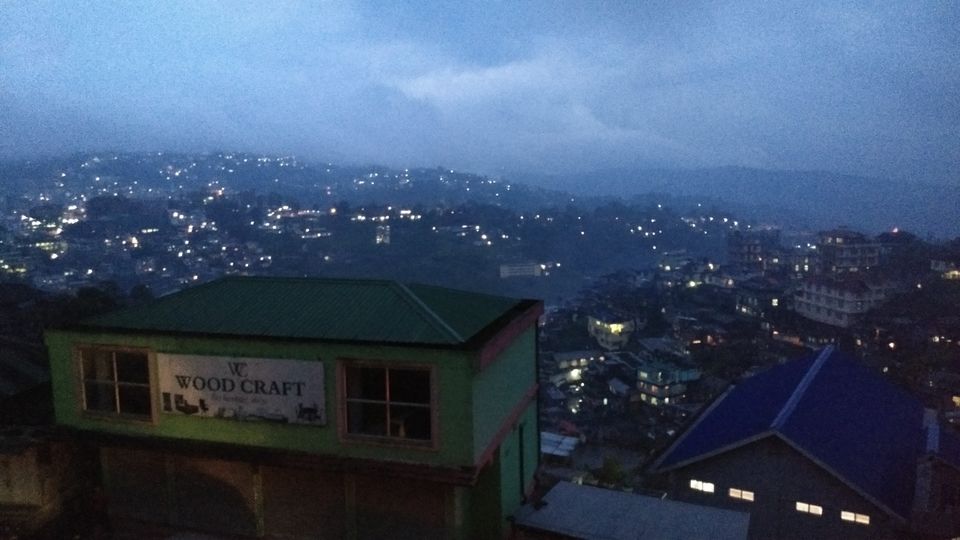 (Oct 14)
The hotel was very near to the war cemetery and the city market. Take a stroll in the cemetery, the names and stories etched on stones will give you chills. I was beyond excited to visit the "keeda market" (insect market) where vendors sell everything from frogs, bamboo shoot, snails, worms, list is endless. I tried snails (yum) for the first time; a very strong taste and a halfplate was quite a lot, even for a foodie like me (fyi : Snails are aphrodisiac). Nagas are football frenzy, as apparent by the crowd cheers blaring from the stadium near the market where a tournament is hosted quite regularly. I ate some pork momos and gum rooti (a sweet bread like, made from rice flour and jaggery). Late night, I boarded the train to Jorhat.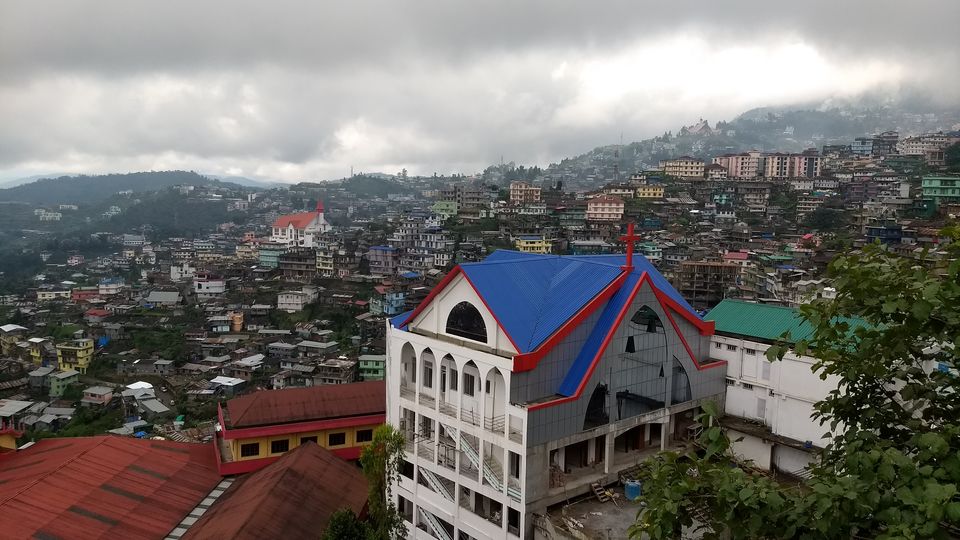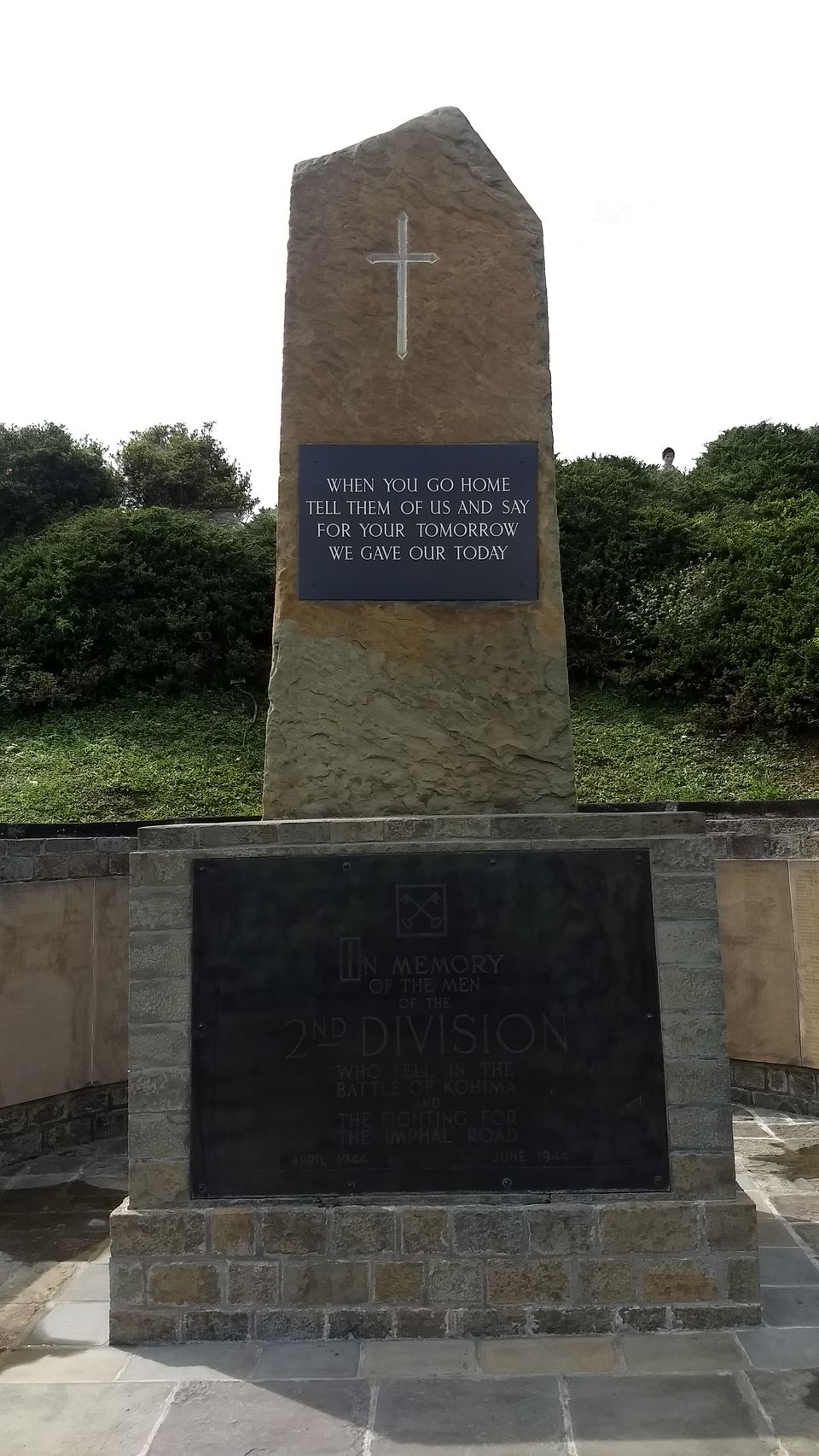 (Oct 15)
It was raining when I stepped out on the Jorhat platform, made me skeptical of the ferry service to reach Majuli. An auto driver assured and dropped me at Lachit bazaar. From there I took a shared maxi cab to Neamati Ghat. The ferry was a one and half hour joy ride till Kamalabari ghat in the inherently calm Brahmaputra. I found a friend in Gitu; he shared about his work as an assistant in a medical institute in Lakhimpur, where he was going and was kind enough to drop me on his bike to my stay, Monjit's La Maison, built in typical "chang ghar" style (stilt house). There are furnished rooms also if you wish. Be sure to carry tubes of odomos "for the night is dark and full of mosquitoes". I rented a cycle which is the best way to explore the island, at your own pace. With numerous sattras (temples) across the island, I visited Garamur today, a "family sattra" where priests stay with their family. In the evening Monjit took us to a rehearsal for the upcoming Raas festival in which little children were practicing a dance sequence. Reminded me of my school days, how as back benchers we enjoyed our own world, mindless of what's happening at the front. Raas festival is a three day festival and happens during first full moon in Nov. This time it was from 5-7 Nov. At dinner, I feasted on exotic thali buried in different types of fish and pork, along with apong (a light yellow colored rice beer) which actually tastes sweet like wine.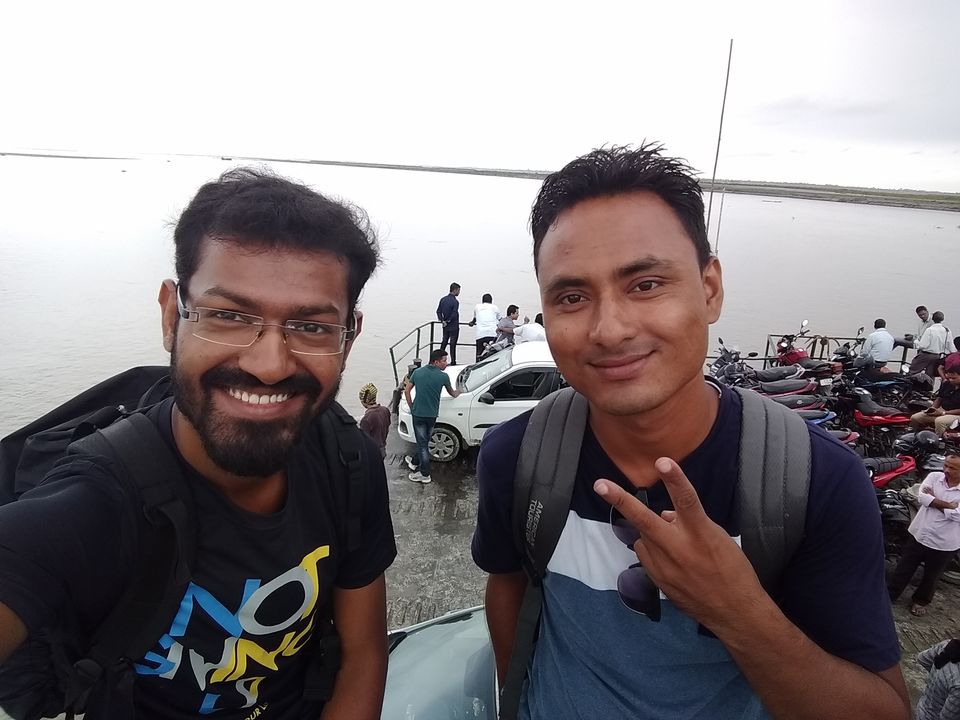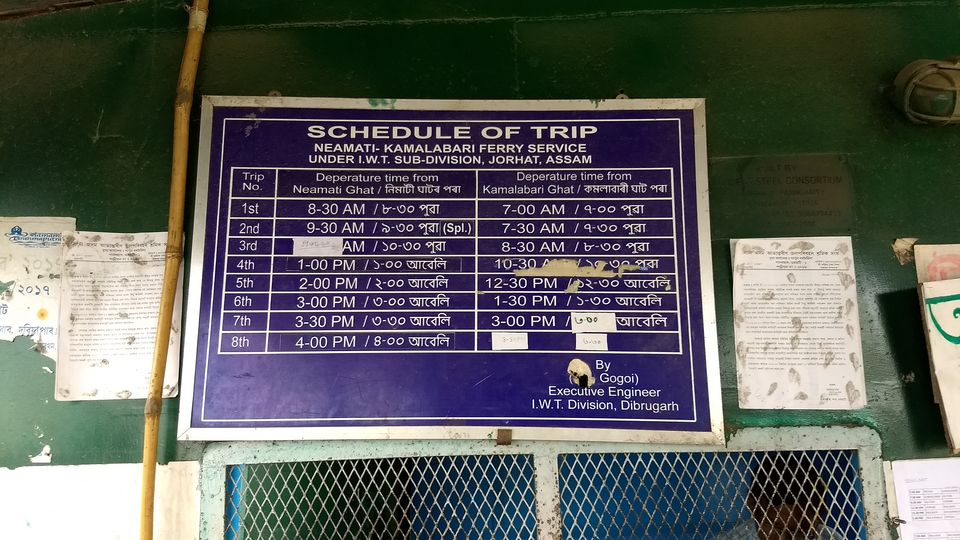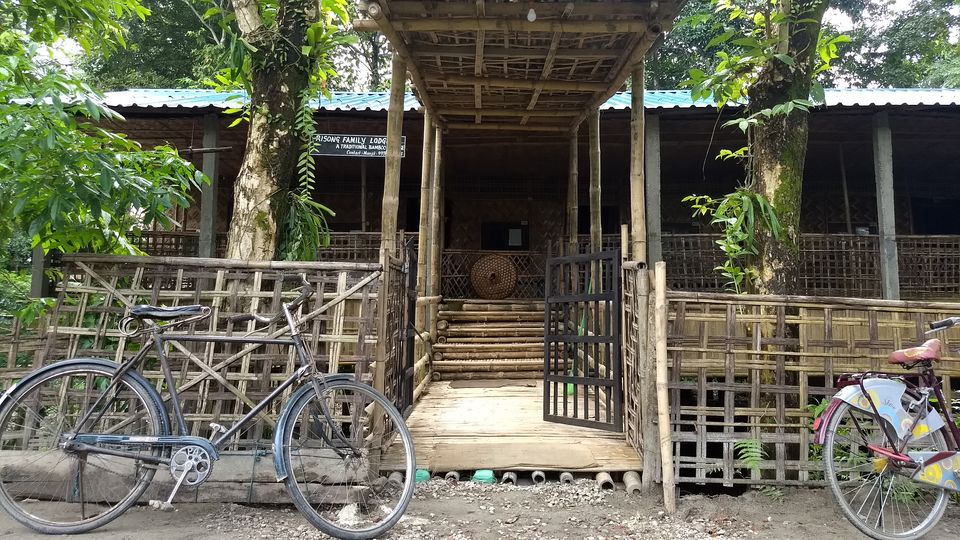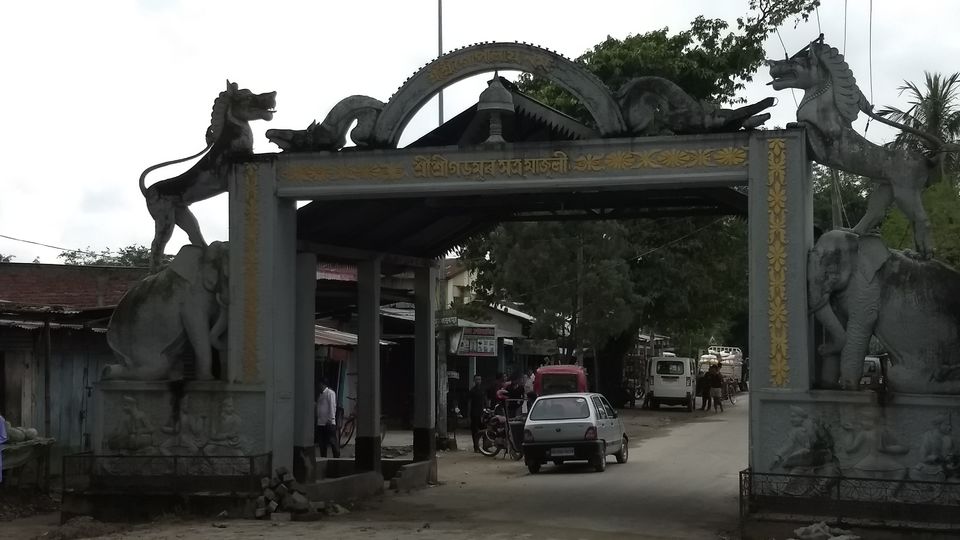 (Oct 16)
I cycled to Kamalabari, a "bachelor sattra", home to celibate priests, and met one monk, Upen Gayan. It was interesting to know about their daily routine, how they consider everything impious outside their sanctum, how they dress differently inside and outside the temple complex and keep their hair long like women. Quite distinctive. Interestingly, there are wooden carvings at the entrance of each sattra depicting some human and/or animal figures, signifying Vaisnavism (follower of the God Vishnu). In the afternoon after a brief lunch, I left for Tezpur via Lakhimpur/Laluk, a bit longer route, of ferries and cabs.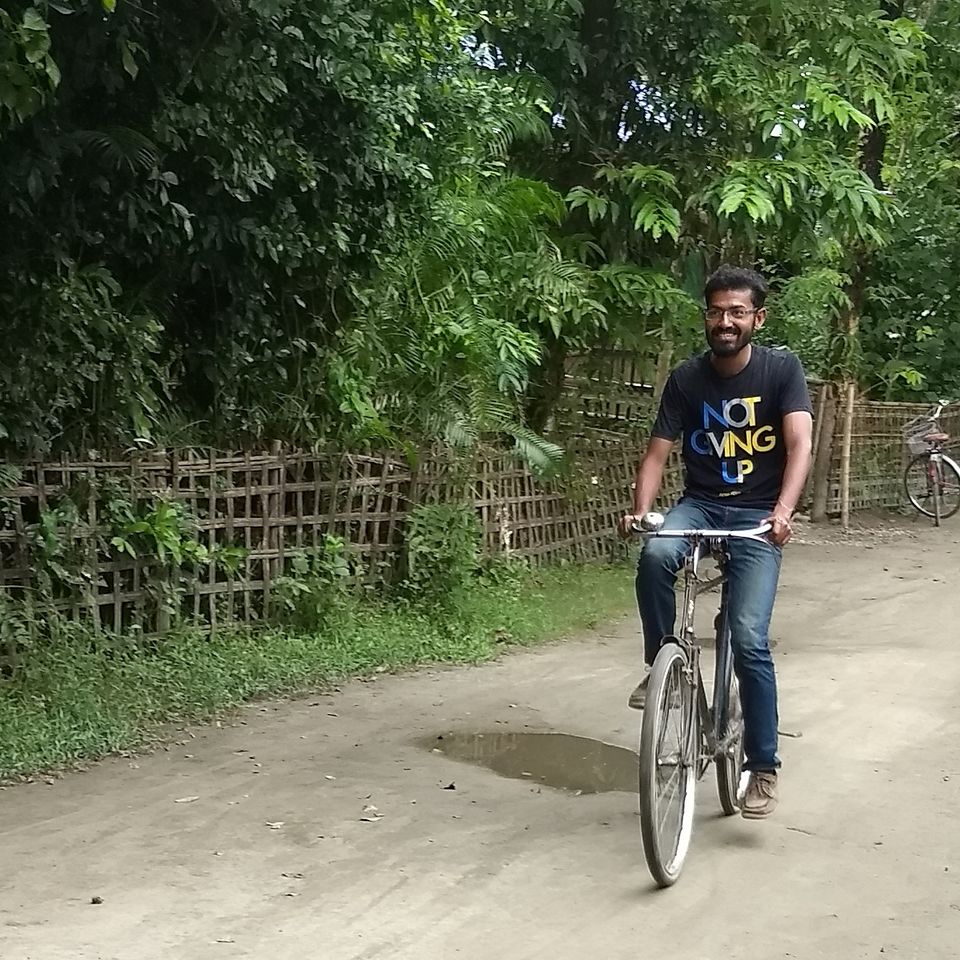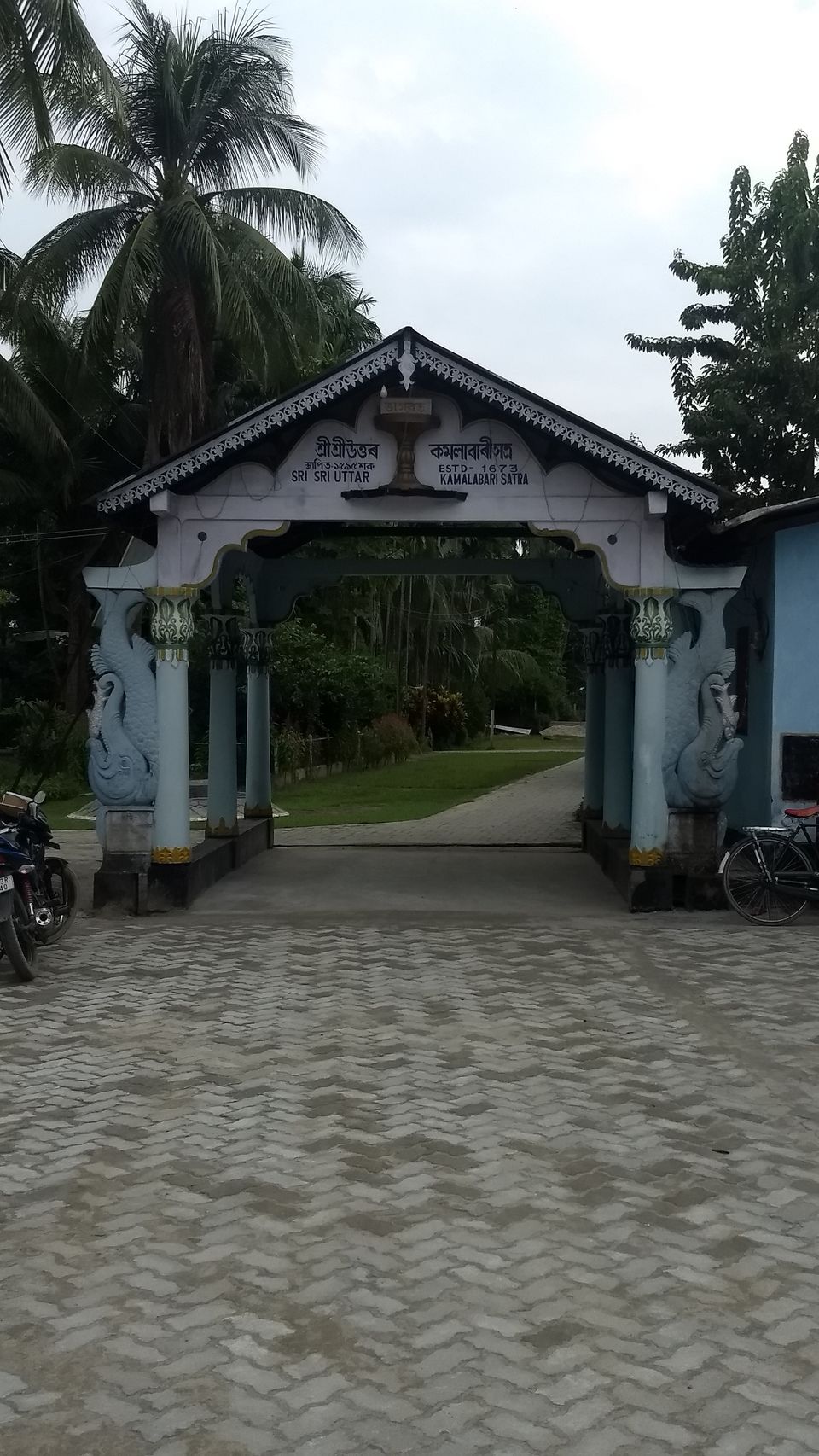 (Oct 17)
This was a day out with a friend and her family to visit Kaziranga National park. We took a jeep safari into the central zone. Although most of the park was restricted due to last year's floods, still we got to see rhinos, hog deers, exotic birds and wild elephants. With a stay at my friends place and some excellent home cooked fish, finale couldn't have been better.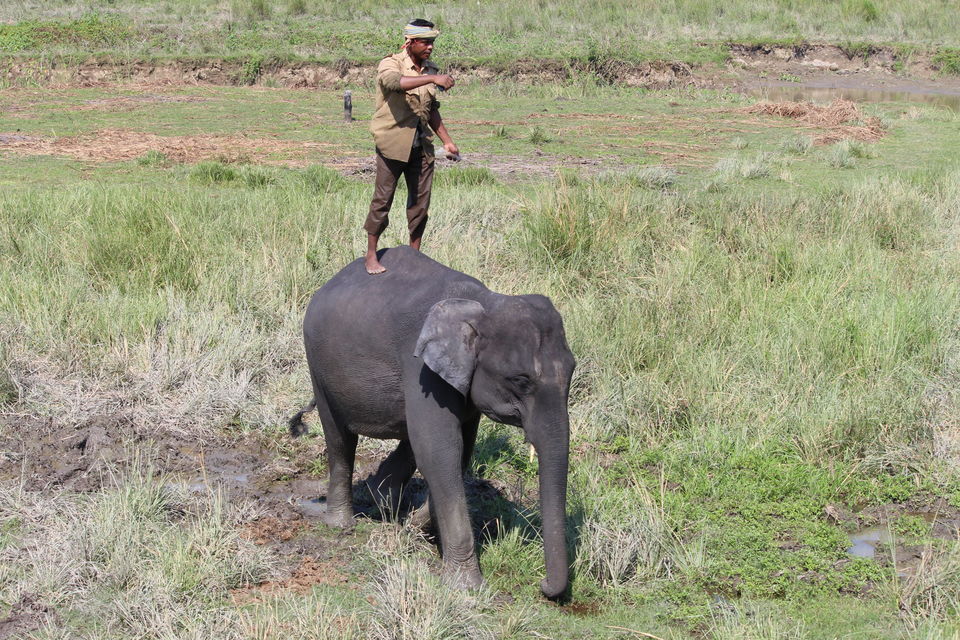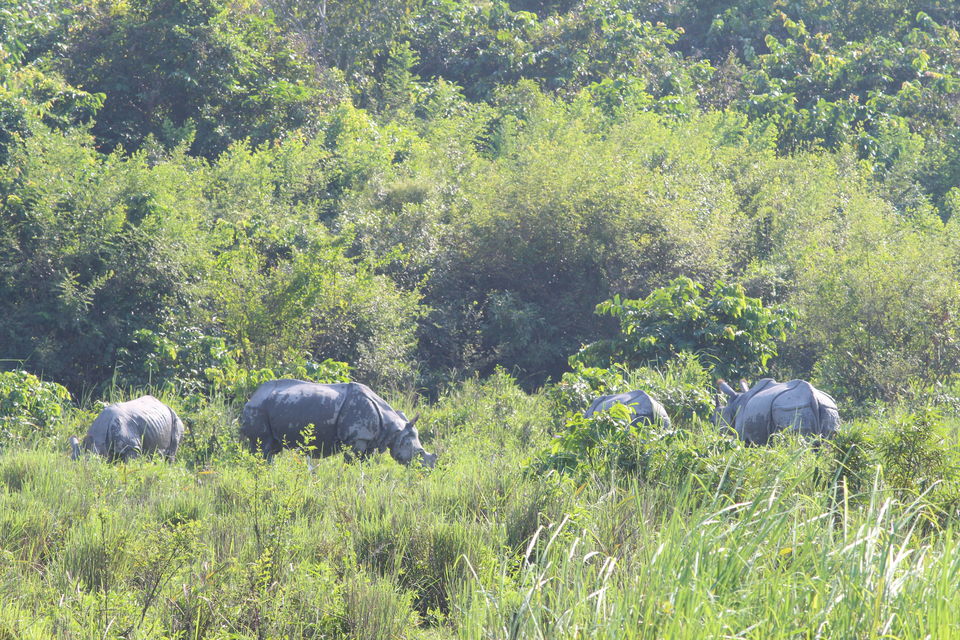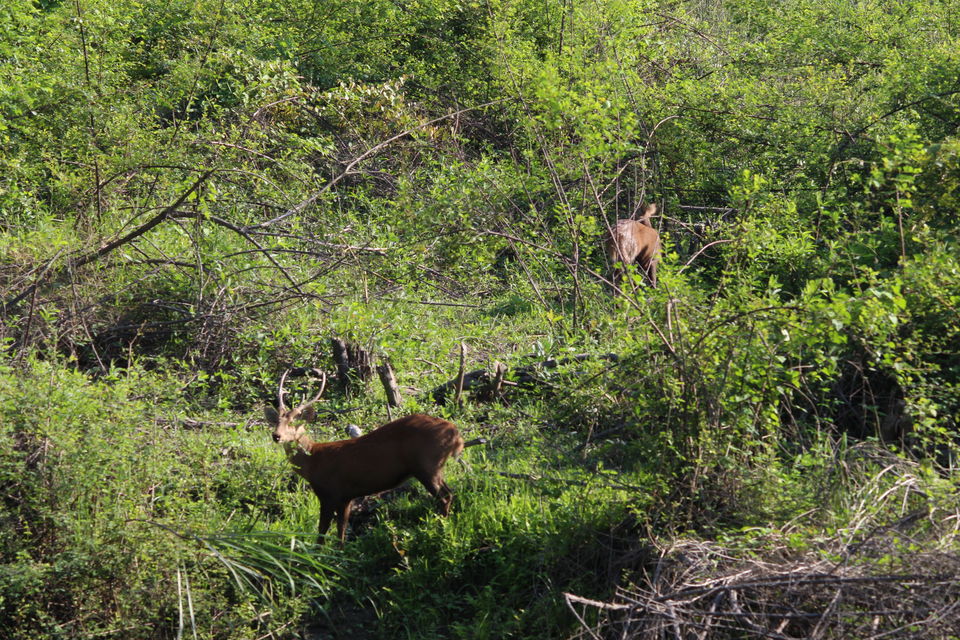 Notes:
1) For ILP (mandatory), you should have couple photographs, xerox id and 51rs. The Nagaland House is open even on 1st and 3rd Sat.
2) Royal Cruiser and Shyamoli Paribahan are two popular bus services on Siliguri route.
3) At Serene homestay, there is dormitory style bedding in the terrace (250rs) or a 3 sharing room (400rs per person).
4) Remember to take maps from Byron, Heprit, Monjit.
5) For Blue Lagoon, look out for view of the stream. Cross over moss covered rocks and then climb down a ladder.
6) For Nohkalikai and Dzukou treks, obvious but still, wear full sleeves, carry first aid and adequate water and snacks (biscuits/snickers).
7) Lower Sohra is marked with plenty of guesthouses which I'm guessing would be cheap. I have some contacts if you wish.
8) I had read people have done Zakhama trail on their own, hence my attempt but see what happened. Better to take a guide. Applies for Viswema route as well.
9) The Blue Bayou charged 500rs per bed with complimentary breakfast. You know where to spend (save) your money.
10) Central region is a hot spot in Kaziranga, hence a bit expensive compared to other zones.
Frequent searches leading to this page:-