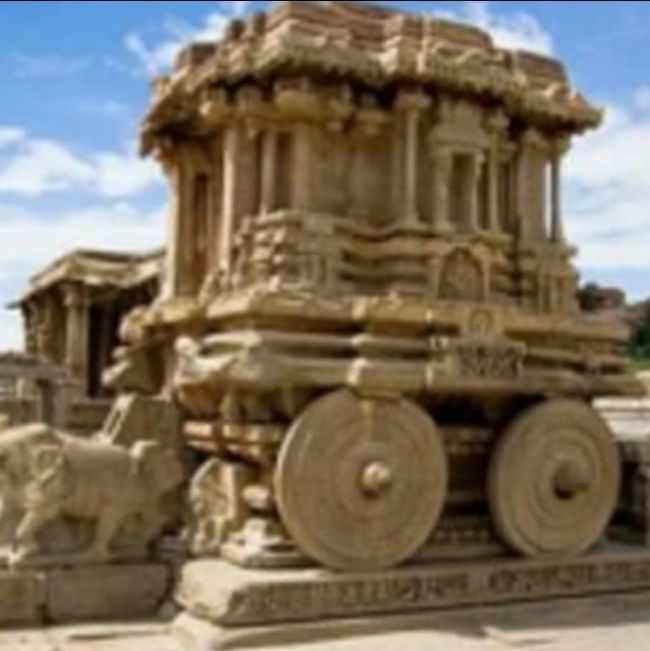 As a child whenever I saw foreigners in Hampi, I used to wonder how people from such distant lands across the seas, know about this ancient historical wonder called Hampi. There was no Google then. Knowledge was buried only in the Books, and the Books were mostly stacked in the Library. Only through books we could read about the history and the mystery of far off lands. But still, tourists did throng to Hampi and Tungabhadra Dam (a fallen piece of Heaven on Earth). Interestingly, their stay was for weeks and sometimes even extended for a couple of months. They came, stayed, rented bicycles/bikes and explored every nook and corner of Hampi. Such was their fascination for this ancient marvel of rocks. Probably, a local doesn't know as much Hampi as much as these people explore during their stay here. They came equipped with books and maps, then, the only two sources with which they could manage to accumulate as much knowledge of this ancient city of Vijayanagar Empire. Now Google makes matters much easier. In Hampi, don't be surprised if you rub shoulders with more foreigners than Indians.
Hampi is like a Time Machine – it takes you back to the times of Warriors and Kings.
Hampi, the erstwhile capital of the Vijayanagara Empire located in the northern part of Karnataka is a UNESCO World Heritage Site. It is situated on the banks of river Tungabhadra, previously called the river Pampa. It is surrounded by defensive rocky hills on three sides and the river Tungabhadra on one side, and hence strategically a safe heaven to the Kings.
Now having settled in Hyderabad, I still crave for this place, where I was born, bred and played in the lap of this beautiful place. So I religiously visit this place once in a couple of years. My flow of narration will take you to my Hampi during my last visit.
We took the 10.15 PM Non AC Sleeper bus of KSRTC to Hospet and reached at 07.30 AM the next morning. I have got a number of friends here to put up stay, and so never felt the need to book a Hotel, Resort or a Home-stay. But Hospet has a number of Hotels including Star Hotels and if Home Stay or Resort is what you prefer, head straight to Hampi where you find them umpteen.
We first went to Kiskinda Heritage Resort at Anegundi, which is on the other side of the river Tungabhadra. This Resort has water games and is ideal for weekend picnics. We didn't spend much time here, because our destination was Hampi and we didn't want to waste our time.
Having spent a couple of hours there, we reached Hampi by 12.30 PM and went first to Lotus Mahal, because this place has a good open space around with huge trees where we had our lunch. When you are out with your family, even ordinary food tastes yummy. We had only taken Chapati, Potato Curry, lemon rice and onion pakoras, but it was so heavenly.
Post lunch, we headed to see the Water Tank with Steps which are so symmetrical and so geometrically correct in length and breadth that it is a visual treat to the eyes. And down below, you find the green water with the reflection of the blue sky above. Many songs are picturized here.
Our next destination was Elephants Stable and the Virupaksha Temple. Temples were built with exquisite carving of the rocks. Hampi is full of rocks. Every rock is so beautiful that it appears as if it is Nature's work of Art. I am reminded of the famous quote of Michelangelo, which goes like this, "Every Block of Stone has a Statue inside it and it is the Task of the Sculptor to discover it".
The first thing that strikes to the eyes is the magnificence and the beauty of the rocky terrain of this place. Two eyes are insufficient to devour such architectural and natural beauty of this place. God seemed to have been extra generous while forming this piece of earth. It's a photographer's delight. If you are a photographer and want to capture the beauty of this bygone Era, make a solo trip – Just you, the Camera and the Nature around you. Perfect Threesome!
Hampi can be visited any time of the year, but if you want to be bedazzled with colours of the culture, visit Hampi during January, because you can be a part of the celebrations at Hampi Utsav, a festival of bonhomie – a congregation of various events to highlight the glorious past of this empire. The cultural extravaganza is a spectacle to behold. It's a three-day long carnival. Festivities include classical & traditional dance performances, skits and dramas, fireworks, puppet shows, and spectacular parades. Book your tickets accordingly.
How to Reach Hampi:
Hampi is 353 KMs from Bangalore and 74 KMs from Ballari in Karnataka. The nearest commercial Airport is Hubli/Bangalore. The nearest Railway Station is at Hospet which is 13 KMs away. Hampi has a number of resorts and home stays. There are direct trains and buses to Hospet from Goa, Hubli, Ballari, Hyderabad and Bangalore. Once you land in Hospet, you can check in at any Hotel there. Hospet is dotted with numerous Hotels, Star, Economy and budget.
Hampi is at a distance of 13 KMs from Hospet and you have hourly buses which ply from Hospet Bus Station. Or you can hire three wheeler Autos. Equip yourself with a good quality camera, because what you see remains etched in your mind, but what you see should also be immortalized in pictures so that others, who cannot make it to Hampi, can at least enjoy it through your pictures.
When in Hampi, don't miss to see the following:
Achyutaraya Temple,
BadaviLinga
Elephant Stable
Hazara rama Temple Complex
Jain Temple
Lotus Mahal
Vittala Temple
Virupaksha Temple
Zanana Enclosure
Archaeological Museum at Kamalapura
Tungabhadra Dam and Nandanavana Garden
Japanese Garden at Munirabad
Having soaked yourself in the magic of the Hampi rocks, its time to meet the flowers and say hello to them. Tungabhadra Dam welcomes you with flowers at its Nandanavana Garden built on the lines of Brindavan Garden and on the other side of Tungabhadra Dam you have Munirabad with a Japanese Garden. Don't miss it.
We were served piping hot idlies with a special idli podi with generous dollops of fresh ghee and the finest filter coffee by my friend Ramu's family who stay in Tungabhadra Dam, 16 KMs from Hampi. Nothing beats the taste of home-made breakfast. And we packed Chapati, Potato Curry, Lemon Rice and Onion Pakoras for lunch at Hampi. The Canvas of Hampi, makes you eat more because when you sit here and eat your food, you feel a different taste to it. The milieu makes all the difference.
We went to see the Tungabhadra Dam, Vaikunt and the Nandanavana Park below the Dam. (I shall elaborate on this place in a seperate blog).
We hired a 7 Seater Auto and went to Munirabad Dam to see the Japanese Garden which was just 3 KMs away but in Koppal Dist. This side of Tungabhadra Dam is in Bellary District and the other side which is called Munirabad is in Koppal District.
We bid goodbye to my friends' family and from Hospet Bus Station we took the KSRTC Bus to Hyderabad and the next morning we were back; back into the humdrum and the cacophony of the city life.
…I deliberately did not post any pictures here because, through my pictures, you would be seeing Hampi only through my perspective, which is not what I want. Hampi is a time machine, not to be seen, but to be experienced.
And before I wind up this blog, here's the closing line about Hampi:
"There is no time to be bored, in a bygone World, as beautiful as this"