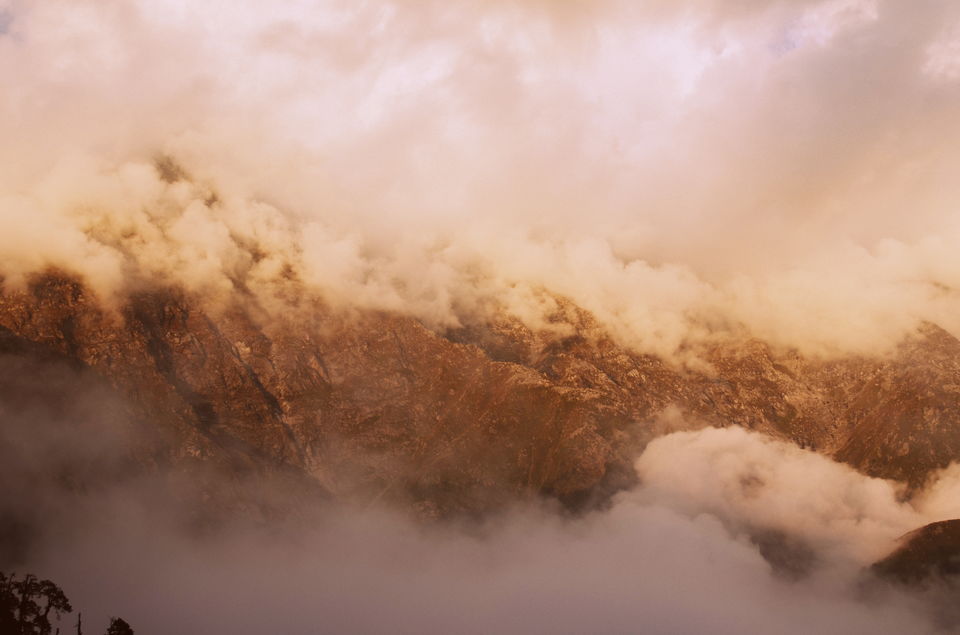 Itching to get off the road and seeking out some adventure, I finally found a bunch of adventure enthusiastic travel junkies in my not so small Electronics company. We headed to Dharamshala over the weekend, a small hamlet in Himachal Pradesh popularly known for the permanent settlement of his holiness, The Dalai Lama. Taking the overnight Volvo to Mcleodganj, it was only in the morning the next day that we unboarded. One of the perks of going to a hill station is that you experience warmth as soon as you put your feet on the ground. With local people around selling tea and snacks early morning feels like home anyways.
At around 9 am, we started an uphill trek of about 5-6km to Triund. As soon as we started, we started to witness small rivulets, mountain flowers and a plush green enigma of trees all around. Having been lived in southern part of the country for the last 3 years I haven't experienced this atmosphere for a while but I was taken back to my trekking experiences in Karnataka shared here.
The stretch to the top had multiple vantage points with amazing views of the Kangra Valley and we could even see the famous Dharamshala Cricket Stadium which from the top looked as marvellous as it is (if not more ;)). We snapped hundreds of pictures on the way and there's no better way getting to know each other than having Maggi and Tea chit-chatting. Here's a picture that I took on the way, my mates walking across a foggy forest stretch.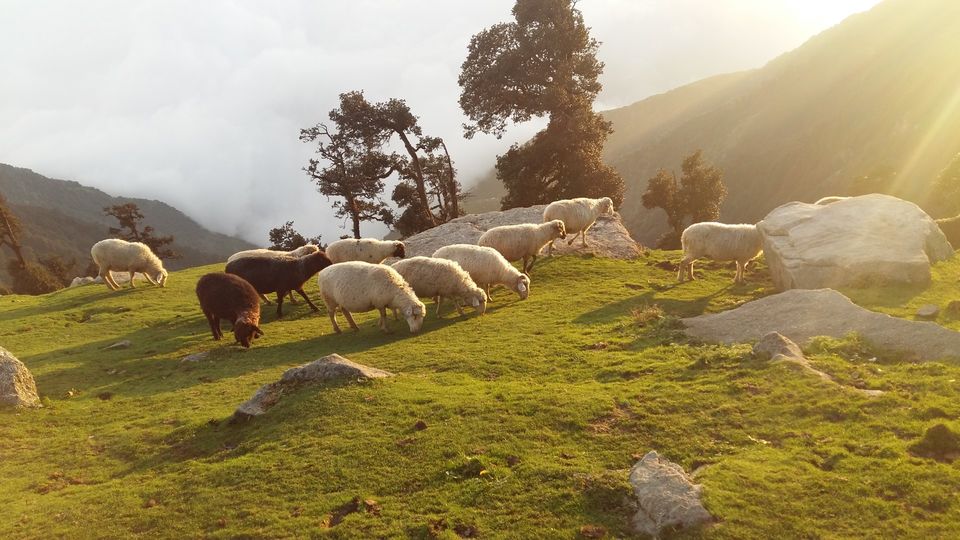 It was almost around 3:30 when I reached the top with others following soon. The view from the top was just ecstatic with clouds floating beneath us…camps all around with groups of people chatting around and witnessing the magic of Himalayas.
Crazy stories turning into amazing experiences, moments that last a lifetime, stories on the road and what not.
Once everyone reached the top and as the sun was setting down, myriads colours unfolded before us. The huge mountain peaks turned orange and red and yellow and we were offered a palette of amazing golden light. Everyone snapped, clicked and kept saving the glory in all the different angles and geometry. Soon, the night began to decent upon us  and it was time we installed our tents. Post that we had our dinner pre-arranged through a local tin-settlement there and then all of us started to chat as is the custom on all the treks I have been to. Crazy stories turning into amazing experiences, moments that last a lifetime, stories on the road and what not. As we were running out of energy to talk AND it was really cold outside, we all decided to call it a good night.
Being a star-lover that I am, I did stroll out in the middle of the night only to be thrown inside my camp by the chilling weather and clouds that destroyed all hopes of witnessing the Milky-way. Although, I am adamant. Coming again soon.
Till then. As always, travel safe and make it a point to travel keeping our Mother Earth clean, mingle with the locals and love cute kids ;)