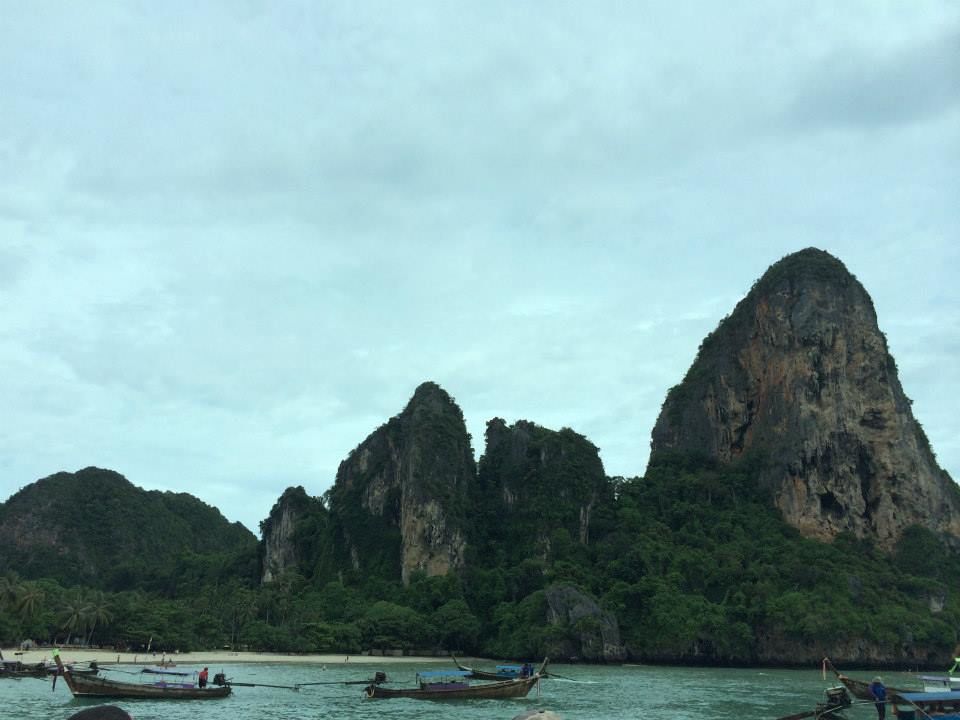 We've all seen Hangover Part 2 and regretted it. We've all planned a bachelor's trip to Bangkok in our heads and never executed it. We've all honeymooned in Thailand or know someone who has. If you think you know Thailand, think again. Sandy beaches aside, there's so much you can do in this island country and so much you can discover about yourself here! Here are 10 offbeat Thai experiences to pull you out of your comfort zone:
"Life begins at the end of your comfort zone."
1. Get a Massage
Sounds relaxing but the thought of a massage may rub some of us the wrong way. When in Thailand, embrace the Thai oil massage, but remember to say 'bao bao' for a more gentle treatment (the traditional Thai massage is not for the faint-hearted or the less-flexible). You wouldn't want to miss getting massaged in an open shack overlooking the Ao Nang beach in Krabi and might find yourself addicted to it soon.
2. Challenge Your Taste Buds
"When in Rome, do as the Romans do." And when in Bangkok, eat frog legs. Or something else really weird. There's an array of delicacies to make you go – WTF! Here are 10 bizarre street foods in Thailand.
3. Snorkel or Dive
On number three of our countdown, things get less bizarre and more thrilling. If you're tired of chilling at the family beaches of Pattaya, take a trip to the less crowded beaches of Ko Tao, Ko Phi Phi or Ko Lanta. The crystal-clear waters of these islands are ideal for snorkelling and scuba diving. If you have the time, enroll for a 2-day PADI Scuba Diver course and become a certified diver!
4. Calypso Show
If you've seen Hangover 2, you know why this is on the 'comfort zone' list. Not a show you'll see everyday or anywhere else in the world, the Calypso Ladyboy show is an hour long performance that will leave you in splits. Enjoy the irreverence and wonder how these men dressed as women are prettier than you – the real thing!

5. Full Moon Party
You haven't partied till you've attended the monthly full moon party at Haadrin, Ko Ph-Ngan. International DJs play some of the best music and the party only ends when the sun rises. Good music, drinks and drugs are rampant here, which is why it features on this list.

6. Muay Thai
This 16th century combat sport is a must-see when in Thailand. Try to get front row seats for the best view at the Rajadamnern Boxing Stadium in Bangkok and feel the testosterone rise. However, refrain from chanting, 'Rocky! Rocky!'.
7. A Rooftop View of Bangkok
The Sirocco Sky Bar is a rooftop restaurant and bar that will give you a breathtaking view of Bangkok where you can enjoy a drink under the stars and above the twinkling lights of modern Thailand. Why is it on this list, then? Let's just say your wallet will need to step out of its comfort zone too. 
8. Chatuchak Market or Maze
No holiday is complete without some shopping, and Bangkok, is shopping central. The Chatuchak market is a weekend affair, and contains more than 15,000 stalls. You'll get everything under the sun,  but you also stand a chance of getting lost, with over 200,000 visitors over two days.
9. Cabbages & Condoms
Even though it sounds absolutely unappetizing, you may want to grab a meal at this Bangkok restaurant, if only for the virtual Check-in and the reactions it invites. An exciting menu and good food await you – leaving you satisfied, never pregnant.
10. Dine in the Dark
An absolutely unique dining experience where you can actually taste food, without all distractions. This restaurant enables you to literally eat in the dark. Your meal is accompanied with some soulful, live jazz music on the weekends. Your hosts are visually-impaired and the food, decadent.