It takes couple of minutes for the feeling to sink in. Even before you realize that you have jumped from a 200 ft high bridge it is all over. You start to realize that you have dared to do this when the swing comes to a slow stop. But the whole experience will stay with you for a life time."
The moment I realized that I will be daring to jump of a bridge with just a string of ropes holding me together was a scary thought.
In the first place I was not planning to do the jump and was not going to join the group who had to travel almost an hour to reach the location. But I knew that this is going to be a once in a life time activity that you will dare to do (I know about people for whom bungee jumping and other adventure sports are just like turning the page of a book but trust me it is not an easy decision if you are not an adventure enthusiast).
I was put up in Athens and the Bungee jumping location was at Corinth Canal - which was one hour's drive away from Athens.
'Zulu Bungy' - the organizers of Bungy / Bungee jumping in Corinth Canal looked very pumped up to help us do the activity. It is very crucial for the organizers to show that they are in control and make you feel comfortable. This will help you gain the much required Confidence.
Zulu Bungy - right below you is the scenic water body whose magnificence will captivate your heart and in front of you the open sky which will pump your adrenaline.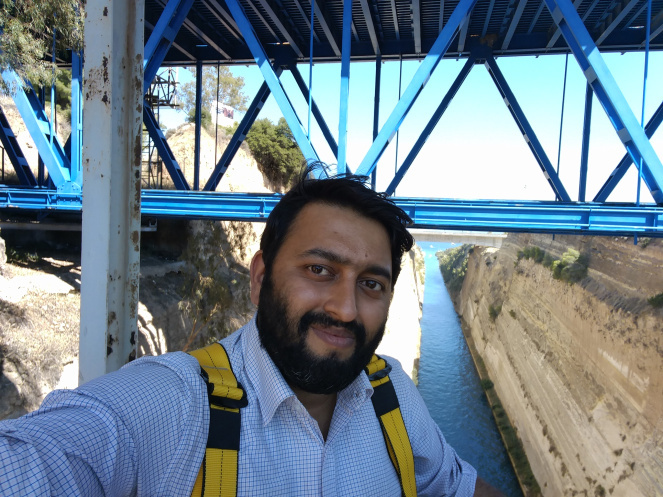 I was made to wear all the required harness and boot straps. Once the whole group was ready we were taken to the jumping location. The view was spectacular with a calm Corinth Canal beneath you. I realized that it is better to do the jump when you are in a group as this will help to strengthen your will power. The first person in our group was all set to take the plunge. He was made to wear couple of more harnesses and was also locked to couple of ropes. Lot depends on how the first person in the group jumps. In our group the first person jumped with ease. He came up after the jump and was smiling when he said "the jump was exciting but nothing to worry about - it will be all over even before you realize". One by one each person started to jump and then came my turn.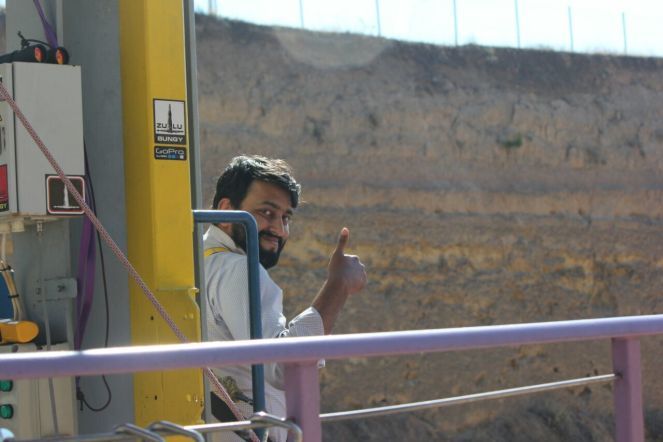 First I was made to wear the GoPro camera to capture the whole experience Live. The Zulu Bungy guys then went on to make me wear the remaining harness and locks. I was made to move closer to the edge of the bridge. The view from the edge of the bridge was spectacular with the mild breeze hitting your face. There were lot of instructions coming in from the group members - "just look in front when you jump, jump hard, push your body out of the bridge, etc."
I took a deep breath before I looked beneath to ascertain the depth. I was at ease and was not anxious & felt that this is going to be an easy one. That is the moment when one of the Zulu guy stood in front of me. He started counting the locks that were put on my harness. He was saying "lock 1 okay, lock 2 okay, lock 3 okay,..." . This was the moment when I started thinking whether he has actually put all locks or did he miss any ? Suddenly I had my whole family in front of my eyes. What will happen if I don't come up, what if the ropes breaks, what if all the locks were not in place ???? All type of weird questions popped up in a fraction of a second. This send a shock wave through my entire body. The fear of losing everything was right on my face. Do I really want to do this and lose everything ? That is when I heard the sound of the Zulu guy again. He told the other Zulu guy "all check done" and the other guy who was standing behind me whispered to me "don't think much - just jump at the first instance, trust me" and he counted 1,2,3.
I had two options 1. To turn away without attempting the jump and be Safe 2. Trust the guy who whispered to you , trust the harness, ropes, locks and jump in to the canal... In the blink of an eye I decided to do the 'Leap of Faith'. I trusted everything and somewhere in the corner of my heart I said "Oh God bring me back safe" . It was indeed a Leap of Faith. It was a breath taking experience - From the time I jumped & till the time the ropes stretched my legs and made me realize that I am hanging Safe. That's when the feeling start sinking in that you let off your fear and did once in a life time activity.
Wow.. It was Awesome..!!! "I Did It"
" We change the rules of Flying"