Relish a wholesome Organic Farm to Table Traditional Kumaoni meal - cooked on wood fired chulahs and detoxify yourself with clean crisp air at this self sustaining rustic farm stay.

In less than a year's time (9 months to be precise), this was my third trip to Kumaon region in Uttarakhand. Gurjas has always loved mountains and gradually that has rubbed on to me as well. And the peaceful Uttarakhand surely seems to be becoming our favourite.
We had just finished a commercial assignment and we yearned for some quite time in the hills. So we packed our bags, boarded a train and reached The Pahadi Organic Restaurant & Motel to switch off (quite literally, as there was no network) from the busy urban life.
The Place:
A passion project of The Rawat Family, The Pahadi is a labour of love, made to celebrate and conserve the quintessential traditional foods and customs of Uttarakhand. The philosophy runs through the look of their restaurant with all-classic wooden carving, the cooking technique (wood fired chulah), choice of utensils (to serve and to cook) and menu design. The staff consists of only locals, who work here in the farms, dairy, poultry and even at adventure sports section.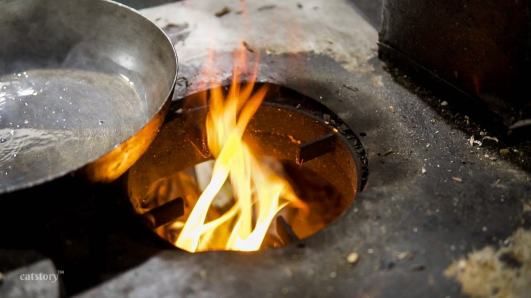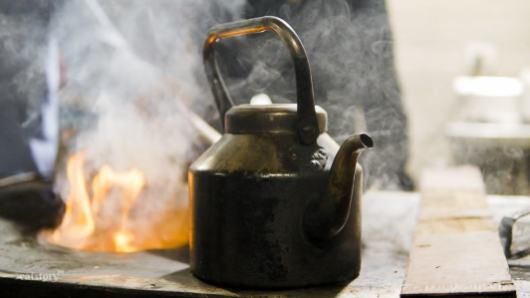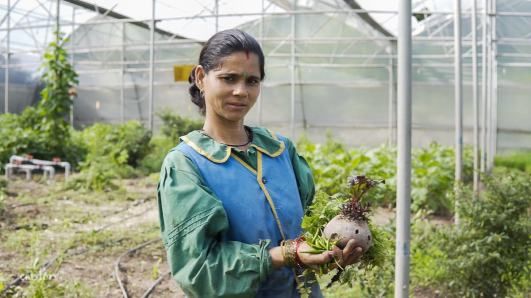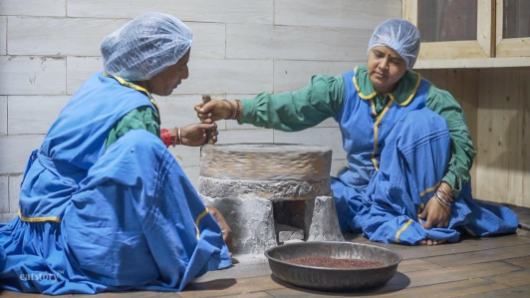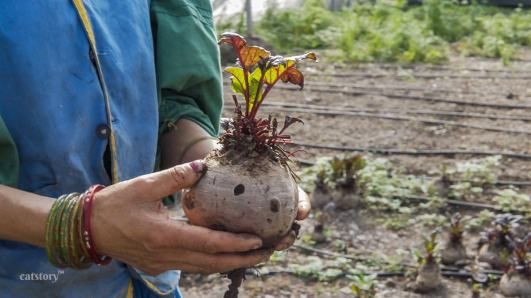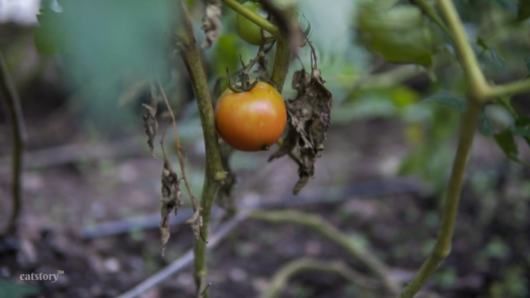 Since it was Monsoon, the place sat pretty, amidst lush green valleys and deep blue skies. Sitting on a porch perched atop a hill, I could hear the sound of cars passing by somewhere down the valley. I couldn't see them, but I could hear everything. I was amazed to experience such quietness. My hair could go all crazy happy with the breeze, while my skin felt the freshness in the air (my prime reason to love mountains).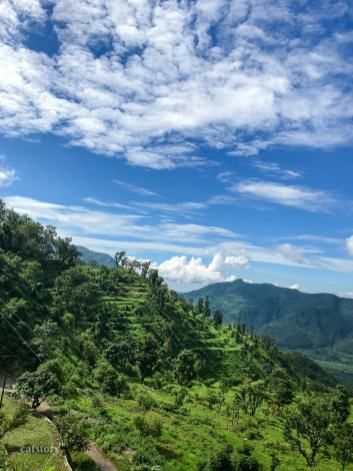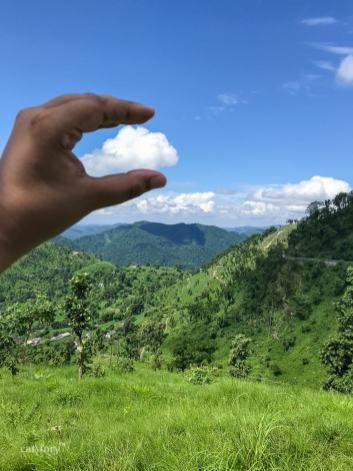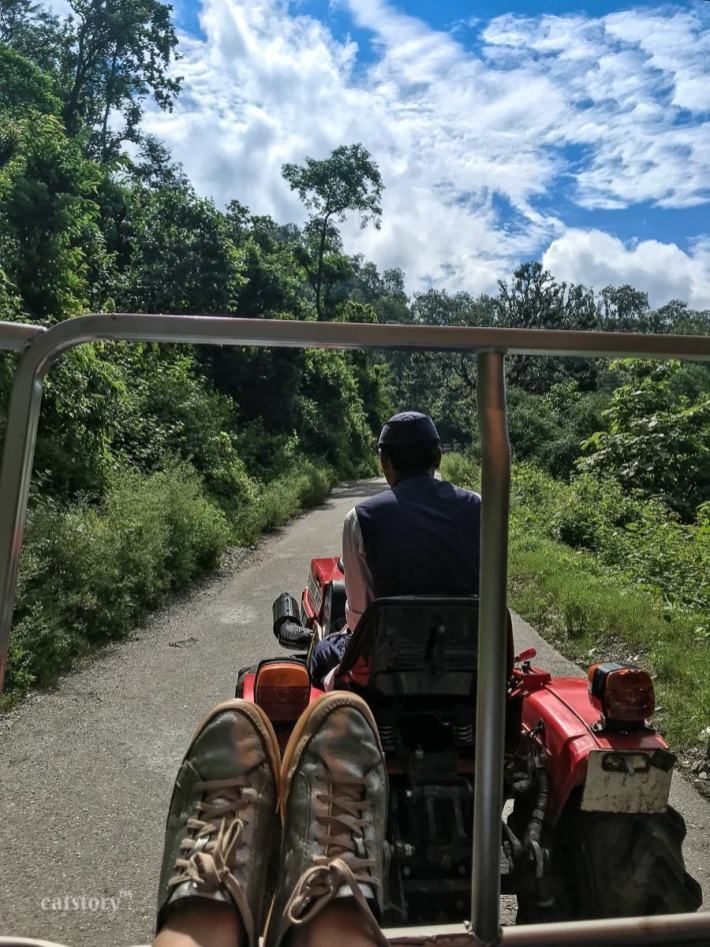 Adding to our experience was the fun conversations, I had, with Gurjas and Mr. Chetan Rawat (the owner) over some rich ghee laden Bater Surua (Quail Curry), Chicken Surua (Chicken curry) and Chichande ki Sabzi cooked in an Iron Wok (Lohe Ki Kadhai). Eating my meals outdoors is, always, a delightful experience, as I seldom get to do that. However, the meal on that porch was outshone by another fantastic meal on top of a lush green mountain, under a tree with 360 degrees panoramic view of dark green mountains as far as I could see. Clearly, my words can't do justice to the scenery I had witnessed, while eating a wonderfully rustic, no-frills meal of Pahadi Aloo ke Gutke, Loon, Bater ke Ande ki Bhurji and Aloo Parantha. The memories of eating at a table set under the blue skies and amidst such natural untouched beauty, will forever be etched in my mind.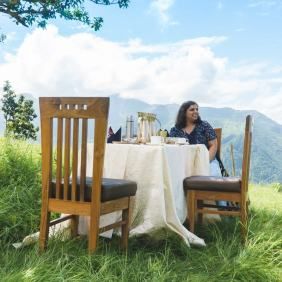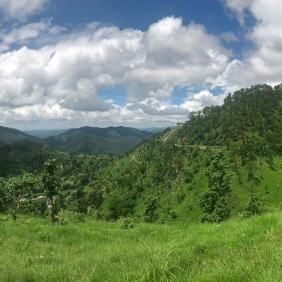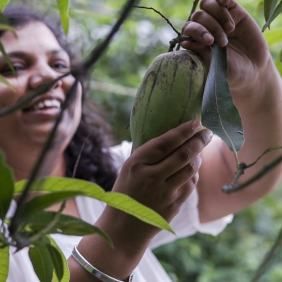 Another highlight from this trip was to walking through the farm and spotting Pumpkin Flowers, Red Chilies, Mangoes, Lime, Oranges, Brinjal, Beetroot, Tomatoes, Radish, Bananas, Corn and many such vegetables and fruits. It was a joy to pluck fresh lemons off the trees and later drink Lemonade made out of them. Truly, The Pahadi offers simple pleasures of life in the purest form.
The Food:
The food at The Pahadi is rustic, unadulterated and earthy. With organic produce - vegetables, dairy, poultry and even grains - they're largely self-sufficient. They only serve traditional, authentic food of Uttarakhand, cooked on wood fired chulahs, with the produce of the day. Daily, they cook with whatever they pick fresh from their farms. As a result, the food takes a lot of time to get cooked, however, it's exquisite! So, this cannot be your ordinary Quick Bite stopover. After you have placed the order, the food is prepared from the scratch, so it takes time to get cooked and served. But, no chance, you can find this food at any other restaurant or dhaba in this region! Especially, the Non-Vegetarian dishes would certainly be hard to come by. So if you can make time, this food will really be worth waiting for.
After my trip to I had fair bit of knowledge about Mandua Roti, Pahadi Loon, Aloo Ke Gutke, Kumaoni Raita, Kumaoni Daal. But at The Pahadi the dishes I had were unheard of, at least for me. Each and every meal had a dish, which I ate for the very first time. Mandue Ki Baadi, Laggad, Choou, Chillhad, Gahat Ke Dubke, Luainsh, Bhutua, Gadue ki toko ki Sabzi, Chichande ki Sabzi, the food was as traditional as it could be.
I was totally smitten by the delicious Mandue Ki Baadi, a sweet dish made with Ragi flour, which was black in colour. The flour cooked in ghee and water till it thickens and forms round shapes. It was garnished with dry fruits and it had a gooey fudgy texture like a Chocolate Brownie.
For breakfast, I loved having Laggad, Choou and Chillhad. Laggad was a deep fried puri stuffed with spiced aloo mash. I simply loved it. Perhaps, the love for Aloo Parantha I have, made me love this too. Mr. Chetan told me, that in Uttarakhand, there's a tradition wherein when a newly married female distributes Laggad in surrounding villages, to mark her arrival into her new home.
I thoroughly enjoyed eating Choou and Chillhad pancakes made with Rice and Cornmeal, respectively. They were served with Kumaoni Loon (dried mix of rock salt- coriander-garlic-green chilies), Coriander Chutney and Curd. Chillhad reminded me of Makki Ki Roti but it was thinner and softer in comparison. Choou was soft and rich and was slightly similar to Akki Roti.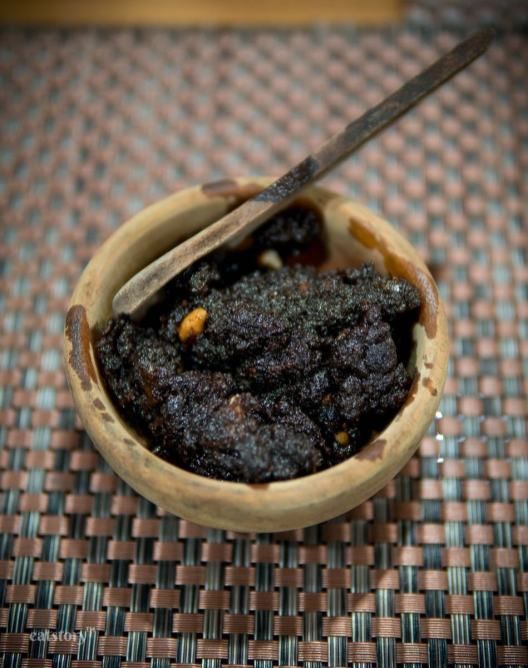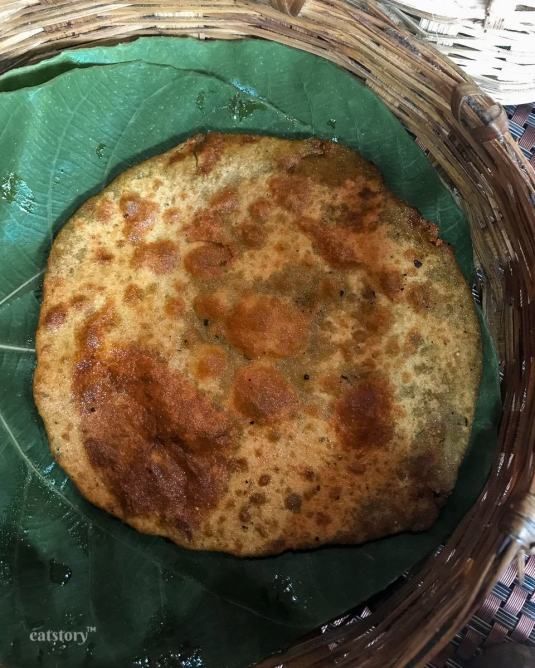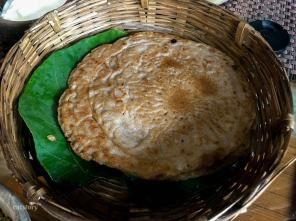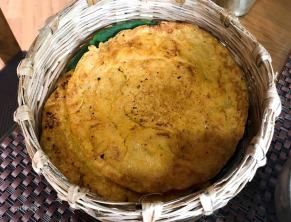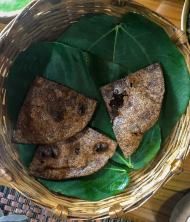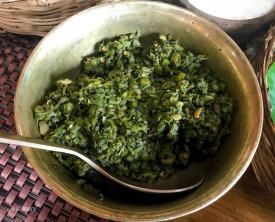 Another dish that had me all excited was Gahat Ke Dubke. Gahat is also known as Kulath or simply Horse-Gram pulse. Gahat is first crushed and then prepared in ginger-garlic-turmeric-garlic and chili, then tempered with Amchoor (mango powder) and Gandharein. This was rustic and deeply earthy in taste, which was very different for me and I liked it. I was glad I finally got the chance to eat it, as I had heard so much about this daal.
As for the Non-Vegetarians, this place offers a feast like none other! They have numerous exotic dishes for you to try, each showcasing the unique local flavours. For the very first time I had Luainsh, a dish made out of Goat's Blood. I was told, the Blood is purified and cooked on heat till it thickens and cubes are made out of it. Tempered with onion, garlic and coriander, it can be eaten along with Roti or just as a snack.
I also had Bhutua - Goat's intestine made in mustard oil with onions and local spices. A bit gooey in texture, this had similar flavours of how my Mom prepares Karele Ki Sabzi (bitter gourd).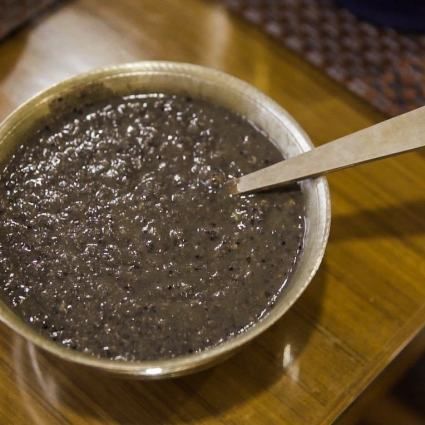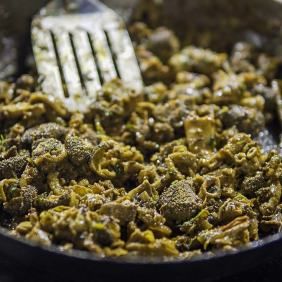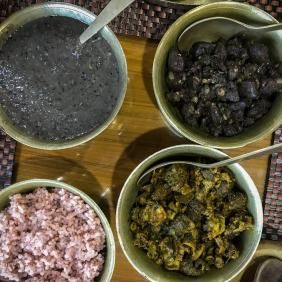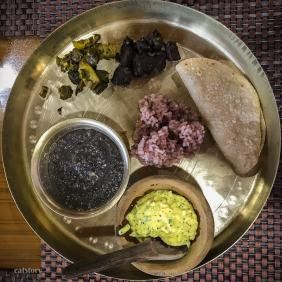 Bater Surua aka Quail Curry, was black in colour, as it's cooked in an Iron Wok. With regular ingredients such as onion, ginger, garlic and tomatoes, it was prepared using in-house ghee. This is best enjoyed with Laal Bhaat aka Red Rice. I also had Bater ke Ande Ki Bhurji, which honestly tasted similar to a Chicken egg bhurji. If they didn't tell me, the Bhurji was made with a Quail Egg, I really wouldn't know.
And I also saw the biggest Chicken Leg piece ever, in Chicken Surua. Bigger than my hand probably, it was tender and nice nonetheless. The curry was cooked in exact same way as Bater Surua.
As the food was cooked in wood fired chulhas, it tasted very different. They mostly used ghee for cooking and it was perhaps the most good-looking golden ghee I had seen in the recent times. The rustic flavours were subtle and not in your face, yet, each dish tasted distinct and rich.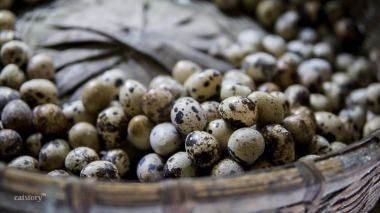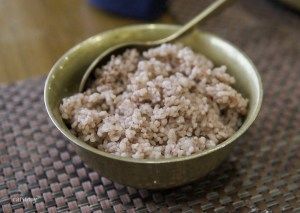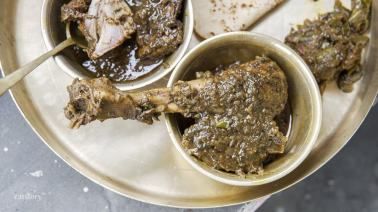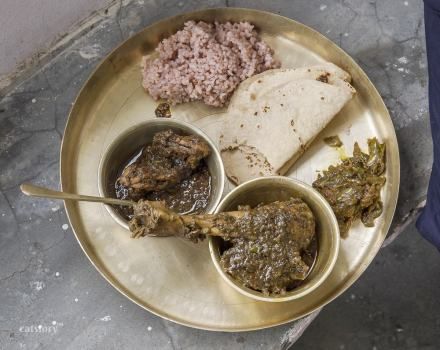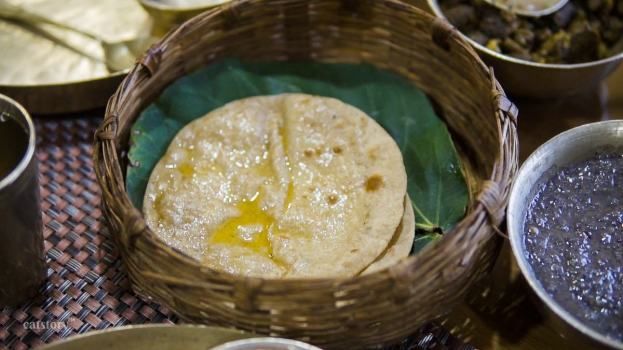 This was truly a great introduction to the real Pahadi flavours of Uttarakhand.
The Stay: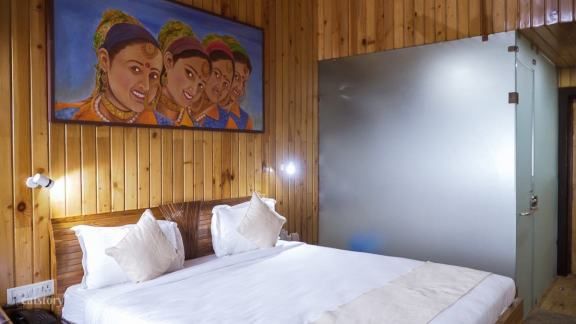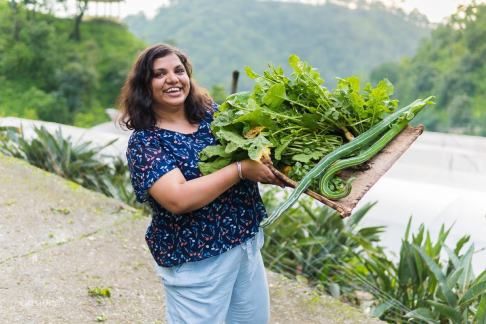 I love hotel beds, they're comfortable and many a times I don't feel like getting out of them. And that's exactly what happened at The Pahadi, I dozed off for hours in the daytime. And I when I was up, I gazed at the beautiful mountains from the glass window in my room. As there was no mobile network, it was a complete cut off from the outside world. The WiFi connection was erratic, but I couldn't care less, as the place offered complete solitude. I enjoyed my long walks, listening to birds chirping, going to the fields and sitting in my room's balcony staring at the beautiful clouds and just be.
In a nutshell:
Location: Gram Kholyon Totam, Ramnagar - Ranikhet Road Totam
Closest Railway Station - Ramnagar (Distance between Ramnagar Railway Station to The Pahadi is 43 KMs - 1:15 minutes drive)
Closest Airport - Phoolbagh, Pantnagar (72 KMs away from Ramnagar)
Atmosphere: There's nothing prettier than 'Mountains in Monsoon'. With lush green valleys, deep blue skies and fluffy white clouds, the location of The Pahadi was spectacular. The place carries a rustic-rural vibe. You can walk through the organic farms, picnic on top of a hill, go for a naturopathy session or even do adventure sports.

Service: The property has employed many locals from nearby villages for various different jobs. The ladies, who cook and do farming, work really hard in looking after the live kitchen and the fresh produce at farms.
The woodcarving artist, a senior local man, has single-handedly made all the traditional wood panels, the property is adorned with. In my few days long stay there, I only saw him sitting with his panels and working.
The boys in the front staff however, seemed raw and I do hope they grow and evolve as the time passes by.
Food: You only get traditional Pahadi food of Uttarakhand here. Made by the locals from fresh from farm organic produce. Everything is cooked on wood - fire chulhas using age-old techniques and recipes.
Must Haves: Mandue Ki Baadi, Laggad, Choou, Chillhad, Aloo Ke Gutke, Gahat Ke Dubke, Luainsh, Bhutua, Mutton Surua and Bater Surua
WATCH OUR VIDEO OF THE PAHADI HERE: