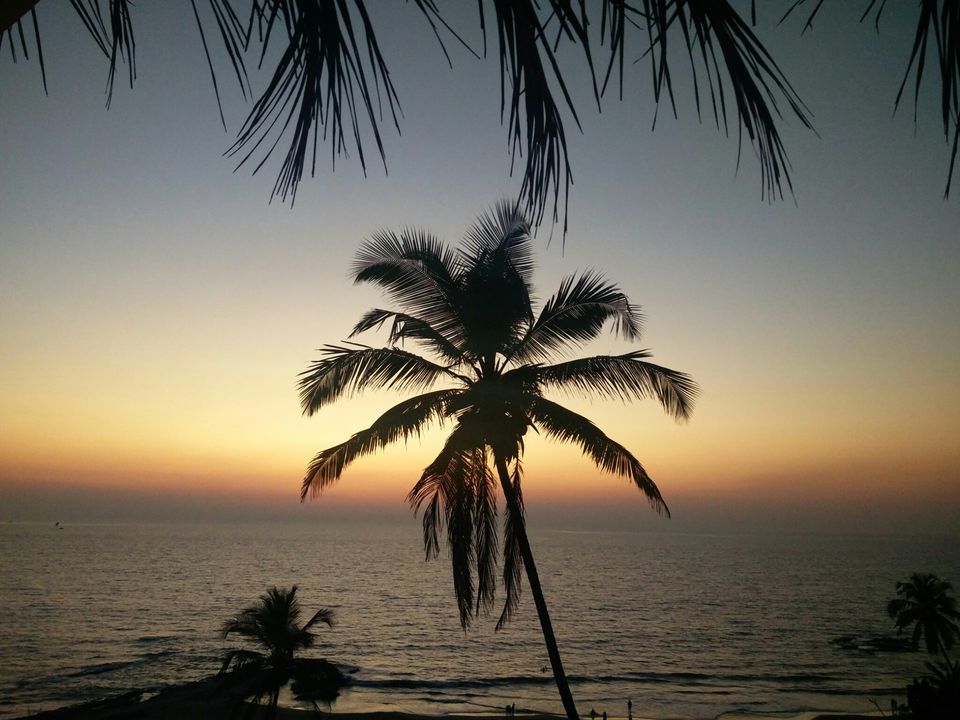 My heart has always yearns for hills. Hills are and will always be my first and forever love. Till now all my travel plans had hills into it. But the year 2017 was a revolutionary year for me because I started travelling frequently. One after the other, plans were made (by friends or myself) and I started following it.
As the very famous lines by Hugh Laurie's go- "There is almost no such thing as ready. There is only now".
2017 started with Sikkim (it has Hills) in the month of March, Haridwar, Rishikesh and Devpryag (here comes the Hills too) in May, and last but not the least was a Solo trip to Banaras on my Birthday in November. Three trips in a year, not bad: D. On the whole 2017 was AWESOME.
The last trip to Banaras has changed something in me. I've learned and realised that there is no point of sticking to or loving something so badly that you avoid/ forgot to go or experience the things outside of it.
Life happens in moments. Once you miss that moment, you can't recreate it later. So EMBRACE life, take opportunities that comes up your way and TRAVEL EVERYWHERE. ANYWHERE. I know in starting you might not like the idea of travelling to that place you did not liked earlier but once you're into it, trust me you'll LOVE it. That's what happened with me when I took the idea of travelling to Goa with my Girl gang.
So here goes the story of my travel trip to North Goa.
Goa is such a cliché place to be visited. Every tom, dick and harry goes to Goa. I might not like the crowd or the place plus Goa doesn't has Hills (North Goa particularly) and it's not my kind of place. This was my thought when my colleague cum friend asked me to join in her Birthday trip to Goa. But it was her Birthday and she asked me to join in, how can I say no to such a nice gesture. So that's how Goa happened to me.
We went to Goa for four days, 24- 27th Feb. Since it was her birthday and we were in partying and celebratory mood so we decided to visit North Goa and celebrate her big day. North Goa is essential part of the Goa Holiday experience. This is the place to hang out in coolest shacks and groove to some awesome music.
For the Gastronomist, it has finest sea food available everywhere from nook and corners to shacks to every restaurants you find on the road. Bad luck for Vegetarians, Goan vegetarian food is not good as they put sugar in Dal Makhni (not everywhere. I tried Dal makhni in 3 places, 2 places served it in authentic North Indian style and at one place it was with sugar syrup), Sambhar- Dosa and Poha(yeah, this is what I ate in Goa. Please don't laugh, that's the story of every vegetarian who visits Coastal regions). But if you love Italian, Pasta and Pizza will do for you. They serve amazing Italian food too (Thalassa, Curly's or Mambo's) is the place for you.
For the adventurous you, water sports are there to pump up that adrenaline rush. We did Para-sailing and Jet- skiing at Vagator beach (please negotiate before you go for it, we did this combo sport in INR 21,00). The experience was super thrilling that can't be described in words. Just go for it if you're in Goa.
For people who love Architecture and want to know more about the place then old Goa, Panjim is the place for you. It has rich cultural history, and a very strong influence of Portuguese culture (in food, as well as in Monuments).
And if you have Sunset obsessions and you're a nature lover like me, then Goa is a PARADISE for you. You will get to witness serene beaches with a rhythmic sounds of waves and multi-colour sunsets that freezes that very moment and makes you speechless.
This is what I learned in Goa:
No two beaches and no two sunsets are same. PERIOD.
One Pro Tip: Please learn driving. It's very important if you want to know and experience Goa in a very personalized way. Because conveyance here is very expensive. They charge heavily even for a nearby place.
On mixing SUN, SAND, SHORTS (it's too hot in Goa. Shorts are one comfortable clothing option to enjoy scorching heat of Goa ;) ) And of course breath-taking beaches and Sun sets, you'll get TOP OF THE WORLD GOA EXPERIENCE.
Now the details of trip that will help you to plan yours.
Beaches Visited: Anjuna, Baga, Calangute, Vagator (In a single stretch, you can walk from the first beach to the last), Arambol, and Dona Paula (in Panaji, it takes one and half hour from North Goa to reach Panaji). You can also cover amazing flea markets on this stroll. Saturday Night Marker at Arpora (it starts at 6 in the evening and goes up to midnight). It has food stalls offering cuisines from all over the world, designer boutiques and local products from all over the country.
Clubbing: We went to Cabana and Tito's Lane to experience the night life of Goa but somehow I didn't liked it. May be I am not a clubbing person or Delhi clubbing is much better than Goa's. Very subjective. (You need to pay INR 25, 00 if you're a couple, INR 800 for girl's stag entry and INR 2000 for Boy's stag entry for Cabana. Tito's lane has free entry, you need to pay for your food and drinks).
Food: Try local food at Shacks, they serve lip-smacking sea food. Or you can try it at Curly's, Mambo's located on Tito's lane or Thalassa at Vagator for great food, good interior and BEAUTIFUL SUNSET VIEW. Also try Goa's local beer, KING's.
Churches & Monuments: Goa has many churches and monuments but we were less in time so we visited only one church. Church of our Lady of the Immaculate Conception. Built in 1541, this is reckoned to be the first church in Goa. It has been shown in many movies that are shot in Goa (Josh, Mujhse Shaadi Karogi, Ajab Prem ki Gajab Kahani, Ek Villan).
Total Budget: INR 20 K per person (we were four) including round flight tickets and souvenir shopping (yes, I pick souvenir for friends and family wherever I go)
Stay: Zostel, Calanguete beach. I am a big fan of Hostel concept. So I always pick Zostel for my stay wherever I go. It started with Zostel Banaras then Zostel Jaipur and now Zostel Goa. You will get to meet and know many new and like-minded people and their travel stories.
3 Nights, 4 days room rent in Zostel costs us around INR 57, 00. They have dorms as well, wherein one bed will cost you INR 600/ 700. If you are a solo traveller then opt for dorm.
We get round flight tickets in INR 7200, booked it in Oct 2017 for Feb 2018 trip. It's always a smart idea to book your flight in advance.
Local Conveyance: We took Swift for 3 days, and it cost us INR 36, 00 (1200 per day). If you want to experience Thar, it will cost around INR 25, 00 a day. But Goa can be experienced best by Scooty/ Scooter. You can reach anywhere/ everywhere by tricking annoying traffic Scooty in minutes. Scooty costs around INR 300 per day.