I have always had little regard for the exoticism of the Indian Holy cities and I had my reasons for it. As my train chugged into the old station of 'Kashi', I remembered my childhood trip to Haridwar and how I was repelled by the anti-exotic nature of the city inspite of being the door to the mighty Himalayas. We, the people had managed to get the shit out of every possible living thing onto the sacred streets of a holy city. And cow shit is supposed to be the purest. If they shit on the roads, let them do it. DONOT dare remove them and if possible lick them to have some Punya Laabh ! And cows somehow love places like this - Haridwar, Puri, etc etc ! However, horses do have a liking for the holy cities higher up. As my train left Kashi and strolled towards the main city station of 'Varanasi', wading through the mammoth human wasteland by the rail tracks, my memory lingered atop the Himalayas. We were walking on a 7 km trek and our feet would often get entangled and stuck into the mud that covered the road. It was raining incessantly and it was not even monsoon and this mud was almost a foot thick and had a custard like feel to it. My nostrils were picking up a weird smell all over from my body and from my friend's walking beside me and from the people around me. My friend quipped "This Himalayan mud do smell different no ? That's how holiness smells. That's how the Gods test us while we struggle to achieve Moksha! " We were on our way to Kedarnath and it was just as you thought… We were walking on Horse shit !
So here I was, sitting in the 3 tier non-AC compartment of my train, winter was here and we were slowly entering the holiest city of the Hindus and surely the most filthiest of all. I have full faith on my fellow countrymen !
I peeked out of the window in excitement as I could not wait to get down on the streets and this train was not helping in anyway. Well of course I am excited as this is my first solo food trip ! And Banaras had always excited me since childhood. But yes the filth !
And then as I had my head outside the window I had the most ethereal view I had ever had … something which will continue to define Banaras for me!
As the train floated through the most dirtiest of tracks in India, as the air smelt of rotten flesh, as a smog of pollution hung all around, there emerged from beyond a heap of the garbage…. the most resplendent of the birds, the national bird of the country - a peacock, in all its elegance and splendour ! A sight cannot be more surreal !
A lesson that I had learnt in Bhubaneswar came handy outside the station and it usually does whenever you are travelling solo mainly. It doesn't matter how well you can negotiate with your stakeholders at work. All those consultative skills go for a toss every time you make that journey of a lifetime from an Indian Railway station exit gate through the sea of auto wallahs and taxi wallahs and other wallahs (depending on which city you are in) who jump upon you more fiercely than a tiger pounces on a deer and then you are not even as swift as the spotted animal. So you cannot run without being mobbed or robbed.
I had to get to Assi Ghat, the last ghat to the south and the autos were asking for anything from 150 to as high as 300. I had no freakin idea howmuch the transport costs were in this city but there was one thing I had a very firm idea about. It was The golden rule - never… never ever board anything from the men that pounce on you until you get to the main road outside the rail station. And how well it did pay off, thanks to a traffic police who asked me to get off at Durga Mandir on a BHU bound shared auto. I ended up paying 7 bucks for the ride.
I know I am supposed to write a food blog and you may be pissed off already that there isn't any food yet! But it isn't the food that I travel for. I taste the cities through my eyes, ear and mouth. I avoided tongue to avoid the obvious underlying vulgarity ! There… I just mentioned what I omitted. Poor me and my cravings for vulgarity!
After searching around for a hotel room around the ghat and shortly after being knocked off by the prices at the hotels overlooking the river I managed to put up at a majestic 'half' room (yes you heard me right). It was majestic because you could see the river right from the bed, it was that good a view and it was 'half' because if you wanted to go to the loo you had to climb four-legged upon a single bed which lay between the two entrances - one to the room and another to the bathroom. Ohh… and you had to climb four-legged because you could not afford to stand with the electric fan spinning overhead.
But it was 400 for a night. The owner had looked at me for half a minute over his crooked spectacles with a crooked eye when I had made the mistake of asking for a spare room. He looked over my shoulder and asked if I really was alone. I replied "For the time being yes. But who knows what vices may get the better of me when darkness falls" … well I could not afford the smartness to say that at that point of time and could only manage a begging "Yes".
As you start walking from Assi ghat towards Dashaswamedh Ghat, you make the journey from Varanasi to Banaras. Assi ghat makes you lose faith in your fellow countrymen as you see an unnaturally 'clean' ghat with not much of a crowd anywhere. I thought to myself how stupid I had been. This was the prime minister's own constituency and the Government had just started the small business of 'Swacch Bharat' tax imposition and we were yet to notice the small addition to our food bills tax section. Assi Ghat was under a makeover drive with an extension of the ghat underway towards the south.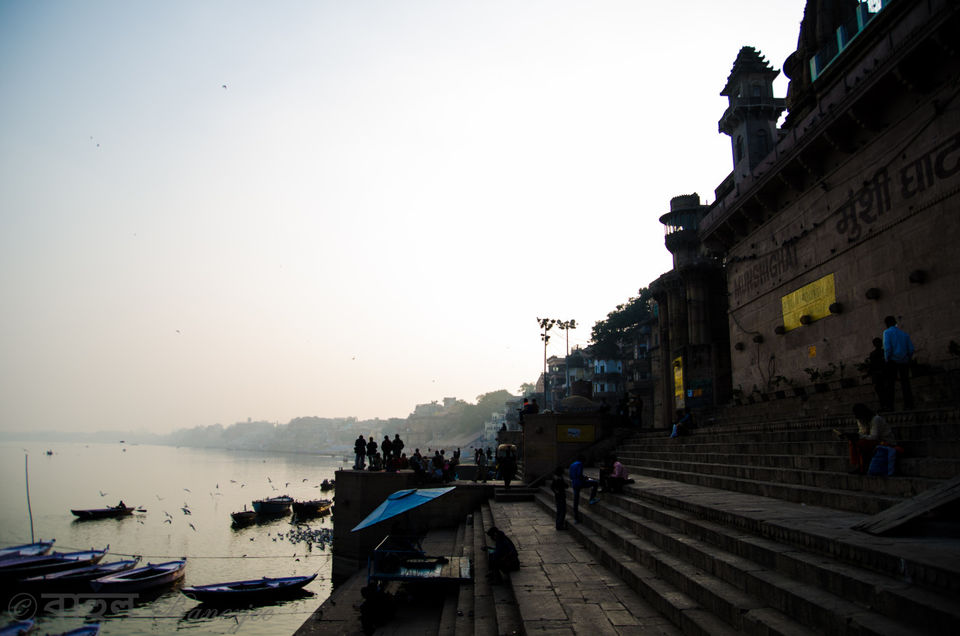 I was hungry already but I decided against taking an auto to Godowlia Chowk which is supposed to be the city centre and instead started walking towards it over the numerous ghats.
As you walk over them you see the myriad lives coming together, the countless means of livelihood, the known and unknown stages of a lifetime !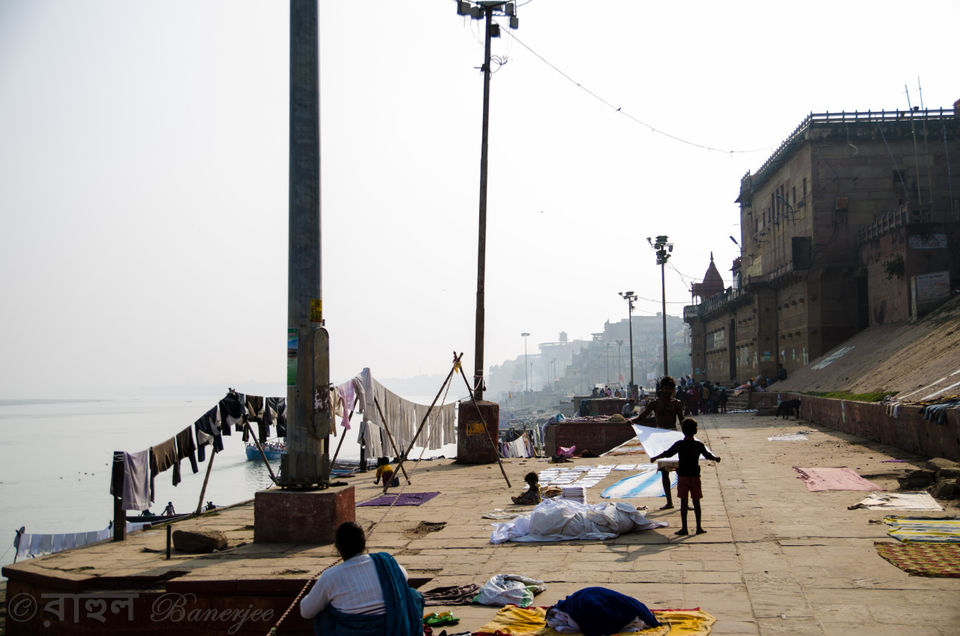 As I walked by the river, a boy ran past me to the beastly buffaloes waiting by the river, took them down with him into the flowing water and started washing them in a manner that reminds you of a mother bathing her child.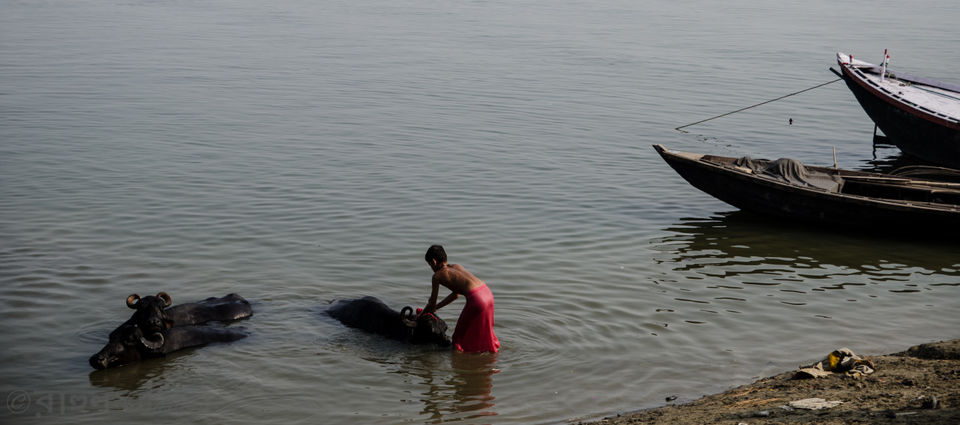 As I walked on, a man beckoned me towards a street play which could barely be witnessed through the curious wall of human heads, heads belonging mainly to non-Indians who were amused by the dramatic performance of a man who is shouting and jumping mostly without much being conveyed. I tried to peep through and by what I understood, he was staging a play on God's miracles. The crowd started to thicken as the play became violent. The loud performer took out a dagger and plunged it into the neck of a young girl and out came a spurt of blood.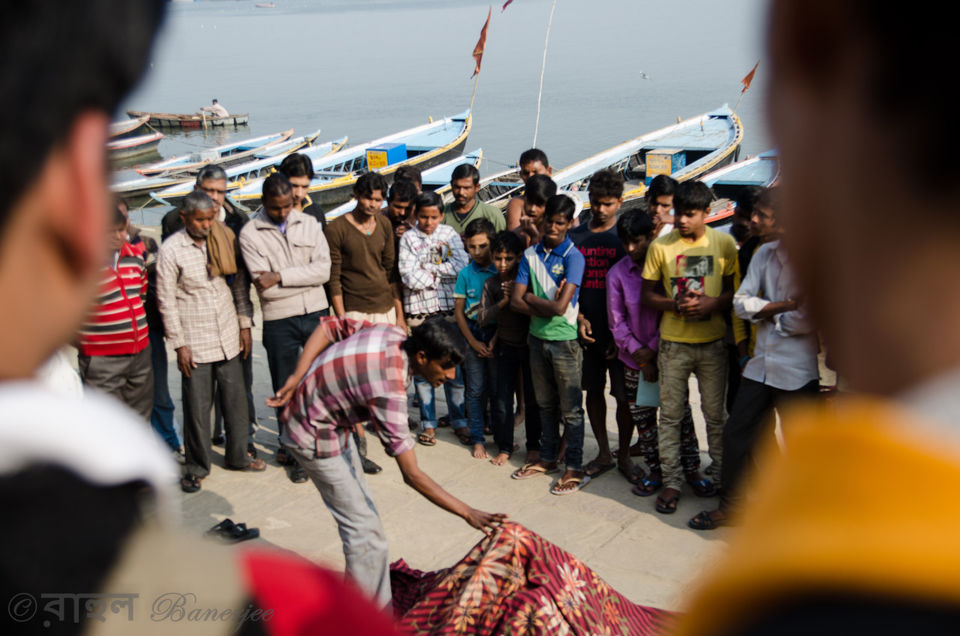 I moved on and came across a couple with a new-born sitting by a Sadhu whose nakedness was covered with ashen tattoos. He supposedly offered his blessings. Not all holy men were pouring blessings though as one of them poured me a cup of tea for 2 bucks and I sat beside another who looked back at me with a pot in hand. He offered me a smoke. I obliged and the marijuana took its toll for the next hour.
At another ghat people carried a dead on their shoulders to be burnt on the pyre by the river as that would guarantee a sure entrance into heaven.
And then there were men who only fed the birds without being paid for it. There were children who jumped into the river to bring back coins thrown deliberately by a group of gambling men.
Ganga flowed on as did lives and deaths by its shore in all its weird shades.
And swimming through these spectacles on ghat after ghat I had finally arrived at Dashaswamedh Ghat. I had arrived at Banaras.
Swacch Bharat Tax may just vanish all by itself from food bills here out of sheer guilt. Especially when you walk up the Ghat towards Godowlia Chowk. But the tea vendors surprised me. Before I walked up into the cow-shit on the road I decided to treat myself to the chai which is usually much thicker in these parts of India and before the chai-wallah gave me the cup he asked me to dispose it properly in the dustbin after am done. And that was the message from each vendor on the Ghat.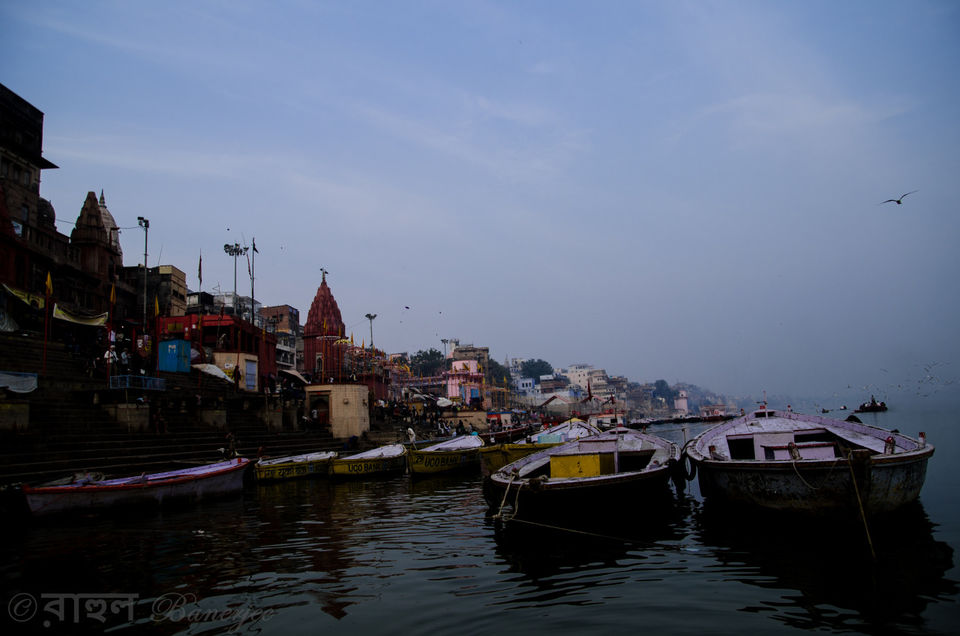 The chai is different in UP, Punjab, Uttarkhand or more precisely the northern states as milk is plenty and they prefer to keep the abuses restricted to their tongues and spare the milk. No water-abuse thus brings about the rich taste of tea or Lassi or any other milk product.
Right at the corner of Godowlia Chowk there's a Veg restaurant Kesari selling Thaalis at a decent price. The thaali was the first taste of the city and the state for me and it was a good start for its standard. It ended with sweets.
Post lunch it was time for some Thandai. Banaras is filled with its variants of Milk desserts. Thandai is one such chilled drink made of mainly milk and saffron. They would mix Bhaang if not warned beforehand. Atleast that's what I had been warned about. But Baba Thandai on Godowlia Chowk quite known for its saffron milk drink didn't do any such thing with mine.
As I walked on the roads of the old city, I noticed that life here was shouting back at you. It was like being inside a loud disco with the DJ playing a mix of urban and small town sounds. It was difficult to listen to yourself if you happened to be poetic or crazy enough to speak to yourself on a road that tested your concentration at every step. Everybody seemed to walk and drive and ride on their own chosen paths but somehow everything fell into place. There seemed to be a rhythm in the chaos. I remembered the streets of Stockholm from last summer and I thought to myself that Banaras screamed in your ears that "YOU ARE ALIVE". The streets of the Scandinavian city on the other hand forgot to even whisper and even if it did it would have said the opposite may be.
So the screaming streets took me to Kashi Chaat Bhandar a 100 metres from Godowlia Chowk. Even if one is not on a food trip, everybody knows for sure that they have to come to this shop once. Its that famous. And its that difficult to get a seat inside. But you know its worth the troubles. I decided to order as much as I could from their famed lineup of chaats. I went for Tamatar (Tomato) Chaat, Khatta Meetha (Sweet and Sour) Chaat and Rabri Jalebi. They were modestly priced at about 20 each. Full of spices that hit you hard along with its tanginess. The waiter had recommended these 2 chaats and I would love to recommend them back to you. Rabri Jalebis are exactly as their name suggests - a not-so-generous spread of rabri on top of the Jalebis and its a beautiful punch of the 2 desserts.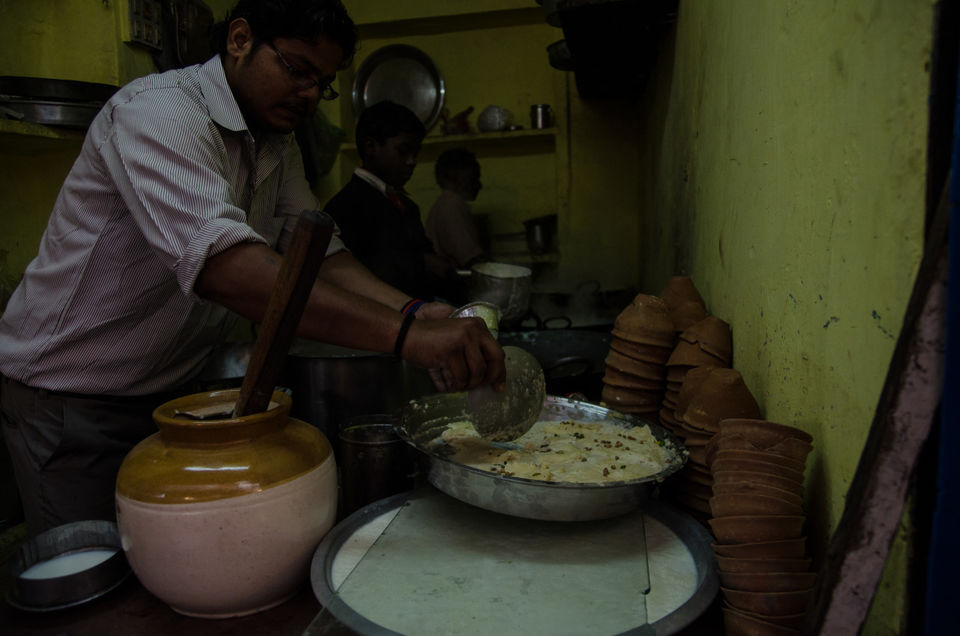 So now that the Rabri had touched my sensitive-most sense organ it was time for me to search for some more. And hence I enter the alley way leading to the Vishwanath Temple. The alley is more like a tunnel … a time tunnel ! As you go deeper into the clutches of the narrow alley with the shops narrowing on you from both sides you realise you are going back in time. And why not ! when this same street leads you to a temple and a mosque which tells the story of centuries bygone. The holiest of Shiva shrines was actually located in the same spot where the mosque now stands and has stood there since Aurangzeb brought down the age old temple. The current temple was built in the 18th century adjacent to the mosque by a Maratha Monarch.
But before we go as far as the temple there was another piece of history peeping out of the wall. They were making the most beautiful Rabri in Banaras. A product of milk, sugar and flour mainly, its a thick dessert that simply blows you off your feet.
When in Banaras how can you not taste Banarasi Paan. Right at the top of the Vishwanath Gali, a few paces from the Rabri shop I had a rendezvous with the elite paan. Coming from Kolkata, I am well aware of my Paan and have been an ardent admirer of the sweet variety right since my childhood. Kolkata has its own version of the famed beetle leaf dessert. But as with Biriyani or Paani Puri, the Paan has also traversed across the length and breadth of this country adopting a different avatar everywhere.
Banarasi beetle leaf can be isolated easily. They are a light green in colour. And with the right leaf in your mouth, it melts in no time as you want to hold onto the most beautiful of explosions in your mouth. I am not an expert at the different weird dry fruits or spices that go into the leaves but what I can say is that in Banaras it's different and brilliant. It was here that I was confirmed that either I speak very bad Hindi (as does most other Bengali men and women) or I look exactly like a quintessential Bengali. I donot know which one I should be more proud of. How else could the paan wallah simply reply back in Bengali to me. I was astounded by his clear diction. He was not a Bengali off-course. As I walked more through the streets I realised the two-pronged effect of the Kashi-Kolkata connection.
I had to now quickly make my way to the Dasaswamedh Ghat to witness the very famous Aarti by the river bank. As I walked back I remembered how Kashi was such an integral part of our Bengali culture since many centuries. It is not of much relevance nowadays but if you read a lot of 18th and 19th century Bengali literature, you would know what I mean. Every girl who was widowed would come to settle in Kashi leaving all her family behind in the delta lands. It became so synonymous to widows in our culture that someone going to Kashi implicated that she was a widow. And now when I am in Kashi I realise how that influence back home had also influenced the culture here. Almost every man could speak or at least understand Bengali, every other shop had a sign board in Bengali, every other restaurant advertised to the east Indian community about their Fishy cuisine. It was as if I was still in Bengal with a little UP influence. We Bengalis already know this feeling though and how often do we really decipher that feeling. You know which feeling am talking about ? The feeling that I had even after I was past my childhood - that Puri is actually in Bengal ! Well, at least we know of a place called Puri. One of my Kannadiga friends, and many others too did not know of a state called Orissa, leave alone the thought of confusing them by spelling it Odhisha.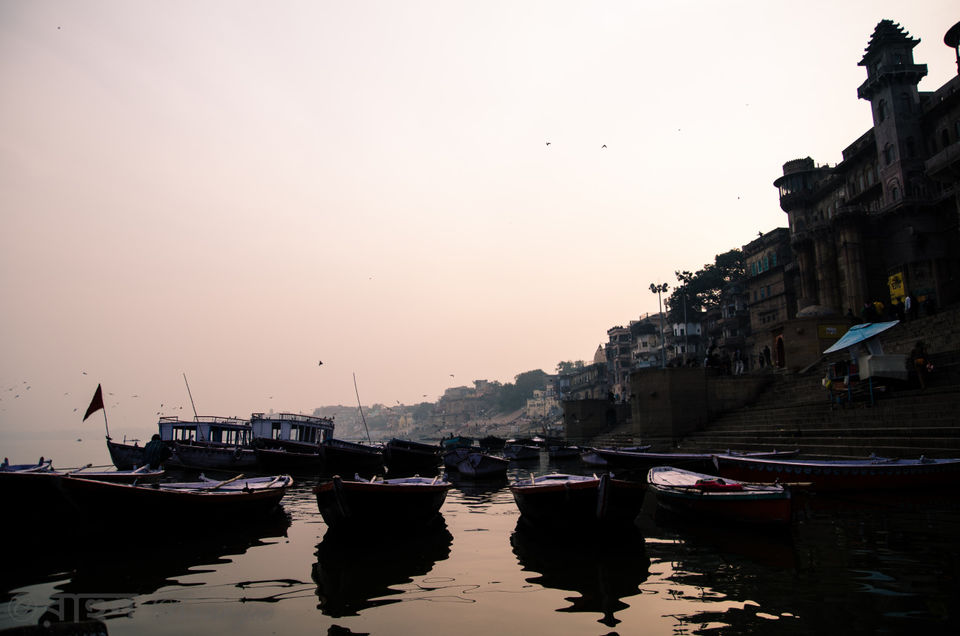 If you have walked the streets of Banaras and not noticed the foamy dessert in earthen pots or kulhars then you must have been sleep-walking. For its impossible to miss the unique dessert decorating the roadside shops all over the city. Its foamy, filled with air pockets i.e., made of milk again with some saffron sprinkled over it. Its Malaiyo ! And what better place to have it than Dwarkapuri Milk Bhandar on the chowk. Its a 10 mins walk from Godowlia along the river. Their Lassi is a big attraction too. One glass and you are finished for the day. Much like the ones served in Haridwar along the same river, these are thick and heavy. I found the Haridwar variety more purer and heavier to digest.
But I was on a food trip and had to eat, eat and eat. No matter how knocked down I was by the heaviness of the Lassis and the Rabdis. I had to go on and in this fight against my digestive juices, the only thing I could do was walk. I walked over 10 kms on the 1st day in Banaras. And the next day too!
Assi Ghat was the perfect place to come to rest at the end of a sumptuous and hectic day with its quaint Ghat with a few people here and there all by themselves. Life was not shouting back here ! And in these times you know that it is not always a necessity to get screamed at that "You are Alive"! And that's when you know the price of silence.
Earlier that evening however, chaos was of a different kind. Dasaswamedh Ghat slowly decked up in all its grandeur for the regular Aarti. By the kind of preparation it undergoes, it's hard to believe that the Aarti is a regular affair all round the year.
Supposed to be an ode to the universe or the Brahmanda, its a spectacle of dance, lights and Vedic chants. But its chaotic in its own way. Hundreds throng the area to observe the daily phenomenon. The boat wallahs sell off their seats on the Ganga to another hundred who swarm the river to take an alternate view of the proceedings. Let me not delve into the customs of the process and leave you with some photographs. Its best experienced than read.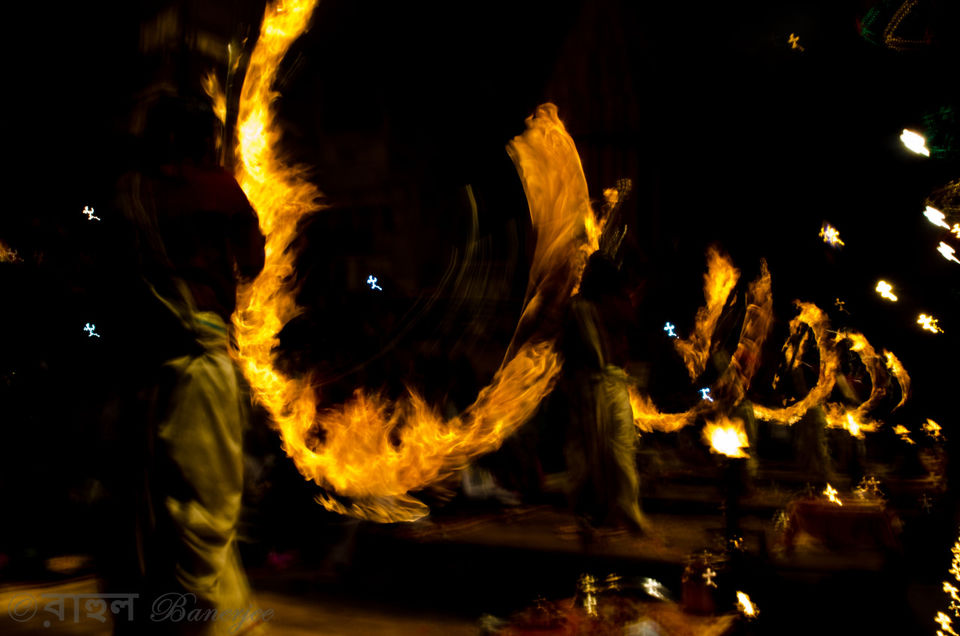 But it's is not this Aarti that I will recommend. The one which I will is a lot less professional than this one. Performed by school students instead of paid grown-ups for whom the performance is a job or a daily routine, the Assi Ghat Aarti takes place right at dawn in contrast to the dusk ceremony in the former.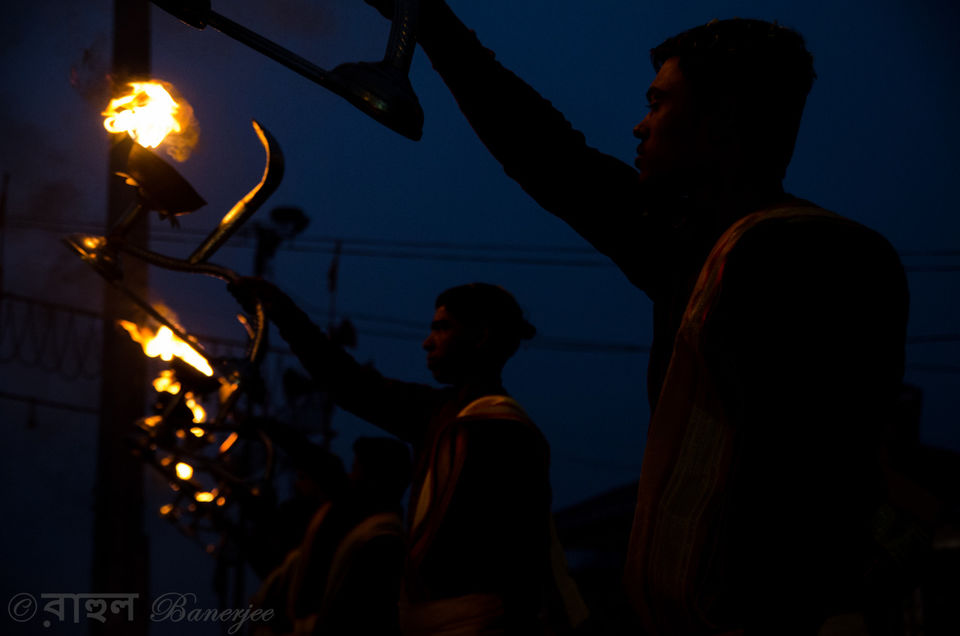 The Vedic chants and the worship dance performed by the innocent children on a chilly morning while the sun prepares to rise creates an ethereal environment by the river. In a much less crowded ambience the prayers seem to push you into a forced meditation. Its followed by a Yagna and a classical music performance. Its a way better experience than its counterpart at Dasaswamedh Ghat. Its a daily routine too at Assi Ghat and is a pretty recent phenomenon. It has merely started in 2014.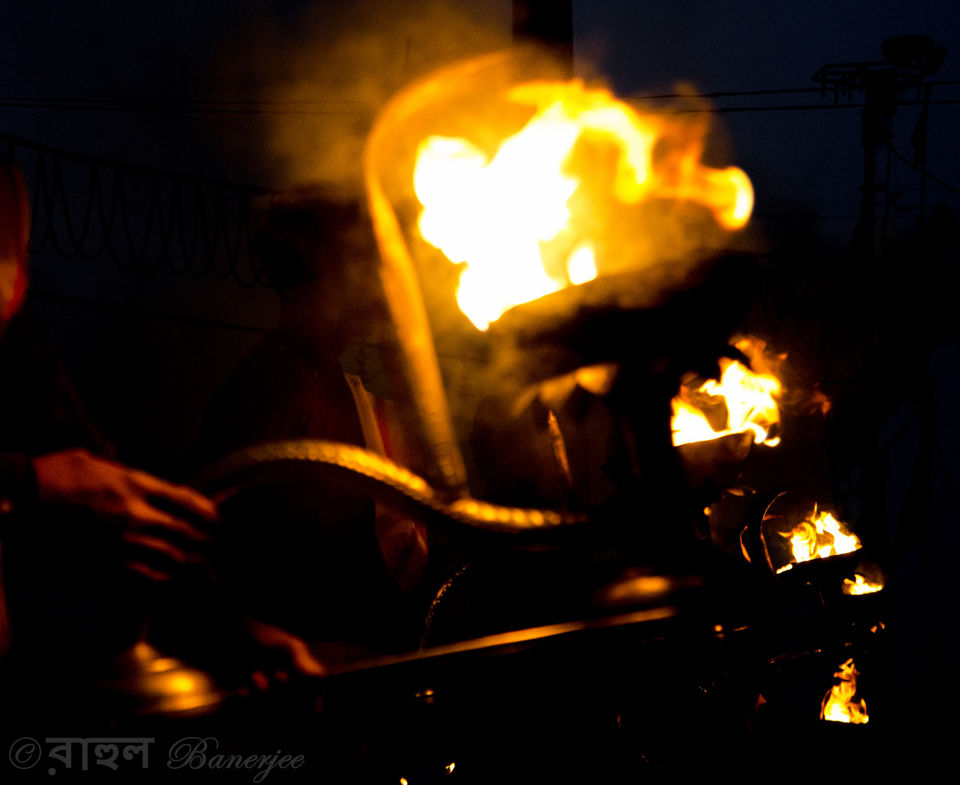 But before the dawn that day, there was a morning which I had spent at Ramnagar Fort the day before. The seat of the King of Banaras or the Kashi Naresh is on the other side of the river. Kashi Naresh is someone who is mentioned even in the Mahabharata and yet the current one does not seem to realise the tradition he carries. He is oblivious to the amount of history his fort holds. The museum is in shambles. The old cars and palanquins of yore lie unattended with spiders spinning webs all around them. The webs spin from the old cars to the big guns and Swords and warrior costumes. The webs have got company in the Human spits reddened by the beetle leaves on the broken walls that haven't been painted in years. It's saddening and pathetic to see how we have ignored our history. If the Kings can be so ignorant then why blame the people who mistake monument walls for Facebook walls.
There was one good thing though in Ramnagar, that happens to be just outside the fort (What good could have happened inside anyways). It's the Shiv Lassi Bhandar which sells one of the best Lassis in Banaras. Comes with layers of Malai on top giving it a distinct taste.
There are a couple of Poori-Sabji shops that you may also like to keep on your agenda - Pehelwan near Lanka bus stop and the one in front of the Ramnagar fort gate. Sabji or curry comes in a unique form in North India and with a unique garnishing. Spreading a dollop of grated radish, they have given it a form of their own. In fact the overwhelming love affair with radish in the Northern states seems a bit strange to me. I remember when I was little and could only think of pestering my parents to buy me ice creams or chocolates or Maza Mango, this boy in front of Agra Fort was pestering his father with the same valour as me if not more, almost sitting on the streets with tearful eyes and saying that one mysterious thing over and over again "Papa mujhe mooli khana hai" ! I knew something was horribly wrong even at that age. And now when am travelling throughout the North, I know where that came from. The father however did not oblige him. I mean who obliges anyone with mooli !!!
So it was time for me to move on to my next destination which was Lucknow, the food capital of India and the days in Banaras had come to an end leaving me enriched at every corner of my body (well not all necessarily) ! An exhilarating journey had come to an end and the dirty Holy city of India did not seem so dirty after all. The noise, the smells, the lights, the colours, the people had all overwhelmed my senses. It is here that I learnt how life and death goes on at the same time amidst the celebration and mourning for both.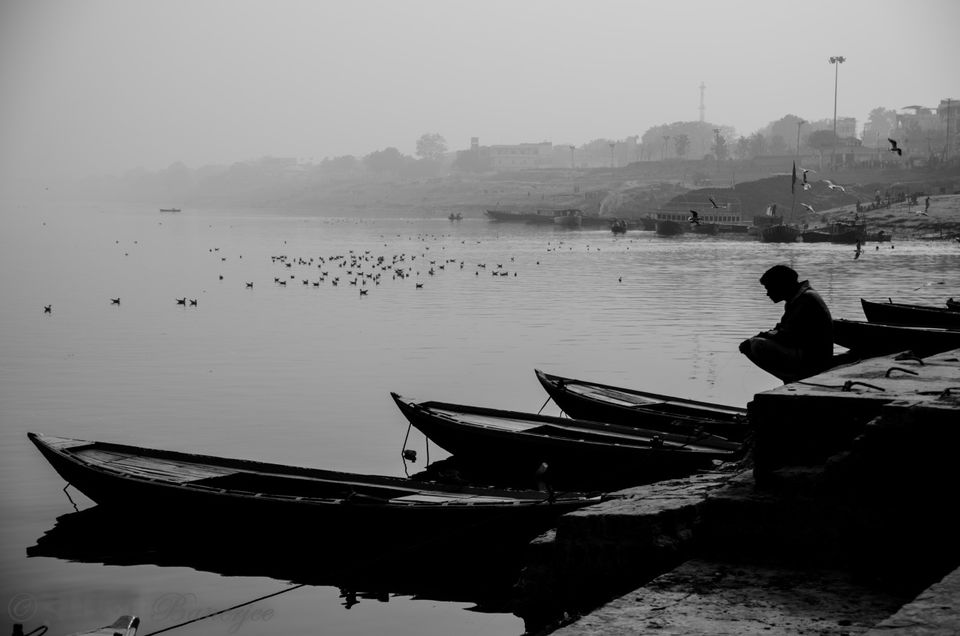 I will come up with another post with a list of all the eateries and it won't have any extra blabbering to accompany it.
Trip first published on The Hyangla Voyageur