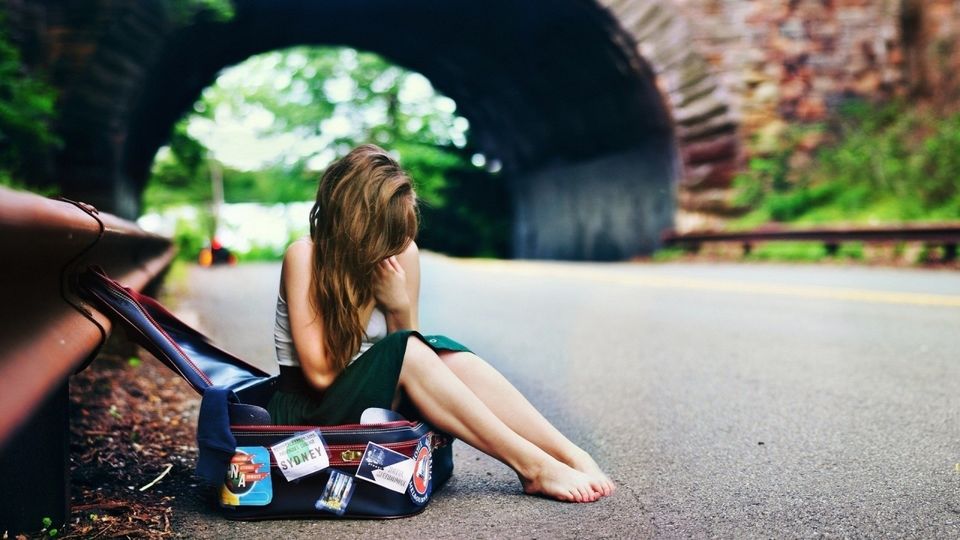 You have thought many times about taking a break from cobweb of your daily routine, booking the tickets and going on a vacation, but you are 'afraid'. Questions like "do I really want to spend my money on a trip?", "can I afford to take leave from work?" and "do I actually need this at this age?" have often popped up in your mind, and these have ultimately resulted in cancellation of your plan. Is travelling really required? Isn't it overhyped? Maybe you are 100% right. In order to strengthen your decision of not hitting the road, I have listed here 6 reasons why you should never ever travel in your life.
1. Riding sexy bikes doesn't excite you
Bikes are overhyped and ridiculously uncomfortable. That's what you think? Of course, because riding a powerful bike amidst breathtaking views doesn't electrify your soul. You don't want to leave the comfort of your home and hit the road. Why? Because going on a road trip with your bestie is way too mainstream, but boozing in a club on a weekend or doing online window shopping for hours is something that should not be missed at any cost. Besides, you travel daily from your home to office and back to home. So, there is definitely no need to travel as who knows, you may explore something new in the midst of your journey.
2. Gaining knowledge about your likings bores you
You know what's the most interesting thing about you? You love your glass of wine but you absolutely have no idea from where it came (no, it doesn't came from fridge). Of course, it is rational thinking of not giving a damn to the things that you appreciate. Going all the way to witness the journey of grapes that went through a long procedure of finally getting converted into the finest wine can bore you to death. Moreover, getting glued to television all day long is far more entertaining than being a part of this "Grape to Wine Journey" by doing such a boring activity called "Grape Stomping".
3. Getting adrenaline rush doesn't rock your world
Oh please, jumping from a height of 83 metres or hanging through a wire while going at a speed of 160 kmph is so common and anyone can do it. So, there is each and every valid reason for not doing it even once in a lifetime. You don't think Jaime Lyn was right when she said "Jobs fill your pockets, but adventures fill your soul." Definitely the happiness you get from doing a job daily that gives you a stable income but keeps you deprived from the joy of emotional happiness is far better than doing white water rafting once. You are surely not that person who wants to become his/her own hero by doing adventurous activities. Sleeping on whole weekend sounds more fascinating. Leaving your bed and going on an adventurous trip will be a total waste of time and money.
4. Beauty doesn't attract you
You totally agree that "Beauty lies in the eyes of beholder". That's why you are completely happy when you go to a shopping mall. Malls are stunning, aren't they? Why take the pain of crossing thousands of kilometers just to see picturesque lush green valleys or observe how people live on the other side of the globe? For instance, why would you care why Bhutan is known as the happiest country or why its hot stone bath is world famous? True happiness lies in taking bath with hot water that comes from bathroom geysers. Leave the natural beauty and unique experiences for the locals.
5. Strangers make you jittery
Solo trips? A big NO. Why? Because why would you want to spend some quality time with yourself experiencing some of the eye-opening and life-changing events? Total liberation is not what you dream of. You don't want to enjoy the "Me Time" because more than solitude, you appreciate traffic, your hectic schedule, crowded pubs and being with people whom you have to please. Meeting travellers on the way will make you nervous. So, it's better you stay at home because if you travel alone, you will meet new people on the way, who can probably become your friends for life. Who wants more friends? Not you.
6. Witnessing scenic beauty accidentally is dangerous for your eyes
Why would you want to lose your way when you have GPS with you 24X7? Getting lost once in a while to discover something amazingly splendid is not what you will ever want. Lucky you for believing that you know everything about this world! What traveling has taught me is that I know very less about other people, places, cultures, etc. How fool of me to think that there is a lot to learn!!! You are not less than a walking Google. Moreover, looking at huge mountains and thinking 'how tiny my problems are' will not release your mental stress in any way. Better not take any chance. What if it worked?
After knowing these reasons, if you think that all these apply to you, then don't even think of travelling. It may change your life for the best; making it a lot more delightful. So, be careful. Consequences can be fatal.
Happy travelling :D
Frequent Searches Leading To This Page:-
Lansdowne trip with bike uttarakhand, delhi to lansdowne distance by bike, solo trip to Lansdowne, Travel with partner