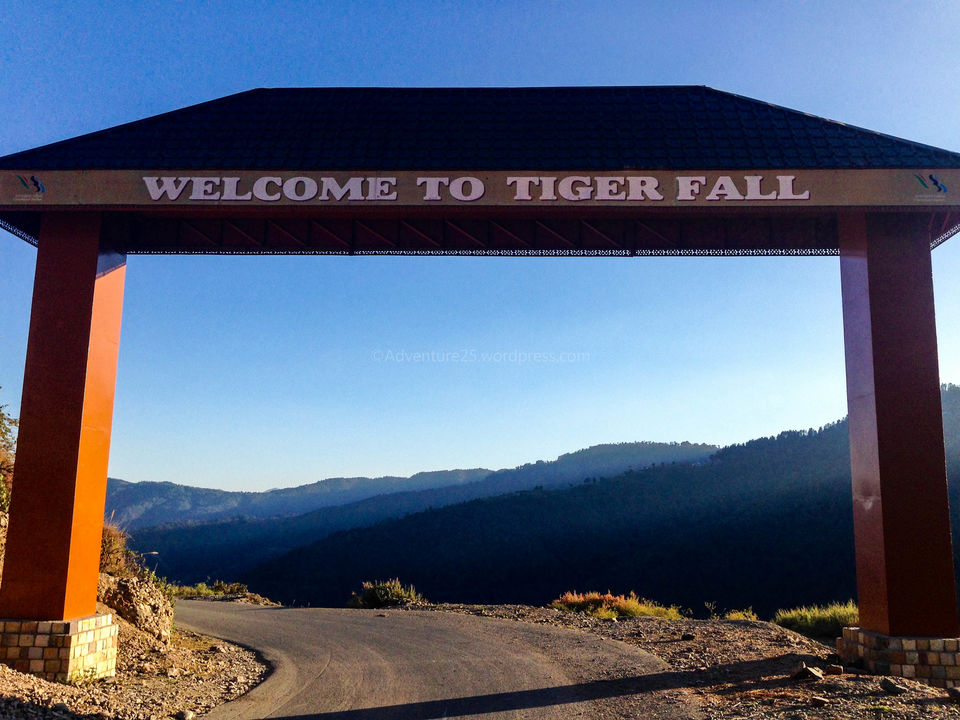 Journey Route:
Delhi -> Dehradun -> Vikasnagar -> Chakrata -> Vikasnagar -> Dehradun ->Delhi
So long weekend was coming and I and my husband were ready with our plans for a short relaxing trip to Chakrata. Because of Demonetisation we had only 4000 INR in hand.
Chakrata is a small cantonment town in Dehradun district in Uttarakhand.It is situated between the Tons and Yamuna Rivers, at an elevation of 7000–7250 feet, 98 km from state capital, Dehradun and was originally a cantonment of British Indian Army.
The area is known as Jaunsar-Bawar, belonging to the Jaunsari tribe, which still has a marked presence in few surrounding villages.
Chakrata is an access-restricted military cantonment, and foreigners are restricted from visit. Notably, it is the permanent garrison of the secretive and elite Special Frontier Force, also known as Establishment 22 (called "Two-Two"), the only ethnic Tibetan unit of the Indian Army, which was raised after the Indo-China War of 1962.
GSo here goes our trip.
Day 1 (11/11/2016): We boarded bus from Kashmiri gate ISBT at 11:00 PM for Dehradun.
Day 2 (12/11/2016): Reached Dehradun at 5:00 AM. We checked with the conductor for any direct bus to Chakrata and he told us about a 5:00 AM direct bus to Chakrata from Railway station. But by the time we would reach, it would be already gone. So from bus stand we took a bus to Vikasnagar and from Vikasnagar there are frequent service of bus and local jeeps.
Dehradun to Vikasnagar ticket was 40 INR per person and it took 2hrs to reach Vikasnagar. From Vikasnagar we took another bus to Chakrata. Ticket cost 80 INR per person. The road cuts through beautiful meadows. It took two hours to reach chakrata.
At around 9AM we reached chakrata. Uttarakhand's most isolated and beautiful region and largely untouched by the modern world with idyllic spots to relax and forget.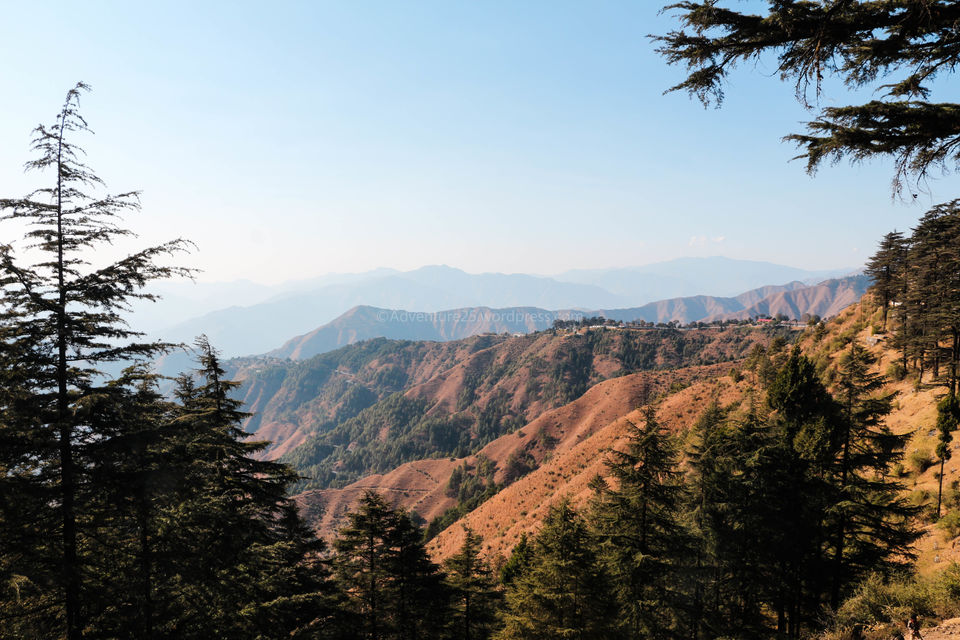 We freshened up there and had breakfast at Mehta Restaurant. After having breakfast, we were ready for our journey.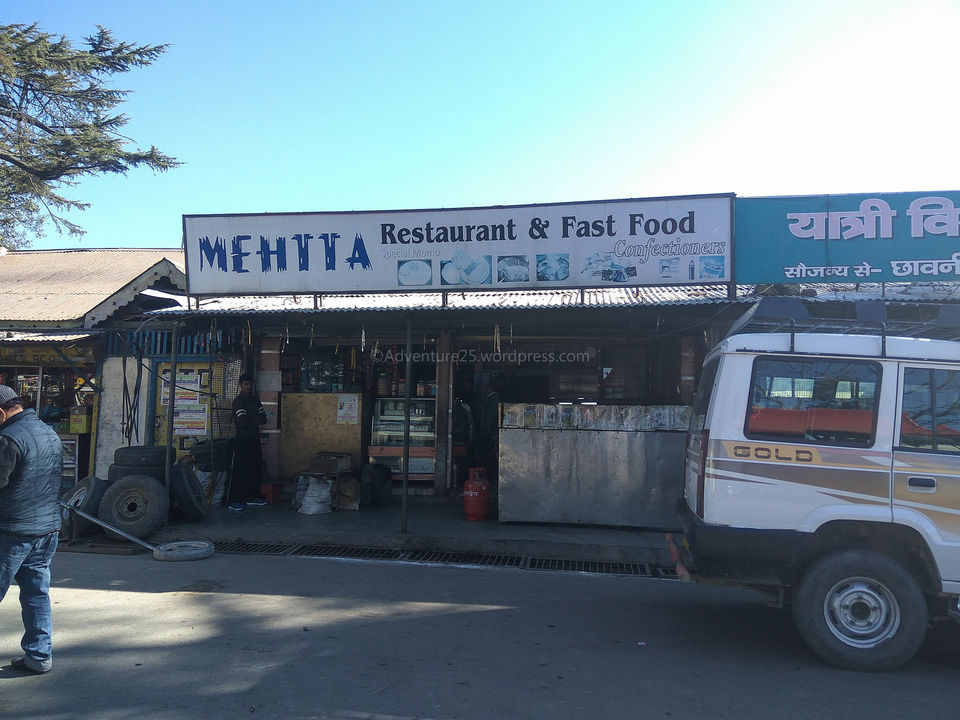 First in our itinerary was Tiger Fall. Tiger Fall is the highest direct waterfall in the country. It is 20 Km from Chakrata at an elevation of 312ft.
There are two ways to reach Tiger fall 1) Book a taxi, costs around 1500 to and fro. 2) Trekking.
We went with the second option and asked a military person for way to Tiger fall. He guided us about the trekking route. The main route and trek routes are adjacent to each other. The main route is uphill and the trek route is a narrow path downhill.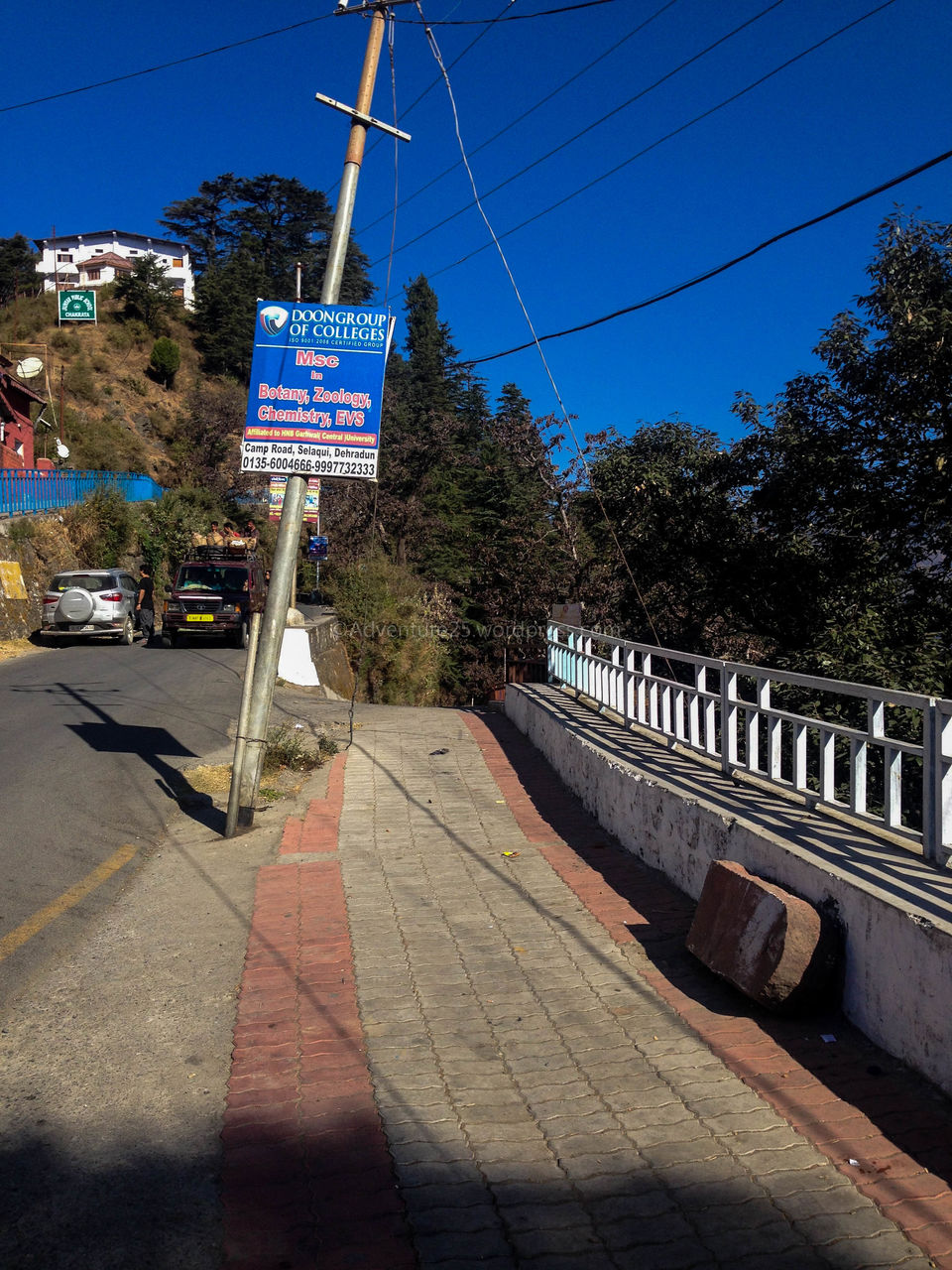 Under the bright blue sky, we started our trek. After walking 100 or 200 mts, a military gypsy offered us a lift for the first Km downhill and we hopped in the jeep instantly.
There is a Gurudwara after 1KM on the trek way. And this is the only big Gurudwara in the city. After the gurudwara, is a military base. They dropped us there.
Till the military base, the route was cemented and well defined. After that the real journey starts. After some zig zag turns, we entered in the jungle. A vast natural silence just beyond the sight. The forest was dense with no route. We were all on our own.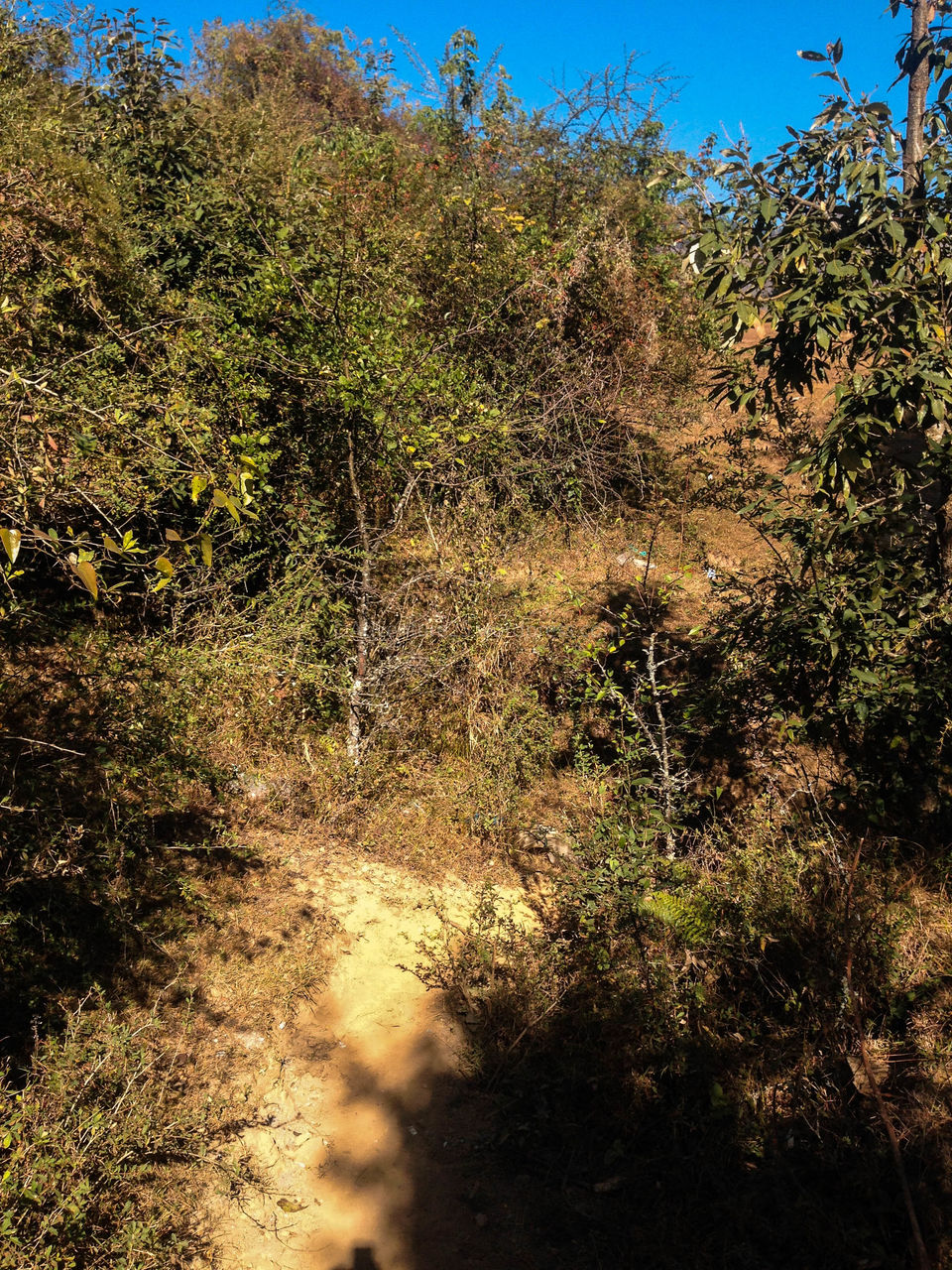 The good news is, cellular network is available and you can use Google maps. We turned on our gps. The forest starts getting dense and we came across some steep and perilous turns. The journey is like walking into "No Man's Land". There were few moments, we were losing hope and thought that we are getting lost in the forest as there was no one around and just the bugs whistling in our ears.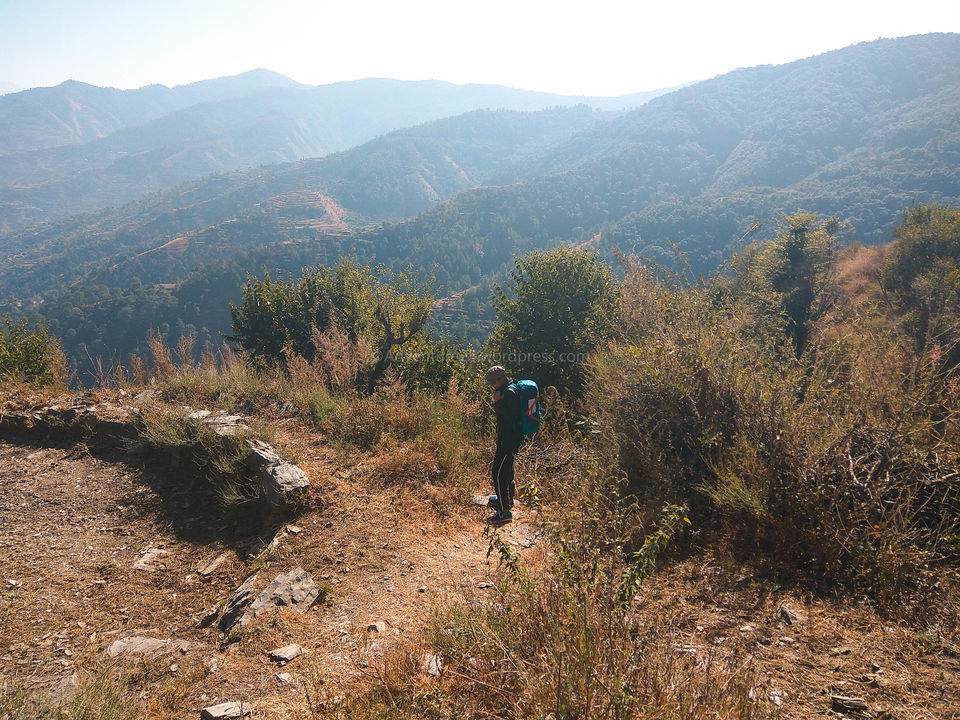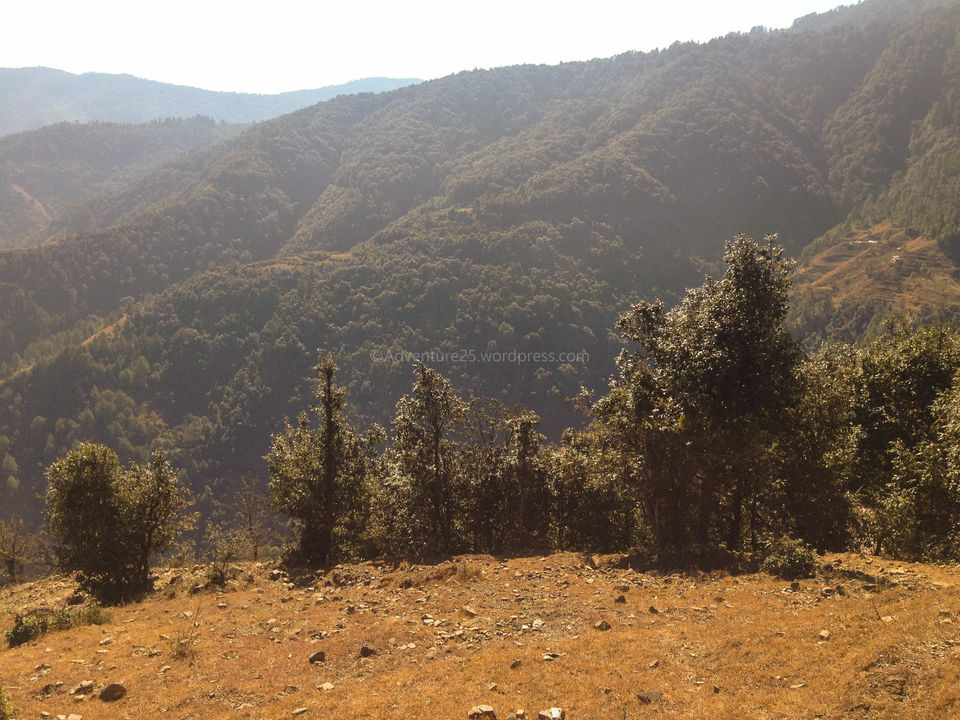 But we were determined and undeterred, no matter what we will find our way! We came across some shepherd huts. They were doing their winter preparation. We asked them, and they assured us that we were on the right path.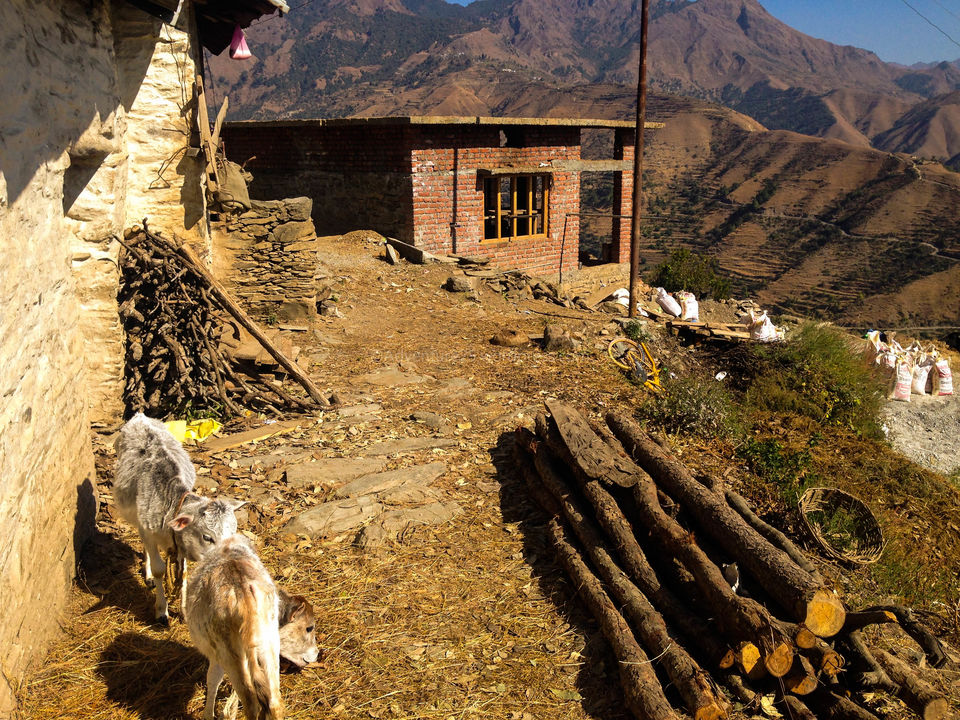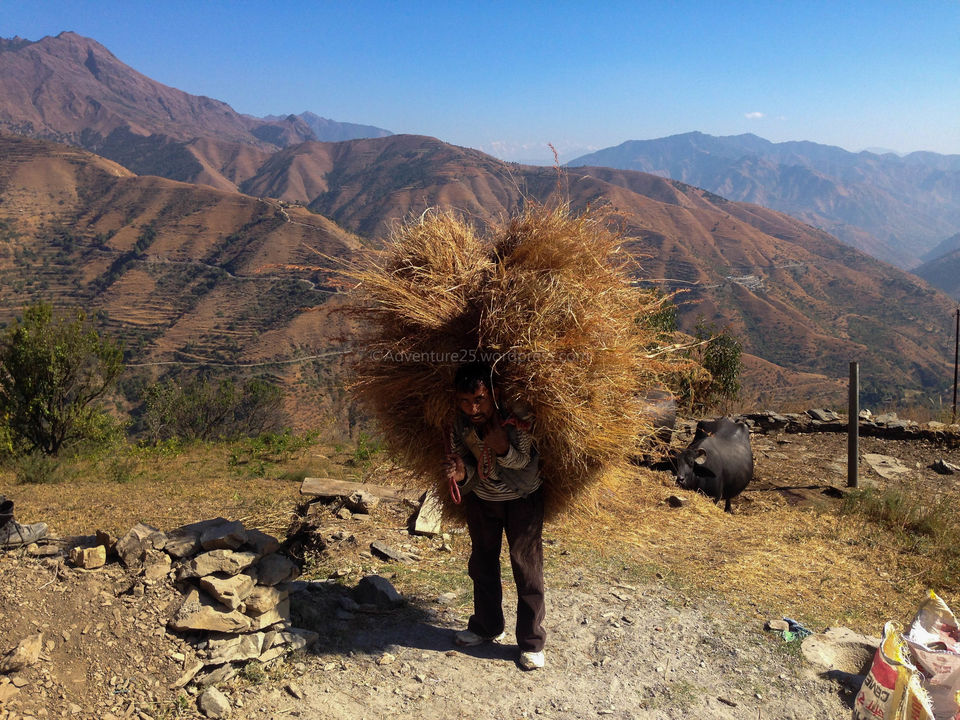 On our way, we came across a lodge- 'Tiger Fall Lodge'. This lodge is a landmark for arrival in the vicinity of Tiger Falls. From this point, tiger fall is 700 meters further downhill.
We could hear a faint roar of falling water from a distance and since quite some time along the way. This beguiling sound gave us hope that we are in right direction but still the great waterfall was nowhere in our line of sight. Following this sound, we kept descending the hills for half an hour more and finally reached our destination.
There is a small cafe right at the corner before the fall called "Tiger Fall Cafe". We put our bags and headed towards the waterfall.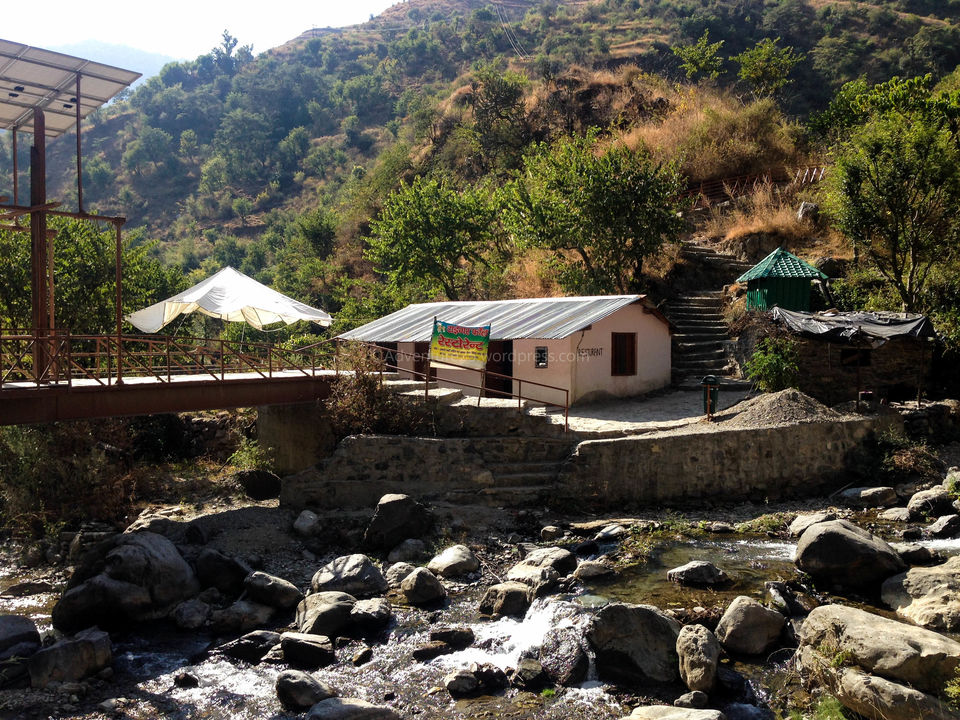 After few hidden turns, the Tiger fall finally burst into view. A stunningly huge water fall surrounded by spacious fold of valleys, rising from above and gushing over the rocks and thundering down into the pool like a gigantic water spout. The pool at the bottom was crystal clear and the rainbow formation above the pool was a mind refreshing moment. We wanted to throw ourselves in the water but the water was bone chilling. We sat quietly, admiring the nature's grandeur and feeling the bliss deep within.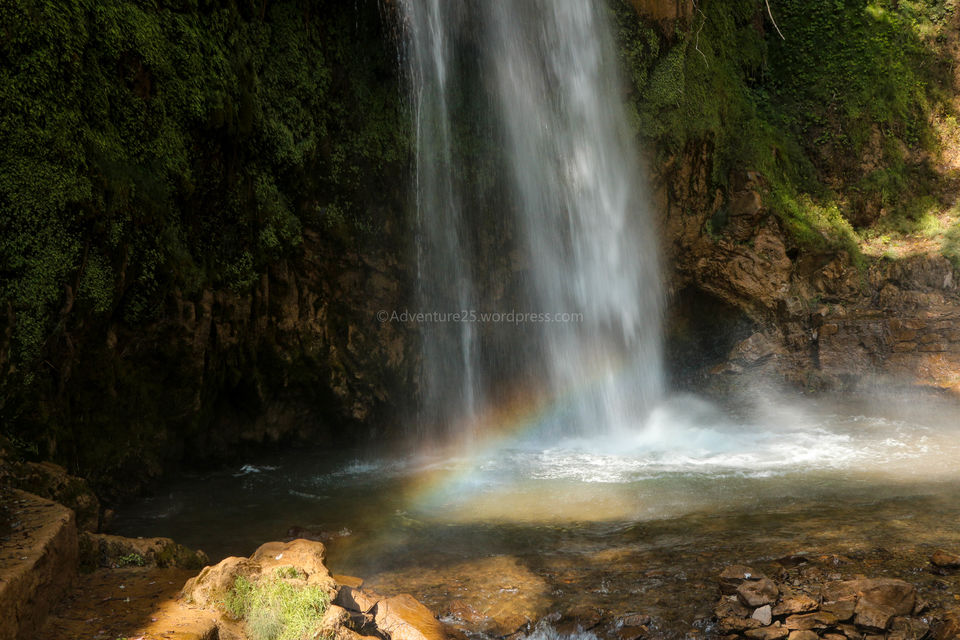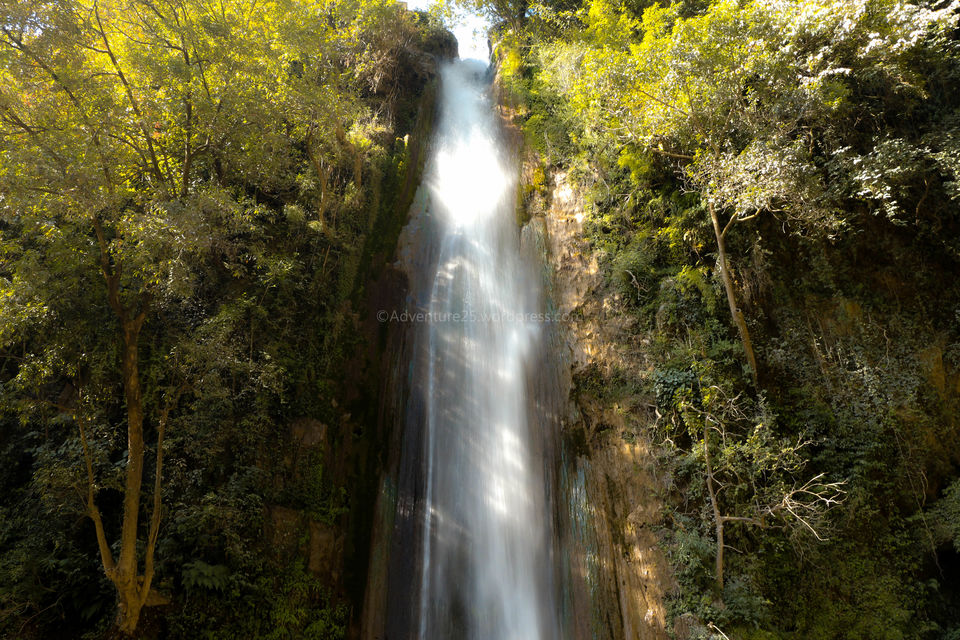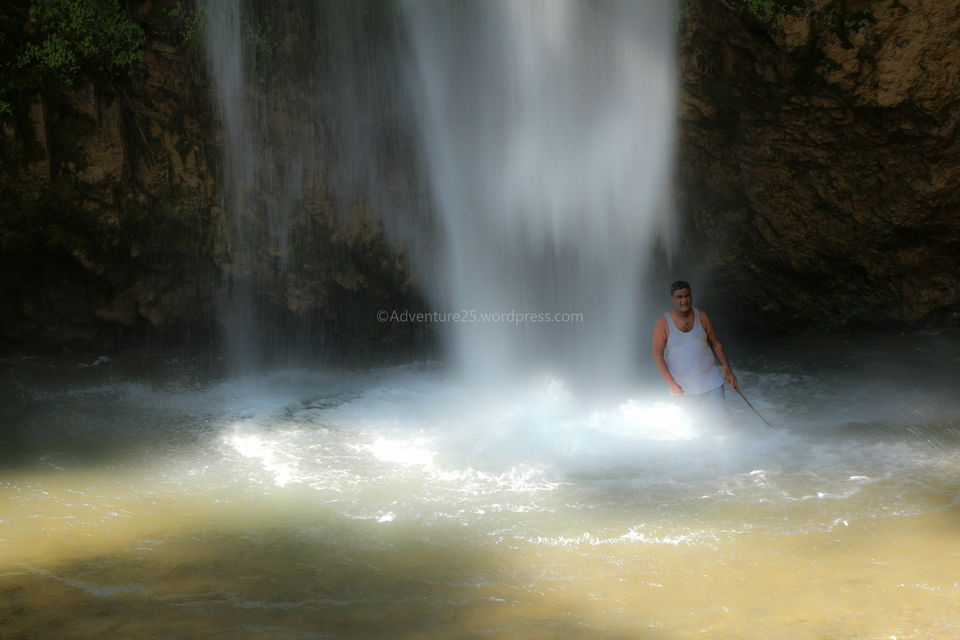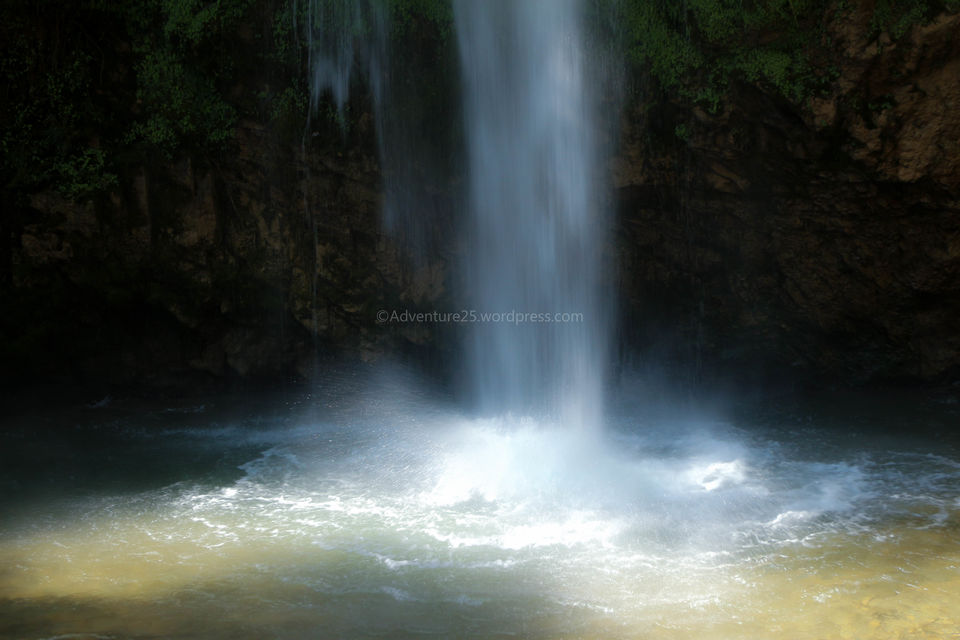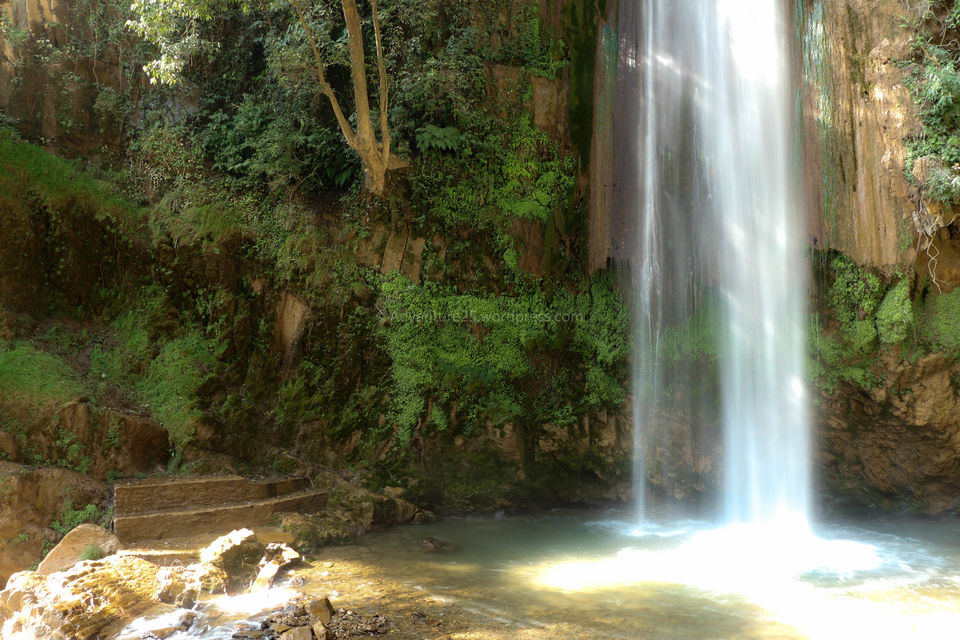 After that we had our lunch at the "Tiger Fall cafe". This restaurant also provides a room. So if one wants, one can stay here. Some simple food along with Maggi, bread omelet eggs is also available here.
Before the trip, I had read somewhere about "Kimona Falls". So we decided to visit there also. We asked the café guy for way to Kimona, and he guided us with directions.
After moving from Tiger Falls, we took left and there were cemented stairs uphill. We kept walking upstairs and reached a restaurant that was adjacent to the road.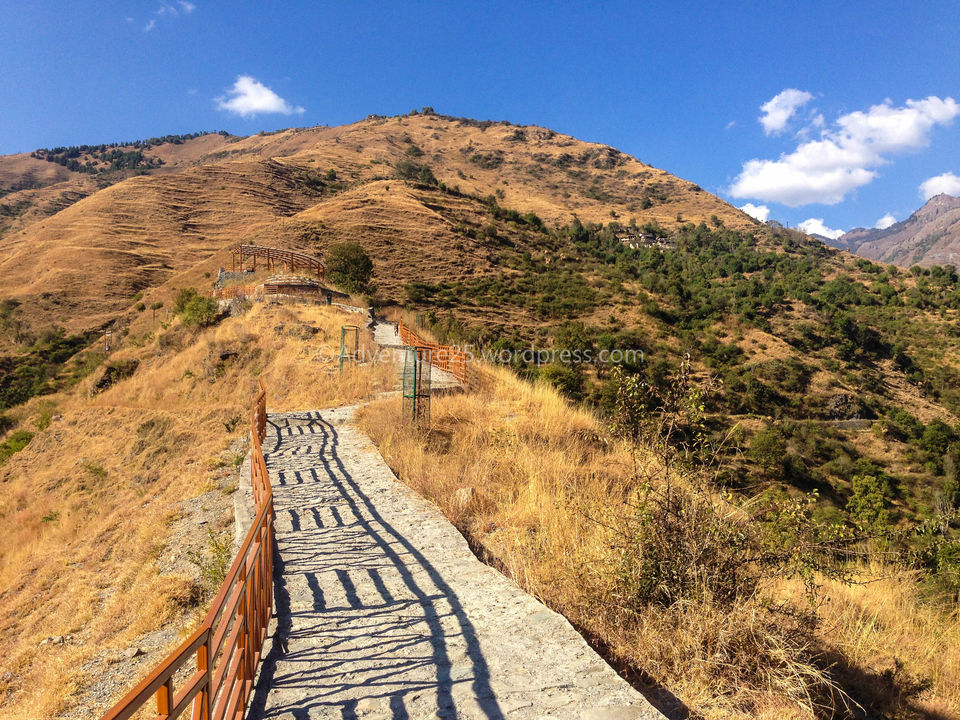 Tiger Falls distance from this restaurant is around 1 KM. We took some rest to catch up on our breath; chit chatted with the shopkeeper and asked him way towards Kimona. He told us there are two ways - by road 25Kms and a shortcut by trekking and climbing through the hills. Our journey took an adventurous turn. This trek was not in our list. The shocking news came as a surprise gift.
He pointed his finger towards an electricity pole with four pillars. 'Just keep climbing this mountain and reach till that pole and after that you will get a road' - were his only instructions.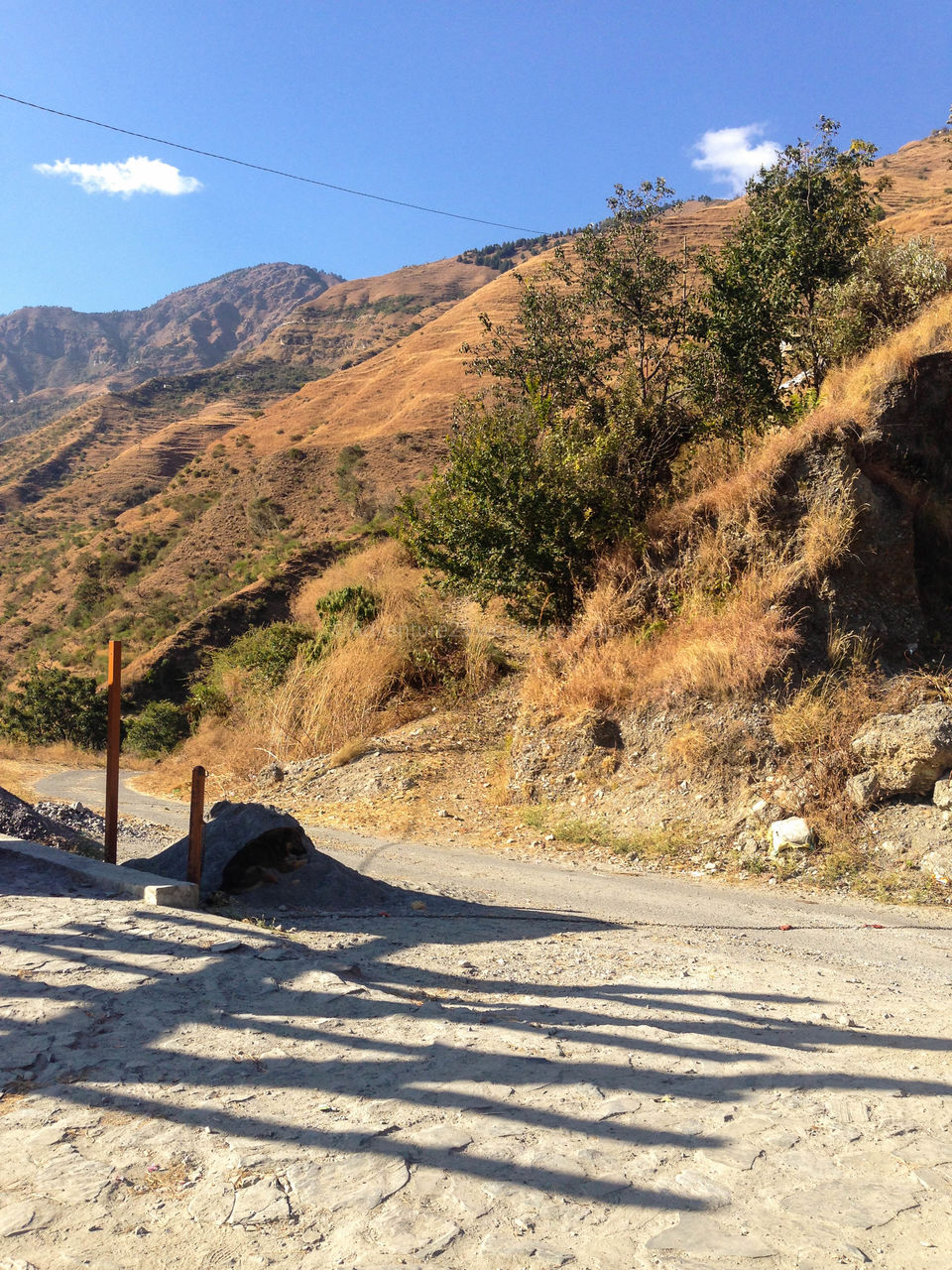 Slow n wobbling; we started our ascent from the foothill of this ruggedly beautiful mountain. The target was the "Pole" and we have to reach there. We fought our way through long dried grass and thorny bushes.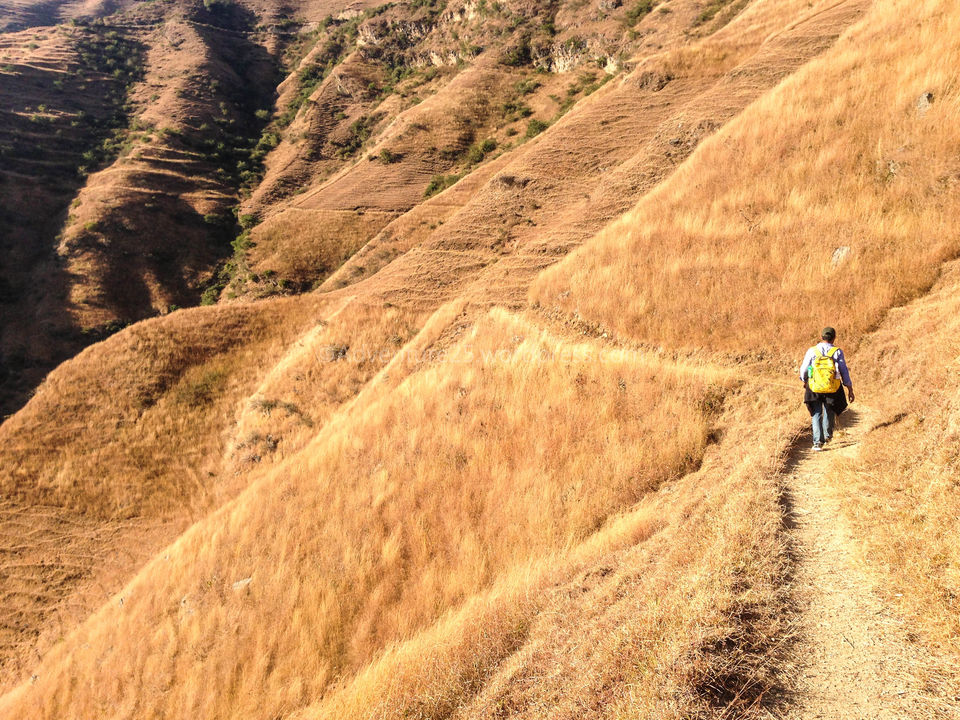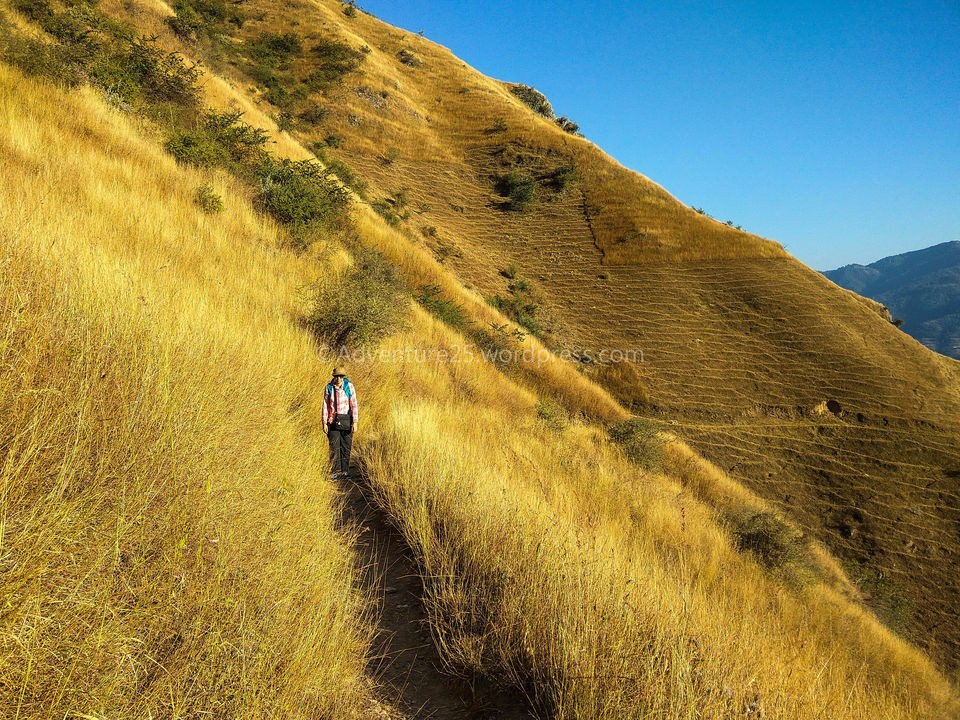 On our way we met some villagers doing their winter preparation. We waved at them and confirmed that we are on right track. They too nodded in YES and told us to climb straight to the pole. As we were walking into a totally unknown territory, the journey was adventurous and enjoyable at the same time. After two and half hours we reached the pole.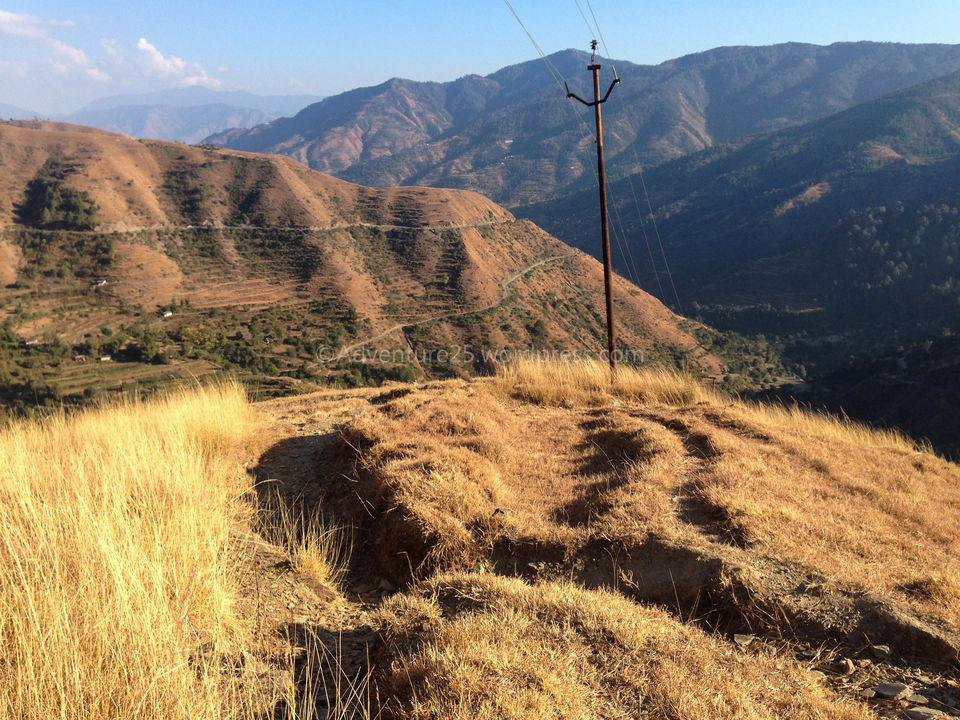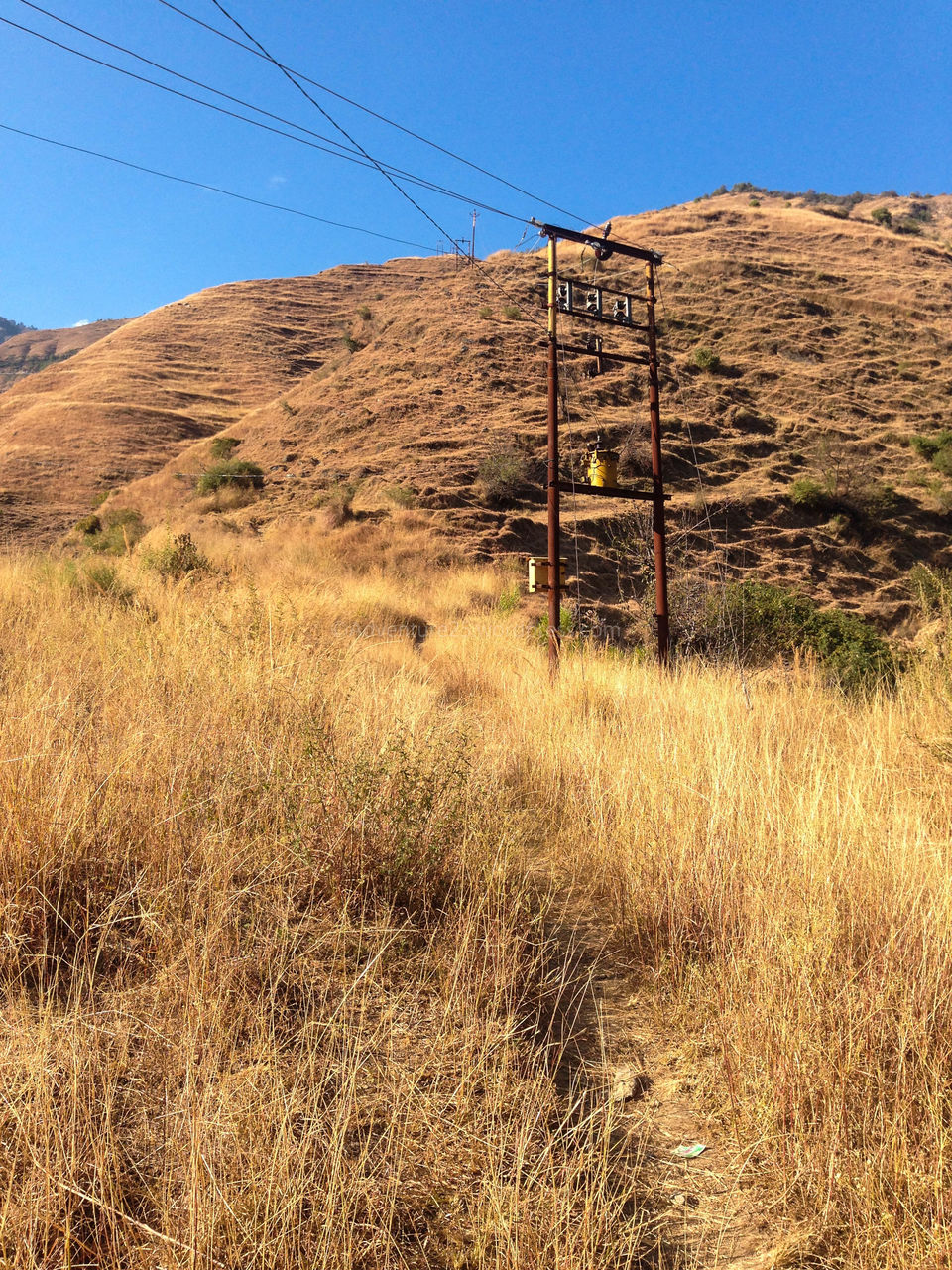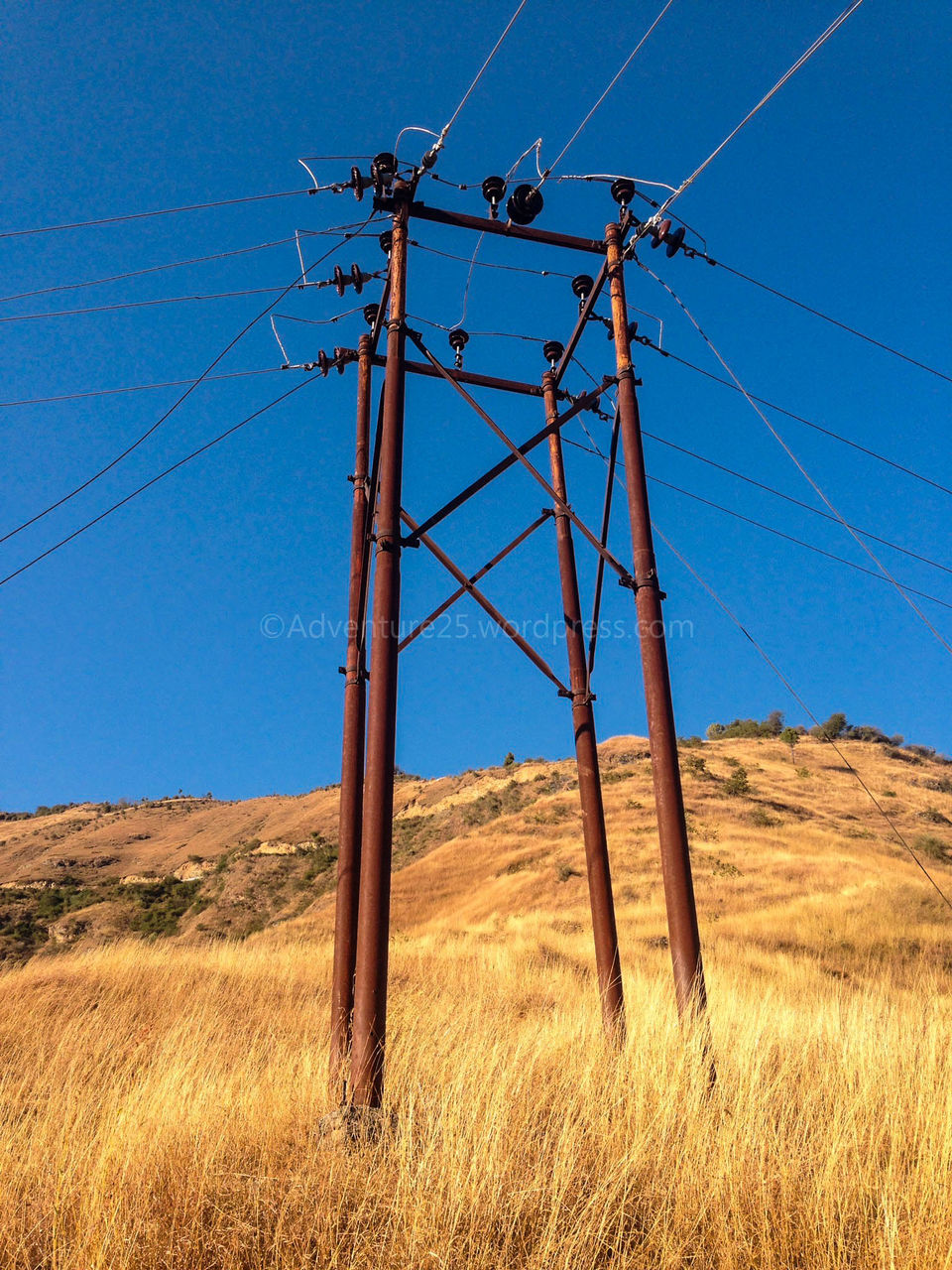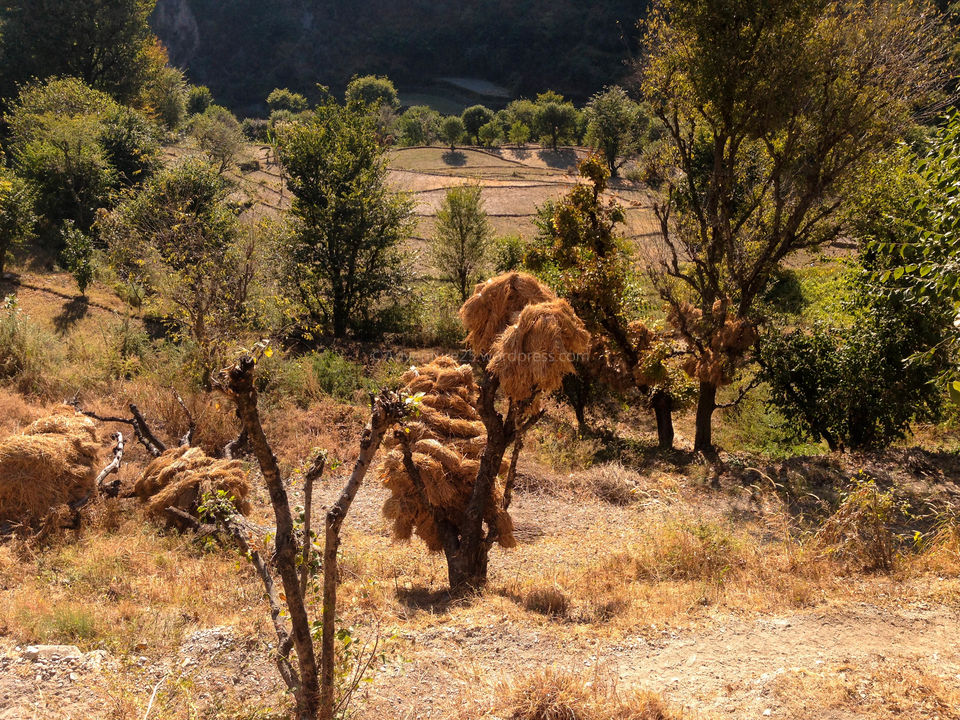 After reaching pole, we got some respite that finally we reached our destination and soon we will get the main road. We met some school kids. They told us, Kimona is still far and you have to climb almost 1 hour more. All our excitement became dust balls.
But this shortcut is taken by these school kids every day to go to their school and back home. We were amazed and filled with respect for their ardent caliber.
Now from dried caramel colored grassy mountains the journey changed into green bushy forest with lots of thorns. My leg was for once filled with lots of thorns.
Nevertheless, we had only one thing in mind, we have to keep on marching straight upwards.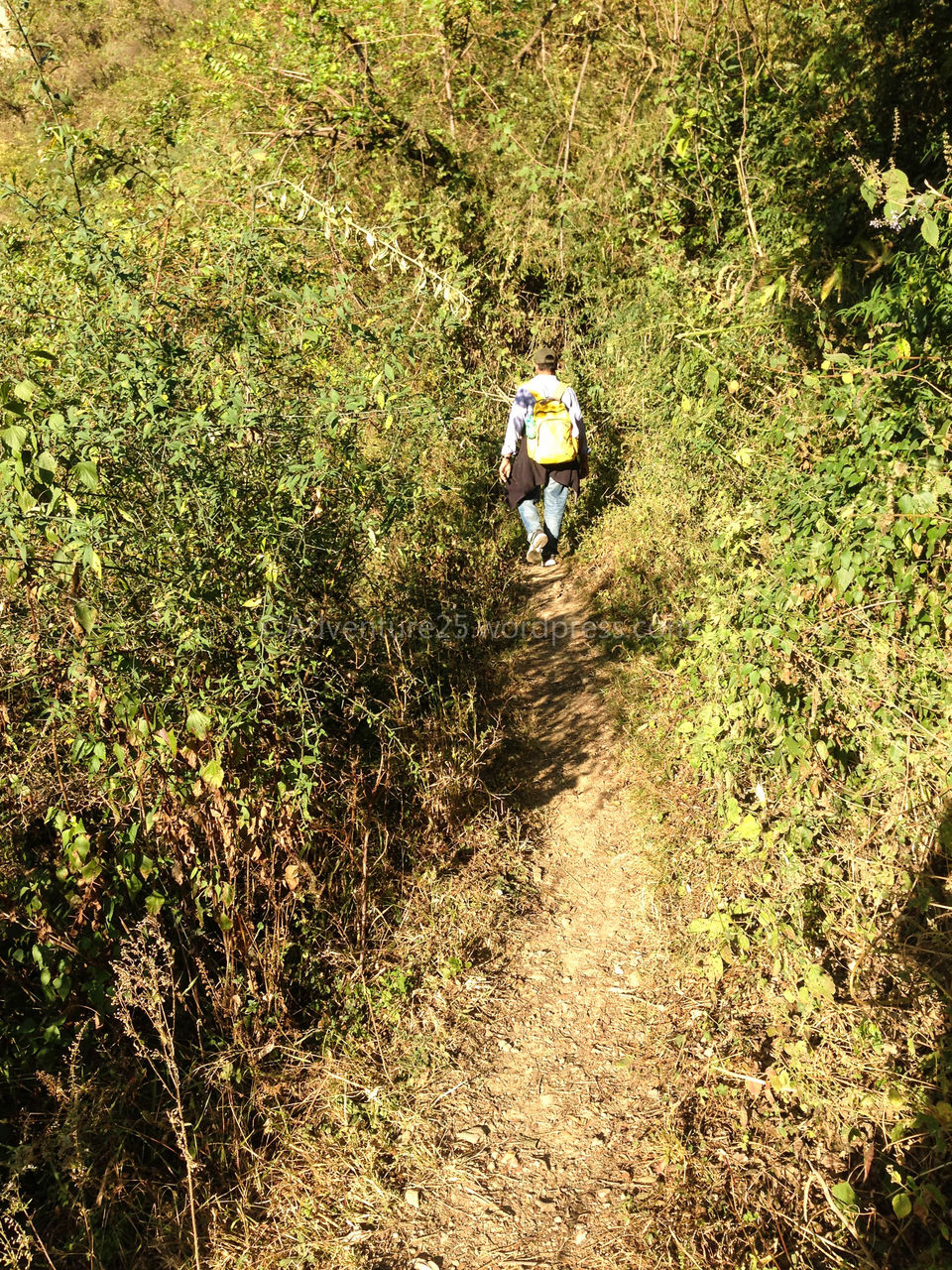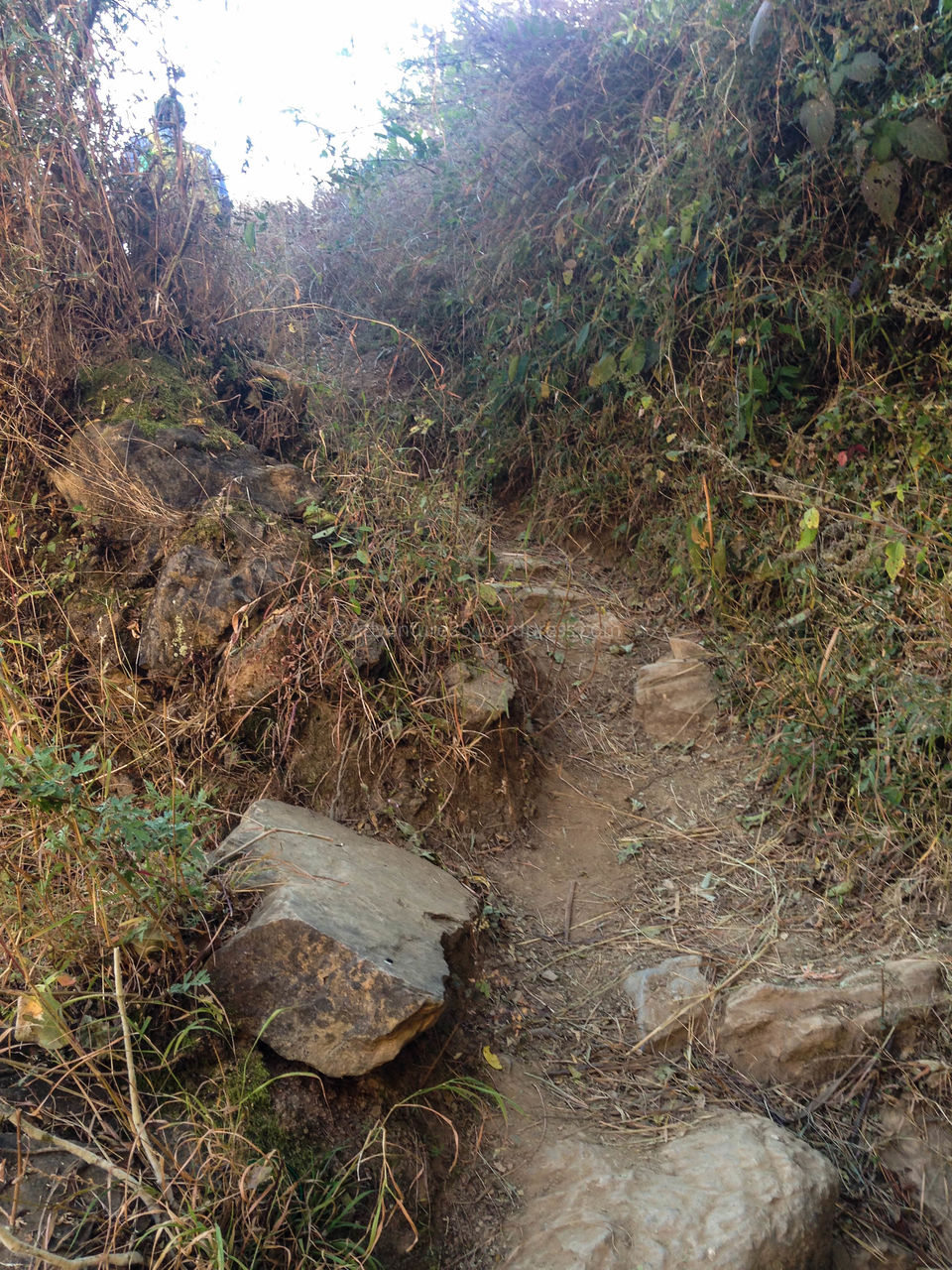 Finally that "Epic moment" arrived, when the roads came in our view. We walked 3 KMs more on road and reached Kimona, around 5PM in evening. So much tired after an unanticipated trek, we thought, let's find a room and stay overnight in the village itself. We could see Kimona Falls in the morning.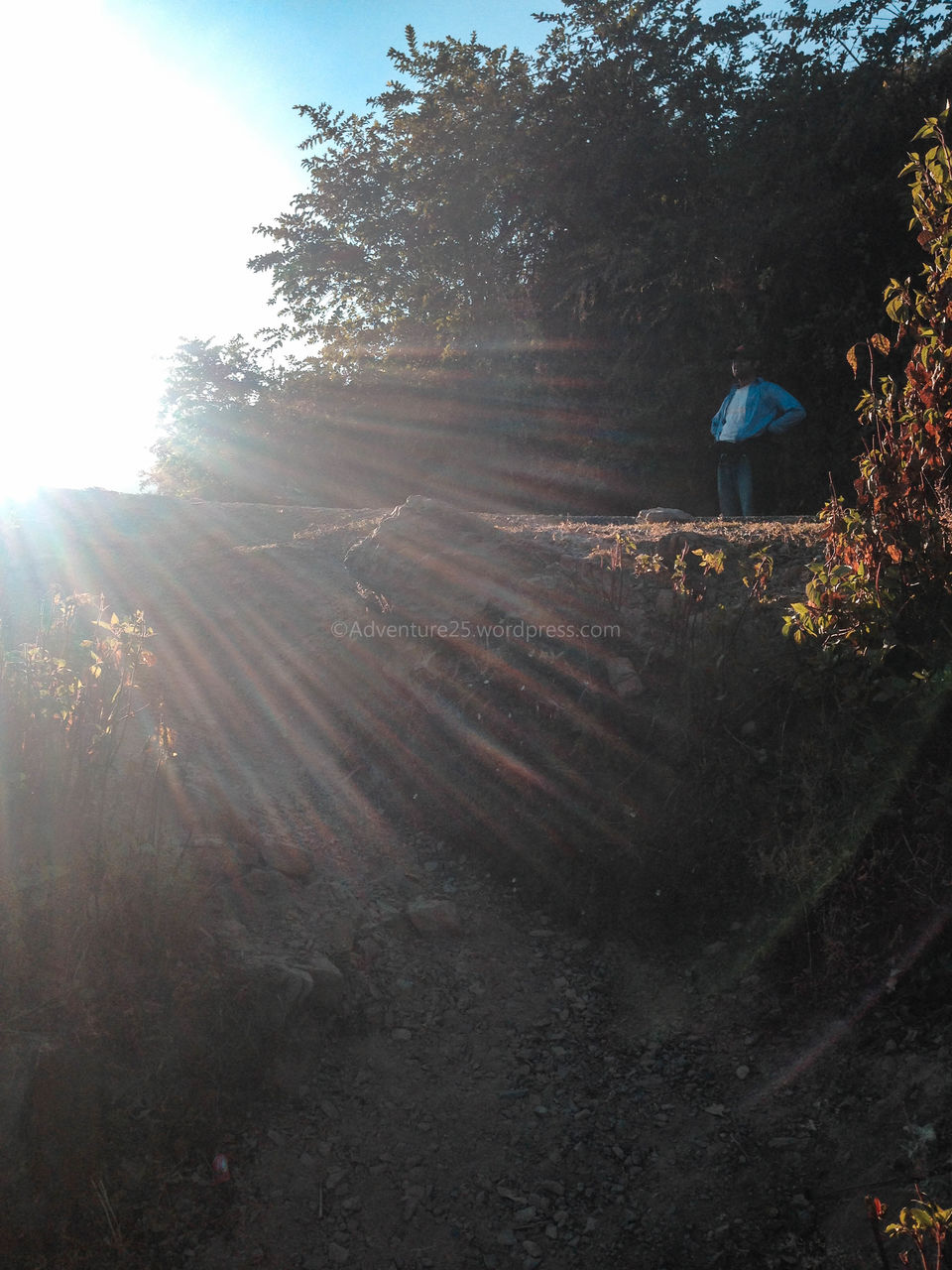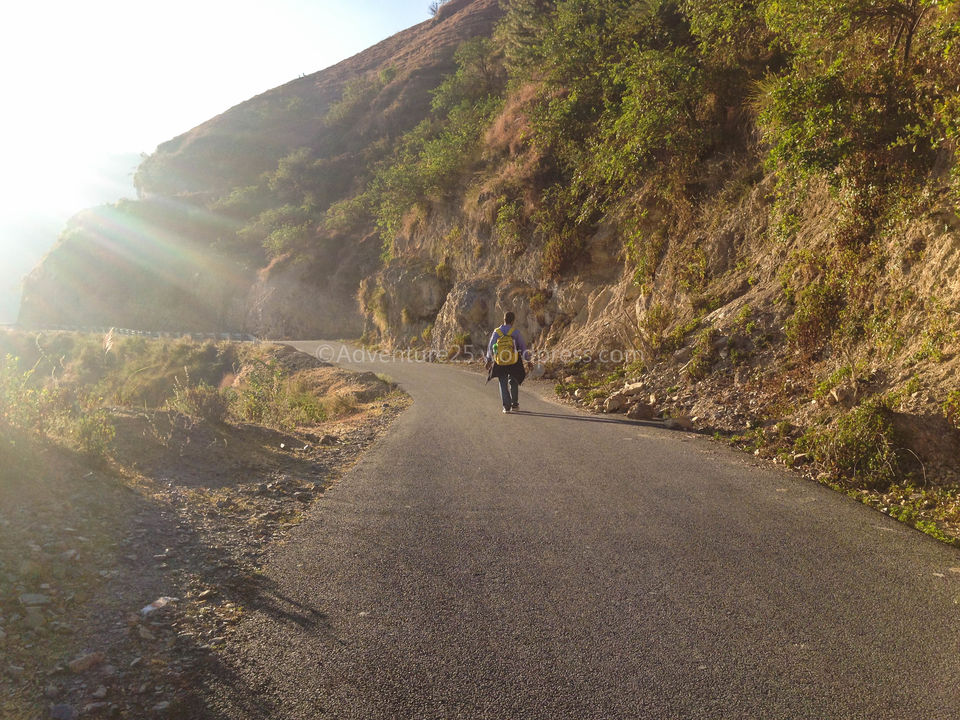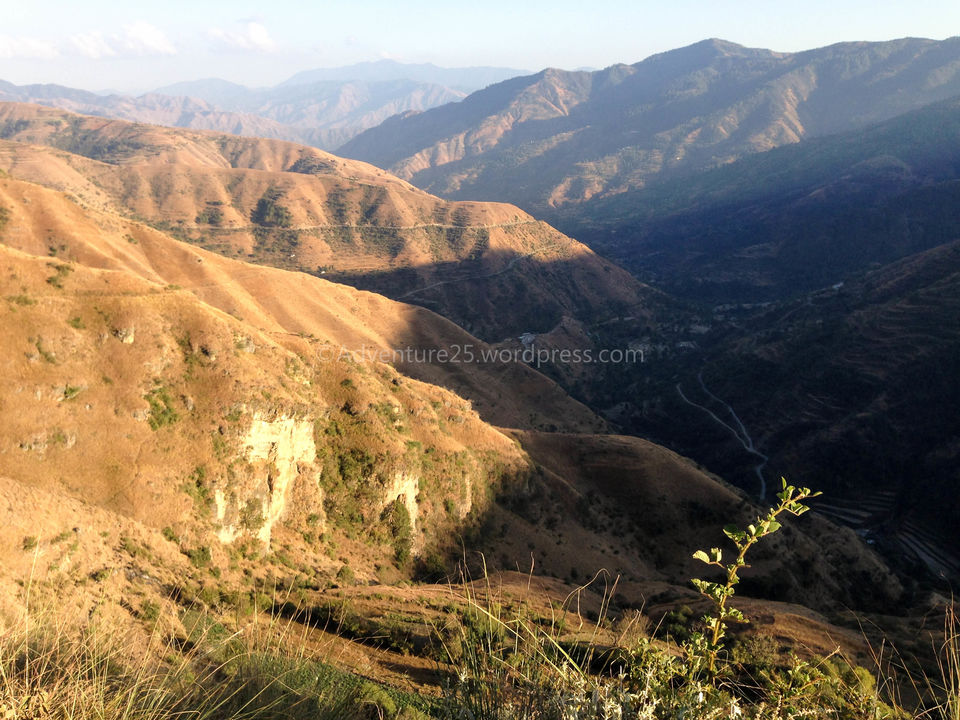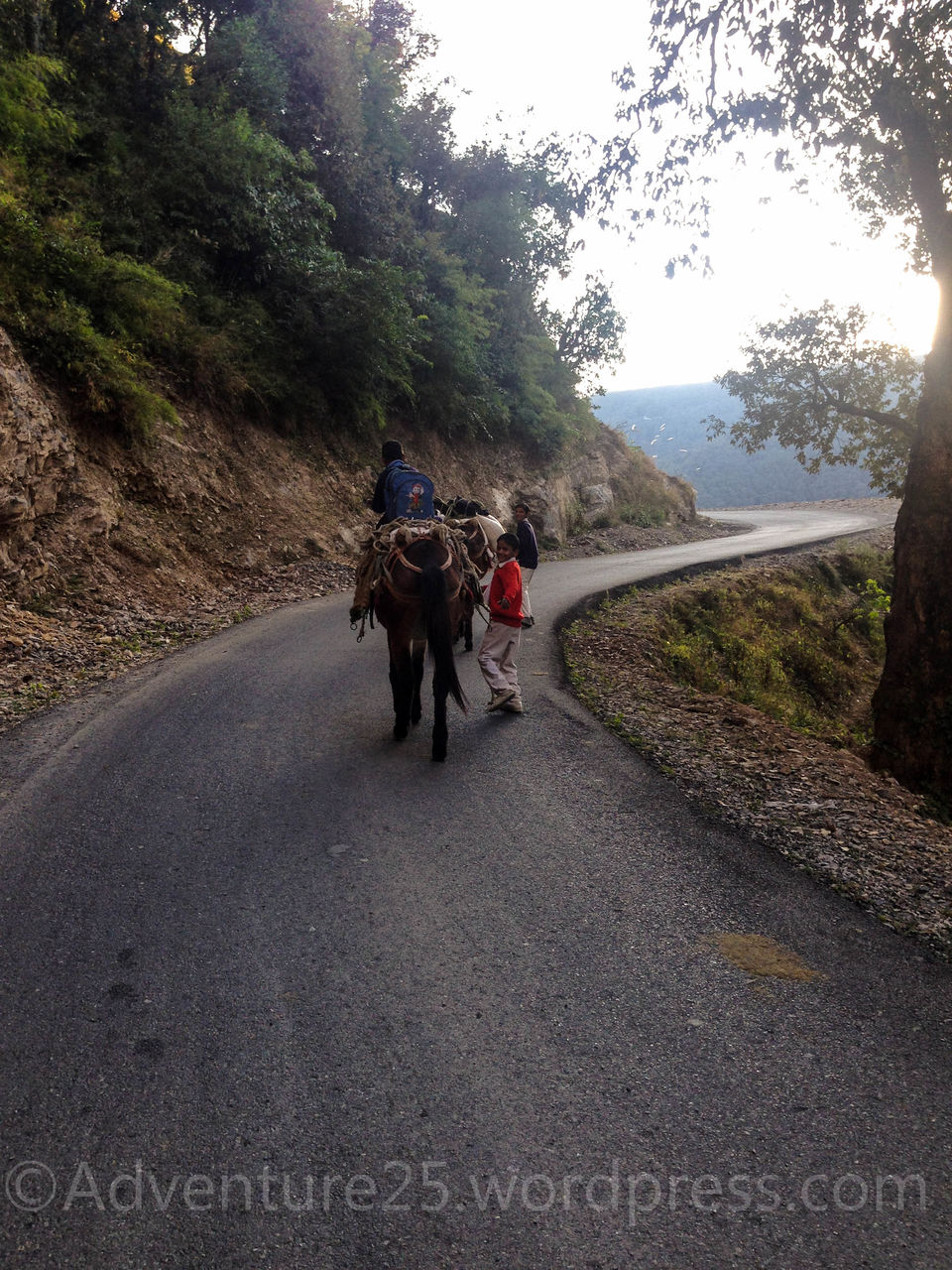 Kimona is a very small village. There were only two hotels. One was closed and another was beyond our budget. There were no homestays.
Night was approaching, and there was no accommodation. We were too much tired, hungry and dirty. We thought to return to Chakrata. Felt sad, after this entire trek we could not make it to Kimona falls. We promised each other, will make one more attempt again in future. Out of grief and heavy heart, we went to look for any transport to reach chakrata. A white wagon R was passing by and we asked the owner for a lift and to which he readily agreed.
We reached chakrata around 6PM. Very few hotel options are available here. We zeroed for "Rana Ji Guest House". Run by an accommodating couple who also runs their tailoring business. Nice backpacker rooms for 300 INR per night.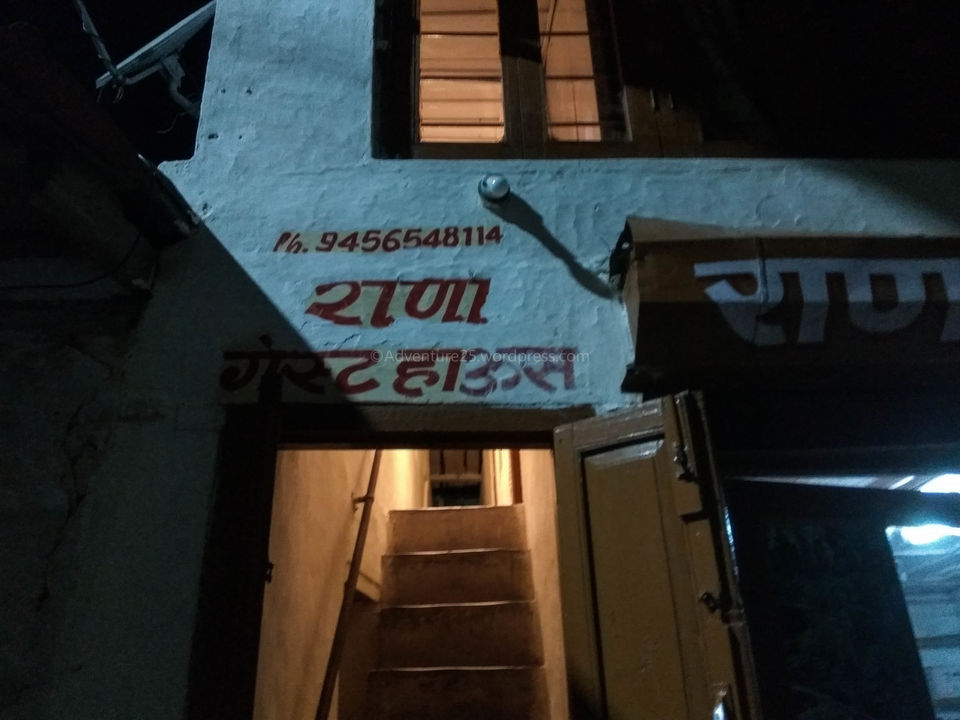 They provided hot water for shower. After freshen up, we took rest for some time. After that we went for our city walk and dinner. Ranaji recommended "Sher-e-Punjab" Dhaba. The aroma was spread almost across 50 mts radius. The food was delicious, like orgasm on a plate. We were very hungry and ate like pigs.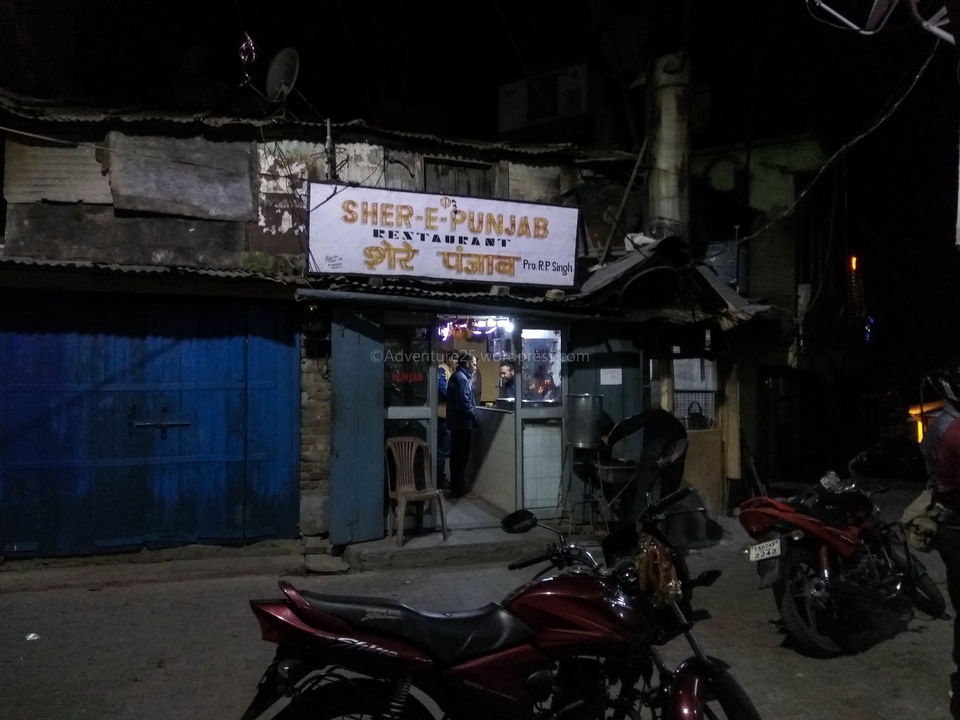 After that we went to our rooms and hit our bed. Later we decided to cancel visiting the other places in our itinerary and rather stay in Chakrata, enjoying the quaint way of life in this surreal place. As we can never get this moment anywhere.
We went to sleep with decision that we are not going to wake up before 11.
Day 3 (13/11/2016): The next day, in the heart clearing silence, we woke up around 12 noon. Got ready and then headed for our city walk. First we had Breakfast cum lunch at Janta dhaba. Nice Dal chawal and roti sabzi. After that we inquired people about Danda peak and chirmiri point.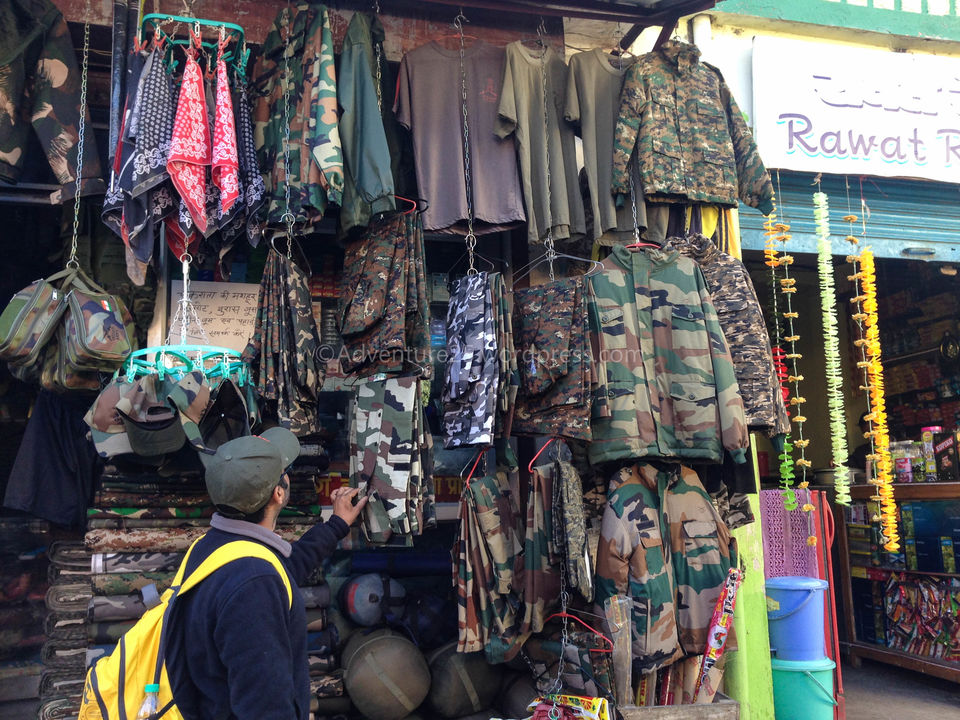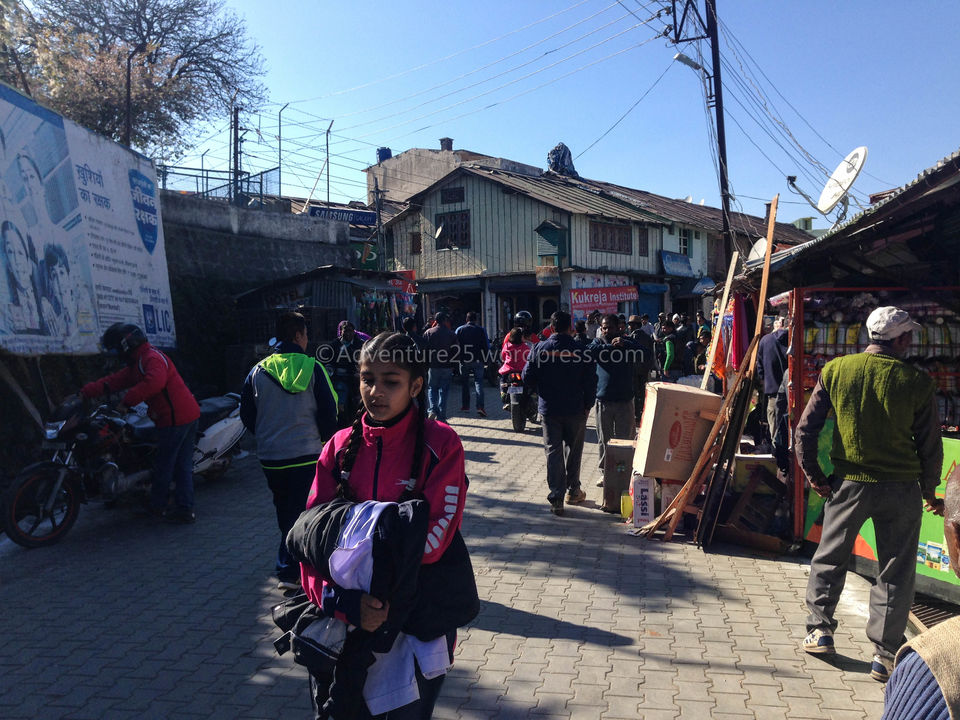 Danda peak is the highest peak of Chakrata and chirmiri point provides a fantastic sunset. Both these places are adjacent to each other. As we were walking towards danda peak, a local boy on his bike came and told us that danda peak is quite far and it would take one to two hours by walking. We asked him hesitantly, if he could give us a lift. He said yes and next moment we hopped on his bike. Within 15 minutes he dropped us at the V-point. The way going upwards is Danda Peak and the way going downwards is chirmiri point.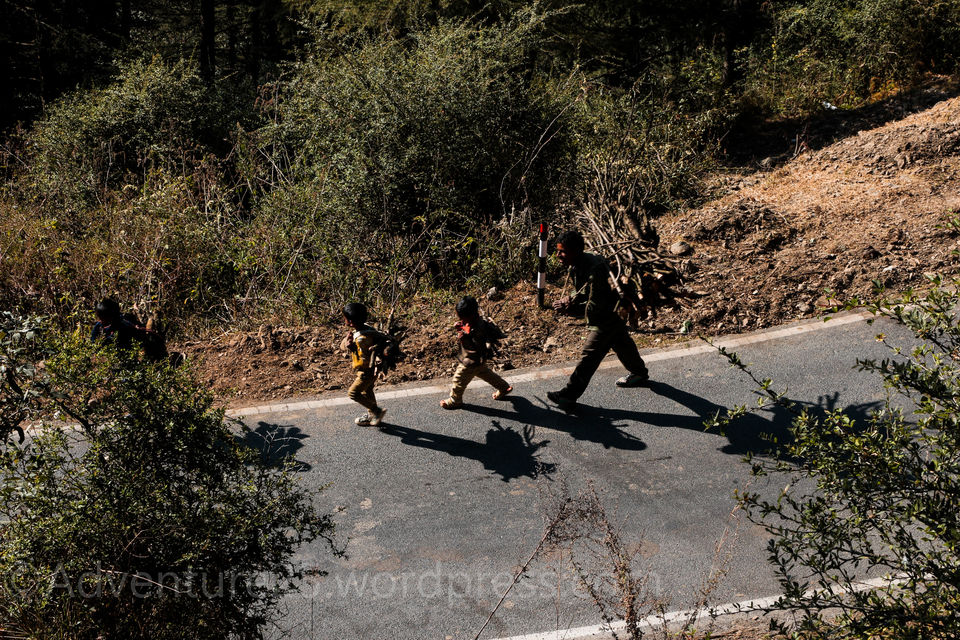 We reached around 3PM. First we went to Danda Peak. Its 10 mins walking from the V-point. The nirvana quite mountain had a platform peak. It was a nice sunny day to relax, do sun bathing and enjoy the 360 degree view of whole chakrata town. Lazily we lied on the grass. We were enjoying the panoramic, soul engulfing vista in this vast natural silence.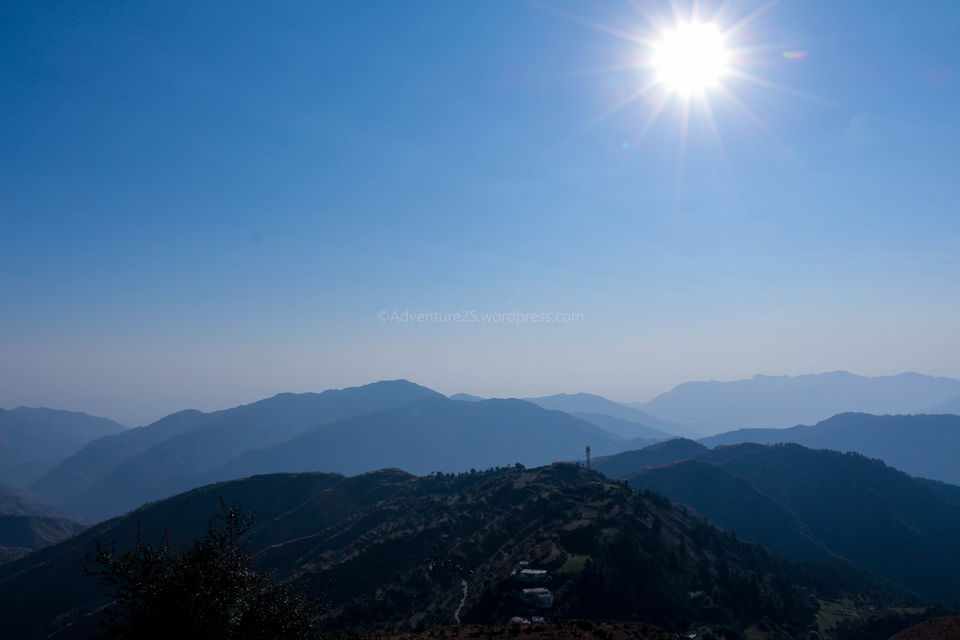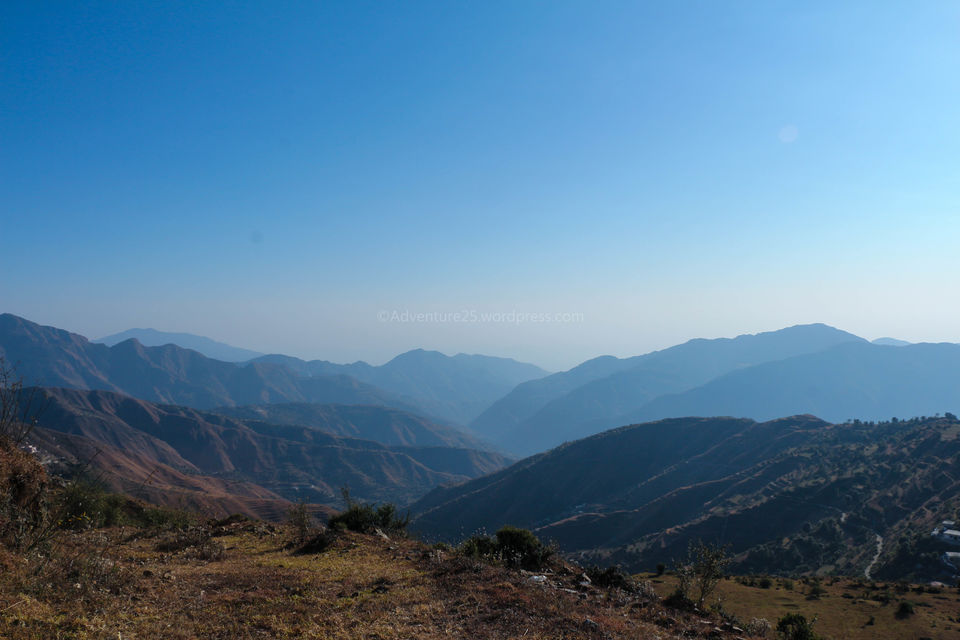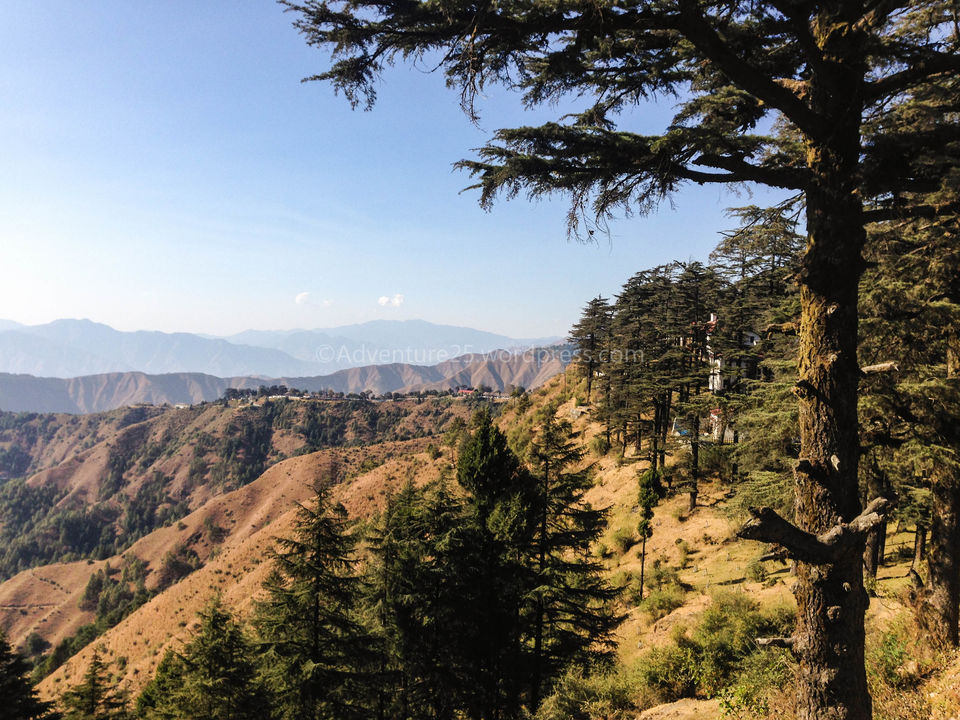 Evening was approaching and the sun was about to start its descent so we also descended downwards for chirmiri point. At the V-point, we met some local people and after some chit chat with them, we came to know one of them was mukhiya of the village. They were preparing a bonfire. They invited us for tea. We enjoyed tea and bonfire. After that we headed for chirmiri point.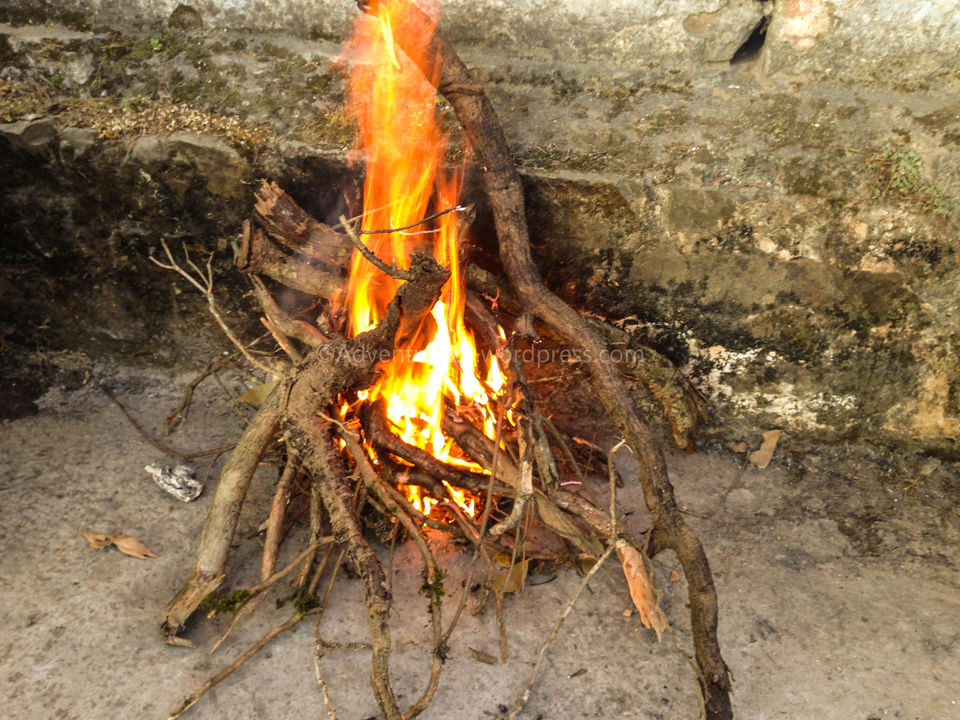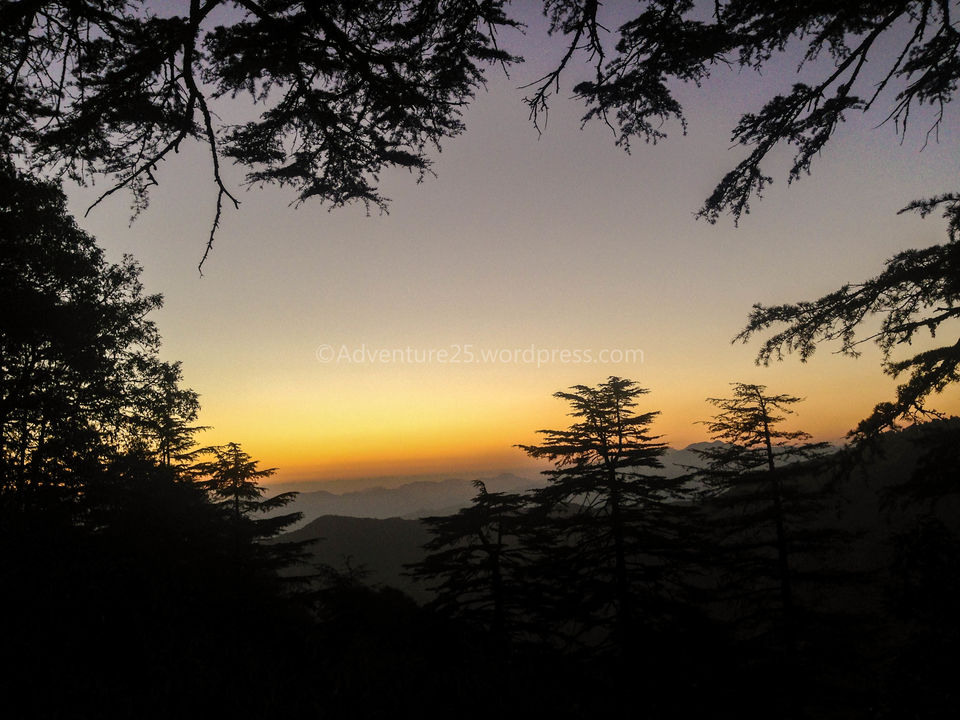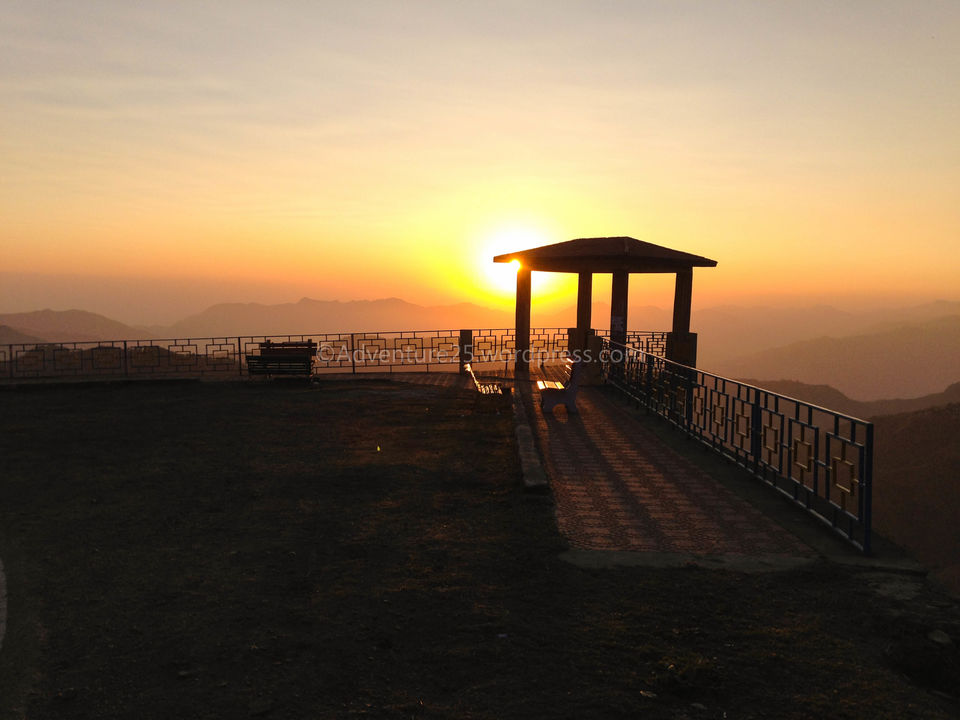 The mountains around me had turned golden. The sky was a canvass and a beautiful picture was painted by god. Who needs firework, it was Nature's most impressive light show. A moment like this may never come again and we were enlightened to have our hallelujah moment. Slowly and gradually the big fiery ball drowned in the valley.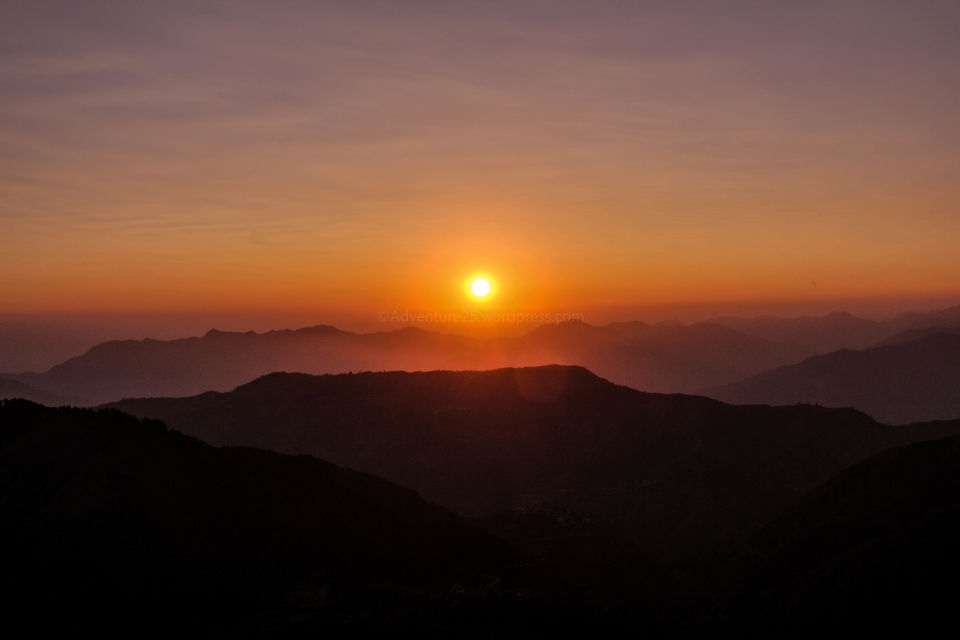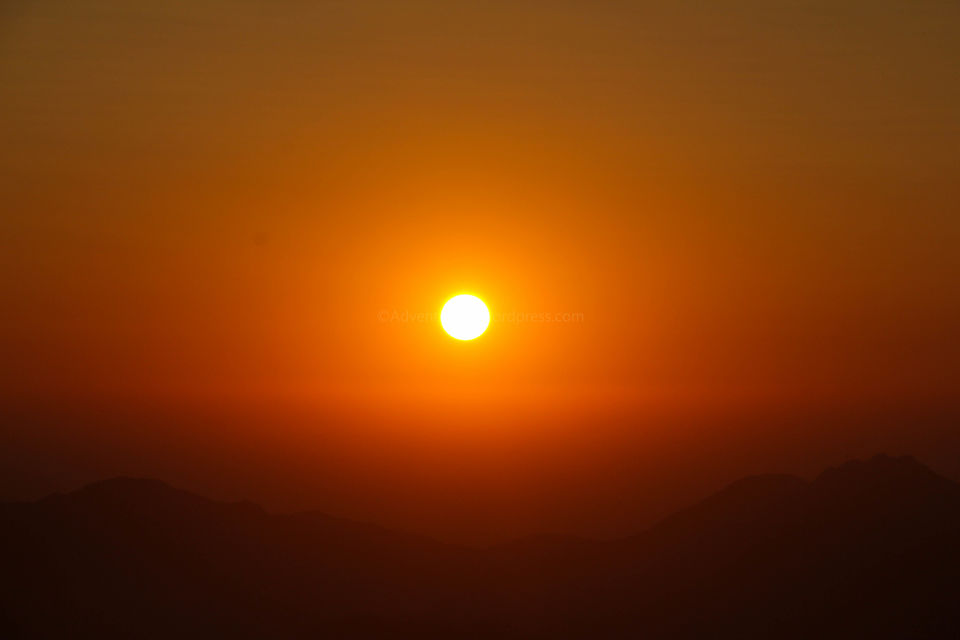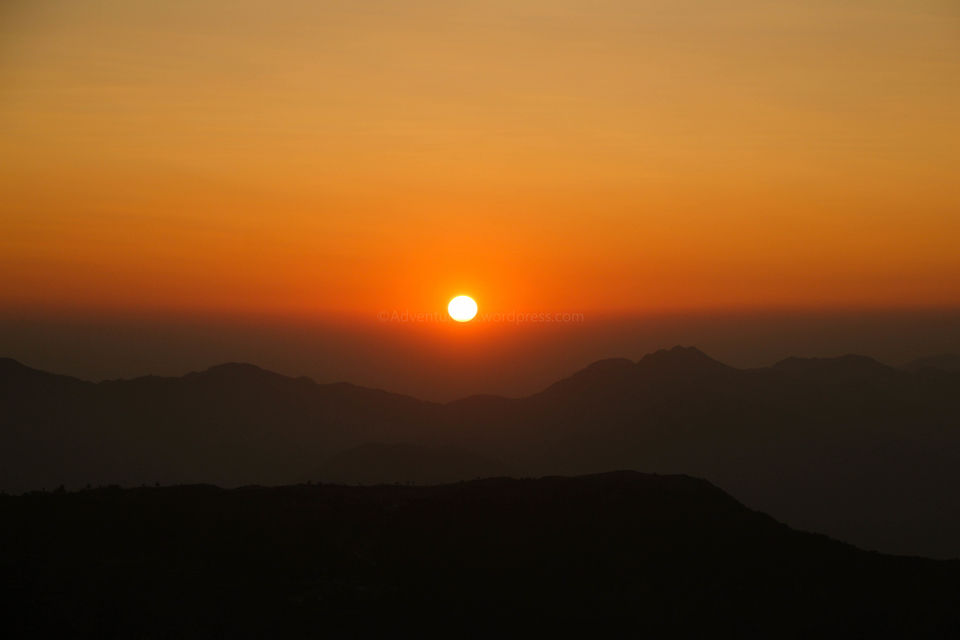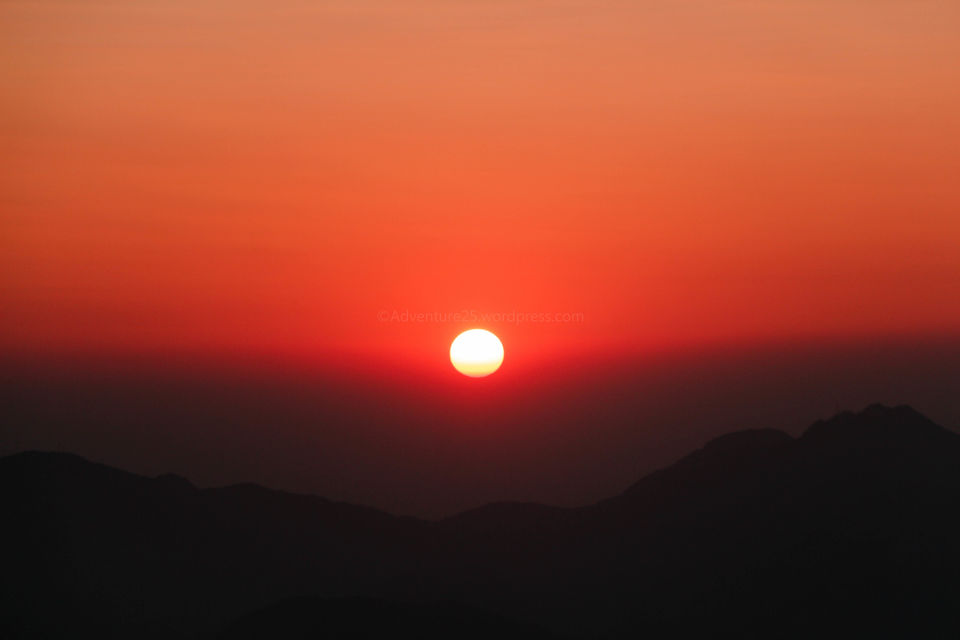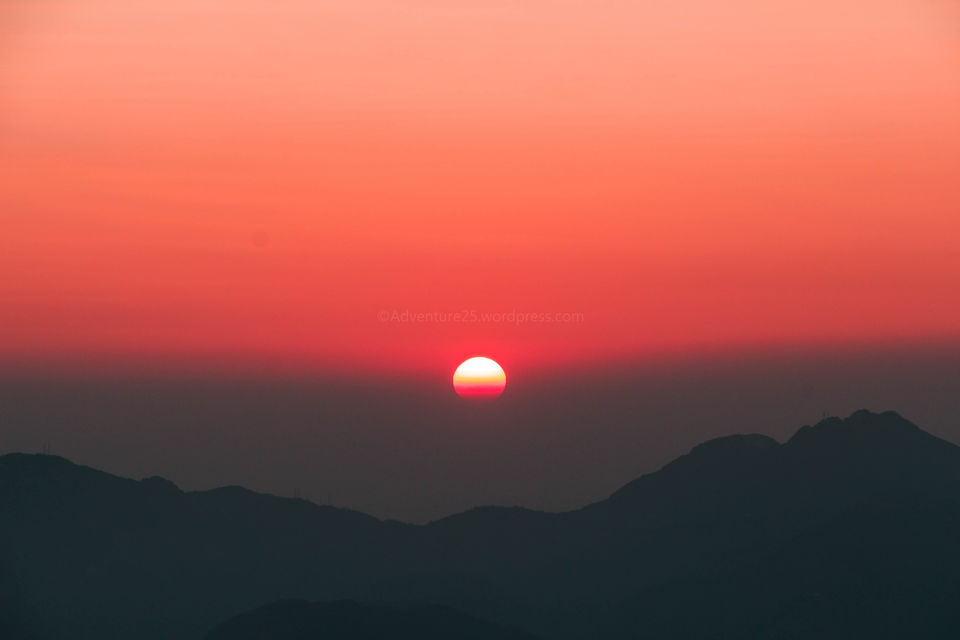 After the light show, we began walking back towards v point. From v point, one can get local transport towards chakrata. The moment we started walking back, we saw a Duster passing by and raised our hand for a lift. The car stopped and the nice man gave us lift till chakrata.
After reaching chakrata, we ate noodles at Chand's restaurant. And yes, very tasty noodles with green and red chutney. Post that we headed towards our room and took some rest. After that we went for dinner at "Sher-e-Punjab" and subsequently retired for sleep.
Day 4 (14/11/2016): Today was Guru Purab. We woke up around 10am. Did our Check out formalities and headed towards Gurudwara. We went to the same gurudwara that we came across on our trek to tiger fall. This time we got lift from a tractor.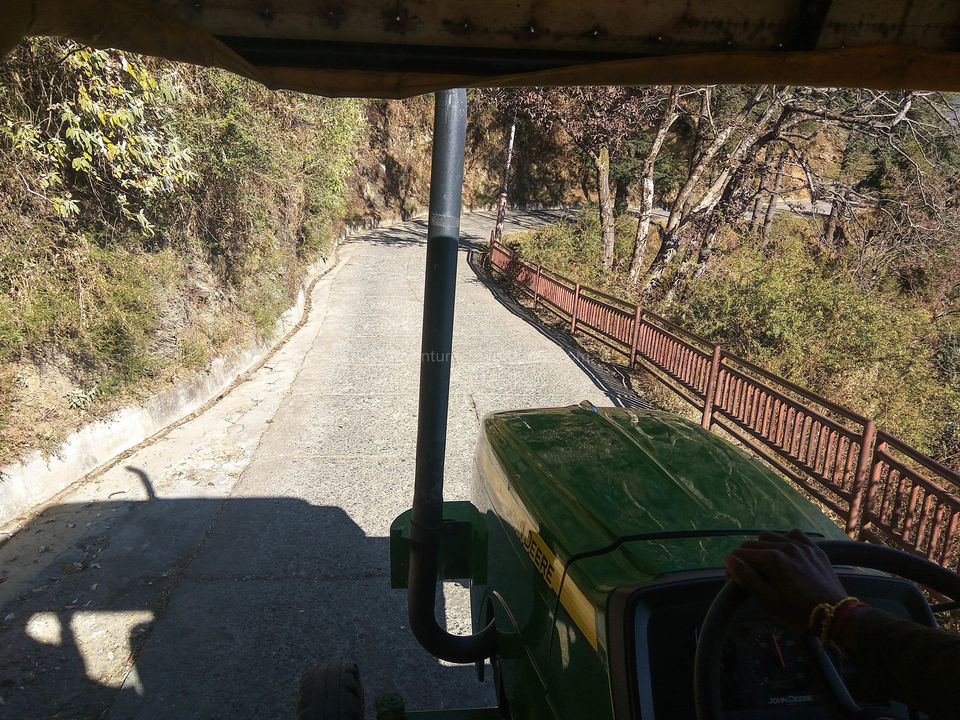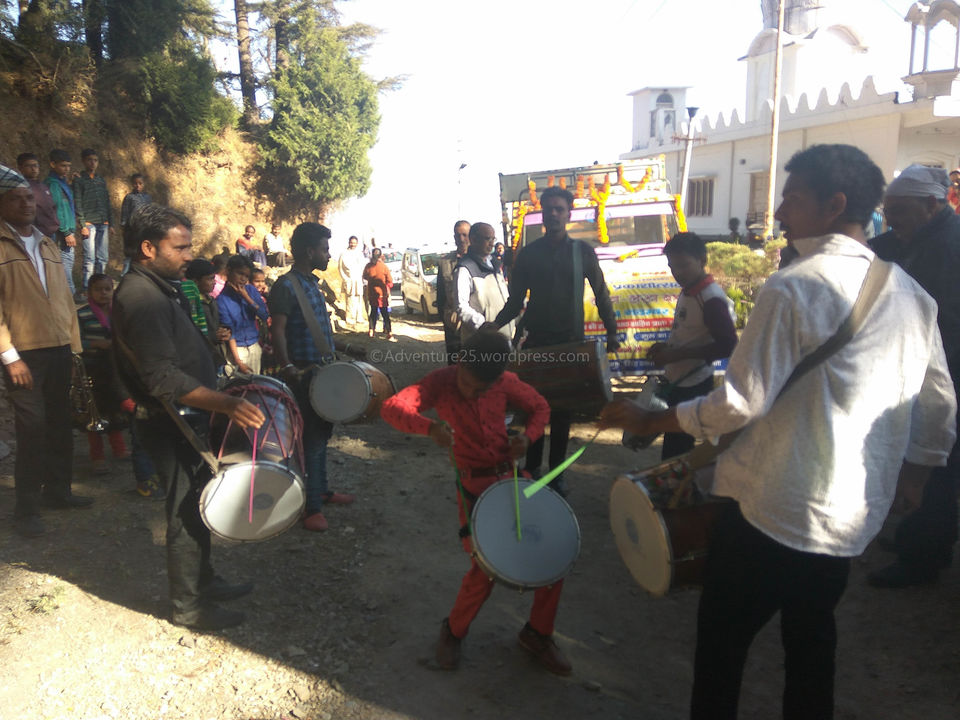 We spend some quiet moments and then ate the mouthwatering langar. On our return journey we got lift from a utility van and it dropped us to the taxi stand. We then took taxi for Vikasnagar. Ticket cost 100 INR per person.
Kalsi is one stop before Vikasnagar. Here you can take a halt for half an hour to see "Ashoka edicts" This place is important historically. We reached Vikasnagar in 2 hours. From Vikasnagar, took a bus for Dehradun and reached around 8PM.
We visited local markets like Paltan bazar, Indira Market and Tibet market.
For return from Dehradun to Delhi we had already booked train tickets in tatkal. Our train "Nanda devi Express" was at 11:30 PM.
Day 5 (15/11/2016): We reached Delhi at 5:20AM. In this way our trip came to an END and preparation started for NEXT one.
Trip Summary
How to reach Chakrata:-
1. By Road :- Luxury private buses or uttarakhand state buses are available from ISBT Kashmiri gate. Most of the buses will drop you at Dehradun. Dehradun to chakrata is 4hrs road journey.
2. By train: The nearest railway station is Dehradun railway station. Trains are available from Delhi to Dehradun on daily basis.
3. By Air: Nearest Airport is Jolly Grant Airport in Dehradun. Daily flights from Delhi to Dehradun are available.
Places to Visit:-
1. Tiger Fall - 15 KM from Chakrata. You can hire a local taxi; 1500 INR for round trip.
2. Danda Peak and Chirmiri Point - You can walk down to these places or hire a private taxi.
3. Koti Kansar - 26 KM from Chakrata. Local jeep and private taxi are available.
4. Deo Ban and Vyas Shikhar : 16 KM from Chakrata.
5. Buddher Caves - 30 KMs from Chakrata. Taxi are available from chakrata to Buddher. One can reach the caves only by trek (3KM) from FRH Buddher.
6. Kalsi - Lies between Dehradun and Chakrata. The only Ashoka's Rock Edict located in North India.
7. Lakhamandal- The temple is dedicated to Lord Shiva and is 35 KM from chakrata.
8. Mundali- 36KM from Chakrata. Famous for skiing.
9. Kimona Fall and Moigad Fall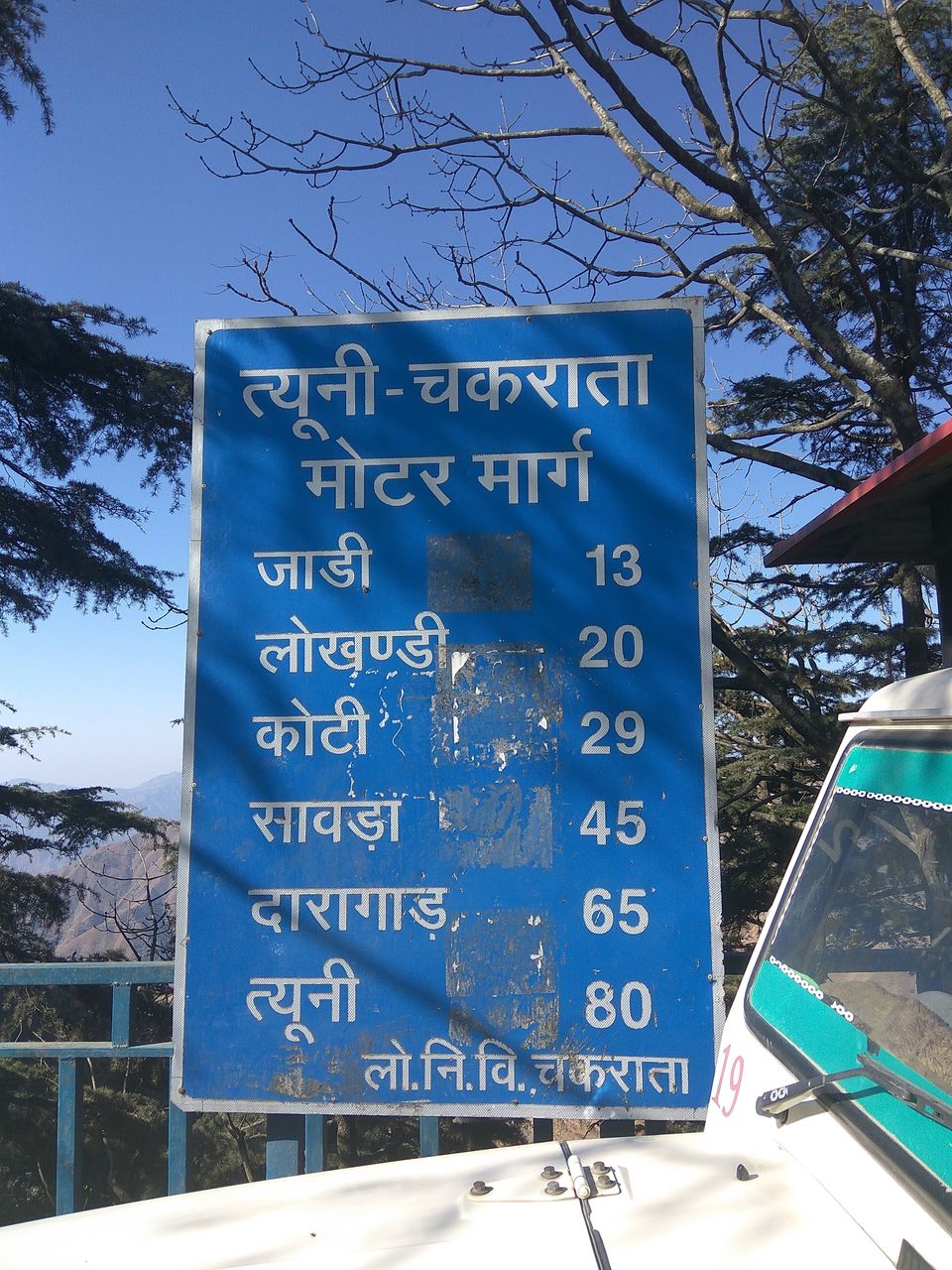 Frequent searches leading to this page:-
dehradun places to visit in one day, nainital dehradun tour package, dehradun most famous places, dehradun sight scenes, dehradun package from delhi