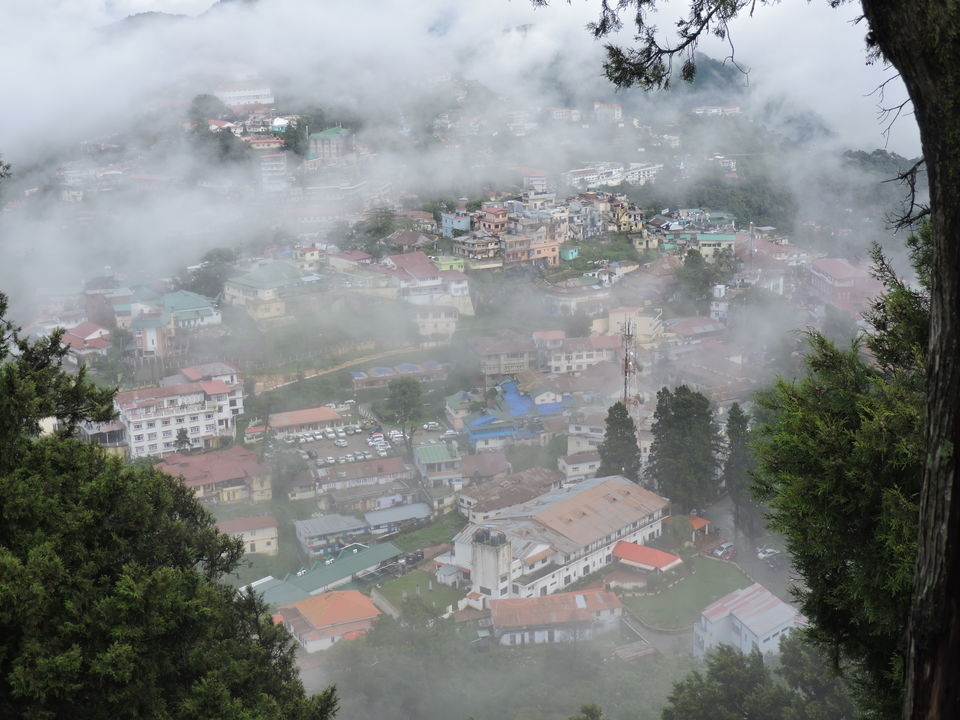 Sometimes it's better to enjoy one's own company, one's own thoughts, one's own mood, one's own choice of food, one's own feelings with thousand other meanings flying above this vast blue sky, across this huge mountains reaching to someone somewhere unknown of happenings...!! Let's give love a chance, making our heart dance, once again with joy and pleasure, without anything to measure just dive in with me and together we shall see how beautiful life is with someone constantly to miss..!!
Yes, these were some random lines I wrote on that beautiful monsoon solo trip to a small but beautiful hill station called ' Mussoorie' . I have a very old connection with this hill station. It was my parent's honeymoon destination and my first ever trip with them when I was merely 3 years old. That year onwards I have been to this place a number of times. But this was my first ever solo trip to the hill station. The reason being my start of a journey through PhD degree.
I had left my home 8 years back to pursue higher education and then job stuff. So, practically I am living alone for past 8 years; changing cities and places carrying my stuff in bags. I have come at a stage of exploring myself. I have decided to re-introduce me to myself in context with this vast and beautiful world. I am not a frequent traveler but more of a wannabe traveler and critique to the places I visit.
I have always dream of travelling far and beyond the zone of my comforts. Perhaps I never found the courage or time. So, after reading a number of posts and blogs of avid travelers, solo women travelers, family style travelers and a thousand other categories of travelers, I decided to take a small tiny step towards this quest of getting inside their shoes. So, this blog post is like a documentation and an experience sharing platform. So, let's begin...
It was my second week of course work classes at college and I was already frustrated with daily formalities and boring lectures. I prepared a mental plan to visit Mussoorie with few of my seniors or friends. Mind you such mental plans I keep on making almost once or twice of every month.
So, finally Friday evening arrived and I thought knowing the busy schedule of other people that why not I go alone. There was a safe side to it since I knew about the destination and all the roads leading to it. The unsafe part was the weather. It was the month of July and a heavy rainfall was happening everywhere leading to the possibility of land slides in hilly areas. But then I thought well that can be taken up as another challenge. I have to go and experiment with this one. An inner voice literally pushed me from outside.
So at around 11 pm on Friday I was surfing through this site called 'Trivago' and somehow booked my hotel in Mussoorie for one night. It cost me around 2000 Indian rupees and I was pretty satisfied by the photographs of the room and the hotel. The name of the hotel was Hotel Basera at mall road near Gandhi chowk.
For a minute after booking the hotel I could not believe that I did the booking. It was so unusual for a person like me to do such a thing. It was very random and quick. But this act pushed me to pack my bags and set my alarm of 6 am next morning. I informed my senior about my to be adventurous trip and told her if you still find me sleeping in my room the next morning then you can assume that I didn't leave at all .But the opposite happened; I got up around 5 am and left my hostel around 6 am.
I wanted a pic with this wall but was too shy to ask anyone to click it and I am a terrible selfie taking person. So, I just took this wall's photo only as a memory.
My next destination was the famous place called ' The Chic Chocolate' which was next to this place. This cafe cum restaurant is famous for its pancakes, chocolate cakes, shakes and of course its speciality- the home made delicious chocolates! Gosh! it was really heavenly. The place was occupied at that time by 6th-grade kids from the famous Woodstock boarding school in Mussoorie. It was apparently their outing day.
Nevertheless, I enjoyed my stay at this place with my cup of hot chocolate and a book on different Indian dance forms. I purchased single pieces of all the homemade chocolates for my friends in college and bid goodbye to the owner after appreciating the interiors and the cozy environment of this cafe.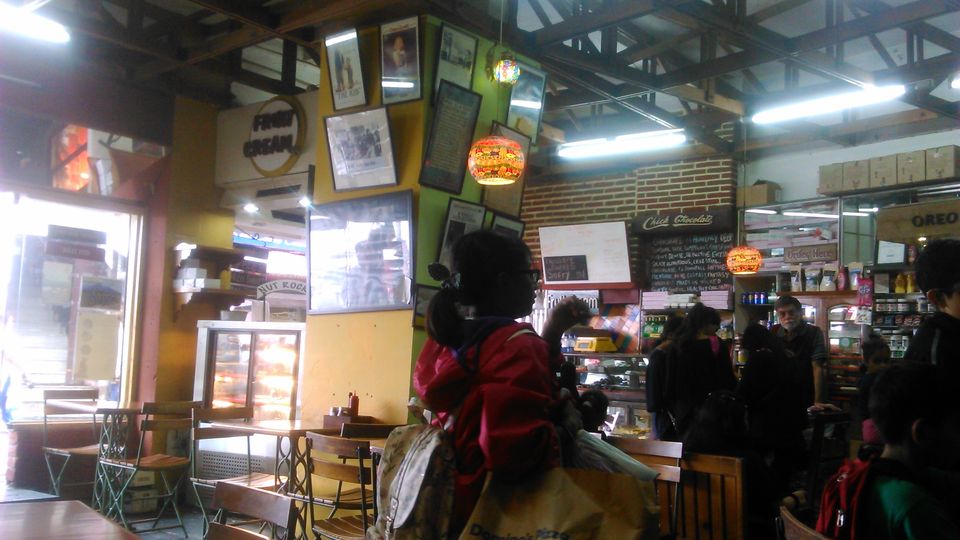 My next stoppage was nowhere. Yes, literally I had no plan at all. To be honest, by this point I realized I haven't spoken more than a line to anyone for last 6 hours. Being a talkative person I was boring myself to death. There was so much going inside my mind to talk about but I had no one. I took up this another challenge and decided to write short notes and poems. My long lost love. Isn't it strange how a beautiful romantic weather with no one to share with but one self makes your inner creative monster come alive. That's exactly what happened with me.
Happy with my purchase I took my camera out of the bag and again carrying my umbrella in one hand I continued my journey of roaming and exploring the busy streets of this hill station. Next stop was the ropeway to Gun Hill point. I had been to this place almost 8 years ago with my parents. That time too I got that weird feeling inside my stomach while the cable car was moving upwards or downwards. But I had my family around. This time I took upon myself to sit inside this tiny car which is supported just on a cable.
All throughout my journey towards Mussoorie from Dehradun I was noticing this huge poster of 'Wax Museum'. This got me curious and I started searching for its location, timings and ticket information. I found out it was a new addition inside the old Company Garden which was around 5 km from my current location. I took a rickshaw who charged me 300 rupees for taking me there, waiting for an hour and returning back to the same location.
The weather was pleasant and therefore I could enjoy the garden but not the wax museum. I clicked some good pictures and moved on with my journey. While returning back my rickshaw pulling person cum tour guide informed me about this beautiful cluster of white buildings which was the training academy for IAS. No, doubt they were given VIP treatments that was evident from outside. What a lovely place to receive training.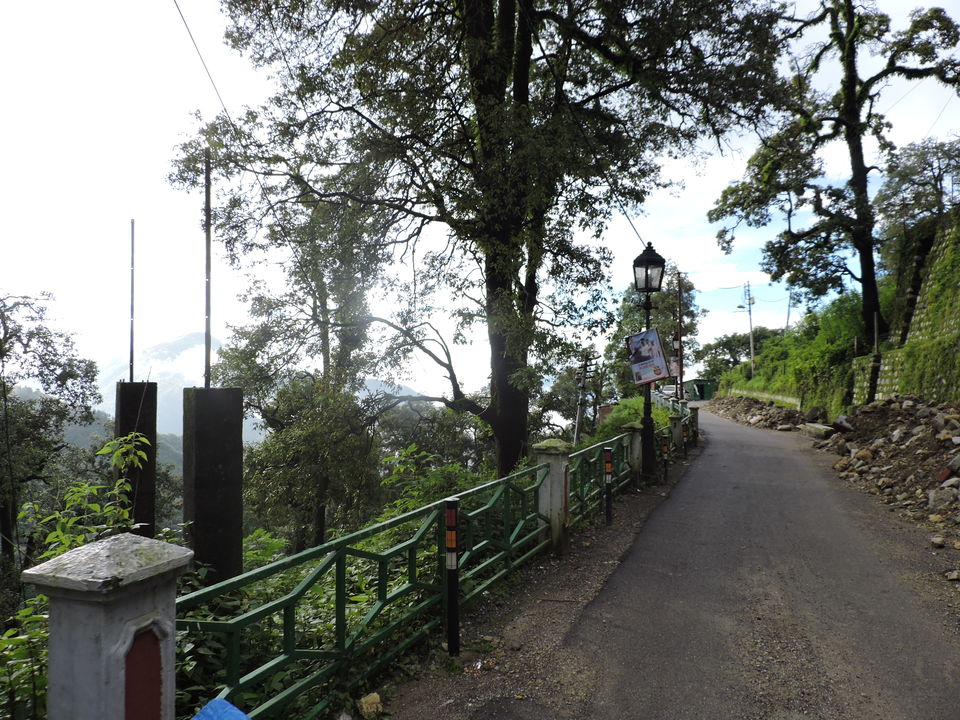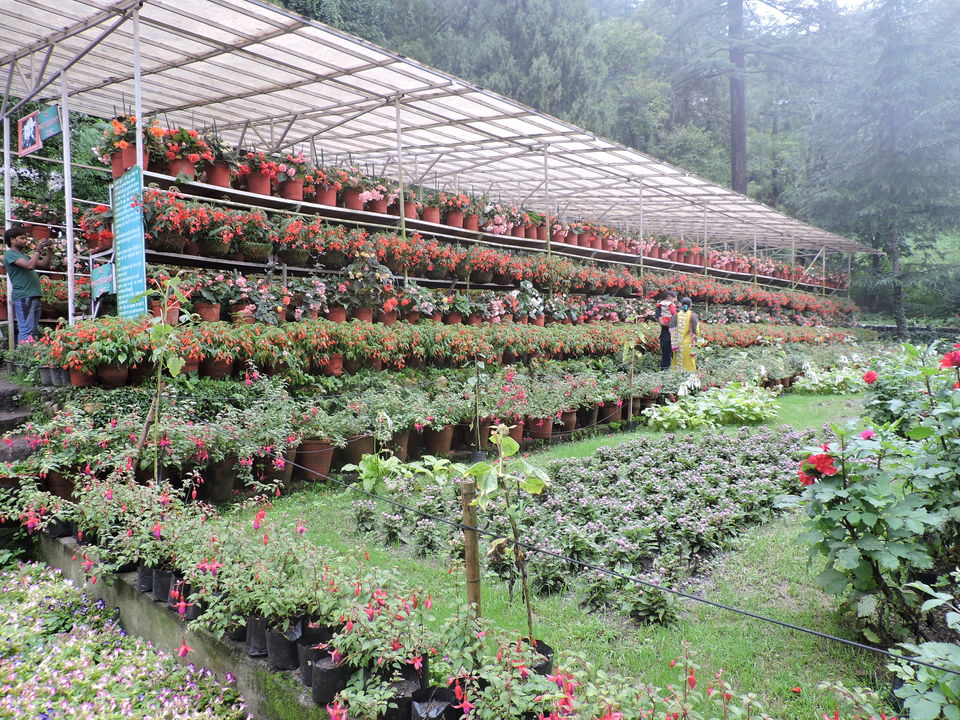 By the time I reached back to my previous location I was hungry. I once again took out my phone and on the TripAdvisor I started searching for my next foodie destination. It became kind of treasure hunt for me on searching the foodie places by asking the local people and enjoying the mood of the local street at that moment.
This was followed by my visit to another comfy and small cafe called ' Cafe by the way' which was situated on the first floor and offers some nice coffee, shakes and munching stuff. The good thing in all of these places was the availability of a book rack. Lone travelers can spend their time enjoying their delicacies while reading books. For a person like me- a book and a coffee lover; such places are like heaven. I stayed for another half an hour or so since I grabbed an interesting book called ' Life is what you make it' . Oh! such an apt title for me that day..:P. Before leaving I asked one fellow to click my picture who turned out to be a professional photographer! I assumed it was my lucky day indeed!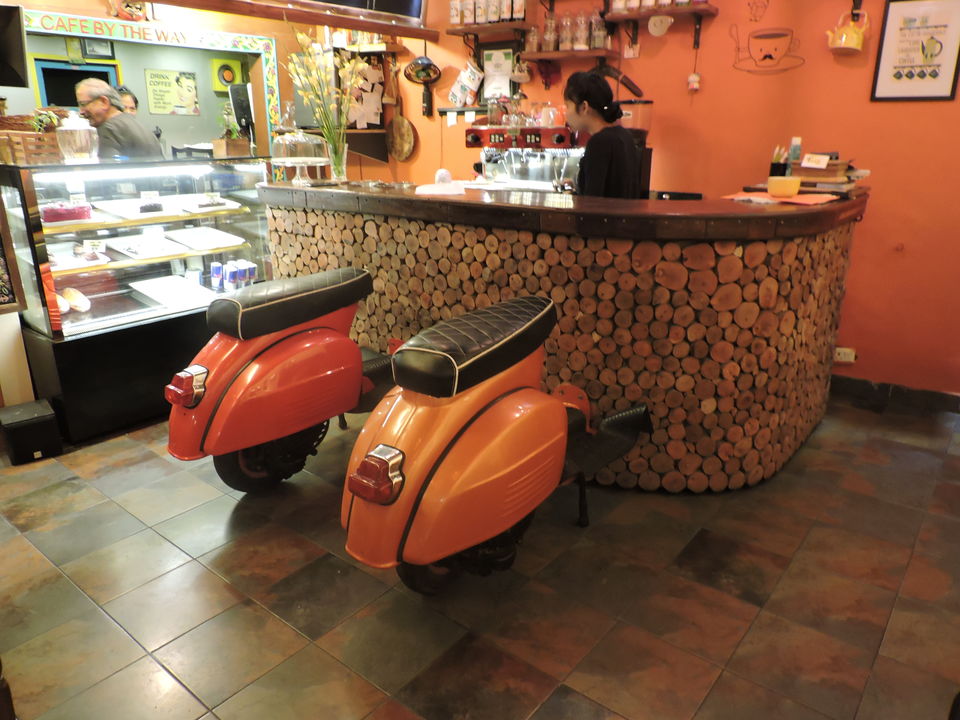 It was about 8:30 pm when I left this place. I was enjoying my company and the weather too. The streets were still full of people and other travelers. I noticed most of the people were on a family trip. There was a mix of people- young married couples with toddlers, family of four, college gang, localities, photographers, girl gang and miscellaneous. I realized I was the odd one out somehow. Not fitting into any category.
So, I ended my trip with this last destination. I walked back to my hotel which was on the other side of the Mall Road- enjoying the night view of this romantic destination. I realized even though with time the place has become crowded with lots of traffic and sound pollution but it somehow managed to retain its charm and glamour.
I also believe that every time you visit any place on a hilly area you will rediscover yourself and the place again and again. I regained my confidence and poem writing skills after this trip. This place has become even more special to me now. I returned back to my college the next day with lots of memories and home made chocolates for my friends.
I was tired but smiling continuously on return journey because of the experience and finally enjoying my own company.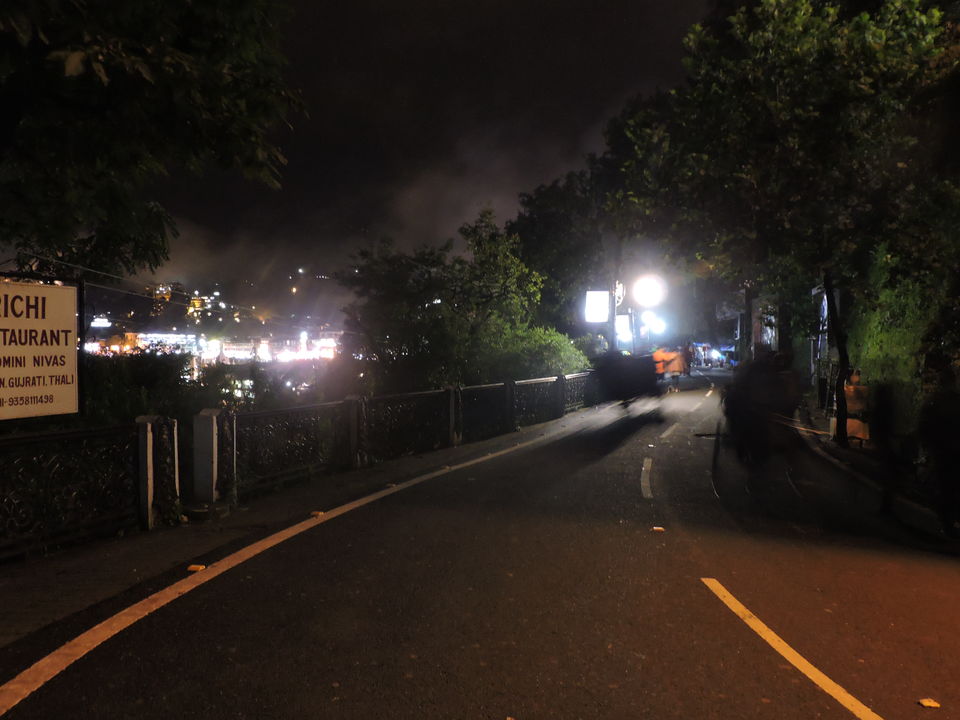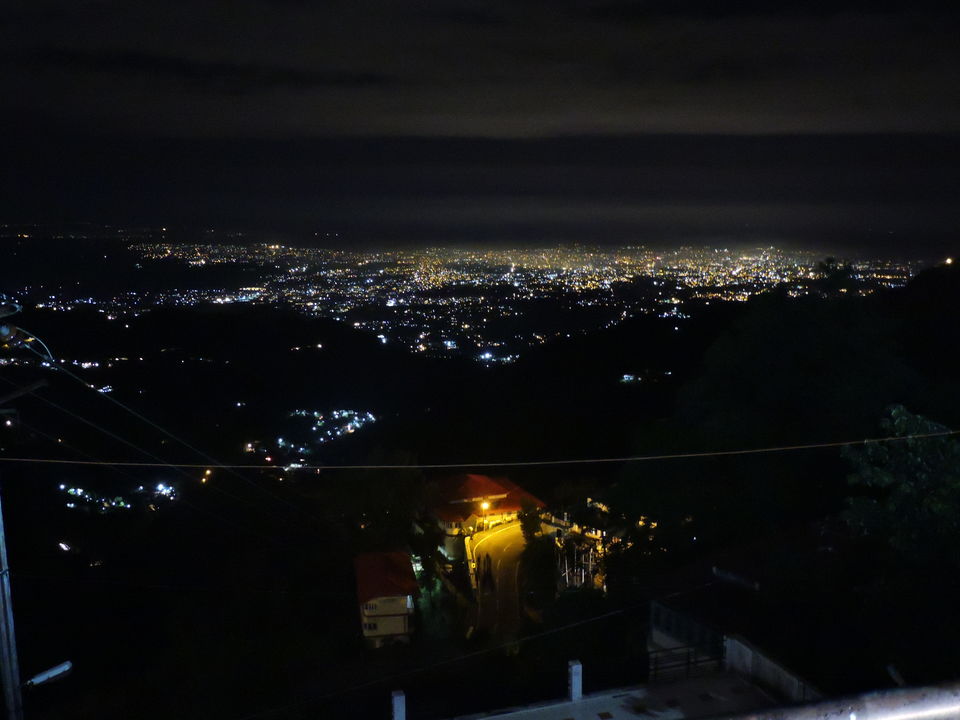 I would like to end this post with some more beautiful lines that I found in this journey
"Looking in your eyes I see a paradise
This world that I have found
Is too good to be true
Standing here beside you
Want so much to give you
This love in my heart that
I am feeling for you" – Jefferson Startship
Frequent searches leading to this page:-
nearest hill station to dehradun, tourist place near dehradun railway station, tourist places near dehradun within 150 kms, top tourist places in dehradun, places at dehradun
The journey to Dehradun in a bus that costed me around 81 Indian rupees went really good. We chatted a lot throughout the journey and I found out that these people were going to a place called Chamba on bikes which they were going to hire from Dehradun.
On arriving at Dehradun ISBT, I took a blue sharing tempo which is called ' Vikram' in this area to Mussoorie bus stand. The ride cost me 10 rupees. I reached the Mussoorie bus stand and took my ticket to Mussoorie of about 56 rupees. The beautiful bus journey to Mussoorie made my small attempt fruitful. The moment I saw the mountains my heart jumped with excitement.
"It is always the same with mountains. Once you have lived with them for any length of time, you belong to them. There is no escape" – Ruskin Bond. These beautiful lines came to my mind on the journey.
I was getting a bit sleepy and dizziness was what I was experiencing probably due to the hills and no breakfast in the morning. A huge mistake. I learned this lesson that whenever one is leaving for a journey morning breakfast is a must. Because this thought dawned upon me that who will take care of me if I fall ill here. I don't have any companion. But thankfully on arriving at the hill station all the dizziness and sleep just faded. It was raining at moderate scale and I had a task in front of me to search for my hotel Basera.
Upon inquiry, I found out the directional signage and followed the trail. Honestly in the middle, I felt as if whether I have committed another mistake of booking a shady hotel or not. The thought that sometimes what is shown on the not is not what is, in reality, came inside my tiny brain. I prepared a mental countermeasure to it that is to leave Mussoorie by afternoon. But surprisingly the hotel was very good and safe beyond my expectation. It was an off-season for tourists but still there was a lot of crowd in the hill station and also in the hotel that I booked. I found my room very cosy , neat, clean and safe.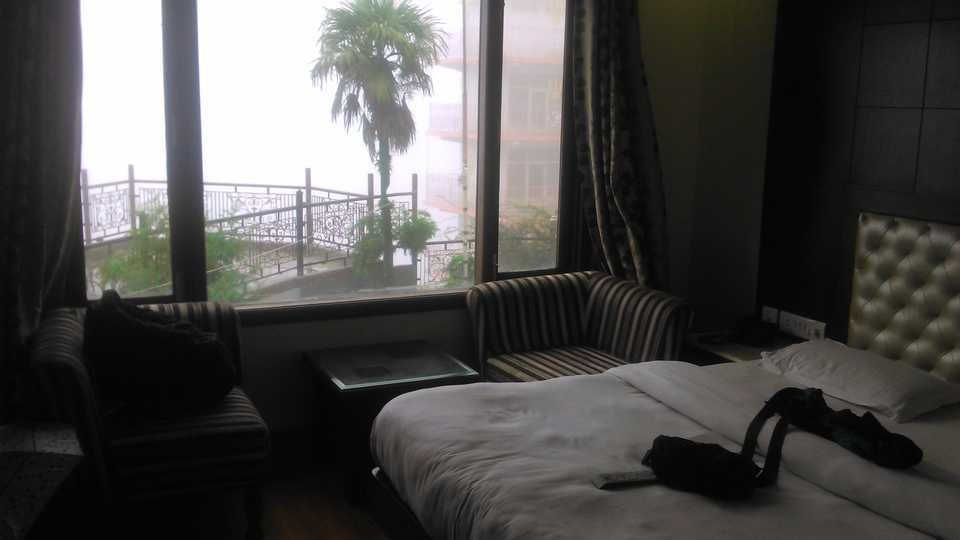 I left my hotel around 12: 30 pm towards the Mall Road. I decided to have my lunch at a good cafe or restaurant. The definition of ' good' was something well appreciated on the app called ' TripAdvisor'. So, I searched on this app and found a place called ' Momos- Tibetan Restaurant'.
By the time I realized it was at the opposite end of the mall road it started raining heavily. I was forced to take a rickshaw towards the other end. I was carrying my polka dotted purple and white umbrella in one hand and my camera bag along with a sling bag around my neck.
Upon asking one shopkeeper I found my restaurant which looked quite average from outside. On stepping inside it, the interiors were well crafted and done in traditional Tibetan architecture and culture. It was a small restaurant but will good ambiance. The service was quick and very polite. The food was delicious. While having my food my eyes got stuck on a wall which had this smoking guy's face painted on it that looked like the face of Bob Marley. I still doubt upon my prediction. But the wall was quite vibrant and attractive to me.
While again roaming the streets of Kulri Bazaar I landed to this famous place – The Cambridge Book Shop. It is the bookshop where the famous writer and my personal favourite too arrives - Mr. Ruskin Bond on every Saturday afternoon to sign the books and meet his fans personally. And guess what it was the Saturday afternoon! I was pretty excited. But soon I realized and overheard the conversation of the bookshop owner that the weather is very bad today- raining heavily since morning and he is too old to come today.
But I didn't dissapoint myself and spent next 30 minutes inside the bookshop; ending with a tiny purchase of Ruskin Bond's book called ' A little book of Love and Companionship'- just as a sweet reminder of my visit to this place.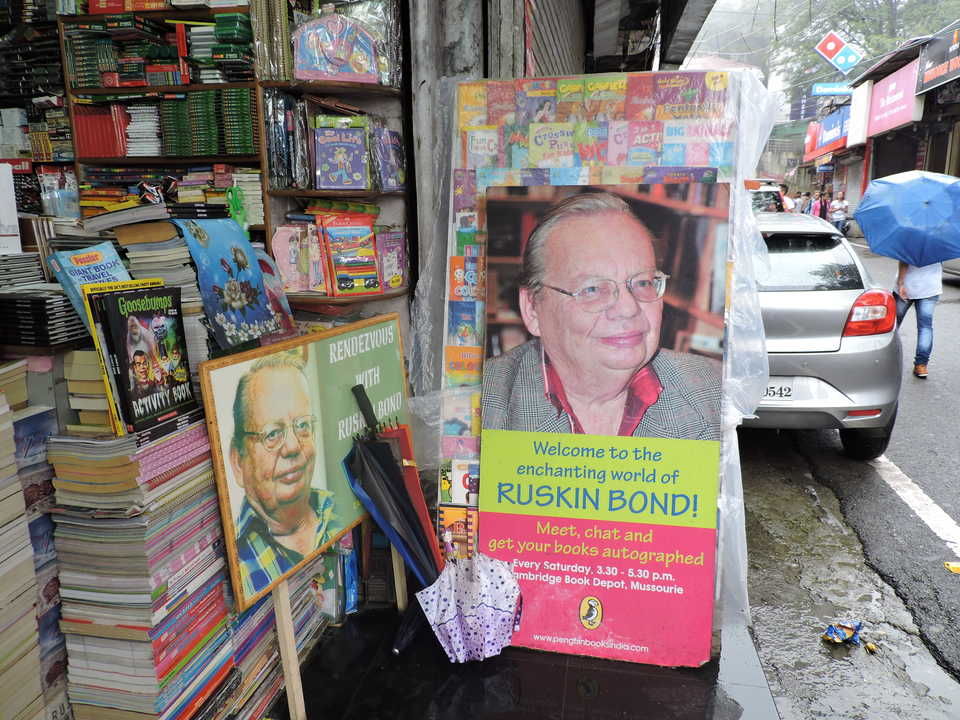 It was a 100 rupee ticket to this place which quite surpried me because it was not worth that amount at all. Nevertheless I sat inside the cable car with two families accompanied by 2 or 3 year old kids and a young lovey-dovey couple who were not letting a single moment go by without touching each other! well no judging here because I was quite enjoying my company inside that little car.
Yes, I was feeling scary again but upon landing at the Hill point I felt really dissapointed. I had a faint memory about this place but not so boring and dull that it has become presently. All four sides have being occupied by a number of useless shops- ranging from handicraft shops to food and photo shops which were taking double the money with the tourists just because of its high altitude location.
The play activity was arranged in the middle of the area for kids which too was mundane and out of order. I found a telescope viewing point whose location and the route was kind of hidden from general public it seemed. At least they could have put up a directional signage for this point was what I suggested the owner.
There were clouds all around-due to which there was zero visibility to the view below the point. After few minutes the cloud started moving and then I realized the beauty of this point. It was a spectacular view of the tiny colourful houses below and the moving cable car. I have no words to describe my feeling at that moment. I got some stunning clicks which was sufficient for me to get down back to the mall road.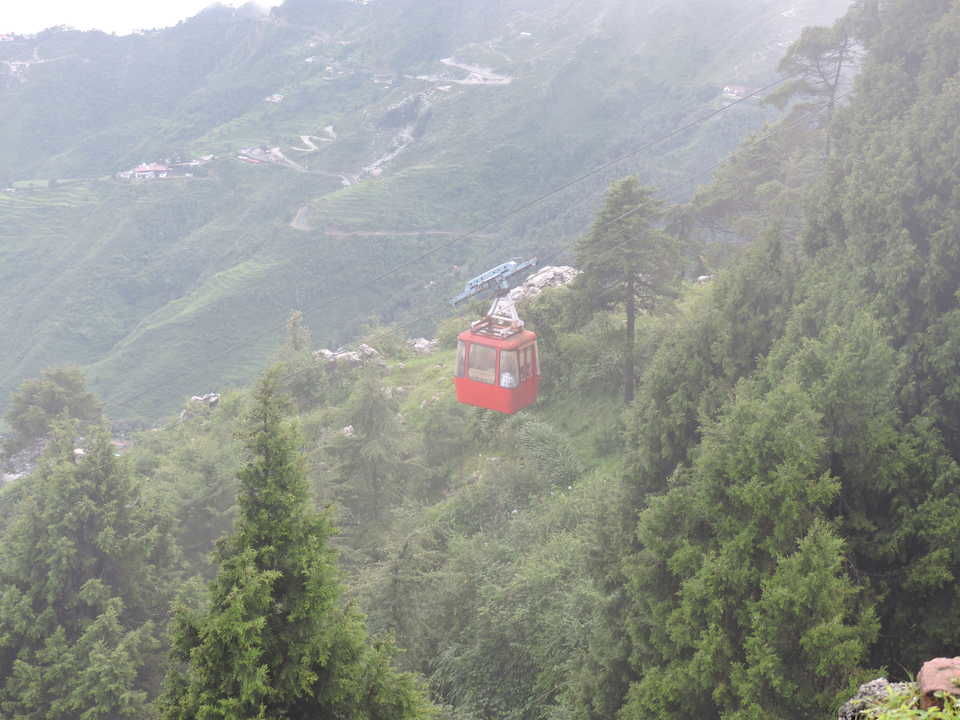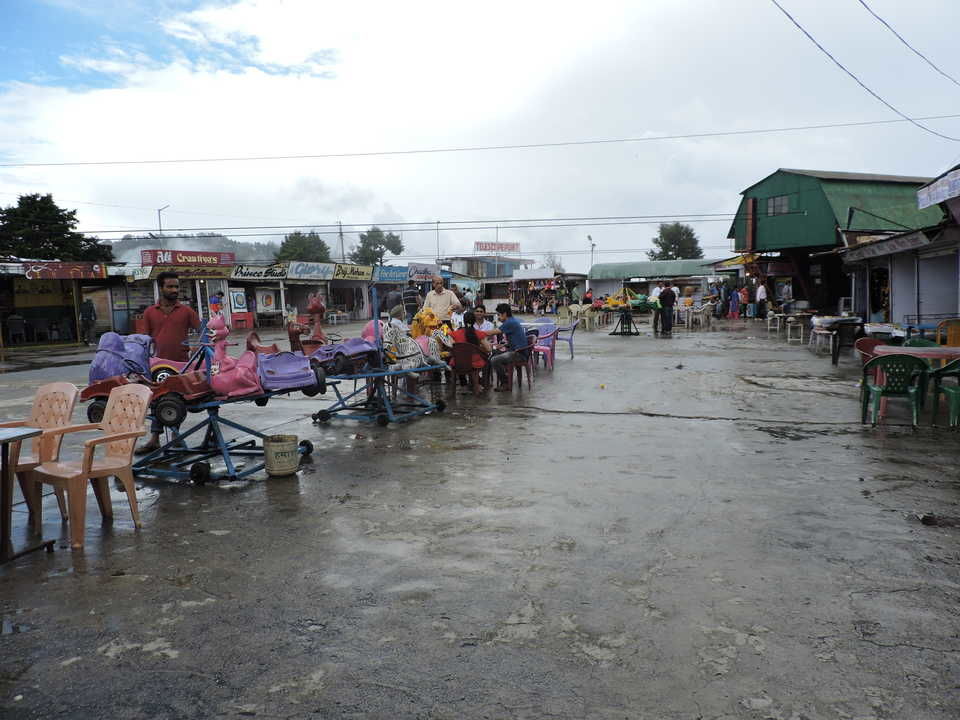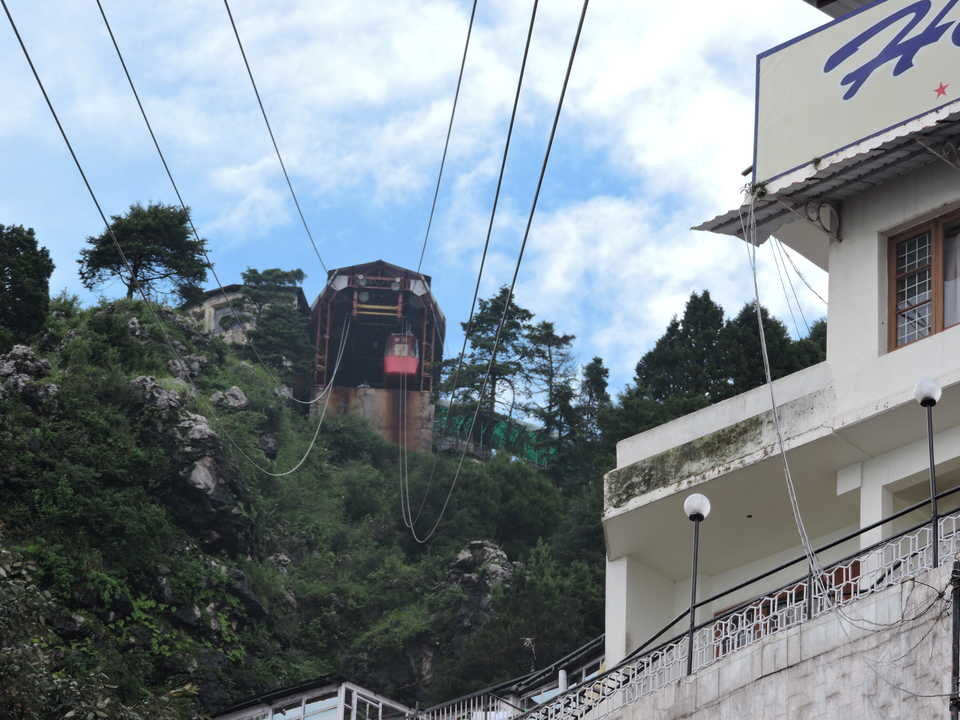 Yes, it was expensive but by this time I realized solo trips are expensive (I might be wrong - This analysis might change with my more future solo trips- who knows..:P). This company garden had a 18 rupees entry ticket with the ticket to this so-called wax museum -rupees 100. When i entered inside this wax museum I realized the attempt is appreciated but then the entry ticket price is not appreciated at all. There were wax statues of Mahatma Gandhi, Princess Diana, Pit-bull, Jawaharalal Nehru, Parveen Bobby, Benazir Bhutto, Michael Jackson and the one of Jack and Rose too from the movie 'Titanic'.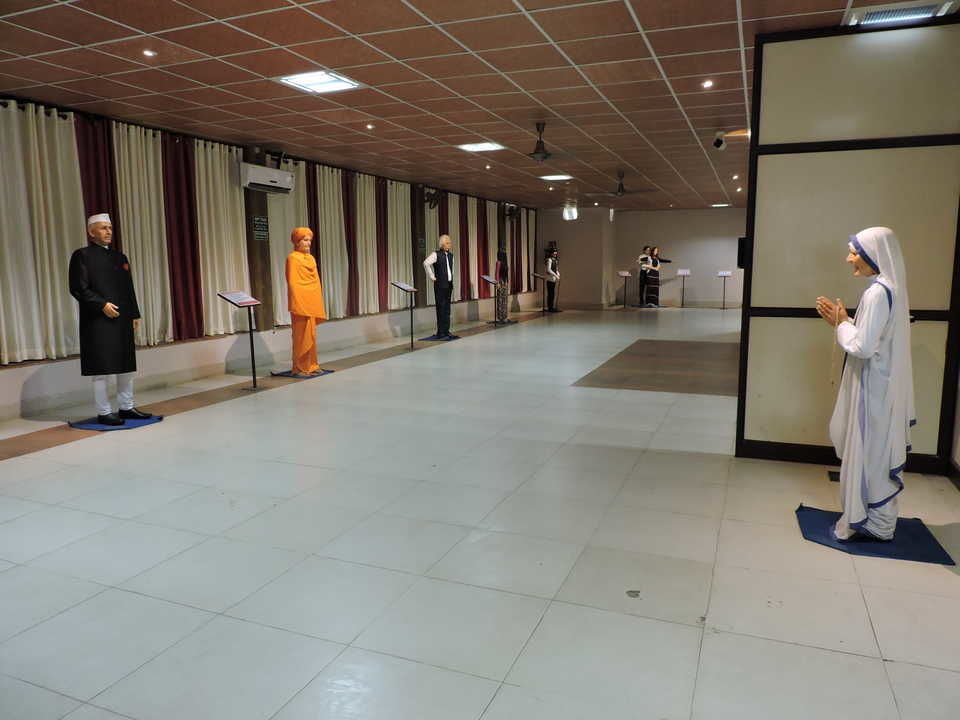 The rain has stopped and the weather was really mesmerizing. I found out this amazing place called ' Cafe de Tavren'. It has a formal dining space on first floor and a romantic cozy space on ground floor with a balcony like view towards the street. The exterior facade was itself quite inviting with cobble cladding on wall, a small steel railing and a chic signage.
The place seemed friendly and a perfect space for a lone traveler like me. I chose a secluded yet brightly lit space for myself from where I could see all the happenings inside the cafe as well as on the street. The food was marvellous and very well presented. I could not try a lot of cuisines from their menu since I decided by this time that I will be going to all other cafes and restaurants trying one dish at each place just for the sake of enjoying and living the ambiance. The food accompanied by soul stirring music of Sona Mohapatra and Indian ocean was enough for me to sit inside the cafe a little longer than I thought.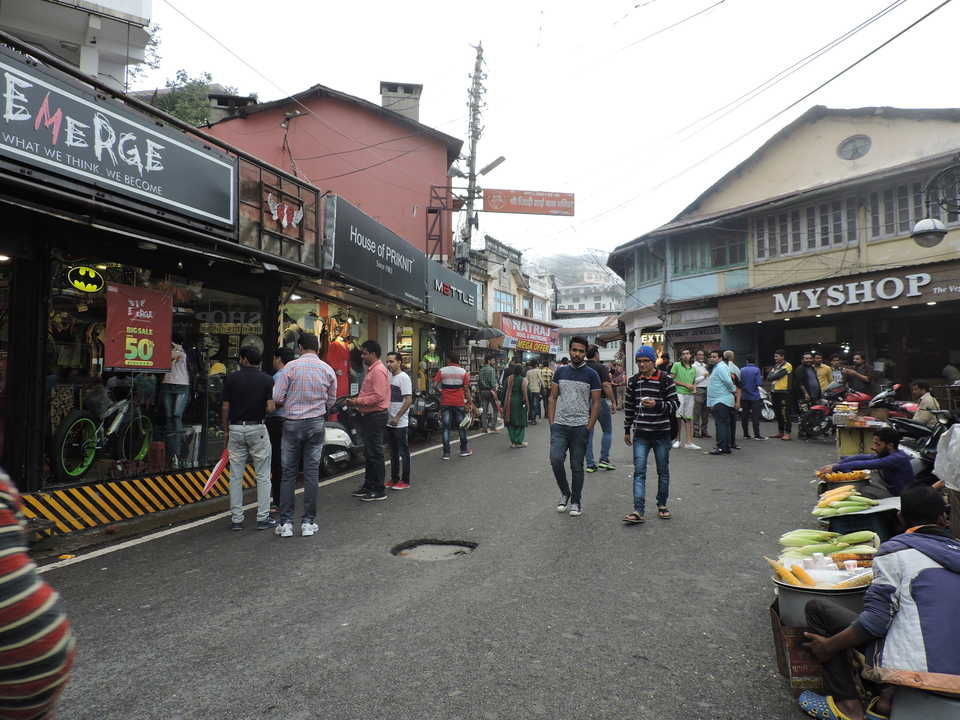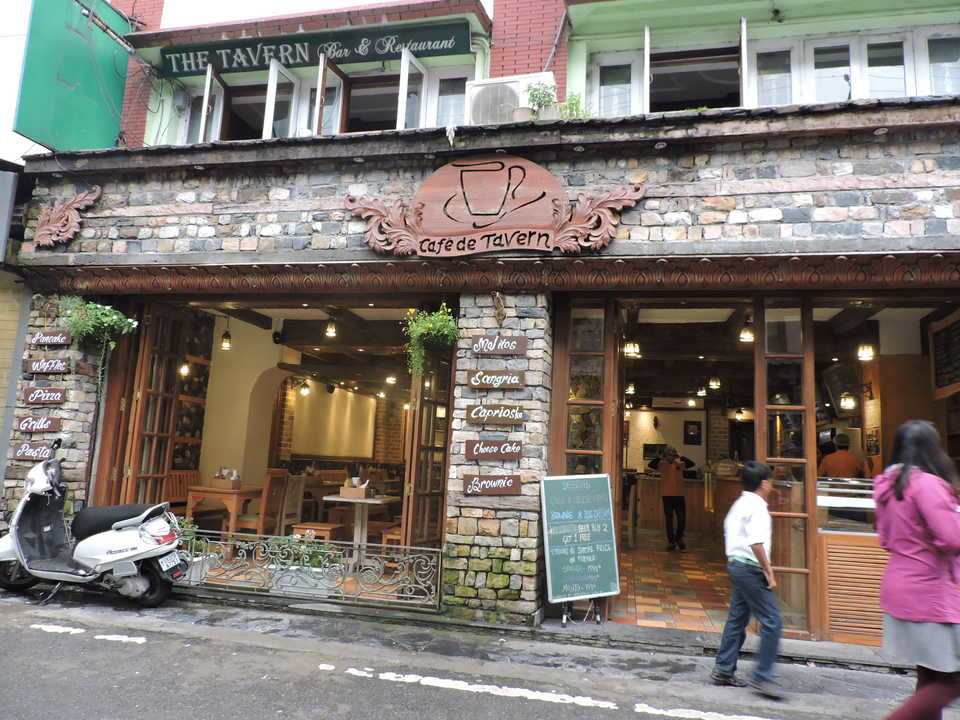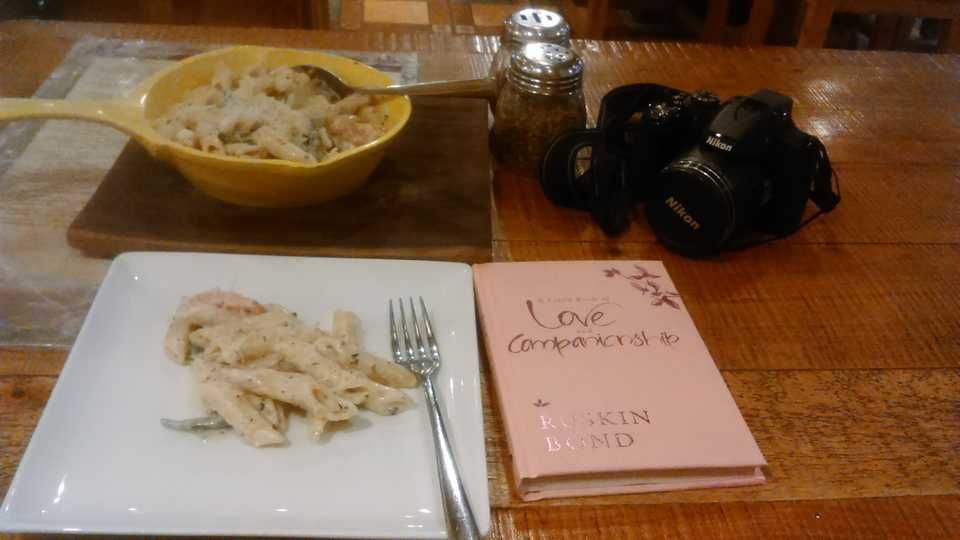 So, it was getting dark and I had to visit this last place which was recommended to me a number of times by one of my close friend; and of course when I checked its review on the TripAdvisor -it was on number one position for must visit places in Mussoorie. The place was - 'Kalsang'- an authentic Chinese restaurant. I was full up to the brim but I had to visit this place.
Upon entry I realized there was no other place left except a six seater table on the first floor. I occupied that table and ordered a Thupka - a Tibetan noodle soup. The wait for my order was quite pleasant. Since the entire ambiance inside the restaurant was an intro to the Tibetan world- low dim red lights, Chinese lanterns, Chinese or Tibetan music (I could not recognize) and my happy mood..:).
I started scribbling short notes in my pad and other stuff. The thupka came out to be wonderful as expected. I noticed people who have visited this place have written some words or sentences on a piece of a napkin which was kept on the table covered with a glass sheet. So, in honour of this tradition I too wrote some lines and handed to the waiter before leaving this wonderful place.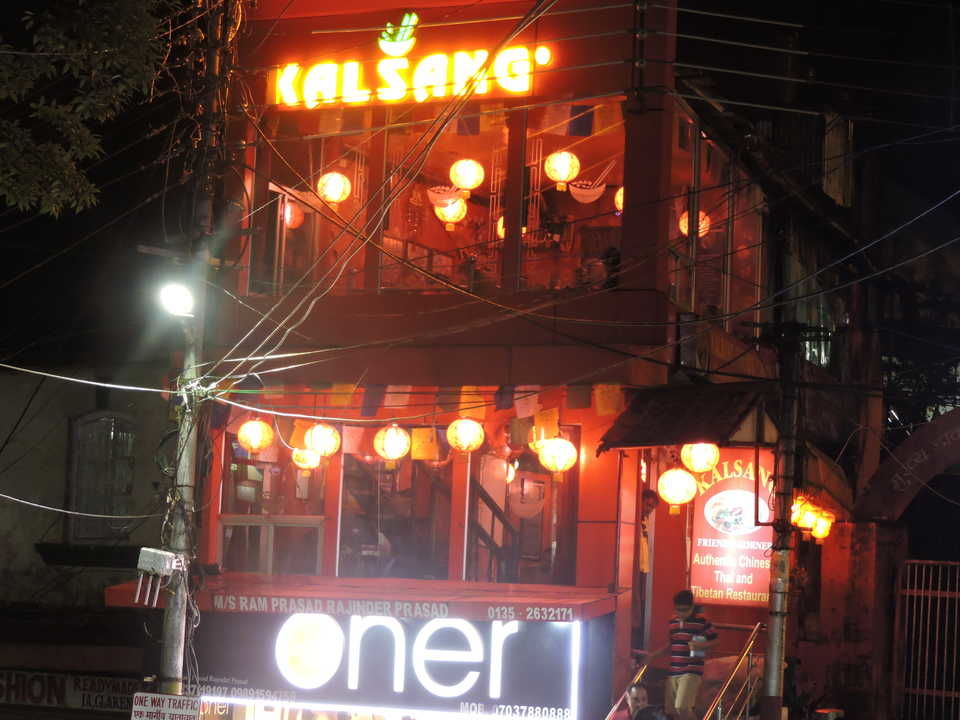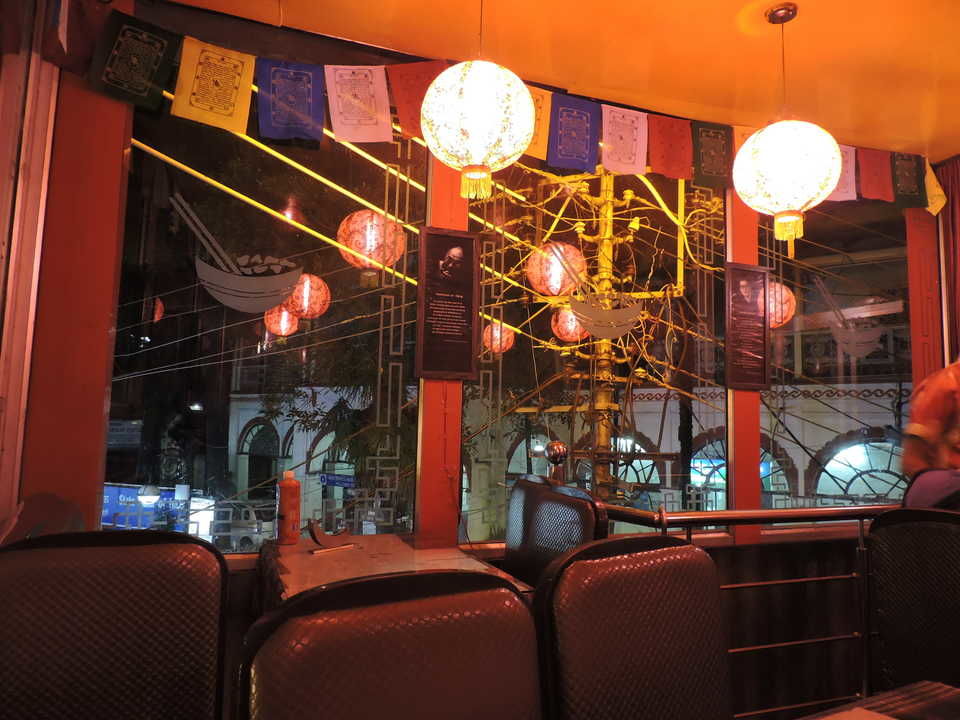 On arriving at the bus stand which is quite near to my college gate I completely forgot about the Kanwar season. This a brief reminder to everyone that there is a Kanwar yatra that happens in the monsoon season near Haridwar which is an annual pilgrimage of devotees of lord Shiva in which these people fetch holy water of river Ganga and travel to their native places on foot in order to offer the holy water to the local Shiva temples.
Currently, this religious yatra has become quite unsafe for other pedestrians and travelers because of many reasons that I cannot discuss here. So, I saw everywhere these Kanwar people looking suspiciously at me and I was really worried about how will I get on the bus to Dehradun alone. But I gathered courage and went on with my general inquiry for the bus. See here I would like to say if the God's wish matches with your wish then no matter what you will complete the task and your wish will be fulfilled. These lines are put here because the moment I stepped near the inquiry counter I found my two juniors waiting for the same bus. Oh! what a relief I got after seeing them.