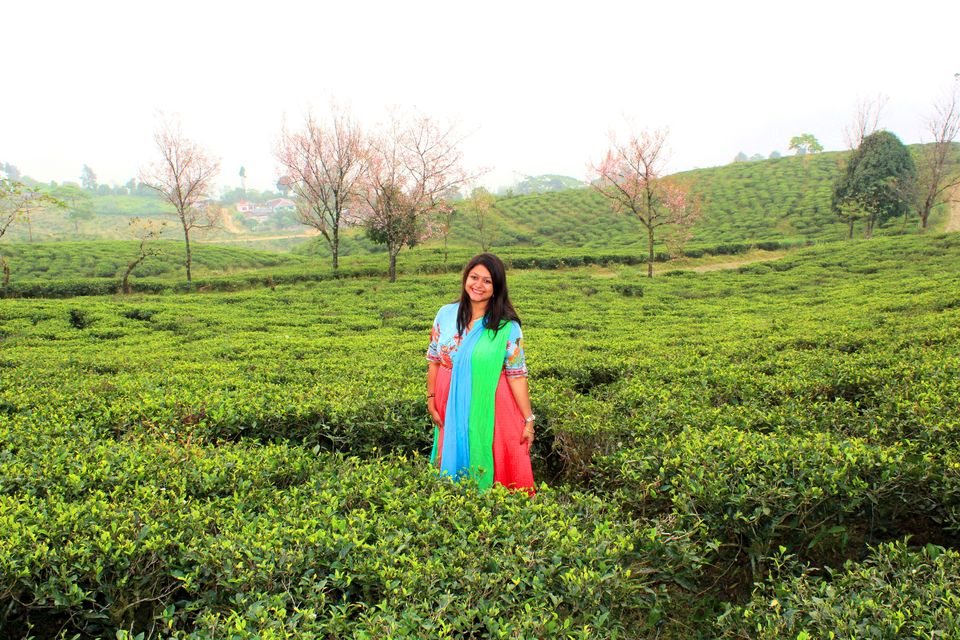 In the lap of quaint Himalayan foothill lie two beautiful mountain villages, Lava and Rishop. In the era of rampant development of tourism sectors, these twin sisters are still left untouched and virgin compared to other eastern Himalayan hill stations like Darjeeling, Kalimpong and Gangtok. This offbeat tour to Lava and Rishop would glide you through some awe-inspiring verdant valleys, unknown mountain villages, gushing Teesta river, endless velvety stretch of Dooars tea estate, alpine forests and some breath taking mountain vistas.
How To Reach:
You have to reach New Jalpaiguri railway Station (NJP) or Bagdogra airport and rent a private vehicle to reach Lava or Rishop. Try to schedule your journey in such a away so you reach NJP or Bagdogra before afternoon and comfortably reach your final destination before sunset.
Mark Your Calendar:
The best season to visit this place is March-May and September-November.
The otherworldly experience to Lava & Rishop:
After having my morning tea and breakfast with beautiful backdrop pf Himalaya I straight drove up to Rishop. Our car passed though many small waterfall and and river streams cascading over the narrow, twisted mountain roads. We crossed though many silent, tiny mountain villages of Lepcha community. The villagers were indulged in raw moments of their daily chores.
On our way we stopped by a temple dedicated to Lord Hanuman. The temple was perched on a small rock adorned by glittering saffron coloured flags and bells all around. The Himalaya shone brilliantly in the backdrop. Teesta river was flowing vehemently, cutting the huge boulder and rocks below. After offering prayer I climbed down my way to the river bank and soaked my feet into the river. River current was flowing intensely over the colourful pebble bed. Birds were tweeting from nearby forests. The blissful silence was occasionally interrupted by the sound of tinkling bells from temple and splashing water.
Rishop
The journey upto Rishop was not so smooth. We encountered with a number of adventures and mishaps on way. Quite a few times I drove my car in wrong directions. At some points we took up roads that were blocked due to land slides and repairing activities. But all these small, undesired halt and delays rewarded us with mesmerising natural beauty, unknown villages hidden in the turns and folds of mountains, paddy and corn fields rolling over the slopes and wide view of mist washed Himalayas.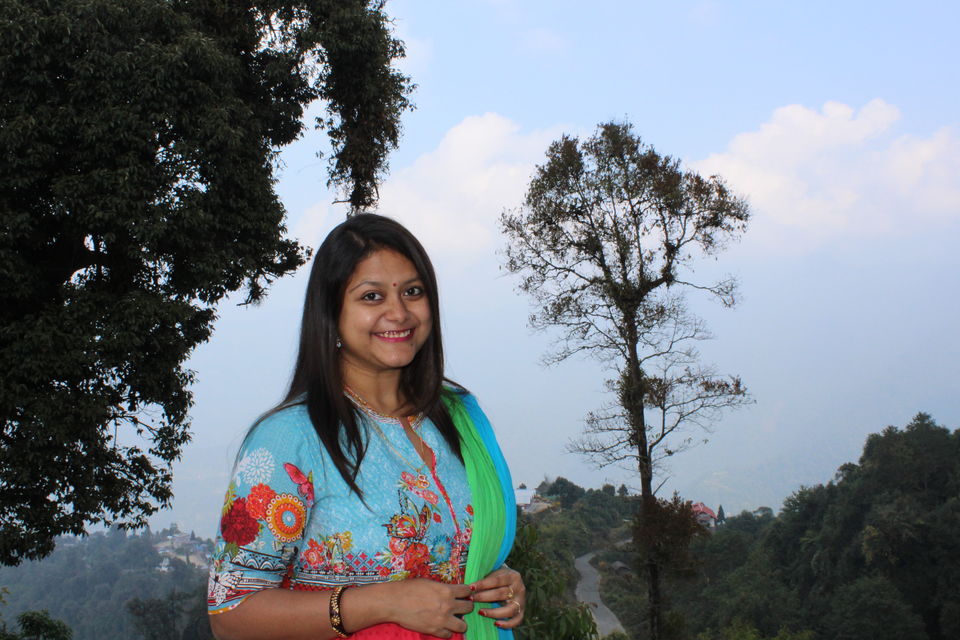 But finally with local people's help and guidance we managed to reach Rishop. It is a small village on the hill top offering a 300 degree view of Himalayan snow capped peaks including Kunchenjuga. To reach the view point I had to hike up for few kilometres as the road became very steep and narrow. Surrounding the view point, peacefully sit the sleepy, rusty Lepcha villages, small guest houses and tourist lodges. The balconies of the two storey, asbestos roofed houses were decorated with hanging planters and unknown mountain flowers. There was a small cafeteria overlooking the beautiful valley on view point. I dipped my languid moments in freshly brewed tea. After wandering here and there for some time I started walking down the road for heading next destination.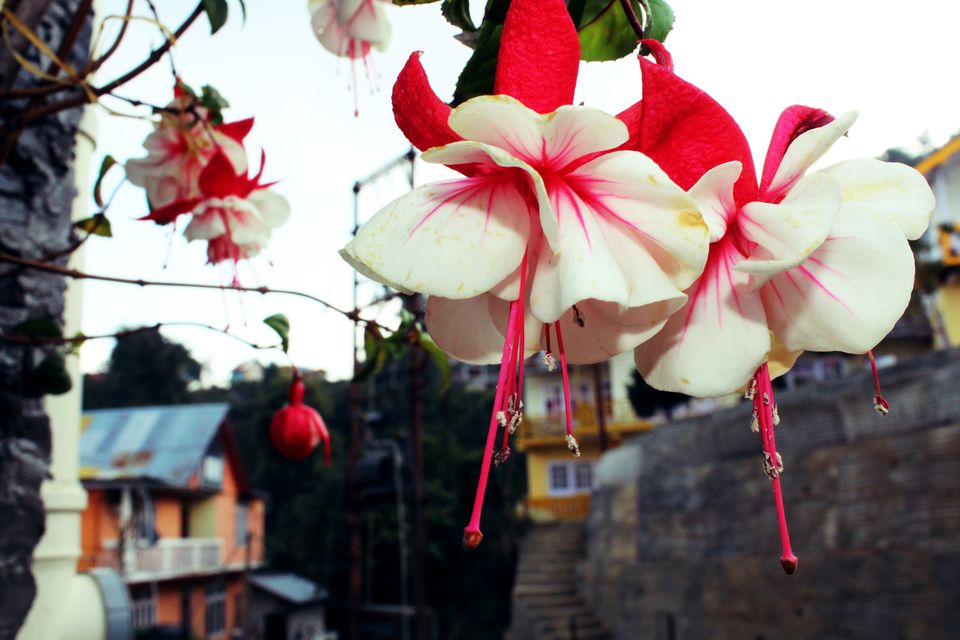 On my way I met a group of local tribal people, carrying bunches of dried woods over their shoulder. The ladies and men were chatting in their local language, occasionally meeting their curious gaze with mine. One elderly man was left out of the group. His biological age probably slowed him down. He put down his weight off his shoulder and sat on a big rock to refuel himself. I approached him in a faint hope to collect some fresh mountain stories from eastern Himalaya. I felt he walked some good share of few miles. Beads of sweats were glittering over his foreheads. I was in dilemma whether it would be appropriate to interrupt his relax hours or not. But It took only one friendly gesture from me to wash away all the inhibition. When he saw me approaching, a feeble line of smile surfaced on his ancient face. I asked 'Kaha jate ho aap Lakdi lene? ' He pointed his finger in some random direction and told with heavy pahadi accent 'Neeche Pine Jungle k pass jata hu beti'; Siliguri se ho kya?'.
Our conversation followed smoothly through its course. I told I'm from Kolkata and not from Siliguri. His name is Brijesh Gurung. He lives in a village somewhere higher in the mountains. He has two daughters and a son. The son works in a hotel in Gangtok and provides financial support to the family. The elder daughter is married and settled in some nearby village. The younger one did quit her school two years ago and takes care of household chores and farming. He owns a small corn farm in his front-yard. Brijesh continued on his own flow; how his wife suffered from an unknown fever for days. They tried their best to buy the medication prescribed by local doctor. Due to landslides the roads were blocked and they couldn't arrange to transfer her to any hospital. On a rainy night his beloved wife Chanda took her last feverish breath. With an intense shade of sorrow in the shrink eyes he uttered' Chanda left the mountains, our small hut and corn farm behind and never came back'.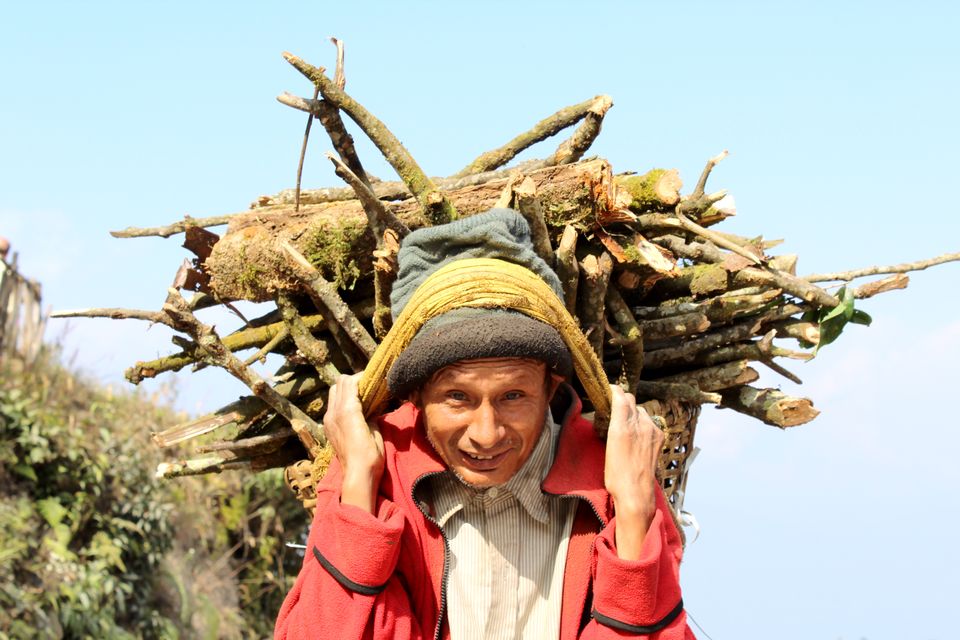 Deep down my heart I felt a heavy weight of guilt. Guilt for reminding him about his old, sad days. I changed the topic rapidly and asked 'In lakdiyo ka kya karte hain aap?' By my sudden off the topic question he came out of his sad reminisce and answered, 'Ghar me rakhta hoon, aag jalane k liye, khana v banta hain. Kuch bachta hain to bech deta hoon par zyada kuch nai milta.' Slowly the sun began to blaze hotter and I felt it's inappropriate to delay his journey any more. Probably his ancient eyes read my mind. Eyes that saw enough of this world. He picked up the bundle of wood, looked into my eyes and told 'Achcha laga. Chalta hoon, beti akeli hain ghar me. Fir kab ayoge?' I had nothing apt to reply but exchanged a strange, forced smile. A smile that clearly conveyed that probably we are never going to meet again. His youthful eyes and feeble yet charming smile subdued the folds and wrinkles on his face. He is still full of life, full of vibrance to enjoy his present. His fragile, old body bent down with the weight of the woods and continued to walk along the steep mountain hairpin bends.
Pine Forest
After indulging myself in this quaint, little hamlet I headed towards Lava which is situated at lower altitude. But on the way again I had to pause my journey as I got enchanted by the damp, mossy aroma of deodar and alpine forest on the mountain stretches. The view was magical. otherworldly. I stopped the car and and unleashed my journey inside the mysterious wood. The forest looked like straight ripped away from a Bollywood movie. The pine trees in abundance welcomed me in their world. As I went deeper and deeper into the nut brown forest, mother nature unfolded her hidden beauty one by one. The trees stood like pillars and almost covered the blue sky above. A broken chain of golden sun ray softly fused through and played a perfect kaleidoscope on the silver mist.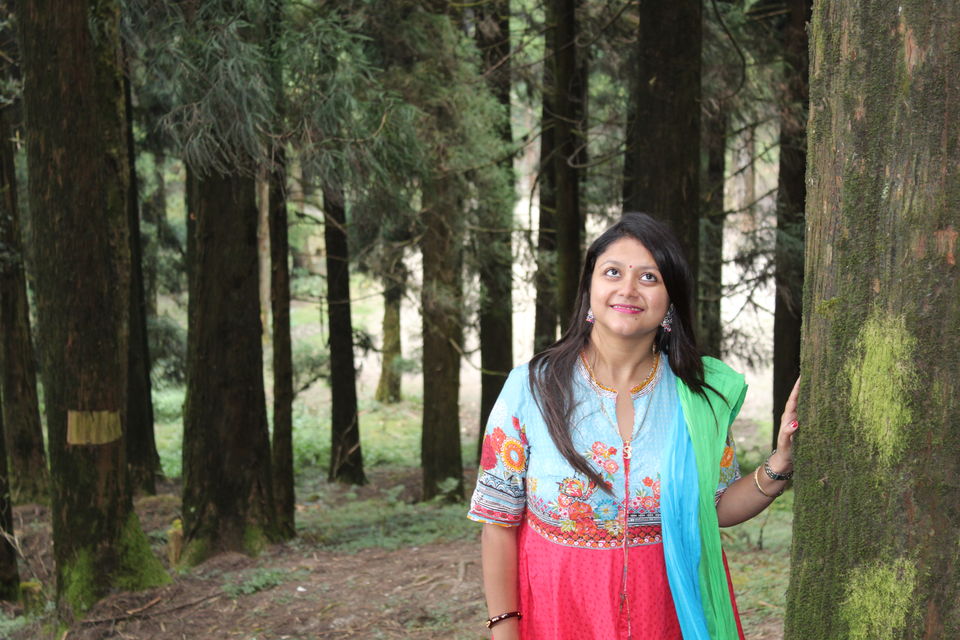 Lava
When our car started approaching Lava the mighty sun and swirling cloud started a cold war between them. Finally as usual the afternoon cloud won the war and ruled over the entire valley, pushing the sun on the back foot. I stopped by a small shop cum restaurant for lunch. As I slurped a bowl of hot thukpa, the clouds restfully sit outside the shop, making the mountain and valley a little more hazy, a little more mysterious. The mercury dropped down absurdly with razor sharp chill wind and I cursed myself for not carrying any warm cloth with me.
After lunch I walked few kilometres along the steep road and reached Lava Kagyu Theckchen Ling Monastery. The walk was smooth and full of scenic beauty at every turn. It was 2.30 in afternoon and the entire valley was blanketed with thick sheet of mist. This small monastery stands peacefully amidst the dense forest of Deodar, Juniper and Alpines. The fluffy clouds lazily rolled down and cut my way.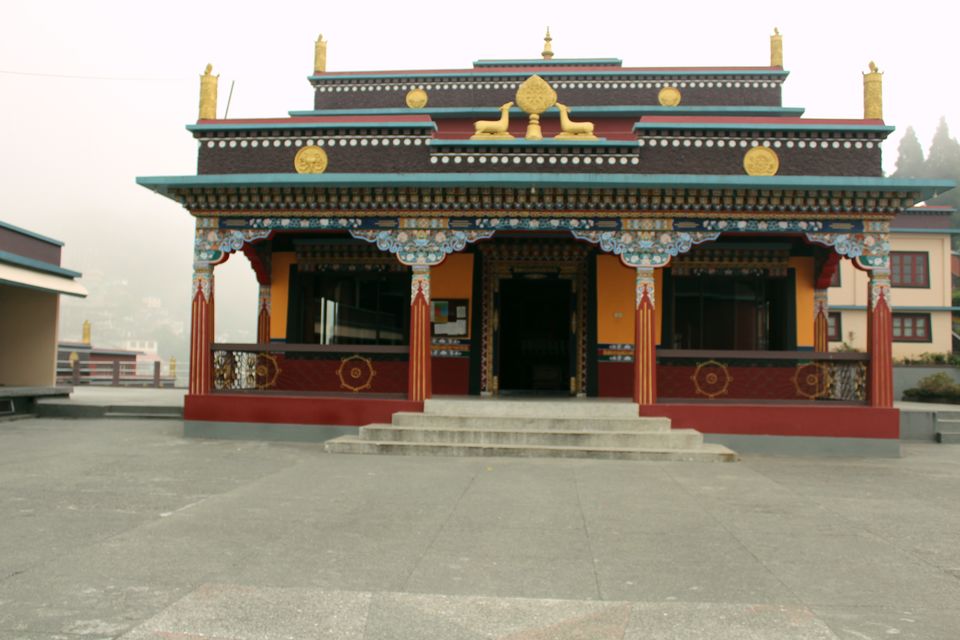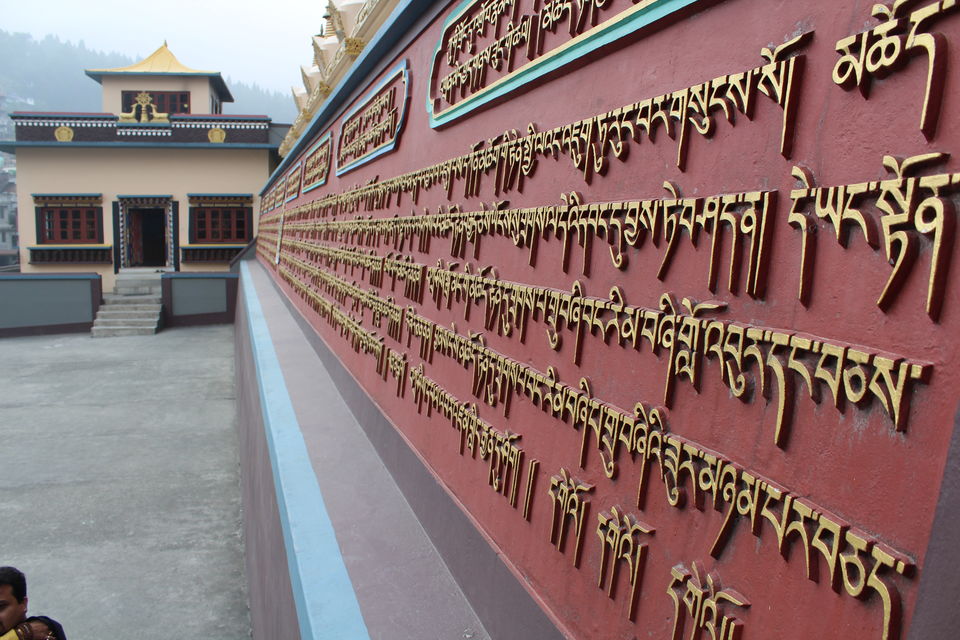 The Holy Buddhist chant was echoing across the whole area. In the backyard there was a small garden overlooking the the misty Lava valley snuggled in the arms of mountains. After sitting in the garden for a whileI roamed around in the premises.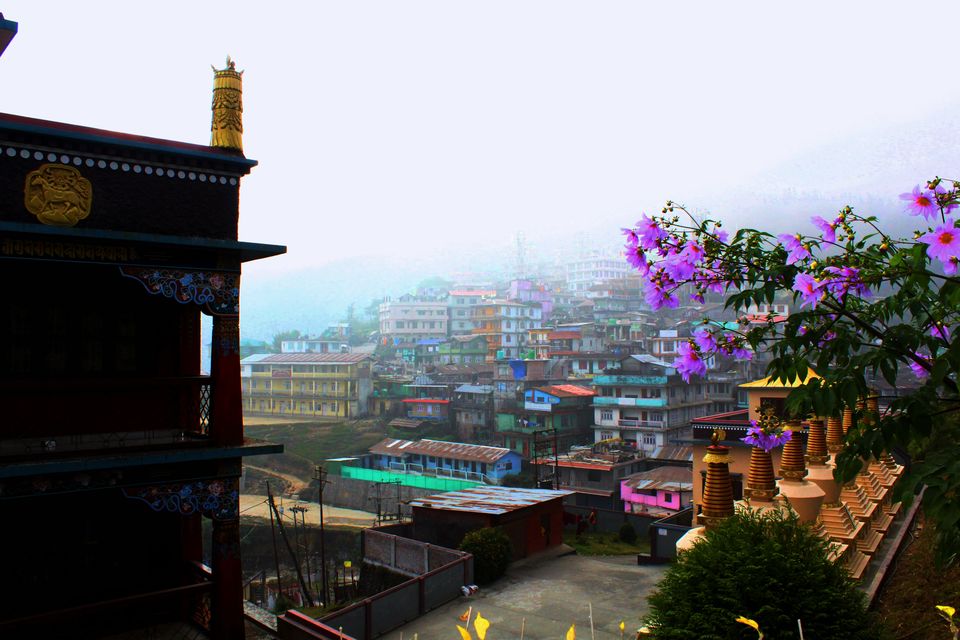 Few monks came out to enjoy the languid afternoon. Some were playing football in the small backyard while other enjoyed the game from upstairs. After absorbing this heavenly and spiritually enriched energy of this monastery, finally it was the time to descending the mountains.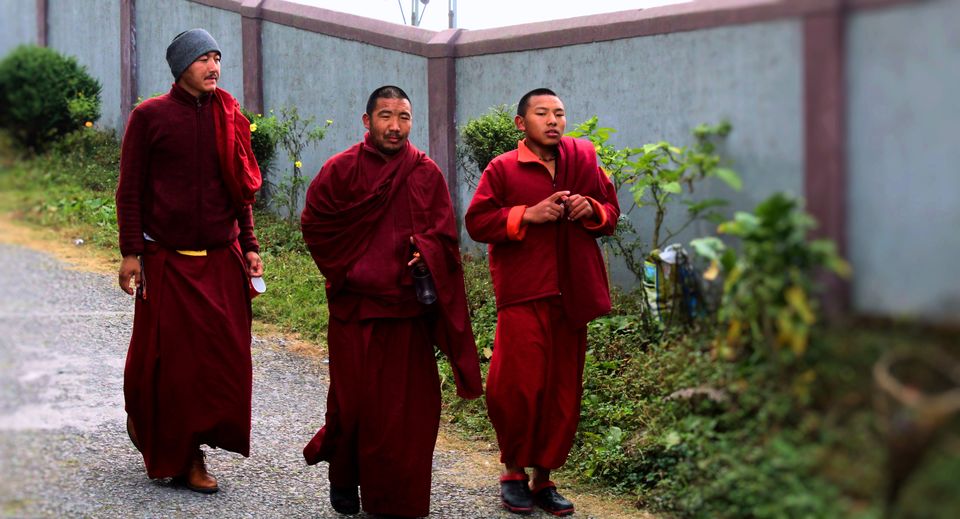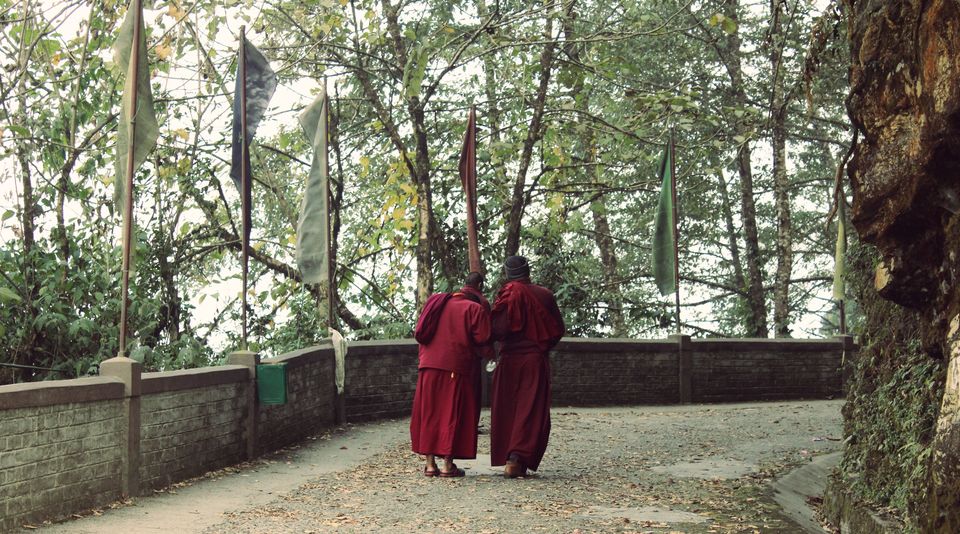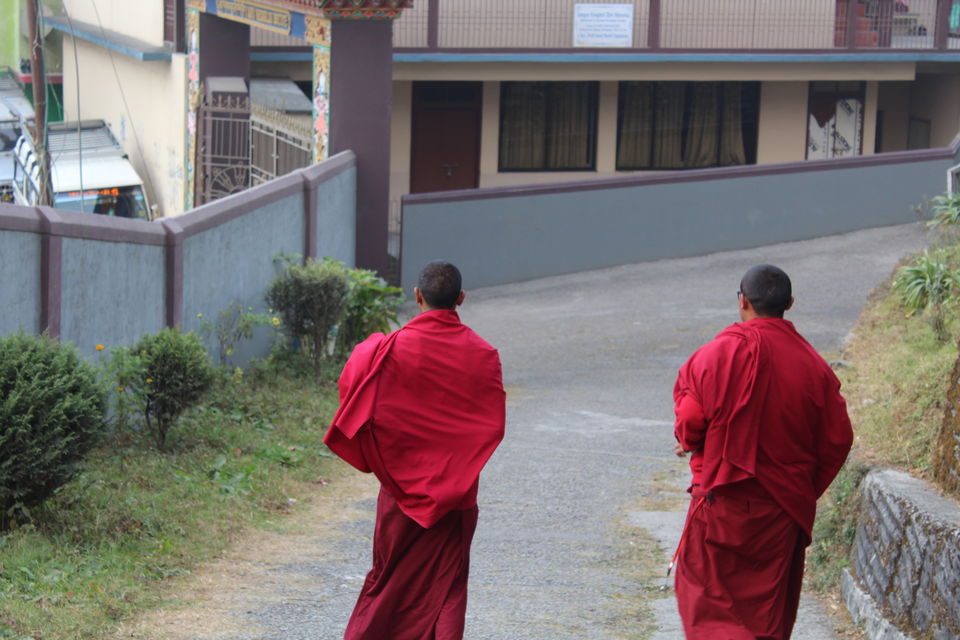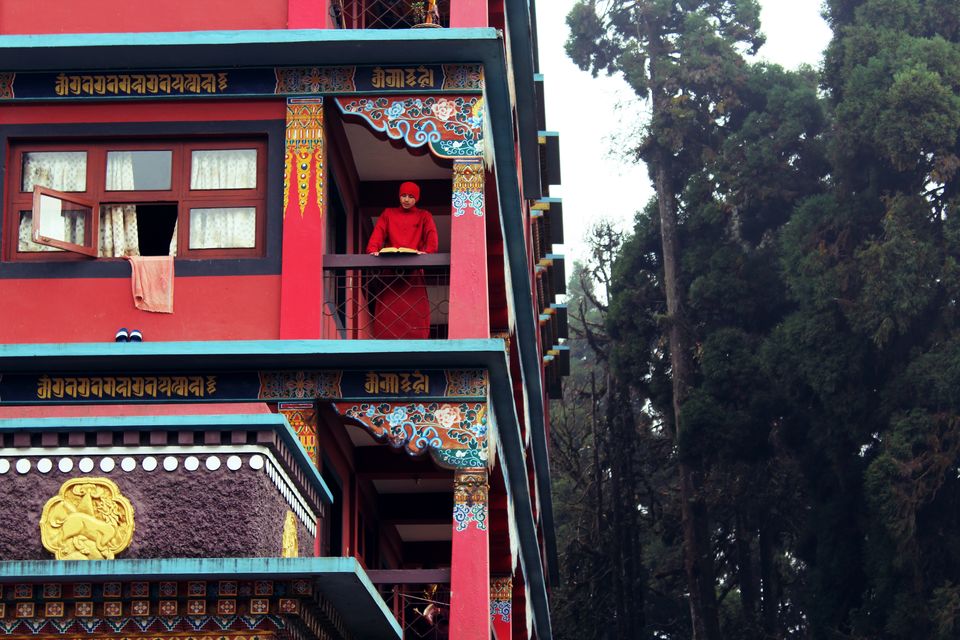 As I drove down, my car passed through serpentine mountain roads, villages, unknown rivers, tea estates. The main challenge with driving a car through mountains is the journey gets delayed like anything. I encountered with post card perfect landscapes almost in every turn. From a certain place I got a stunning view of the pine forest that we left behind.
The daylight was getting deemed and slowly my eyes started to get accustomed with the scenic view of the surrounding. I was determined to not to stop anywhere as it was getting dark. But virgin mountains never fail to demolish your determination with her surprises. We were crossing through a tea estate and the lined up trees with pink bloom again forced me to pause my journey. I just couldn't believe my eyes. The bloom exactly looked like cherry blossom.
Unfortunately, the entrance of the tea estate was closed. But I was too desperate to obey the closed wooden gate. I crossed the gate and entered into that green heaven adorned with pink jewels. It's a beauty to behold. It was a place where nature stretched her arms with all her elegance. The charisma of that place filled my eyes with splendour.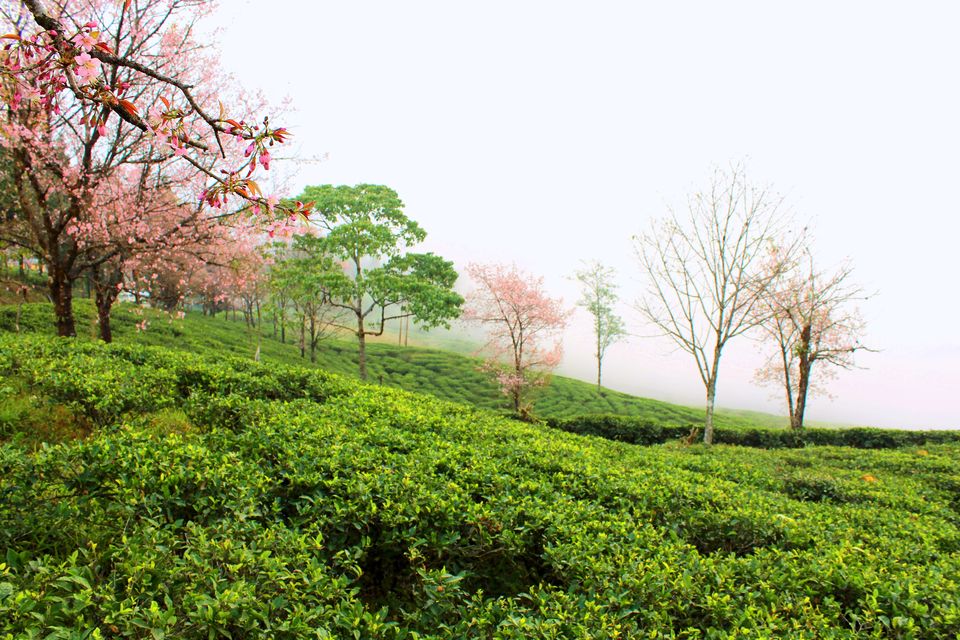 As we descended down the valley the misty blanket started thinning more and more. The sun was just few moments away to sink down the horizon. I looked back through the window. The eastern Himalaya was glittering with faint dotted lights. The mountain villages pulled up the blanket of mist and disappeared into the world of dream.
If you want to see more of the journey of my itchy feet please visit my Instagram Handle pebble_street.