If natural beauty was the measure of economic wealth, Chamarajanagar district would rank among the richest districts in Karnataka. Encompassing BR Hills and Bandipur, two of the 5 Tiger Reserves in the state, it has a total forest cover of 2.76 Lakh hectares against 5.70 Lakh hectares of geographical area.
Vinay Nagachandra, a regular JLR guest and a good friend, was covering this rich country on his vacation. My mind was nudging me to ask him if he could take me along. Who could possibly miss such a chance, especially if you are free and you know someone who is traveling just there with a spare seat in his car!
Vinay and I were sitting at BR Hills IB, thoroughly bored and excessively hungry. Several people came and wished us, as if they knew us for generations. Having been visiting lodges and guest houses at many places, by now I was used to this form of gesture. I knew they were doing this for nothing but tips. Never-the-less I genuinely wished them and deliberately moved my neck away and gazed through the old 'English' style antique window of the Bungalow.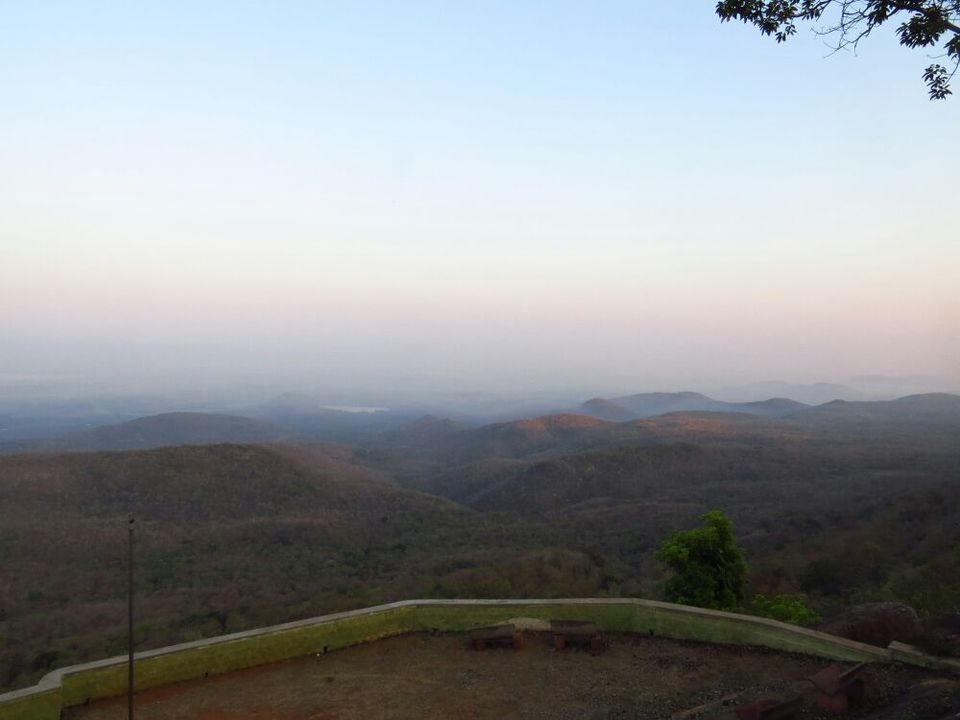 Click-click-click-click went my camera in its burst mode. I quickly looked at the camera's display to see what I had shot! It is probably one of the most annoying thing that you would experience if you are from an anti-wildlife-photographers club. But, trust me (most often) the photographer knows what (s) he is doing; they recognize that 'the moment' may never come again in their lifetime. # Tag, this was one such moment. Rufus bellied eagle, it was the first time we ran into each other. No one could have possibly scripted this. I was overwhelmed with joy. Of course since I had never seen this species before, I was a bit uncertain about its identity. I looked up for a detailed description of this species in Grimmett's bird book and on the internet, the result was affirmative.
Our afternoon meal was planned at Giri Darshini, the ONLY 'restaurant' at BR Hills. I could go on about this 'hotel' and never stop, but I promise to control myself and provide you with only rudimentary information to inaugurate the premise for you.

Giri Darshini has a head cook named Sudindhra, who not only is a good cook but an artist, musician biker, rock fan and most of all the finest PR person I have come across. For those who have interacted with him, you would agree that he is a guy who could talk just about anything under the sun, accurately and quite literally. You cannot discount showing interest in him. Sudindra keeps you occupied till your 'set menu' arrives, which is likely to be Chitranna or Special Puliogre with a silent 'S' or Set dosa – with no definite measures.
If you ask for 3 dosas, Mahadevappa, the server (almost always) wearing kahaki shorts and checks shirt with first four buttons opened and a dirty red towel hung on his right shoulder would give you 5. If you happen to ask him for 5 dosas he may give you 1, and so on and so forth. Don't even think of establishing a pattern here, you will mess it all up. The thumb rule is: just eat what they serve!
If you are used to JLR routine you possibly will answer this, what's the first thing that comes to your mind after having lunch at a Tiger Reserve…..SAFARI – My soul was yearning for a game drive. I cajoled Vinay and Swayam,(who joined us for lunch) to find if we could get a safari at K Gudi. We could not. But, we decided to have a feel of the forests by driving in Vinay's car from Giri Darshini to Hondarbalu gate – a 35 kilometers of forest stretch.

We drove at about 25-40 kms per hour in the deserted roads of BRT Tiger reserve, chatting and sharing each other's experiences while at the same time keeping a good look out for any animal moment. Just after crossing K Gudi check post, at the right corner of my eyes I could see some yellowish abstract element, but somehow the black rosette was very clear and left a strong image of a leopard in my mind! Without thinking twice I shouted "leopppppppppppaaarrddd, back back back". As the car backed up, I had lost the angle at which I had spotted this abstract object. Biting my tongue, I just about managed to add the word "MAYBE", to be on a safer side.
As the car halted, "switch off the ignition" I whispered to Vinay. As good luck would have it, I could see a young male leopard with clean coat lounging lazily on horizontal tree branch, about 30 feet from us. I and my camera went berserk, we started clicking multiple images of the same leopard, with multiple angle and we were fortunate that he posed for us. That was not the end of it, he was so enduring that he even let me and my camera change settings to suit the harsh sun rays which was rather giving darker picture. With inquisitiveness he stared at us, as a long as he could without a wink. Without more ado, he shot from his throne at once, without any warring and bolted into his kingdom which we are a strangers to.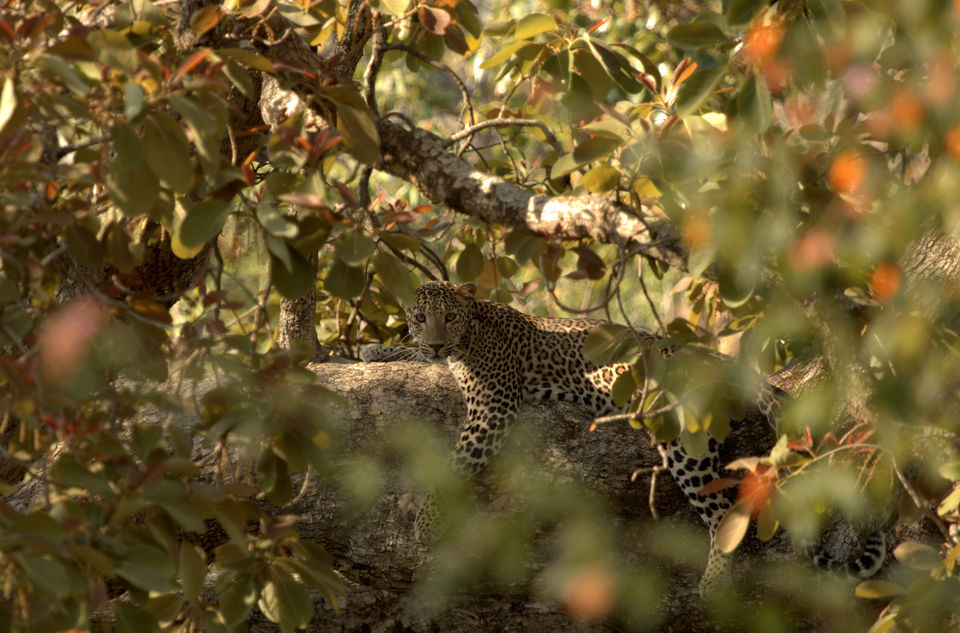 Even to this day, the moment remains etched in my mind and heart. It surely called for a celebration. And what better way to celebrate than with the children of nature themselves – my second Sholiga festival invite in my one year-break-from-corporate stint.

I knew what to expect and this time I made sure I did not do the foolish things that I did in my first festival. We landed there much before sunset and had a jeep arranged to pick us right after dinner. Safely, at around 10 PM we finished the celebrations and returned to BR Hills IB which was our base camp.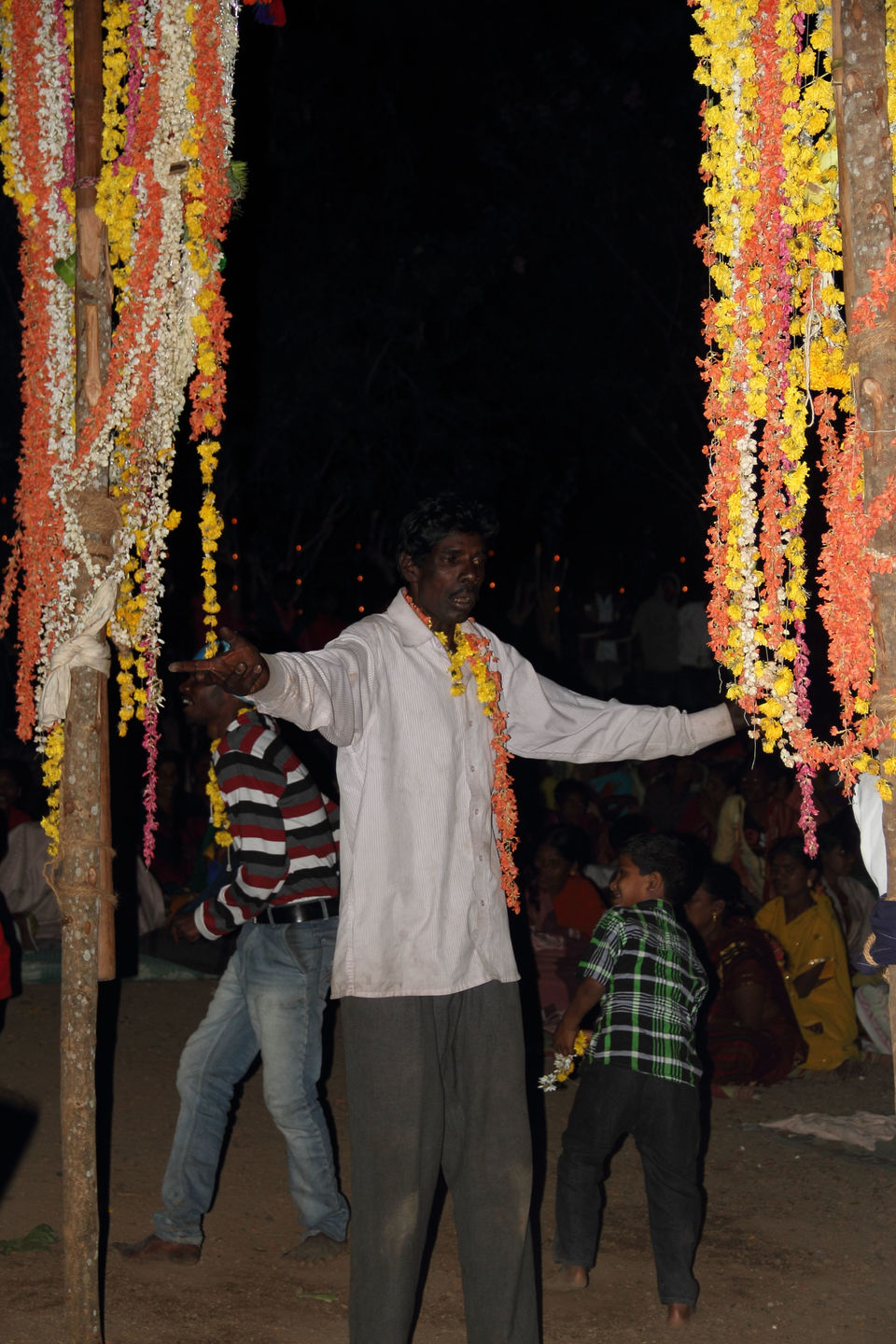 A young half-moon hung low in the Western sky when we reached the IB. It was a beautiful night instead of hitting the bed, we decided to sip a hot cup of black tea sitting in the veranda of the IB, gazing at the stars with a full view of valley in the forefront. We were chatting about a hot topic of red tapes in India when suddenly we heard a deep throated call resounding through the foothills.

Sounds are difficult to translate into words, and for those of you who are not acquainted with our jungles, I would try to describe this call: a-oongh a-oongh it repeated again and again at short intervals. It was a tiger calling for its mate! We sat transfixed, as the sound echoed in our ears. Indeed it was a beautiful night.
I relished this trip, mainly because it had been over 8 months that I had visited my K-Gudi. Everything seemed familiar, yet I did not know much! It was a strange retrospective feeling, and the end of my trip!