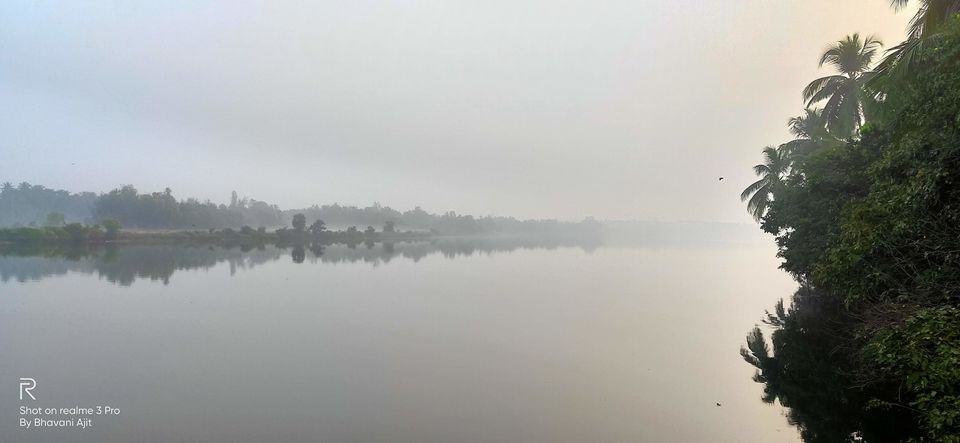 As I am writing this, we are two weeks ahead from the DAY. I am excited and we all are, at home. We have not done a vacation since December 2016, so its been 3 years we have done one!!
The year 2019 is coming to an end, life has moved on and we haven't turned back. My wife joined me for the first-day outing in 3 years last week ( remember Thonnur Lake?). During the trip, we thought going for a vacation soon, preferably in December end or January. No place were discussed, only the time frame - 2 night stay.
I am a travel freak, so I have this exploration and tour planning in my blood day in and out. The thought just never goes, no matter how hard I try! :) For those of you who haven't joined me yet on an outing, please do to believe :) You are going to spend the best time of your life!
13th December 2019 - Two days ago, I proposed this idea of a vacation with my wife, for a 2 night stay since we planned it earlier. She had examinations in her college and was stuck with invigilation duties. "It would be over by 21st", she said. I said "I am not in a hurry, can wait". "But I am", she whispered.
Bang On!, we were ready for our first vacation after 3 long years, and this one is special since we have a new company with us - our Daughter. We were clueless on how she would behave and react for a long journey ahead. The place is not decided yet!! No planning in December, leads to sorrow, they say.
With a 2 year old kid at home, planning is important. You need to take into consideration a lot of things while planning - her food, safety and a hygienic place, cant afford to compromise. Hence look out for places began.
12th December - My wife is the only child to her parents, with this, she has got a lot of love and affection at home since birth. Her parents hadn't been in an outing since the last 30 years! So she wanted to take them along. I agreed with a slight hesitation.
Now with additional members added, that too elderly couple, choosing a place was more of a challenge, since the couple is going out on a vacation for the first time in 30 years and they have no clue on how this will turn out to be. They were excited yet had lot of questions about the stay, food, journey etc.
I began inquiring with couple of resorts which I had in mind and to my surprise, all of them were booked till 31st December!! I was disappointed. But as people say Every Cloud has a silver lining. I believe in this and has worked for me multiple times back at home and elsewhere.
During our 2016 days, when me and my wife were in a travelling Black Hole and point of no return, I had discussed and almost booked a resort, but had to eventually cancel it due to personal reasons. This resort stuck my mind, I immediately called up this resort to check availability, and to my luck, they were open to me and the resort was empty!!
"Wow" I said to myself. I told the owner to wait for 45 minutes, while I check with the family and confirm. The owner agreed with a smile ( verbally).
After an hour or so, I called her up and said "we are coming". She was happy to have us around, as I could sense from her words on the phone. She sent the account details through Whatsapp and asked me to transfer the amount to the account number shared. The date of arrival was decided and informed to her - 25th December 2019.
The next issue that stuck my mind is 'Fast Tag' which is made mandatory all over India effective December 15th. I booked it through ICICI site, after filling the form and submitting necessary documents and will get it delivered to my house within a week.
13th December - I started writing this travelogue with an intention to jot down my experience from scratch. Hope you all read it and enjoy. Ah one more thing, follow the blog site and encourage.
14th December - Suddenly a thing came up in my mind, a night journey. I proposed this plan with the family, they thought for a while, hesitated and declined. I obliged! :) ( cant help when family denies )
22nd December - Late evening, our packing got over in an hour. We decided to call it a day and keep the rest for tomorrow.
23rd December - One day for the DAY, and I am excited, oh we are all excited I should say. My car's rear tray was to be purchased, I called up some local car accessories shop and figured out that it is not in stock and would be available in day or two, which was late for me.
24th December - the must in my to do list was a car wash both interior and exterior. Left home early and got this done at KK service station at 9:15 am which is located at Bannerghatta town. It got over by 10:25 am, charged Rs 350. Filled fuel for Rs 2000 at HP petrol bunk at 69228 kms.
Once I reached home, I called up the caretaker of the island and informed about our arrival. She got the things clarified from the owner and we were given green signal!
Camera set - charged, mobiles - set charged, USB drive - songs added and I am set for the drive. The time is 3pm, and another 12 hours to go!
I planned to sleep for sometime, that's when I got a call from an unknown number. It was a courier guy asking for my address to deliver the Fast Tag that I ordered. As mentioned in the ICICI site, it was delivered on the exact day, 24th December. Nevertheless, I cannot use it for this outing since it got delivered to my Parent's house and I don't want to waste time to go there just to pick it up.
However to my surprise, my father gave us a visit after sometime, and that gave me some hope to use the tag. I watched some videos in youtube on how to apply the tag and we successfully applied the tag in the right way.
Started looking into the minor things we might have missed out while packing. I got some biscuits just in case we get hungry during the drive.
The time was 6:55 p.m, that's when my wife got a news that her first Kannada e book is published. We were excited to hear this, shared the news to all the family and friends.
Dinner time today was 8, Uppittu, easiest concrete mix in the world. We slept somehow at 9:30!
Alarm was set at 1:15 am, but couldn't sleep after 12:30, got up at 1 am. My in-laws were getting ready as well, sportive they are, I must say.
I went to take bath first, followed by others and the kid still asleep :)
I drank a cup of coffee, to recharge and we were all set. "45 minutes to go" I said. The kid woke up a bit just in time, but slept again.
We shifted the baggages to the car at 2:50 am, 10 more minutes to go.
We left home finally at 3:06 am.
We zoomed across Nice road and reached Nelamangala toll at 4am toll and paid through fast tag.
Reached Hiriyur at 5:40am, stopped for coffee at Gandhi circle, left at 5:55 am. This is a good place to have coffee, cheap and best. Lots of Tea/ Coffee stalls around.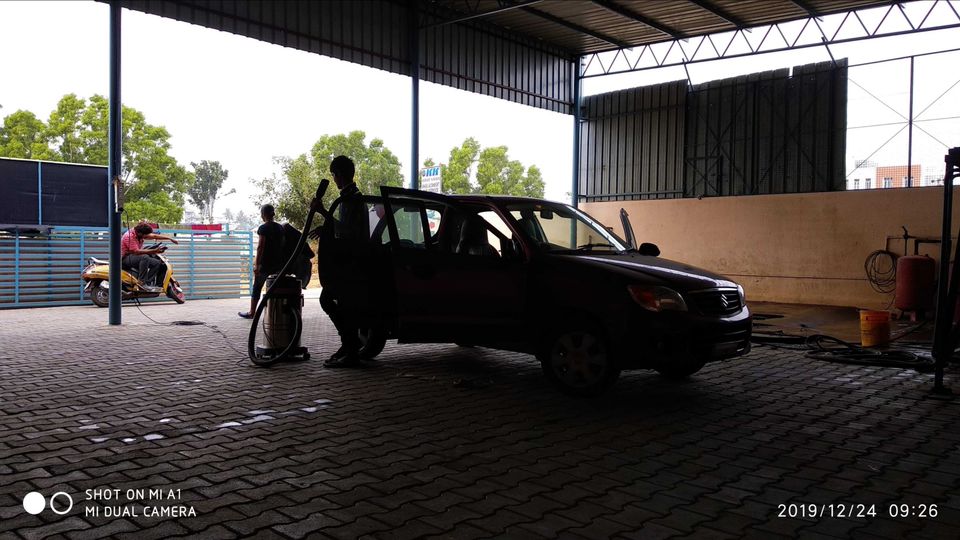 Reached Hosdurga at 6:50 am, time for toilet break 241.2 km into the journey @ Hosadurga bus stand. Left from there at 7:15 am.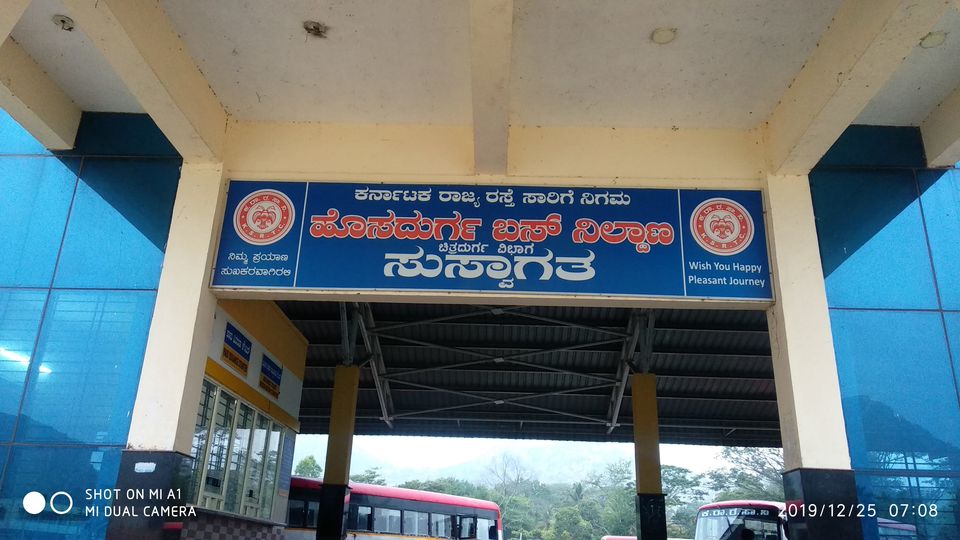 Reached Tarikere, breakfast time at 8:05 am @Hotel Grand Swetha, a very small outlet, popular for Masala Dosa. A must visit restaurant if you are travelling this side. Do not expect hygiene here. After a tasty and filling breakfast, left from there at 8:50 am.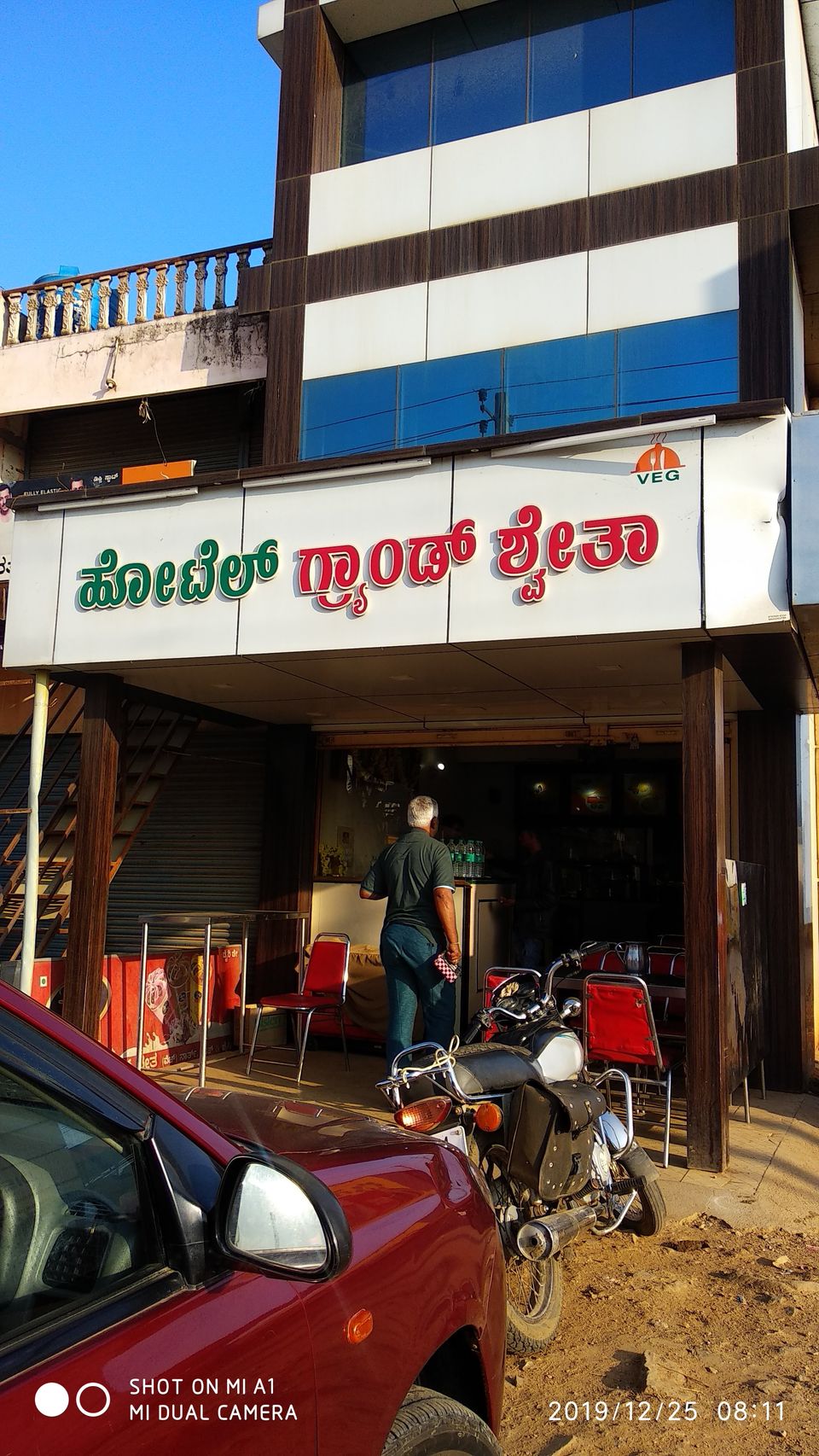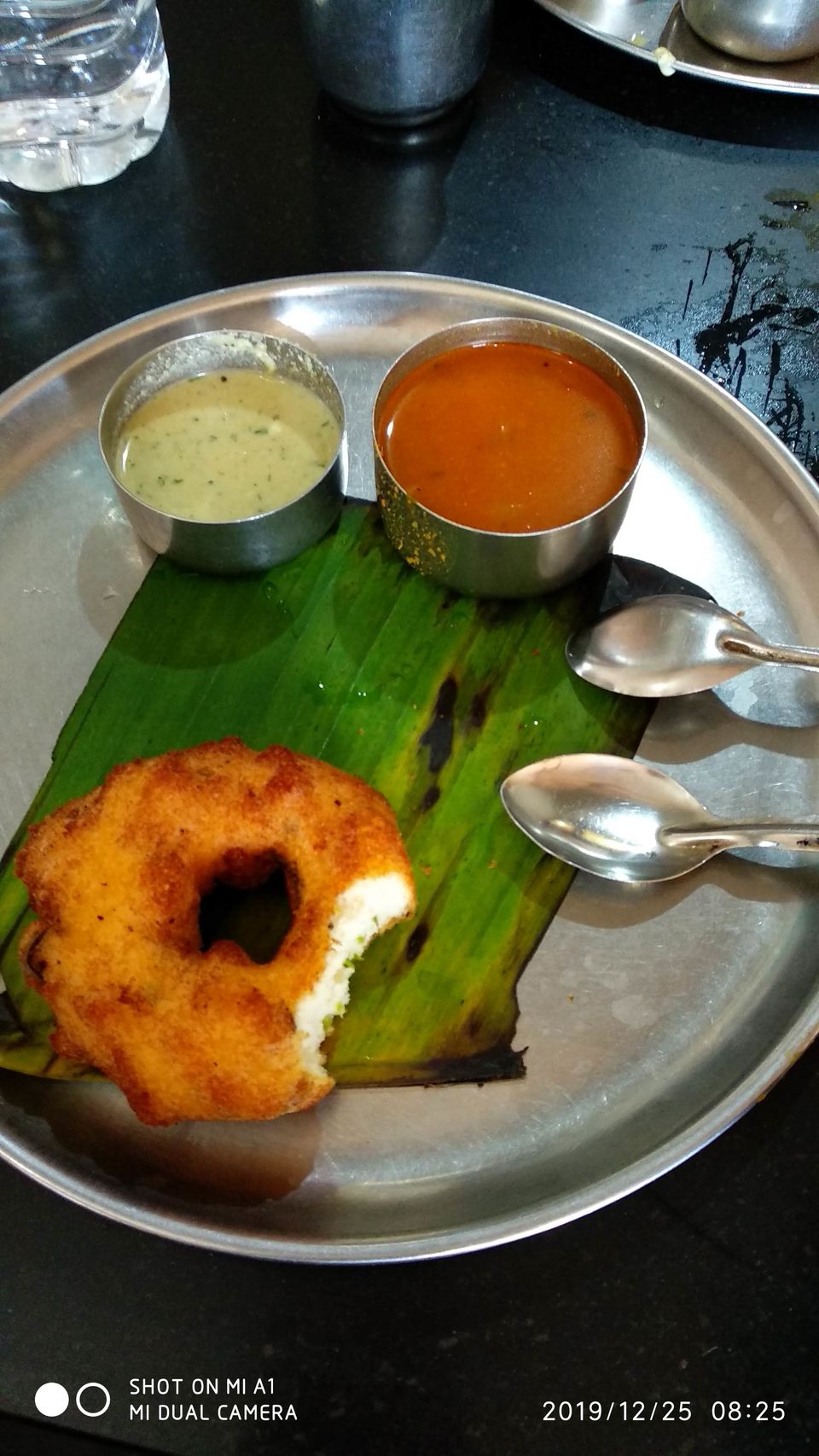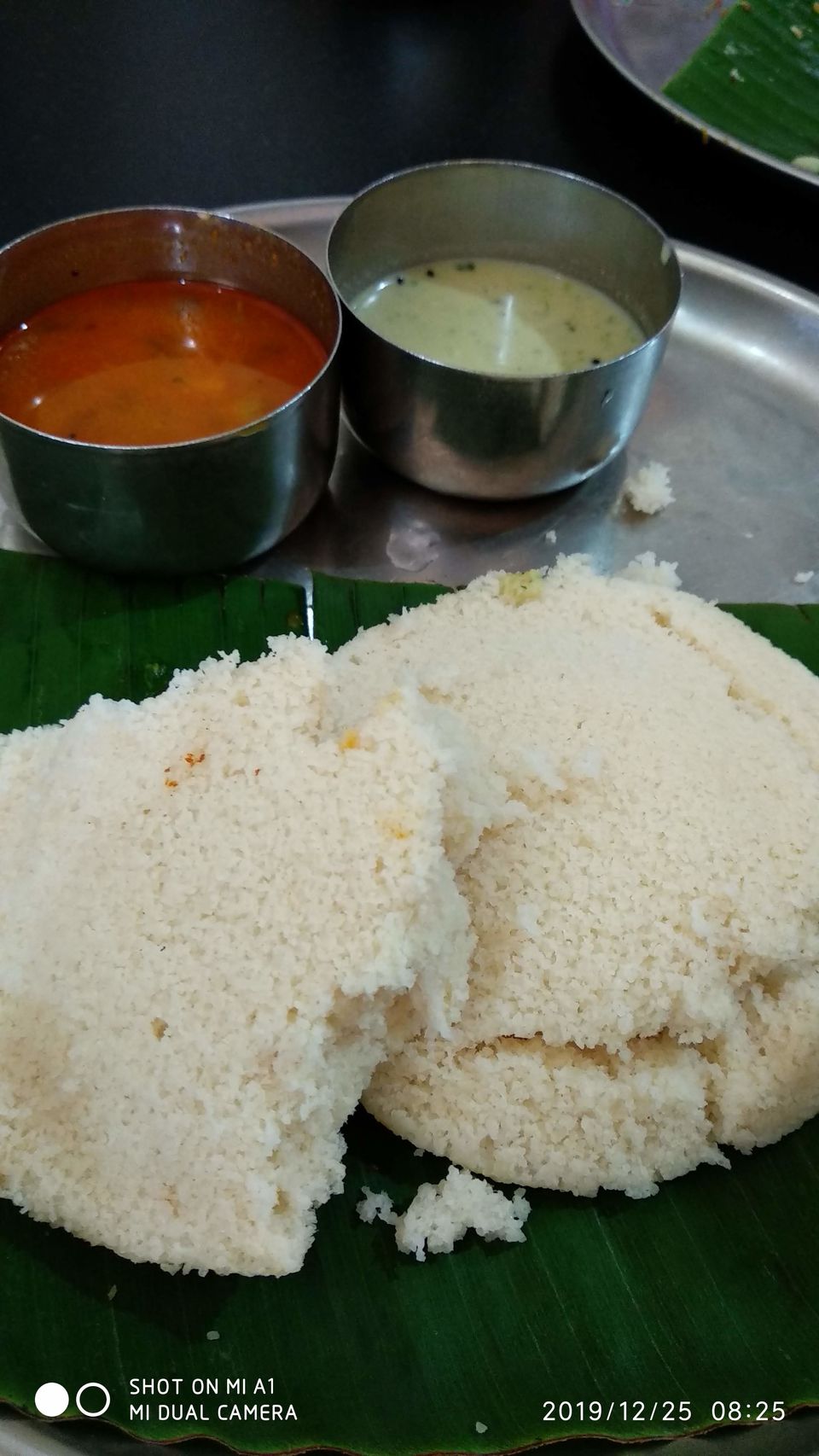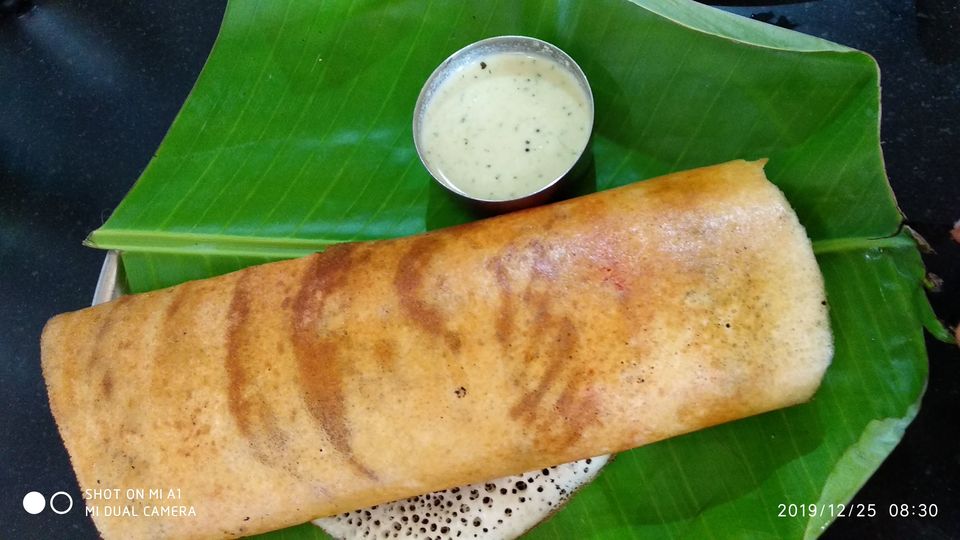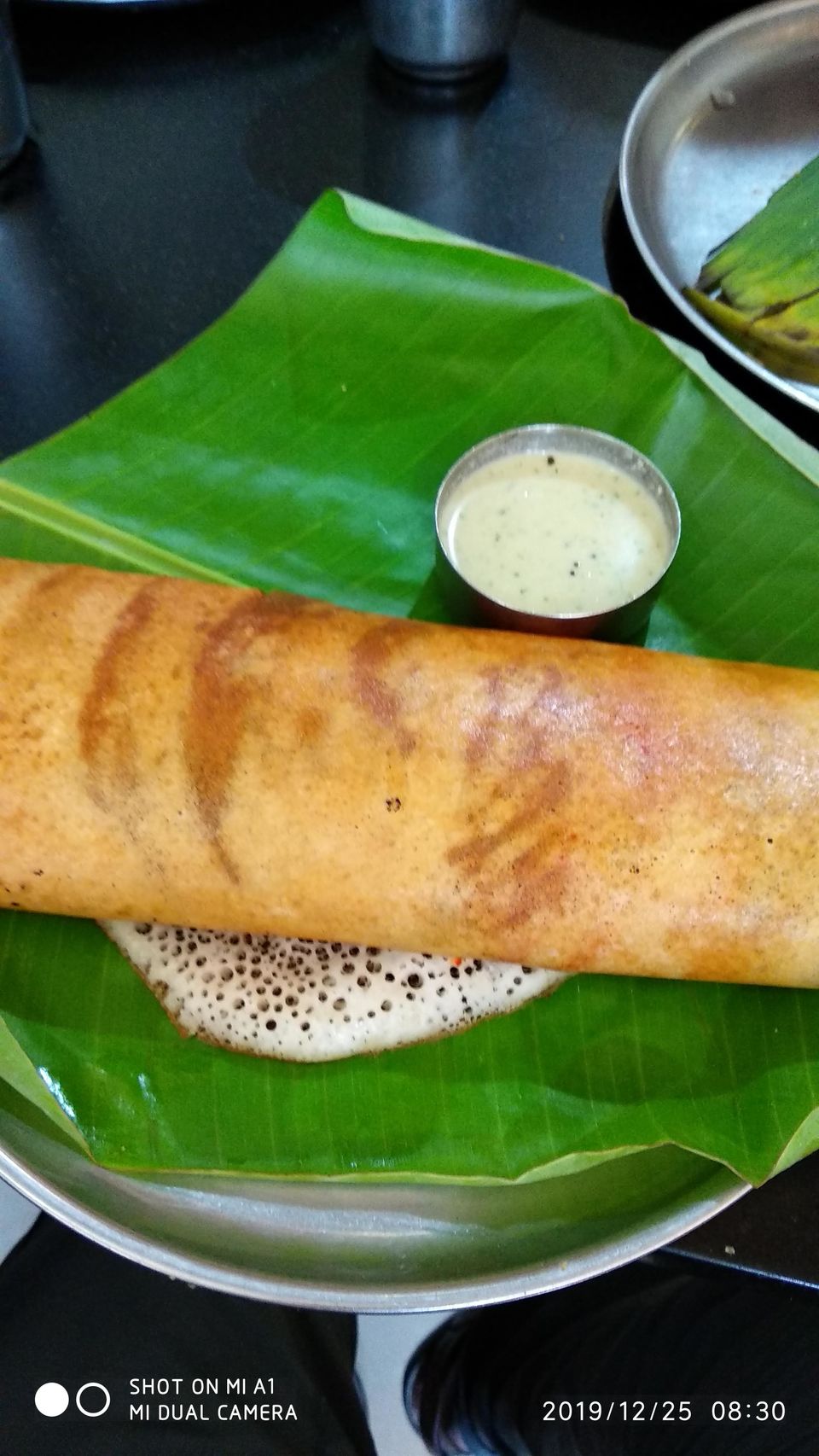 The photos across the bridge was awesome @Mandagadde at 10 am.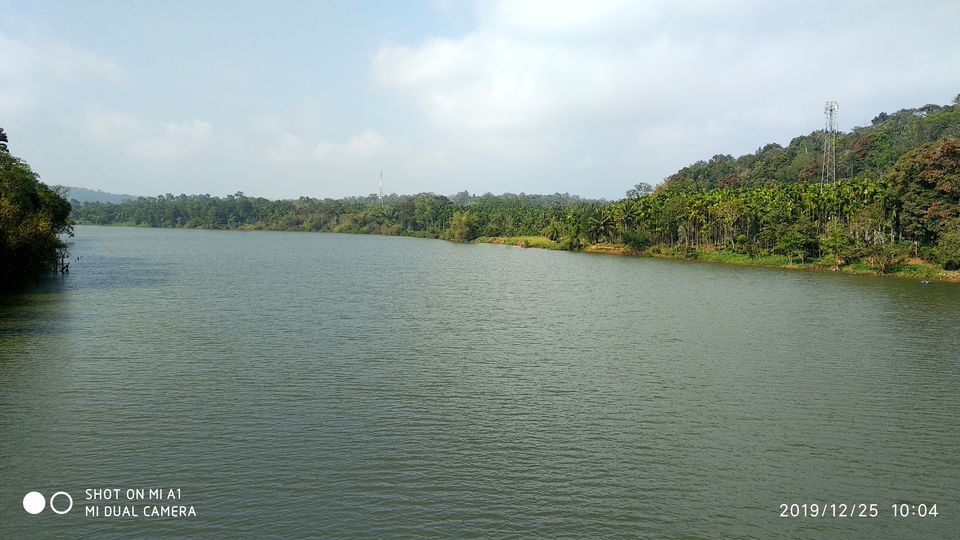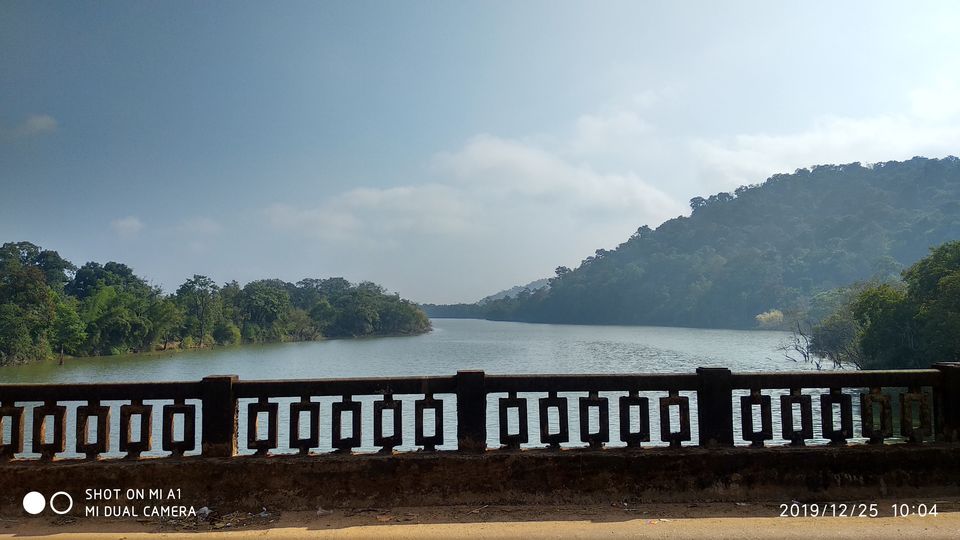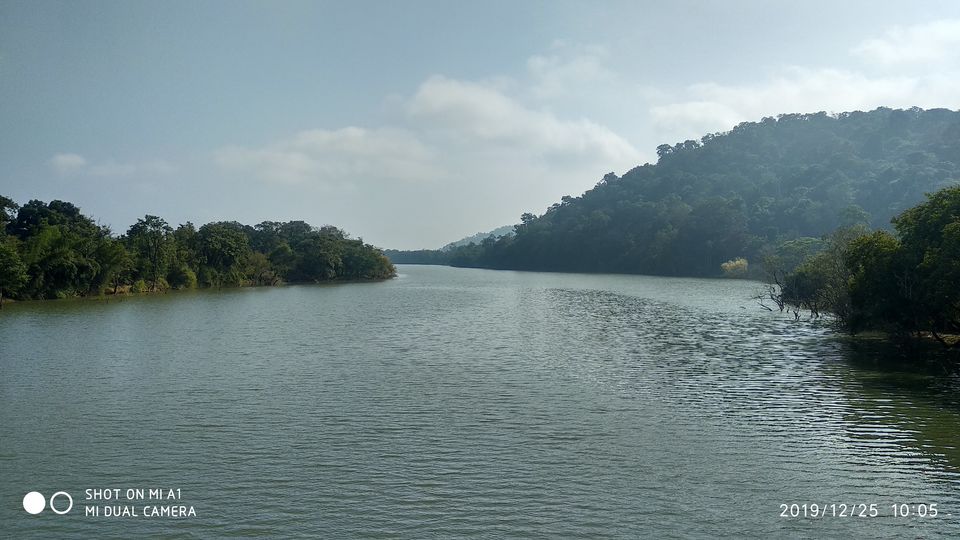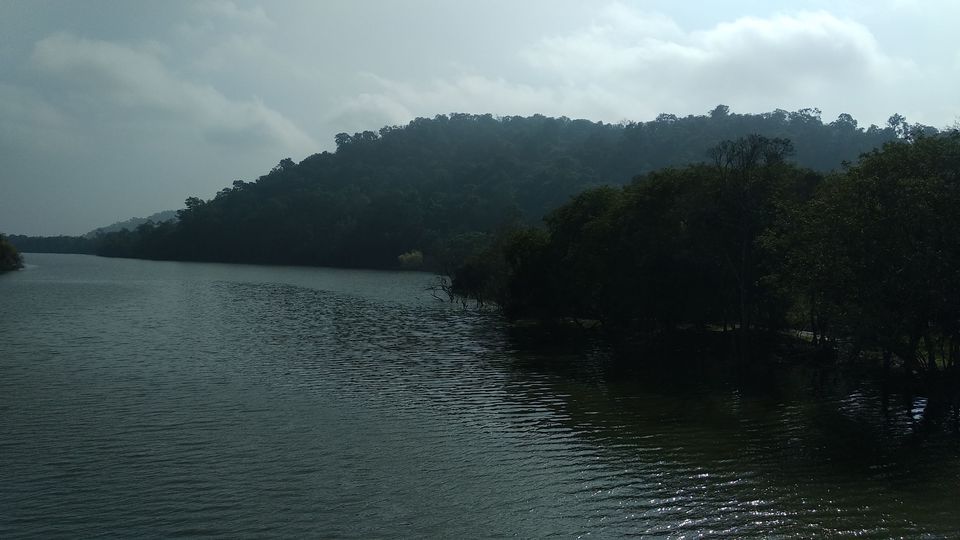 Stopped at Thirthahalli at 10:45 am for toilet break 385.9 km, Left at 10:50 am
We filled fuel at Mahalingeshwara Filling station, Basroor at 2:20 pm and reached resort parking area at 2:30 pm.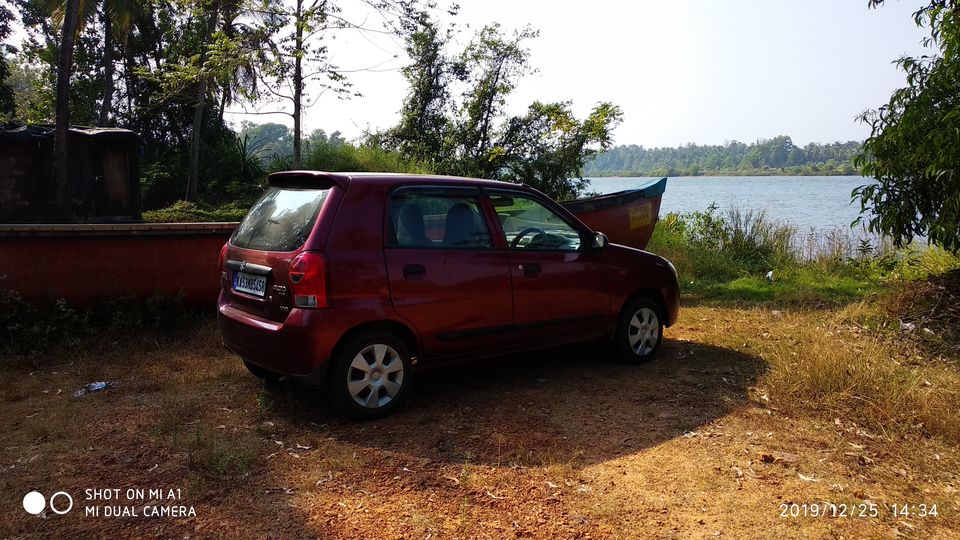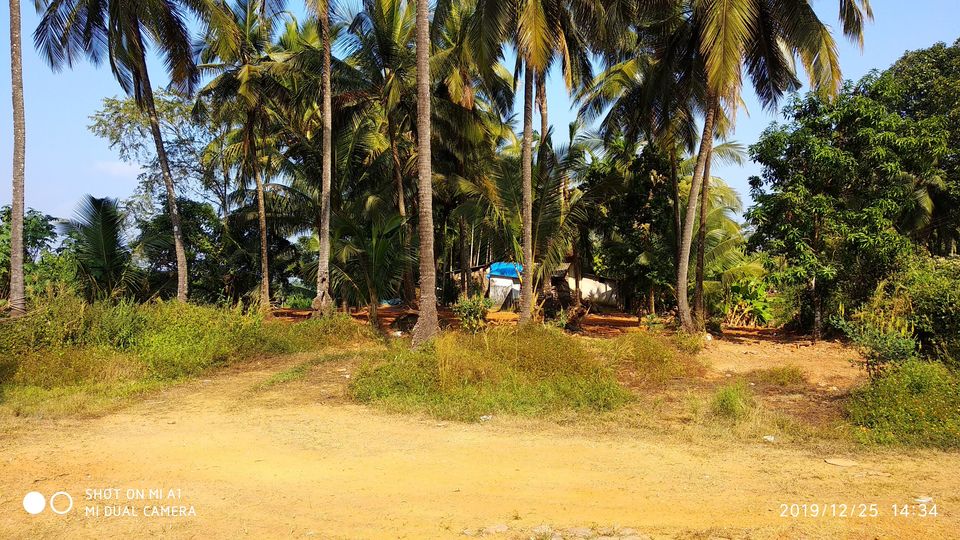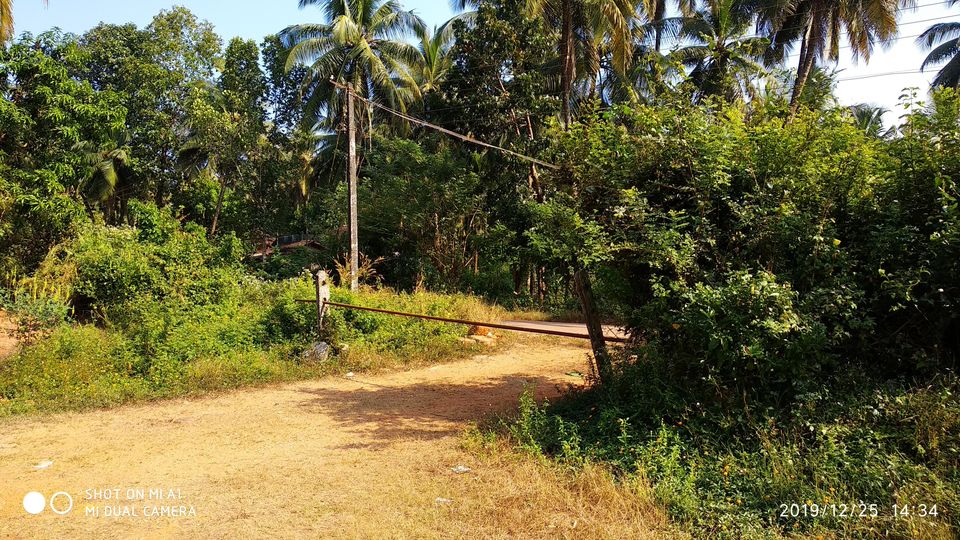 It takes 20 minutes to reach the island by boat and we landed at the island at 2:50 pm.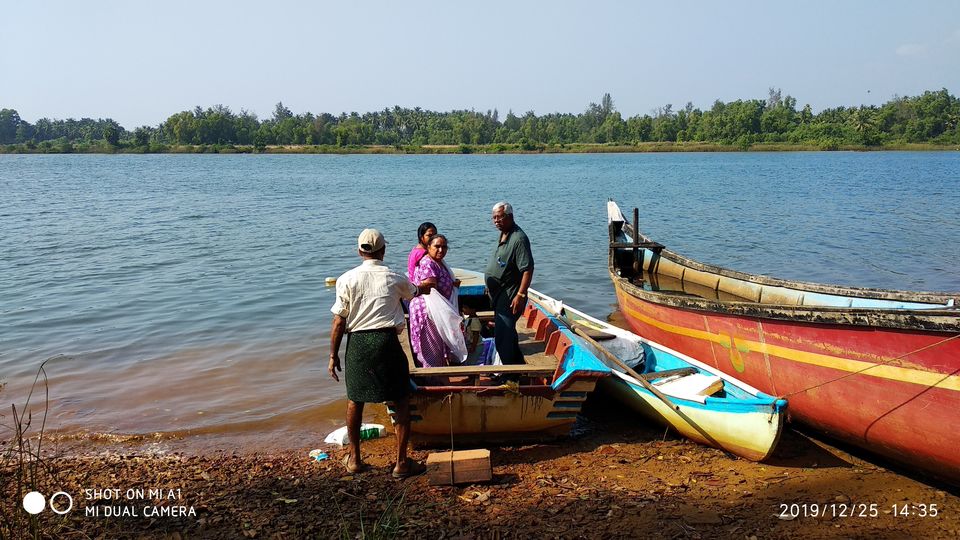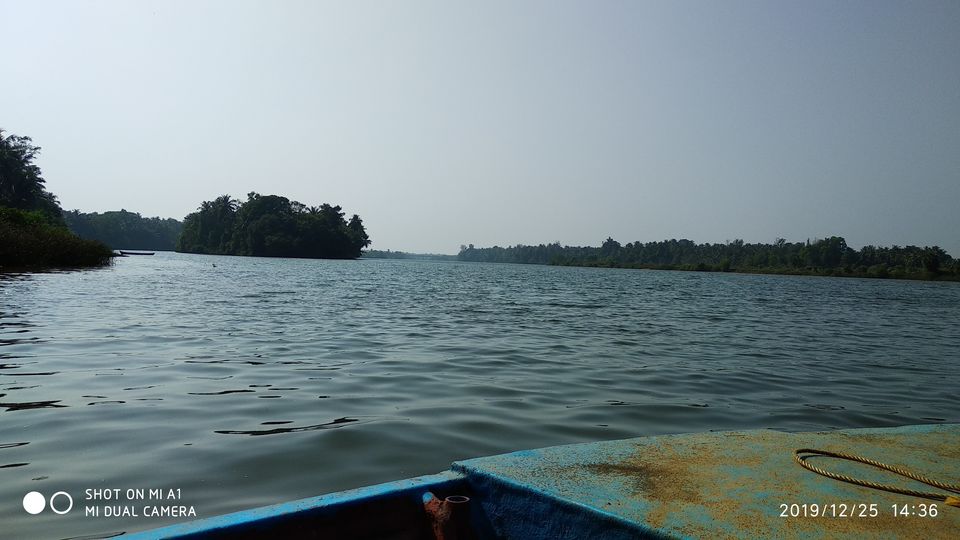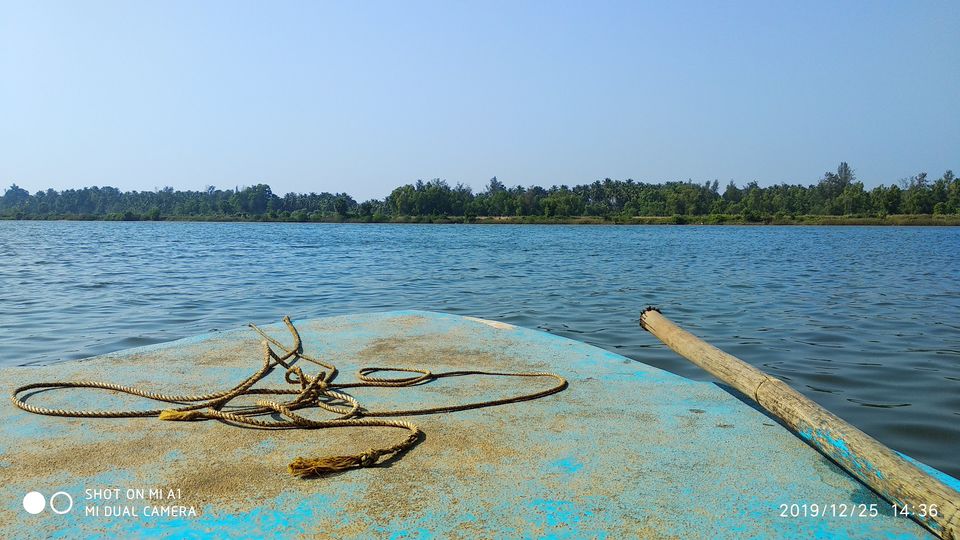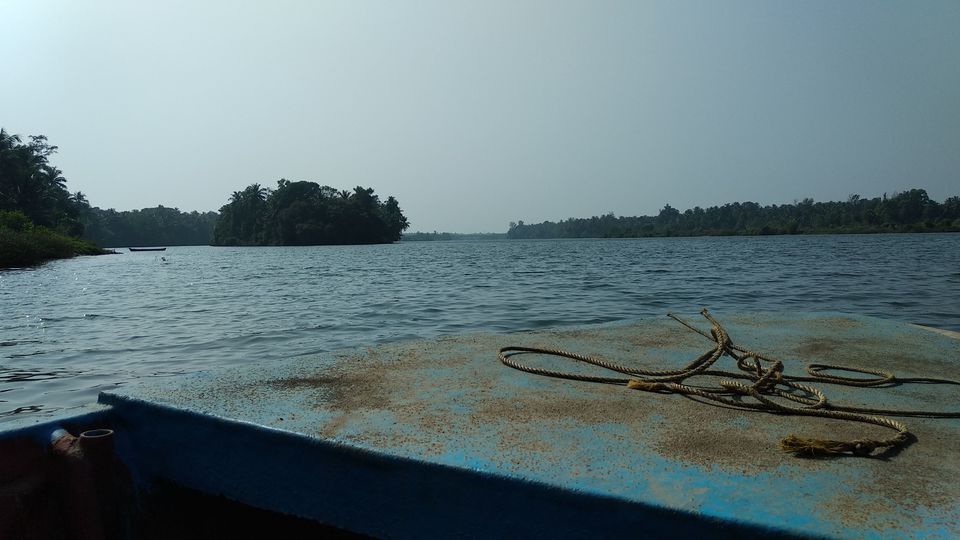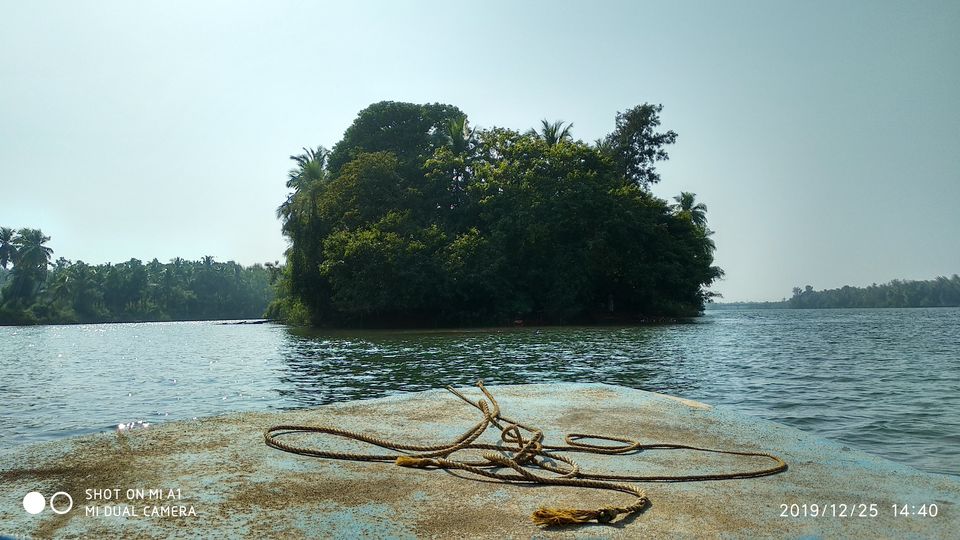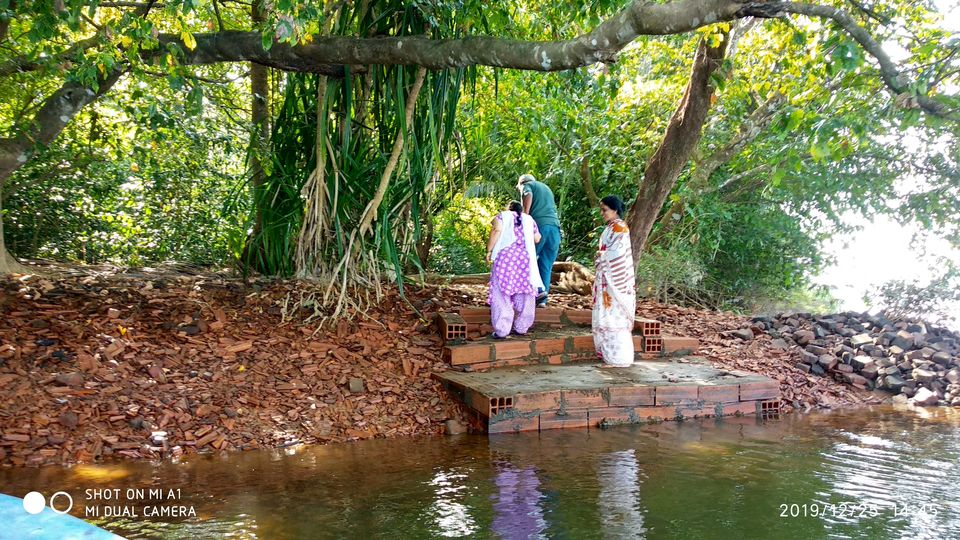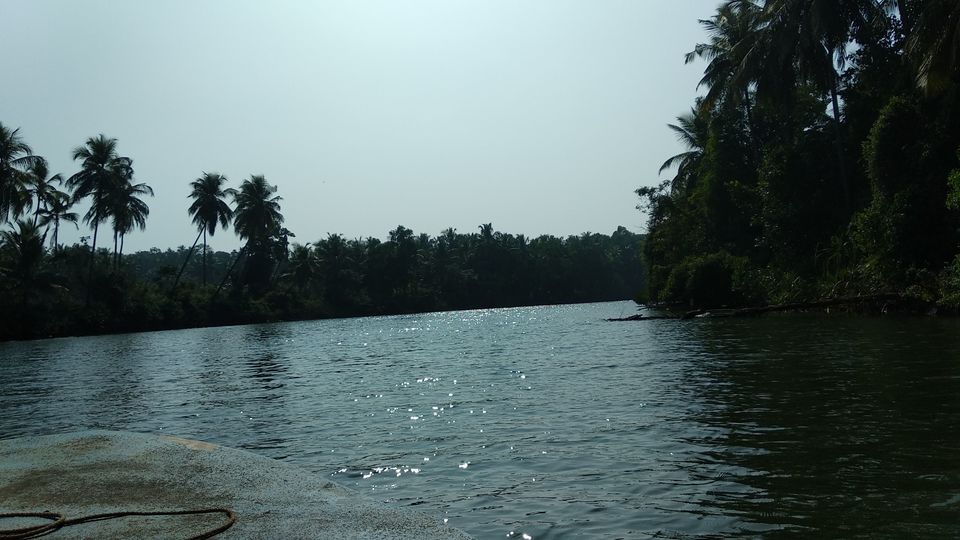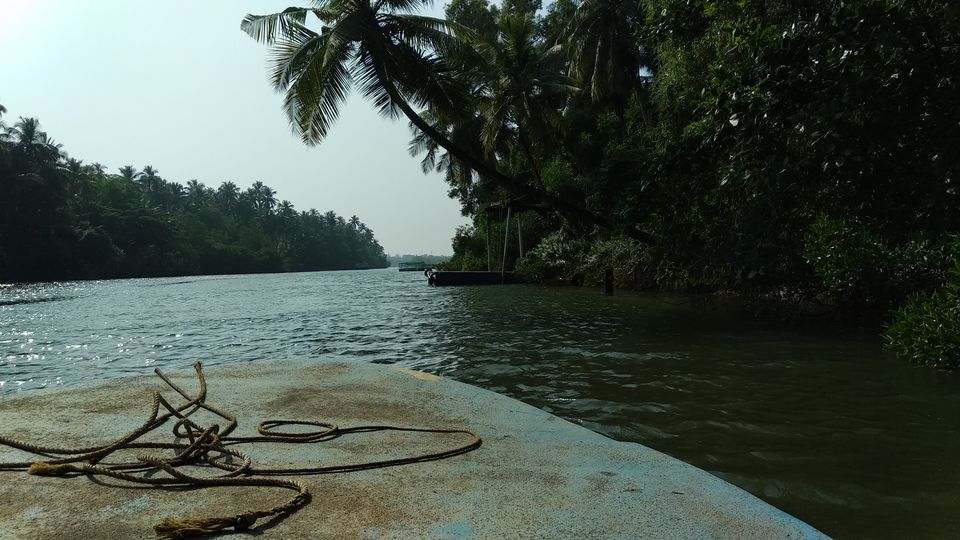 Soans Island Resort - "One of the best Island resort in Karnataka!
Serene, beautiful, amazing are just adjectives to this place. You will only hear birds chirping and nothing else. Watch the river flow or standstill. Spot a number of birds including Peacocks. Just sit back, relax and unwind and find yourself.
Apart from the river view and finding solitude, there is nothing much to do here, do not expect much. Don't miss the sunrise and sunset.
Pure South Indian food, tasty and sufficient for all. Slightly costlier for the amenities provided. Worth visiting once in your lifetime - Ajit Katte"
We quickly freshened ourselves and ate lunch at 3:15 pm.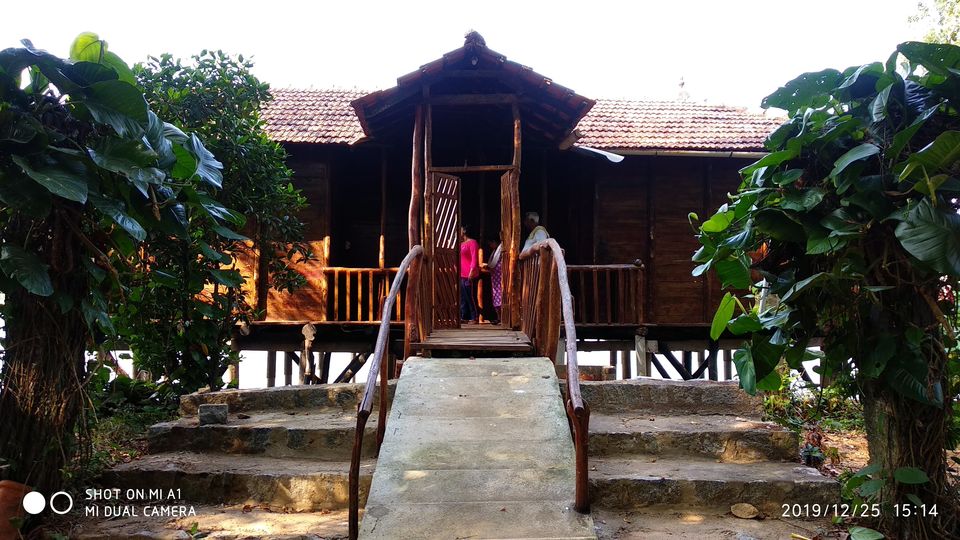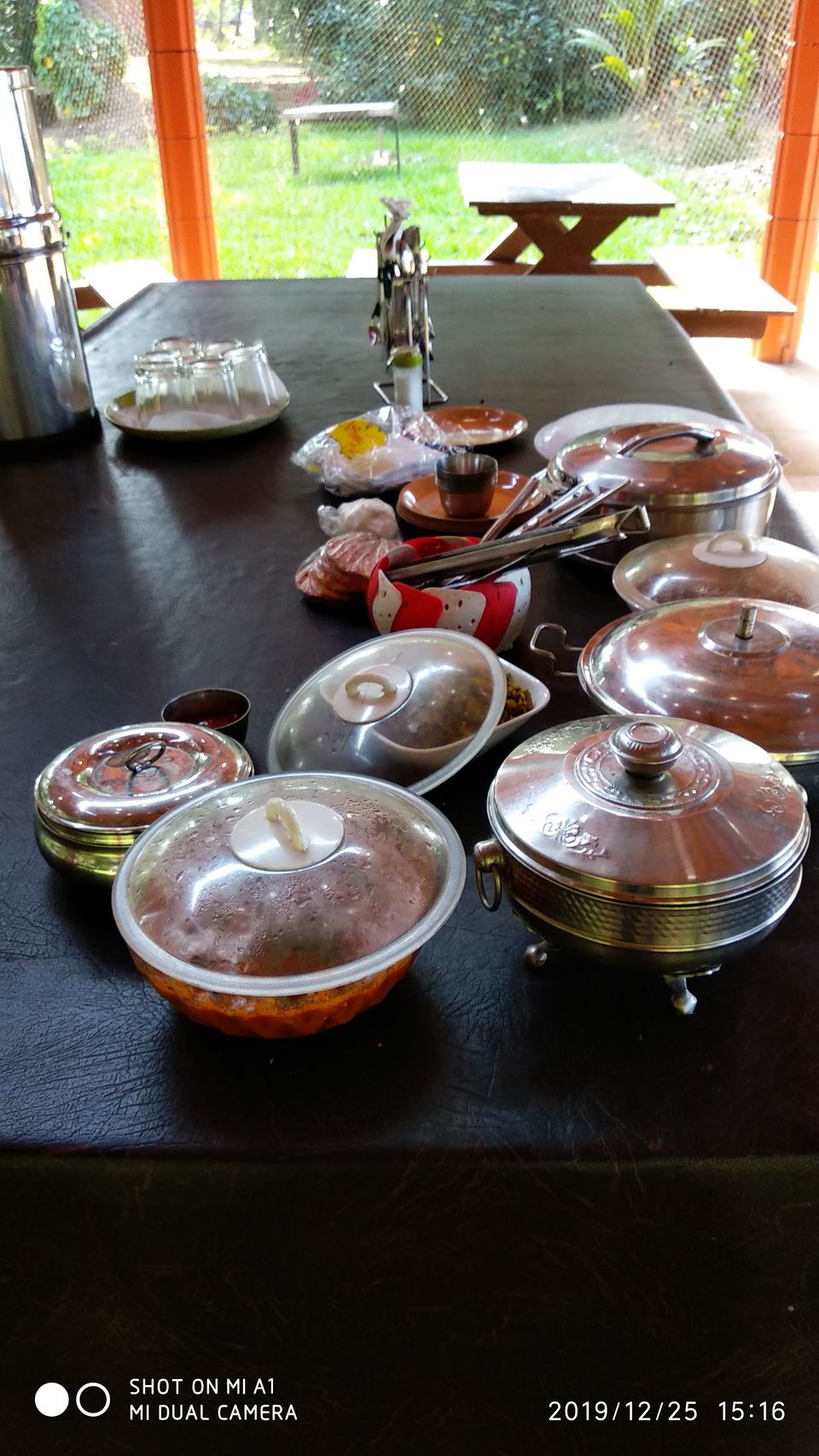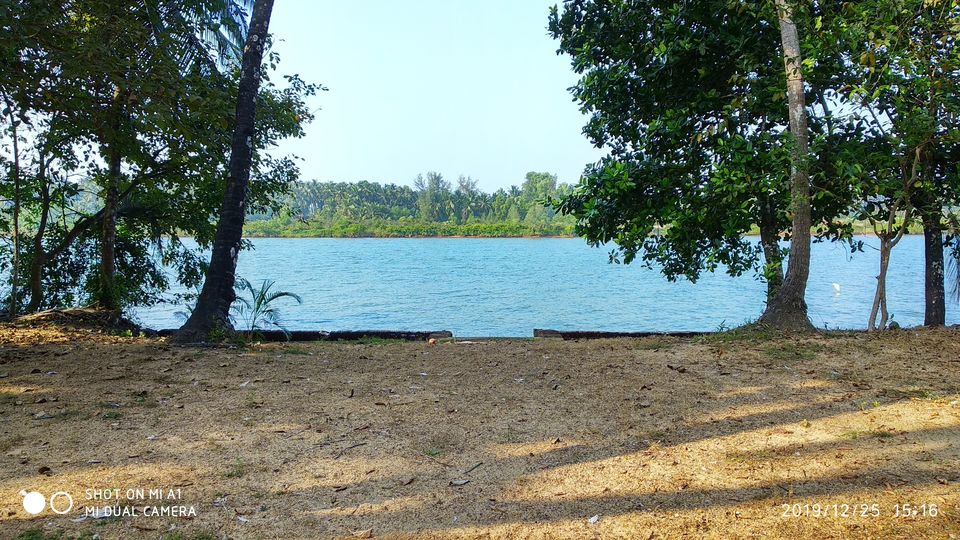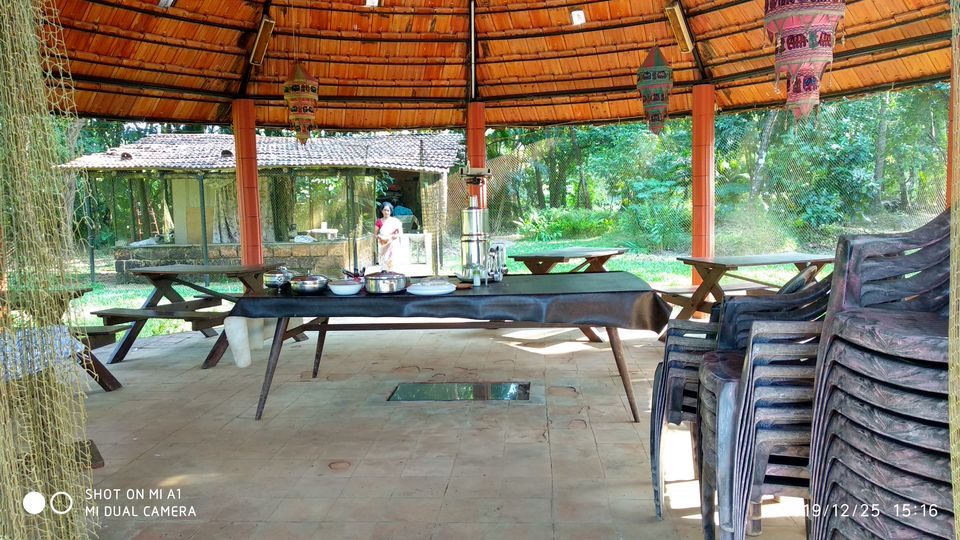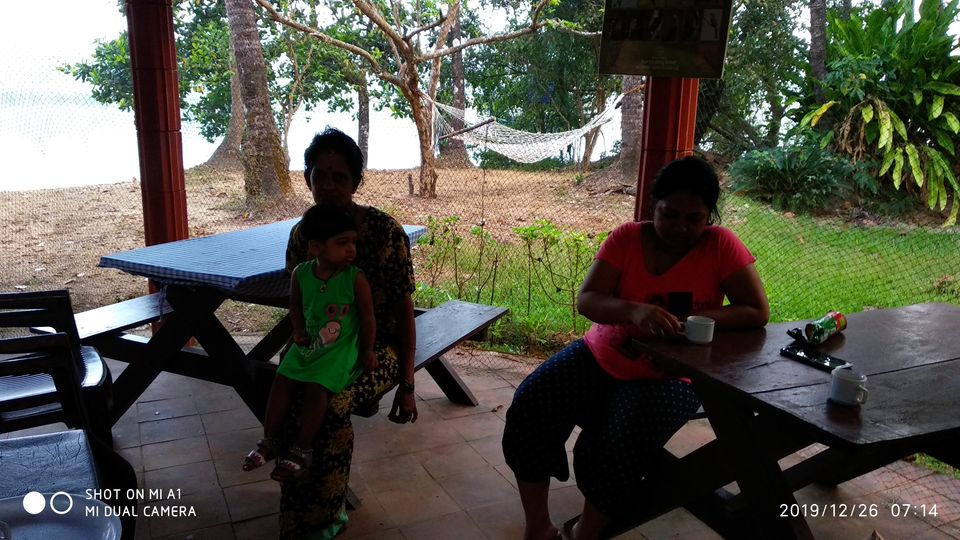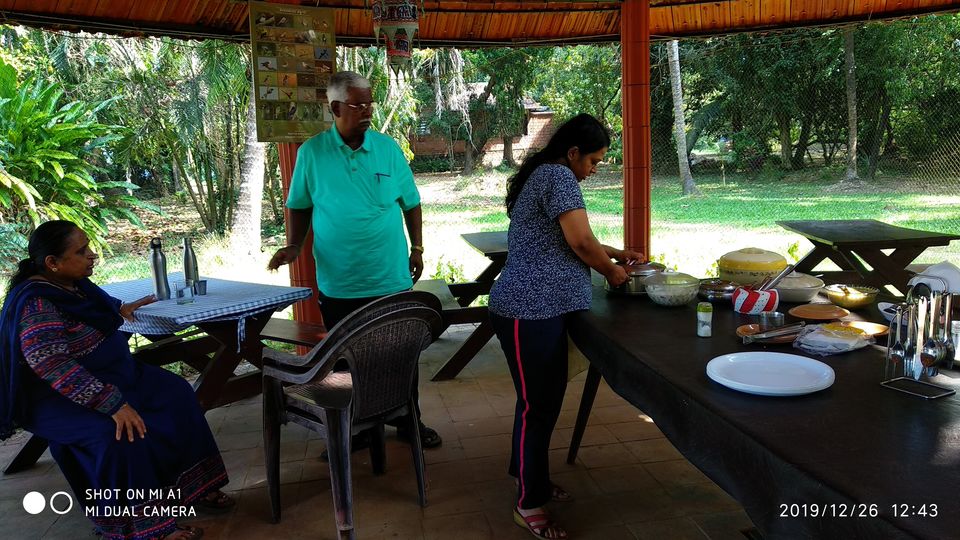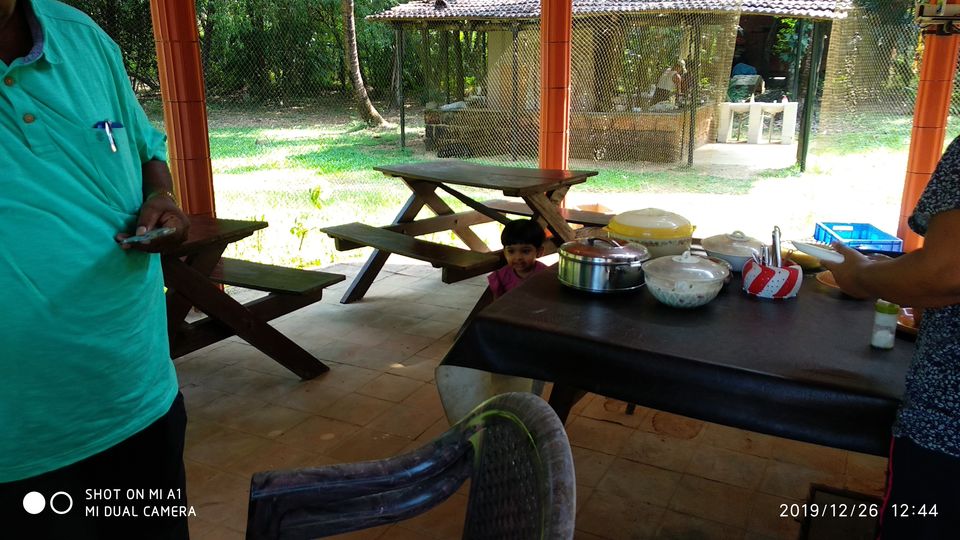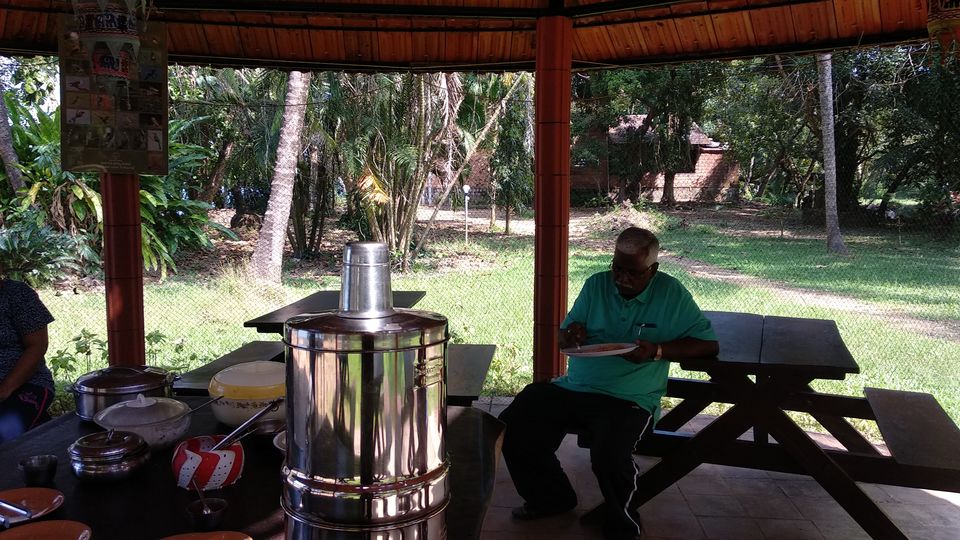 We played around till 5, and then starts the photo sessions ;) Sunrise and Sunset are breathtaking here, adding to the beauty of the river, followed by a cup of coffee.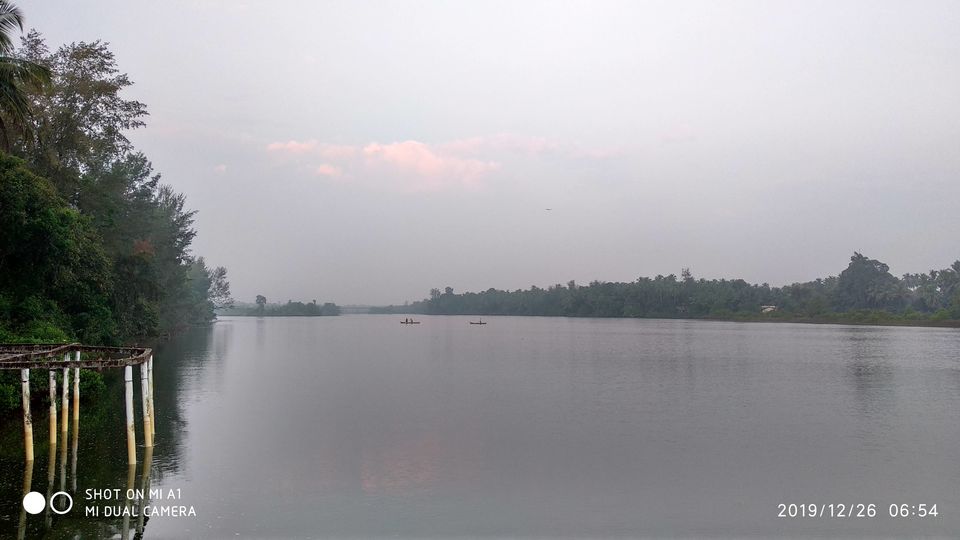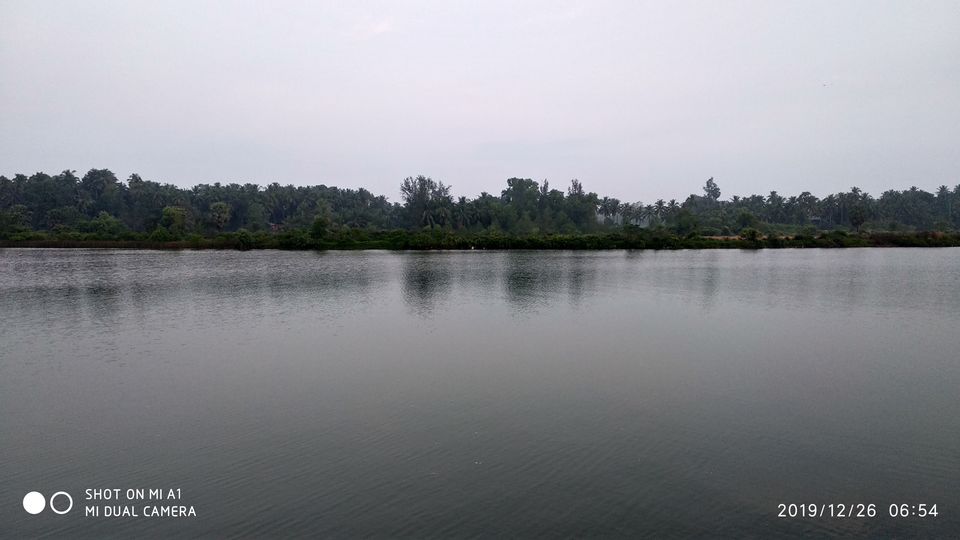 There was nothing much to do after that, we sat by the river and spoke for some time and went for dinner at 8:30 and went to bed early at 9:30 PM.
I did not get enough sleep as I had no pillows, I got up at 5:30 am and went out to peek through the window, was a beautiful view of the river. Others got up as well and they joined me for the cup of coffee, we took some photographs, walked around the island, spotted some beautiful birds and had another cup of coffee and went back inside the room because of the solar eclipse.
Eclipse was between time 8 to 11 a.m, so we had nothing much to do between these three hours and I decided to sleep since I could not sleep yesterday night.
I was up at 10:30, not very good sleep though , we waited till 11, took bath and then proceeded towards lunch. Lunch was amazing.
Unplanned, as it would feel, we suddenly thought why not go to the beach! Got ready in 5 minutes and left towards the main land where our car was parked.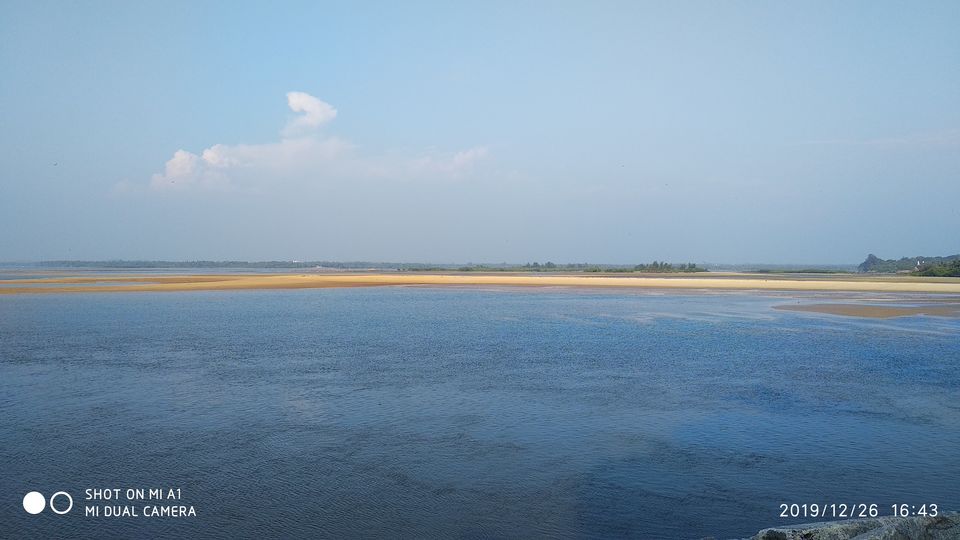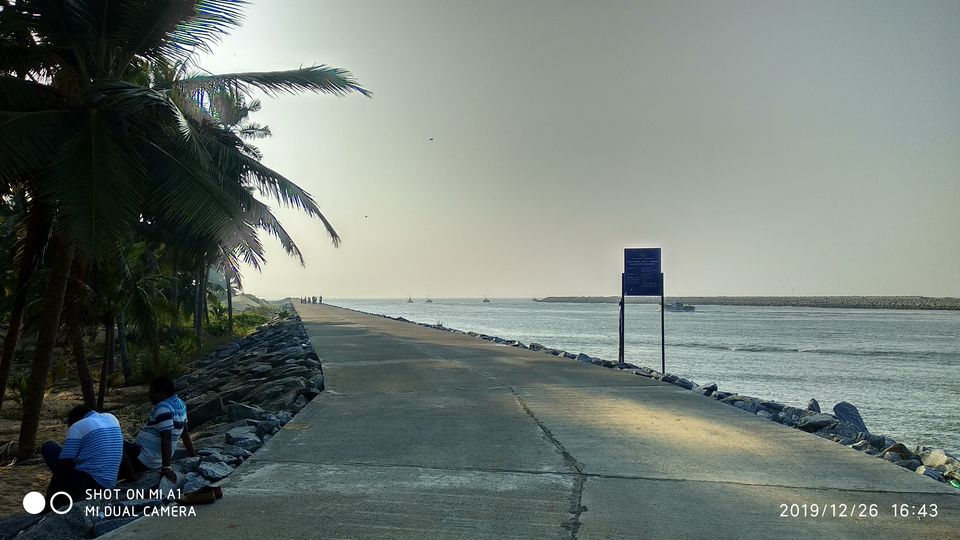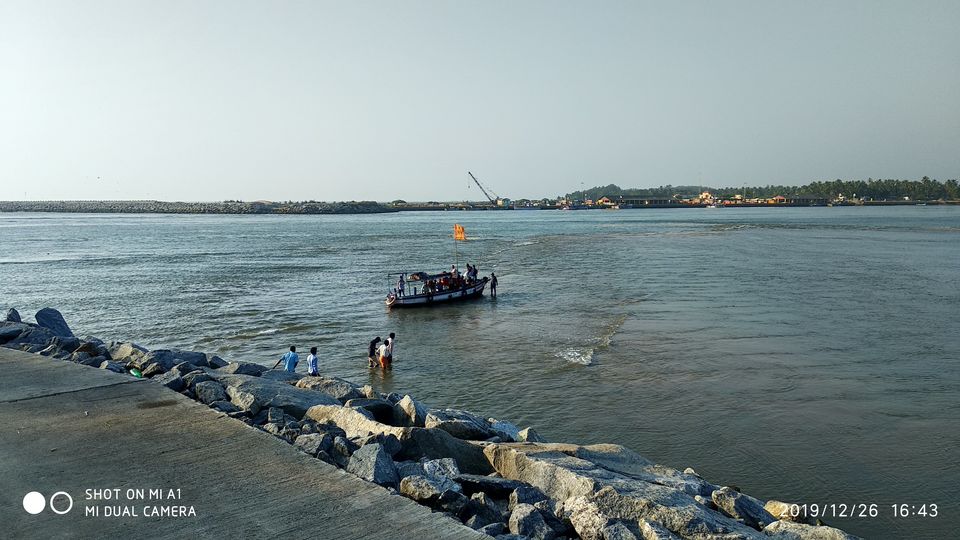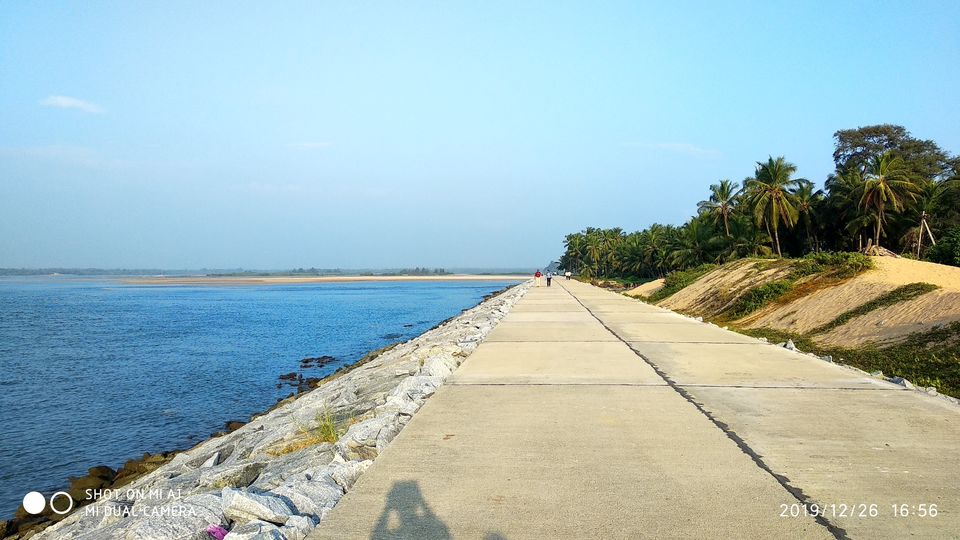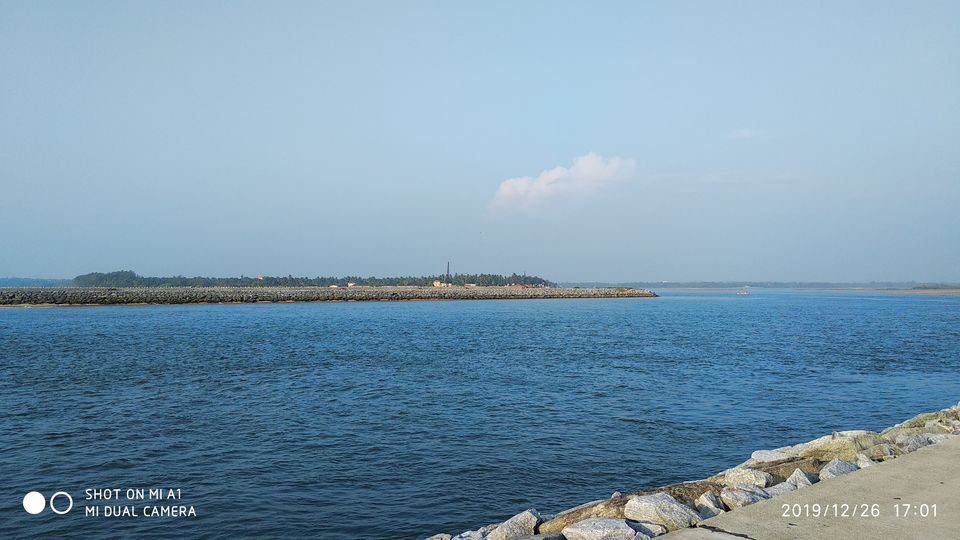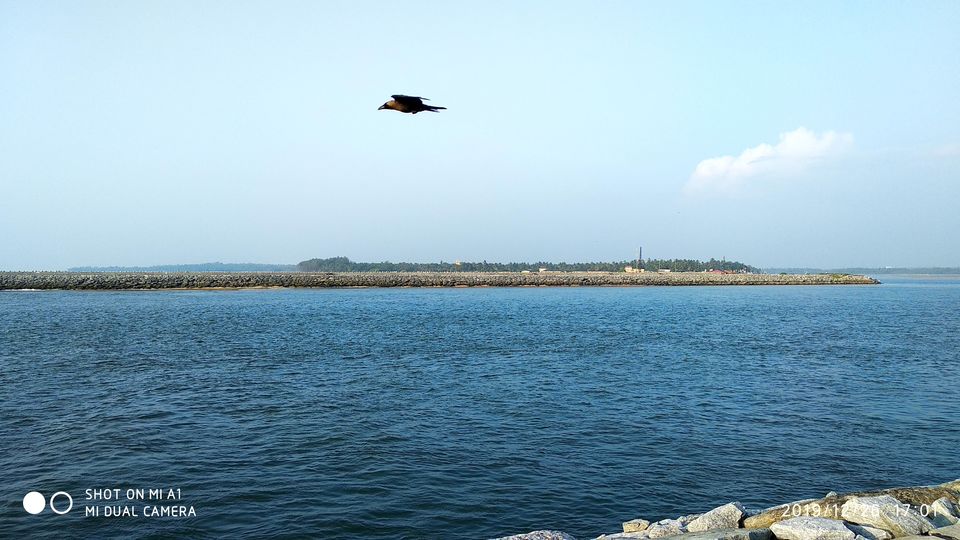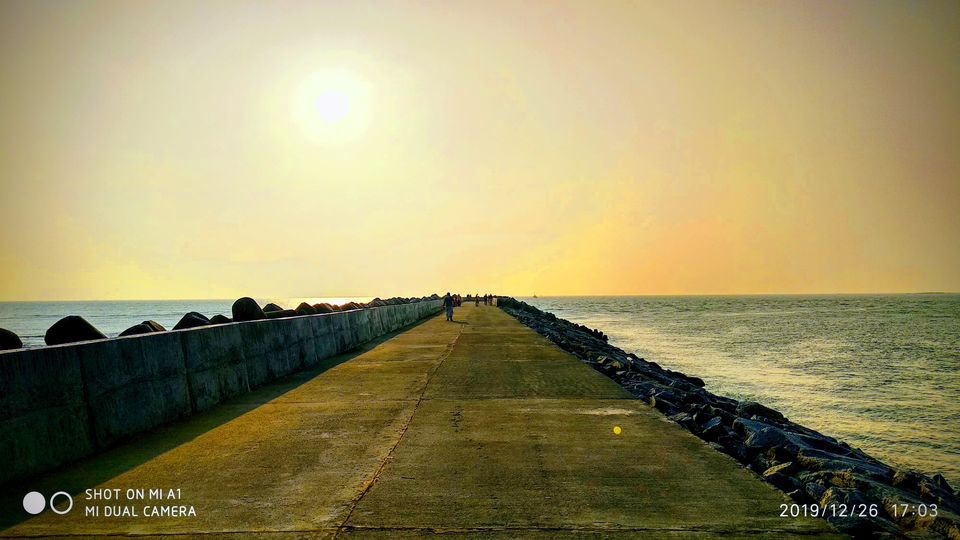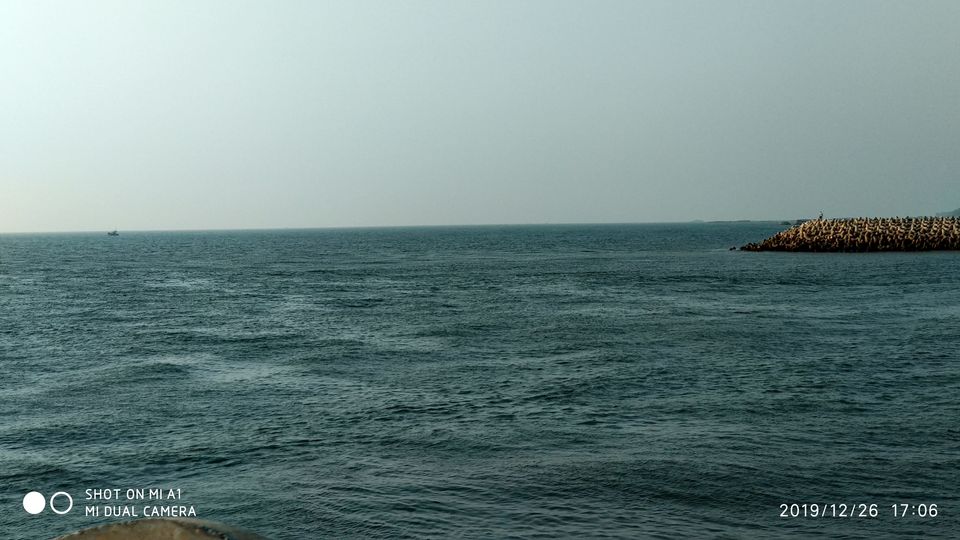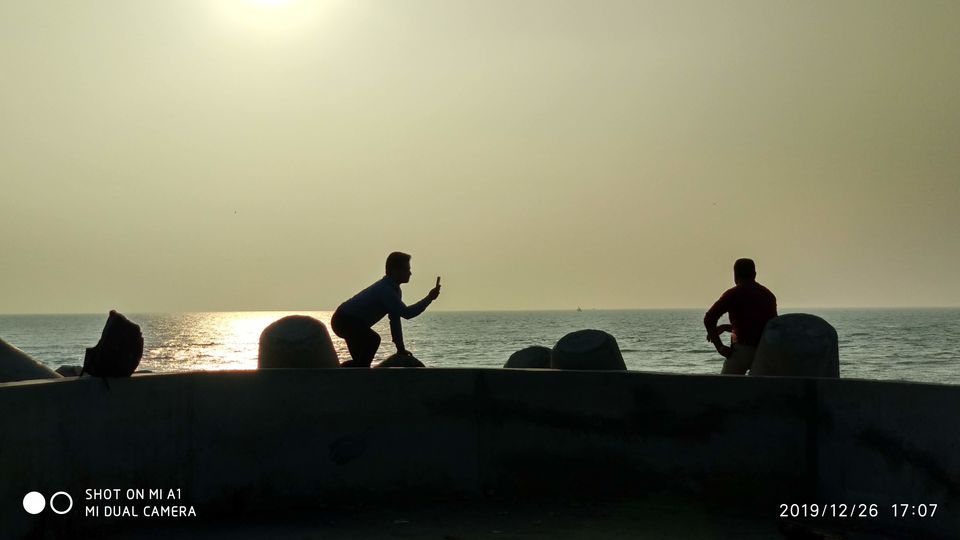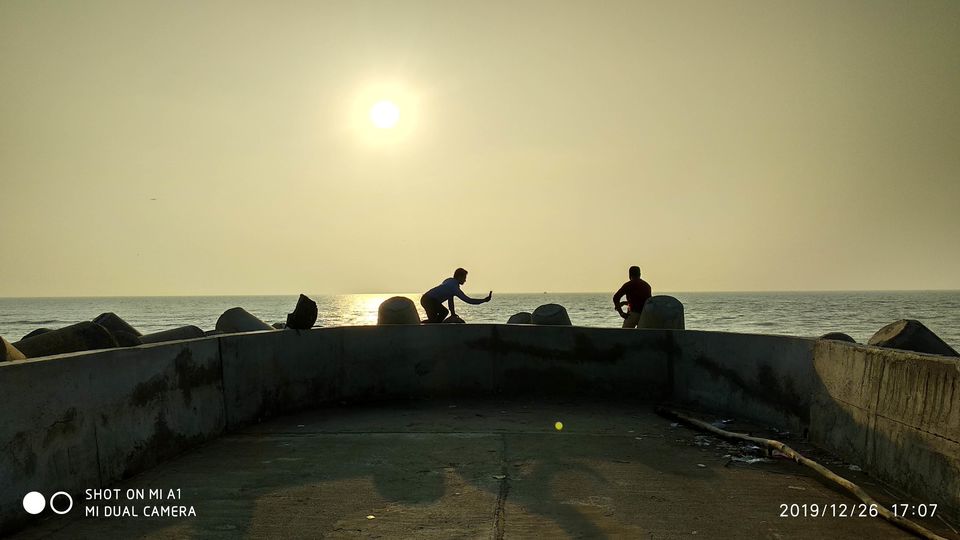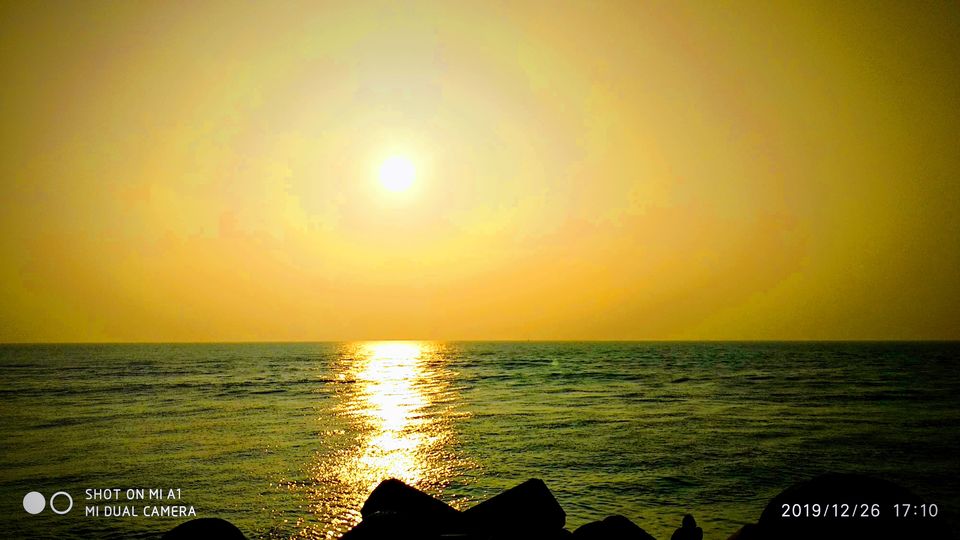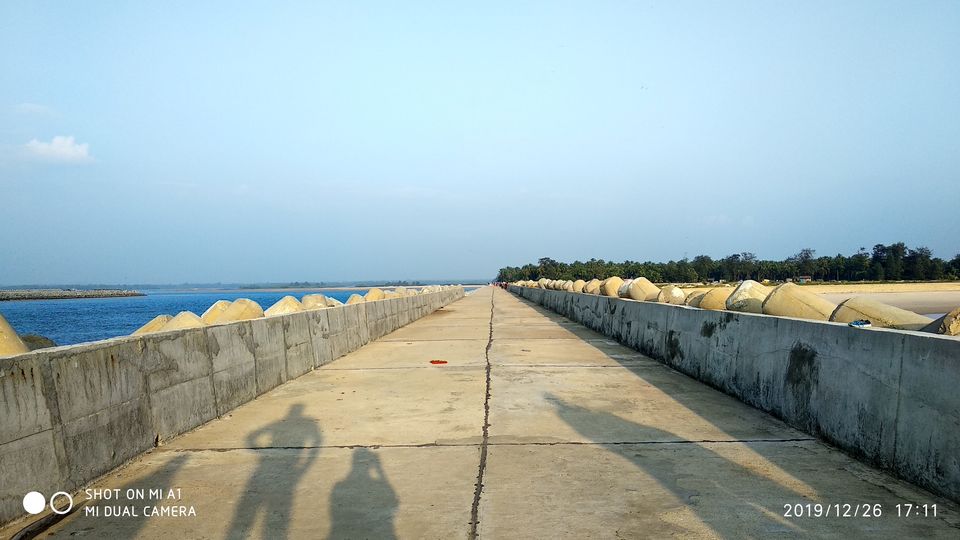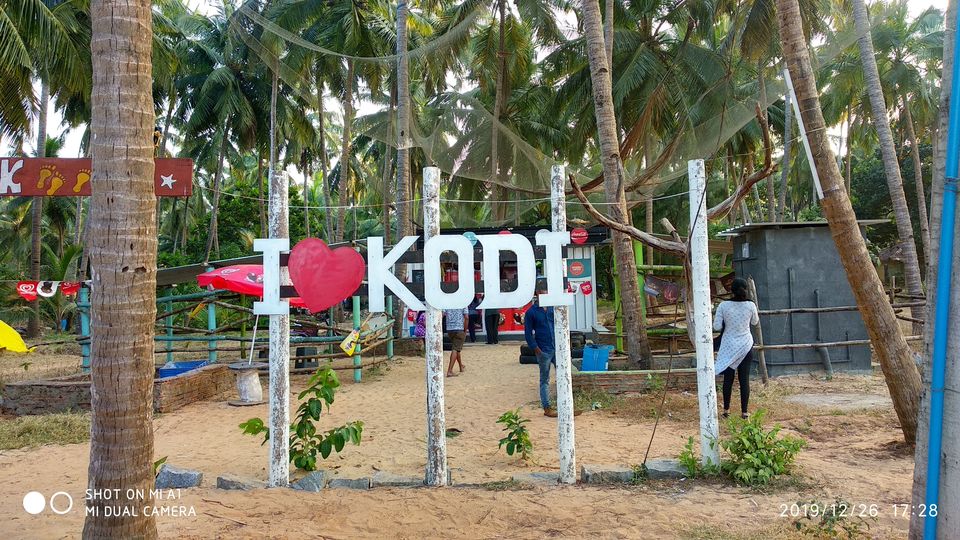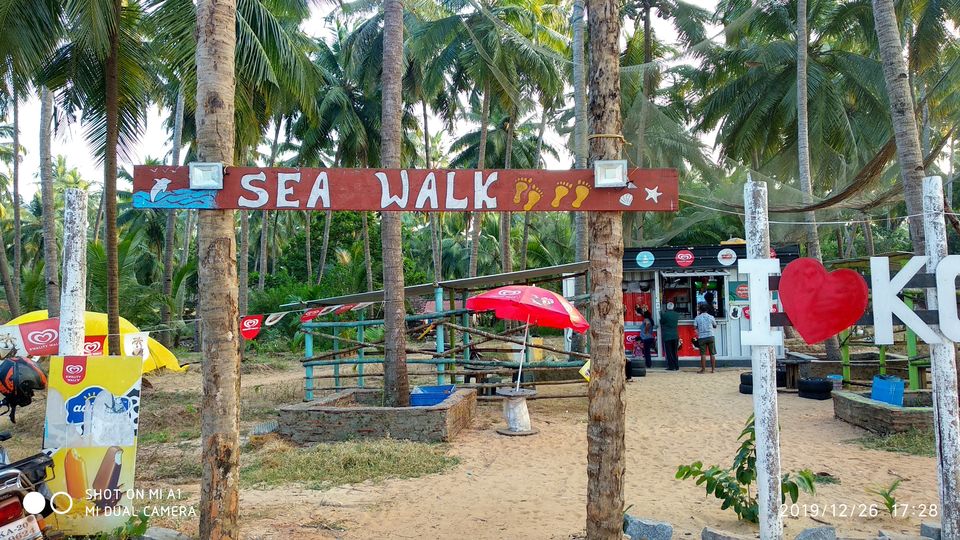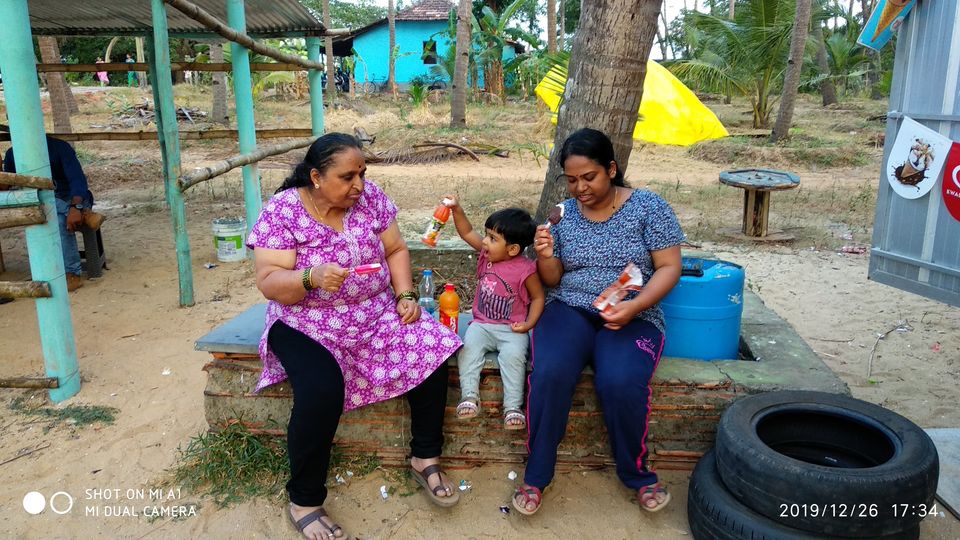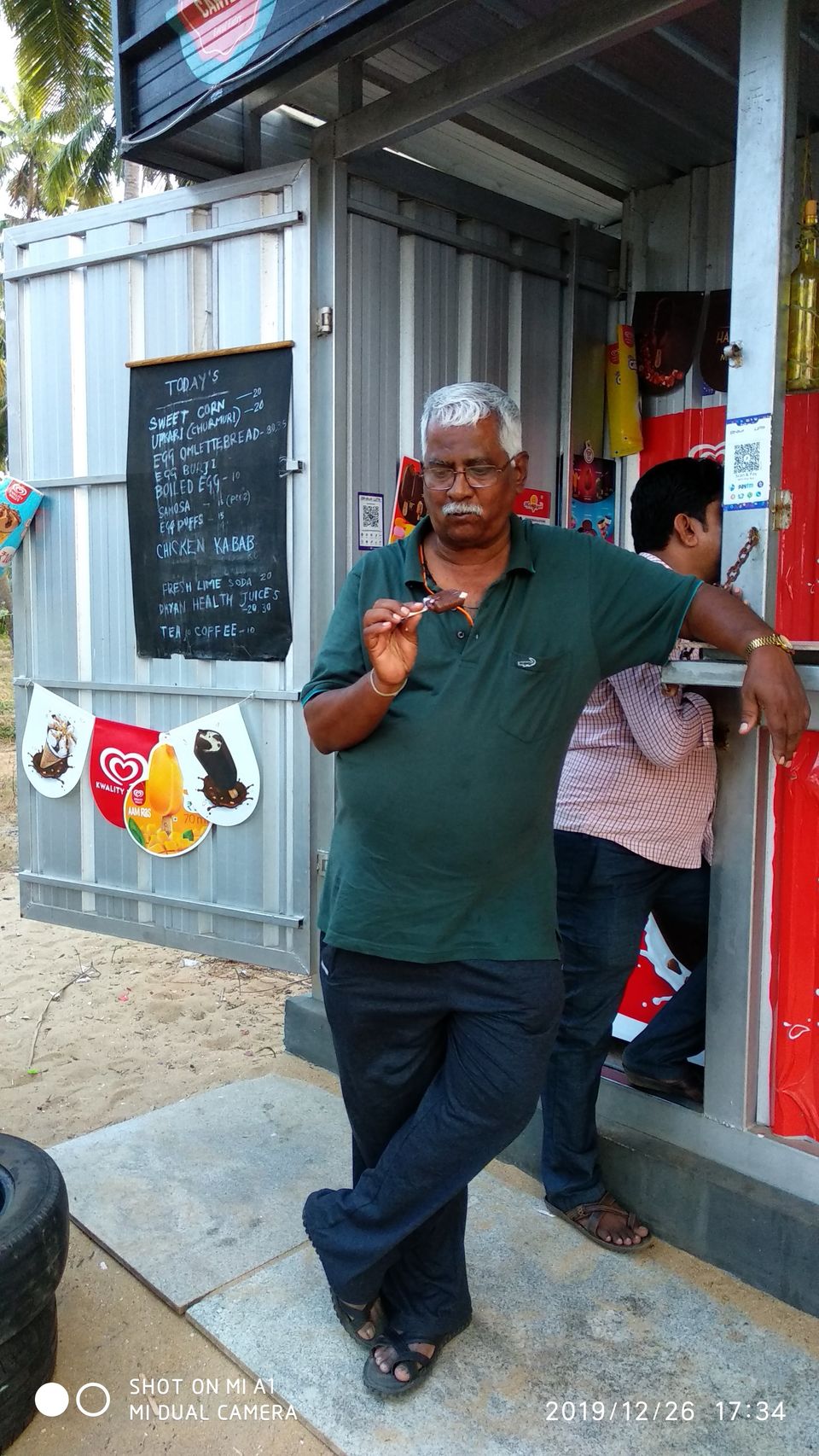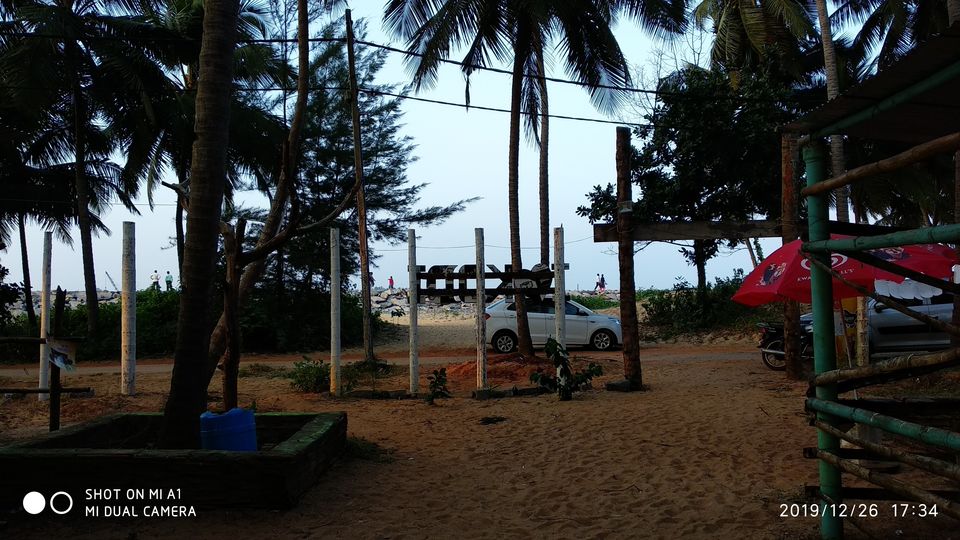 Left from kodi beach at 5:45 pm after some ice creams and reached resort at 6:45 pm.
Time for coffee and bajji, Shadow and Comet accompanied us, lovely dogs they are.
We came back to the rooms at 7:40 pm. After that we just relaxed with our daughter
We had an early dinner at 9 p.m and slept at 10.
Got up at 5:30 am, heard some Peacocks sing...ran towards it and grabbed some pictures..was difficult to spot them though.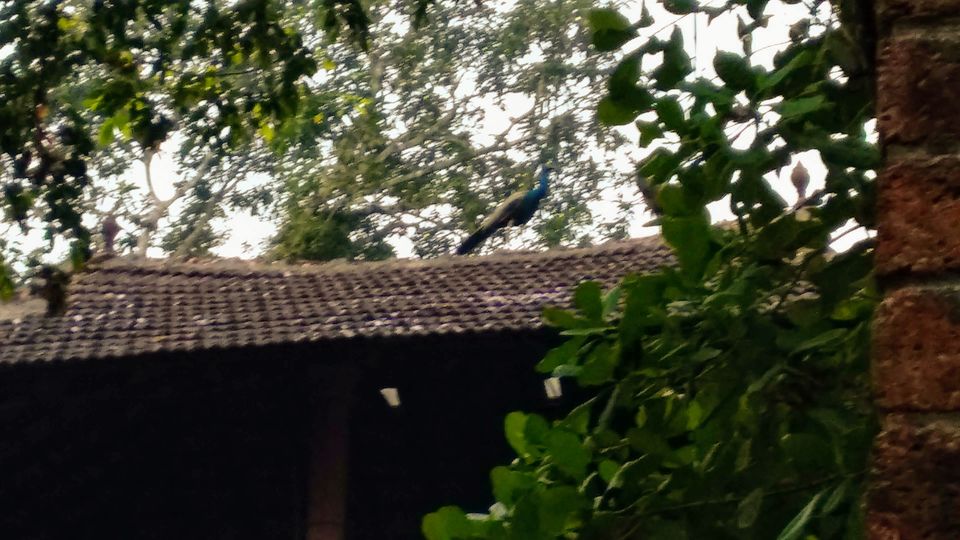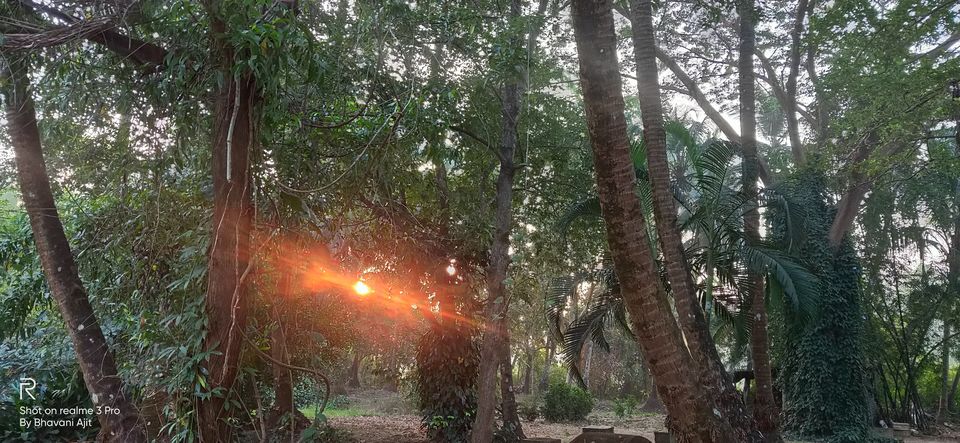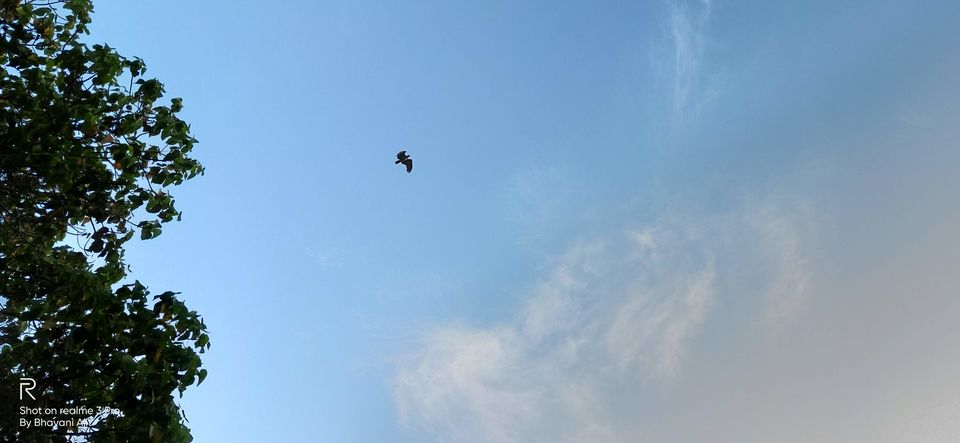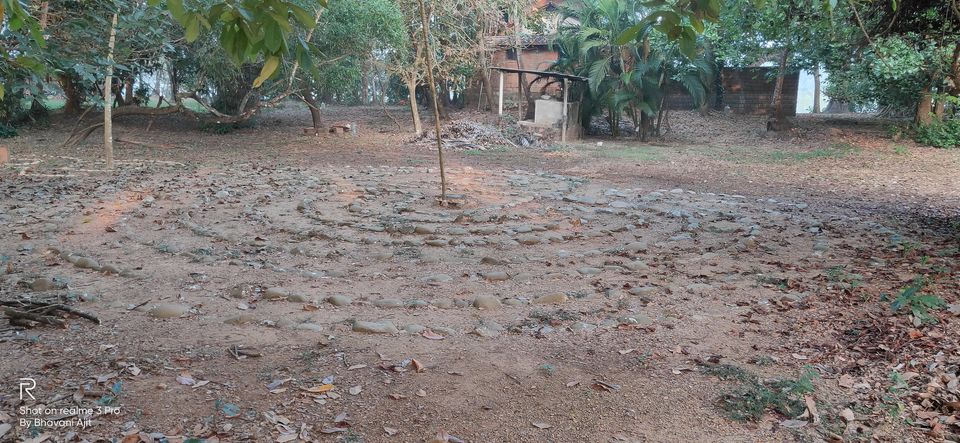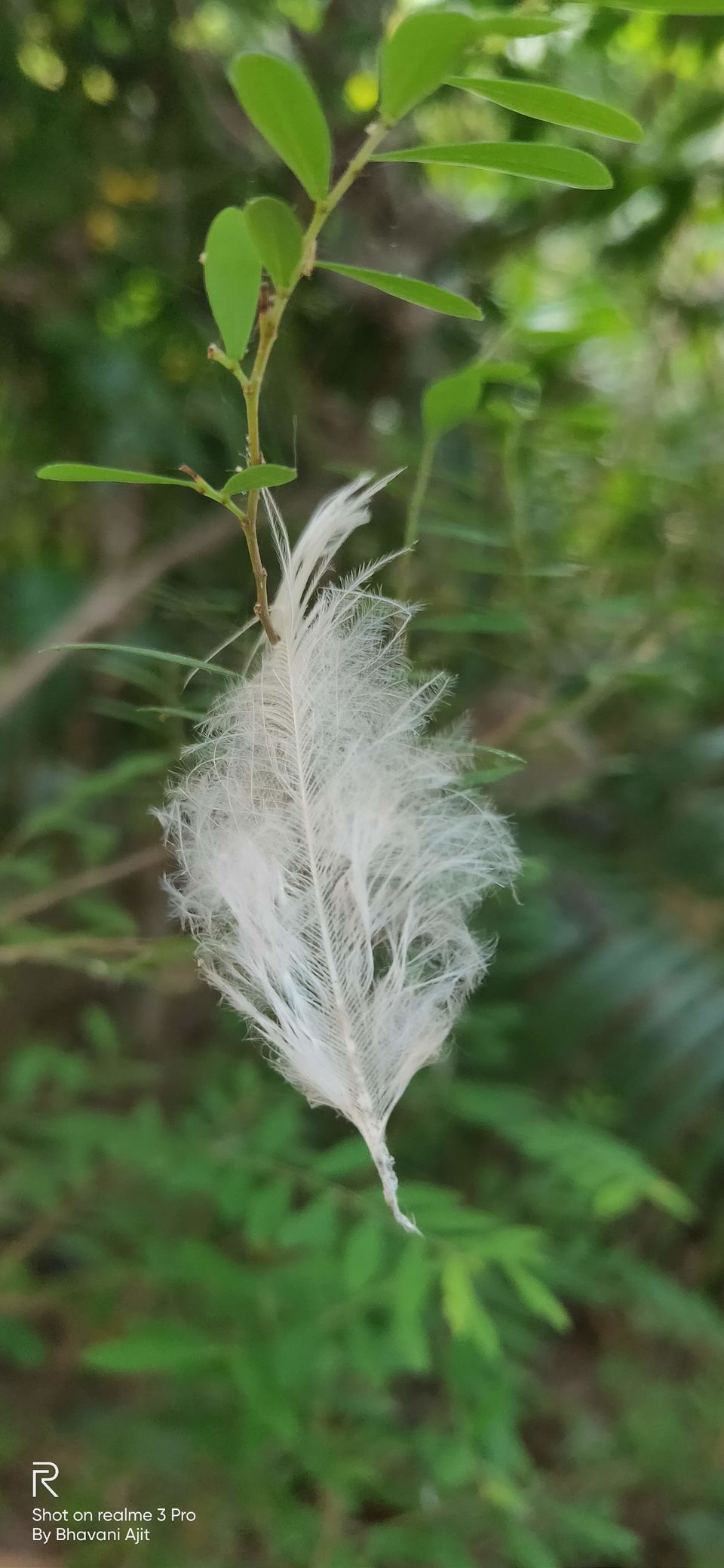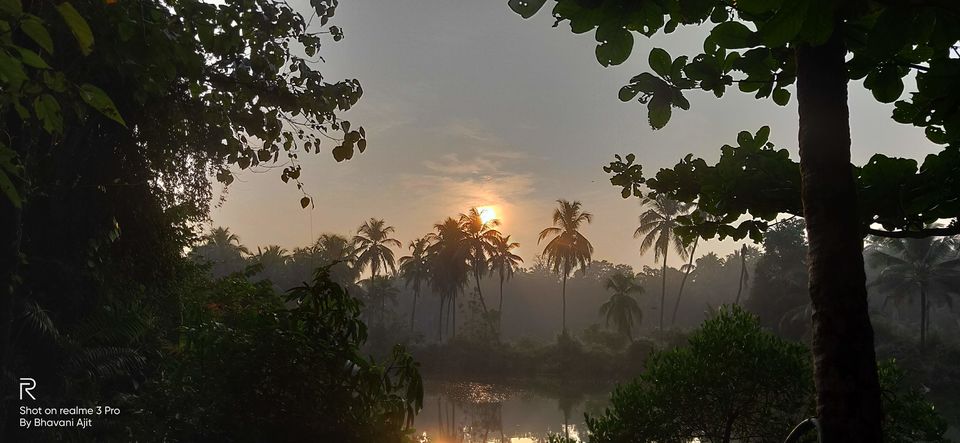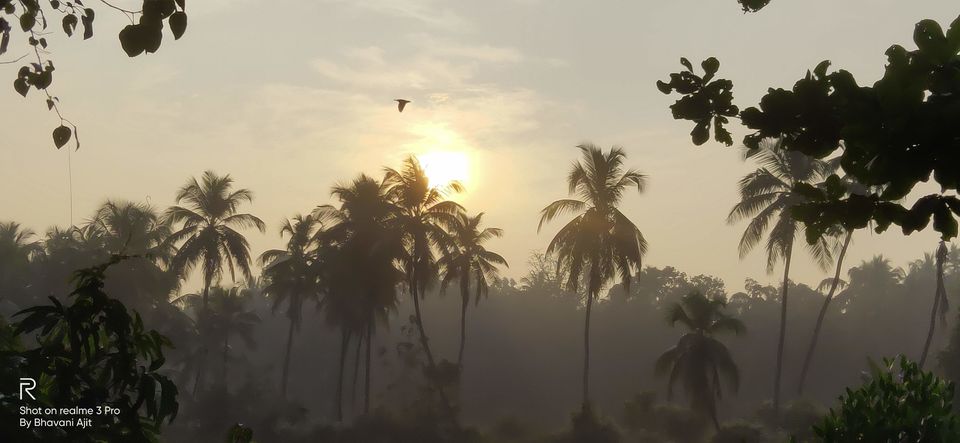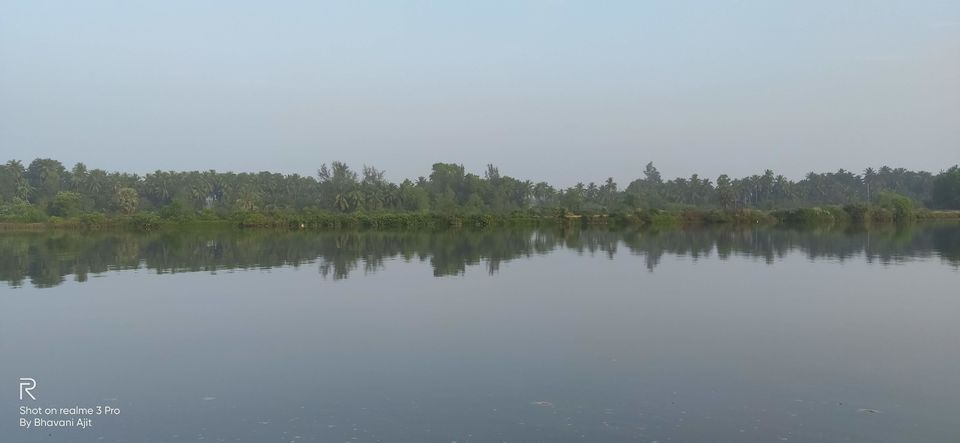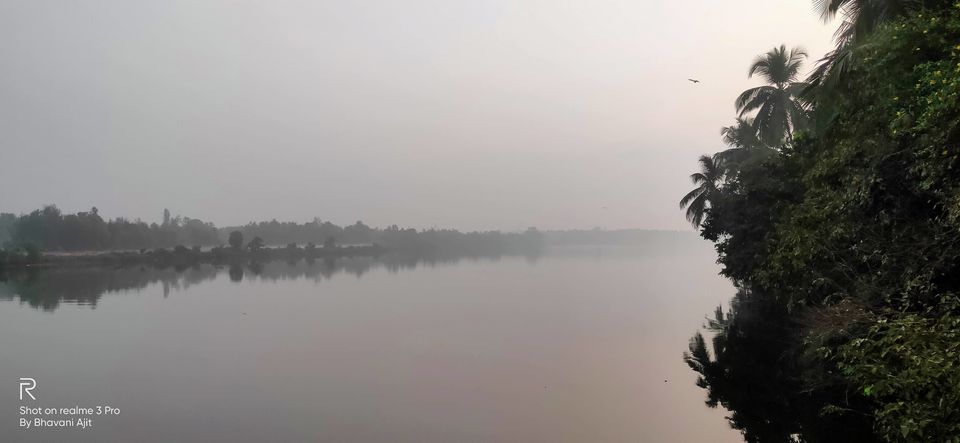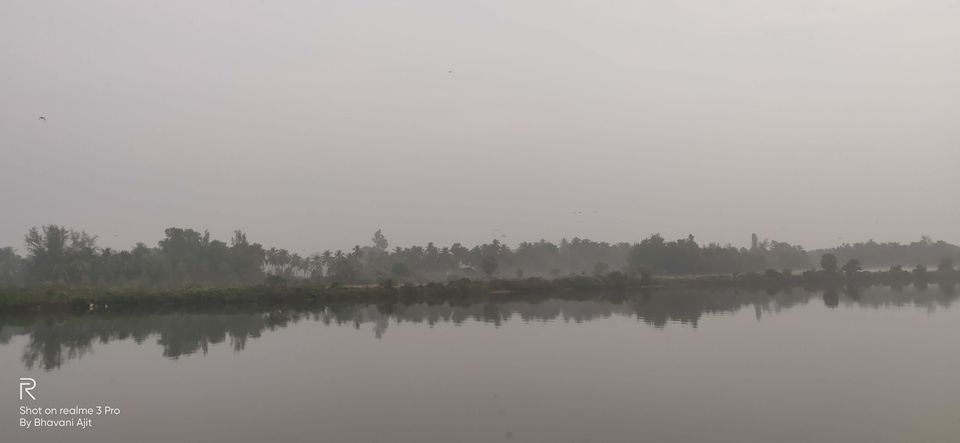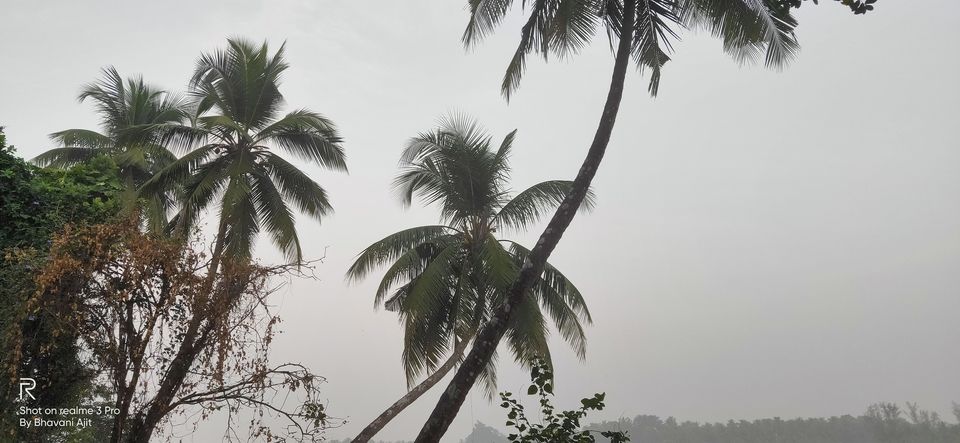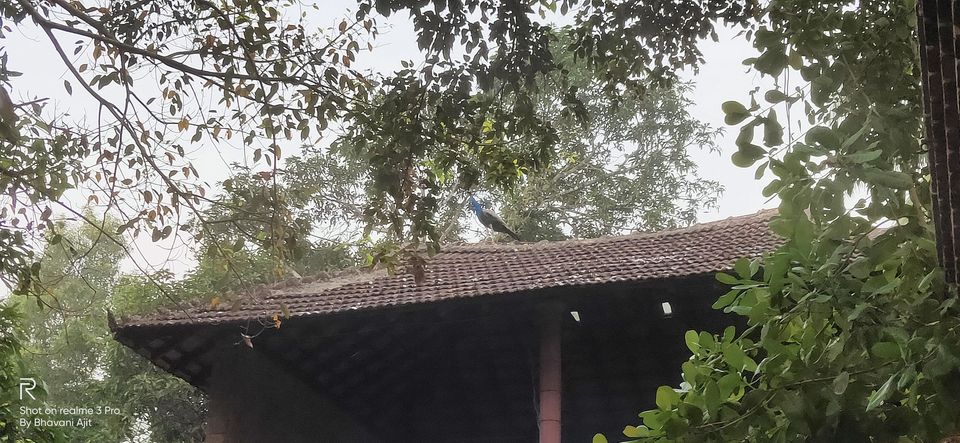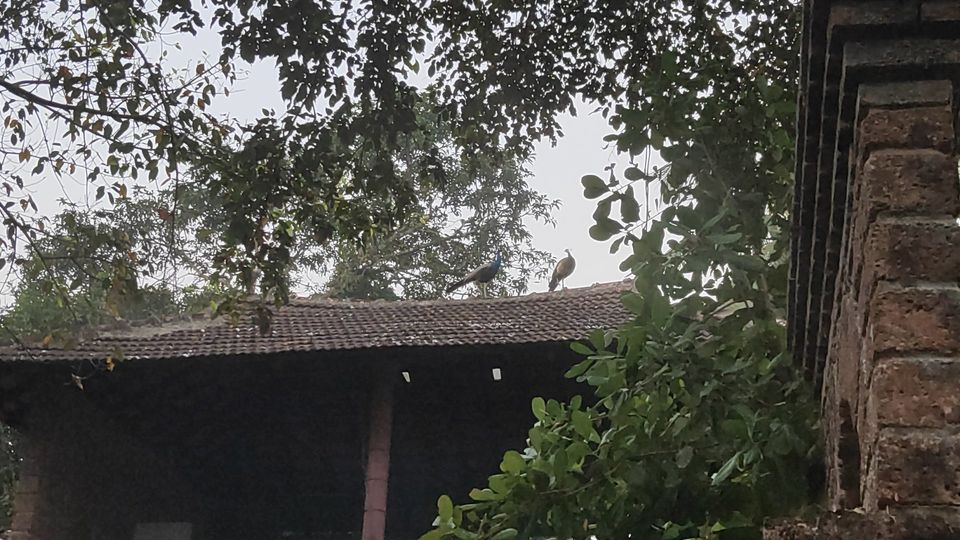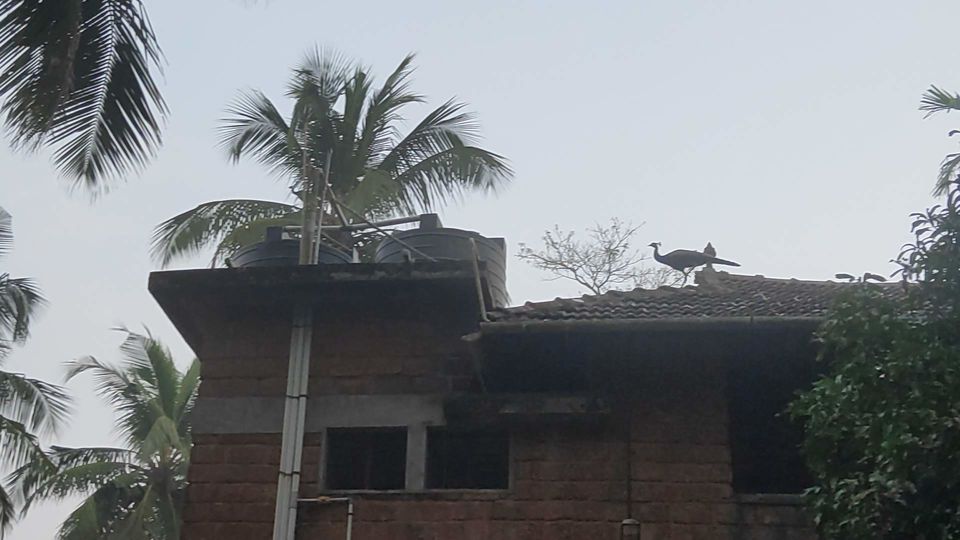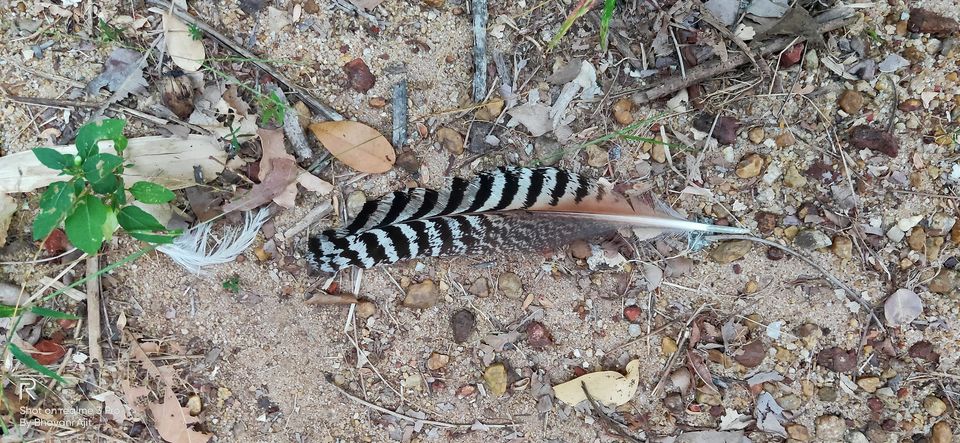 I took bath first, followed by everyone else and left room at 8:30 for breakfast.
Breakfast got over at 9 and left the resort at 9:35 am and left from there at 10 am. Some more glimpses of the resort, rooms and the caretaker-couple.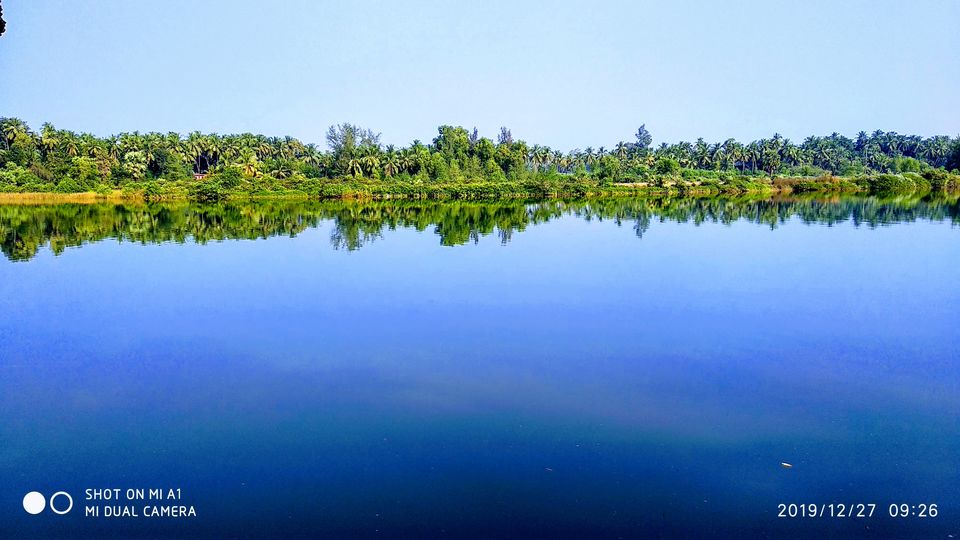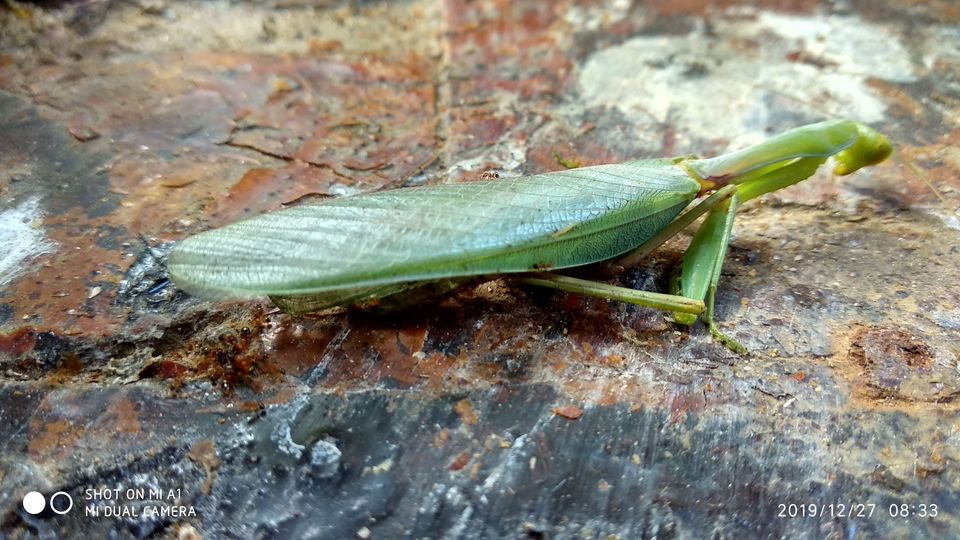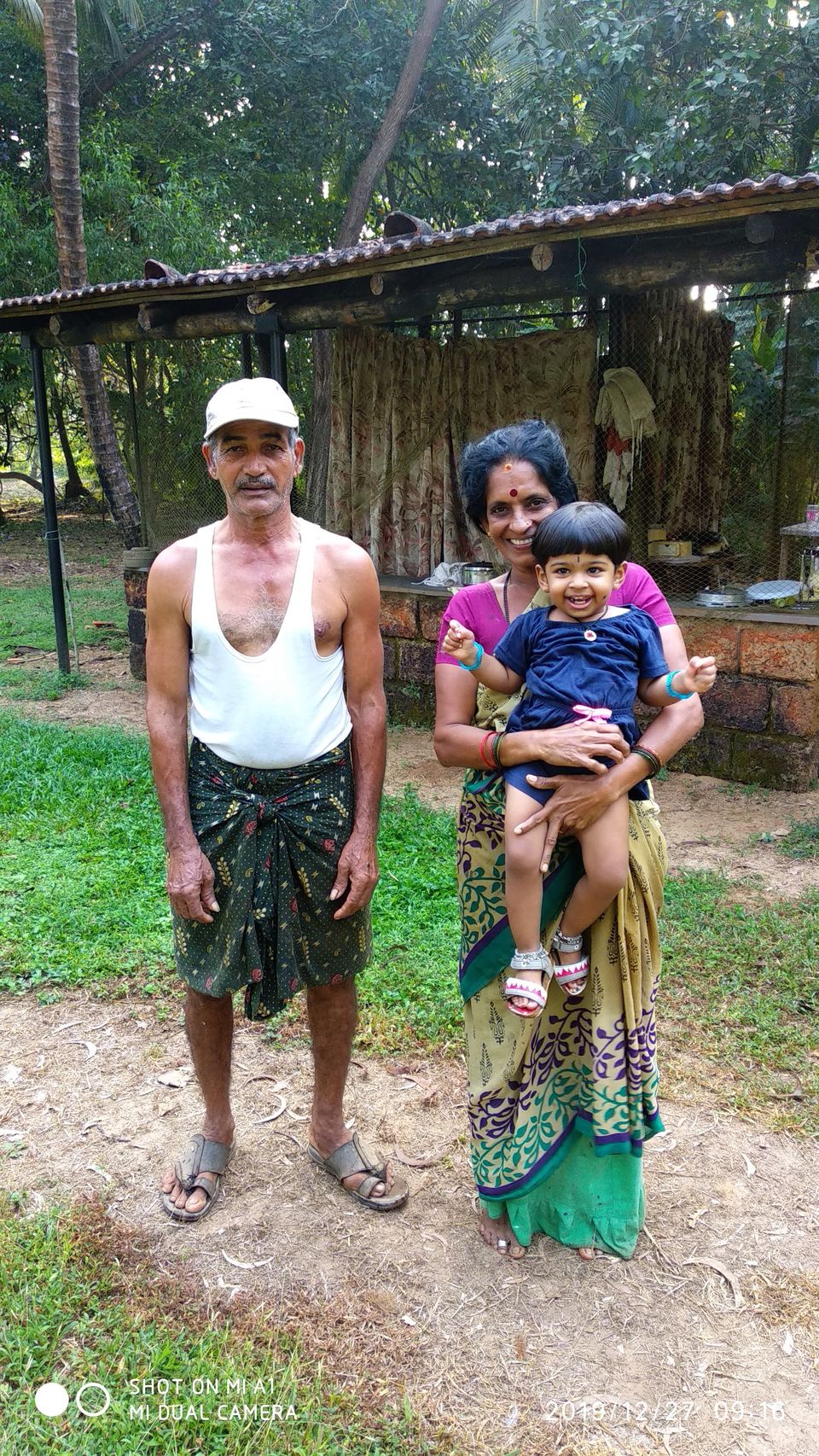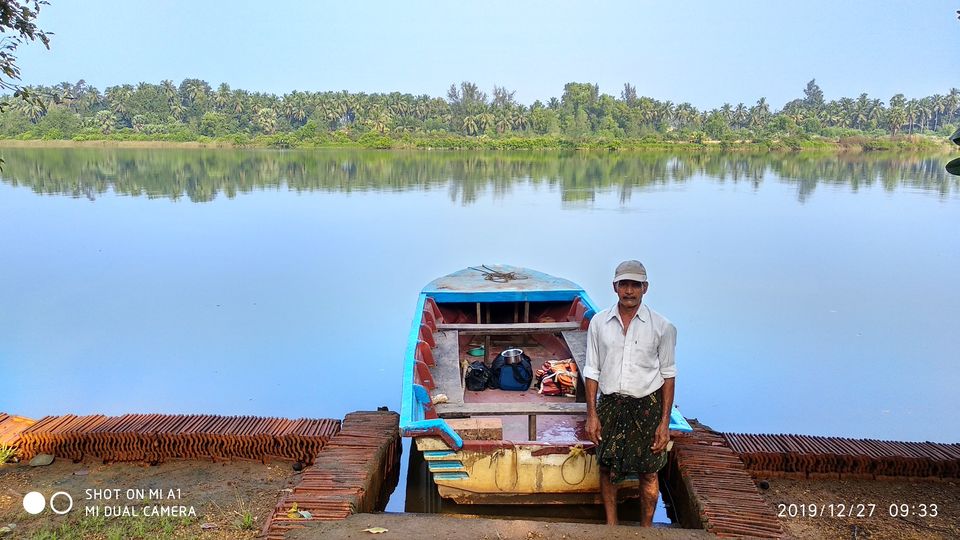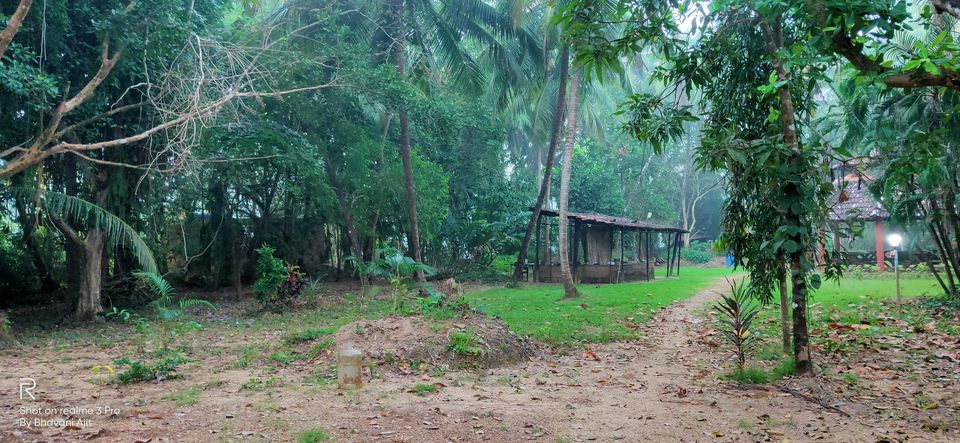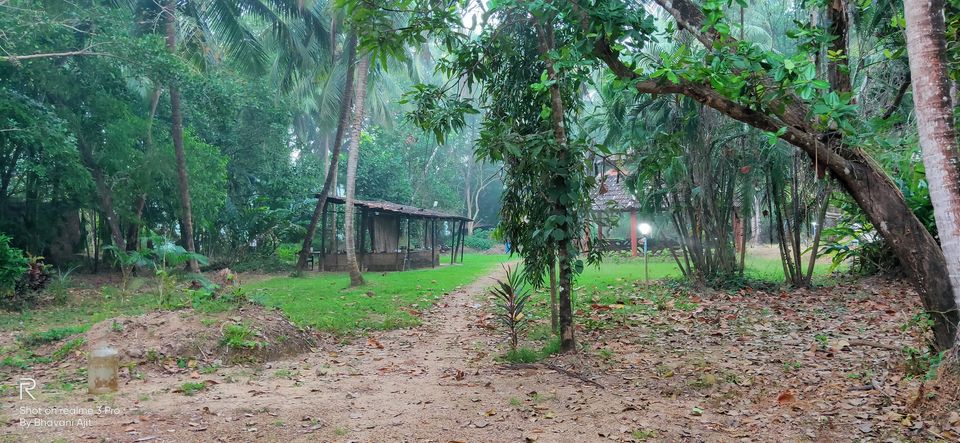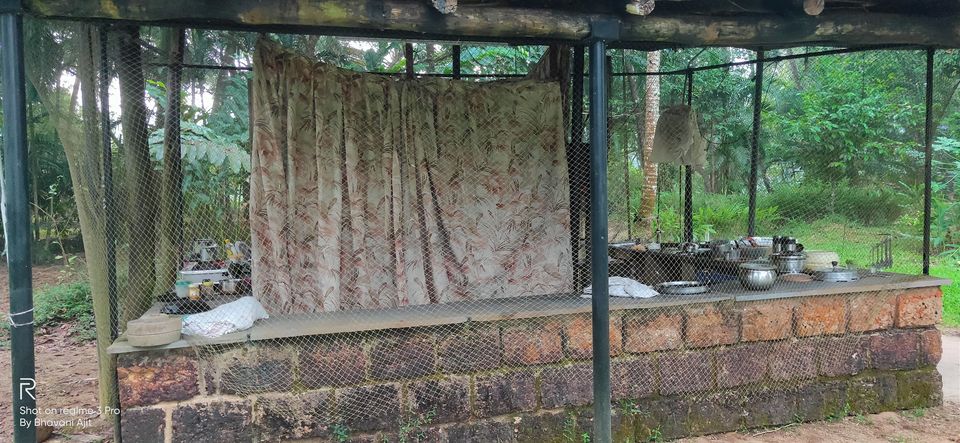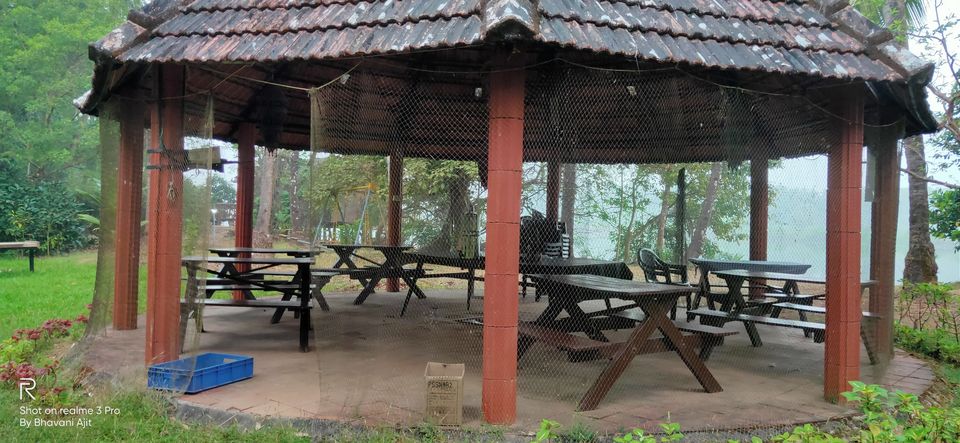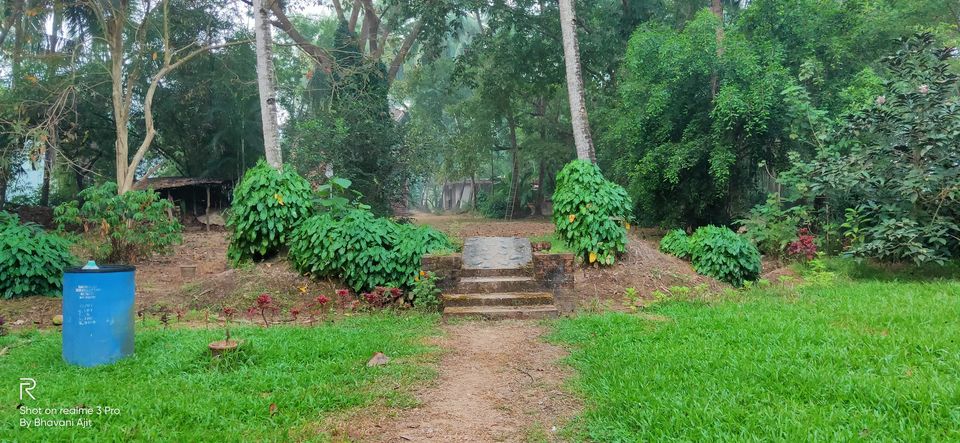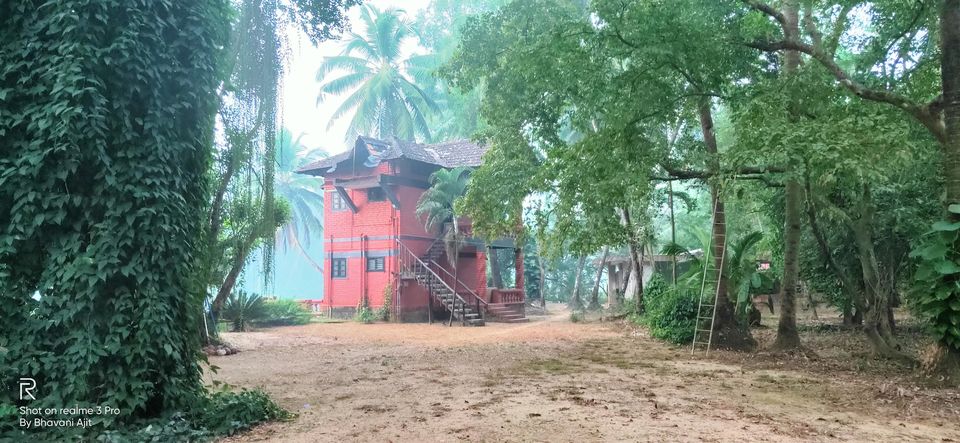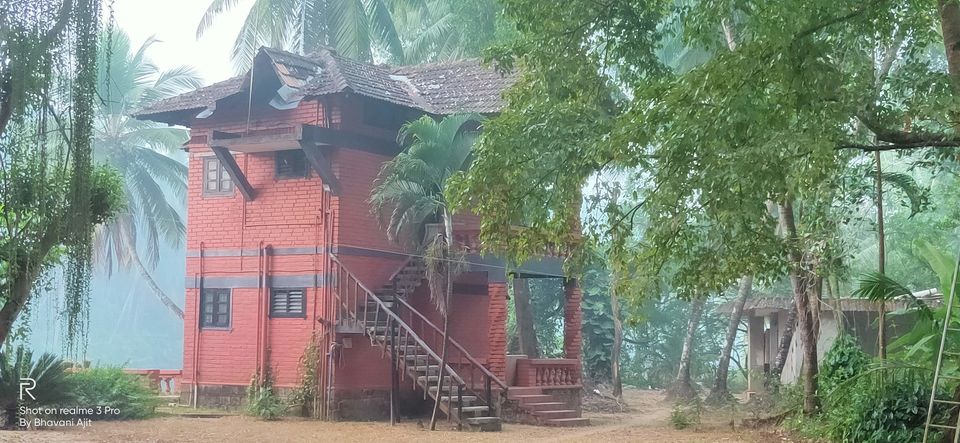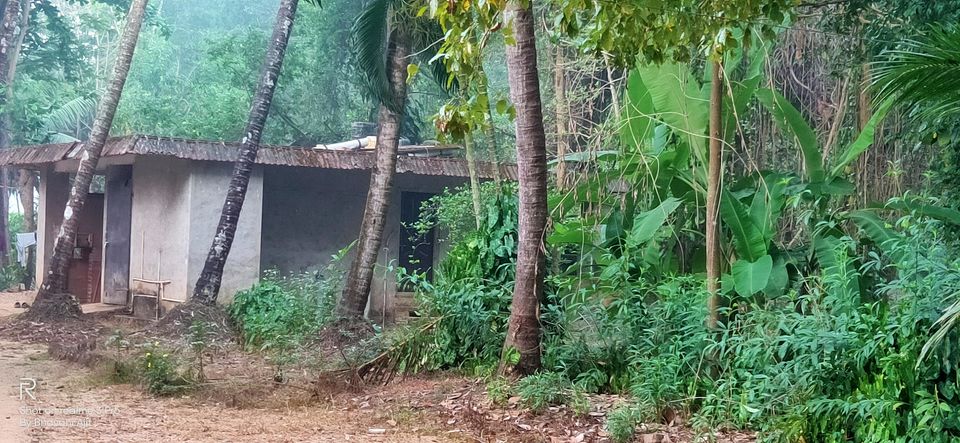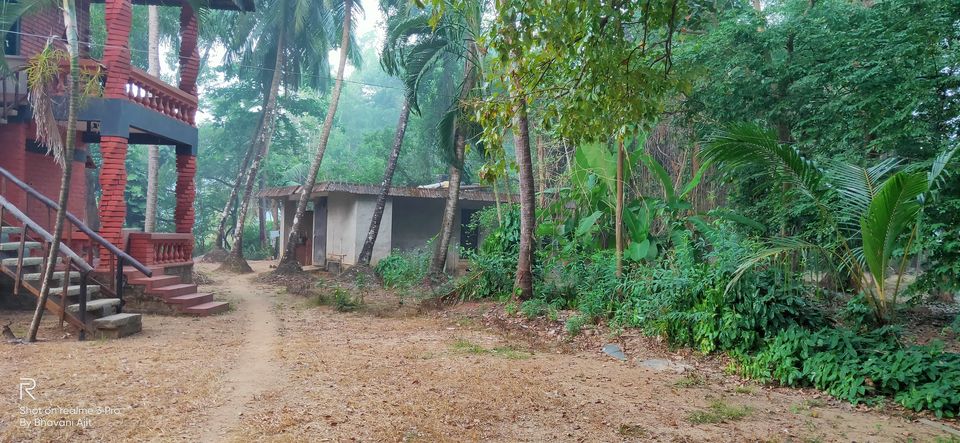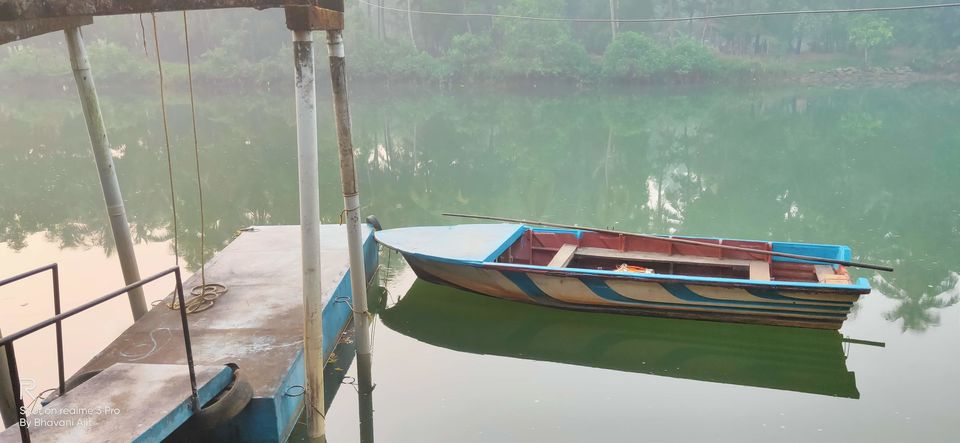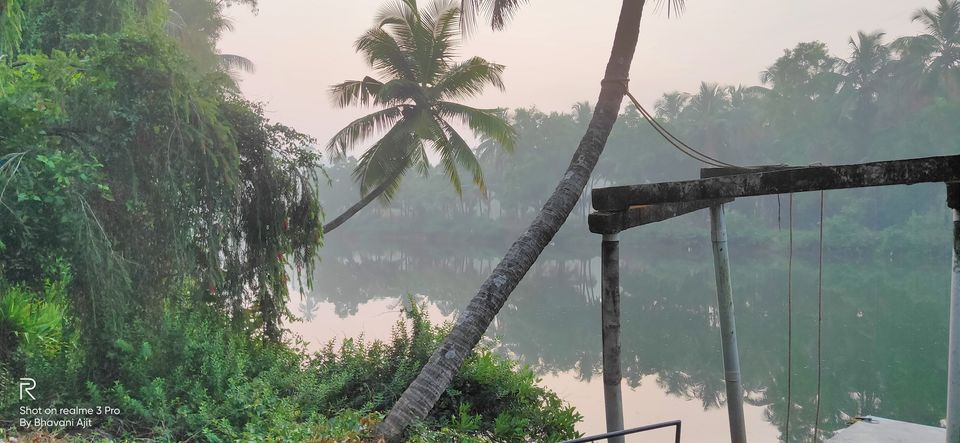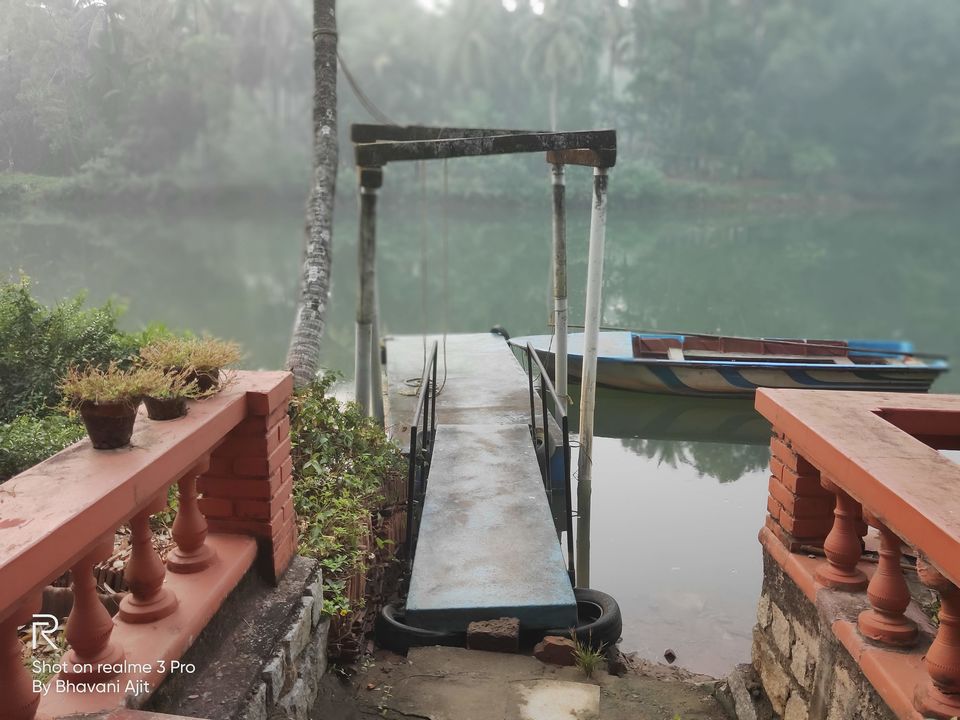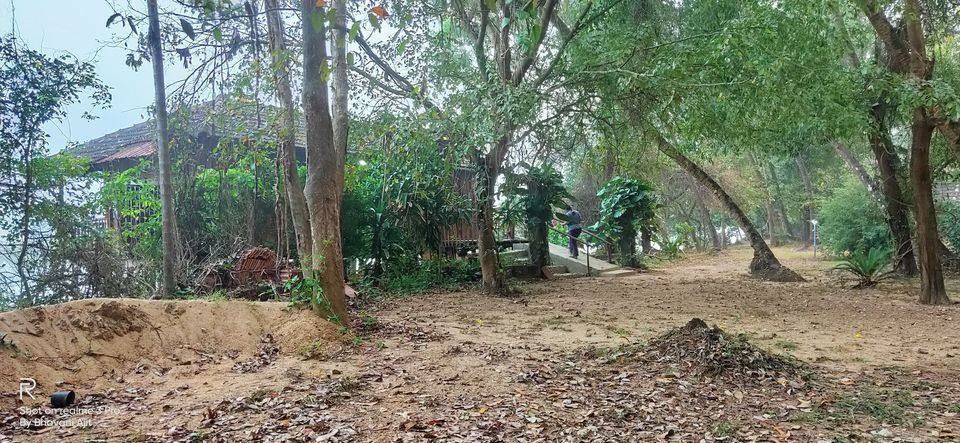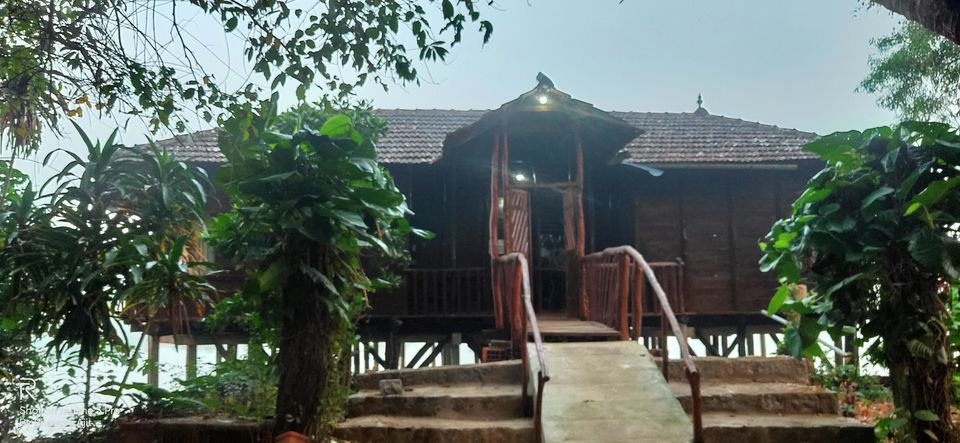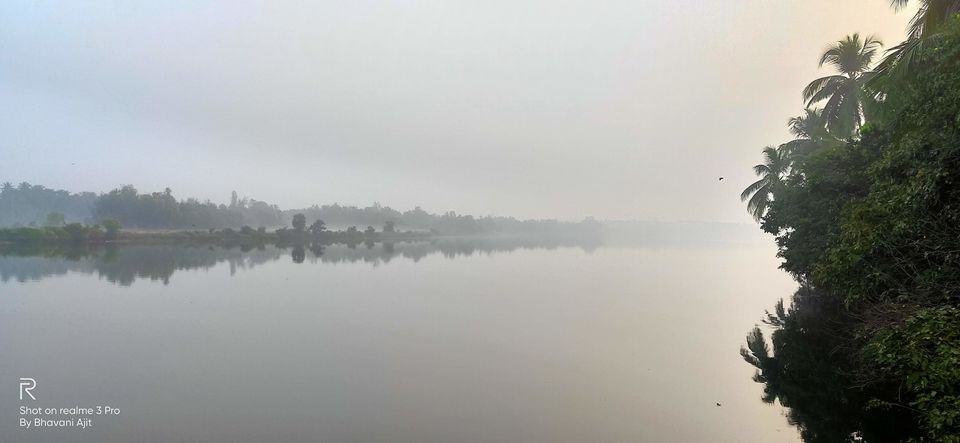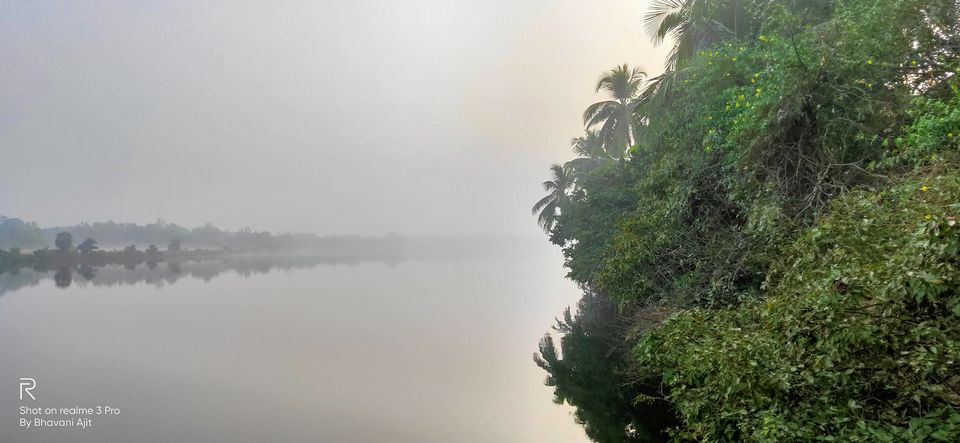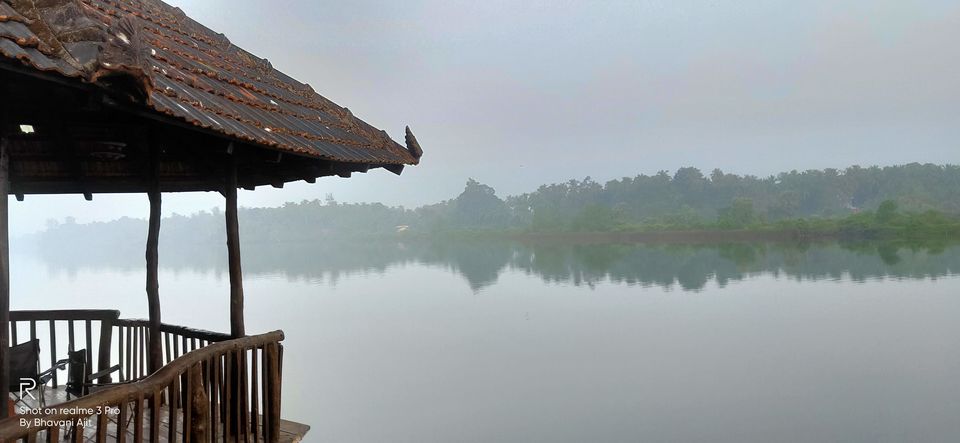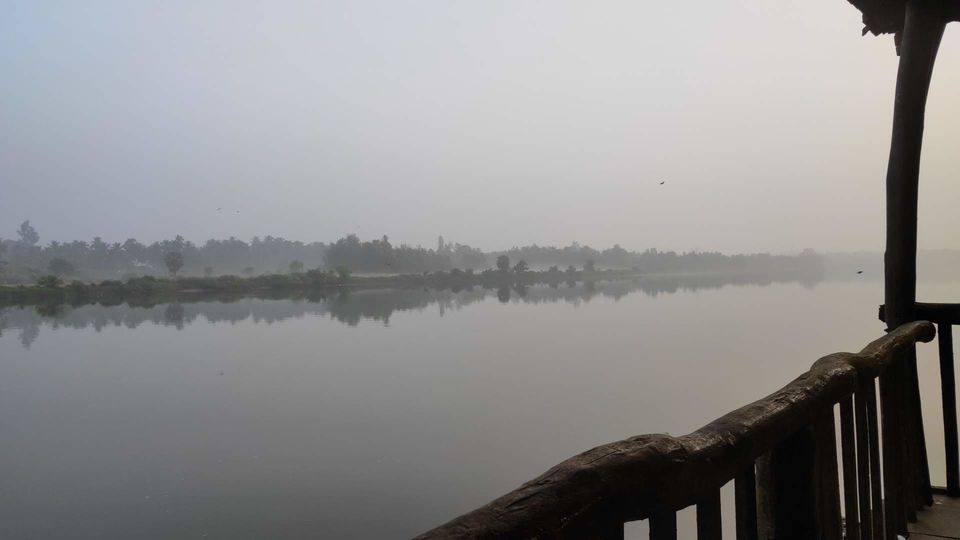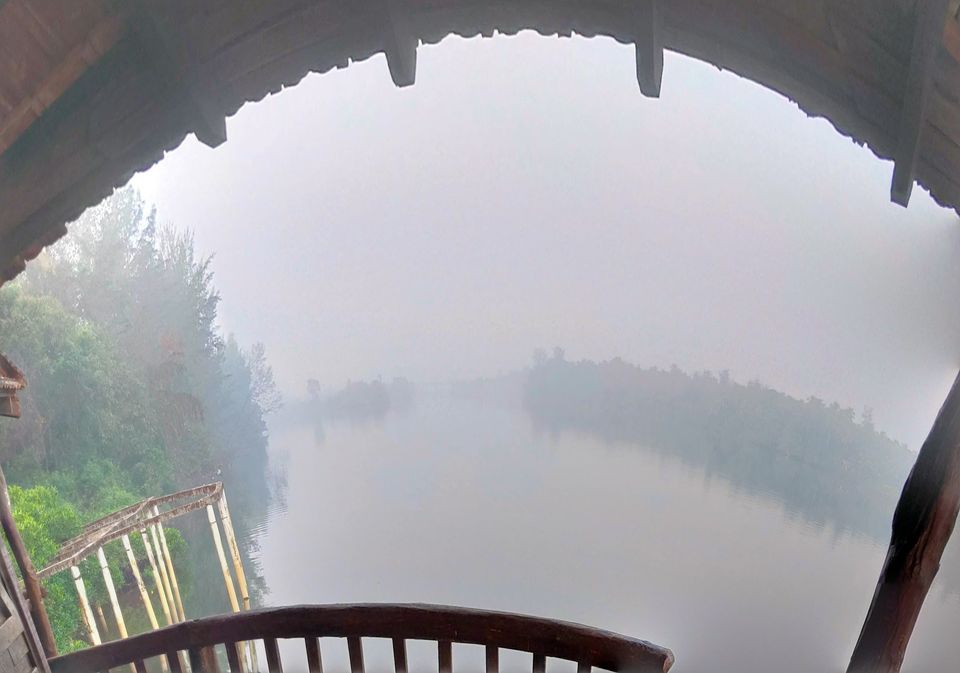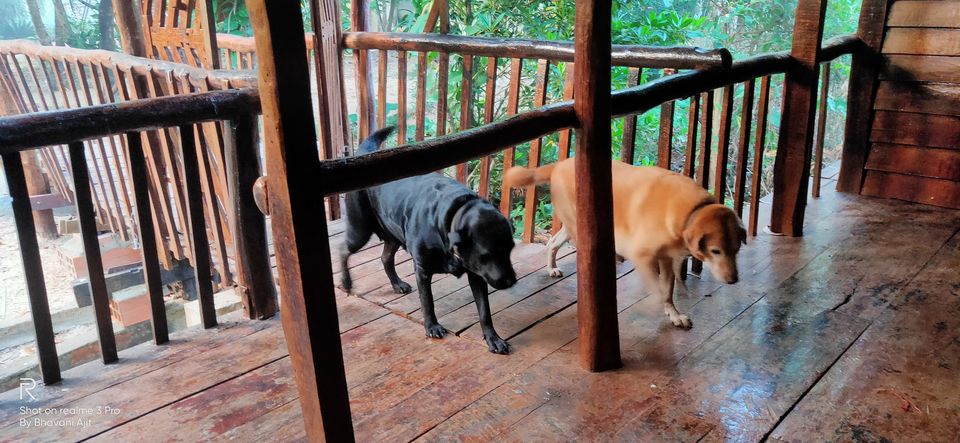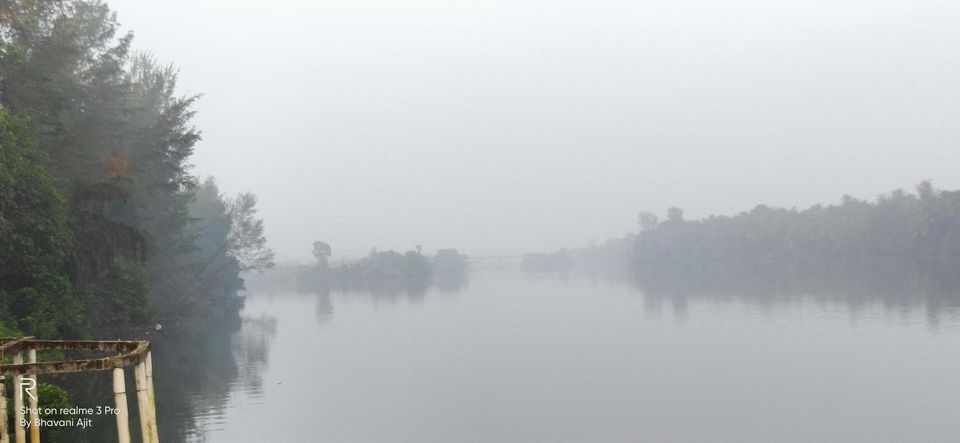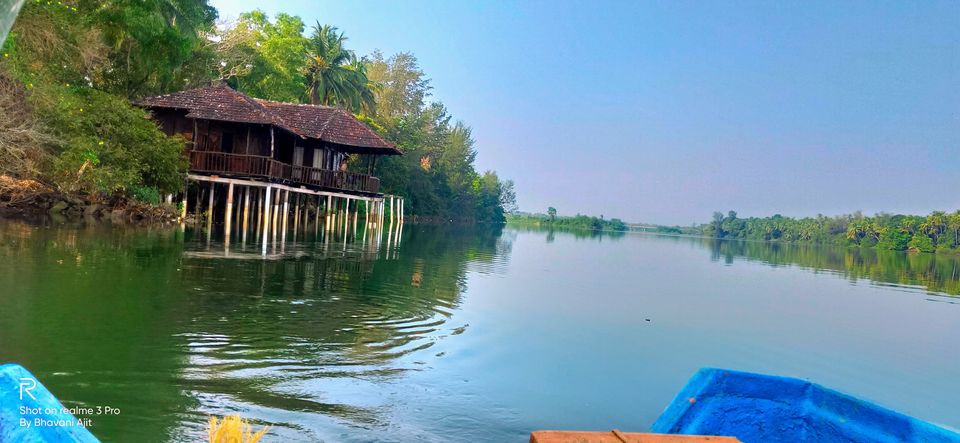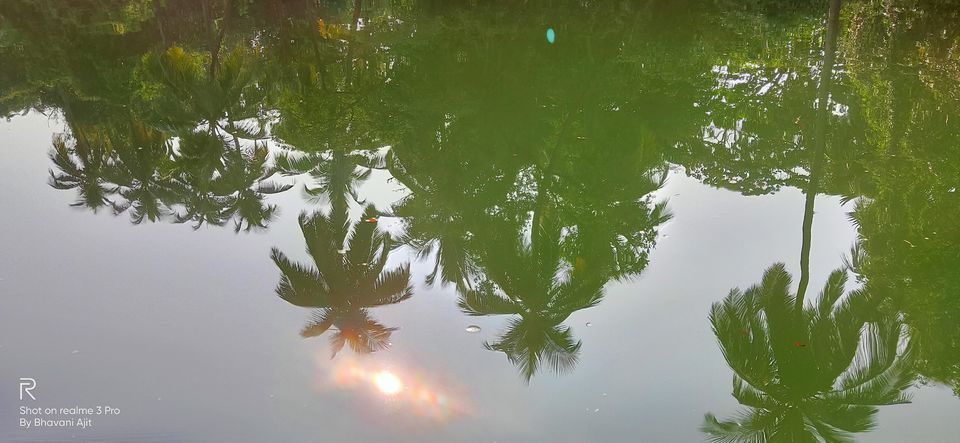 Our first stop was at Sringeri at 12:20 for a bio break and then at Yatri Nivas, Kalasa for lunch at 3:05 pm. Gaalipata 2 shooting was in progress and all the rooms in most of the resorts nearby were occupied by the crew, unfortunate couldn't spot Ganesh, disappointed, we left at 4:15.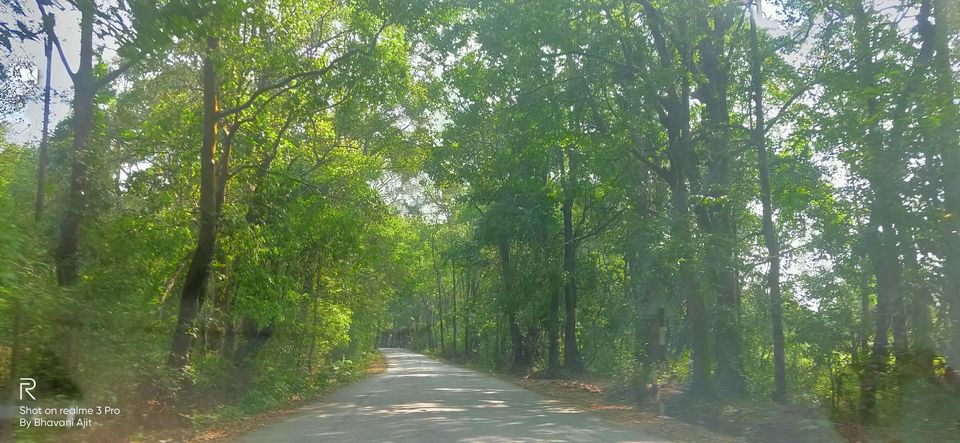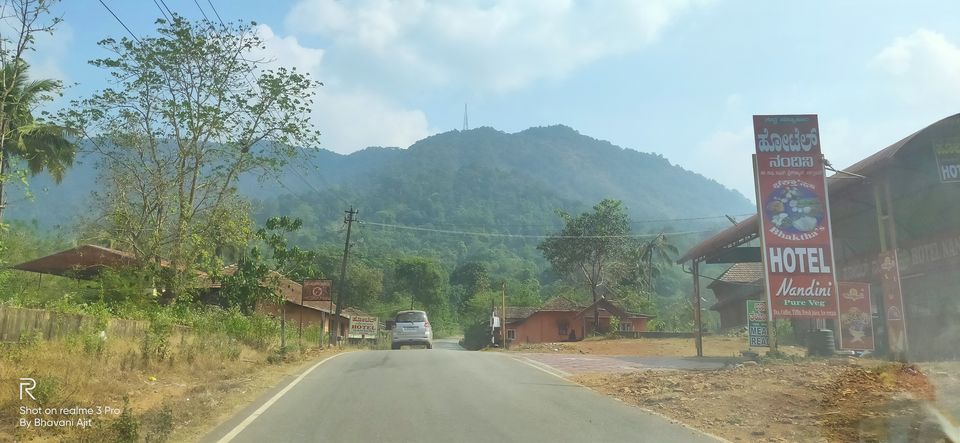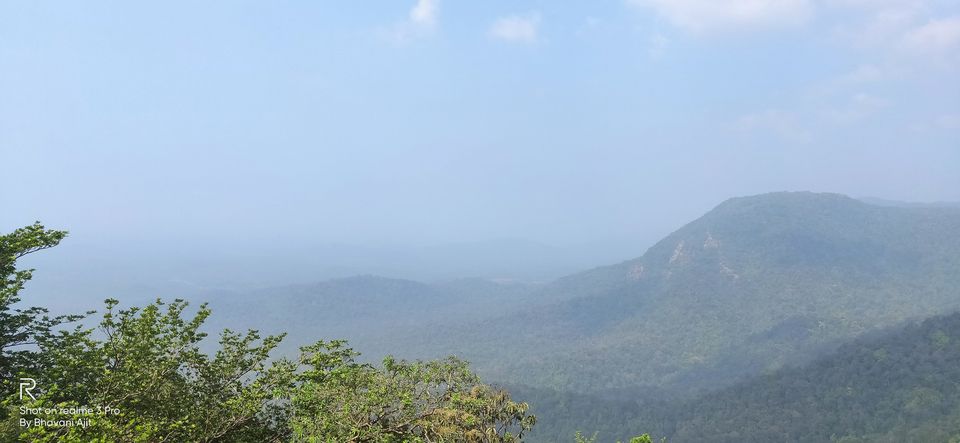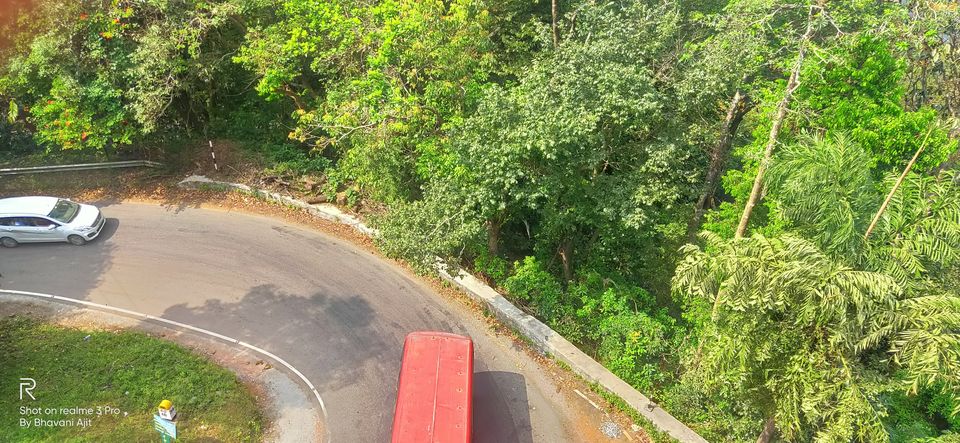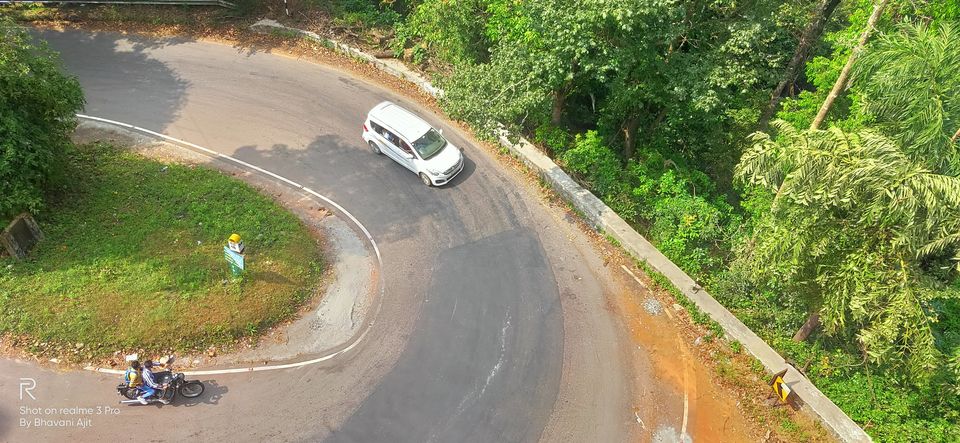 Met my college classmate Radhesh at 6:10 @Mudigere and took coffee break for 20 mins.
Stopped for dinner at Hotel Suruchi, Channarayapatna at 8:35 pm and left from there at 9:50 pm.
Finally after 1016.7 kms of travel, reached home at 1:50 am.