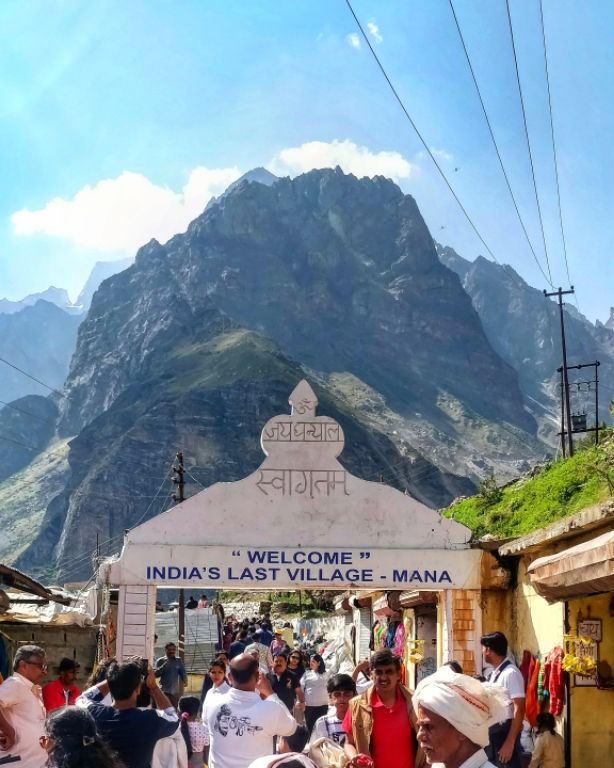 Mana is the last Village of India, situated at Indo-China border at an elevation of 10133.5ft, 5kms from the town of lord Badrivishal Badrinath.
As we were at the last stage of our journey of visiting char dham, we took a halt at this village in Uttarakhand which is not only beautiful but also rich in history.
We reached Mana from Joshimath at around 3pm. You can't take your vehicle inside and you have to park it near the entry gate of the village. We started walking and enter into the village.
The village has a narrow road paved with stones. Every tourist are located in proximity with each other.
As you wandering in the village you will go through shops which are established beside the road. Some shops are made up of cement, some are made up of polystery and wood while some just have a carpet on which goods are placed sell. We found variety of things in these shops such as winter wears which are hand made by locals living in the village, souvenir shops, herbal tea shops and eateries. The most common thing we saw in eateries were pakoras (fritters) and chai. I won't lie but I got to eat the tastiest pakoras there. The most common source of income for the village people there is selling hand woven clothes such as winter caps, sweaters, shawls, Tibet overcoat, etc. I bought a beautiful white scarf for myself from there.
Coming to places of tourism present in the village. There are 4 prime spots and 3 of them are related to Mahabharat yuga. The most important place is The Cave of Sage Vyasa which is considered around 5326years old. It is believed that in Dvapar Yuga the son of Satyavati Sage Vyas stayed in this cave and divided Vedas into 4 parts namely the Samveda, the Yajurveda, the Rigveda and the Atharvaveda. Not only he did this but he also wrote 18Puranas while staying in this cave which include Srimad Bhagwat Puran also. Legend is that he called Lord Ganesha to seek help from him in writing the epic Mahabharata. It is said that he didn't stop a once while dictating the events of Mahabharata to Ganesha. To remark this historical incident a temple of Lord Ganesha was made there in village which is also happen to be one of the 4 prime place of Mana.
After having a blessed darshan of Lord Ganesha and Sage Vyasa we moved on to the see the legendary Bheem Sheela. While going there we took a halt to have a tea at India's Last Tea Shop. Later on we found 3 more shops which were claiming to be the last tea shop of India. So we reached Bheem Sheela a natural pul which is situated just over the river Saraswati which is flowing at tremendous force. Legend is that when Pandavas along whith their wife Draupadi were going to Sawargrohini mountain to reach the heaven they had to cross the river Saraswati. As all of the Pandavas were mighty, they all crossed the river easily but Draupadi on the other hand was finding difficulty in doing it. So the Bheem mightiest among all came forward and made this bridge out of rock to aid Draupadi. The view of river Saraswati is exquisite from the bridge. Near the bridge a temple also lies there where goddess Saraswati is worshipped. The sound of the river flowing with the view of mountains and green land is just beautiful. The panorama view you get from the bridge is simply majestic.
So these were all the four prime places which are of historic significance which we got to see on our trip to Mana.
We left from the village after doing some shopping from local proprietors and went to our hotel in Badrinath.
I urge you all to visit this magnificent place and see the places from ancient India.