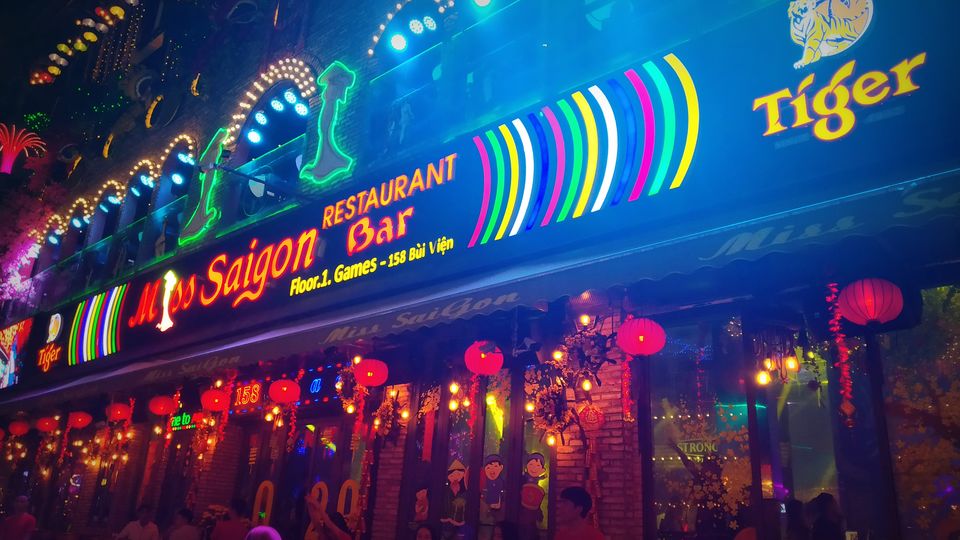 Me: Hey Indu, do you want to go for a vacation?

Her: I would love to!
Me: Where do you want to go?
Her: Krabi. It's my favorite.
And along with Thailand, I included Vietnam and Malaysia as well. Our journey included the following places:
• Ho Chi Min City, Nha Trang (solo) and Da Nang in Vietnam
• Chiang Mai, Bangkok (solo) and Krabi in Thailand
• Kuala Lumpur, Penang and Melaka in Malaysia (completely solo)
Our first destination was Vietnam — The Land of Blue Dragon. I had always known this charming country for its beautiful beaches and rivers, Buddhist pagodas, French colonial landmarks, scrumptious food and war history. But when I accidentally stumbled upon Bùi Viện Street in Ho Chi Minh City (formerly Saigon) on my recent trip to the Southeast Asian country, I was totally surprised because what I saw there was absolutely unexpected. Vietnam has never been known as a party place. All party animals flock to Bangkok in Thailand to enjoy the nightlife. But after seeing the party scene of both the places, I can say it without a single trace of doubt that this party street in Vietnam will make you forget the nightlife of Thailand.
The bright lights come up as the sun goes down. A number of bars, restaurants and clubs open up and small chairs and tables are set onto the sidewalk. Soon the whole street is filled with backpackers looking to eat, drink and party. If you are a non-vegetarian foodie, then there are all kinds of Vietnamese delicacies to choose from the street vendors. You will see a lot going on there, for instance, girls trying to lure men into massage parlours and shady characters talking to others in signals and getting followed by others. For an average visitor like us, minding own business and ensuring the safety of belongings is all that's required.
The moment we entered the street, we were bathed from head to toe with colorful lights coming from huge nightclubs. The arrival of the Lunar New Year (January 25, 2020) had further enhanced the pomp and show of the whole place. The music of loud party songs entering our ears made us dance to its tunes. After strolling on the street filled with happy travellers, especially backpackers from all over the world enjoying their drinks and dancing outside the clubs, we made our first stop at 86 Pho Tay, which was shining brightly with colorful lights.
We stepped inside and saw a whole new party world. No doubt the music was so loud that we had to scream in each other's ear, but that made us forget everything else that was happening in our lives. There was a stage where two tall and attractive girls were dancing. When they got down after giving their exceptional performance, it was time for others to show off their dance moves. The music was so good that we couldn't stop ourselves from going on that stage and dance with others.
As the party scene started getting intense inside the clubs, the entertainers on the street also leveled up their game. We saw a guy juggling on a unicycle, young boys breathing fire and a man engaging audience in card tricks.
What's up with the balloons??
When we were at another club named Miss Saigon, we saw almost everyone blowing balloons. I kept on wondering "Why everyone is doing so? Instead of enjoying their drinks or dancing or chilling, why they are wasting their energy on balloons? What they are going to do with that?" Then I thought "Maybe they will be decorating the club since it's New Year time. But still, why guests are doing that?" Totally confused, I asked a waiter about that. He explained that these are helium balloons and one has to breathe in the gas from mouth to experience light-headedness. Well, that was something absolutely new for me to learn in Vietnam!
The thrill and energy of Bùi Viện Street, which is the heart of Ho Chi Minh City, is something else. Once you are there, you will forget everything. Such are the vibes of this place! It is one of the most vibrant and interesting parts of the city that one can experience.
What not to miss in Ho Chi Minh City?
Opening hours: From 07:30 to 18:00 on all days (including public holidays and New Year holidays)
Ticket price: 40,000 dongs (around 125 rupees)
Going to this place will definitely make you realise that you are living such a privileged life. You will come across very disturbing facts that would make you cry. So if you are a weak-hearted person, then think twice before going. Such is the horror of the Vietnam War!
War Remnants Museum has researched, collected, stored, preserved and displayed documents, images and exhibits on the evidence of crimes and the consequences of the Vietnam War, which was fought for nineteen years. At the entrance, you will see helicopters, airplanes, tanks, landmines, bombs, etc. that were used in the war. The history of the war and other important details are explained there via more than 20,000 documents, artifacts and movies that include collection of photos of the American invasion war in Vietnam, crime of aggression war, prison regime, world's support towards Vietnam, and most importantly, the consequences of Agent Orange during the war the effects of which can be seen today also. Isn't that heartbreaking?
Undoubtedly, you will feel depressed but it's crucial that you visit this museum in order to understand the importance and urgency of world peace. Living freely without any fear is our basic right and it should not be put on the back burner. The destructive influence of Agent Orange has reached down so many generations in Vietnam and you yourself can see that. What American soldiers did to Vietnam is brutal beyond my imagination, in which they also suffered a lot. My heart goes out to everyone who is/was in pain. I pray that this kind of devastation never takes place again anywhere in this world.
If you want to buy local handicrafts, branded goods, Vietnamese art and other souvenirs, then this is the best place in Saigon. And when you become tired after bargaining at shops, then cool off with any of the cold beverages and enjoy the taste of hawker-style Vietnamese cuisine at a stall inside the market.
Avoid going there during the hottest part of the day as it can get very crowded. Evening would be perfect. The eateries inside the market sell real street-style local food including wok-fried noodles, fresh seafood, barbecued fish, crispy rice pancakes and steamed cakes.
Take a stroll around this market to experience authentic Vietnamese vibes. Things you can purchase from here include lacquerware, bamboo goods, arts and crafts, clothes, luggage, watches, spices, nuts, local fruits and vegetables, and electronic goods. The market is so huge that may become a little difficult to navigate.
While roaming around the bustling streets of Ho Chi Minh City, I read somewhere, "In Vietnamese, we say Tình for something that is more than love." I really liked this quote because the way I was feeling there was definitely more than love. Once war-torn, it has seen a lot of cruelty that one can bear. But the way it is progressing and opening its arms for travellers is worth appreciating. I was in love with its people who were kind and friendly even if unable to understand English in non- touristy places like Nha Trang and Da Nang. In my next blog, I will take you on my journey to these coastal cities in southern and central Vietnam respectively.
If this hasn't inspired you enough, then you should check out my Instagram page strolling_shoes and follow my adventures around the world!
Keep travelling!