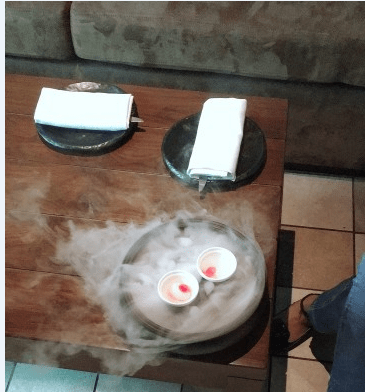 Hey People ,
Get Ready to Farzified!
Experience the luxe of visiting this cafe-cum-lounge in our own City beautiful. It is a modern-times considering the taste of the "Youths" with the hub of "Gourmet" salver. The take you on a ride of all the flavors starting from the all the food varieties keeping mixing the healthy diet too. It has got a varied Indian cuisine from the Local-Streets, the American, the Chinese, the Italian, the Indian. Every cuisine has a modern blend and the tastes are so appetizing.
Being a franchised outlet and definitely the most beautiful beautiful ambiance among all the others. I being a foodie with a passion of exploring new places, the food and the drinks I had here were just so mouth-watering.
The food-menu is so authentic and plain , that its really easy to order anything. So, its like you name a dish and it's not there. Everything was just "WoW" honestly speaking.
There's a magic in the Chef's hand and literally guys, they have got some unique touch of flavor and it feels divine to imagine that what is that they added?
While stepping in , it begins with an amuse bouche welcome shots: #Mishti Doi-different from regular yogurt,made of thickened milk and jaggery.
These little spheres were just like jelly and served on a chilled steaming platter. Engulf and it just explodes in you mouth with a promise of things to come.
Well our entire experience was great, with warm,friendly and courteous staff who asked about our views after we tried the dishes they offer are everything promptly. And it's a great value for money place.
Everything in the menu had a standard price with quality food.The mock-tails we ordered were so refreshing adding up sweet+tangy taste.
Later on after ordering the food which was served in a very innovative way. Food quality and quantity is plentiful that it will make you feel topped up. Truck-loaded full of PAO's and the Desi-Chowmein is succulent!
From creating a gastronomical illusion on your plate to cooking up authentic Indian dishes in an artful way, Farzi Cafe leaves no stone unturned in leaving you completely farzified.
So lets get Farzified.
Looking forward to visit soon and experience the Night life too and more dining experiences.
Ratings : out of 10
Food : 9 | Ambiance: 9 | Service: 9 | Overall: 9/10
Meal for Two: INR:1,500(approx.) | Wheel Chair Friendly: Yes | Alcohol: Yes| Private Dining: Yes|Table Booking: Yes|Outdoor Seating:Yes
Dining options: Mocktails, Cocktails, Craft Beer, Rasmalai,Chaap, Chicken Tikka Masala, Rabri, Cash and Cards Accepted
TIMINGS: Monday to Sunday (12 noon – 1 am)
Address: SCO 23, Madhya Marg, Sector 26D, Sector 26, Chandigarh