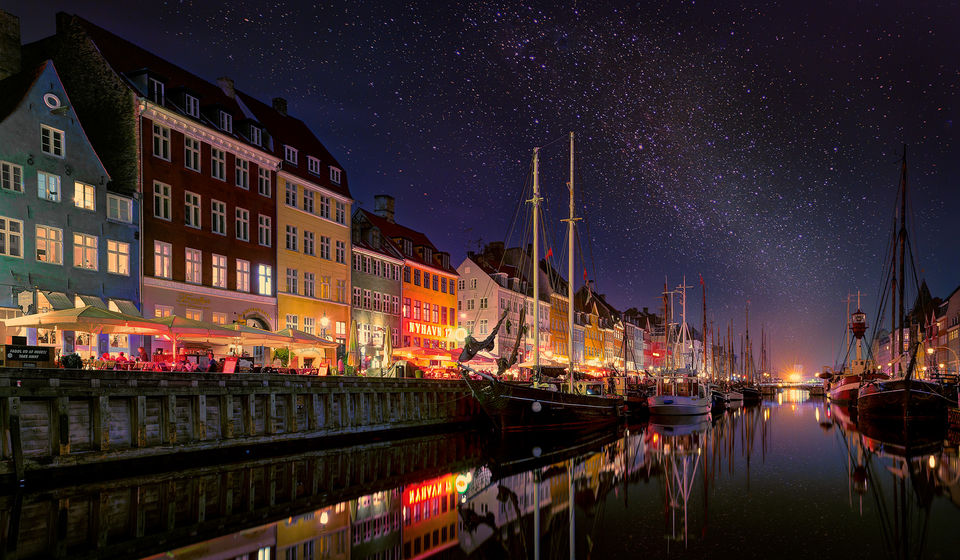 It's not surprising that Denmark has been rated as the world's happiest country, time and again. When you experience peace, warmth, history, cobbled stones, fairytale like castles, colourful, toy like townships and the warmest of people, you are bound to find out why the Danish are such a happy people. The capital city of Copenhagen is one of the most charming ones you'll encounter. It's location, overlooking the Øresund strait with Sweden just minutes away, makes it a cultural and geographic link between mainland Europe and Scandinavia, so you get the best of both worlds. What else can one ask for? A short and comfortable journey? Well that's granted too! Air India's non-stop flights from India to Copenhagen takes you to the country in under eight hours. The direct flight gives you an additional day of fun by reducing travel time. So fasten your seatbelt and fly into this little paradise, to explore and indulge in one-of-a-kind experiences, unique to Copenhagen.
Experience the surviving hippie culture
You'll feel like you're back in the age of the 'flower power' when you're in Freetown Christiania. Back in the day, 'flower power' was a slogan used in the late 1960s and early 1970s as a symbol of passive resistance, non-violence ideology and the concept of 'free living'. Not much trace is left of that time. In Freetown Christiania, however, this culture still thrives. In 1971, a group of hippies made some abandoned military barracks here, their home. Till date, this green and car-free neighbourhood in Copenhagen has autonomous rules, completely independent of the Danish government. For instance even cannabis were sold here openly until 2004. The space is also popular for its interesting graffiti.
A thrilling roller-coaster in the world's oldest amusement park
If you like roller coasters, ferris wheels, drop towers, and other extreme rides, just head north of Copenhagen to Dyrehavsbakken. This is the world's oldest amusement park, offering more rides than any other park in Scandinavia and is set amidst the woodlands of Jægersborg Dyrehave, home to 400-year-old trees and almost 2,000 deer. When you are done with the crazy coasters, you can bring your heartbeat back to normal by taking a ride through the woods in a horse carriage or eat and drink at a number of places, including an old London bus converted into a pub. If you're looking to make a night of it, check out the good old-fashioned (132-year-old!) cabaret at Bakkens Hvile.
Visit the oldest functioning observatory in Europe
Copenhagen is also home to the oldest functioning observatory in Europe. The 17th century tower and observatory, Rundetaarn, or the round tower, is a place that will leave you awestruck. Amateur astronomers still use this observatory which boasts of a cool spiral walk. It's quirky because you walk around 209 metres to get to the top even though the tower is only 36 metres tall. The observatory offers a spectacular view of the old part of Copenhagen. The coolest bit is that you can now see the tower's core by standing on an all glass floor. The glass is more than 50mm thick and can carry up to 900kg per square metre.
Check out artefacts in the one of the biggest open air museum in the world
The Open Air Museum, Frilandsmuseet, is one of the oldest and biggest open air museums in the world. It's spread across 86 acres of land and houses more than 50 farms, mills and homes from the period 1650 to 1940. These buildings were recreated here to offer an insight into how country life was once upon a time. This museum actually gives you the quickest tour of Denmark that you can possibly imagine. How? Every region in Denmark and the Faeroe Islands, as well as the former Danish provinces of southern Sweden and northern Germany are represented here.
Meet The Little Mermaid
It's a beautiful tribute to an endearing fairytale. The sculpture of the Little Mermaid at Langelinje Pier is Copenhagen's most popular tourist attraction and the sheer experience of seeing it up close and personal, is magical. Though many people in the current generation know the popular Disney charachter, the bronze and granite statue was inspired by Hans Christian Andersen's fairy tale about a mermaid who wants to become a human after she falls in love with a handsome prince on land. It was unveiled on 23 and was a gift to the city of Copenhagen from Danish brewer Carl Jacobsen who fell in love with the character after watching a ballet performance based on the fairy tale. He then commissioned the sculptor Edvard Eriksen to create a sculpture of the mermaid.
Marvel at the one of the largest beer collections in the world!
There are 22,000 unopened bottles of beer here! Unbelievable, isn't it? This collection belongs to Leif Sonne, who since 1968 has been collecting unopened bottles of beer of every possible style, size, brand and country. Sonne was an engineer from the small town of Svendborg, and began collecting bottles of unopened beer as a hobby. When in 1990, the collection had over 10,000 unique bottles, and had outgrown Sonne's house, it was moved to the Carlsberg Brewery in Copenhagen in 1993.
Hunt for the six forgotten giants
This is the kind of treasure hunt you will thoroughly enjoy. It's not the conventional touristy thing to do, but it's a lot of fun, if you like the outdoors. Artist Thomas Dambo has chosen the most scenic settings to put up his sculptures built from recycled wood. The idea was to bring art out of the museum, draw attention to the beautiful and often overlooked nature spots in the western part of Copenhagen, and get locals to appreciate the outdoors and nature. Each giant is named after one of the local volunteers who helped build it.
When to go?
The summer months of June, July and August have the best weather. Copenhagen is also gorgeous in autumn, that is September and October.
How to get to Copenhagen?
By air: Avoid flights with long layovers. There are Air India flights to Copenhagen's Kastrup Airport from New Delhi's Indira Gandhi International Airport that are operational on Tuesdays, Thursdays and Saturdays. The flight from New Delhi departs at 14.10 and reaches Copenhagen at 18.40, while the one from Copenhagen takes off at 20.35 and arrives in India at 07.45. These flights will cut your travel time down to under eight hours.
By rail: Copenhagen is well connected by train to all its neighbouring countries and getting here by train from any Schengen country is simple.
Insider's tip: The Dreamliner, makes Air India the best bet to take you to Copenhagen. The Air India flights are short, non-stop and very comfortable. Why would you want to spend extra time on your way, especially when there's so much to see and do in Copenhagen. Happy holidays!
If you've been to Copenhagen and know of some cool hangouts, share your experience here. To watch interesting travel videos, log on to our Youtube channel. If you enjoy what you watch, hit like and subscribe.
In association with Air India.