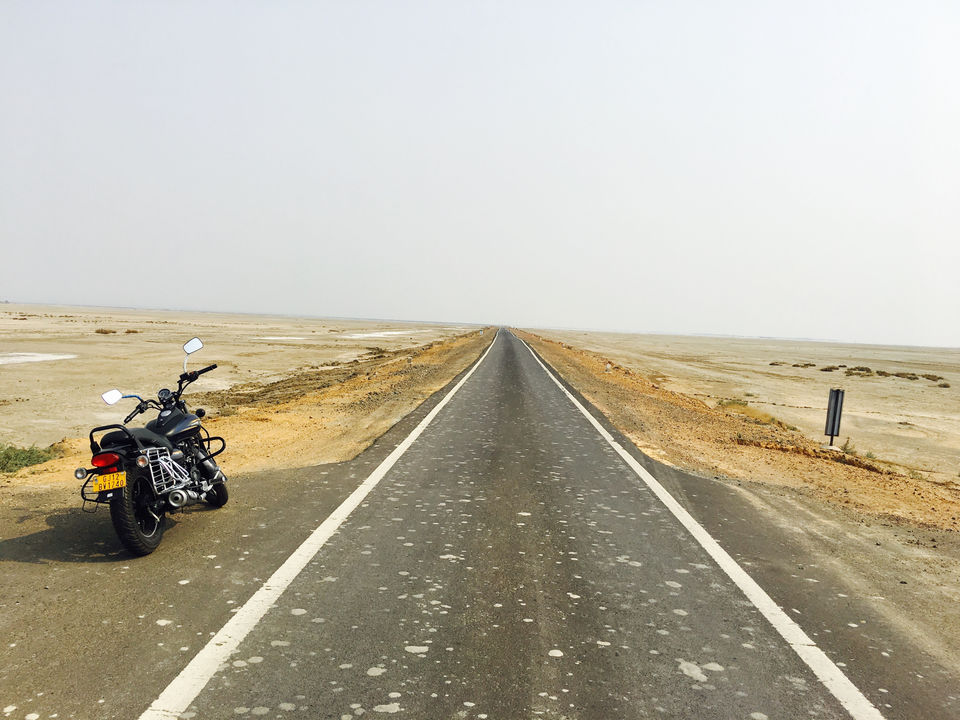 It was third week of the year, Friday was just hours away and I was ready with my travel itenary for the weekend. This time I chose to visit the west most city of India, Bhuj. It was my first solo trip.
IRCTC website is my Browser homepage in office. Nowadays I have become so proficient in booking a railway ticket that it just takes 45 seconds of my life to book one. Maybe one day IRCTC will start Customer Relationship Management and that day I will be their Platinum customer.
It took ₹445 from Bandra Terminus to Bhuj, pretty cheap for me. I packed my essentials and left for office. Train was scheduled at 1745.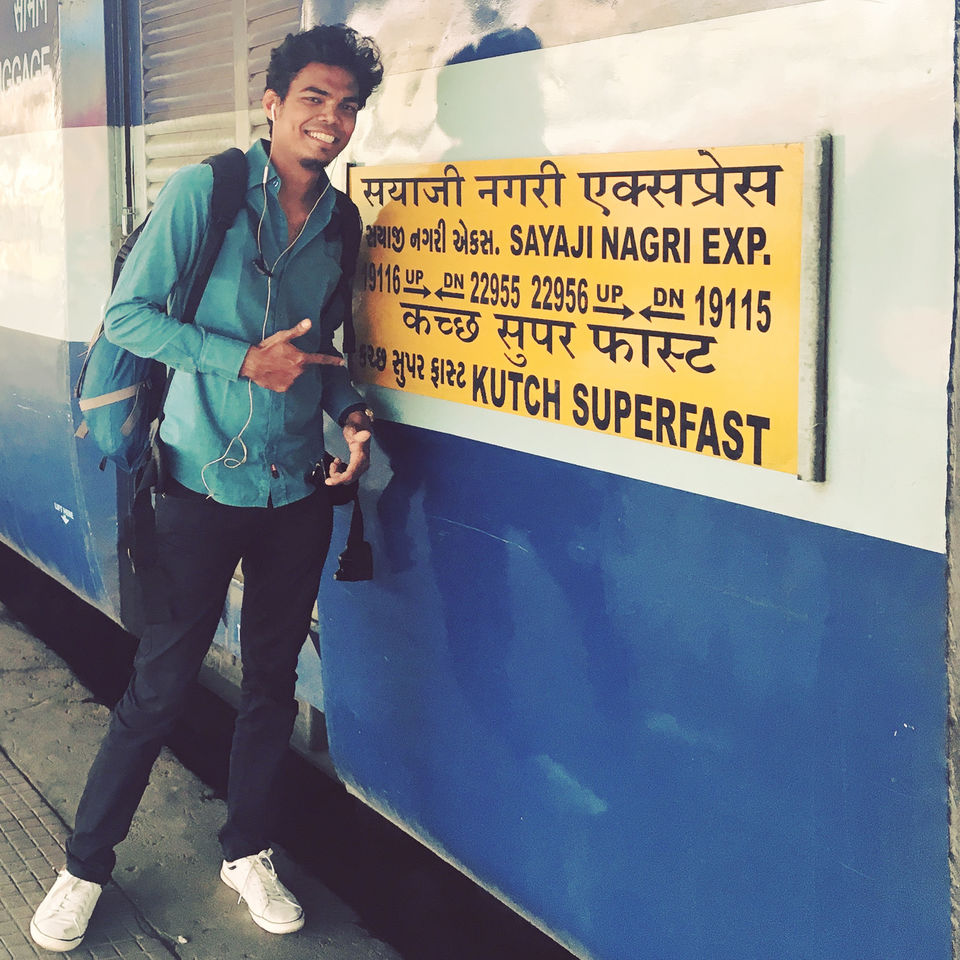 I left office by 1545 and reached Bandra Terminus by 1715. Train was way before time. My booking status was RAC 51 during Jan 1st week which got Confirmed on day of travel.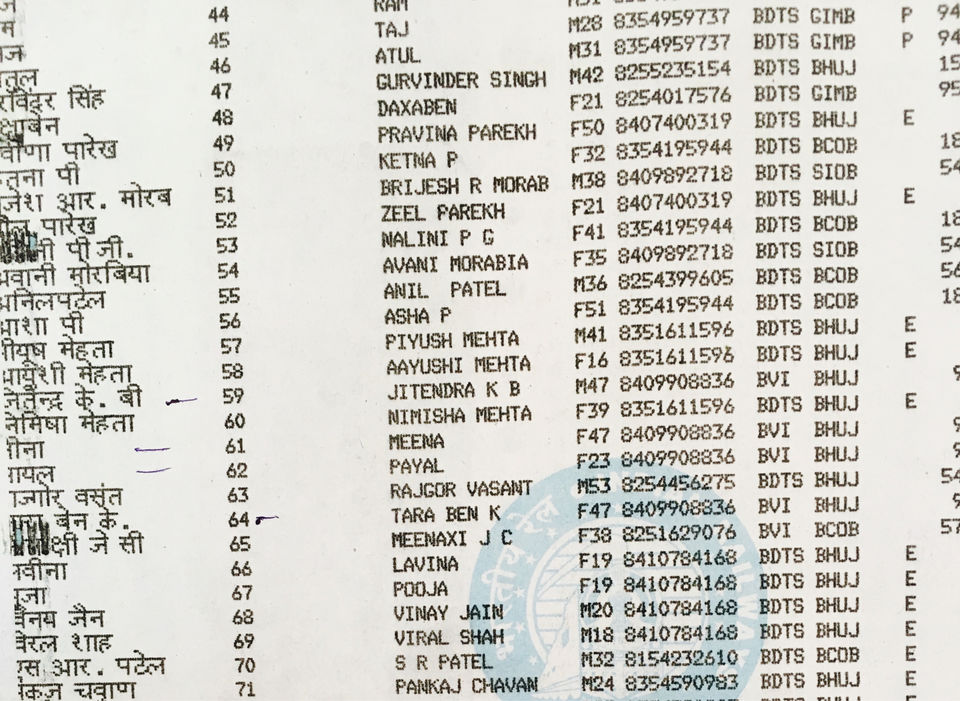 Got a seperate side lower seat to my name. Happiest moment of the day. I quicly settled in and bought some snacks, favourite part of train journey. But that was not enough, I made sure every food vendor stops by my side.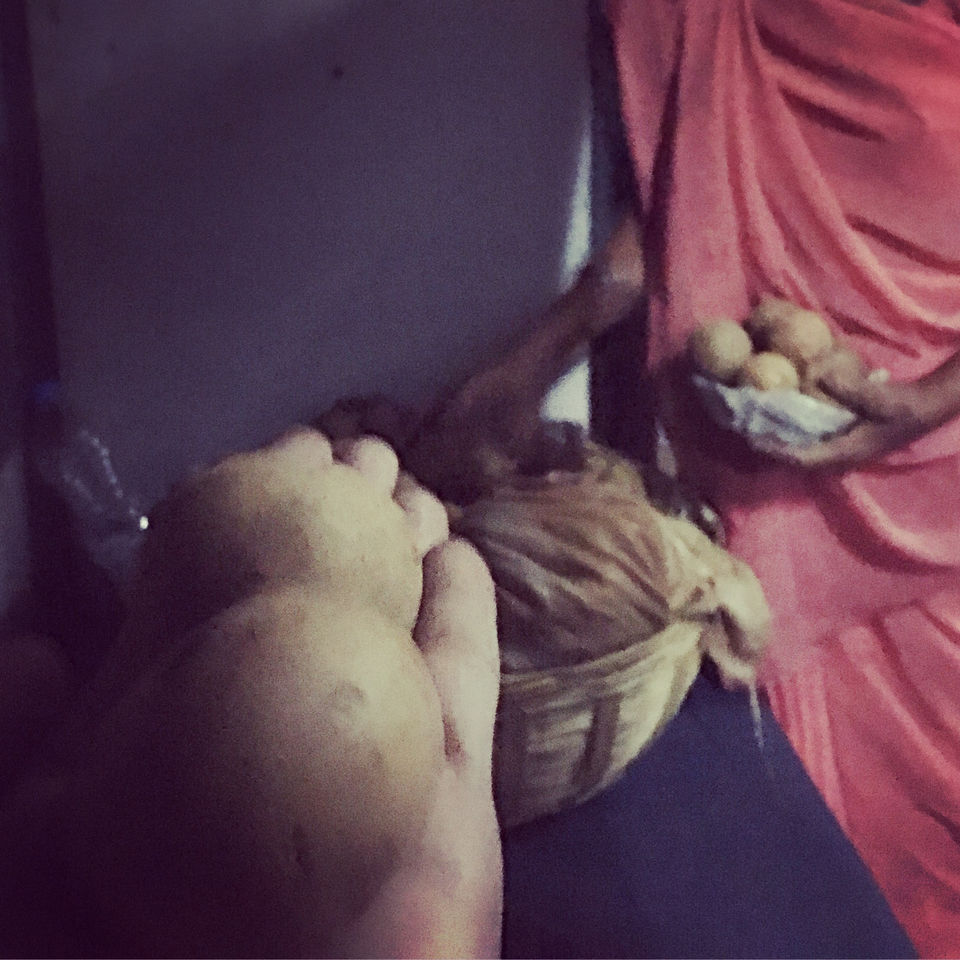 Sky was getting darker and it started getting colder and on top of it I had forgot my jacket in office. Thank God for the emergency blanket I bought in this trip. Though it was pink color it surely saved me from freezing temperature.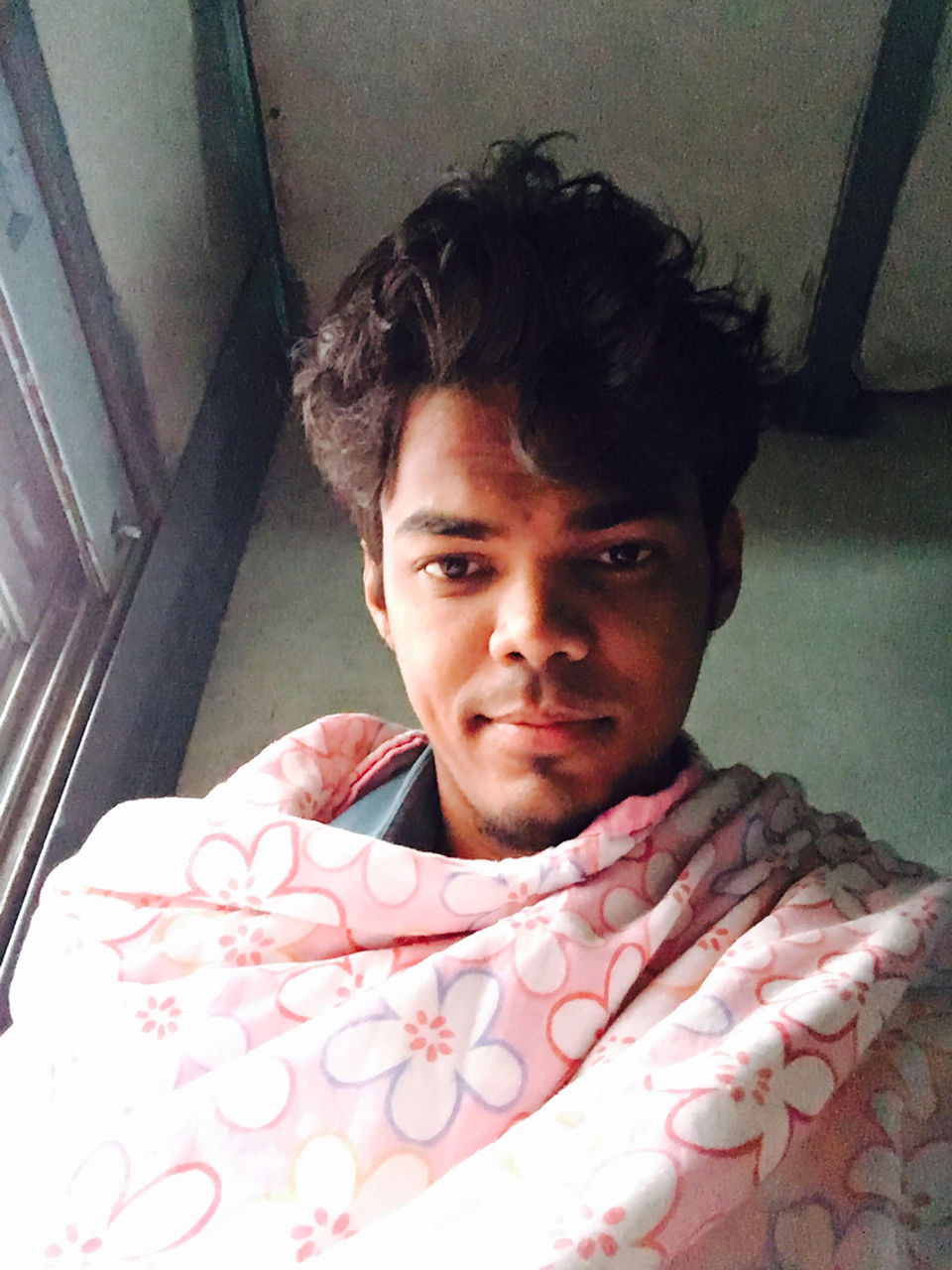 Got up at 7am, train took a hault for 30 mins to shift the engine from one end to the other. It was a beautiful weather outside. Sun was about to rise and fields were lush green. Bhuj was nearly 1.5 hrs away from here. After 2 Station, I finally reached Bhuj Station.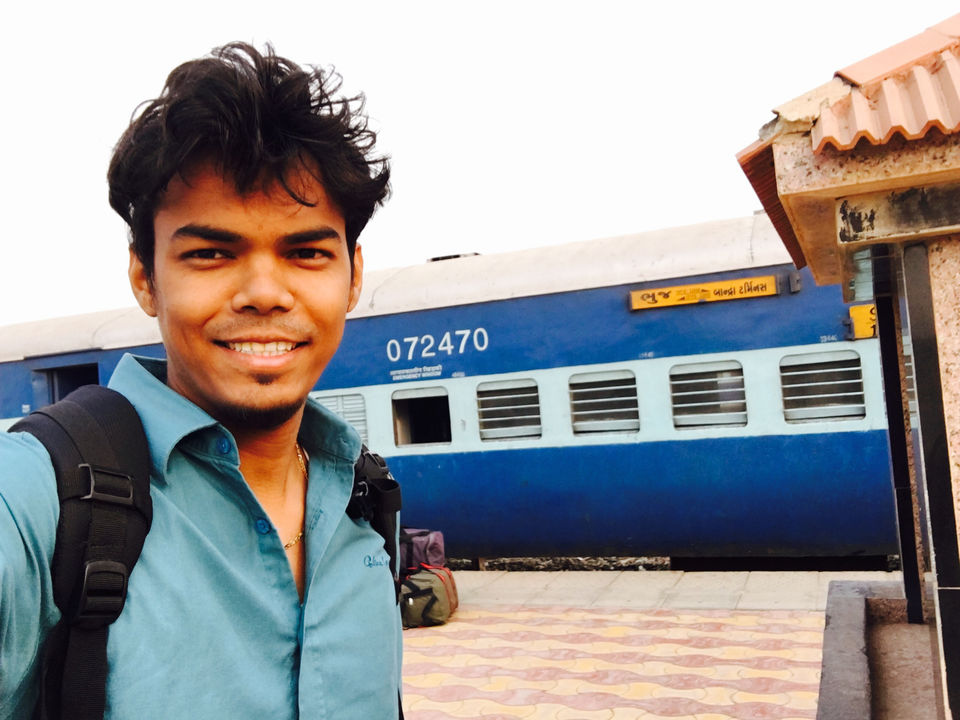 Took a auto from Bhuj station and went to the city for Hotel Hunt. He charged me ₹50 for it. After looking for 2 3 options, I settled for the one near the main market area.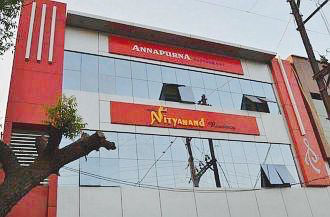 They charged ₹500 for a single occupancy. By the time I got fresh it was already 10am. Main purpose to visit this city was to go and see white lands which was still 90kms ahead. I entered the main market and started looking for breakfast options.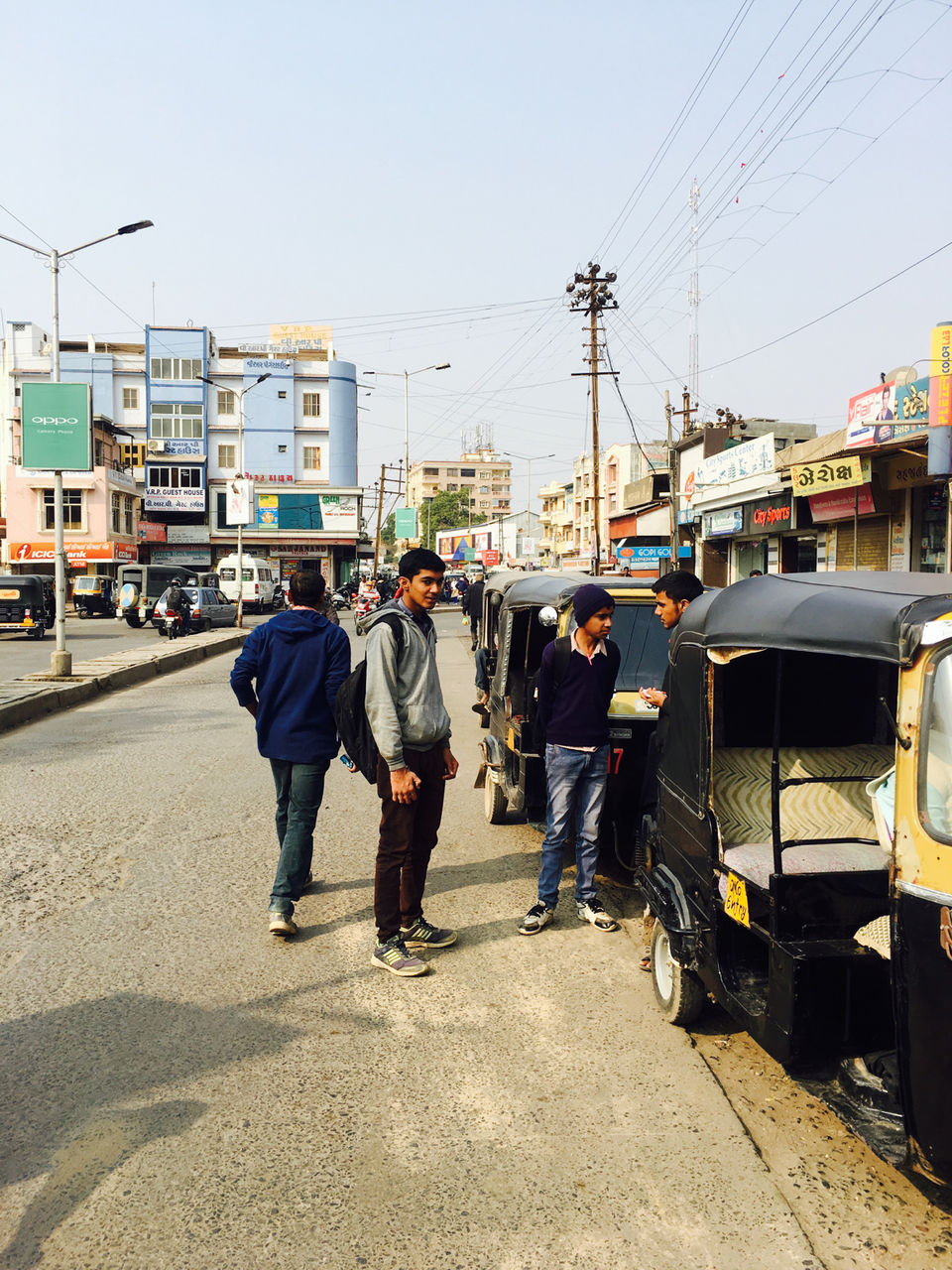 I found one out standing food joint near the GSRTC bus stand. He was selling samosa for ₹20 but it was worth having it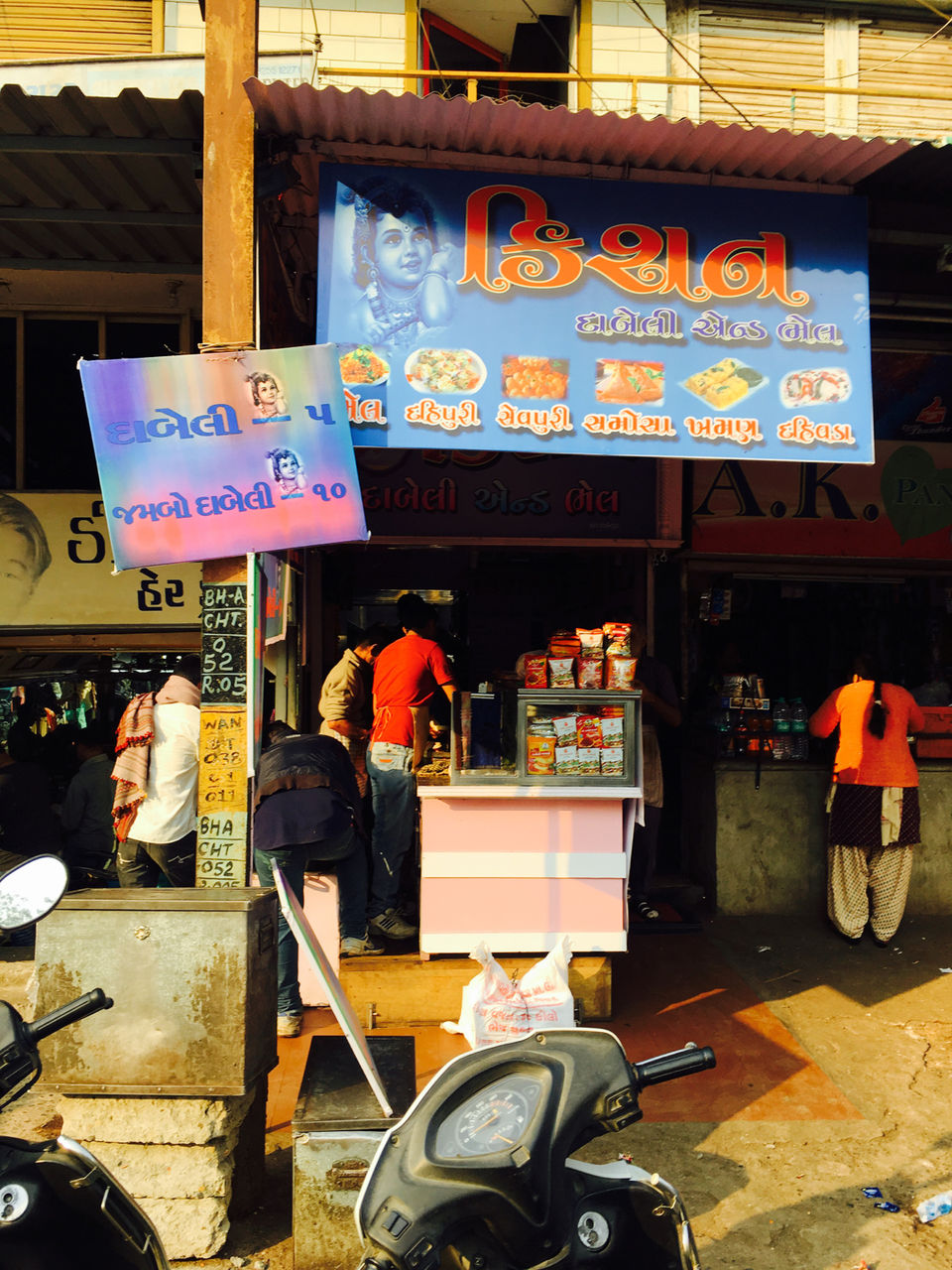 After 2 samosas, I further walked ahead to rent a bike. I had searched this shop online prior to my trip. It was the only moterbike rental shop shown on JustDial.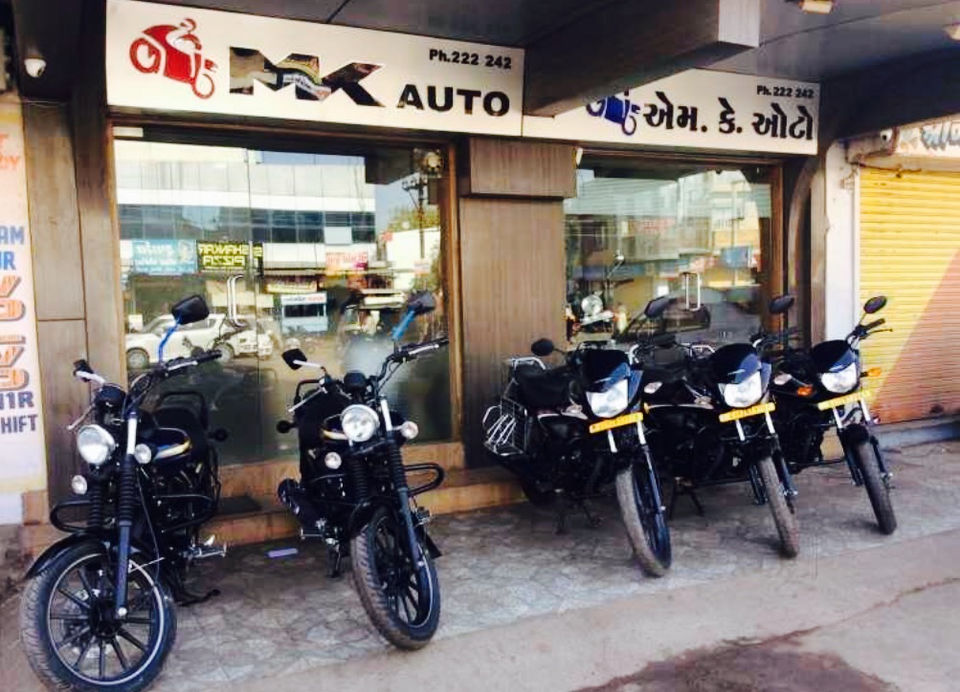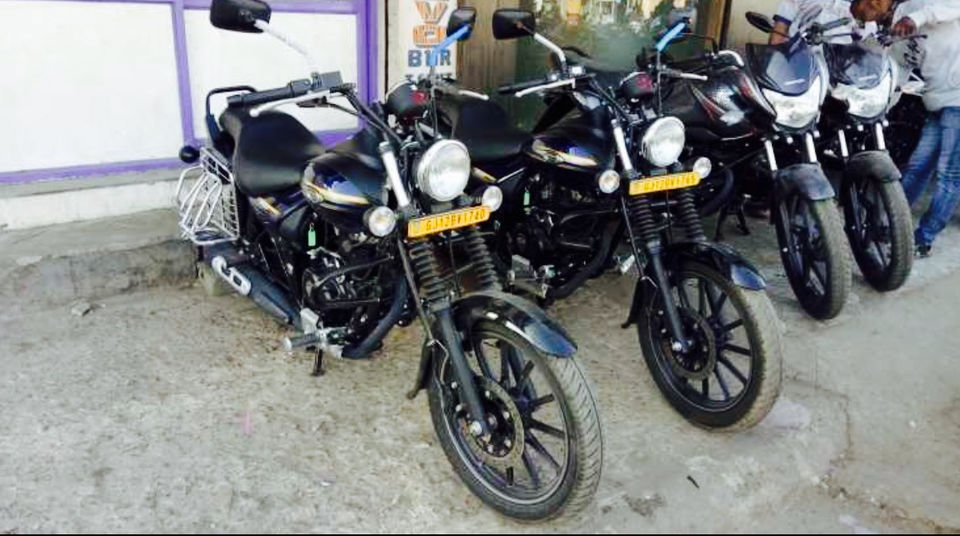 Rented a bajaj avenger 150cc bike at ₹1300. It was a new bike which was showing 1470 kms driven on tachometer. I filled ₹500 petrol and started my journey towards north of Bhuj. There were 2 best places to visit here, one was "White Rann Desert" and other wala "Kala Dungar".
I started my trip by 1130 am. After getting 5kms away from city the winds started getting colder. 15kms further there were no trees in the vicinity, I could see horizon all over.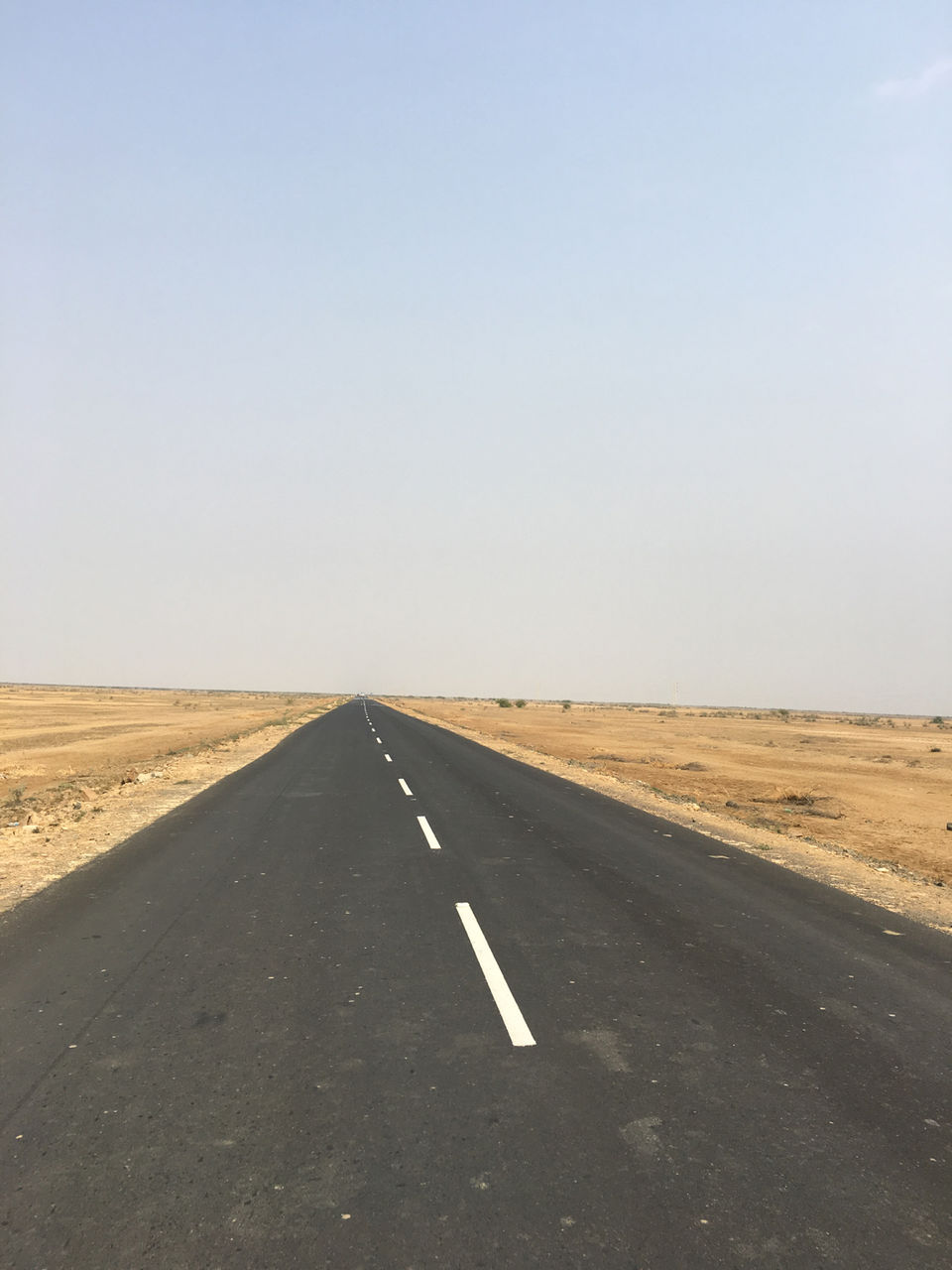 It was a pleasure to drive here. Army jawans were posted within 10kms radius. I just had to hold the constant speed of 80kmph. Cows were grazing all over the open fields. It was a scenic drive. After 30 mins drive I crossed by a milestone.
I had to witness this line since my childhood Geography classes and it finally came true. After 90kms drive I reached White Desert but a disappointing news was waiting for me there. I drove 1.5 hrs just to realise that due to some Political function the Desert was closed for normal tourist for 5 days. How stupid was that. I could see white land from the entrance gate, it was 4kms ahead. They didn't let me in though since I was not a VIP.
But the best part of trip was about to happen. The road between White Desert and Kala Dungar, its magnificent. Though its only a 60kms stretch, I would rate it India's most scenic and straight road.
I was so happy with my decision of renting a expensive bike for a day, because it was totally worth it.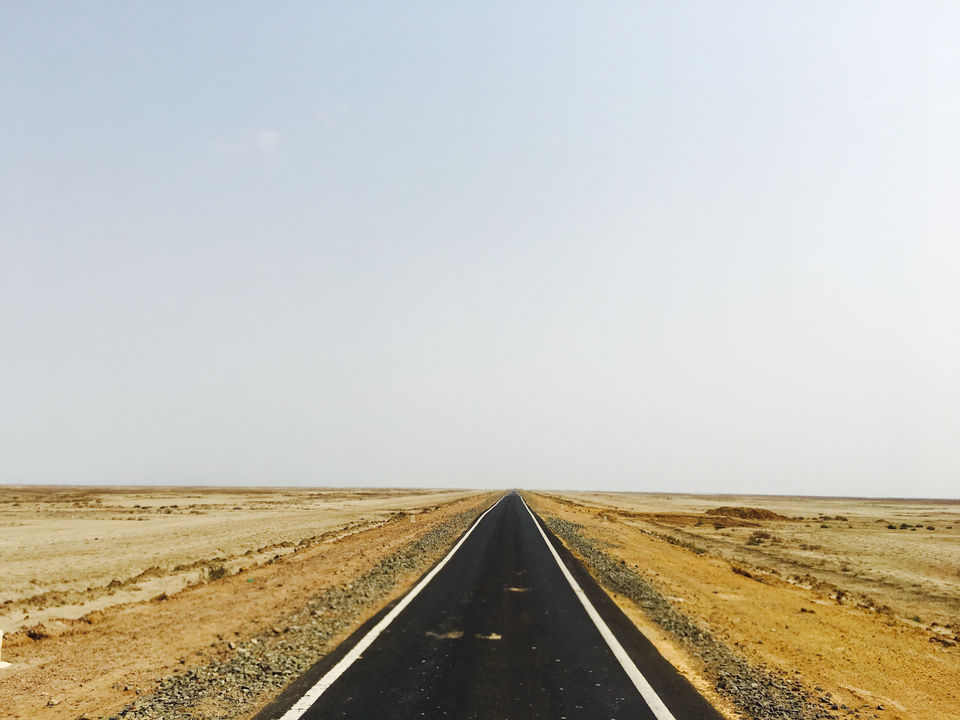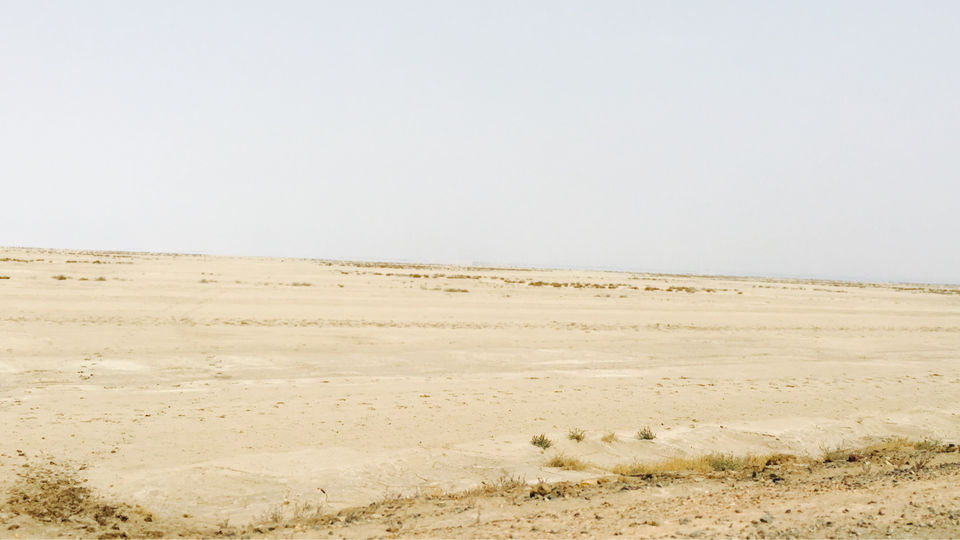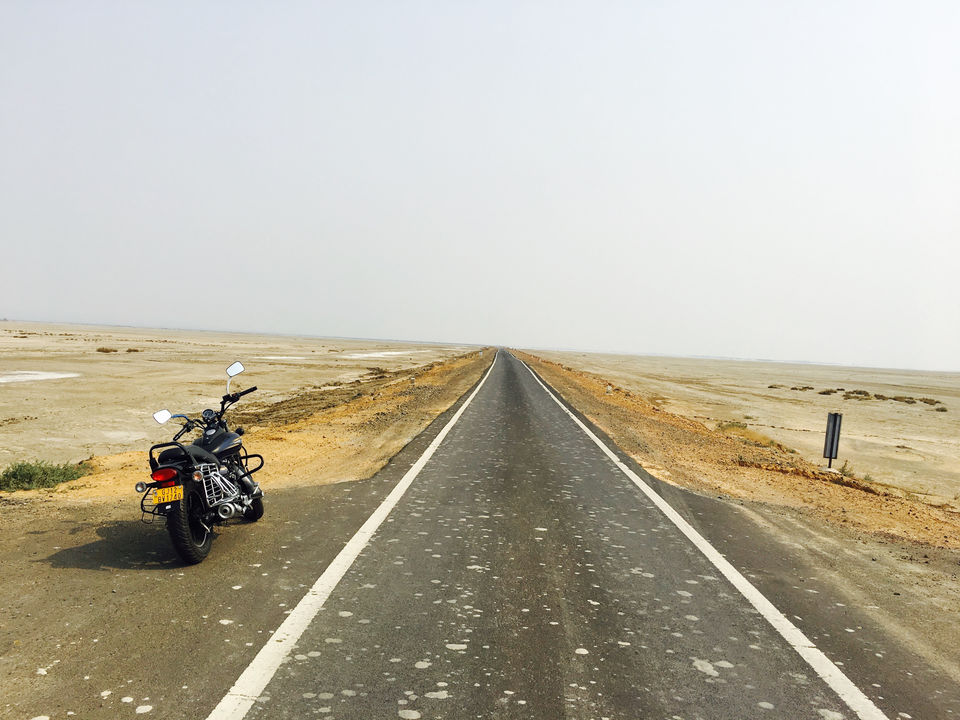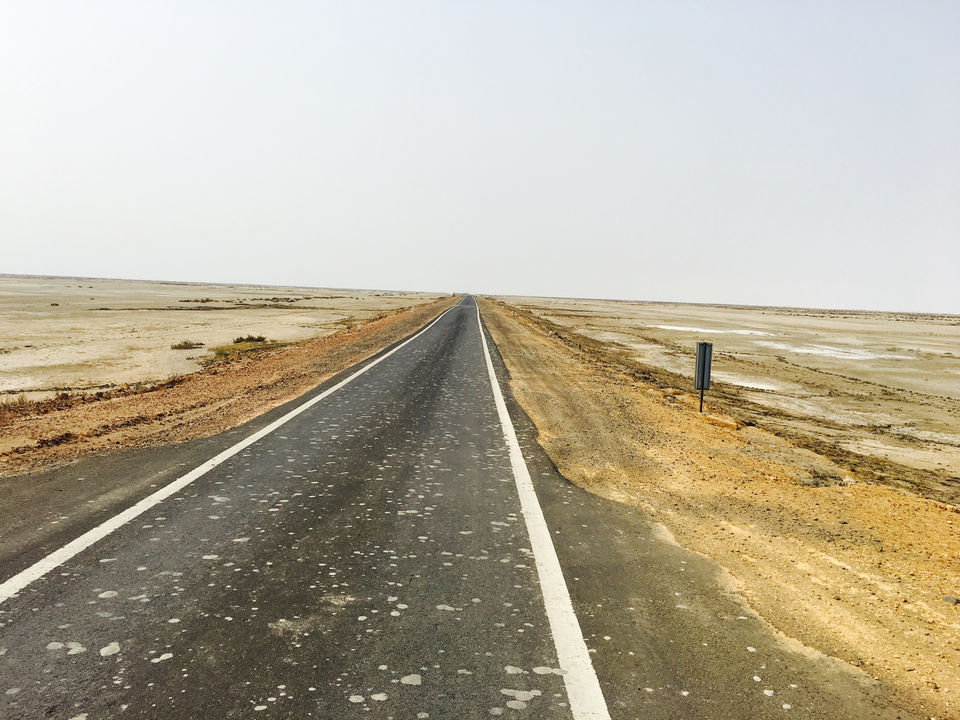 Only one army convoy passed by this entire stretch. Never thought that I would experience such quiet and beautiful road in India. Its a perfect road for RoadTrip.
Its the highest point in the Kutch district located 435m above sea level. White Land of Kutch is quite visible from here and it looks mesmerising.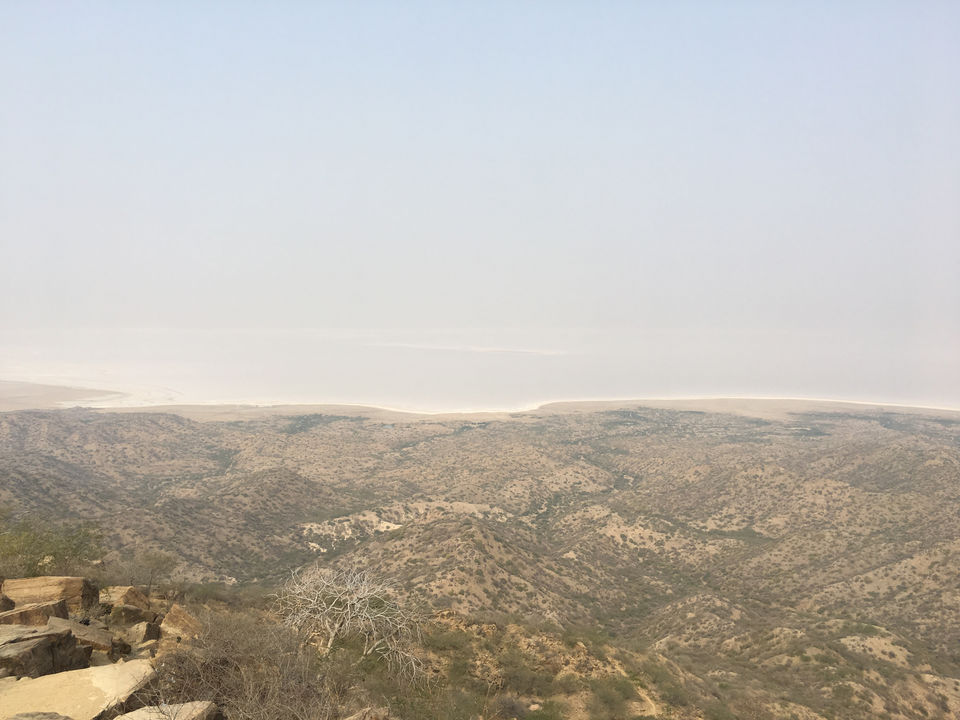 This place is maintained well and view from top most point is amazing. Kids are showing Pakistan border through their binoculars in ₹10, which is cute, but Camel riders are charging ₹50 for 5min distance, which is evil.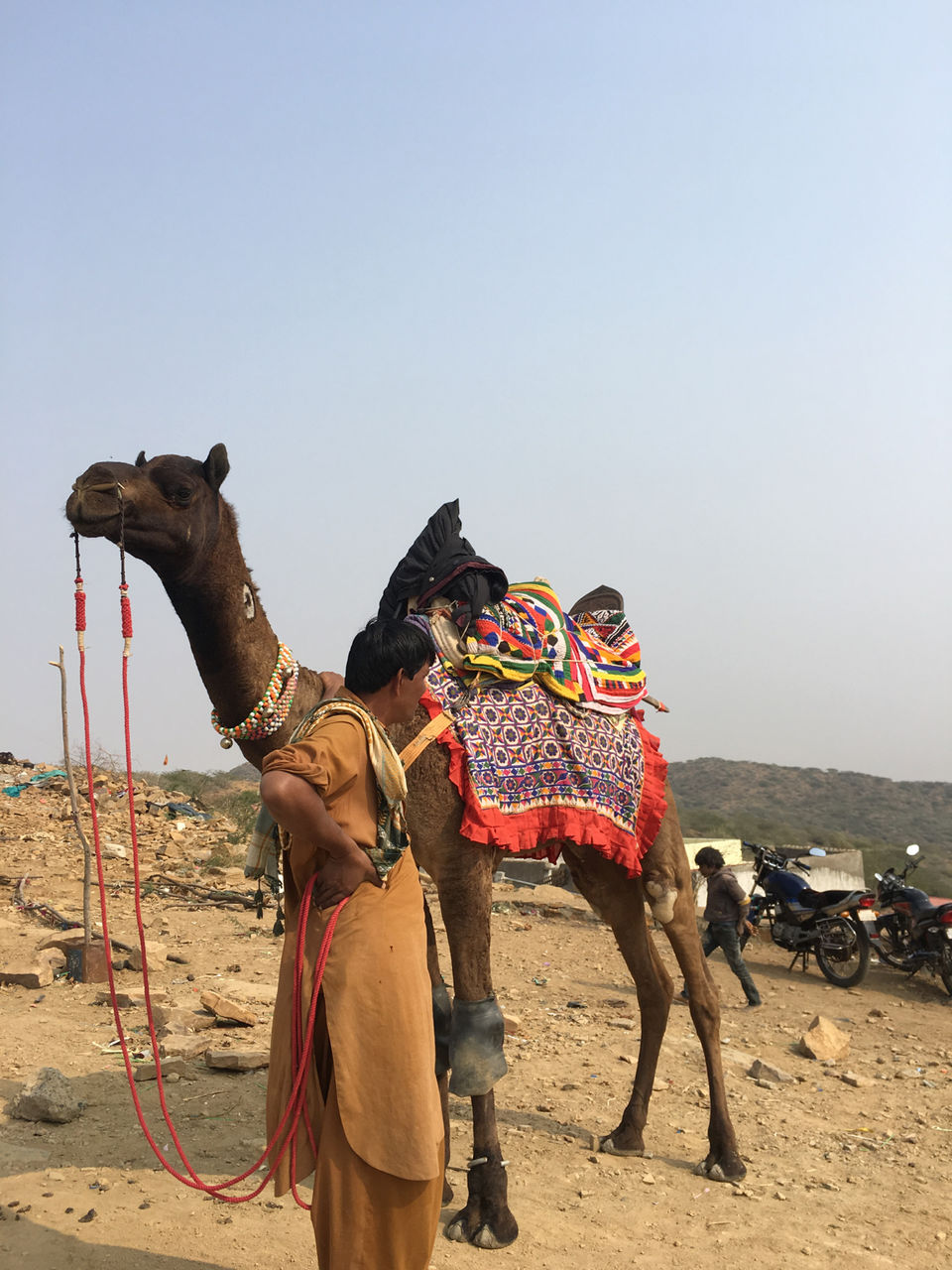 There are some shops here with Rajasthani Handicrafts and artworks. All in all its a very colorful picture.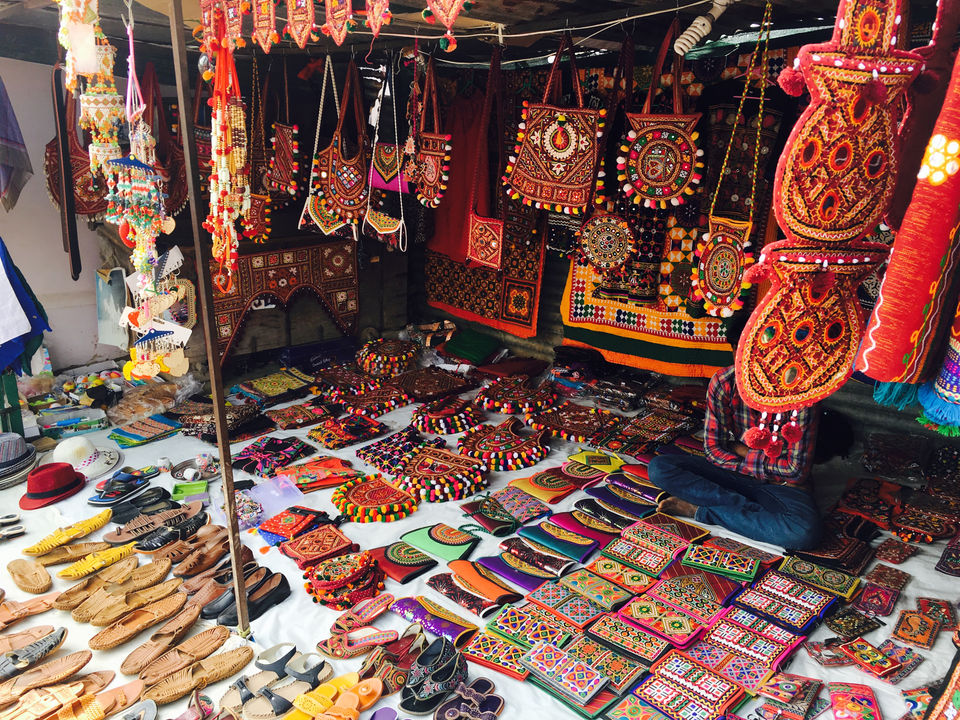 It was just 3pm on watch and I had 6 hrs left. By the time I almost rode 150kms. But those straight roads were encouraging me to drive more. I took my cellphone and checked places to visit. One wild option I got was that of Mandvi Beach.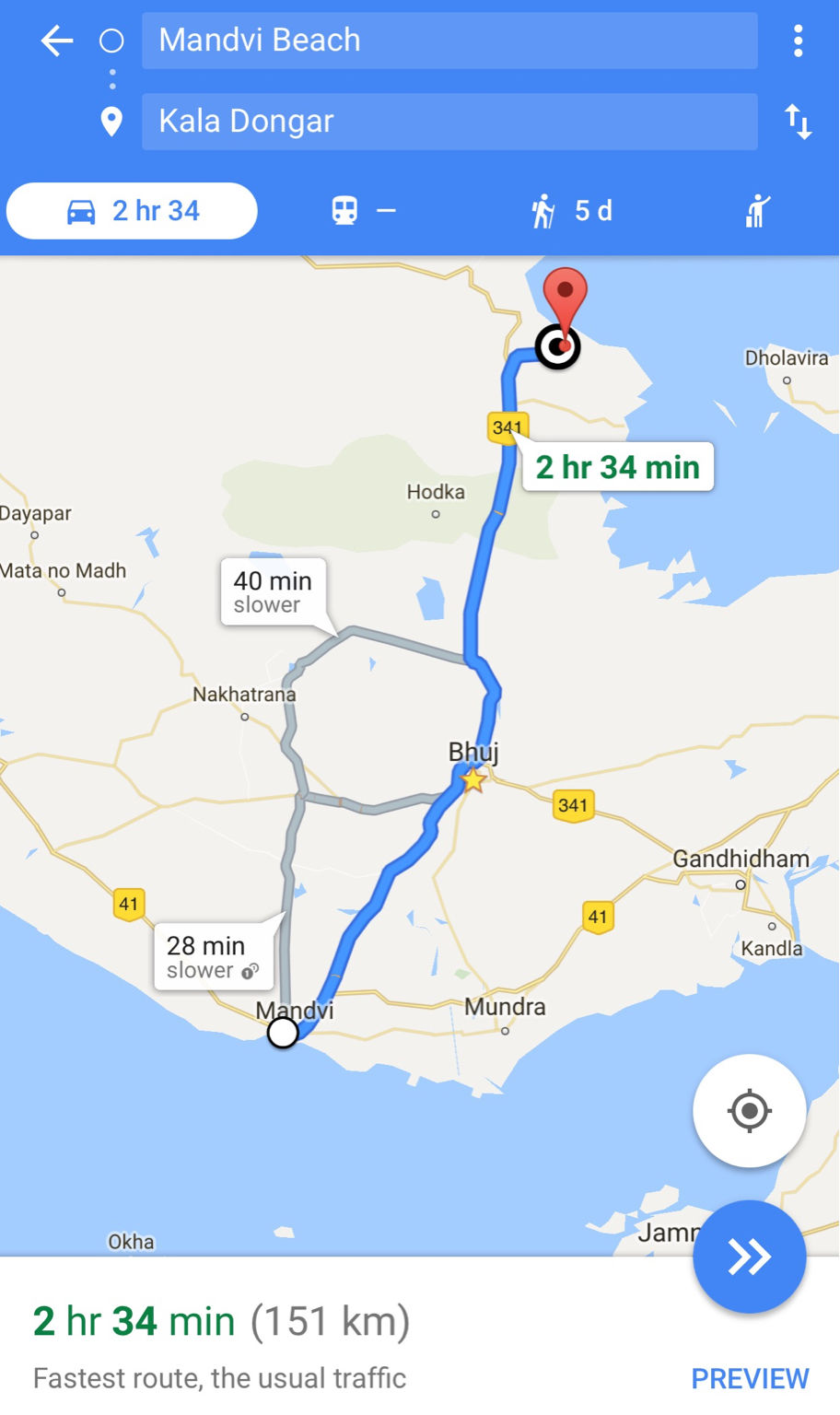 It was a 2.5 hrs drive. This was the time to do crazy stuff. If I would have been with 2-3 friends here, no one would have agreed to this plan. It was turning out to be a perfect solo trip for me. I just wore the helmet, started the engine and aimed for the beach. I was hungry by this time but I didn't wanted to miss the sunset as well. I started by 1505. Solo trip helps you to make fast decisions. I fuelled the petrol tank by 3 more litres. Enough for the day.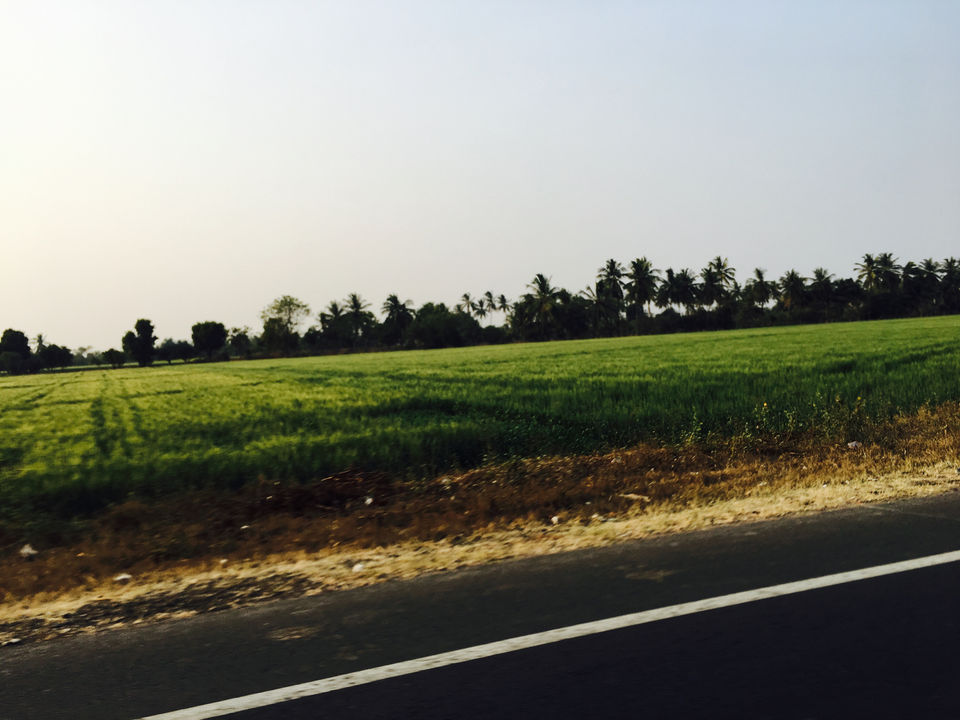 Once I crossed Bhuj by 1630, I could see green farms ahead on the Mandvi road. This was picturesque as well. Clock was ticking so was my speedometer. At 1730 I touched down at Mandvi beach. What a fantastic ride. Parked my bike and headed to beach straight away.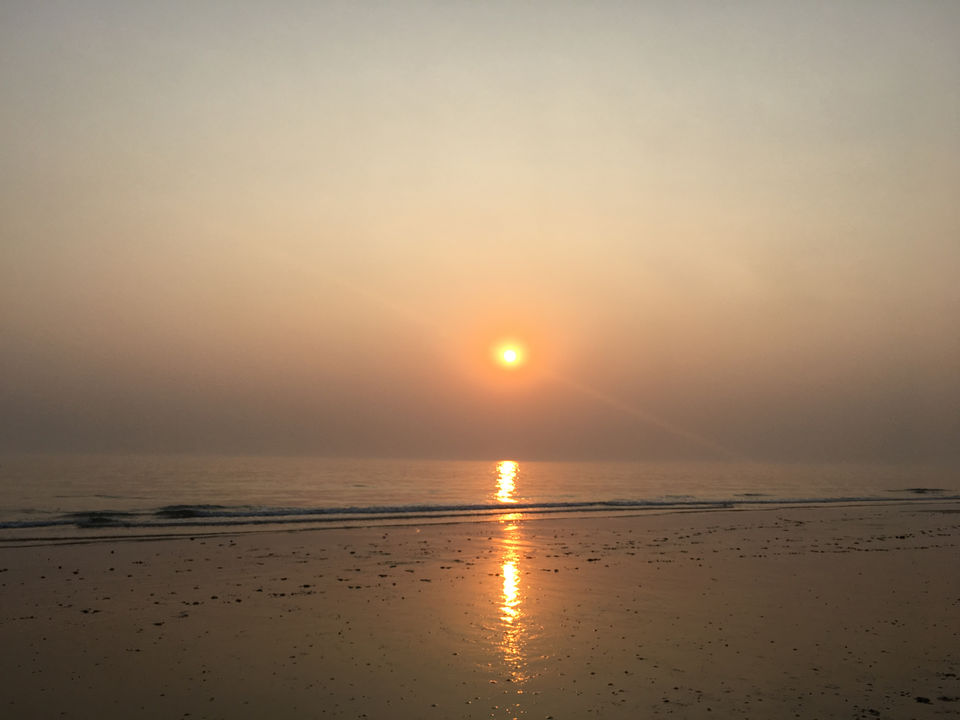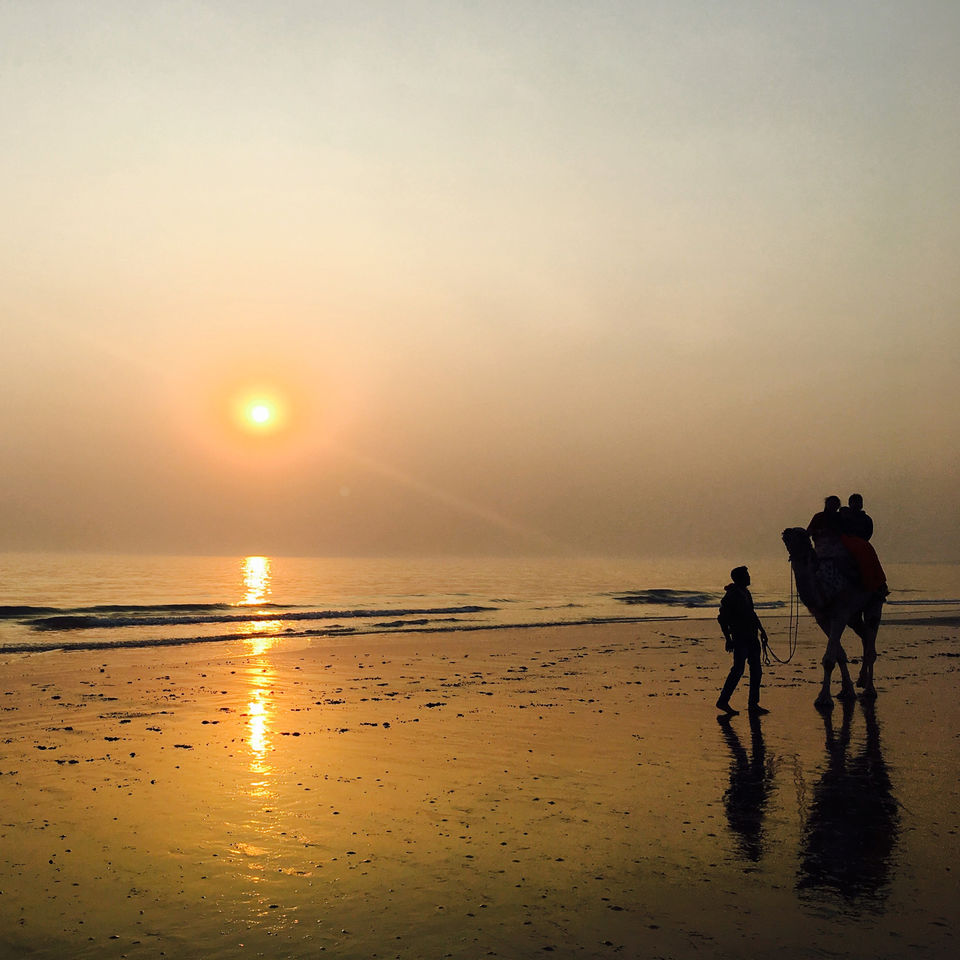 The sun was about to set, but I made it. I was very happy with my decision of coming to Mandvi for a spectacular sunset. It was a lively beach. Since it was a Saturday evening, many people had bought their kids for outing. Almost felt like Juhu Chowpaty with camels as the only addition.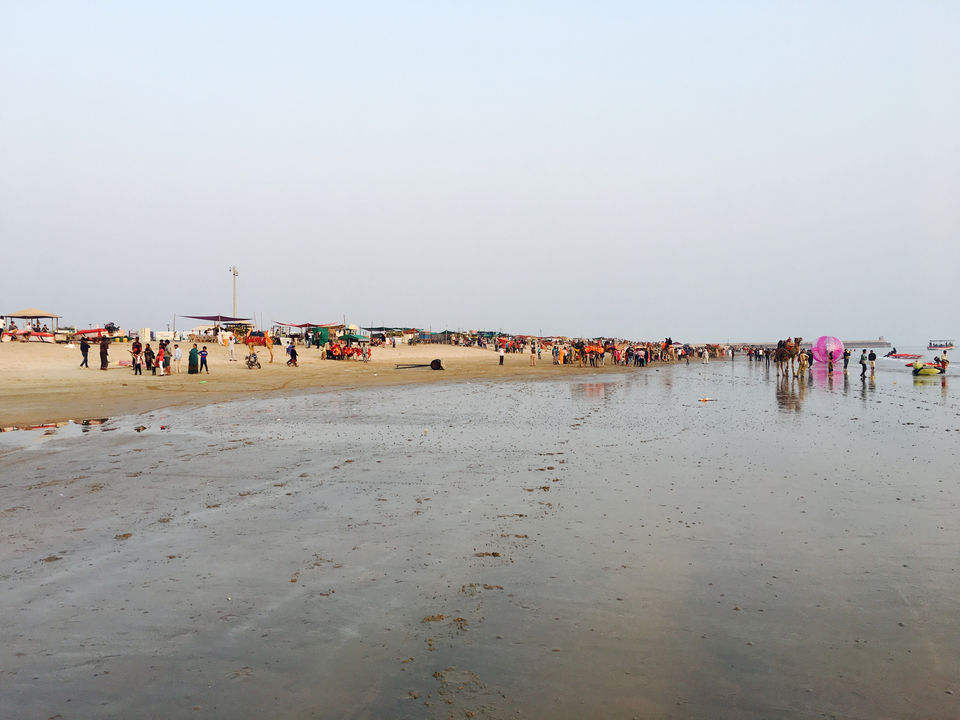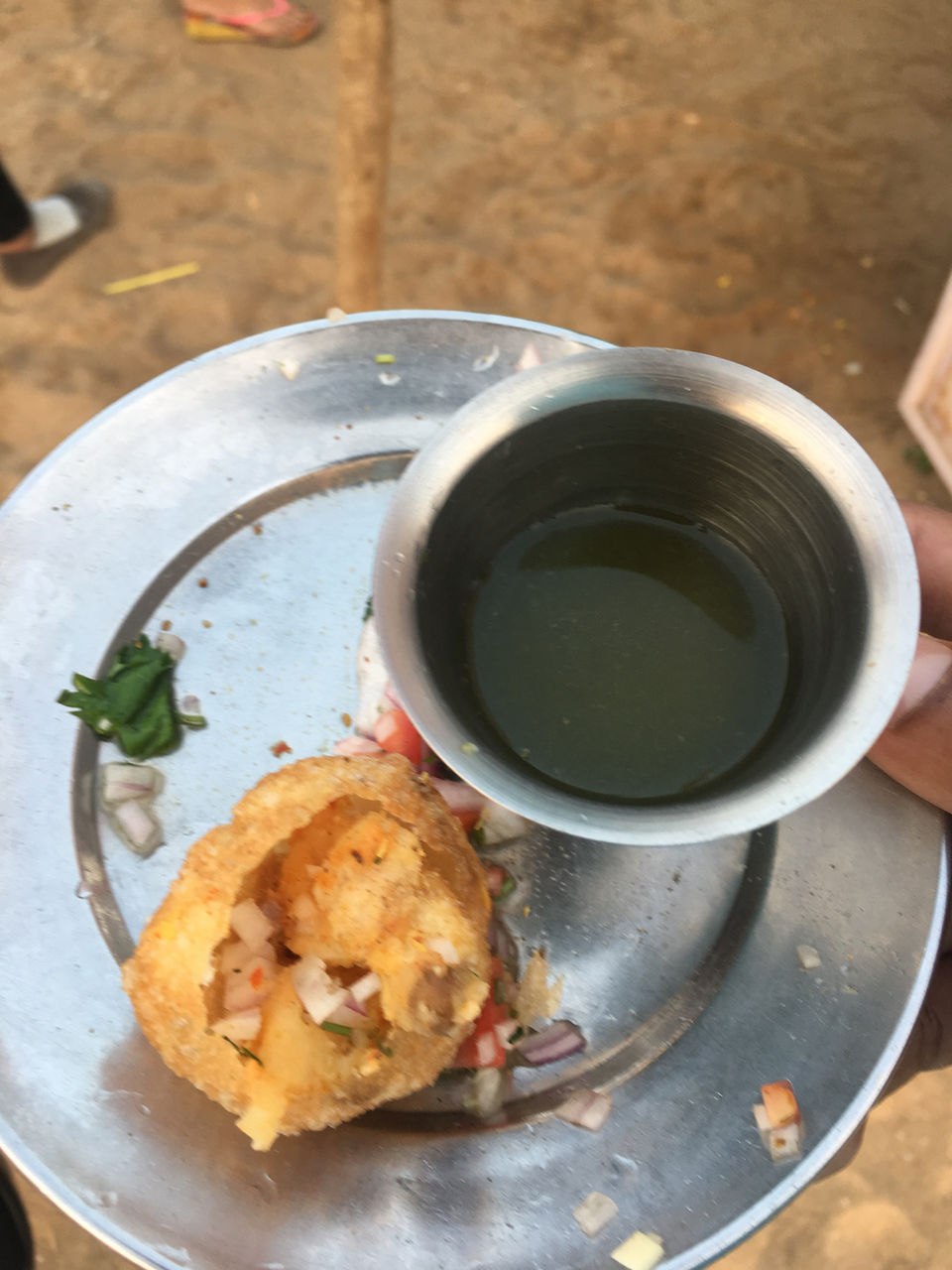 After having chat, it was almost 1830 and I decided to headback to my hotel in Bhuj. Now it was just a 60kms drive from Mandvi which took almost 1 hr to reach Bhuj. By 1940 I returned my bike. I told my journey to this vendor, he was shocked and asked "Itna kaise ghum liye, thake nahi kya?" to which I replied with my famous dialogue "Boss, Jigra hona chahiye".
Later I just went in the market, had a normal food and slept by 2130.
Started my day at 0600 in morning. I had to catch a bus till Ahemdabad since trains run here only at night. Took a 7am HK travels to Ahemdabad which just took ₹300 for 500kms. Same bus ticket on Paytm and RedBus were ₹500.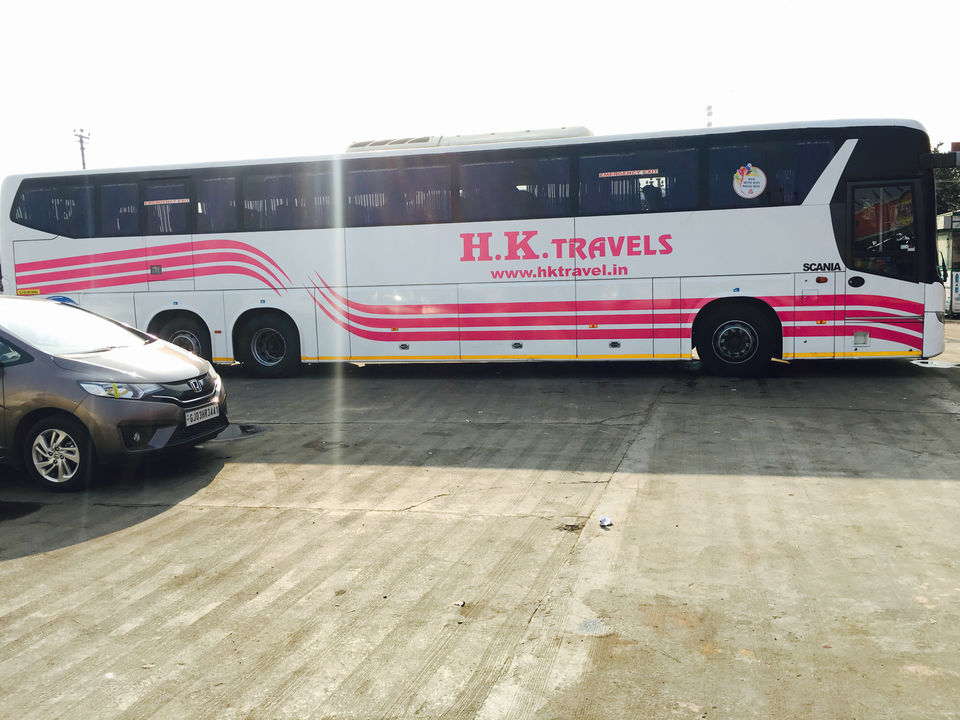 Estimated arrival time in Ahemdabad was 1300. It haulted at Honest chain of hotels. Its like a food chain for Khakra, Fada, Jalebi.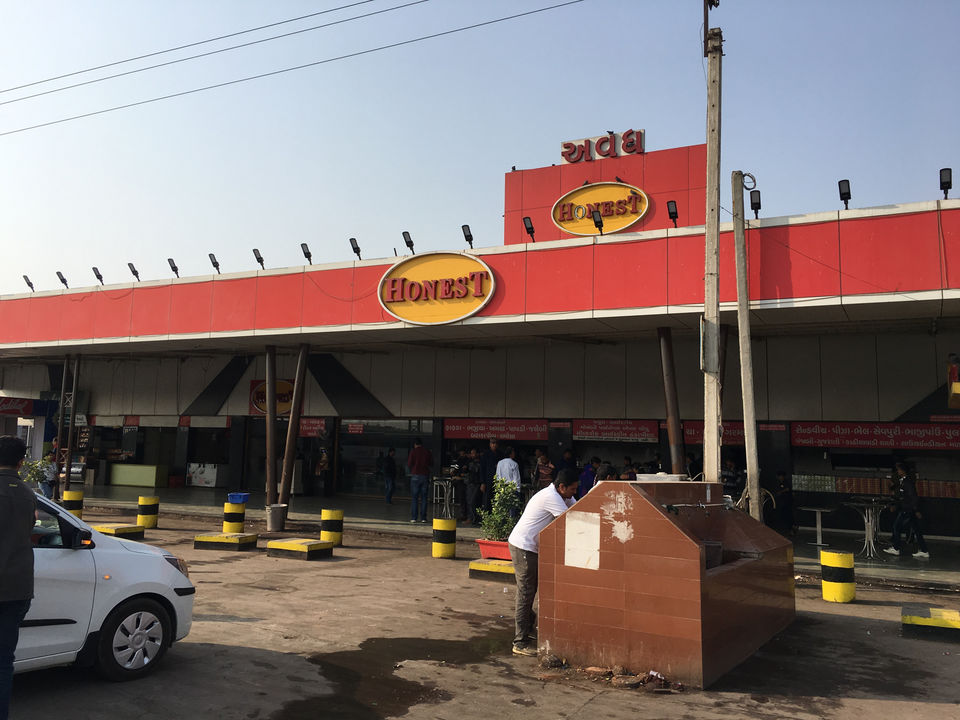 Gujrat has best roads of India. Highways are very clean and flawless. At 1305 I reached Ahemdabad, I had food in McDonalds and headed for Sabarmati Ashram.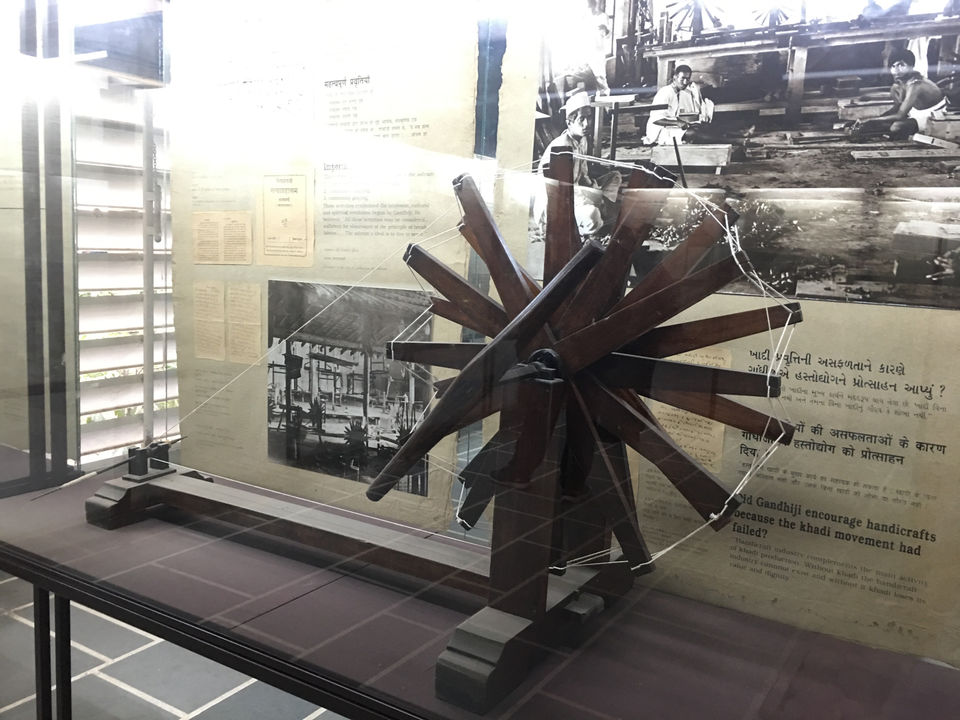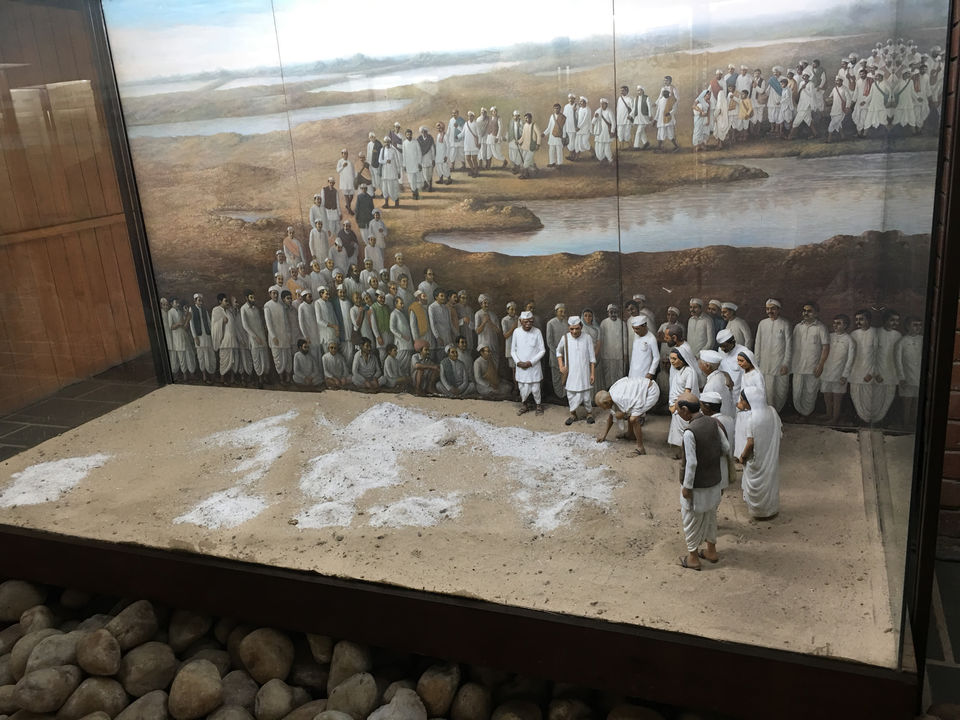 Its a historic place to be. You will find each and every detailed history of our great leader Mahatma Gandhi. Below the ashram there is a joggers track and cycling track near sabarmarti river bed.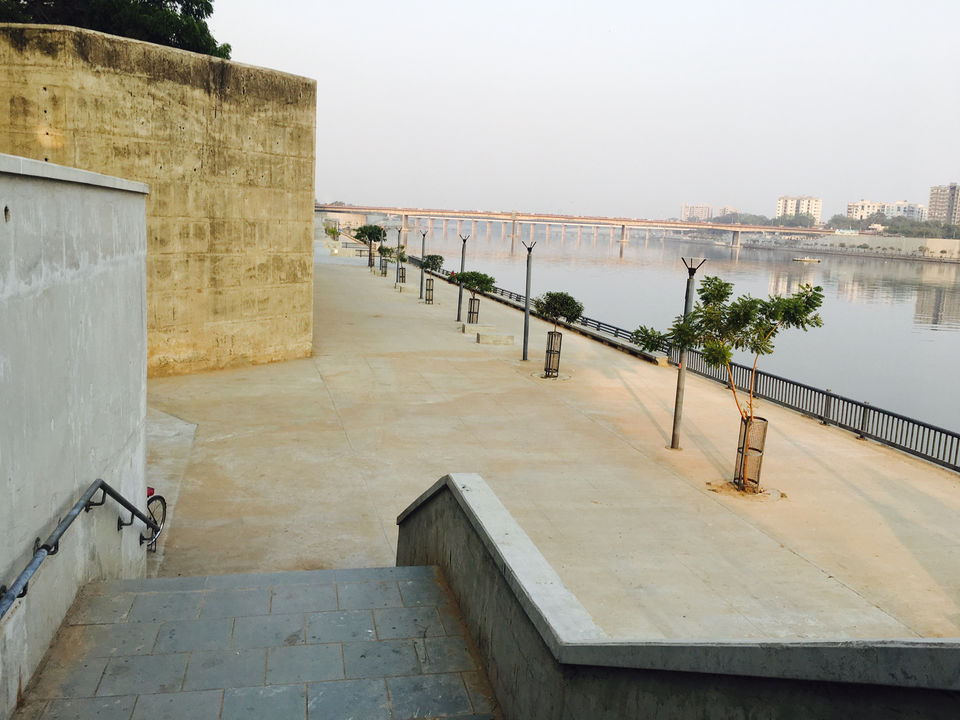 And likewise my trip finally ended here. It was a great experience altogether for a solo trip.