Disclaimer: This content is the sole description of my journey only, it is not a tale nor it is going to change your life, it just describes all the events occurred on the trip. None of the mentioned company(s) was involved in the marketing of their products nor at the time of writing this, I intended to do so. I'm not responsible if someone was misguided due to me or my story.
#SwipeRightToTravel
In a head-on collision between 2 runaway cars, the applied breaks tend to stop the car, but as it has to happen it will happen unless some godly phenomenon prevents it from happening, just like travelling. Travelling is fun, and at a new destination, it's like frosting on the cake. You meet new people, obviously, some of them will become friends, even life companions sometimes. It's always great to be part of an expedition to mountains, be it the trek on the Dhauladhar Ranges of Dharamshala, Himachal Pradesh, or the snow-capped peaks of family friendly hill station Auli in Uttrakhand. Leaving the rigorous 9 to 5 shaped lifestyle is the nicest step towards your betterment in terms of both Metabolism and Health.
So, let me introduce myself, I am an 18-year-old Tech Follower cum Amateur Content Writer pursuing my undergraduate from Delhi University in BSc. H. Computer Science, who believes in Optimism, keeps searching the Internet for 'stuff' and thinks that the rules of nature can be bend by creating a proper environment and mindset in society. My cousin is the founder of a leading startup called travel d'globe (visit for more trips and details: www.traveldglobe.com), that focuses on solving its clientele's travel issues about their itineraries for the places to visit. I accompanied them on one of their initial trips to McLeodGanj, Dharamshala; the place where you can find peace and get a chance to differentiate between you and yourself. I don't remember what happened or why I chose to go there, but it was a journey that I'll remember from today until my last day.
It starts like this:
Friday the 13th:
We had to choose from 2 sites for our next part of the journey, either a bath at Bhagsu Falls of Dharamkot, which is supposed to be the Campti Falls of McLeodGanj (literally, in terms of experience) OR a shopping trail to McLeodGanj Square and visit Tibetian Mini market popular for its handmade furnishing products and stuff; I, accompanied with 6 other travellers chose to visit Main Bazaar. From the base camp Dharamkot, we went straight to McLeodGanj Square, parked our vehicle in public parking, detoxified (literally) ourselves at public washrooms and went to discover hidden things in the market. Accompanied with 6 new friends, we visited Dalai Lama Temple, a holy ground of worship where the renown Buddhist monk visits every year to give preachings to his disciples and followers. The place was mesmerising, not in terms of infrastructure but in terms of reach from the main population and roads. Usually, I don't visit temples, but when I do, I make sure that I find everything about the godly grounds and the history behind that.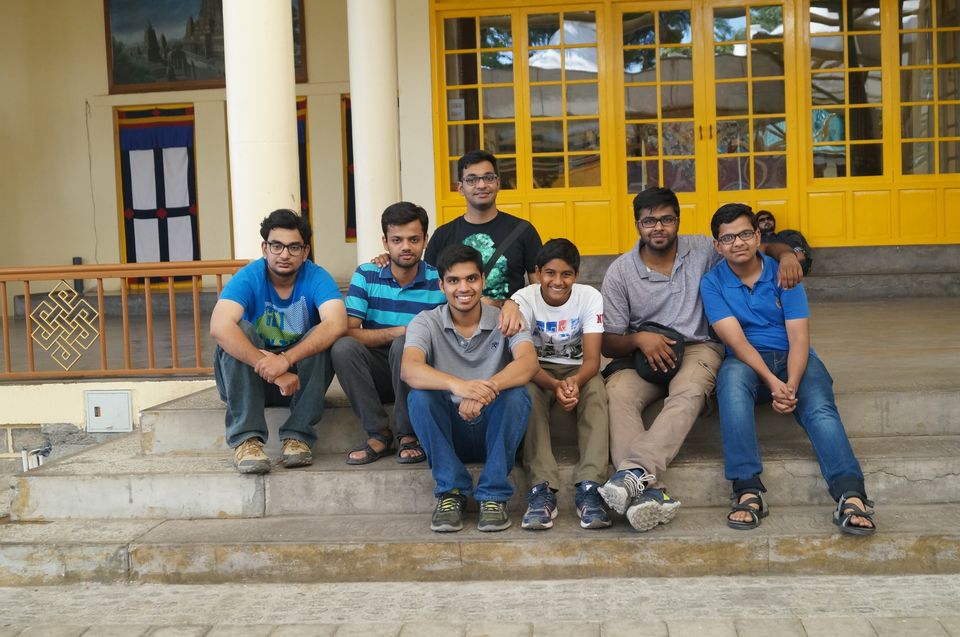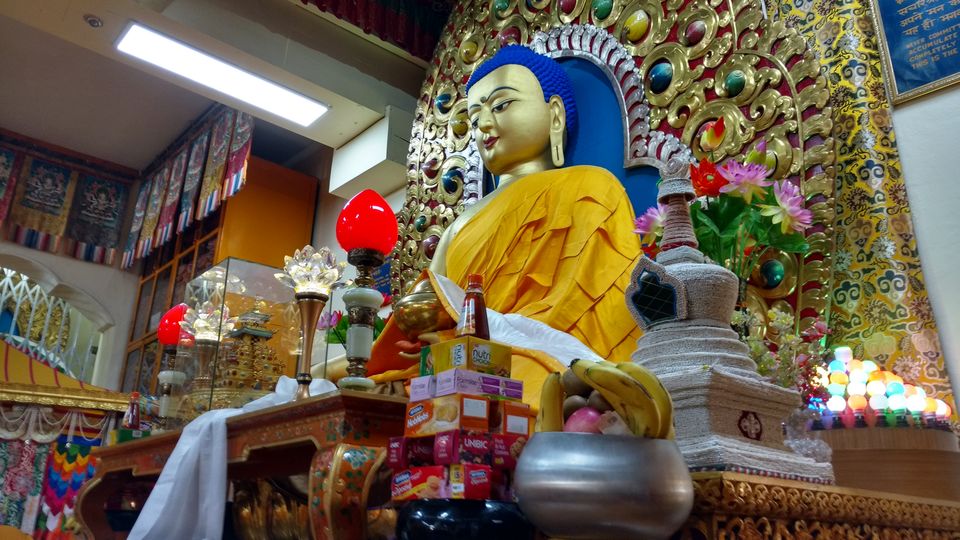 It was a long day yesterday, but it was a haystack of fun, amusement, thrill and fulfilled expectations. It was the day when we had to start our downhill trek to base camp, Dharamkot. I woke up at 06:00 AM in the cold morning of Himachal Pradesh, witnessed by pet horses and cows of the nearby villages grazing the grass chunks. With the man's most faithful companion we had a great time to spend with. while searching for my flashlight, that I dropped somewhere around my camp last night, I saw a young horse running on the steeper side of the hill towards the village, it looked like a real life fantasy. As the time went at was 08:00 AM, time for our breakfast, which was really good. It had Jam/Pickle, Dal and one of my favourite stuff out there - Dalia, making it protein rich and a little heavy at the same time, what exactly you should have before the trek. By 10:00 AM, it was the time to pack all the stuff including our camps.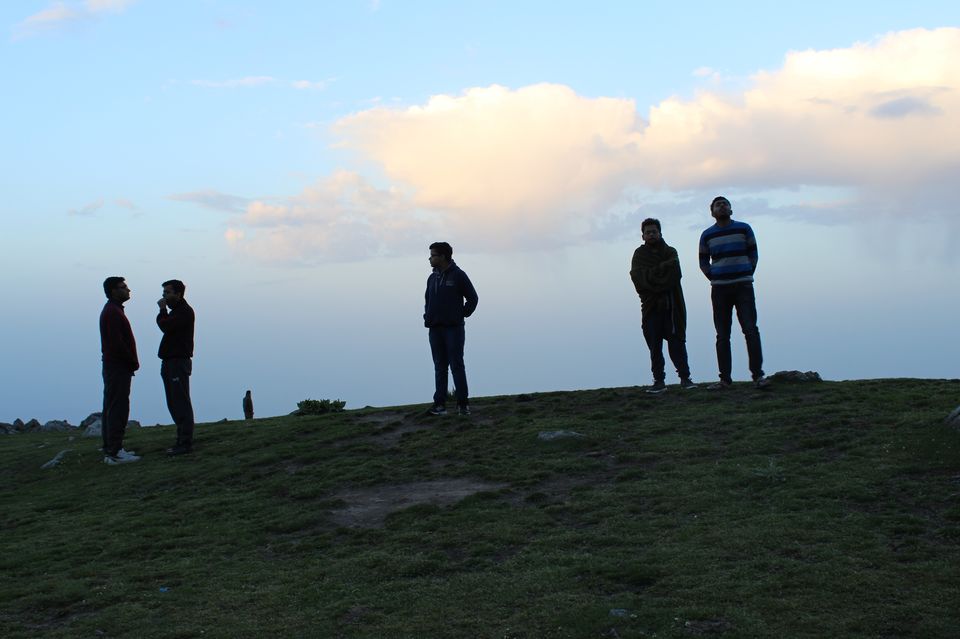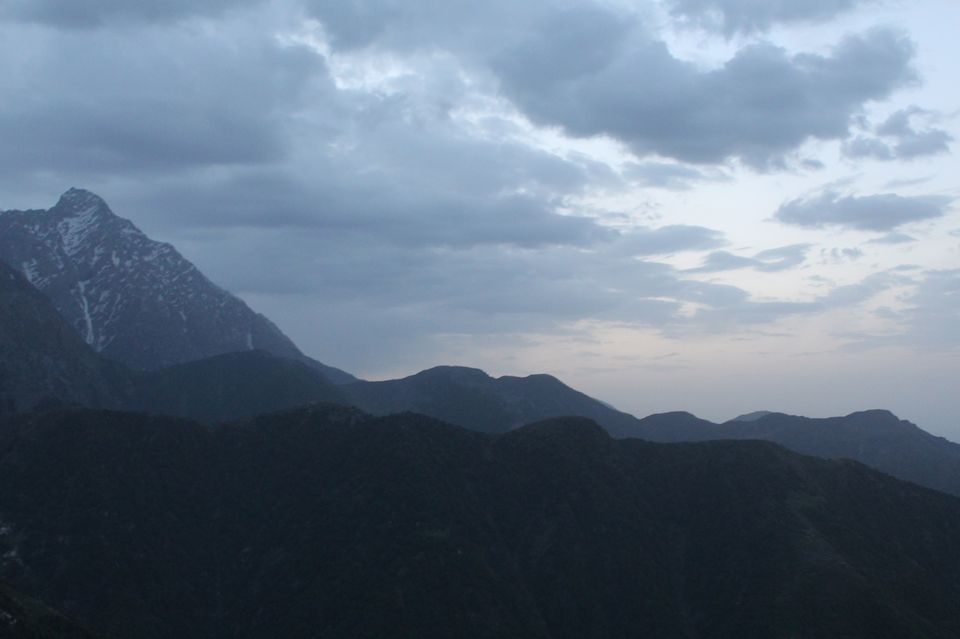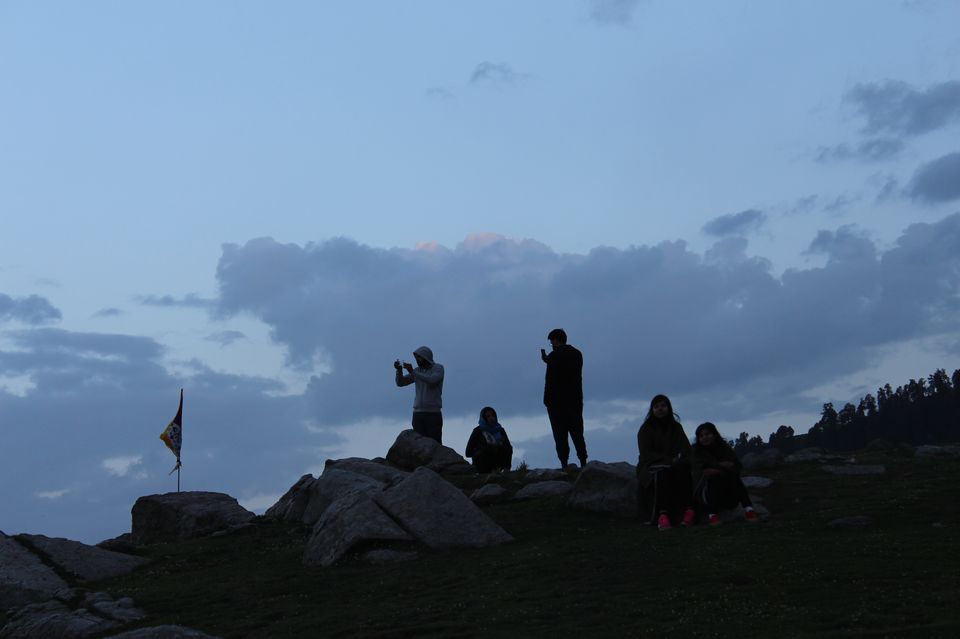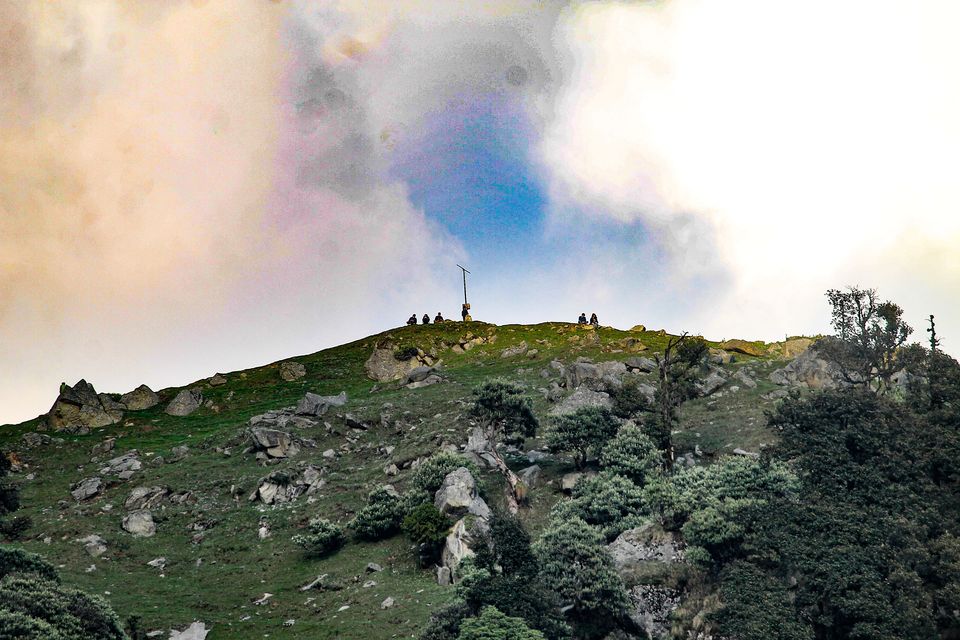 We were near Dharamshala at around 06:30 AM in the morning of 14 May, as mountain ranges of Dhauladhar, started to show their presence. The ride was long, we didn't have lots of water to get ourselves hydrated. For me, the dizziness started to come up with occasional hallucinations as the curvy roads started to look all similar and trenches went by me unnoticed. It was like a pothole waiting for you to get you inside it and starts pulling your brain out. For about 40 minutes, under bright sunlight and lack of water, I was not able to talk with anyone about my condition or whatever was happening with me. As we finally reached Dharamshala, after straight 10 Hours of travel, 2 refreshment breaks, 6 pit-stops, it was a feeling of both cry and lust for the travel and ranges respectively. We were very tired as we reached late thanks to our drivers, who were supposed to get us there under 8 hours that is only the night itself.
With all the travellers from their respective fields like Finance, Development, MOD, Engineer, and Professional Photography accompanied and boarded from various pickup points in Delhi, we started our trail at sharp 08:00 PM in 2 tempo travellers. It was the 13th of may, a Friday, so being that the atmosphere inside became quite thrilling (wait for it) and soothing in terms of enjoyment and spirit we were taking with us. We stopped by Amrik Sukhdev Dhaba, Murthal for late refreshments (~00:30 AM) because it was going to be a long night to Dharamshala. As the drivers were courageous so were we, we chanted songs, some of us even danced all the way from Sonepat to Chandigarh. It was a great time to sleep as the silent waters of canals passing beside us started to sing the lullaby, I mean literally.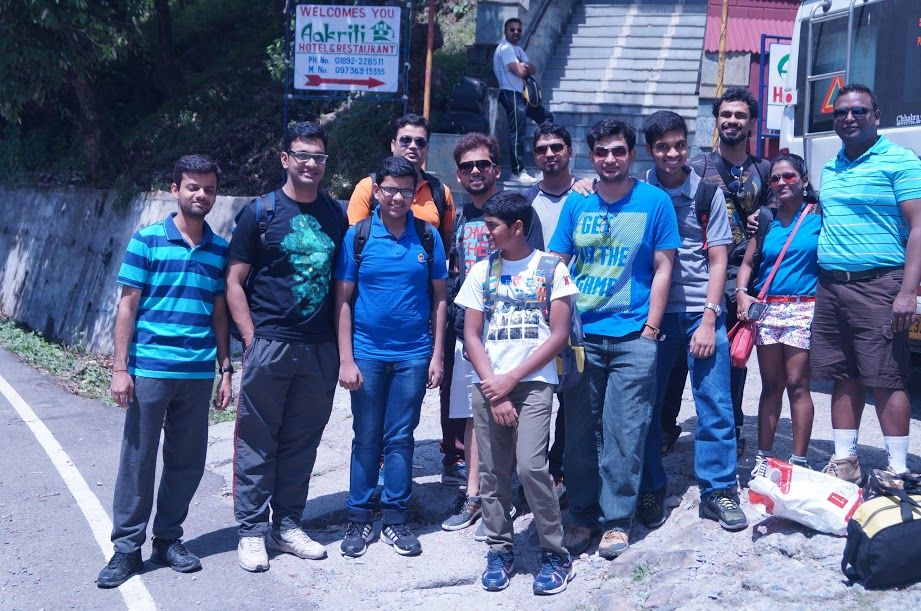 Nevertheless, the admiring views from the hotel balcony tempted us to capture them onsite. We were served with quick refreshments and some hydrating stuff to accompany with us for our Trek to Triund, which was our main motive for the trip. We sat in 'barbequed' tempo travellers with our stuff as we left the hotel for our final journey - Triund Hill. We reached McLeodGanj Mall Road in afternoon, and finally, we were at our base camp for the trek, Dharamkot by 04:00 PM in the evening. We received hydrating stuff and our luggage, which we are supposed to carry on such a trip. Trek began at sharp 04:30 PM with 7 KMs of the rocky, steep and dangerous way ahead. There was no stopping now, being a fat-ass kid from 6-grade I was told to do some workout prior the trip which I didn't attempt to do, as it is said Karma is a bitch after 4 KMs I started getting sore foot with long leg cramps. My both legs were cold and tired due to the last night travel, they were not with me all the time. Somehow I managed to get myself at the hill top with support from the lead guide, my founder cousin and friends I made on the trip.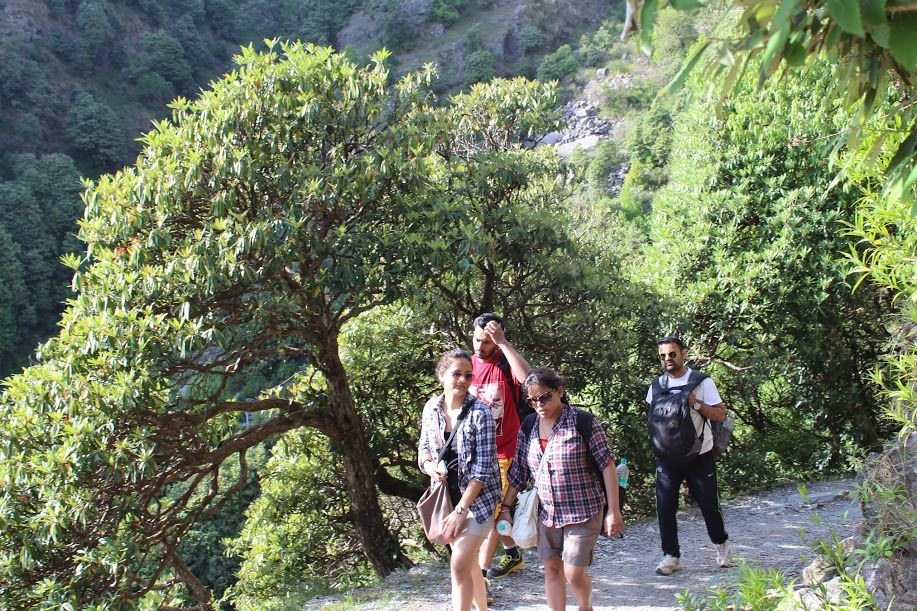 It was a gesture from nature, that you do what you are told to do, otherwise, it'll be done by you in a very difficult manner and situation. The hill was grassy, we were able to see the entire Dharamshala town from our sight, it was like that we had conquered something, in fact, we had.... it was the fear of height and death.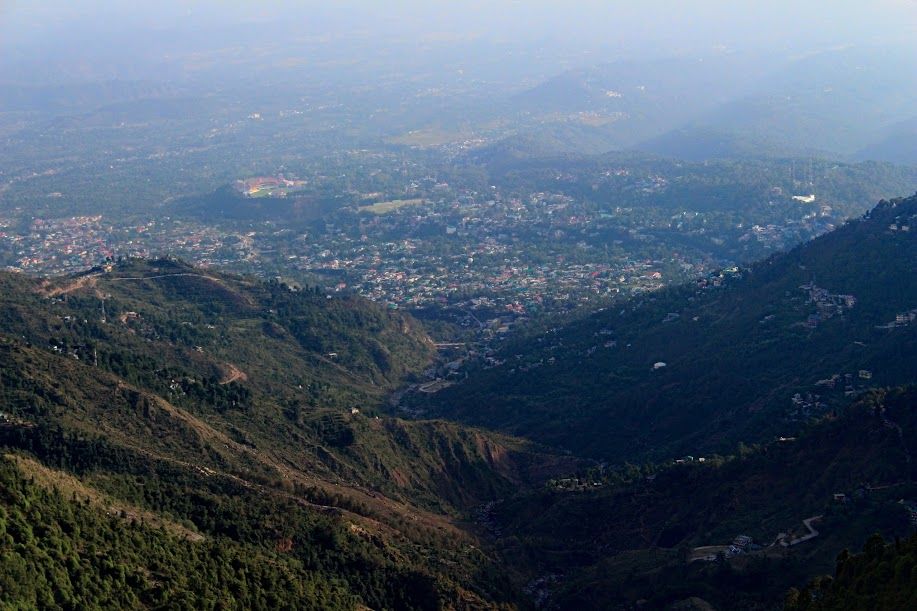 We finally reached the peak after nearly 03:30 hours of an uphill trek and we could possibly see the entire Himachal Pradesh Cricket Stadium from that altitude (see above), while the hill was waiting to give us something else. We faced no light situation on the top hence the high beam flashlights of our phones made the sight more prone to accidents. The way wasn't straight at all, it was filled with chunky rocks and steep edges cliffs. To tackle this job we did what we usually did in our childhood, we 'played' that train game, everybody started queuing up after one another, each's left hand on the person on front's shoulders, all following the lead guide, hence making the way less dangerous and more adventurous.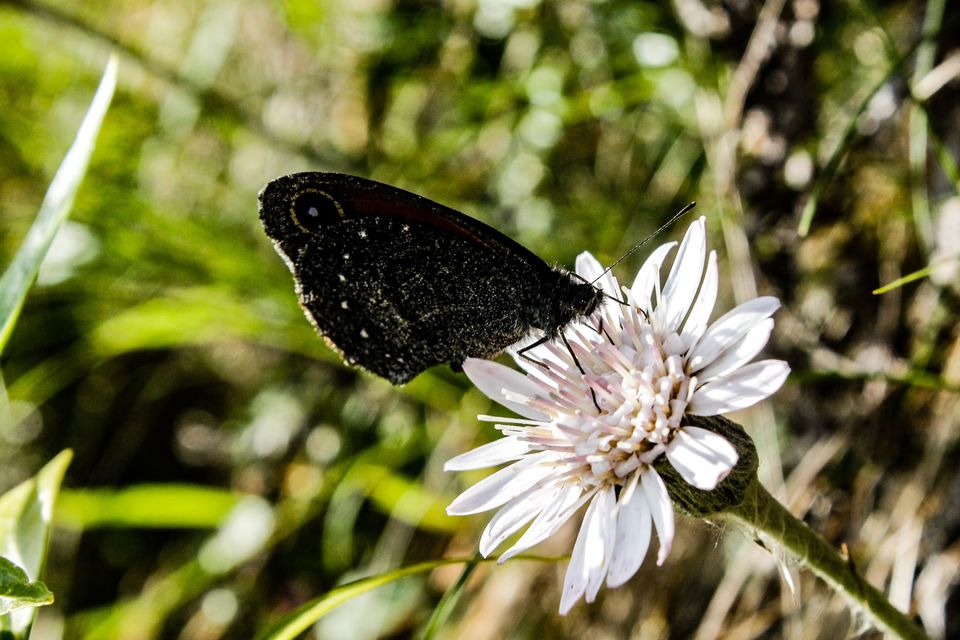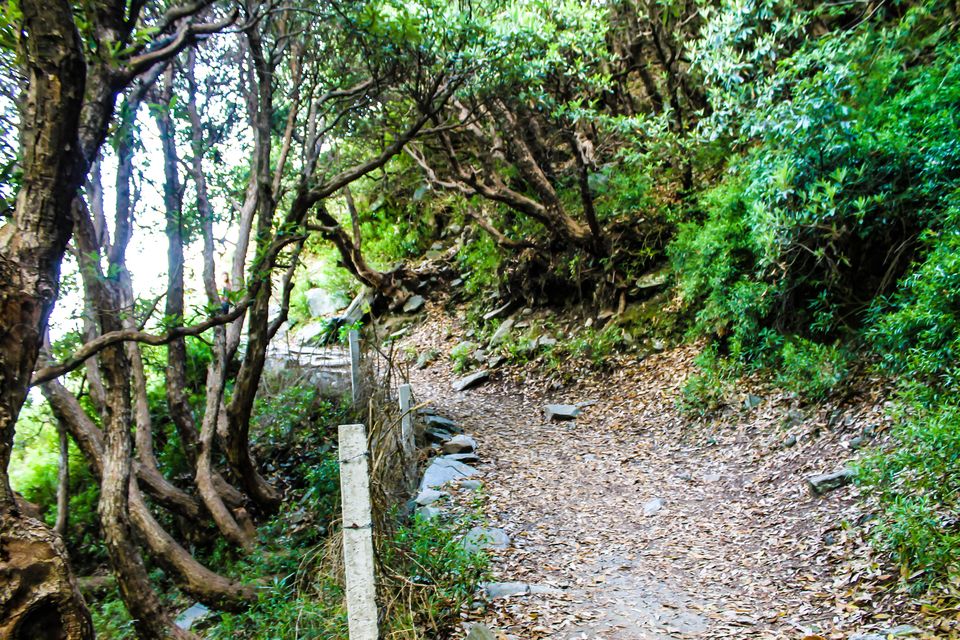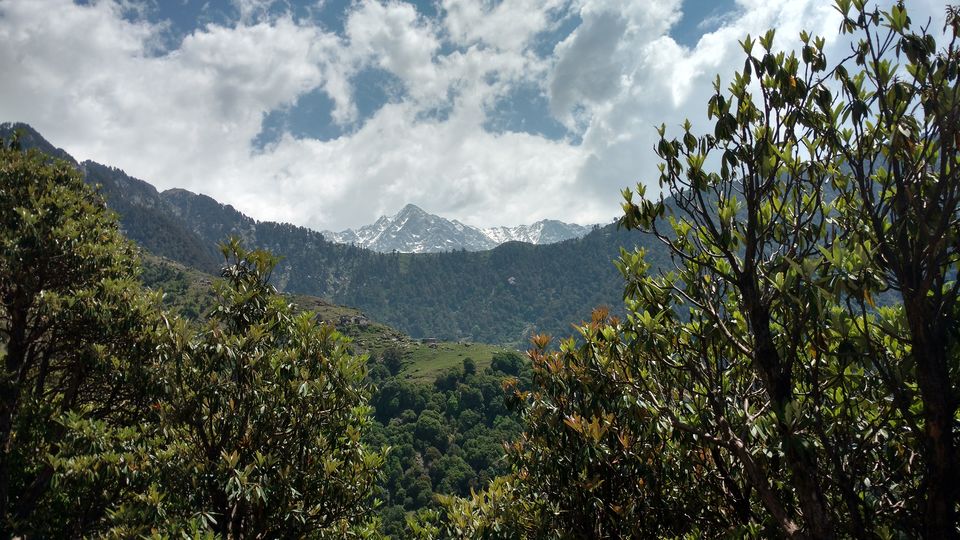 The lead guide explained us the setup of tents and sleeping bags. Due to sore foot, I had to drop my pair of shoes in my camp, as I spread my feet over the grass, it was like taking shower under the holy hot water of Malana village, it felt so effective on my body I couldn't explain it in words here or verbally to anyone or anywhere.
By 08:00 PM of the same night, we got our dinner at ~5500 feet above the sea level, it was protein-rich due to mix dal and other stuff, which is needed on a trek normally. The sun was completely settled but we were not, we were ready for the night trail and search - Bonfire Dance. We went to collect dry wood and made a bonfire out of it, a couple of booze that were bought near the base camp with chopped vegetables and a whole lot of music started the night for nearly 10 of us. Others (including me) were provided with vegetable soup poured in a metal glass. The blazing flames and swirling winds piped us with the amusement we were waiting for. We had balloons, they went all the way from our camp sight, all the way to 15 feet straight ahead over someone's camp that was already there when we reached. It was the end of that day, we slept to unbox the events awaiting us the very next day, i.e., 15th of May.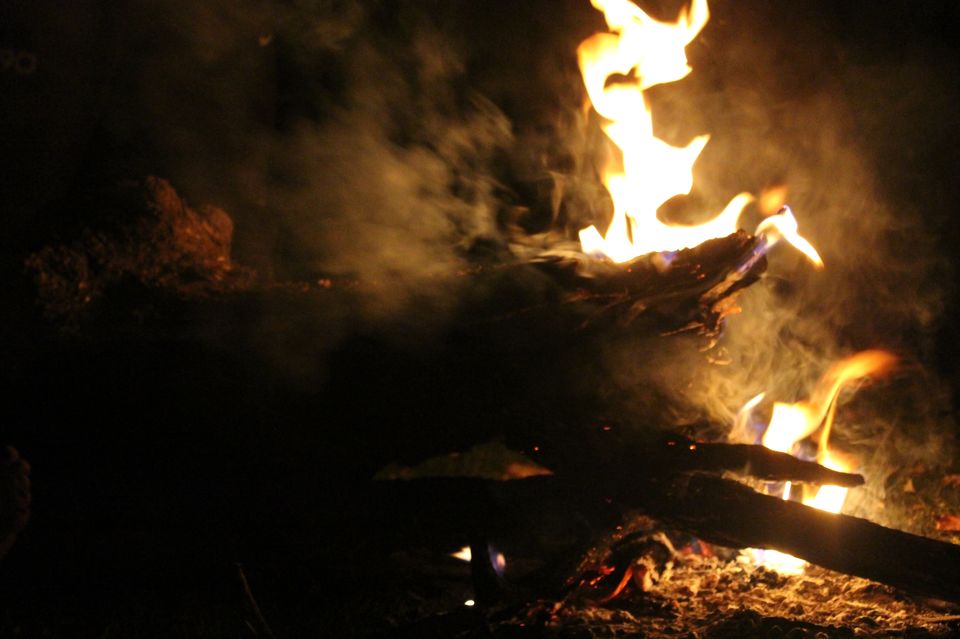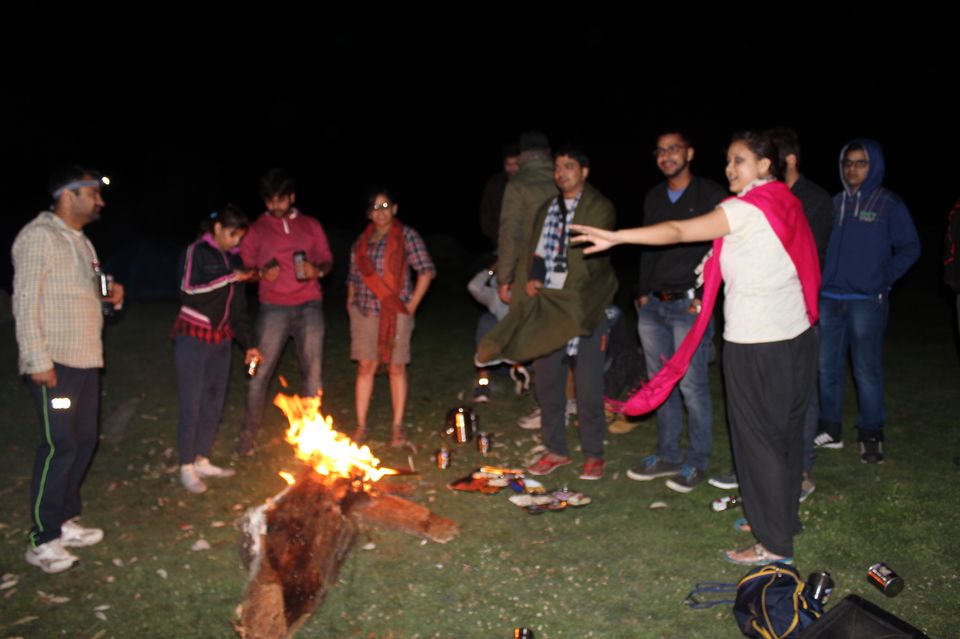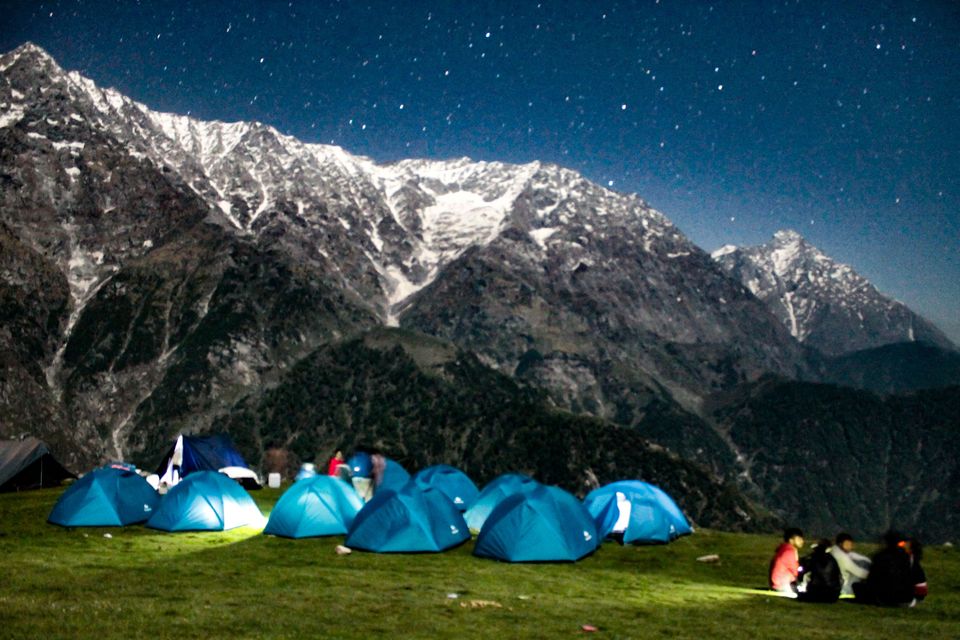 It is usually believed that the uphill trek is more adverse as compared with downhill trek, but if you ask me, a trek is an adverse sport in its own way, no matter what, where and how you do it. As told by our lead guide, the downhill trek was 0.5 KMs longer than uphill, so it was going to take more time and strength. After passing the third checkpoint or after 02:30 hours of start, there were some instances when I slipped on the rocks on one foot and bearing 60 KG weight on another leg (what!). Yes, somehow I reached base camp safe and secure after 03:30 hours of hard walking off the mountains. As soon as I had an opportunity to drink, I hydrated myself properly, keeping something left for the way ahead. It is no Man VS Wild tip, but I might have a headstart to everyone out there who's new to trekking: Never let yourself to get Dehydrated, as being hydrated is the best way to remain calm and energised without consuming a lot of calories.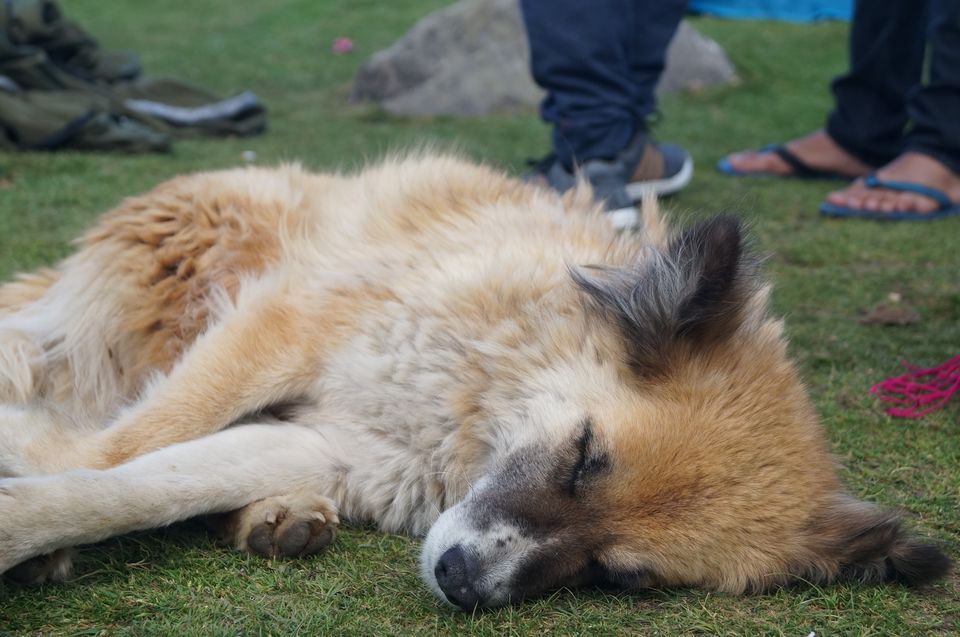 After leaving the temple, we had a couple of hours more to get hold with McLeodGanj even more. We entered a famous Tibetan Restaurant and tasted some fine Thukpa and Fried Momos. In the Chaitime, we booked seats at an Italian Restaurant to bite fine Chocolate Sandwiches and Hot Coffee. As those couple of hours passed, it was the time to get back to our normal schedule in Delhi. Whilst on the way, we stopped by Dal Lake (guess that is right!) a muddy water portion fenced with humongous Palm Trees, somewhere in between McLeodGanj and Dharamshala. With Chandigarh, we had our final meal at a Punjabi Dhaba at ~10:30 PM. So that's what it is, and what happened on my trip.
Some tips that I can give for your visit to McLeodGanj:
1. Never indulge too much with a local.
2. Pack enough supply of water to keep yourself Hydrated.
3. Bring instant energy stuff like Chocolates or any other source of high calories.
4. Wear hard and thick sole shoes for the trek.
5. Trying the Tibetan food is a must and don't buy any souvenirs from there as everything would have been shipped from other states.
6. Most of all, do some workout prior your trip, believe me, you'll really need this.
Hope you have liked my content, please look for the errors and mistakes, and let me know about them for rectifying them ASAP.