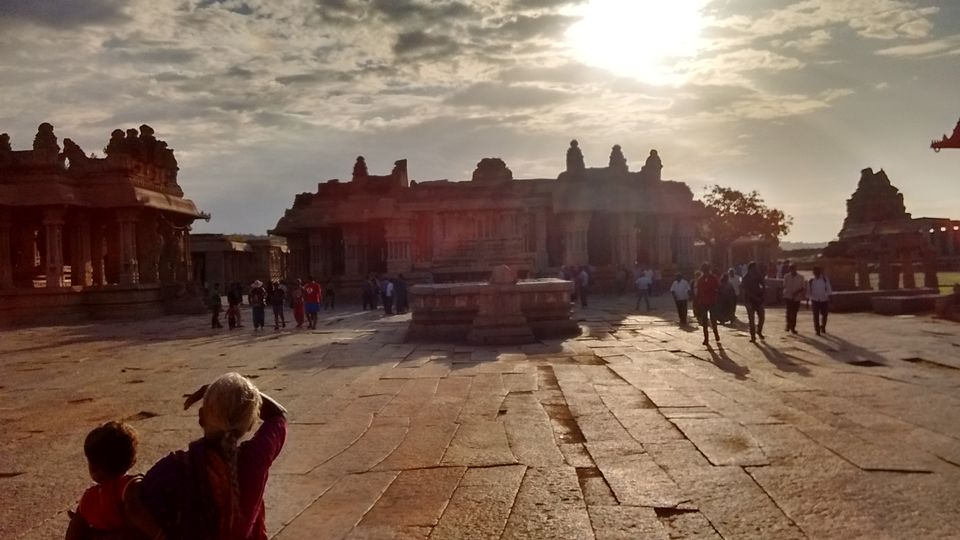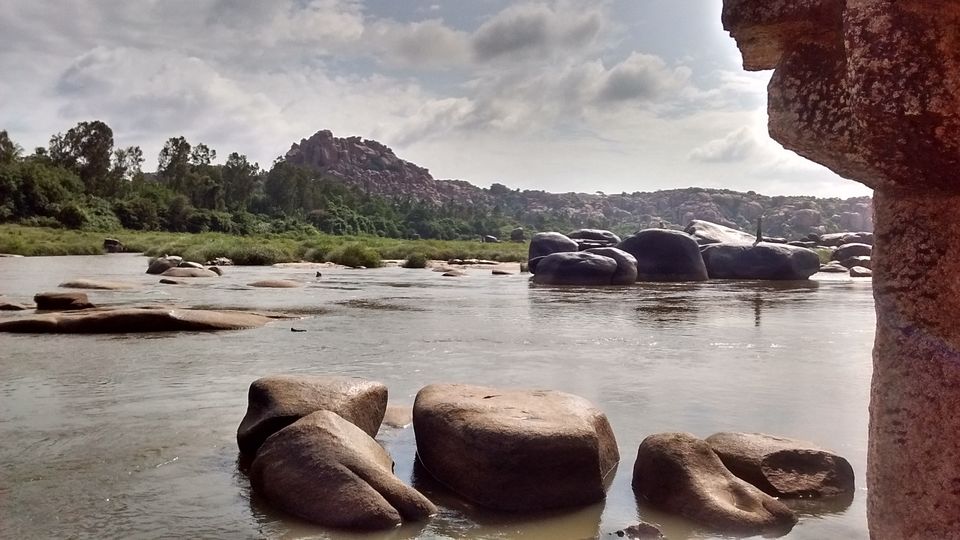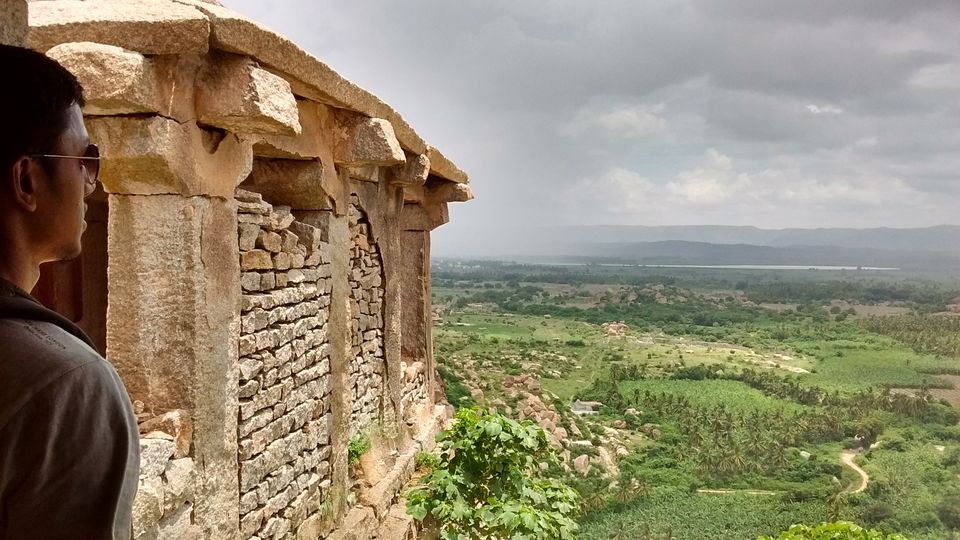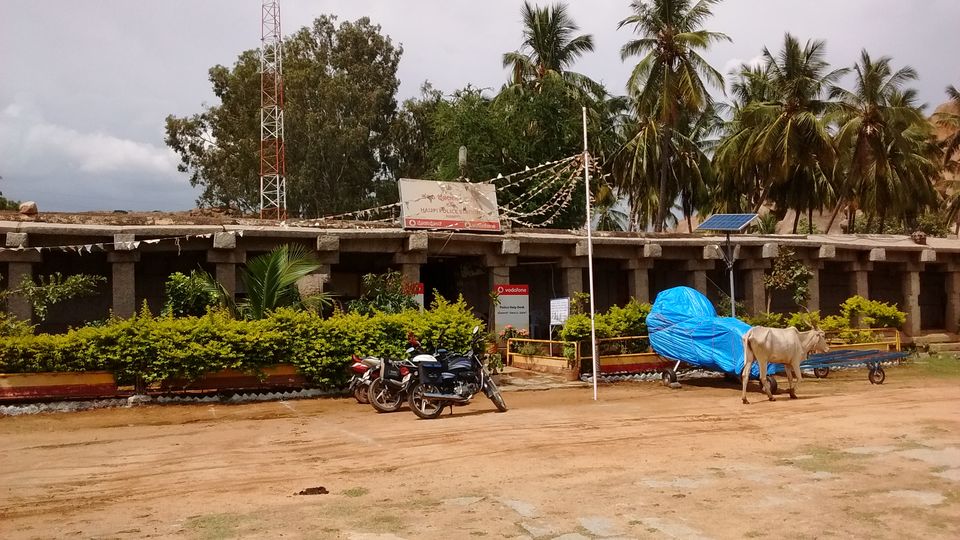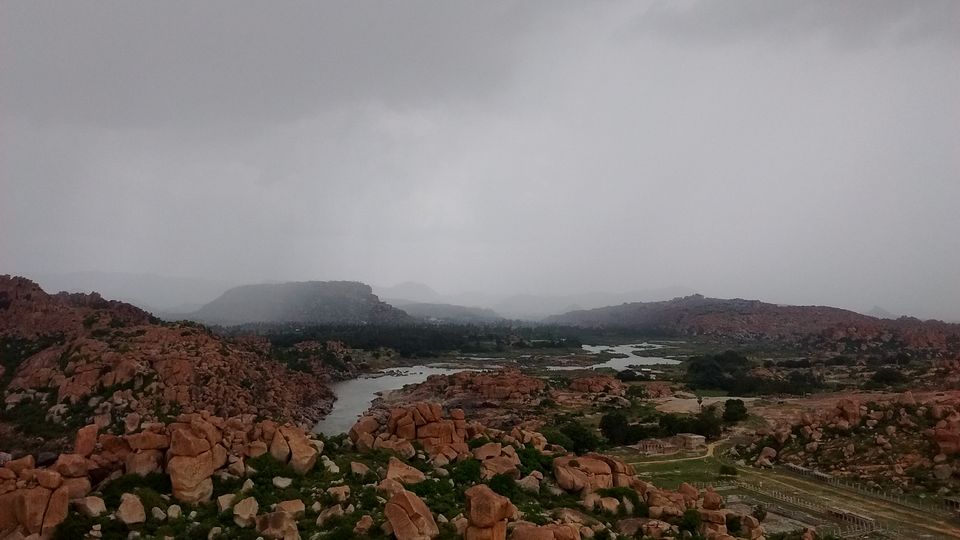 It is said "Life happens when you least expect it". For me travelling alone to Hampi was just an escape from the monotony of corporate life. Peace of mind and lone time was all I expected from this trip. But this trip led to an experience which clearly differentiated loneliness and solitude in the form of "Solo Travel".
Hampi was always on top of my list due to its unreal and bewitching landscape. After a gap of almost one year, I was travelling by train which reminded me about my childhood days. Bustling sound mixed with some good soundtracks made sure that I slept well in the train. I was embraced by the breezy morning of Hospet, a perfect weather to roam around. While walking towards the bus stand, I came across a traveler with an amusing backpack. It was a huge backpack and lots of every-day use accessories could be seen hanging outside from the bag. Then the backpack disappeared in the crowd.
After reaching the bus stop, I decided to have breakfast and then start my journey towards Hampi. Filled with lots of excitement and south Indian breakfast , I boarded the next bus to Hampi. While I was reading the book "the five people you meet in Heaven" by Mitch Albom on my favorite backseat, the bus stopped at Hospet city bus stand. The traveler with an amusing backpack boarded the bus and sat beside me. Overshadowed by the huge backpack kept in front of me, I started investigating the bag which based my assumption that the traveler is on a big tour to India. My curiosity increased when the traveler browsed through the India's guidebook. After sometime we were done with reading, so I decided to break the ice by asking the most obvious question that every Indian asks.
She was a 22 year old Manchester girl who had plans to travel across India over a span of two months. She told me about how she had spent one month in an Ashram in Kerala learning yoga and meditation. She left her job to travel solo. Being of the same age, I was overwhelmed by questions as how can anyone leave job and family to travel. But at the same time I was quite amazed by her courage and willingness to explore India all alone. Meanwhile we gazed outside the bus, we saw heaps of giant boulders perched precariously over miles of undulating terrain, jade-green palm groves, banana plantations and paddy fields .Yes, it was our travel destination Hampi. With the first impression of Hampi and its weather I experienced a strong adrenaline rush to explore this place.
That fifteen minutes bus journey together was enough for us to land in the same riverside hotel. Feeling hungry and excited to try out new things, our hunt for the famous Mango tree restaurant began. After 2-3 failed attempts, we were bang on marking our first achievement of our journey. Delicious food in compliment with great ambiance, this place has a lot to offer. While eating she shared her experience about how she enjoyed her stay in the ashram devoid of all the comforts just to discover herself. It's not that I haven't heard these stories before, Lord Buddha, Swami Vivekananda etc. all left alone in pursuit of meaning of life. But I cannot relate to how a young girl can take such a bold decision to travel alone in India.While we were satiated by our large meals, we were still starving to experience the adventure hidden inside the mystical Hampi.
Our temptation to explore this place forced us to hire bi-cycles. Now we were wandering on the roads of Hampi with an indecisive beginning of our journey. Our indecision led to a dead-end which pointed towards stairway of heaven i.e. the highest peak in Hampi "Matunga Hill". It was the road less taken as there were no signs of any living being around. We started our expedition in ignorance of what this peak has to offer us. As we climbed upwards , the view got incredible. The moment we cast our eyes on the unearthly landscape filled with palm groves and banana plantations, our eyes became thirstier.
Our excitement overpowered the treacherous path. The steps to the hilltop were reasonably intact but they were as old as the Vijayanagara kingdom. On our way upwards, we explored many caves wondering if King of monkeys Sugriva indeed took refuge here to hide from King Vali as narrated in the great Hindu mythology Ramayana. On moving upwards we got a clear sight of the hill top temple. This triggered a disregard for the prefabricated path and the next moment, we were making our own way hopping from one rock to another. Finally we captured the highest peak, the view from the top was exhilarating and worth the struggle. You can actually visualize the beauty in ruins from this point.
After spending a great time on the hill top temple, we decided to go downhill. The weather became cloudy and it started drizzling. She took off her shoes while I trusted the sun and the clouds. We were facing the repercussions of not taking the right path while climbing as we got lost on our way to downhill. Now to get our way back, we needed to cross a narrow path on the largest rock. She was a brave soul leading the way. She was able to cross that narrow path while I was still in between the path, it started raining heavily. She was able to make it to a cave for shelter. I was stuck in between helpless. The slippery rocks tried to abscond with my grip. My shoes started to slip and my legs quivered. I was speechless to respond to her call as I could see my death in the steep slopes of that giant rock. My whole life was flashing in front of my eyes. Is death knocking on my door? - I recalled Eddie's death in the book which seemed quite similar and I was actually afraid of the people I will meet in Heaven or Hell. The downpour increased with my struggle to find the grip. My quest for life was inspired by one question that I had in mind "Why should I not die?".
I escaped death or I was given a second chance in the form of a small dry area under the rock to hold on like grim death. I was in a standstill position barely managing my body weight. I could not call her for help as the rocks were slippery and unreliable. I waited for the rain to stop and reached the corner with a snaillike movement. I sat there waiting for the sunshine to parch the path towards life. I gathered my courage and wits to cross that narrow path once again to reach her. Seeing her innocent and ignorant smile, I thanked the almighty for the most wonderful years of my life. Now I totally relied on her boldness and experience to reach the foothill. After "The most thrilling expedition", we reached our starting point.
After that we explored the beautiful ruins of Hampi on our bi-cycles.
Every monument of Hampi has a hidden story which cannot be captured by the lens of a camera. Our decision to hire a bi-cycle was rewarded as we were able to explore every nook and cranny of Hampi. We got lost many times in between.But getting lost helped us in finding ourselves. We gave each other quite lone time wherever needed. Moreover local people were generous in showing us the way .We discovered our way back, only to rush through so that we do not miss the sunset from Hemkunt hill.
The sunset was as beautiful as Hampi. This time clouds came floating, not to rain but only to add colors to the sunset sky. The sunset was followed by the enchanting mantras from the main temple which ended our day.
And it was time to listen to stories from the traveler's diaries. She started travelling very young and she has visited many countries like Iceland, Canada, Morocco, USA, France, Italy .....the list goes on. I was amazed by her enthusiasm to learn new languages and culture. She narrated many stories about Iceland and Morocco. I figured out from her experiences that solo travel is not finding the meaning of life. It's an opportunity to explore your personality, just as you would explore the world, away from all the stress and hustle of daily life. It's a chance for you to break-free from a monotonous routine, and introspect on your thoughts, dreams, strengths and limitations. I was really impressed with this idea and I am planning my next solo travel soon.
Next day, we decided to part our ways and explore Hampi alone experiencing solo travel.
As they say 'That a man who goes alone can start today, but he who travels with another must wait till that other is ready."
This trip was originally published on Mohitsaw.