A WALK TO KHEERGANGA!
Nature has always enraptured me. Be it the foggy and snowy mountains, the blue beaches or sandy deserts. Whenever I hear of a long weekend coming, the only thing I do is to decide on a place from my bucket list and call up my crazy wacky friends. This time it was Kasol – Known for the trippy crowd and quality of hash and a trek to Kheerganga!!!
Day 1:
As I have never tried a group travel, we decided to go with a group of 60 people and booked it through WeTravelSolo. I do always love to meet new people. It gives me a completely different excitement to hear their experiences and stories. We all met at Vishwa Vidyalaya as it was the meeting point from where we boarded our bus. After the initial introductions, we began to enjoy the music and the blue and red lights inside the bus that set the perfect mood for all of us. We took our dinner stop at Haveli, Murthal. We had to cover a stretch of 520kms, which would take 10-11 hrs, to reach Kasol where we were to take a night halt before heading to Kheerganga.
Day 2:
The morning started with a stopover at a local dhaba in Bilaspur where we clicked hell lot of selfies and pictures and it took us 16 hrs to reach Kasol and I guess people never calculate the time extension especially when it is a drive to hills. We stayed in beautiful camps adjoining to Parvati River in Suma Ropa Camps. The view from the camps was breathtaking and just took away all my work tensions. Though, charas (hash) is not legal in India, but unlike metro cities, it's no secrecy out there. One can be seen smoking up 'the shit' in open, which is a common site. I had a good time partying there.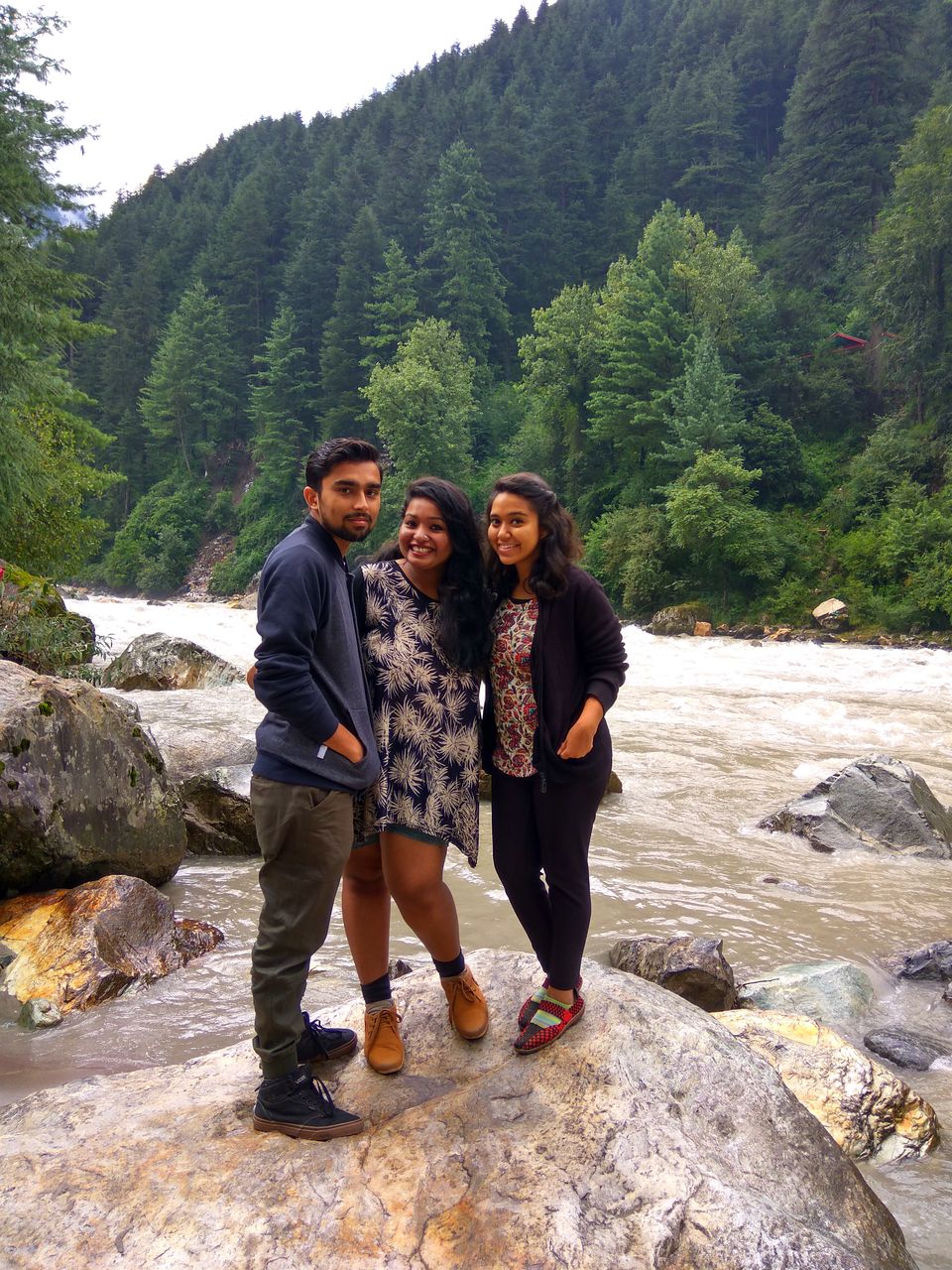 The next day, with all exultation we left for Barshaini, a small village ahead of Kasol, in an open jeep which is the last motorable point to reach Kheerganga. We started our trek at around 11am. Though, it was a rainy season, the sun was shining sharp and bright and a 13kms of uphill, raw, tricky trek was lay ahead of us. Since, it was supposed to be a rough trek and we were to stay just for a day up there, we all decided to carry just the necessary stuffs in a single backpack and keep it as light as possible to maintain a decent pace. We crossed few villages on our way up, barely populated but as gorgeous as they can be. There were lots of cafes there, where one can choose to take a halt for a while, get a breather and move on. We found apple trees on our way and seeing such freshly grown, it was hard to resist having them. So we got apples (5rs for one) from villagers.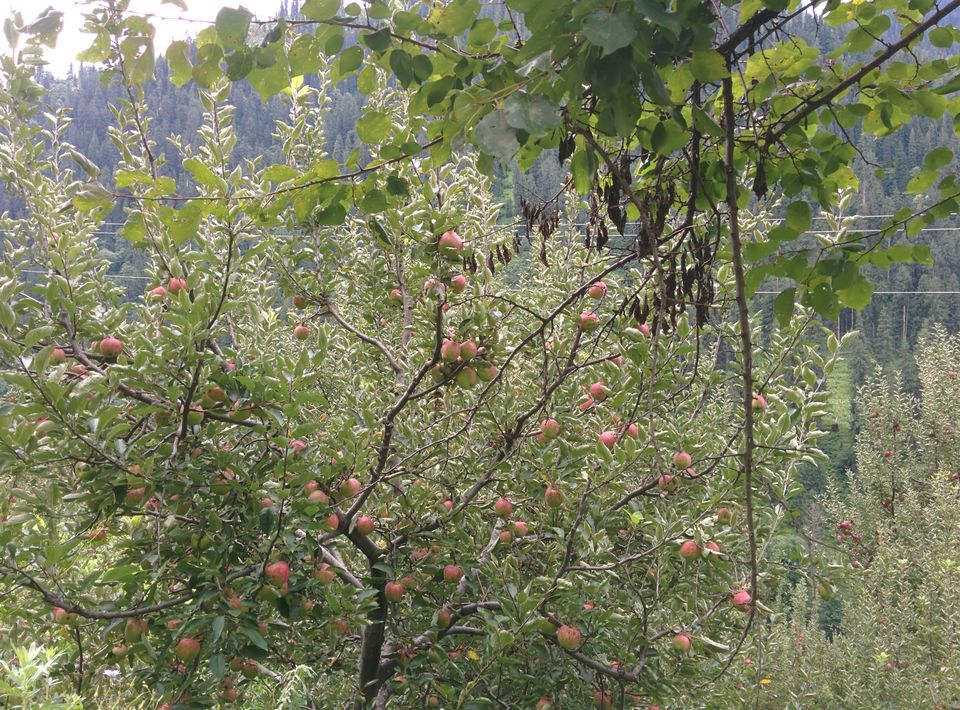 The entire path was completely raw, with steep, wet and muddy inclines, patch of stones to walk by, narrow lanes forcing to walk on edges. But the surrounding was such a delight to feel, as if the nature is hugging us with both arms. The tall, lush green forest, splashing noise of river water that could be heard even if it was out of sight, cool breeze brushing the face in intervals. Even though it was a hard trek, all of this kept us going. We had a good trek guide with us with 8years of experience in leading expeditions on various mountain tops. He knew exactly who needed motivation and who needed a hand while going uphill. At some point of time, I was all ready to give up. All thanks to our guide who literally dragged me and motivated me throughout the way. Finally, after almost six hours of trek, we managed to reach our destination - the divine and majestic beauty - located in the middle of the mountain like a hidden territory - Kheerganga!!
The view was mesmerizing that it sent me in a trance. Huge mountains covered in mist, there was not even a trace of sun and I felt like I'm walking into clouds. It was, it is a PARADISE! That one night in paradise was amazing.
Day 4:
I woke up to a view which was filled with sunlight. The chilly morning breeze was welcoming. There isn't any site seeing spots at Kheerganga except the natural hot water spring. As I have already been to hot springs in Leh and Kashmir, I didn't find it amazing. We started our trek back to Barshaini after breakfast by 10am. We were stopped by a landslide in our trek back and if the villagers weren't there to help, we would have died there. Take few snaps with the villagers and totally enjoyed our trek back. We were not ready to come back to Delhi because we fell in love with Kheerganga – everyone would!
Day 5:
We reached Delhi around 10am. Had to go directly to office. But I was still stuck in some other world which I can't define- but to live and enjoy. We had so many stories to share about the beauty and secrets of nature.
Things to keep in mind while trekking to Kheerganga:
• Respect nature.
• Don't take a shortcut in the mountains.
• Don't pluck apples on your way to Kheerganga.
• Watch your steps especially if it is a rainy season.
• Carry a pair of slippers, water bottle, a good pair of trekking shoes, sun glasses, toiletries, torch and basic medicines.