Angkor Wat is the largest religious monument in the world and a symbol of Cambodia. It appears on its national flag and currency, and even the famous beer of the country, Angkor, is named after it.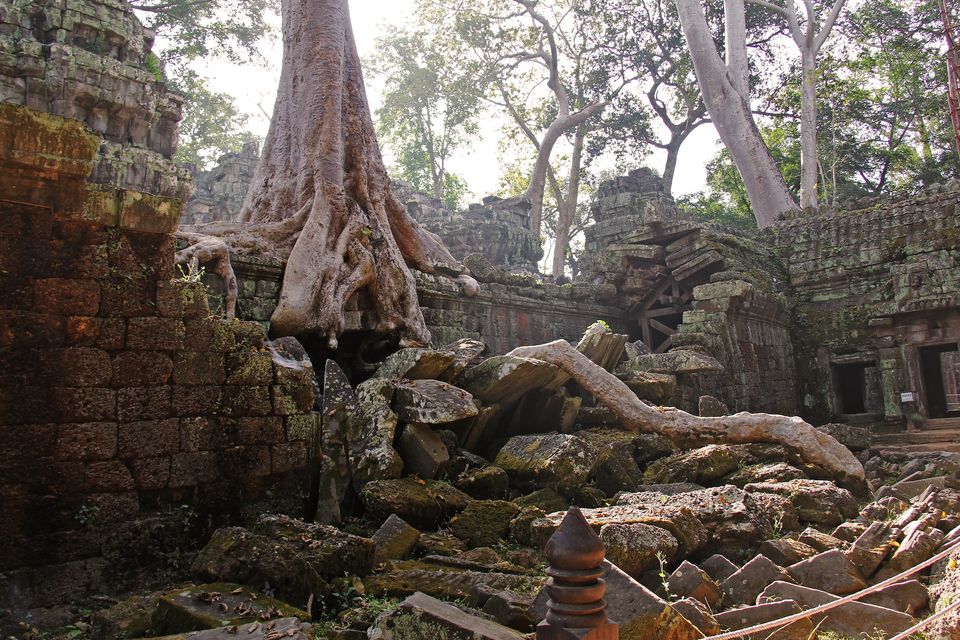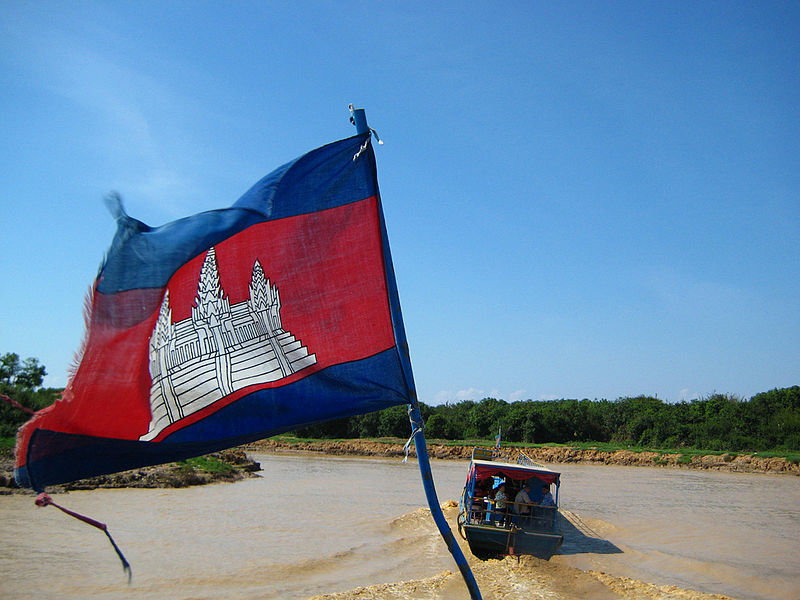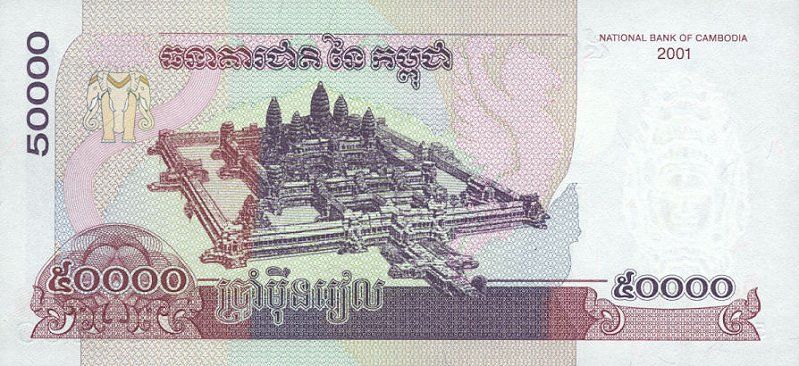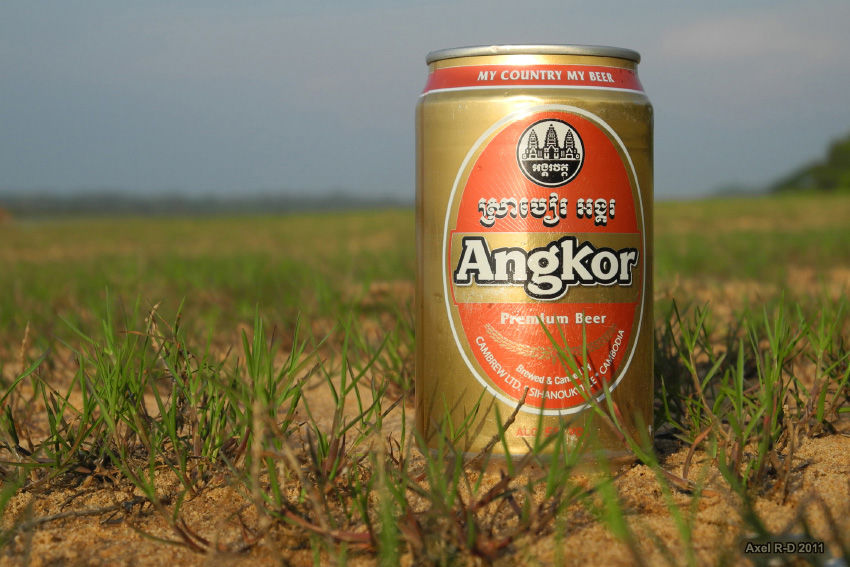 This temple gained massive popularity after scenes from the movie, Tomb Raider were shot at Ta Prohm in 2010, after which it was also called the Tomb Raider temple. According to the Tourism Statistics Report, 945,625 international tourists visited Angkor Wat from January to April in 2017. After I visited Phnom Penn in Cambodia, I took an overnight bus to Siem Reap and braced myself to be awed by this marvellous world heritage site.
Exploring Angkor Wat
It was 3:30am. I was waiting to share my tuk-tuk with some people at my hostel for a half-day tour to Angkor Wat. Anna and I (my travel buddy in Cambodia) were getting restless. "We can't have come this far and miss the surreal sunrise," said Anna. I gave it a thought. Honestly, I am not a person who is driven by fear of missing out (FOMO), but I sure was intrigued to find out what the fuss was all about. Finally, the other two girls joined us and we started the day. It was still dark when we reached the ticket counter. We got our tickets that cost us $20 for a one-day pass to Angkor Wat and we were on road to the temple again.
We reached the temple at around 4.15am. I was surprised to see so many people already there, proceeding to the entrance hurriedly.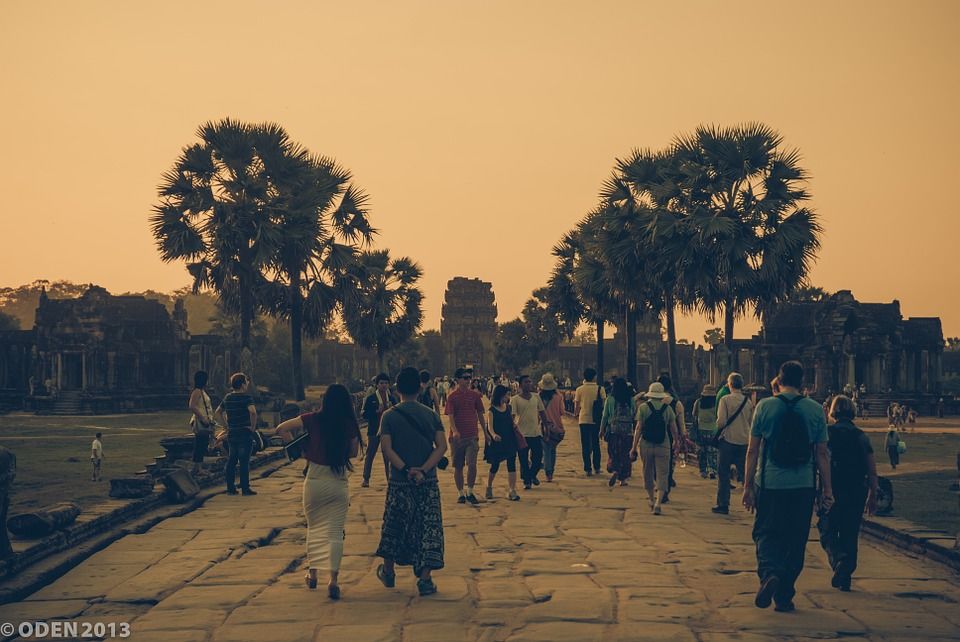 With every step, my anticipation grew. I didn't know what to expect. Everyone stopped when the central temple of Angkor Wat was visible and religiously took position with their cameras around the lotus pond. It was now the suspense of the sunrise. Everybody was quiet and as soon as it started getting brighter, they stood frozen looking for the first sign of bright orange. It took about an hour for everyone to realise it was a cloudy day and no magical sunrise was taking place. Once established, after about 30 minutes more of a wait, everyone left nonchalantly to the different areas of the temple.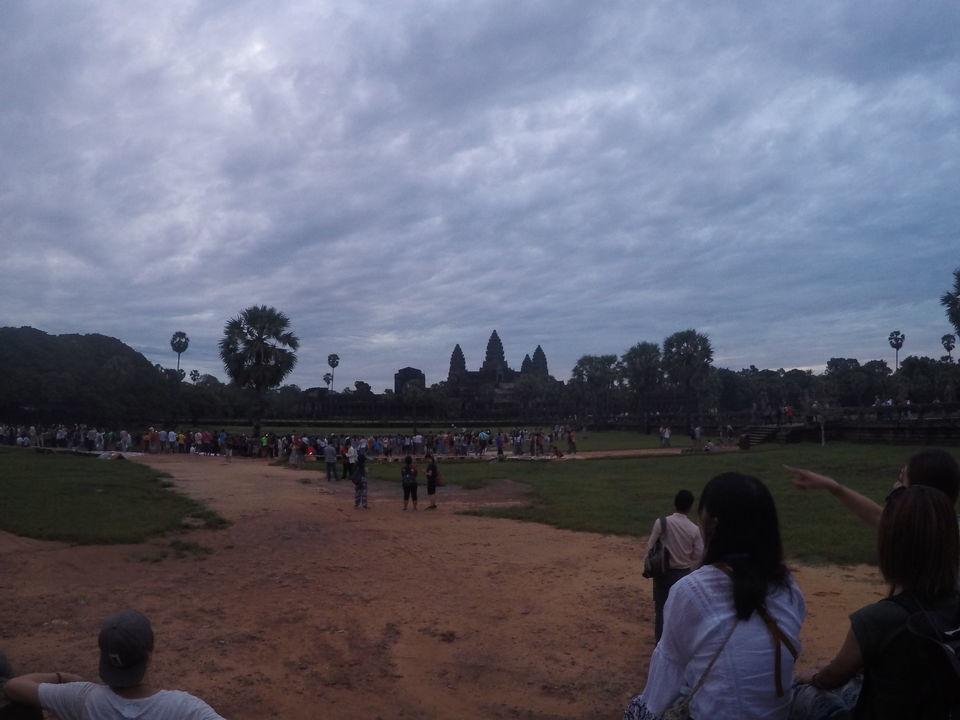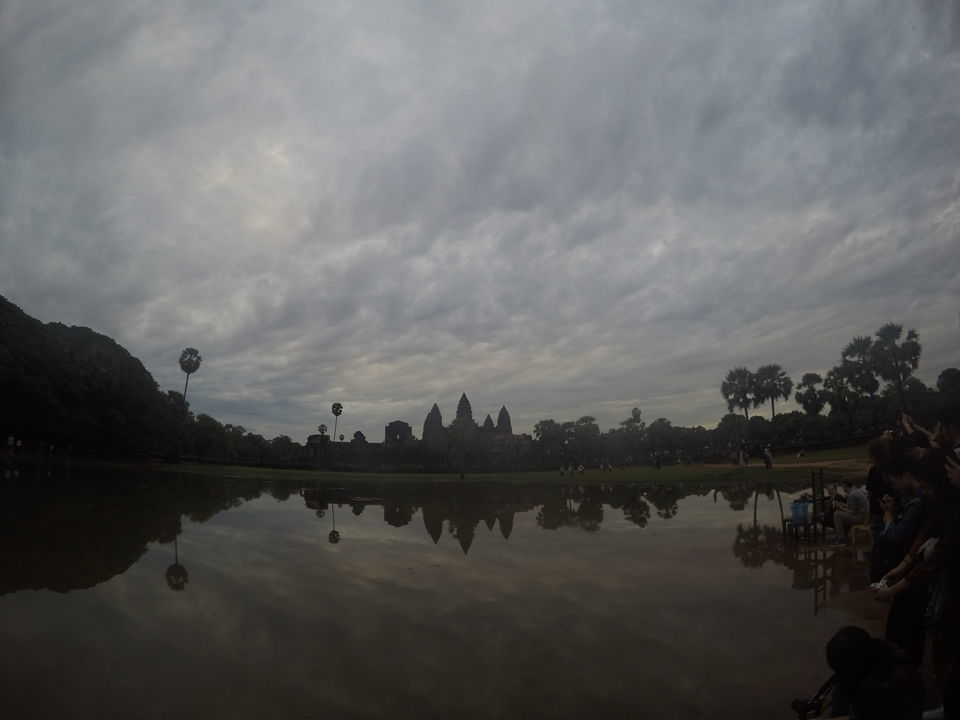 Being from India, I have been to numerous temples with grand architecture throughout the country, which is why I did not share the same enthusiasm as everyone else.
Angkor Wat is magnificent beyond doubt. It is still well preserved inspite of dating back to the 12th century, but it is missing the life of an Indian temple. The empty corridors were swarming with tourists who were busy taking photographs in every creative way possible. I came across a priest in orange sitting in the temple who I later realised was there to perform some ceremony for a tourist and of course, pose for a selfie with them.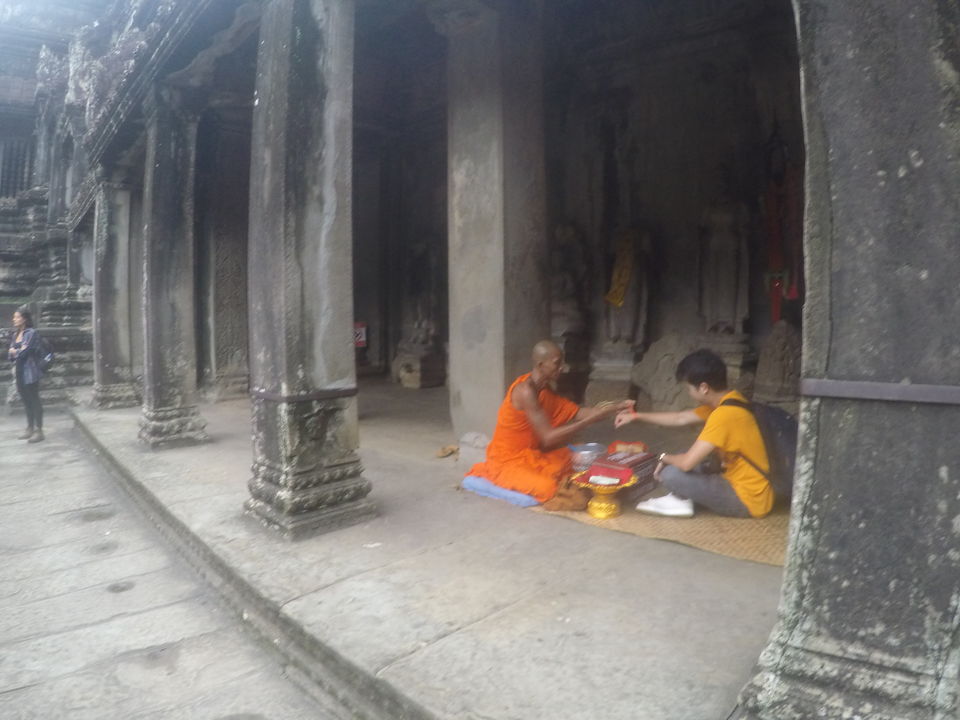 Leaving them all behind, I took joy in discovering random trails in the forest and finding hidden ruins. While I was at it, I saw a mother humming while riding her bicycle, with not one but two kids. It was beautiful and made my day.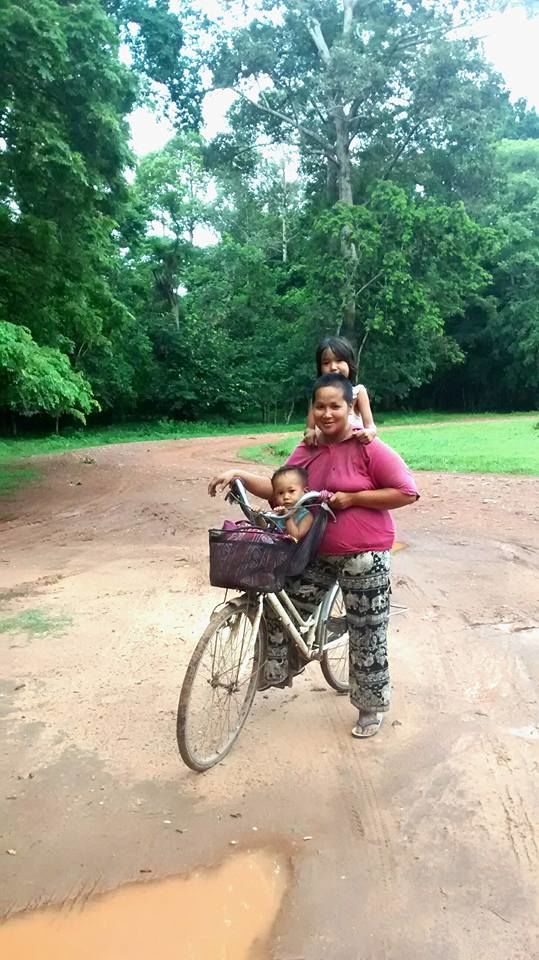 I asked several people what they liked about the temple to figure out what I missed appreciating. I figured out most of them had never been to India and were seeing a humungous Hindu temple that was later turned into a Buddhist temple, for the first time, and also Lara Croft has managed to bring a lot of attention to it too.
My parents are very religious, so I have been to several temples in India during my childhood. Every temple I have been to in India was so alive with a plethora of activities happening at all hours of the day.
All the temples listed below have associations with my childhood and are a source of fond memories:
The location of this temple makes it very unique. It is located in Rameshwaram, which is a small island town in Tamil Nadu and is one of the Char Dhams for Hindus dedicated to Lord Shiva. This temple has the longest corridor in the country. I remember wrapping myself in an orange drape before entering the temple and after taking a holy dip in the sea at Dhanushkodi. The best part about this journey to Rameshwaram was the train ride from Madurai to the island. The train goes on railway tracks on a railing-less Pamban Bridge, which is just 12.5 metres above sea level and is the longest sea bridge in India until the opening of the Bandra-Worli Sea Link in the year 2010. It sure looks quite gnarly at night, but is a thrilling experience.
Puri was the place where I saw the ocean for the first time. This temple was built in the 12th century and is one of the four holiest places or Char Dhams of India. There are three idols inside the main temple – Lord Balabhadra (brother) and Goddess Subhadra (sister) placed on either side of Krishna (Jagannath). Though only Hindus can enter the premises of the temple, others can get a good view from the roof-top of the Raghunandan Library located just opposite the temple. An annual Rathyatra brings thousands and thousands of people to Puri, who pull the chariot, making for a splendid sight.
Having spent a good part of my life in Varanasi, this temple will always hold a special place in my heart. The temple is dedicated to Lord Shiva. From the alleys leading to the temple, to the mad chaos within – everything here is very intense. Even if you go to the temple at night you will see people standing in queues waiting for the Mangala Aarti that takes place between 3 to 4am every morning.
This temple is situated in the small town of Konark, which is 35.5km from Puri in Odisha. It is dedicated to the Sun God and is a marvel of architecture. The temple is in shape of a chariot with twelve wheels and seven horses. Konark was constructed in the 13th century by a king called Narasimhadeva. Rabindranath Tagore described this place with his famous line, 'Here the language of stone surpasses the language of man.'
Vaishno Devi Temple is located at an altitude of 5200ft on a mountain called Trikuta in Jammu and Kashmir. To reach here you have to trek about 14km from Katra, which is like the basecamp. Instead of an idol, God here is present in the form of three rock heads, called the Pindies. Every year millions of Hindu devotees come to visit this holy temple.
This 12th-century spectacle of incredible Dravidian architecture is located in the temple city of Madurai, Tamil Nadu and is dedicated to Goddess Meenakshi and Lord Shiva. There are 985 pillars in the temple hall and each pillar is unique with different intricate carving. The twin temple is nine stories high. The idol of Goddess Meenakshi is said to be carved out of a single emerald stone. This fascinating temple was restored by various kings. The colourful Meenakshi temple with its grand stone walls and towers stands out from crowded streets and is quite a sight.
Have you ever been to any magnificent temple like Angkor Wat? Share your story with 25 million travellers here.
Frequent Searches Leading To This Page:-
angkor wat temple, angkor wat temple cambodia, temples in cambodia angkor wat, famous temples in cambodia, temples in angkor cambodia