If you're an adrenaline addict who's been craving for their fix, then you need to look no further than India. The country is full of high-octane activities that you can indulge in to get that adrenaline pumping through your veins.
Across the length and breadth of the country, you can find multiple adventure options that will make you gulp with fear but also plunge headlong into, for that heady rush. However, it is important to find the right kind of activities in parallel to their corresponding places to experience an adventure sport just right.
Here are some adventure activities and the places you should experience them at, to scream your lungs off in wild abandon.
1. Scuba diving and snorkelling in Andaman and Nicobar islands
Get the best snorkelling and scuba diving experience on these islands that are home to large varieties of marine life. Watch colourful fishes swim past you whilst admiring the glittering turquoise waters. Experience the wonders of the aquatic world in their most pristine form. If you thought the best beaches in India were in Goa, then a visit to Andaman and Nicobar is in order.
2. Skiing and trekking in Auli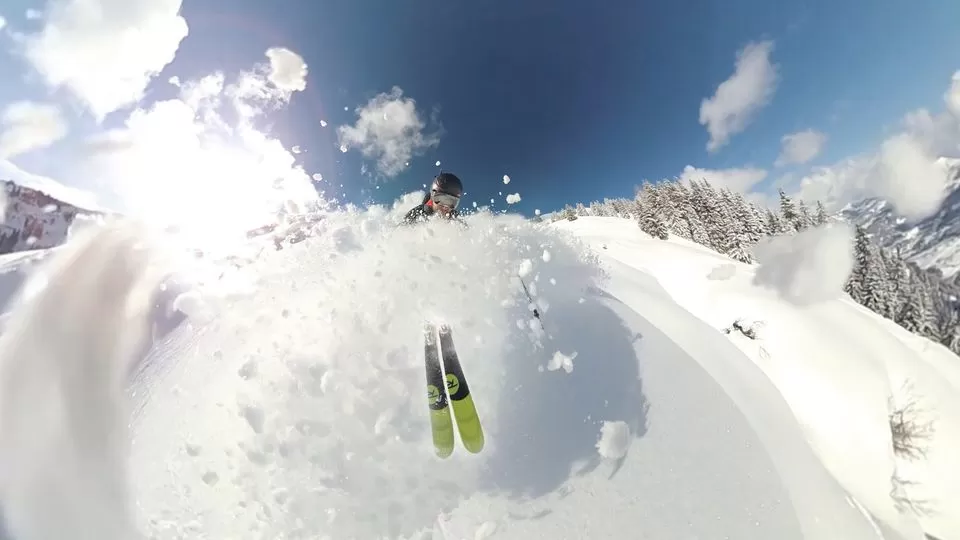 Auli's glittering slopes, clean environment, untouched beauty and high elevation are all ideal for a great skiing trip. Auli is about 250 km away from Rishikesh and is situated high in the hilly areas of Garhwal. Auli is also a good spot for lesser-known trekking expeditions in the Garhwal region such as Kuari Pass, Gorson Bugyal, Pangarchula peak climbing and more.
3. Motorcycle touring in Ladakh
Ladakh is undoubtedly one of the best destinations for an adventurous trip in India. If you wish to explore the frozen countryside with your best mates, then grab your bike and get going for some seriously stunning views along the way.
Goa is the go-to destination for water babies owing to its slew of water-based sports. Flyboarding in Goa is the new 'in' thing that all water sports enthusiasts have been eyeing since its launch. Get ready to be propelled up into the air amidst the blue water.
5. Waterfall rappelling and microlight flying at Coorg
Coorg is an enchanting hill station in Karnataka. The view of fluffy white clouds subtly merging with the greenery of the hills is a sight worth seeing. Ever tried waterfall rappelling? If not, now is the time! An exciting challenge to overcome, it involves going down a rope along the gushing deluge of a waterfall as your heart hammers in your chest.
If soaring at heights is more your thing, then you need to experience microlight flying. Indulge in the euphoria of flying at a height of 5000 ft. above ground for a bird's eye view of dreamy Coorg and its verdant landscapes.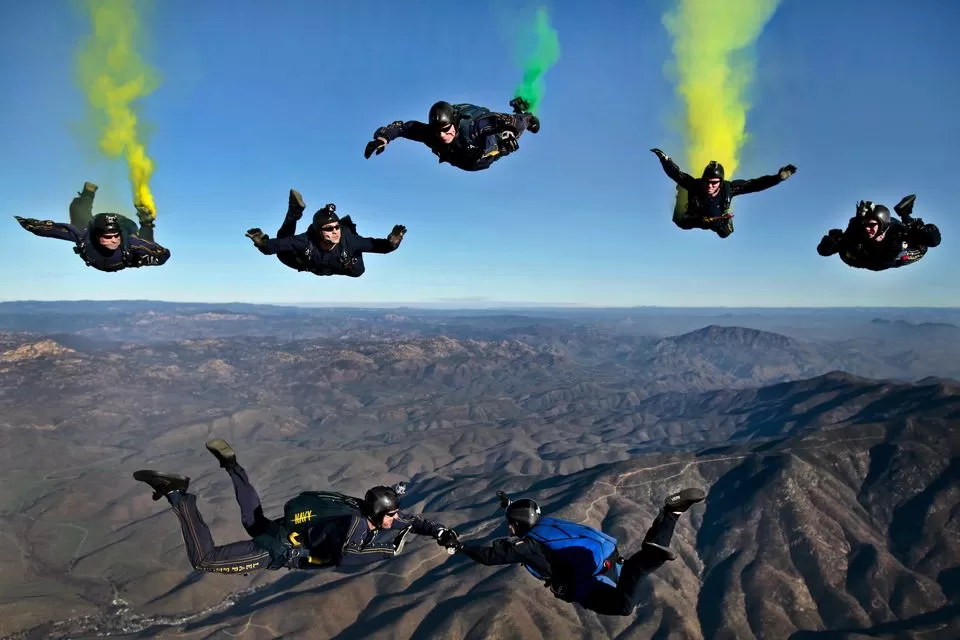 Everyone at some point in their lives has dreamed of flying freely like a bird. This is your chance! Let loose and make your dive! Scared to risk your life? Send your friend ahead of you! No, just kidding. Go with an expert who you'll be completely safe with. Mysore is the best place to skydive at, with a fascinating view of the blue sky, a blanket of cottony clouds and sprawling green valleys.
7. Rock climbing in Satpura Range, Madhya Pradesh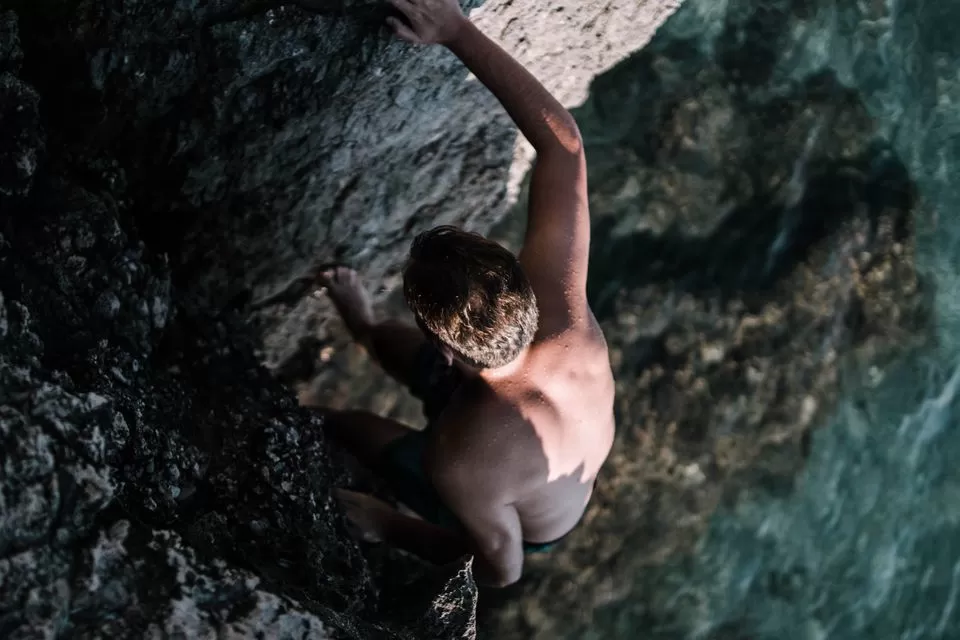 The Satpura Range in Madhya Pradesh makes for some remarkable rock climbing opportunities. Along with Satpura Range, other places in Madhya Pradesh like Pachmarhi, Jabalpur and Chanderi are also ideal if your gang enjoys rock climbing, mountain climbing and other such adventure sports.
8. Bungee Jumping in Rishikesh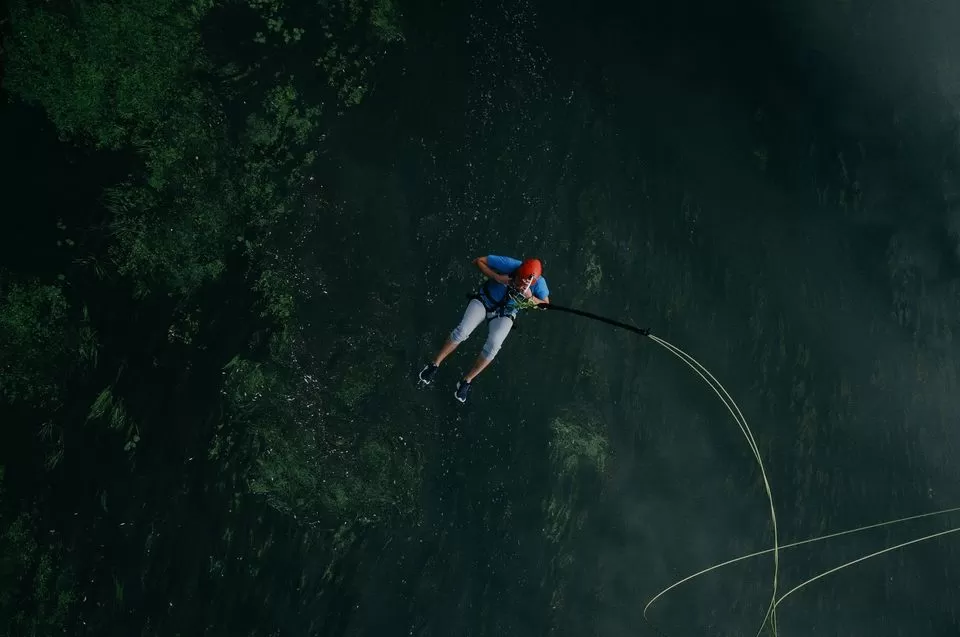 Rishikesh is one of the best destinations to enjoy the ecstasy of weightlessness. This is your legal ticket to get high, literally! Take delight in this adventure with your friends while soaking in the pristine water of the Ganges. You can indulge in other adventure sports in Rishikesh like river rafting, kayaking, mountain climbing and paragliding.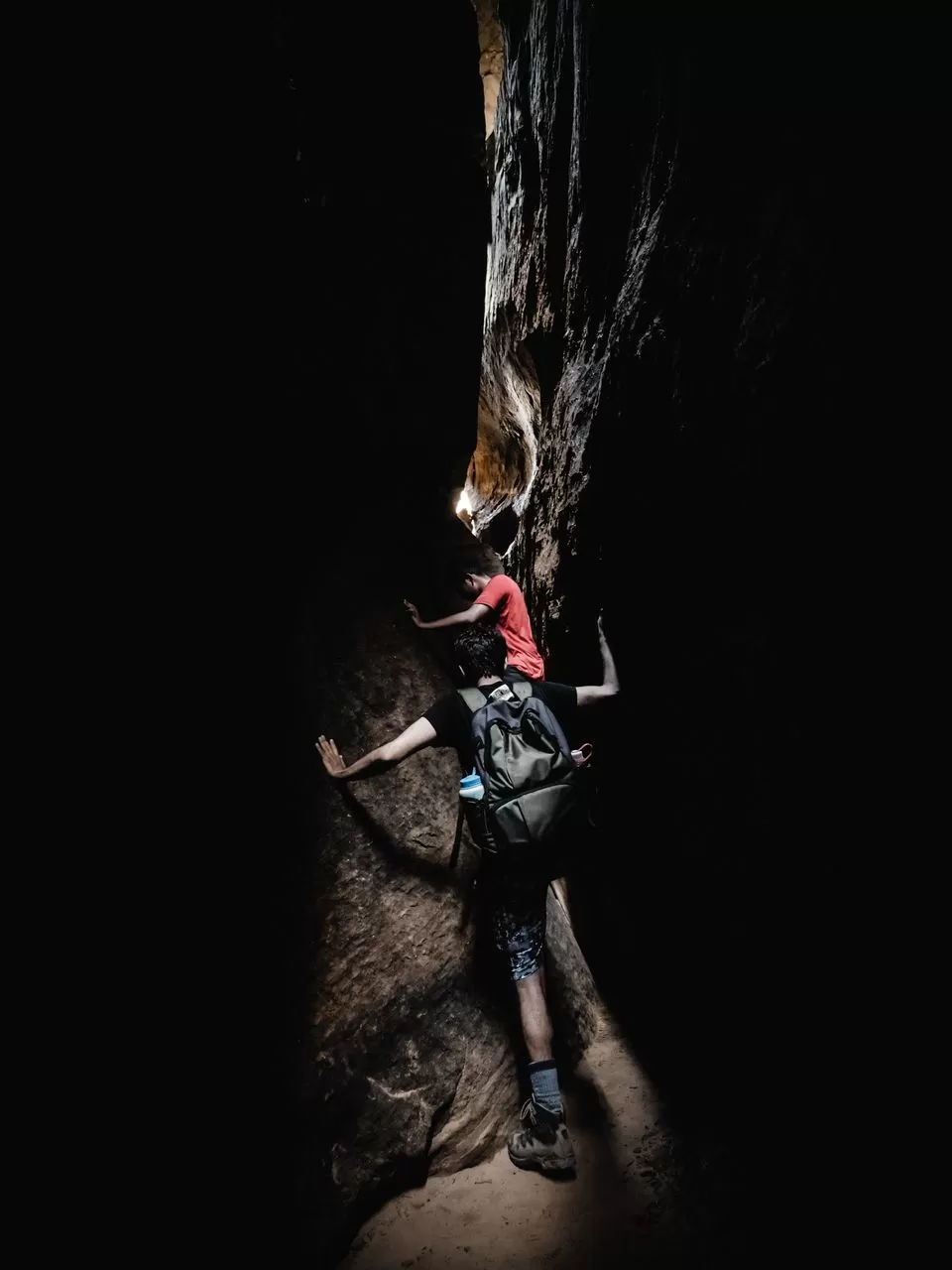 Meghalaya with its captivating caves is perfect for caving enthusiasts. Nestled among the waterfalls and lush green forests, these caves will definitely enthral you. So pack your caving gear as you may need a lot of equipment to navigate through these remote caves as well as some food for rumbling stomachs.
10. Hot Air Ballooning in Lonavala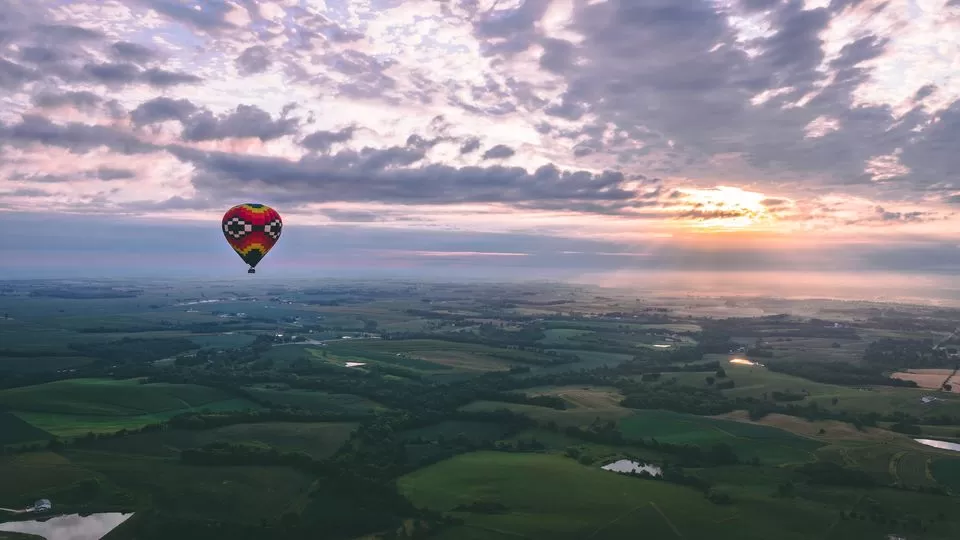 Very few tourist destinations in Maharashtra can match the beauty and charm of Lonavala. This pleasant hill town offers fascinating hot air balloon rides for adventure buffs. The ride usually starts early in the morning and offers a captivating bird's eye view of Lonavala.
11. Dune Bashing in Jaisalmer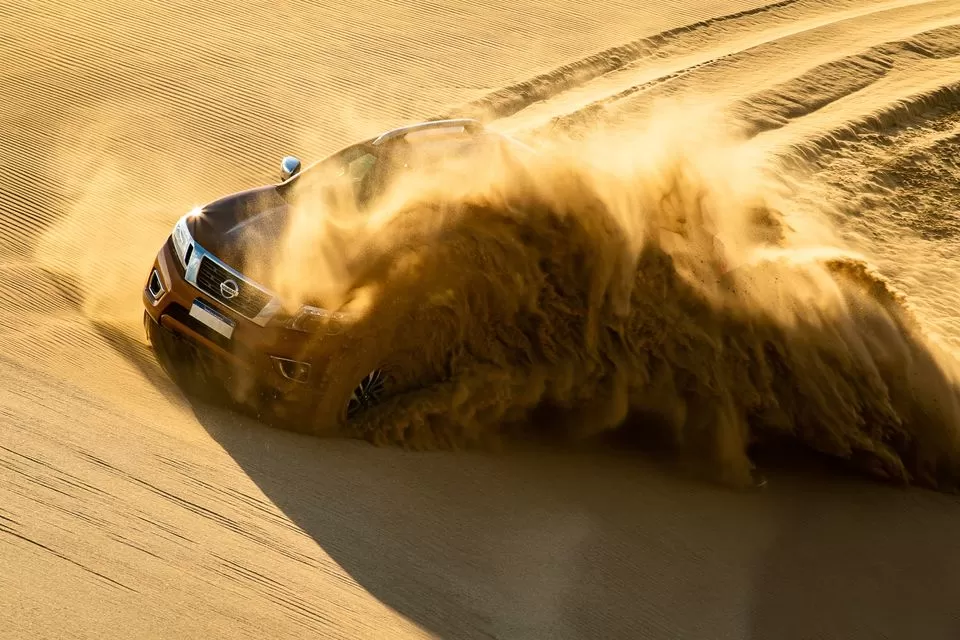 Experience the vast expanse of the Thar Desert along with stunning sunsets and enjoy traditional desert safaris on camels on the dunes of Jaisalmer. Push your adventure to another level as you drive your SUV on the shifting surface of the dunes. For perfect dune bashing, head to Sam Village, a picturesque destination with vast stretches of sand dunes.
12. Feed crocodiles in Mahabalipuram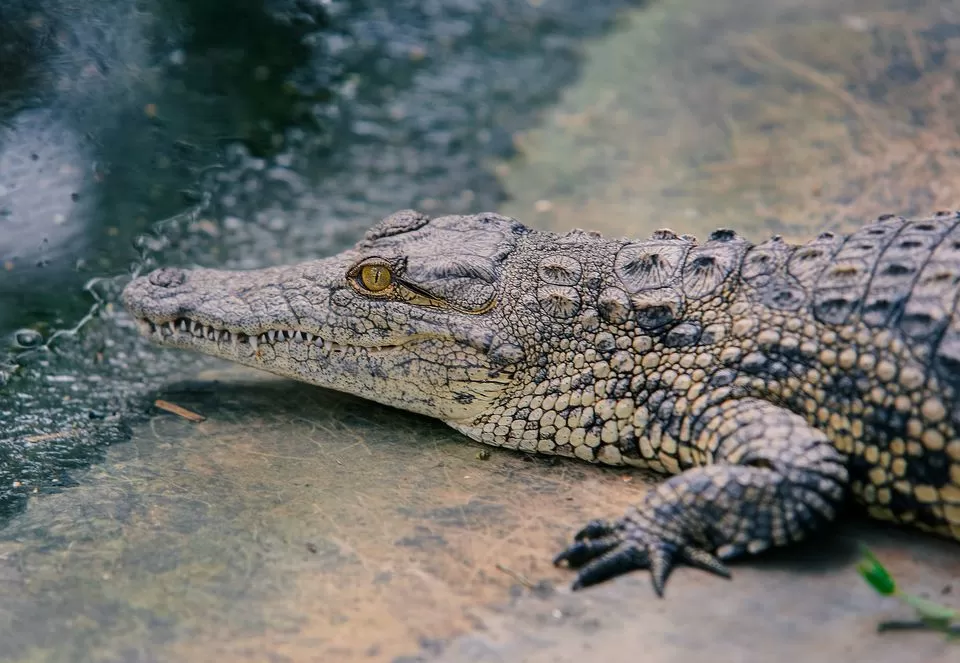 Go close to cold-blooded reptiles in their natural habitats and feed them. Surprised? Yes, this feat is possible! Visit the Crocodile Bank in Mahabalipuram, which has crocodile breeding farms, for an adventurous encounter with the wild species. Moreover, you could head to the Snake Breeding Centre close by and witness some of the most venomous snake species in India.
13. Paragliding in Manali
Manali is a blissful place for travellers across the country. Its pleasant weather, gorgeous landscapes, charismatic views and its range of adventure sports fascinate adventure junkies. Fly like a free bird and sway along with the fresh mountain breeze above the Himalayan hills to look upon the majestic mountains.
14. Microlight flying in Bangalore or Mysore
Sit in the aeroplane cockpit, take control of this two-seater aircraft and fly over the scenic landscape of the city. One of the safest adventure sports, you could try microlight flying at Jakkur Aerodrome and Mysore Airport. What's more? Microlight flying can be done anytime throughout the year and flights are cancelled only in extreme weather conditions.
There's no dearth of adventure destinations in India. While you're sitting in that cubicle and squashing the adrenaline bug inside you, a lot of adventure junkies are out trekking, diving and experiencing life. You could too! All you need to do is take some time out from your busy routine, plan a holiday and get going!
Are you an adrenaline junkie who's happiest diving into an adventure? Tell us all about it here.
Get travel inspiration from us daily! Save and send a message at 9599147110 on Whatsapp to start.
Frequent Searches Leading To This Page:-
rock climbing in satpura, adventure places in madhya pradesh, adventure activities in madhya pradesh, best adventure places in madhya pradesh, adventure trips in madhya pradesh