I hadn't taken a break from my work for a long time, about 6 months and I was craving for change. I wanted to travel someplace soon. And that place had to be good, I needed the trip to revitalize my spirit, rejuvenate my senses and leave me into a completely different world. Things went as per plan and my parents and my sister decide to visit me at my home in Bangalore. Together we were going first to Ooty, "The Queen of Hills" and then make a trip to Lakshadweep. I was jumping in excitement. After all, who doesn't want to spend a morning idling by the beach in the middle of a sea on an island. That sounded quite interesting.
But sitting by the beach is not the only reason why I remember my trip to Lakshadweep. Along the journey, both during visit to Ooty and during trip to Lakshadweep, I learnt something valuable. And I will remember those and of course the fun moments.
WHERE THE JOURNEY BEGAN
We started our trip from Bangalore and first travelled to Ooty or Udhagamandalam. The journey was long, extending to 8 hours but we never got tired or bored. On the way there were many interesting things to see and good places to eat:
On Bangalore Mysore highway we had quick breakfast at Kamat Lokaruchi, a famous eat out place in a natural setting. Kamat Lokaruchi is in Ramanagra Village, the site where the famous movie Sholay was shot.
Then we saw many famous landmarks in Srirangapatna including Tipu Sultan's Summer Palace, Ranganathaawamy Temple, exact place where Tipu Sultan died, armoury of Tipu Sultan, Juma Masjid and more. Suffice to say that this sparked my curiosity to know more Tipu Sultan.
Once we crossed Mysore, we passed to Bandipur National Park and Mudumalai forest. Now they are beauty, and passing through forests seeing the sun diffusing through thick vegetation; deer and elephants casually strolling by is what makes for a great photograph.
After this we stopped at a few places to eat or drink coconut water. The entire road of approach to Ooty is filled with beautiful scenic views of homes built on mountains, clouds in a clear sky, and green vegetation painted on a blue background.
Ooty is now a bit crowded for some tastes, but away from the main city area it still has its charm that made it the site of famous movie shootings, including Chaiyya Chaiyya on the Niligiri Mountain Railway.
We also went to Kunoor, 20 km from Ooty and site of some famous view points like Dolphin's Nose, and Lamb's Rock.
At Ooty we saw Government Botanical Gardens, Ooty Lake, Thread Garden. We shopped at Charing Cross and Tibetan Market, buying the famous Nilgiri tea, and variety of chocolates.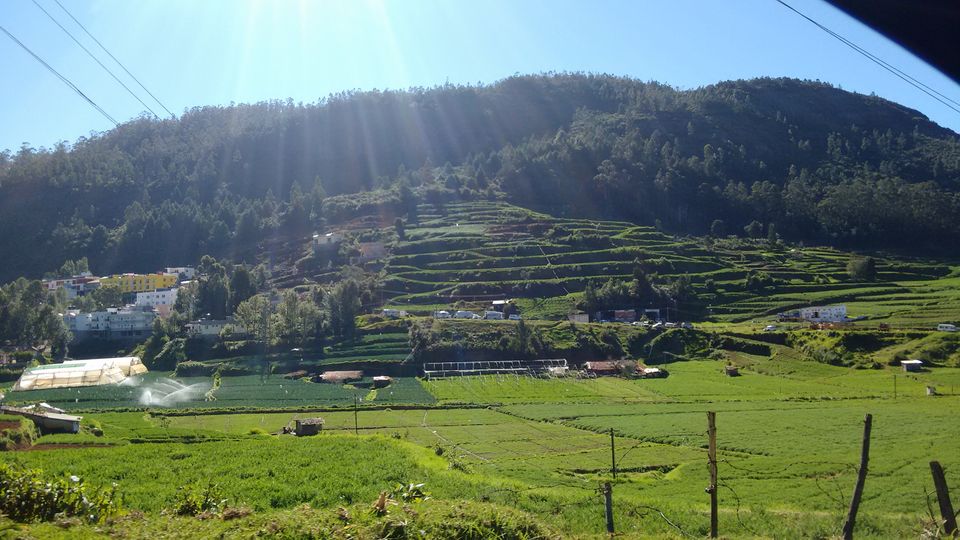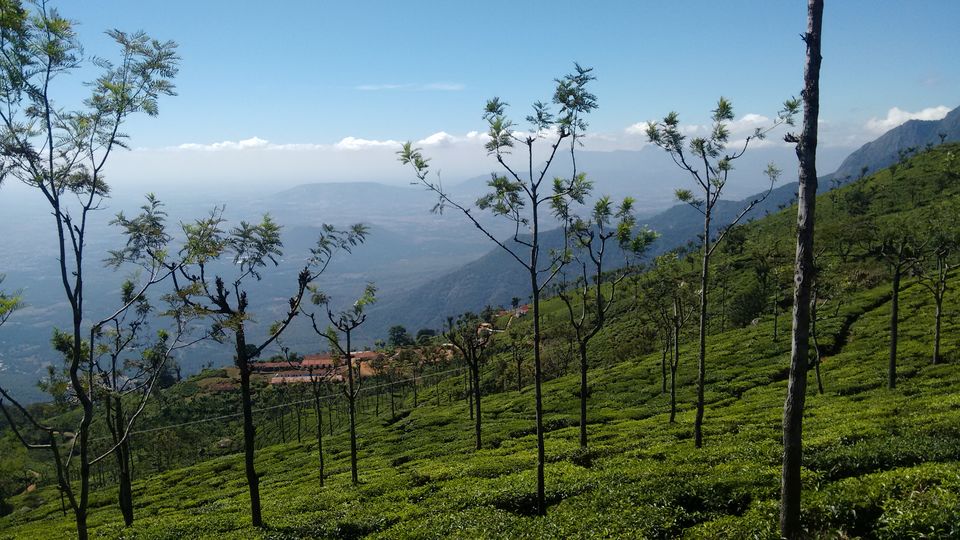 Starting the Trip to Lakshadweep – Flight Details and Reaching the Island
We returned to Bangalore from Ooty. Our flight to Agatti Island in Lakshadweep was from here. Air India operates a 50 seater flight daily from Bangalore to Agatti via Kochi. There is also a return flight every day. Bangalore to Kochi is 80 minutes and Kochi to Agatti is 70 minutes. The flight to Agatti from Bangalore leaves early morning at 8:15am.
We landed at Agatti Island at around 11:15am. The flight is a different experience. Once we left Kochi, soon after we saw the shoreline of India slowly fading away in distance. The Arabian Sea started filling the entire visual range and all you could see was water. The flight gained altitude and then it was all normal until the island started nearing. From the side I was sitting, I couldn't see the island while landing, but my fellow passengers on other side could. It was a site to behold they say. I got the chance on the return trip.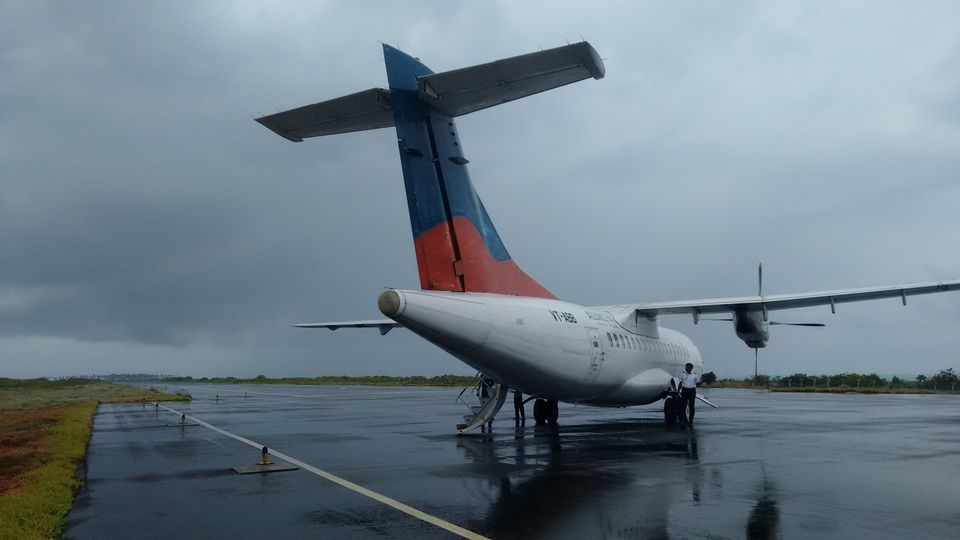 Agatti Island – Friendliness of People
Agatti Airport is a small airport, unlike the airports we see in Delhi or Banglore. There is only a handful of airport staff including the security. However what is even more striking was the friendliness of everyone there. They knew that we all are eager tourists here, seeing something different for the first time. All of us kept asking questions to them about the island, the people, how they lived, the facilities they have here. They answered to us patiently. This all happened while we waited in the lobby area for everyone to get their security clearances. And I learned my first lesson of the trip to Lakshadweep:
"There is no harm in being friendly and cordial. Respect and love your guests. Take pride in your land and country."
Lakshadweep Islands are a restricted zone of Indian Union. Prior permissions are needed to visit Lakshadweep and the same is verified at the airport.
Islands in Lakshadweep – Best Islands for Relaxing and Water Sports
Lakshadweep Islands are a group of islands – the prominent ones being Agatti, Kavaratti, Bangaram, Kadmath, Minicoy and Tinnakara. Kavaratti is the capital, while Agatti has the airport. Other islands are for tourists to visit and stay. You need to go to other islands by motorized boats.
There is map at the airport that shows the location of all islands. We had to go to Tinnakara Island, the smallest among them but with the most beautiful beachfront. Other islands like Bangaram are more famous for water sports.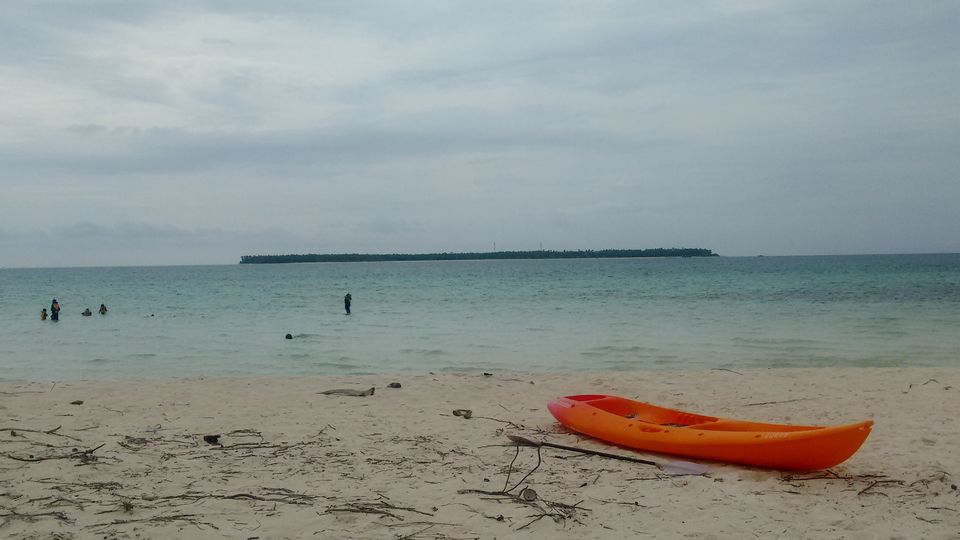 Journey of the Boat – Going From Agatti to Tinakkara Island
It takes about 90 minutes to go from Agatti to Tinnakara Island. The boat is simple looking and will have 5-6 persons handling it. It can carry 12-14 people. Now you are in the sea and you will be navigating through tidal waves. Naturally for people like us who are not accustomed to water, this can be quite scary. And this is what happened to all of us in the beginning. After the initial thrill of seeing green shallow water, the waves got pretty rough in deep sea. Everyone held on tightly to their seats.
All this time I was surprised to see the boatmen standing casually at the edge of the boat, without any support. I realized that they knew the sea well and respected it. I overcame my initial fears and swung with the boat, coasting my body opposite to the direction the boat swung. Suddenly I was at peace, I loosened my grip over the seat and enjoyed much more. I had my second lesson of this trip to Lakshadweep:
"Anything that is unknown is only scary as long as it is unknown."
Finally, we were at Tinnakara. O You beauty!
Our Stay at Tinnakara Islands – Living in Tents and Enjoying By the Sea
All the islands in Lakshadweep have these tents made from natural materials. They are very well maintained. Each tent is typically double bedded with attached bathroom and having table/ceiling fan. Just outside the tent are kept chairs for you to sit and enjoy the view of sea.
Now the beach itself is marvelous. Scattered vegetation fills the entire beachfront. Occasionally you can see crabs. There are swings and chairs placed at random places, for you to sit back and relax, to forget all your worldly worries.
A separate tent has a small restaurant where the food is served. The other end of island had coconut and banana plantations.
There are artificial lights placed along the entire shoreline that lights up after sunset and creates a magical effect.
This is what I had been looking for my trip to Lakshadweep. A perfect place that has an open sea, green vegetation, cool breeze, blue skies, a chair to relax, good food and good people.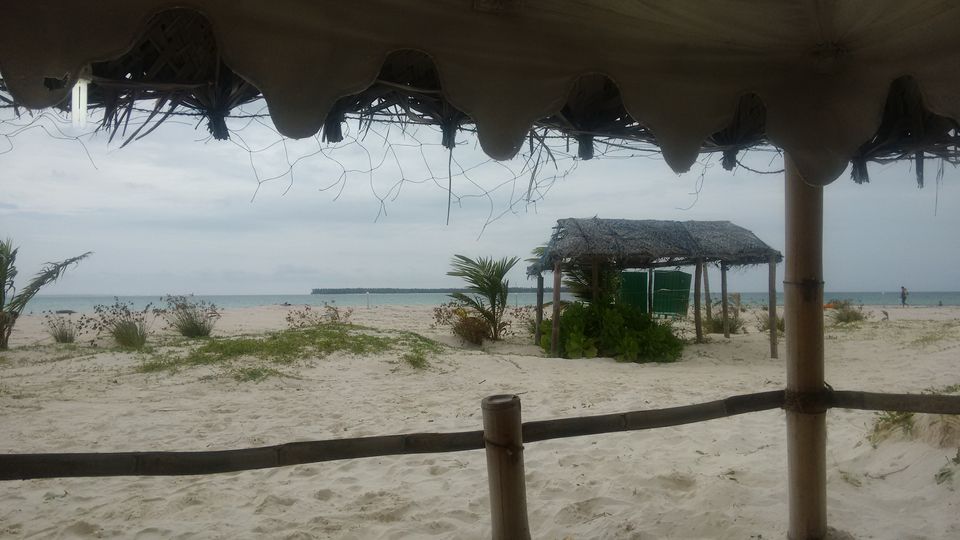 Memorable Moments from My Trip to Lakshadweep
We were only 12 tourists on the beach – 4 from my family and 8 people from 2 families who were coming from Kolkata. The entire island was for us.
There were 3 young kids among us. They did not have any fear of the sea. Every now and then they took a jump in the sea from the raised platform to anchor the boat. They ran behind the crabs. They jumped and they somersaulted. I watched them in wonder – where did I loose all these? Why should I let my life not be like them?
I saw their parents, I talked to them. They had bought 3 kites from all the way to Kolkata, convincing the security at all airports that their only intention was to fly the kite on the beach. And they did succeed. They flew the kite and it was there in the sky when I woke up early next morning. They had tied it to a tree bark. I just learnt another lesson from trip to Lakshadweep:
Never let the child inside you die. Your happiness is rooted in the child.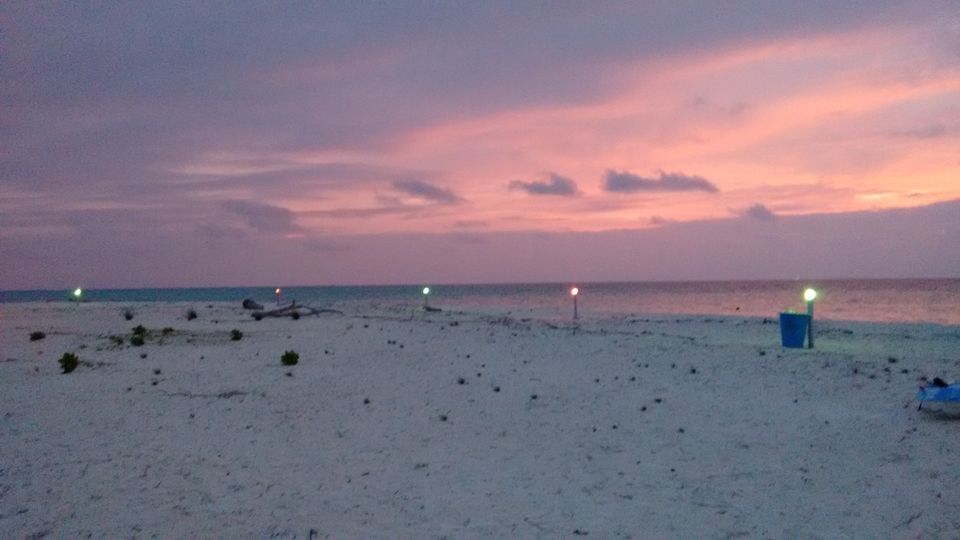 Peace and Quiet by the Beach – Music, Jogging and Talking To Locals
As it grew darker, and everyone retired to their tents after dinner, I sat on the trunk of a coconut tree, carved to be like a chair. For a while I listened to the sea. One moment I saw up the sky, the other moment I could see lights shining on the nearby Bangaram Islands.
The other moment I saw the waves striking the shore, again and again and again – like never giving up, that someday they would come and reach the land.
I turned on the music on phone and that silence, with only the sound of sea, I think I discovered some hitherto unheard beats on the songs I was listening to. I was happy, I went to sleep.
I woke up early morning and jogged along the shore, it was wonderful. That time I went to have tea and talked to the cooking staff there – Nizam, Salim and Akhtar. They told how they grew up here, how water, petrol and everything comes from Kochi by cargo ship, all the islands being crime free. On this tiny island, far away from the Indian mainland, I could see the barriers of religion breaking down. We were dependent on each other – there was no bitterness, only affection.
Did I Love The Trip To Lakshadweep?
Absolutely yes, a thousand times over. The trip to Lakshadweep was a dream that I got a chance to live. I would love to go again, this time for longer and enjoy some water sports as well. India is beautiful – not only because of the natural features but also because of its people, its history. I am travelling because I want to know my country, I love my country.
Frequent Searches Leading To This Page:-
Lakshadweep Islands honeymoon tour packages, honeymoon in Lakshadweep, lakshadweep Islands honeymoon tour packages, Lakshadweep Coral Reef Package, Lakshadweep tour packages with private car