This was the big trip for us and it's very far from Hyderabad and I wanted to make it a budget trip. So we preferred trains over flight. We were 13 members of which 11 are coming from Hyderabad and other 2 from Pune.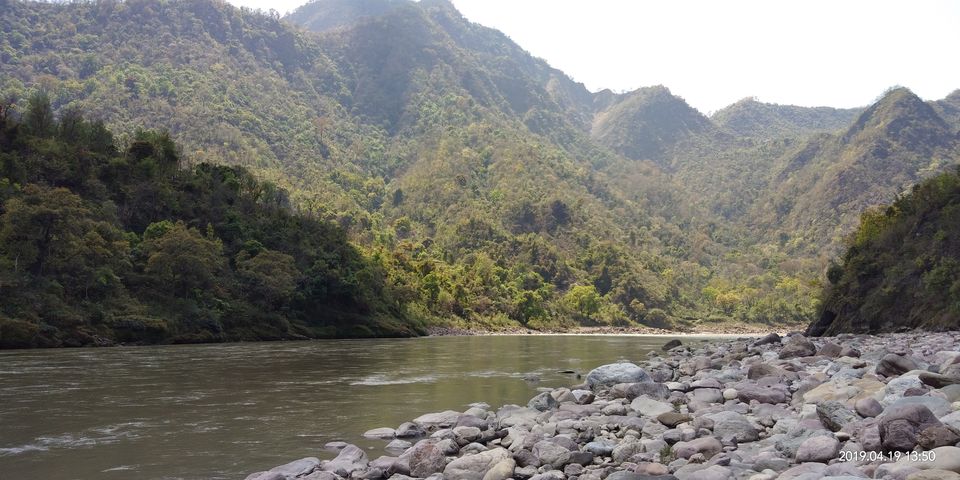 We boarded the AP Sampark Kranthi Train from Kacheguda Railway Station at 5:00 PM. As our group was big, we got seats in different compartments and we tried to arrange everyone in the same coach but finally had to settle with 2 coaches instead of 5.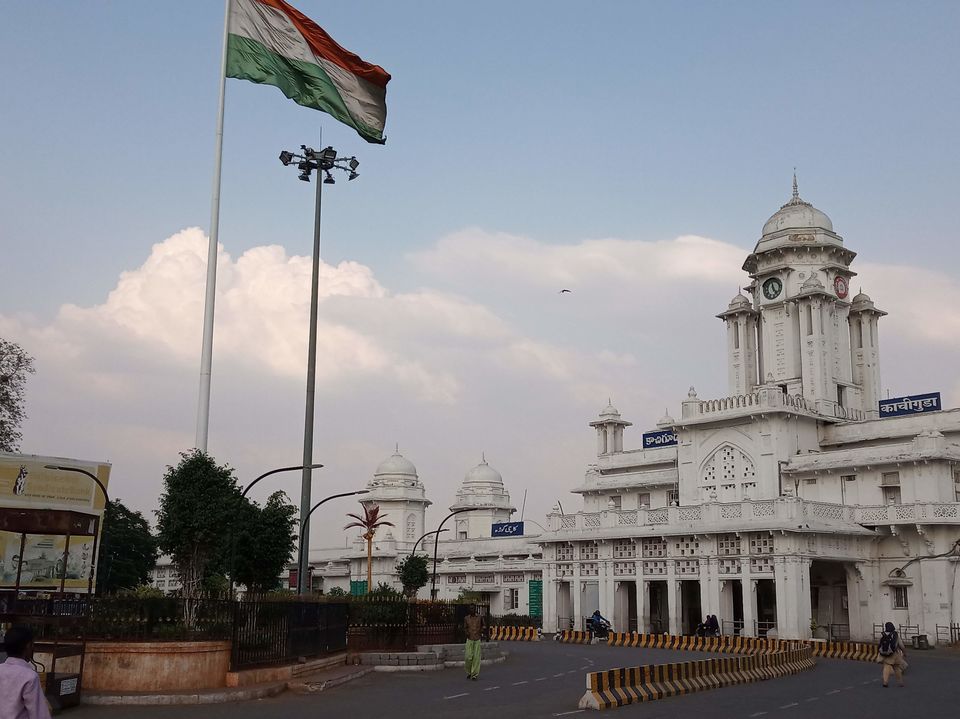 The next day morning the train reached Bhopal at 9:00 AM and finished our breakfast and played few games like UNO cards, dumbshell arts and all.
We reached Delhi by 6:30 PM and started for bus stand ISBT Kashmare gate. We waited for few minutes but couldn't get the bus. So we tried to book the cab, and we got 2 cabs in the mean while we the bus came and instead of booking another cab we 4 decided to go in bus.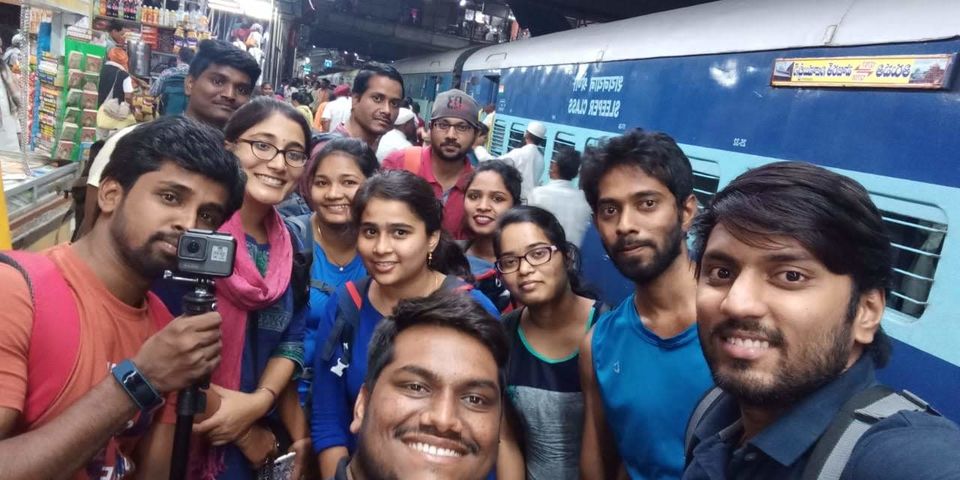 We finished our dinner at hotel Hari Sharan near ISBT Kashmare Gate. We got the thali for 150 initially i thought it was a bit costly but the dinner it felt, it was good for the price.
When we entered the ISBT and we got to know our platform was 13 but our bus was not there at that platform. Its already 10:10 PM in the night and the bus time was 10:15 PM & the platform was so crowdy and there's no one to ask the information near the platform about the bus. We could see all other state transport information centers except the Uttarakhand and there's no bus number written in the reservation email too.
The bus started at 10:40PM from ISBT Kashmare Gate and the thing is that my sister and her husband who were coming from pune missed the bus. We didn't have the proper sleep in the bus though out the journey. The bus stopped somewhere at Muzaffarnagar at around 1:45 AM in the midnight for the break.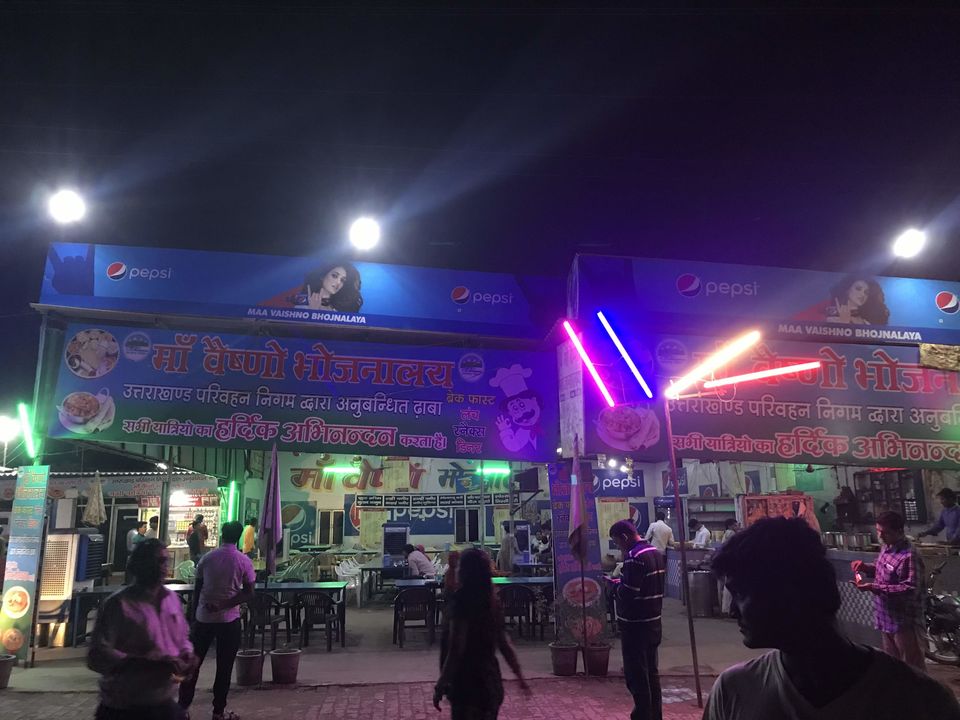 We arrived at Rishikesh at 5:15 AM and had tea at the bus stand and then we headed to Zostel in Auto. By the time we reach zostel, the common space was full and we have been to the roof top.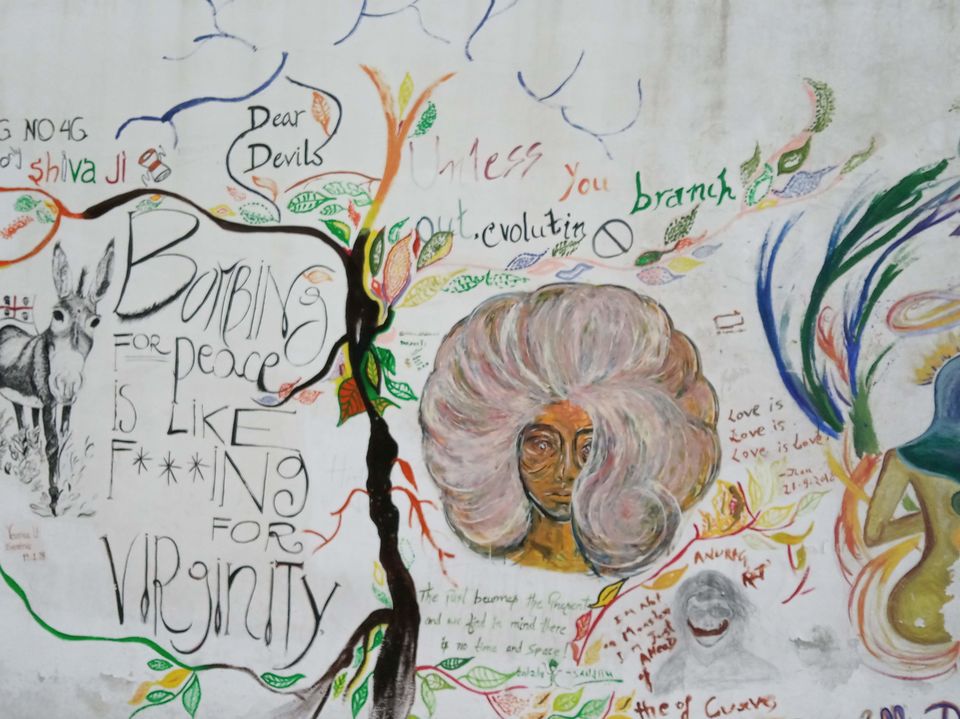 The weather was cool and we freshedup there and finished our breakfast in the Zostel's Kitchen. We ordered Poha and Puri with chole and it was good.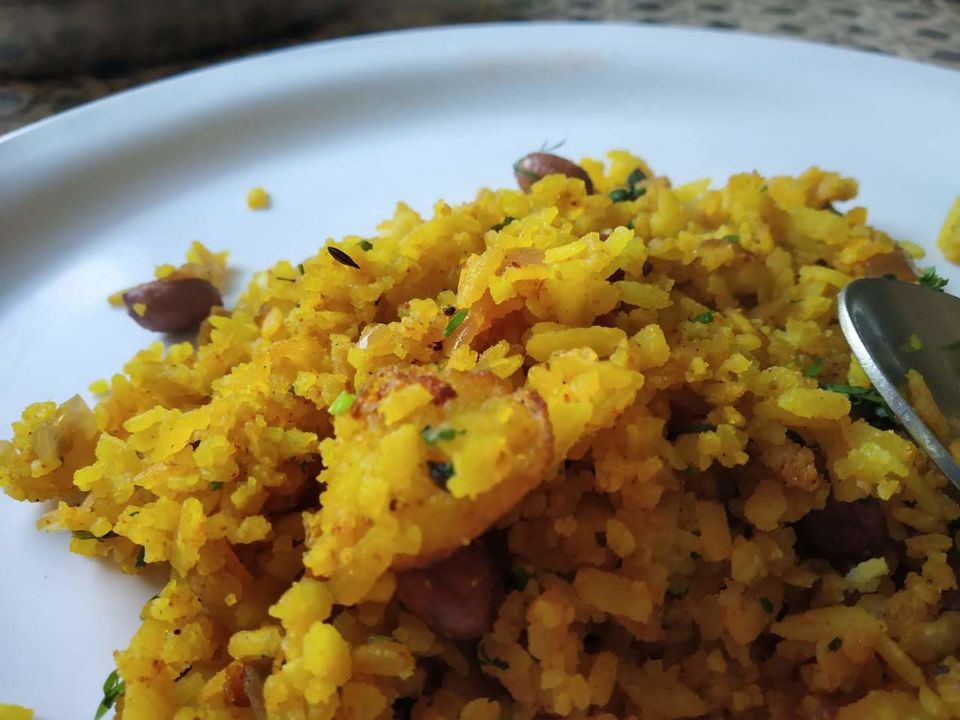 Then our first plan was to rent the bikes. So we got one bike from creative holidays and he asked us to give the bike next day morning before 10:00 AM and he told us to wait another half an hour so that he can arrange another 3 bikes. But we didn't wait as we have to cover a lot. By the time we got remaining bikes from other places it took almost an hour but finally we got them.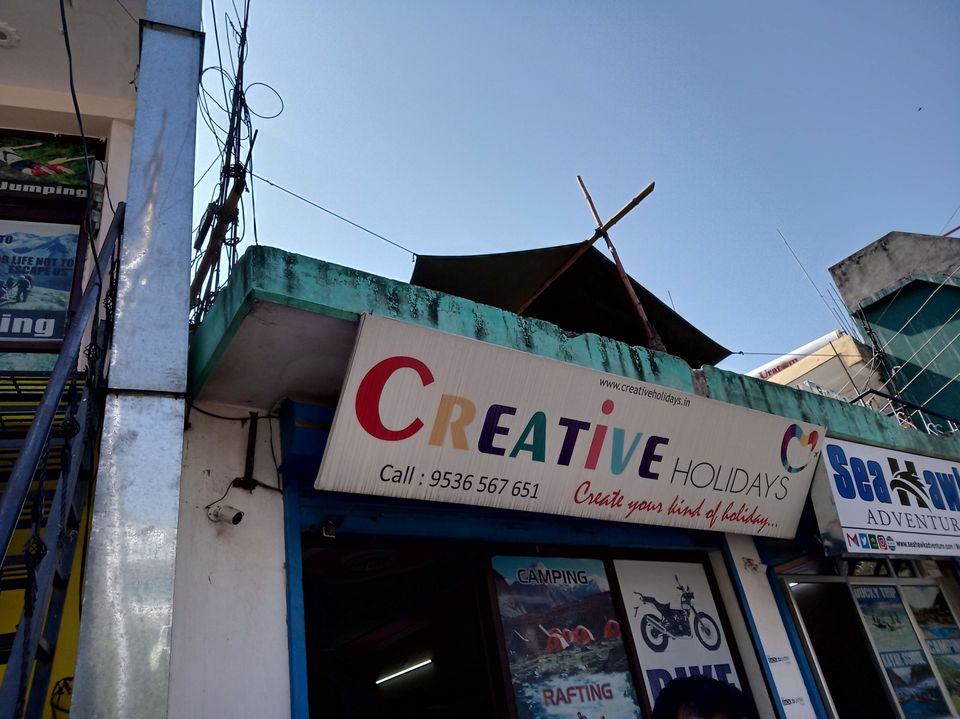 Our first task is to enquire about the bungee and we had been to bungee booking office and asked them, if there are any slots and they said that the slots are already full and asked us to go at the bungee point so that if there are any cancellations, we might get the chance.
As it was 50-50 chance and we dont want to waste the time, we decided to cover other places and the first being the Neergarh waterfalls.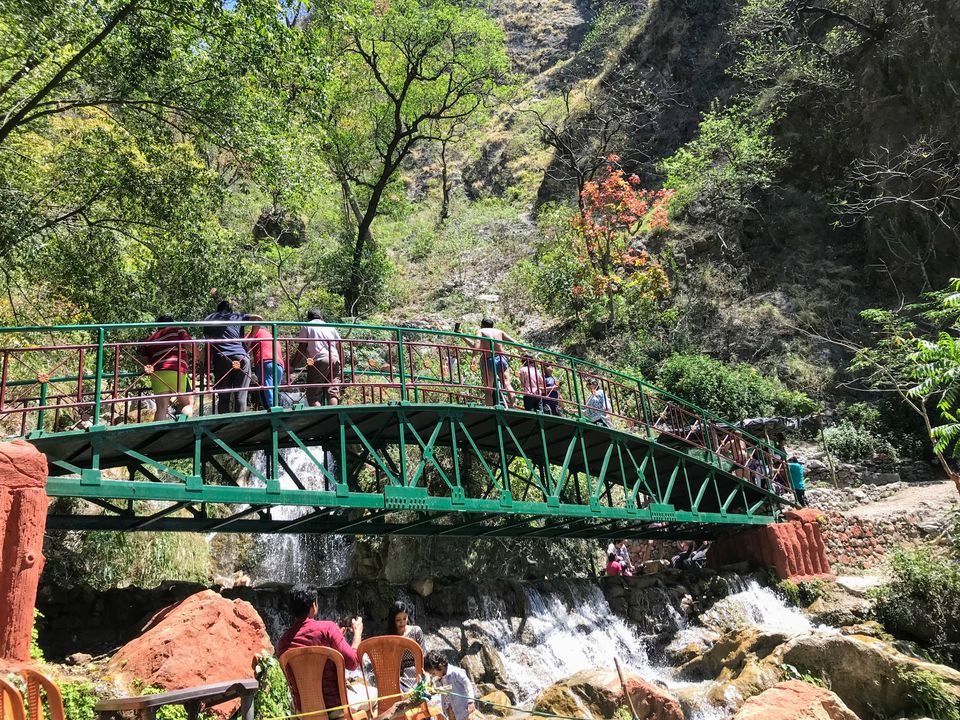 The waterfall is 4kms from Rishikesh Zostel and the entry ticket was 30/- for Indians. We had a small hike near the waterfall and there is a pool kind of thing near the waterfall where the water from the top got accumulated.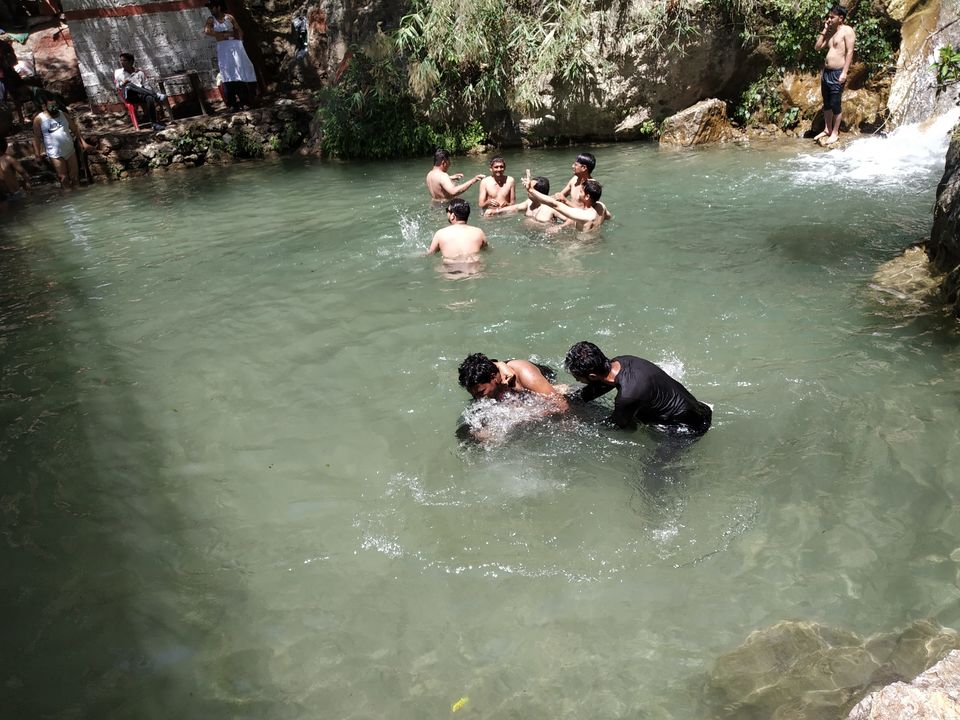 After coming out from the waterfall, we spent an hour there and ate maggie. Though the waterfall is not that big it was good but the water is cold.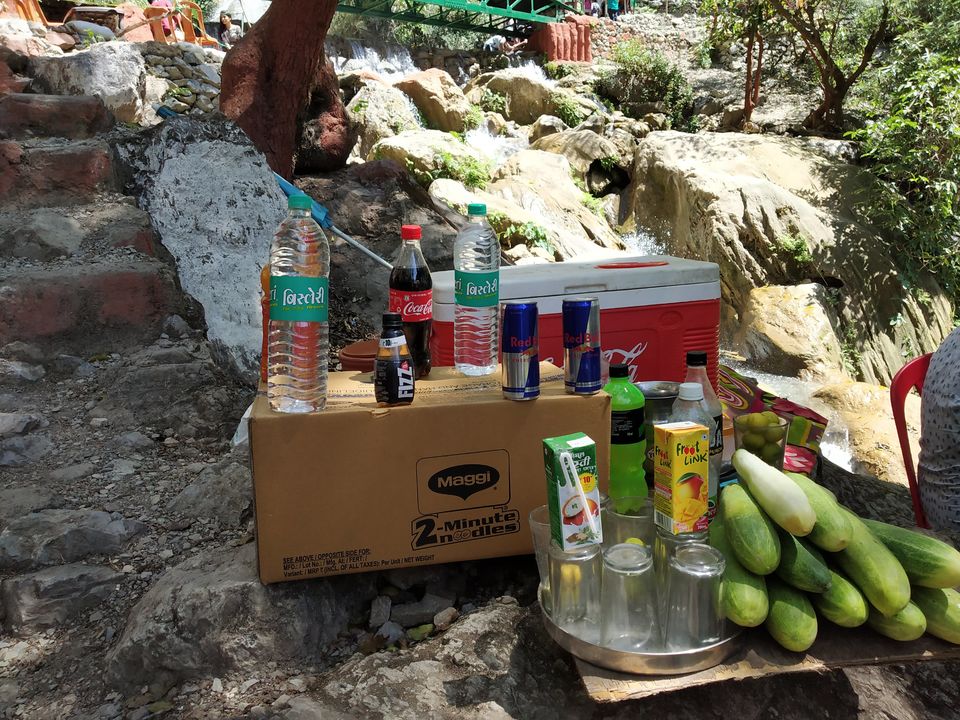 Now our destination is to go Devprayag which is at a distance of 70Kms, so we checked if there are any other places which come in between so that we can explore and we found Vasishta Gufa, which is 15kms away from the waterfalls and is on the way to Devprayag We started from Neergarh waterfall at 12:00 PM and headed to the gufa on the bikes, the roads were in average condition and it was dusty.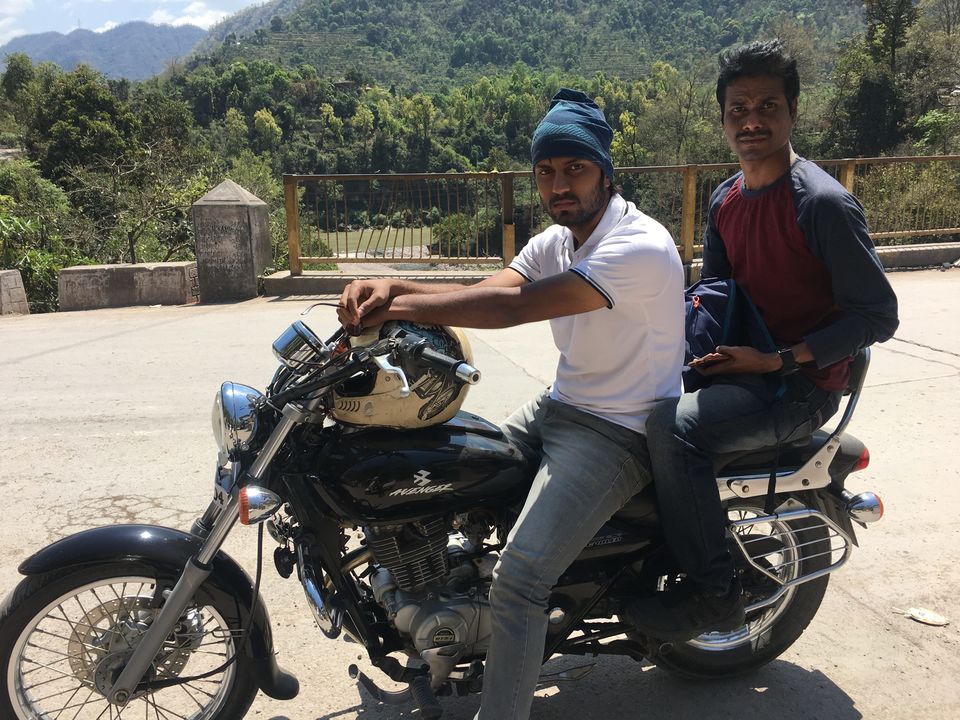 After an hour ride we reached vasishta gufa and we got down and walked for around 1/2km from the top.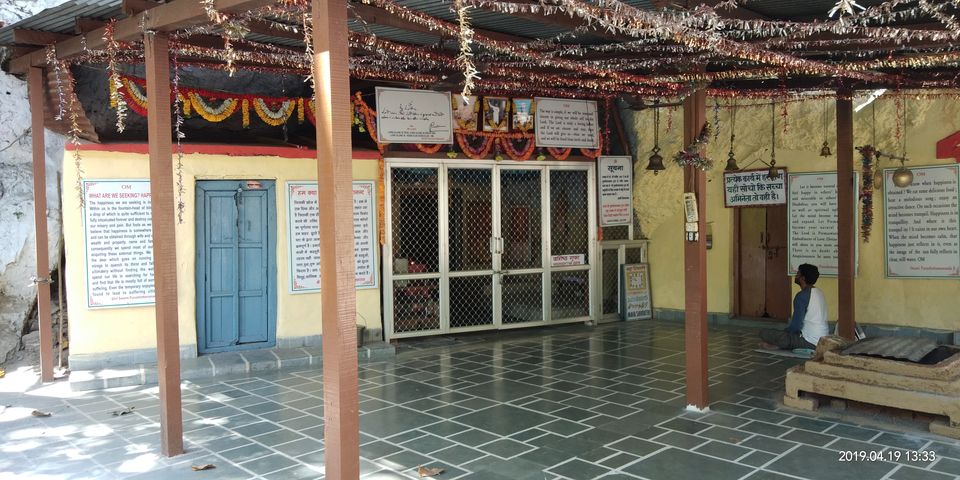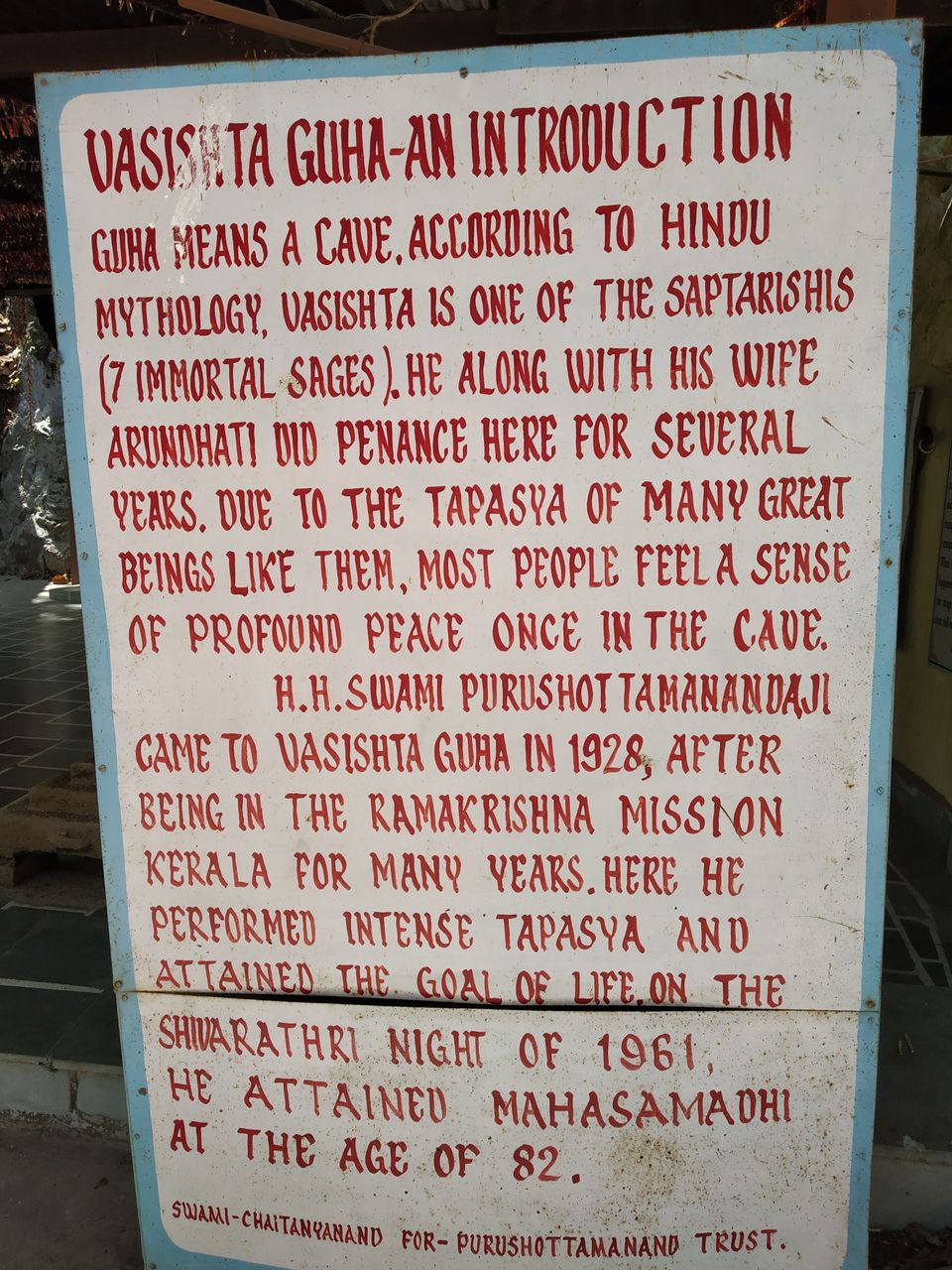 The temple was closed and we could see the river ganges flowing beside the temple, the location was picture square and there was another cave which is named as Arundathi gufa(wife of Vasishta). We have spend around 40mins over there taking pictures and all.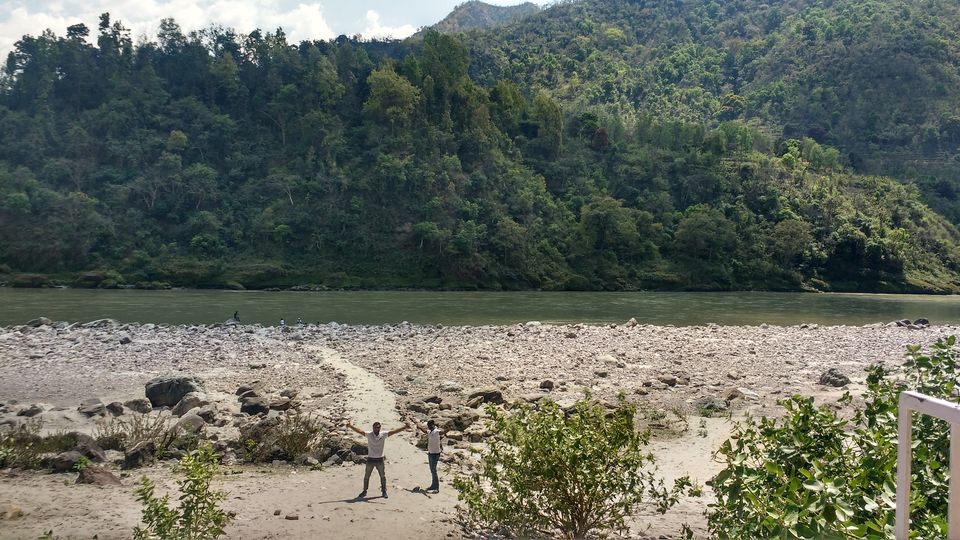 Now that we headed for Devprayag, Devprayag is a confluence where the two rivers Bhagirathi and Alakananda merge to form Ganga. The Bhagirathi river is blue is color is so ferocious while the Alakananda is brown in color and will move in slow pace. Devprayag which is almost 50Kms from this vasishta gufa and the roads are terribly bad.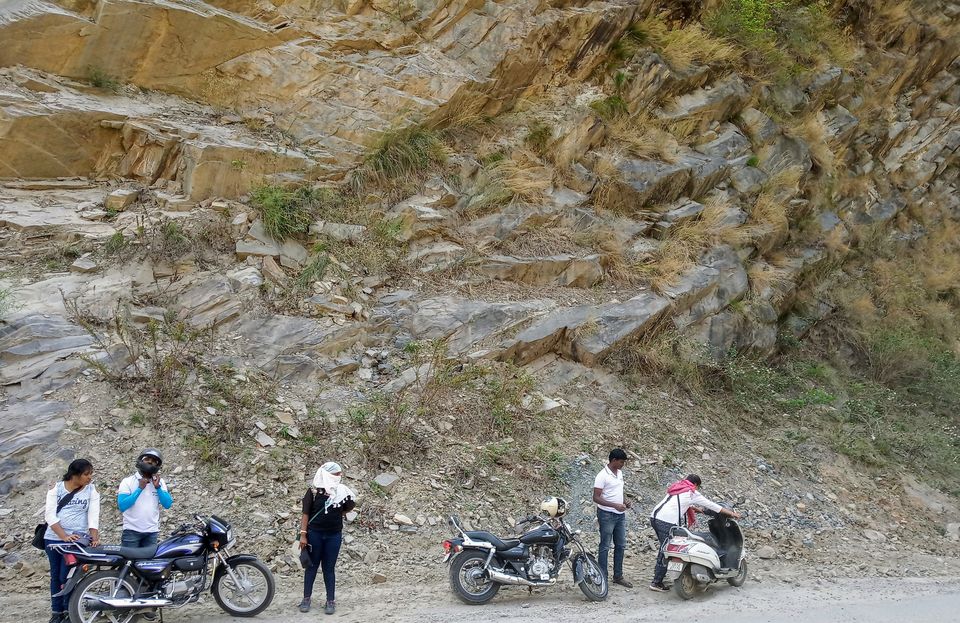 For us it took almost another 2hrs to reach Devprayag, then we saw from the top the confluence then we decided to go to the exact point where it is merging as we could see from the top there is some ghat kind of thing and few people were already there.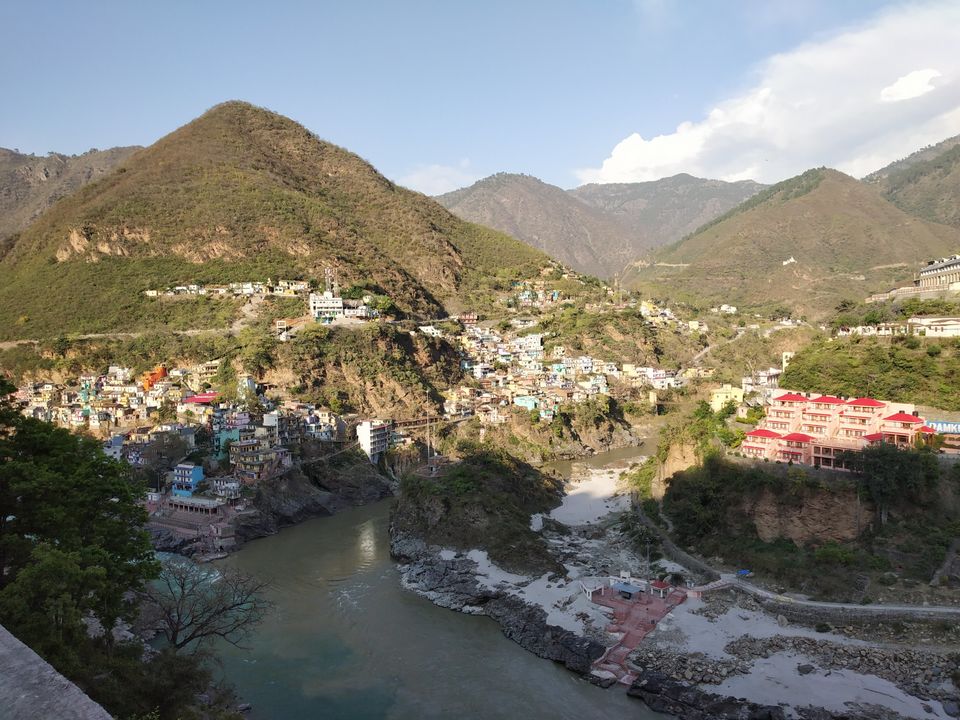 So we enquired how to go there and they replied to go straight and stop at Raghunath mandir, so we reached other side of the valley on bikes and parked our bikes and got down to the point where it meets.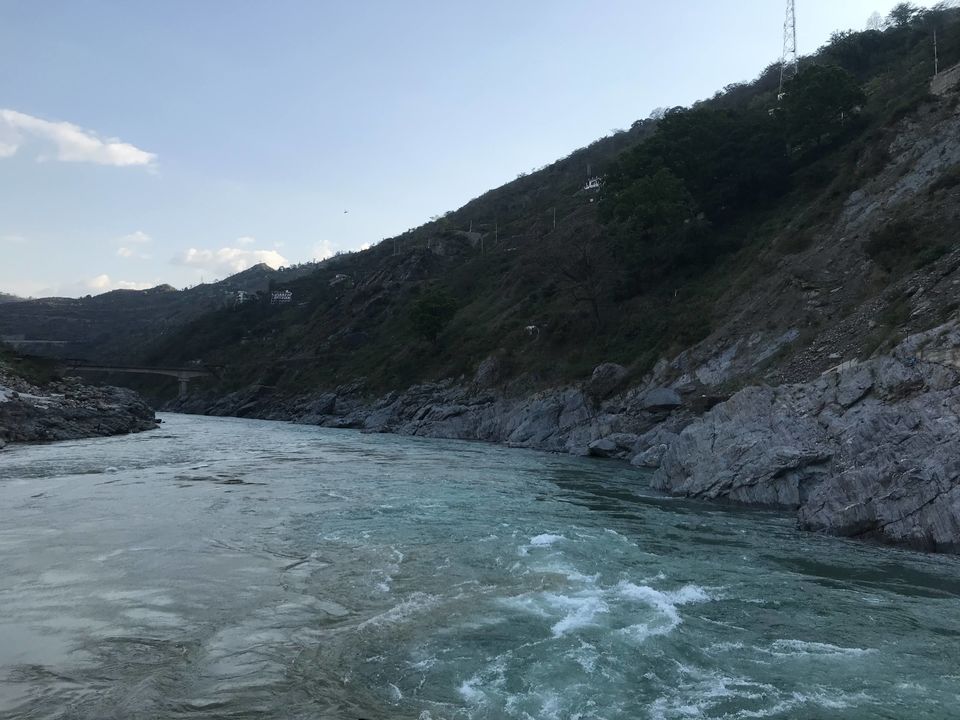 We could imagine how good it will be that we are the point where the river name becomes ganga and we spent some good amount of time there and took some holy water in the cans. At 6:30 PM we started back from there, till now our concern was roads were bad, now the added thing is its will become dark in another 30mins. We didn't even had our lunch there so thought of stopping somewhere in the middle but we decided to go as far as possible and stop for dinner before it becomes dark. So after few minutes its completely dark we stopped for some food but we couldn't get a proper food and we had to adjust with the maggie and some bread butter.
Now that we have another 60Kms for Rishikesh and its already dark, we were 6 bikers and one bike has no headlight and my bike doesn't have the breaks. The Avenger is not in the good condition, to be frank except 1 or 2 bikes the rest were not in the position to ride in those hilly region in nights. I was leading the bikes as none of them have the experience to ride in the mountains and its already dark and then bike which didn't have the headlight was in the middle. We keep riding all the way in that bad roads with the constant speed and momentum and finally reached safely to rishikesh. We handedover our bikes except the one Activa which we can give next day morning at 10:00 AM. So we checkedin to the Zostel, finished our dinner and crashed on the bed and everyone slept within 5mins as it was tired with the ride.
The next day, I woke up early and took the activa and went to ramjhula to enquire about rafting and after bargaining we got it for 850/- per person along with the pickup and drop in jeep.
We finished our breakfast, submitted the bike, done with our checkout formalities at Zostel and started to Ramjhula in auto, we kept our luggage in their office and started in jeep to Shivpuri. 8 members were in one boat and the other 5 in another. Initially it was scary but we got used to it and the water is also cold, if the river was cold in April end imagine how will it be in Dec and Jan.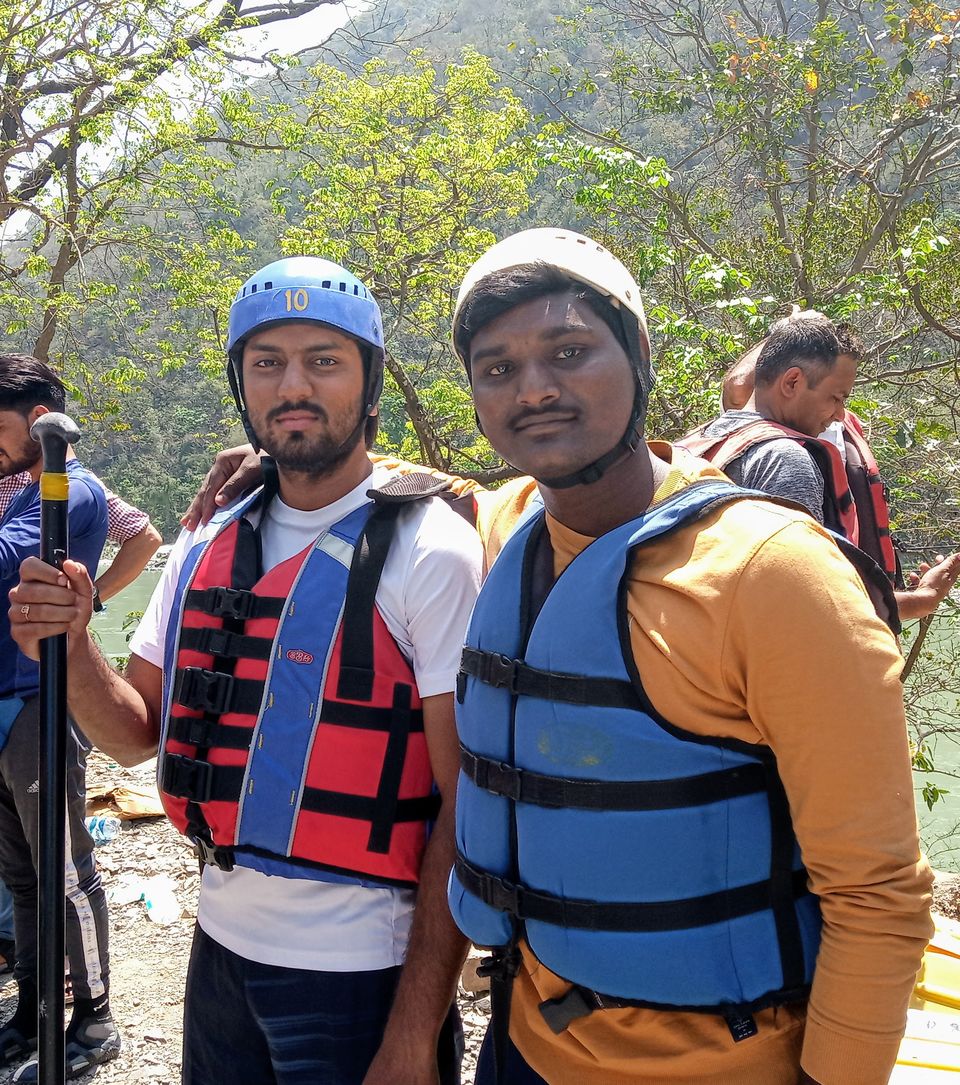 We had a good time while rafting our guide Pankaj was very jovial and made our rafting easy and comfortable. We completed our rafting within 2hrs and came back to ramjhula and finished our Lunch at chotiwali hotel, the food is just avg but its too costly.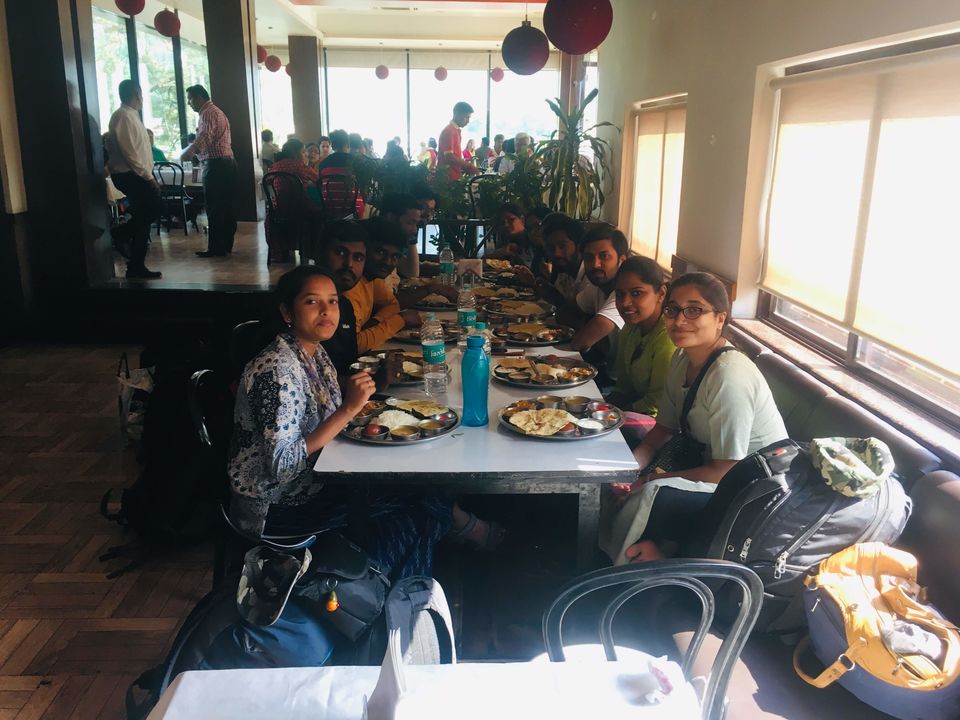 Then we started to haridwar in autos. It took almost 1hr to reach Haridwar and as it was evening if we visit Mansadevi temple it would become dark by the time we come back, so decided to go for HarikiPauri for the Ganga Aarthi which will happen at 6:45PM everyday.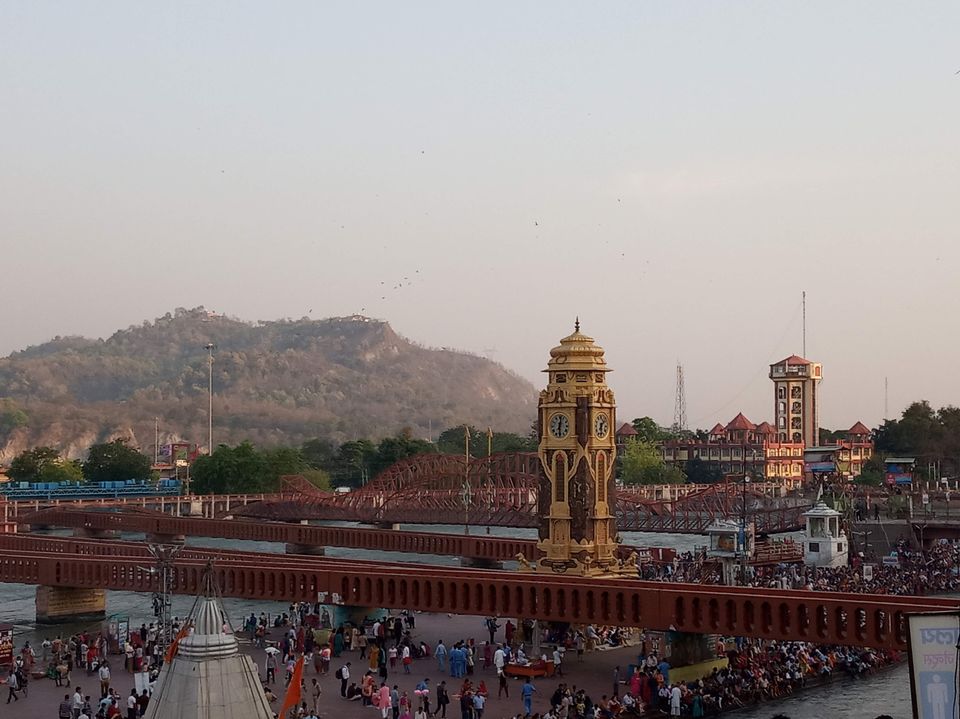 We came early and occupied seats opposite to the place where aarthi will happen, it was crowdy and after that we took auto from there to the busstand and boarded the bus to Delhi.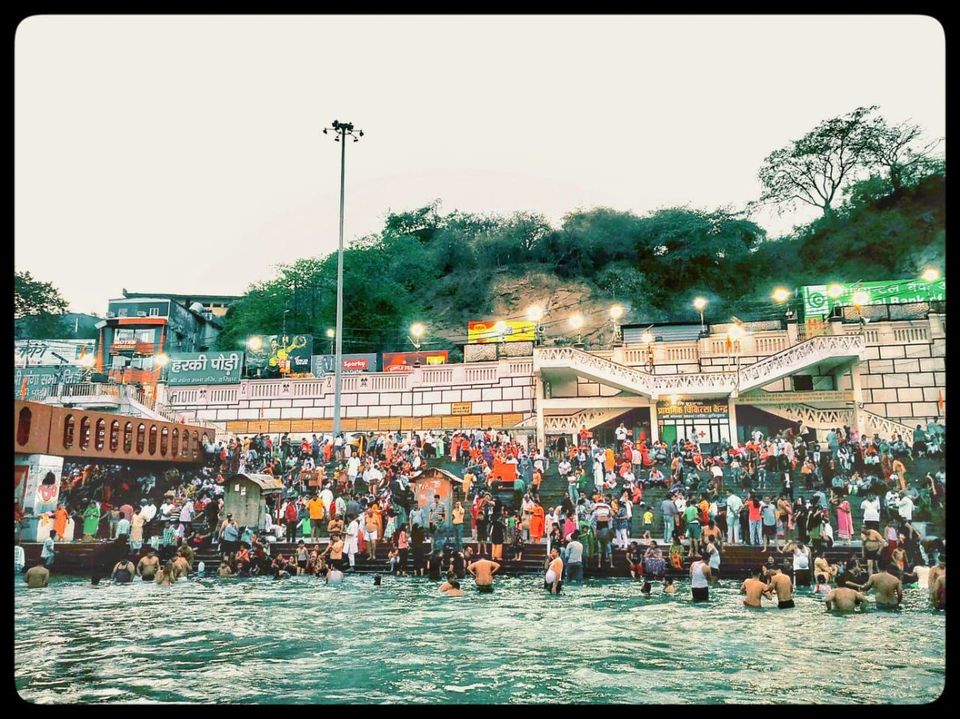 We boarded the bus to Delhi at 8:30 PM and our train to Hyderabad was on the next day morning at 6:30 AM, so had enough time and the bus will also will reach Delhi in 5 hrs. After Roorkee, the bus got punctured and we halted there for 1hr at Dhaba and reached Delhi by 2:30 AM.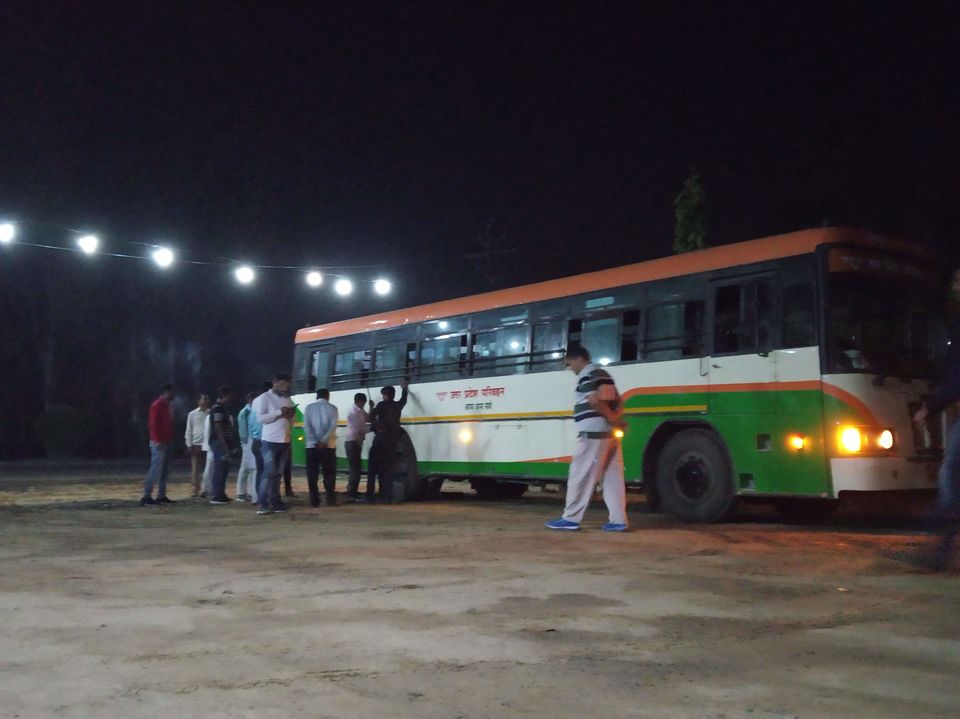 Reached H.NZM station in the midnight at 3:00 AM and slept in the waiting hall for 2-3 hrs and boarded the train to Hyderabad early morning at 6:30 AM.
Frequent Searches Leading To This Page:-
weekend trip to rishikesh, weekend holidays with friends, weekend getaways to rishikesh, weekend travel to rishikesh, weekend holidays to rishikesh