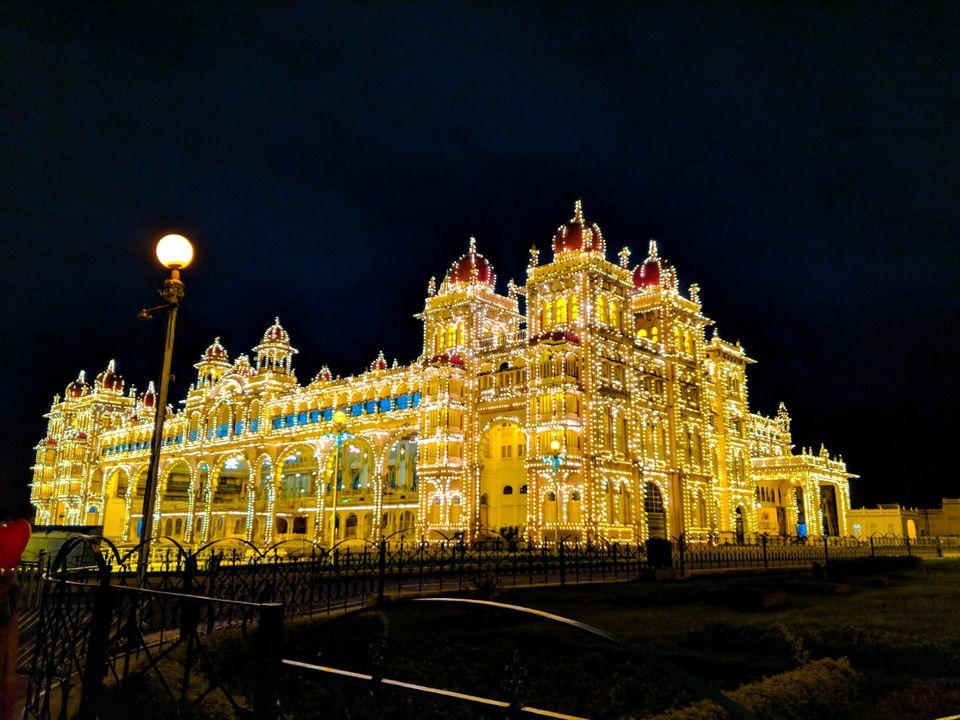 I was dumbstruck by it's massive structure and amazing grandeur. It is an incredibly breathtaking example of Indo-Saracenic style of architecture, which is an exquisite blend of Hindu, Muslim, Rajput and Gothic style of architecture. It is also known as Amba Vilas Palace, and is counted amongst the biggest palaces in the country. As we entered the Palace after a security check, I was awestruck with the opulence of the Palace. Its majestically tall and beautiful bundle of royal luxurious building made me wonder the life of Wodeyar dynasty, who used to live in this Palace. A step inside, and I was gazing all around the Palace filled with wonder. The beautiful walls, silver doors, mesmerising chandeliers, captivating artwork on the ceiling, gold plated pillars, and the colourful floor beneath my feet, took me back to the era of royalty. I wondered how much effort must have been put into, to make this exemplary masterpiece.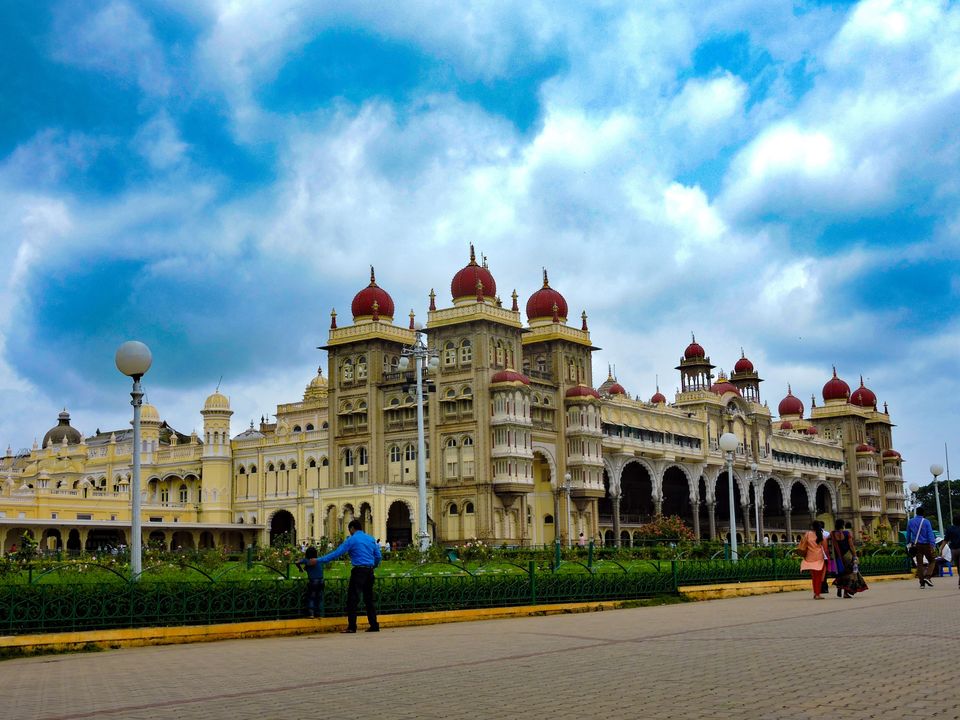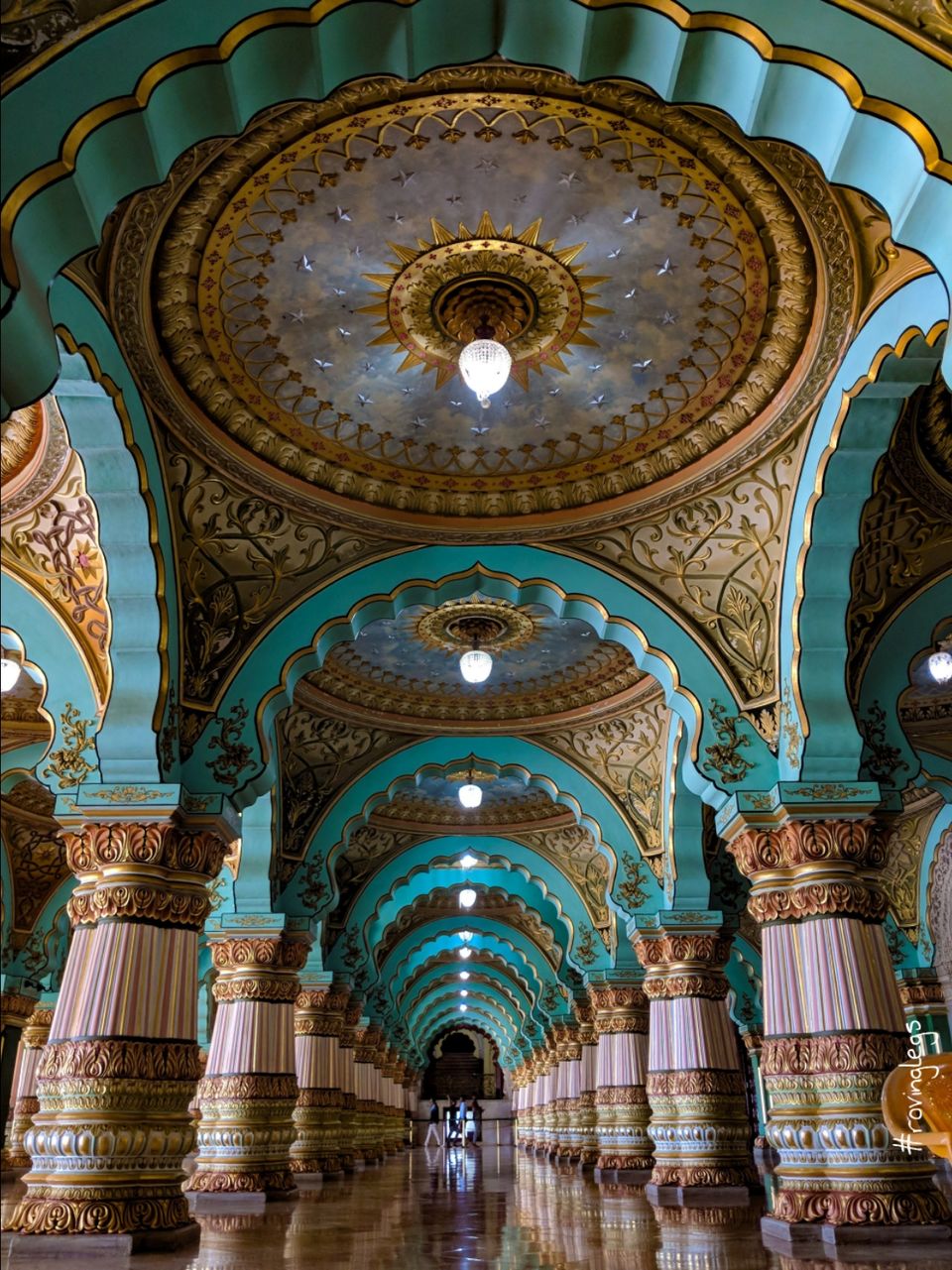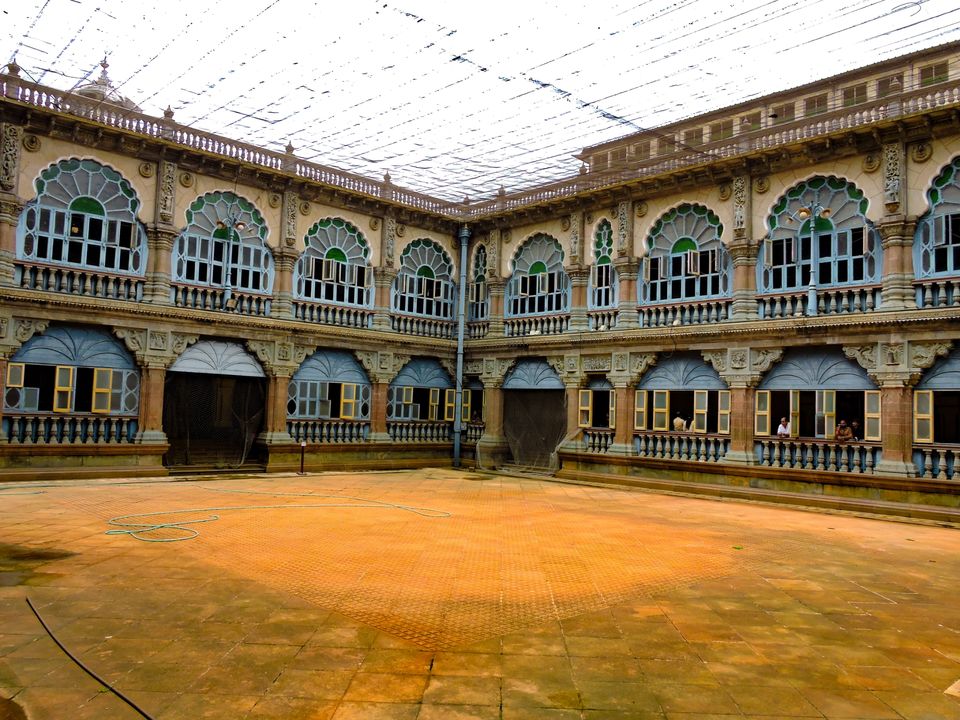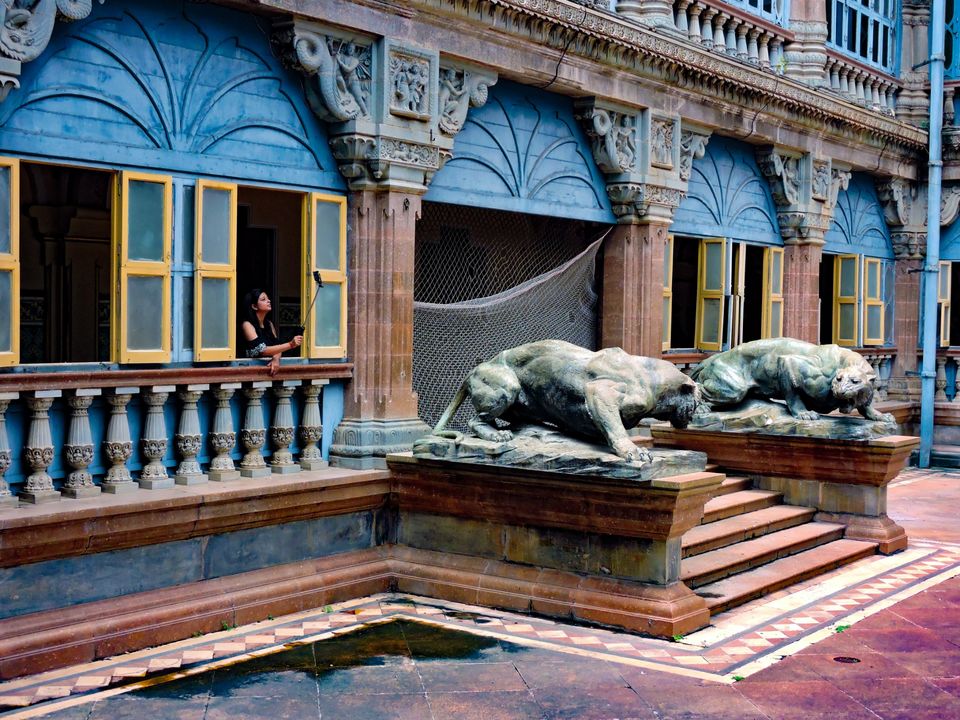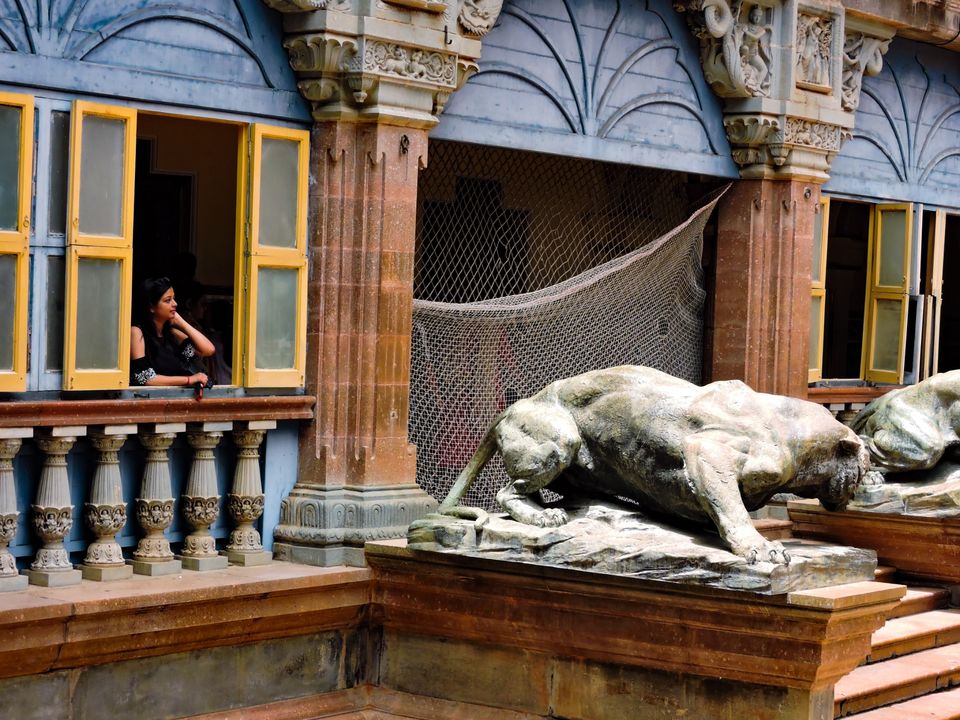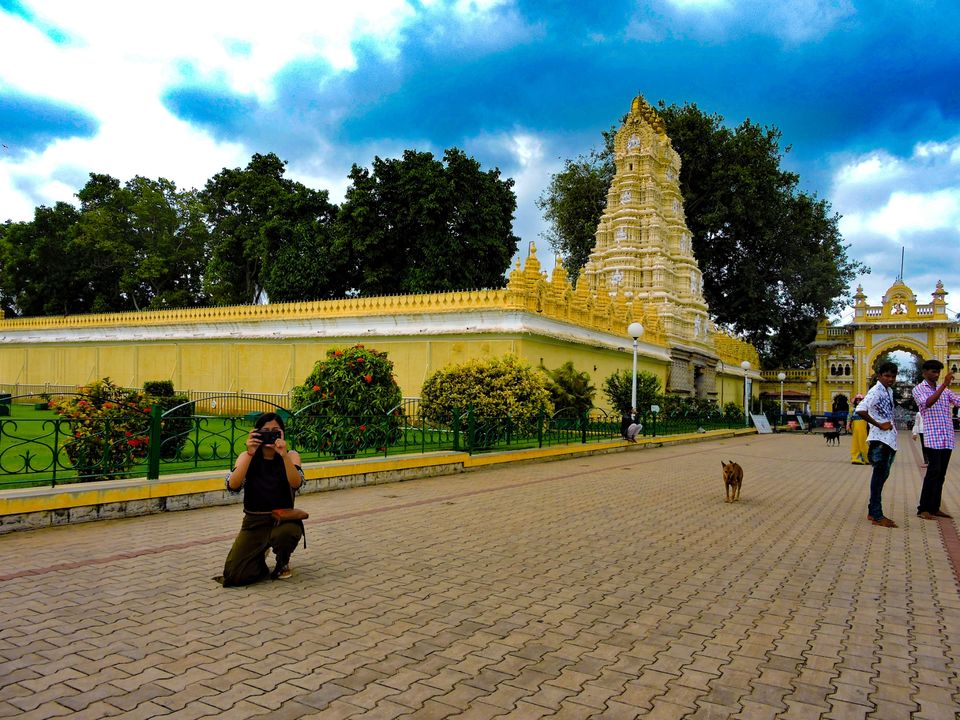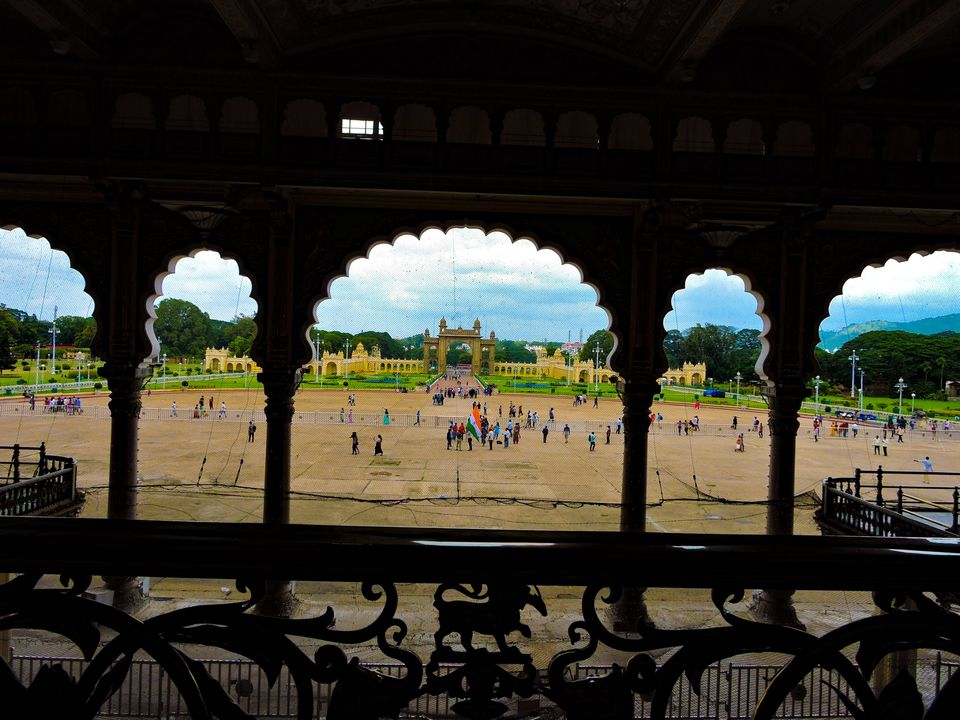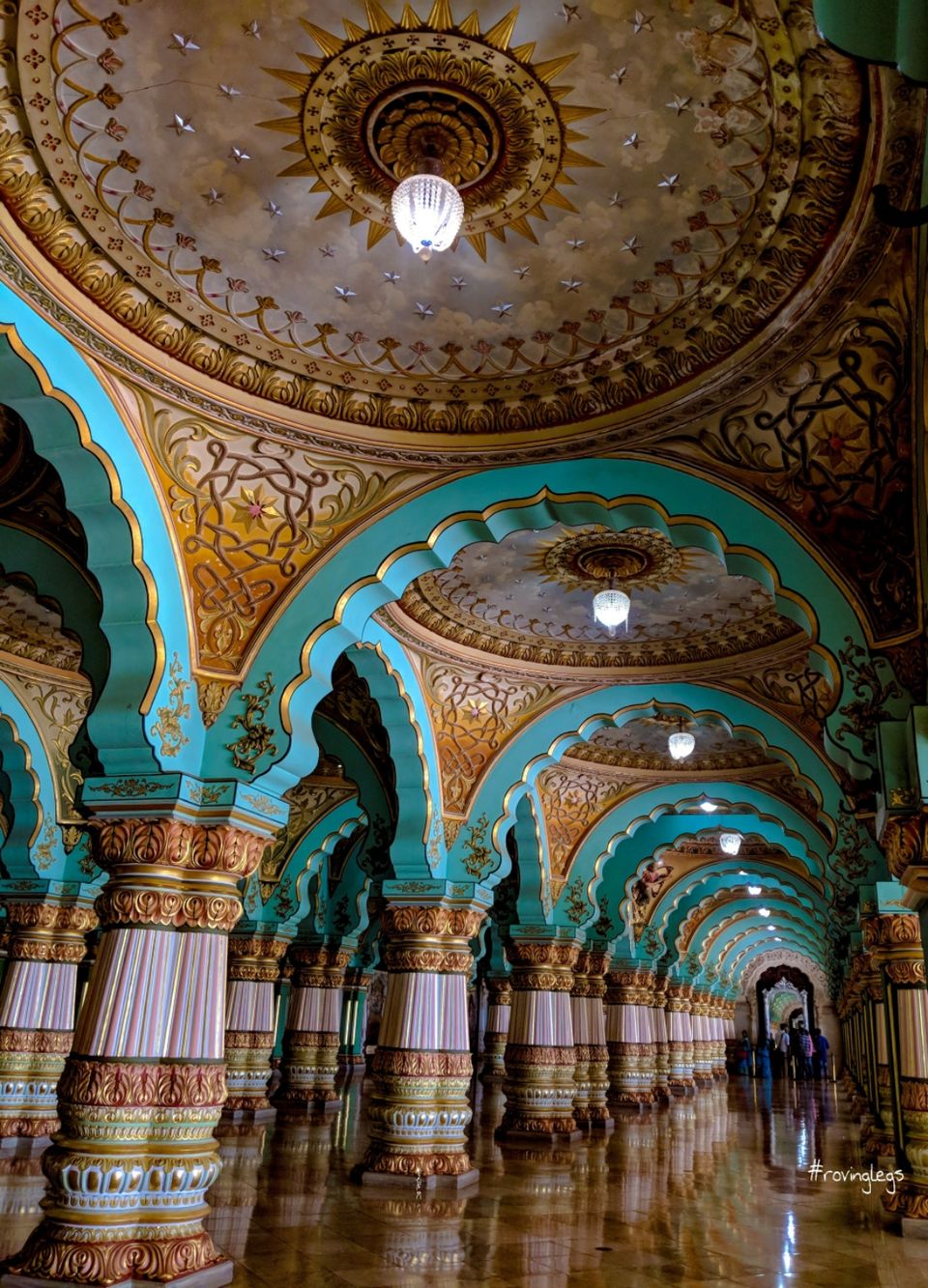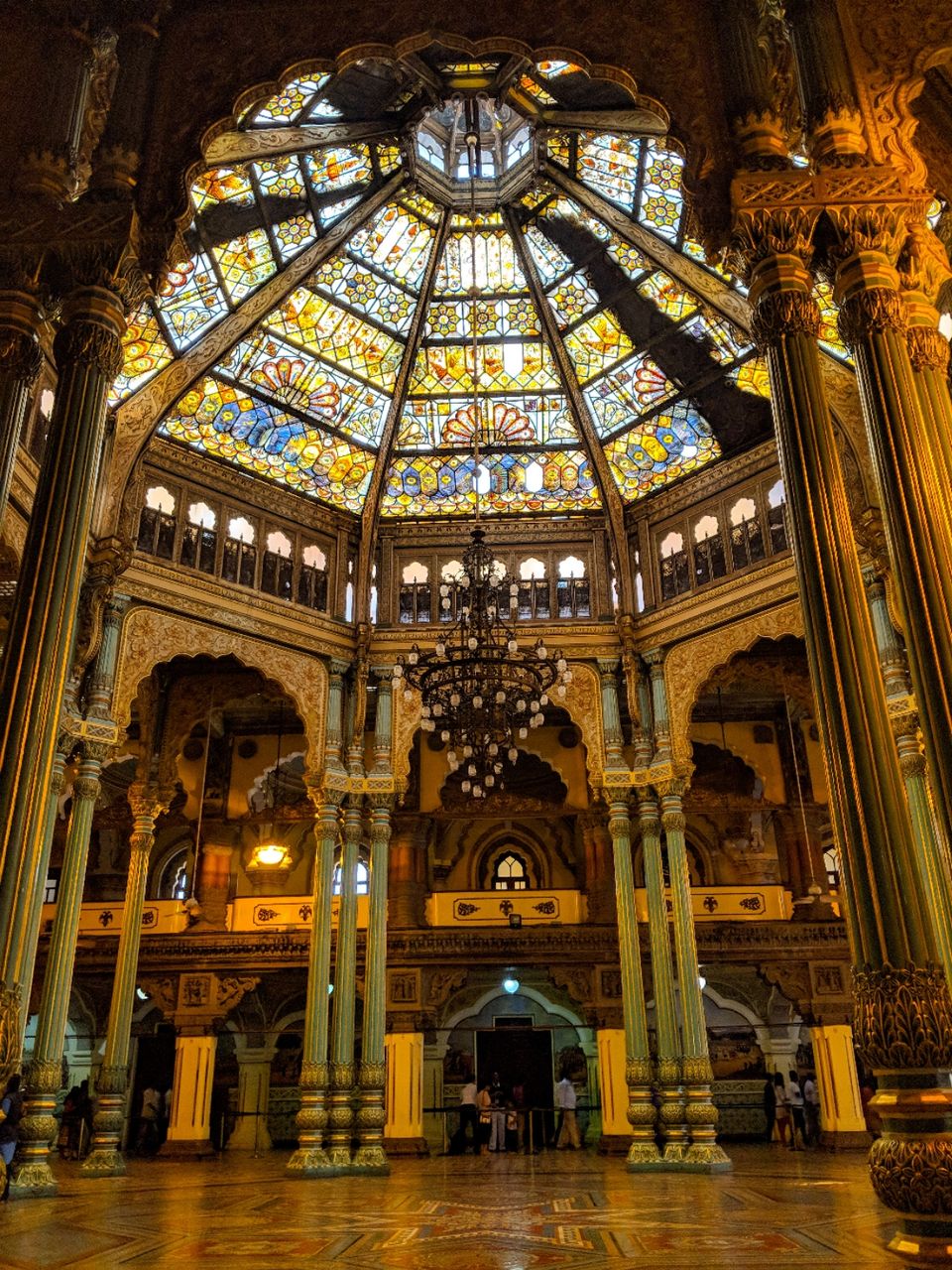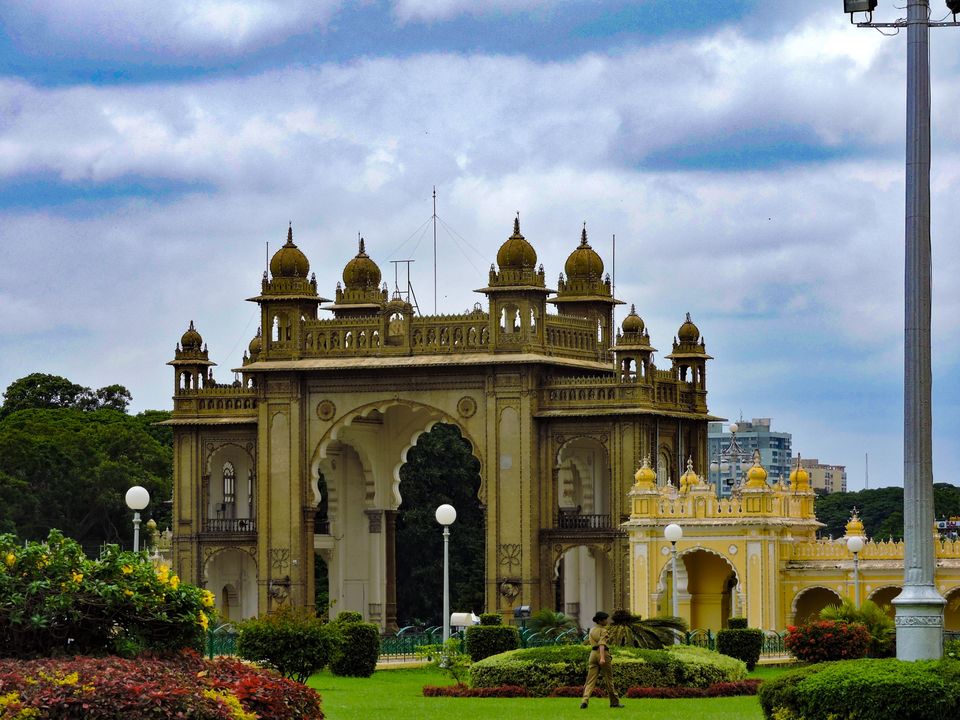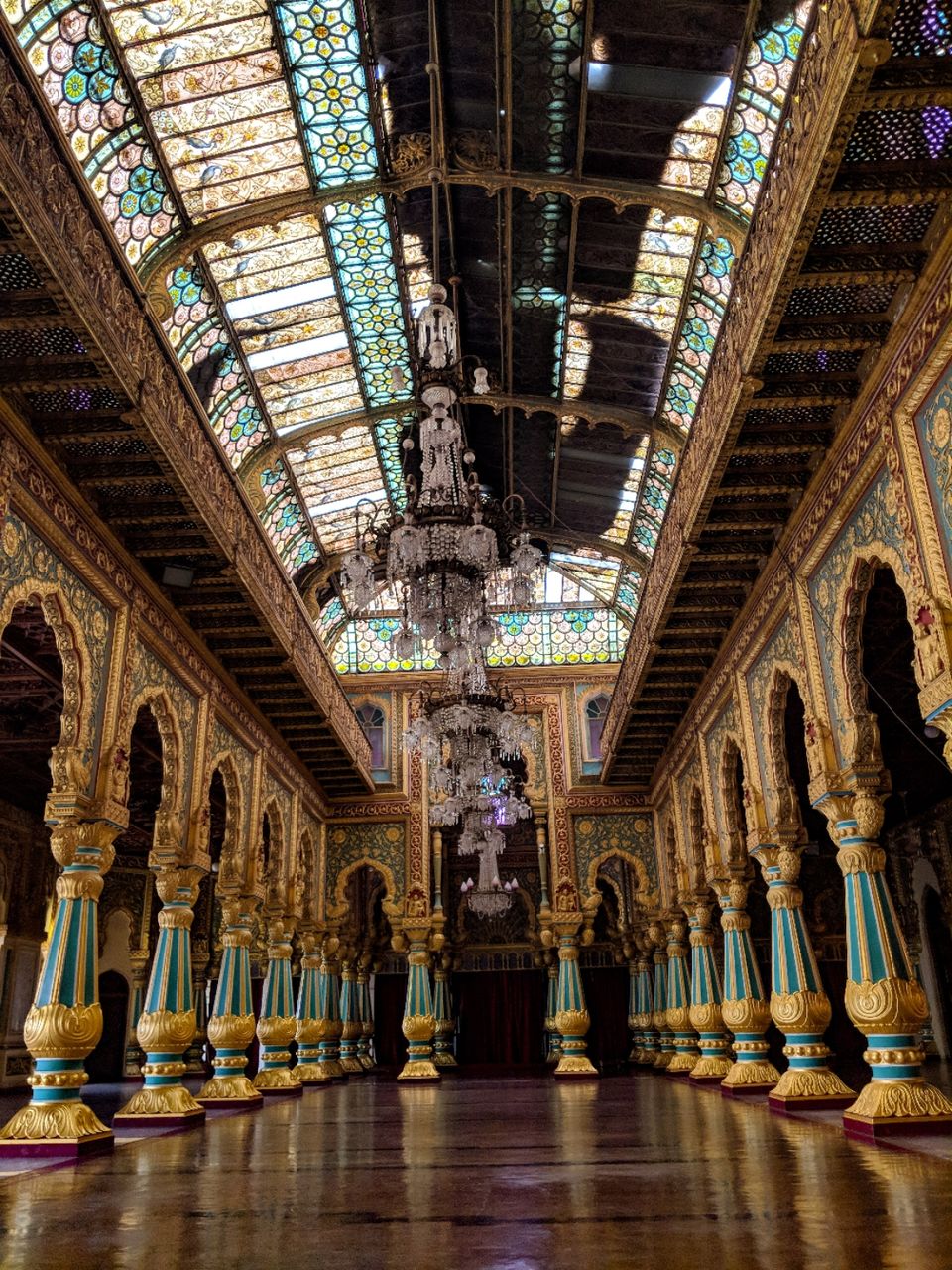 After spending some 2-3 hours in the former residence of Wodeyar family, we finally left to explore the local markets and try some delicious food, which led us to 'Jalpaan Dining saga' which was just 10 minutes walk from Palace. Zomato ratings helped us find this beautifully lit eating place. It was totally worth it. While relishing our royal lunch, we decided our next spot for the day- KRS Dam.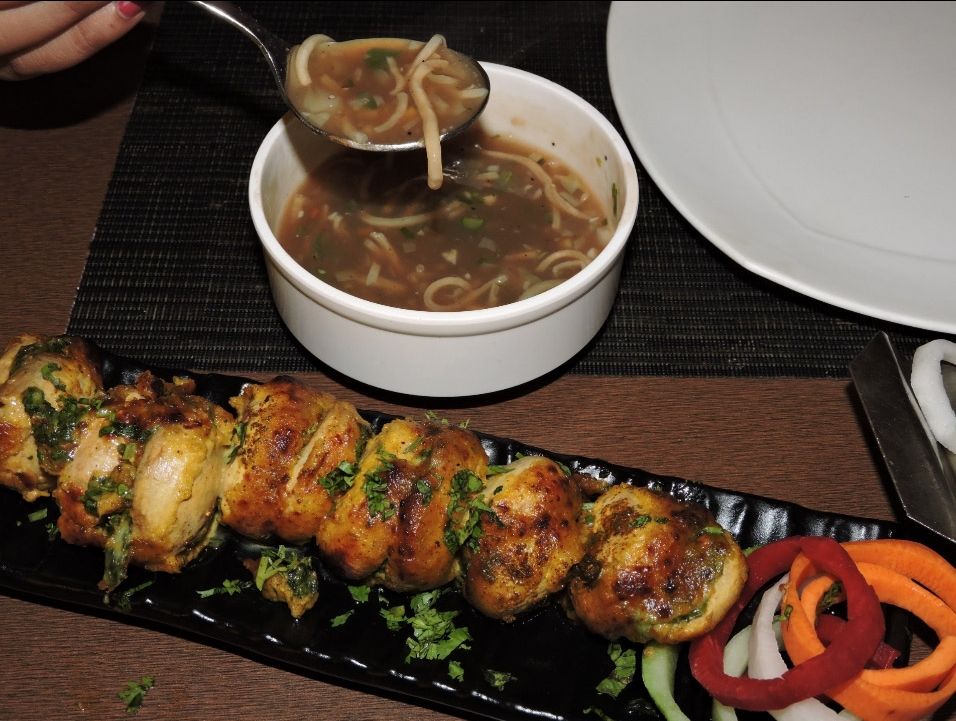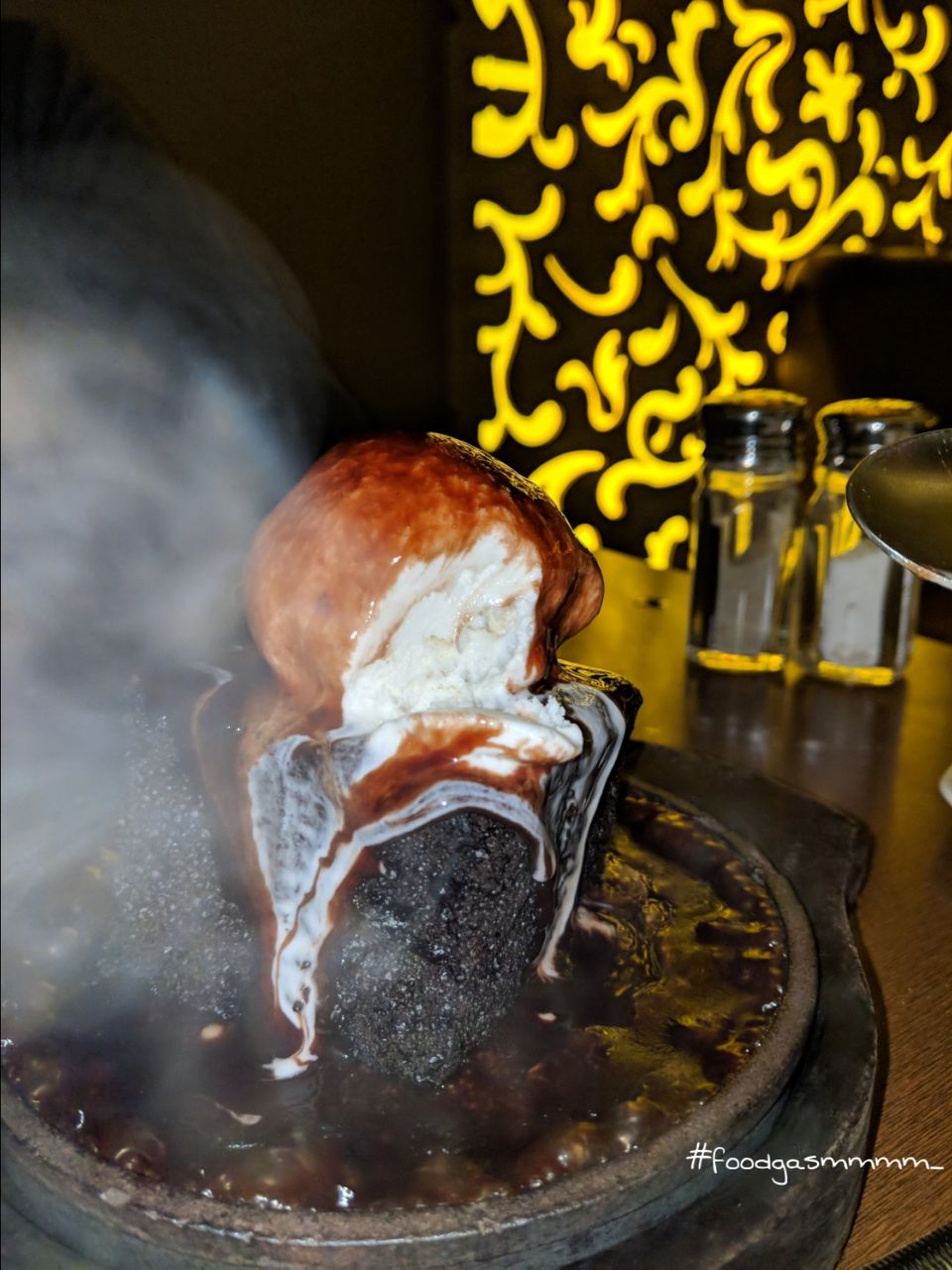 Since it was some 23 kms from our restaurant, we decided to go back to our hotel, pick our bike and drive, instead of hiring a cab or auto. The road were clean and surrounded with greenery, and the pleasing weather was like an added cherry on the cake. Just before reaching our destination, we found a pleasant lake on our way and thought to halt and give it a look. As we walked down through the muddy-dumpy path, we found ourselves standing in a land that seemed unreal. Blue water till the reach of eyes, dramatically roaring rain clouds, pleasant breeze hugging us tight and greenery all around. I could sit there for hours, doing nothing, and just admiring nature, appreciating the aura of the place. But since we didn't had whole day, and could easily anticipate rain, we convinced our hearts and headed further.
As we approached KRS, we saw the crowd of tourist, sticking along the fence, and popping on one another to get a glimpse of something we didn't knew. The way towards the fence was filled with plentiful food stalls and the air was filled with cacophony and pleasant aroma of local delicacies. As we approached the fence we were so impatient to be like other tourists and get the best place near the fence. The place was so crowded that we were patiently waiting our turn to grab the best spot for the perfect view, and finally we succeeded. As I balanced on the small rock lying on the ground, I could see heavy streams of water gushing out of the giant gates of the dam, and hammering the massive stones on its way. The collision of water with the rocks gave us free shower of cool and pleasant water over our face. The feeling was like that I am standing inside the clouds.
As we soaked ourselves in that mesmerizing place, we realized its time for us to leave. On our way back we saw raw bananas lying on a small food stall, which drew our attention. A middle aged women, draped in clumsy saree, tiered with her looks but wearing a welcome smile on her lips, was frying raw bananas coated with gram flour. We never tasted this before, so thought to give it a try. It is called 'Vazhakka Baji' a type of 'Pakodas' made especially in South India.
As we roamed around the place of KRS dam, enjoying the vivid and lively mood all around we lost track of time. When it was 6:30 P.M we hurried back to our bike and raced towards Mysore Palace in night to witness the light show.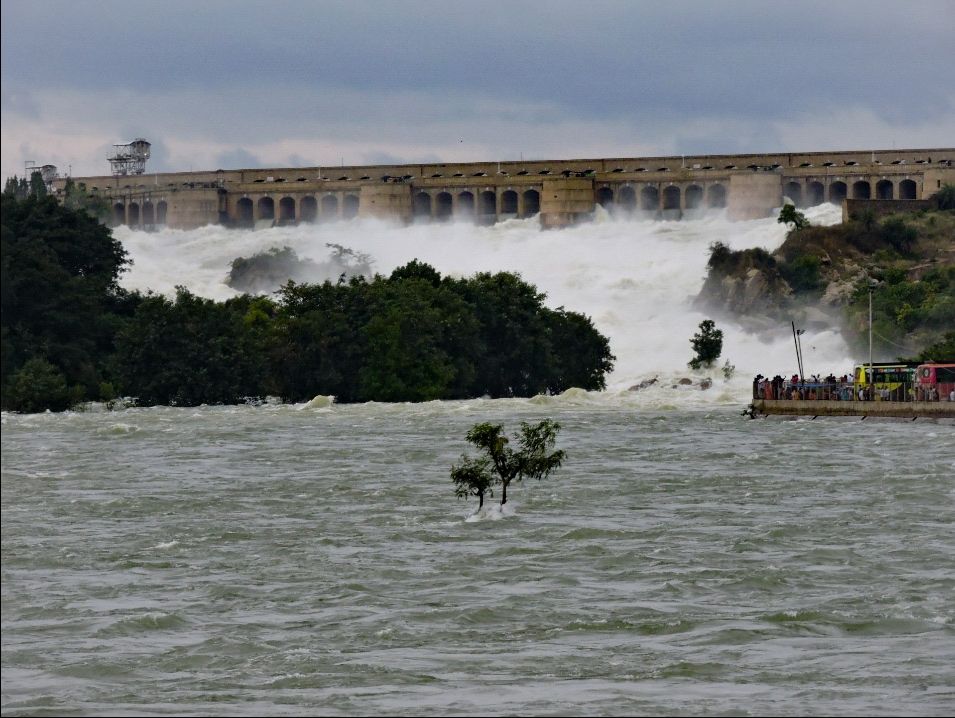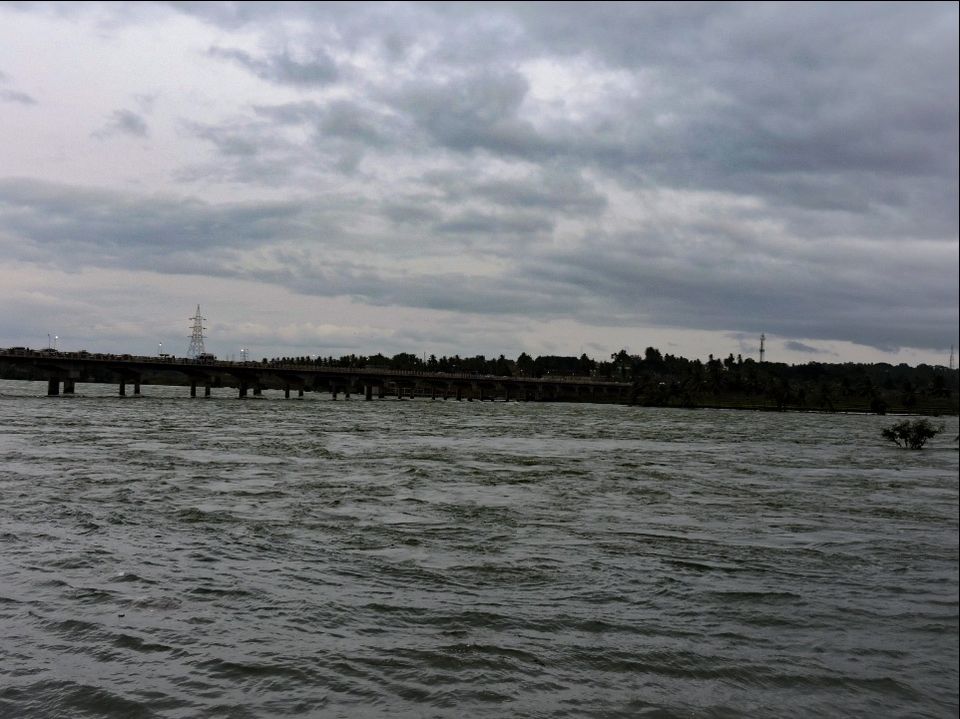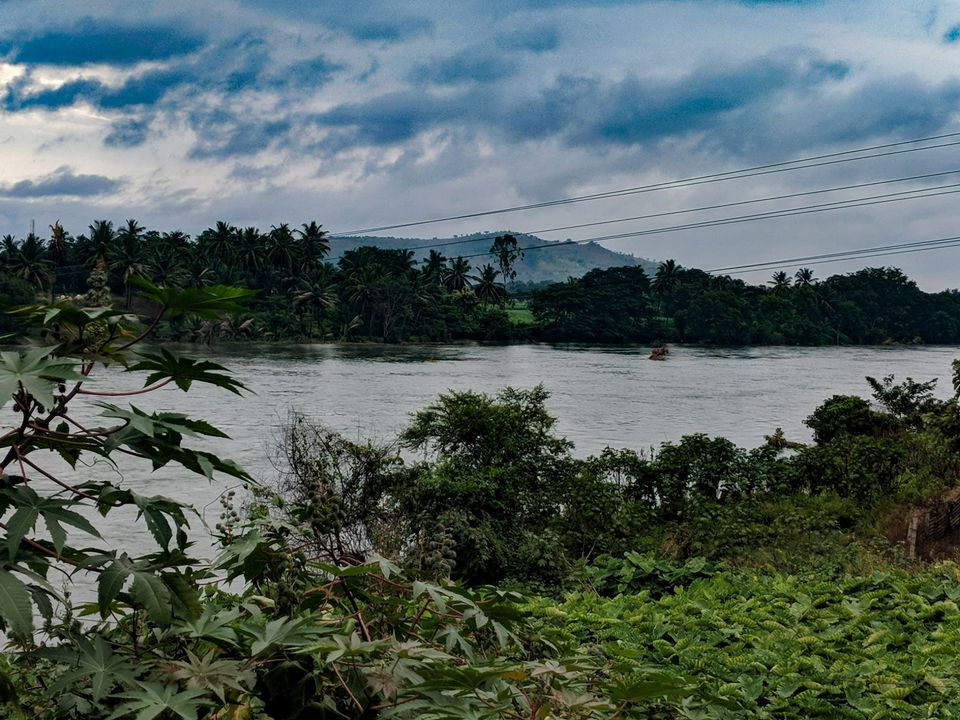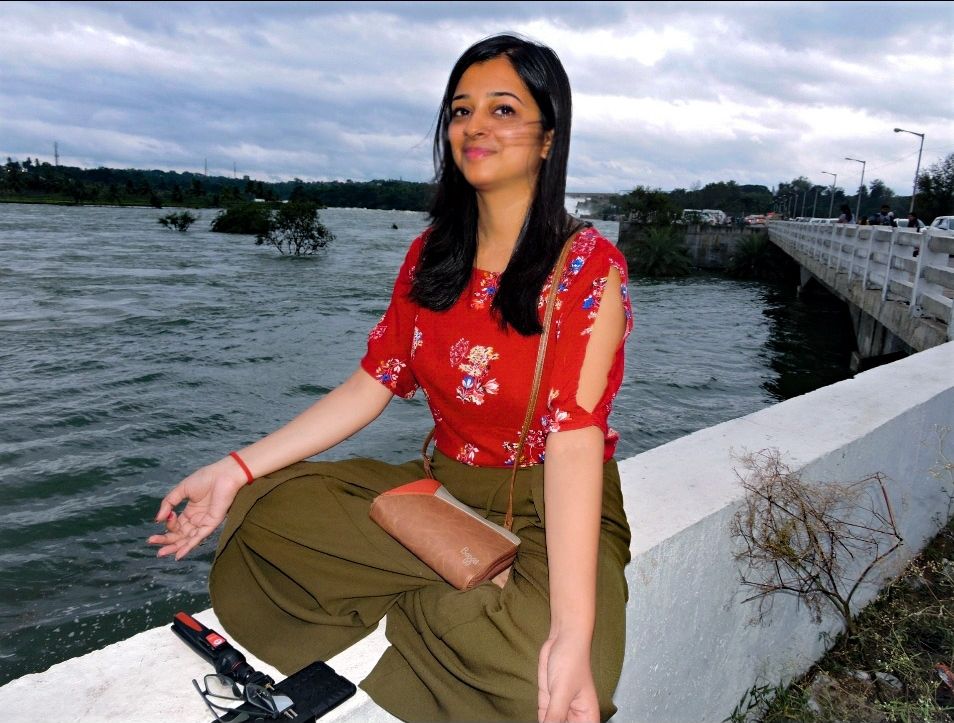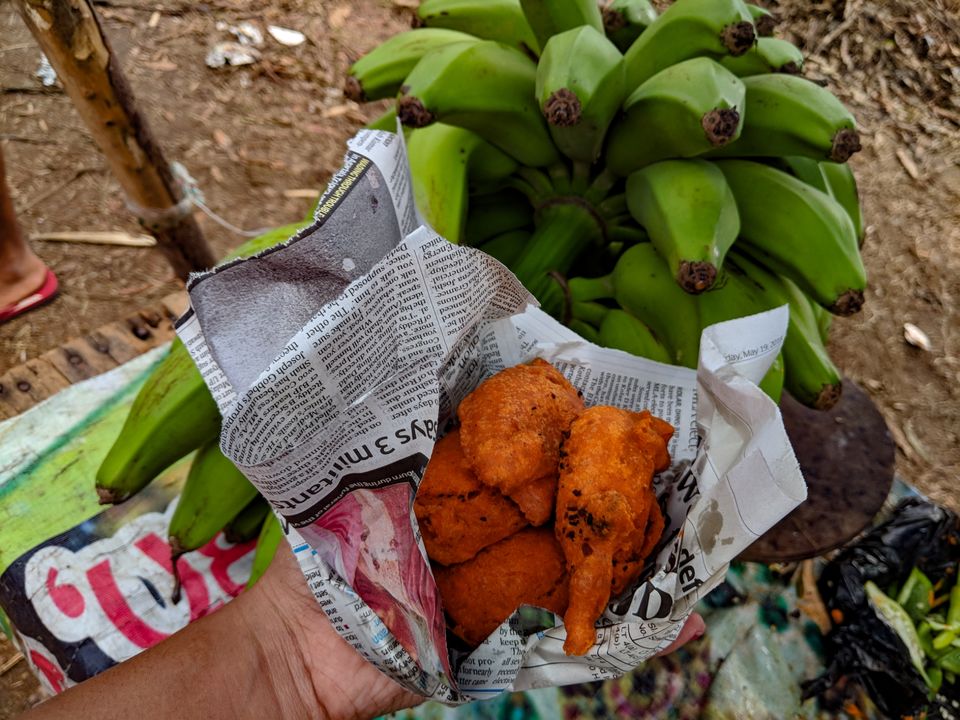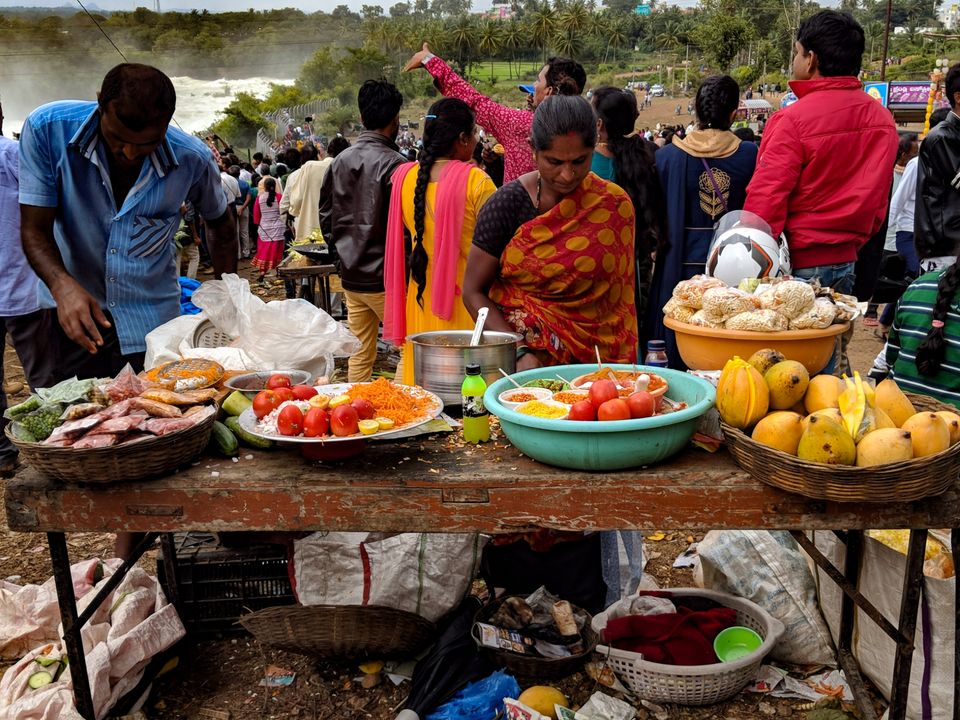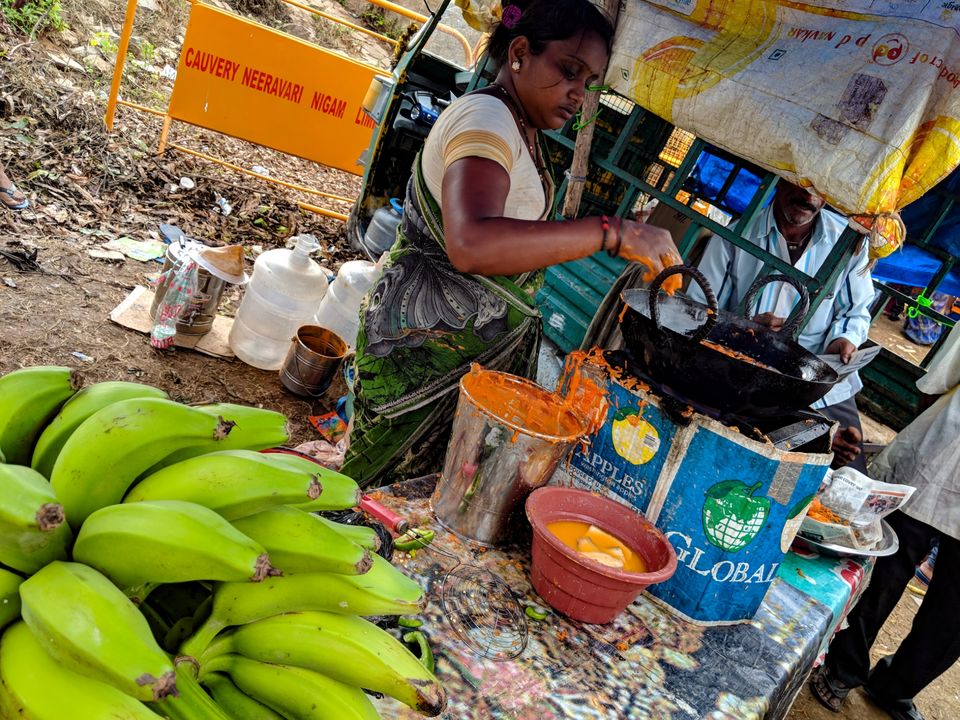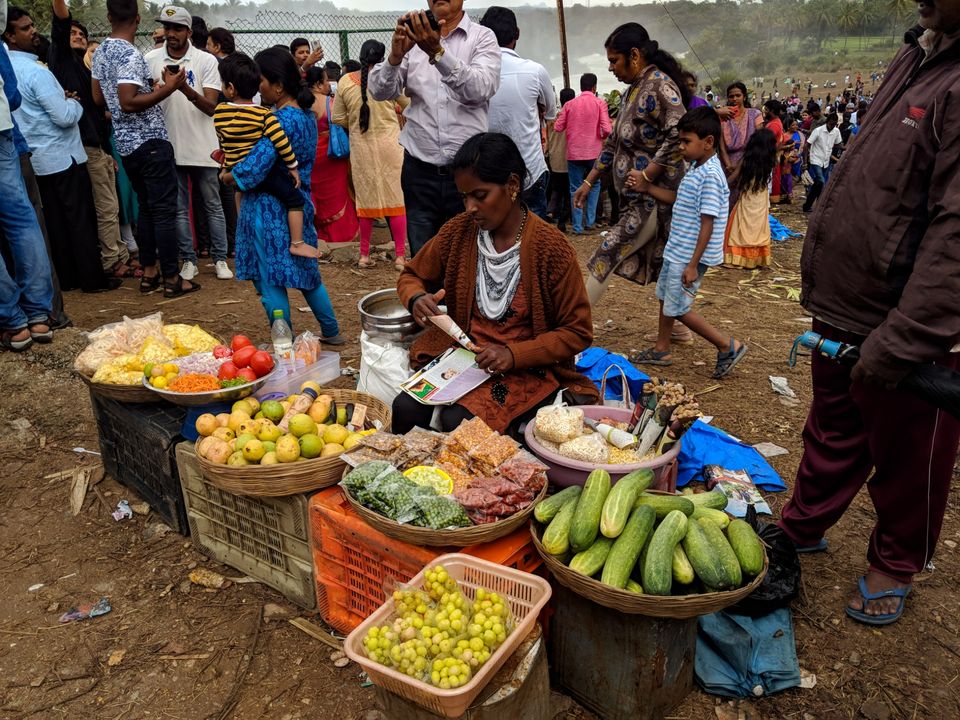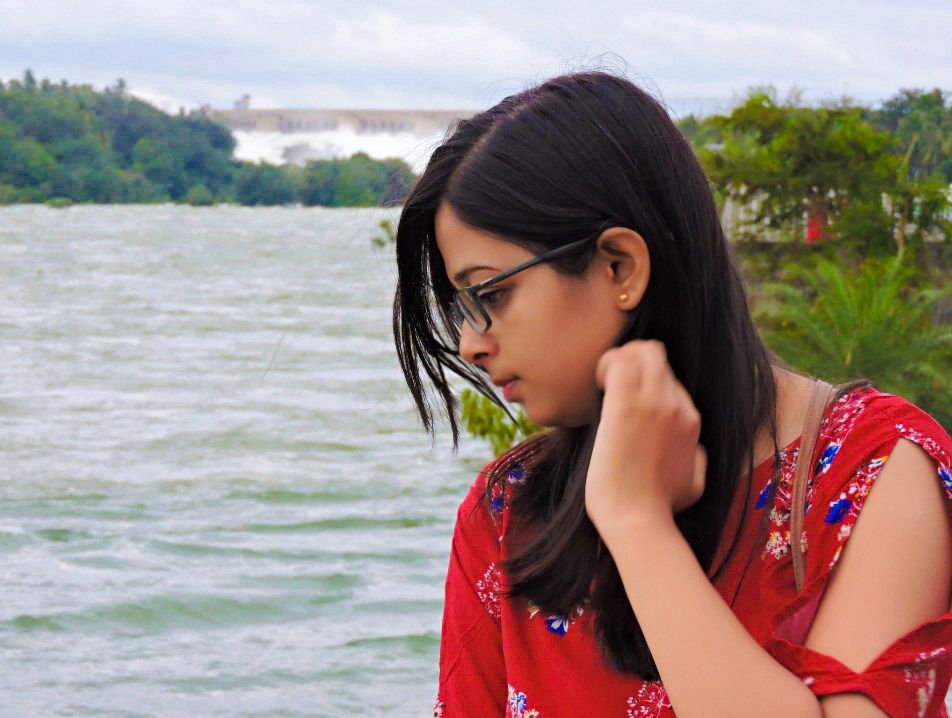 Finally we reached Palace around 7:20 P.M. and thousands of visitors like me were there to witness the lightning palace. For a moment I got awestruck by its glowing massive structure, thousands of bulbs spruce up together to light up this place. I could not resist but capture every single corner in my camera.
By the time we left the Palace, It was already 8:30 P.M. On the way back, I was fascinated by the beautifully decorated and alluring 'Tangas', all lighted up like some royal carriage. I could not move my steps forward anymore and decided to ride on these cute 'Ghoda Gadis'.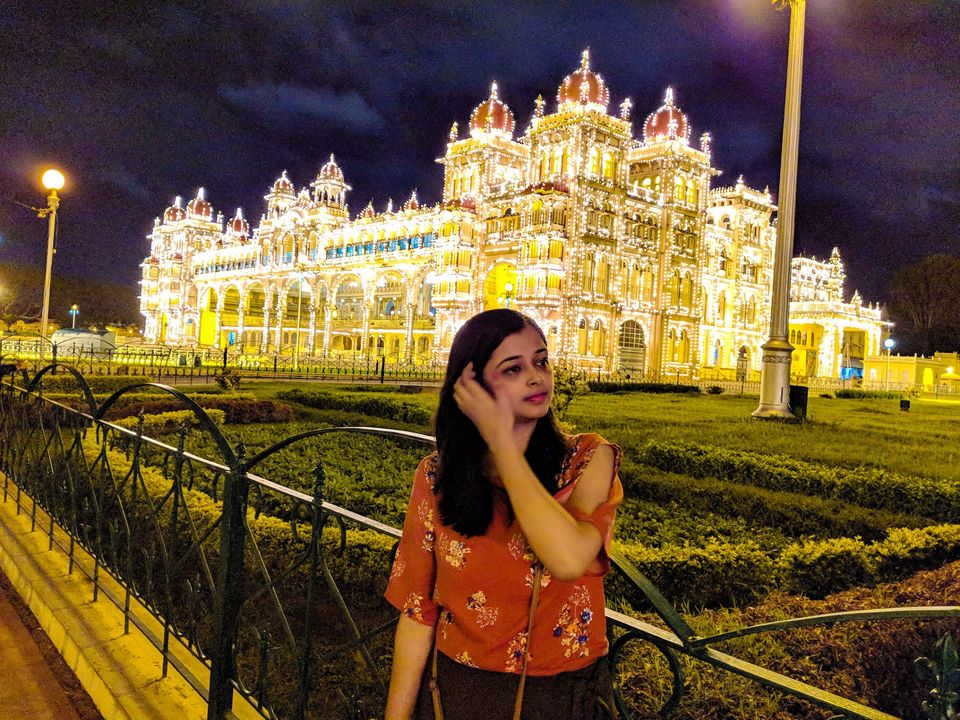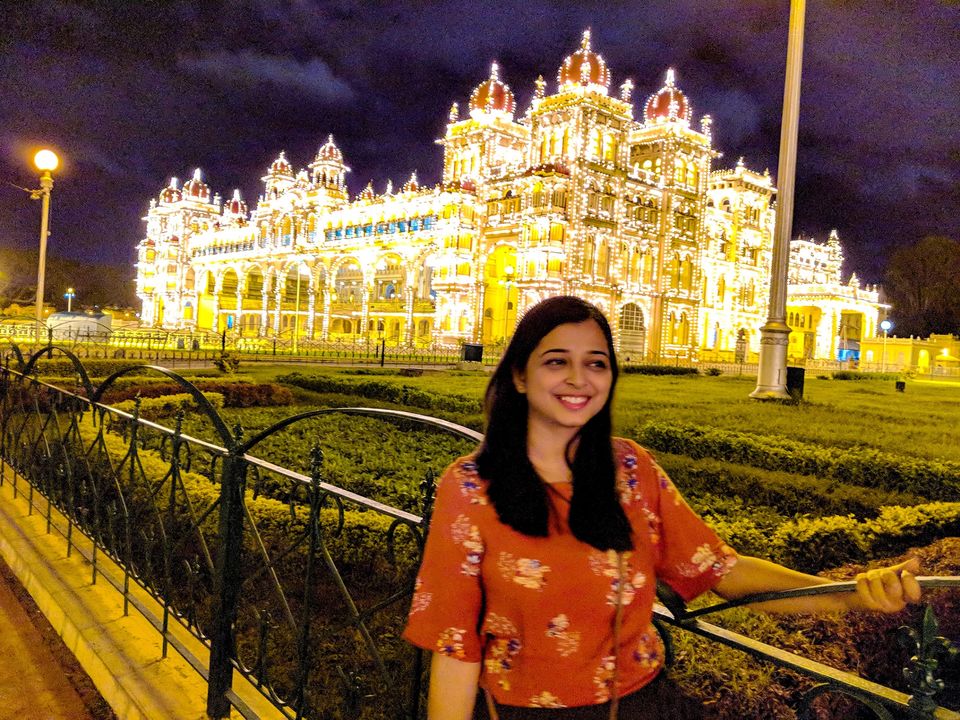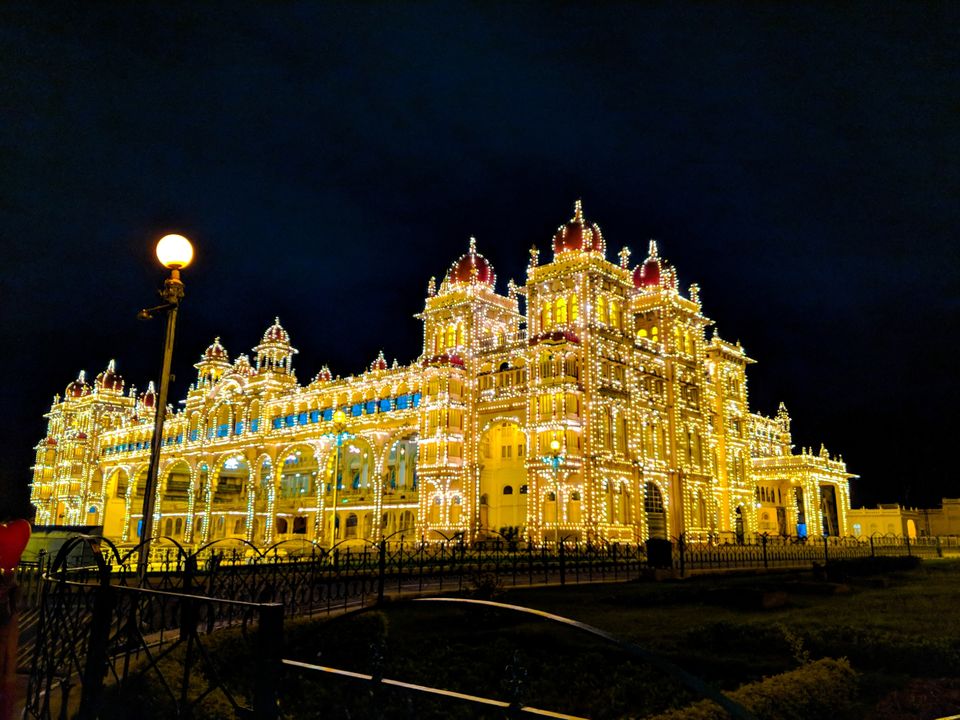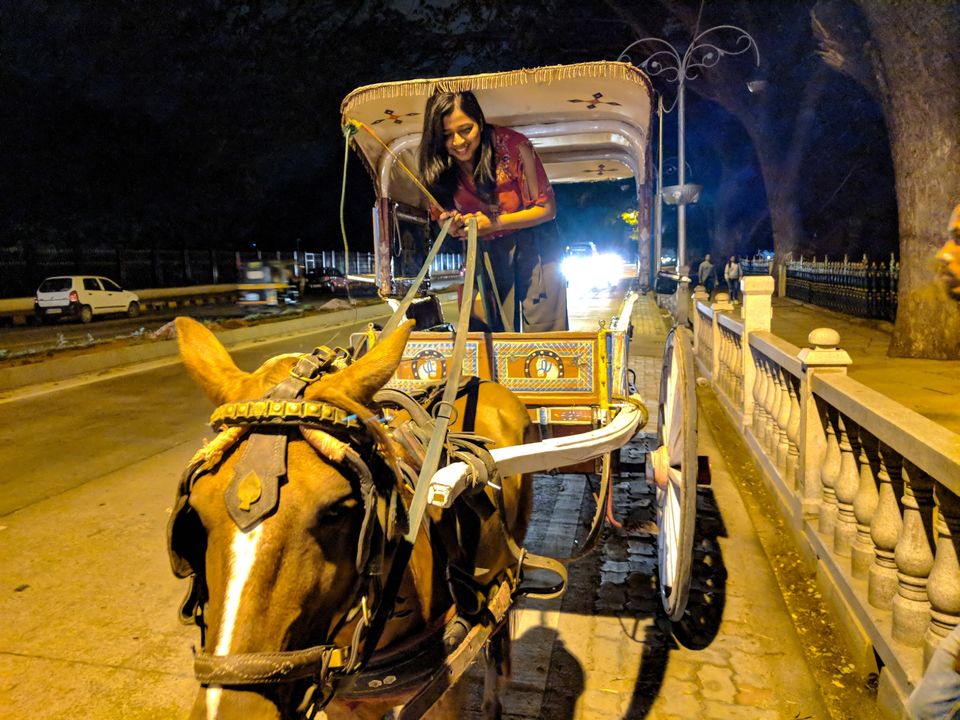 After covering a full circle of the Palace on Tanga, we rushed towards parking and headed towards our dinner destination. It was 'Old House Café', the place famous for its pizzas. The ambiance was gorgeous and exquisite, with both indoor and outdoor sitting options. We preferred a corner seat in open area, and ordered veg loaded pizza with hot cappuccino. The amazing part was that we can actually see our meal being prepared in front of us, in a unique oven.
After stuffing our tummy to the full, we landed at our hotel and packed our mess in our bags, as we decided to leave for Bangalore the next morning.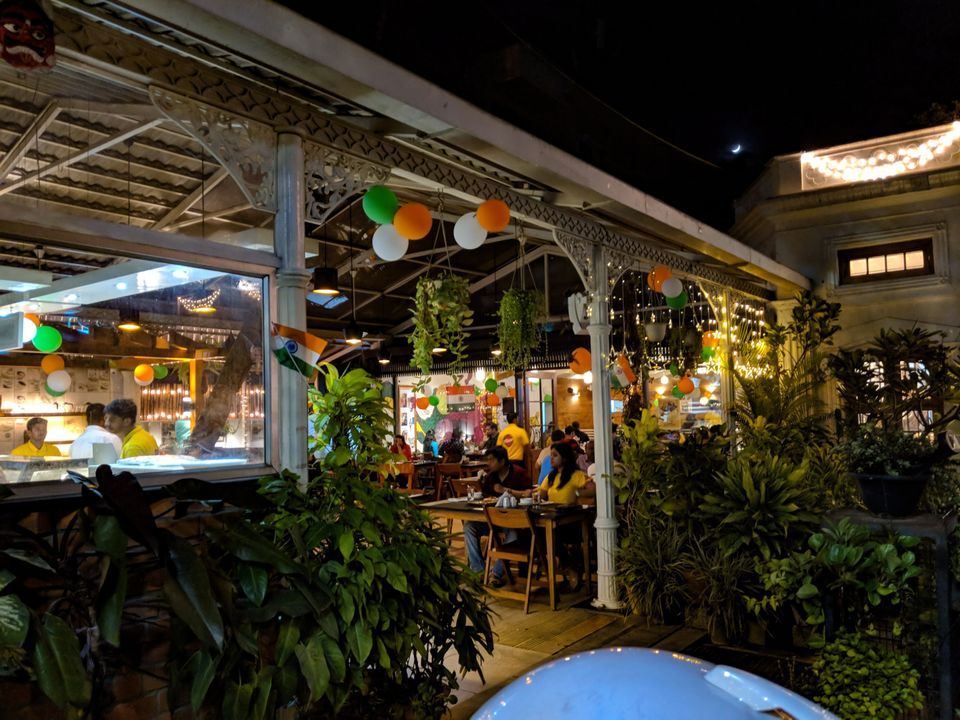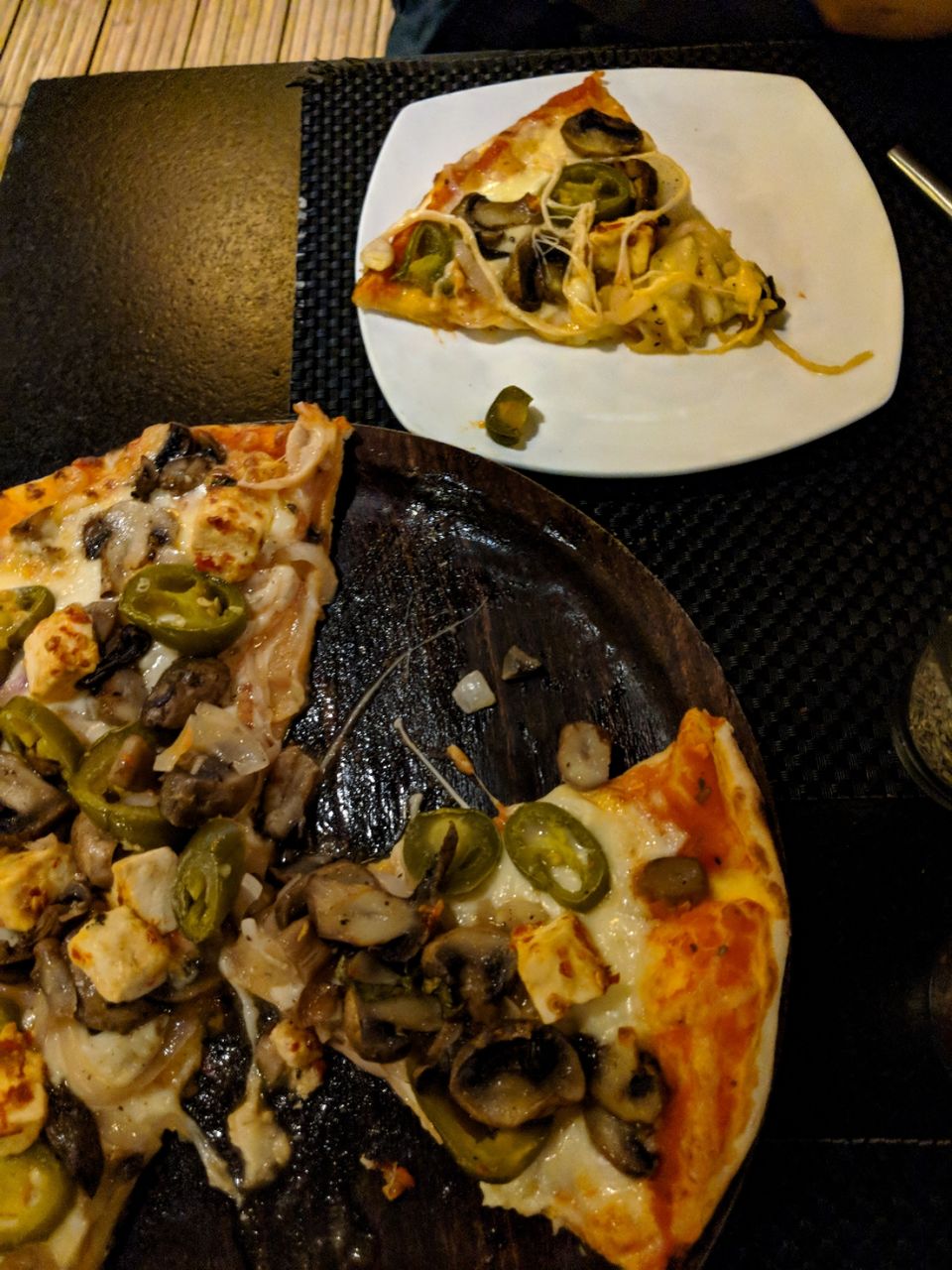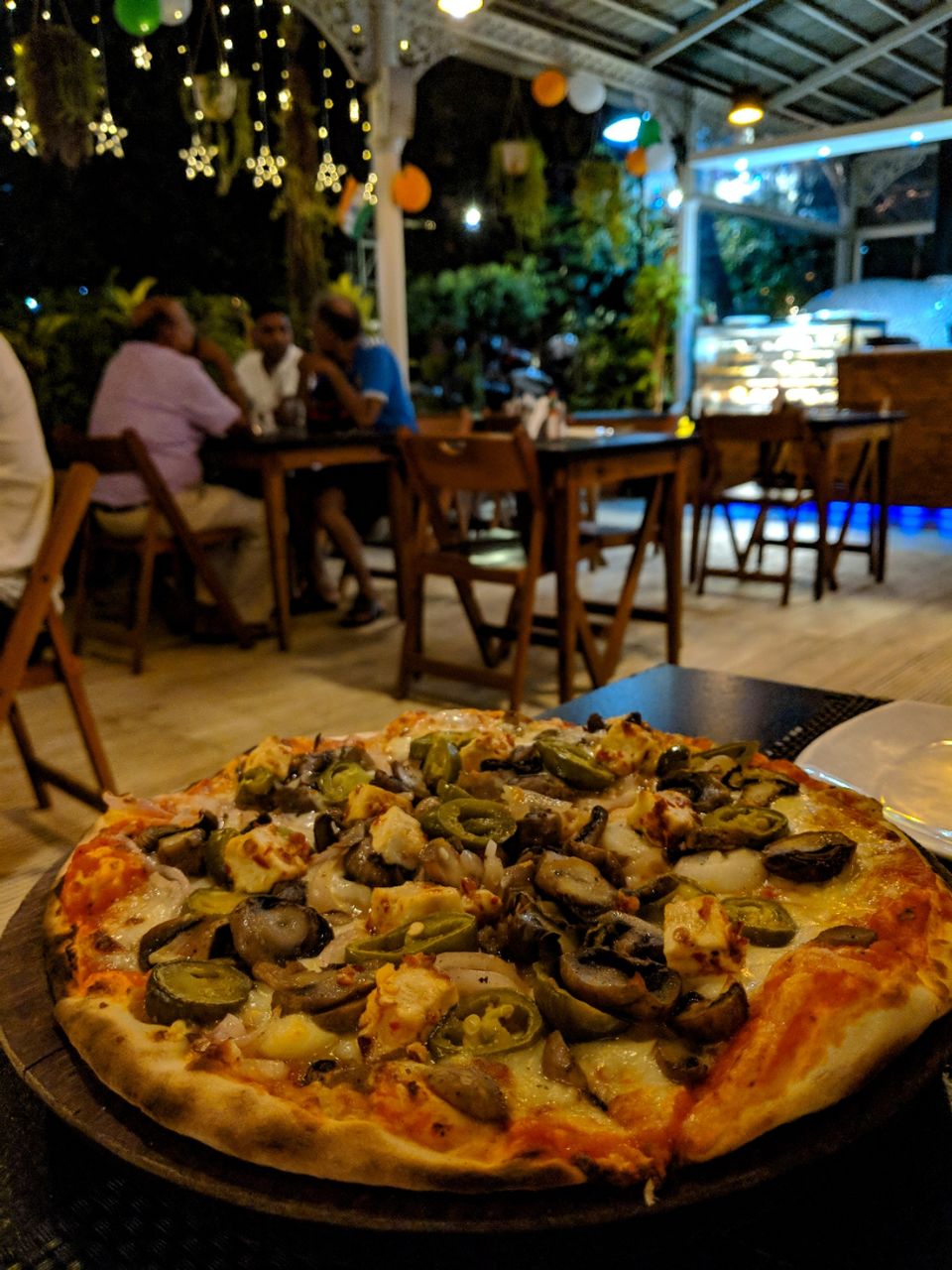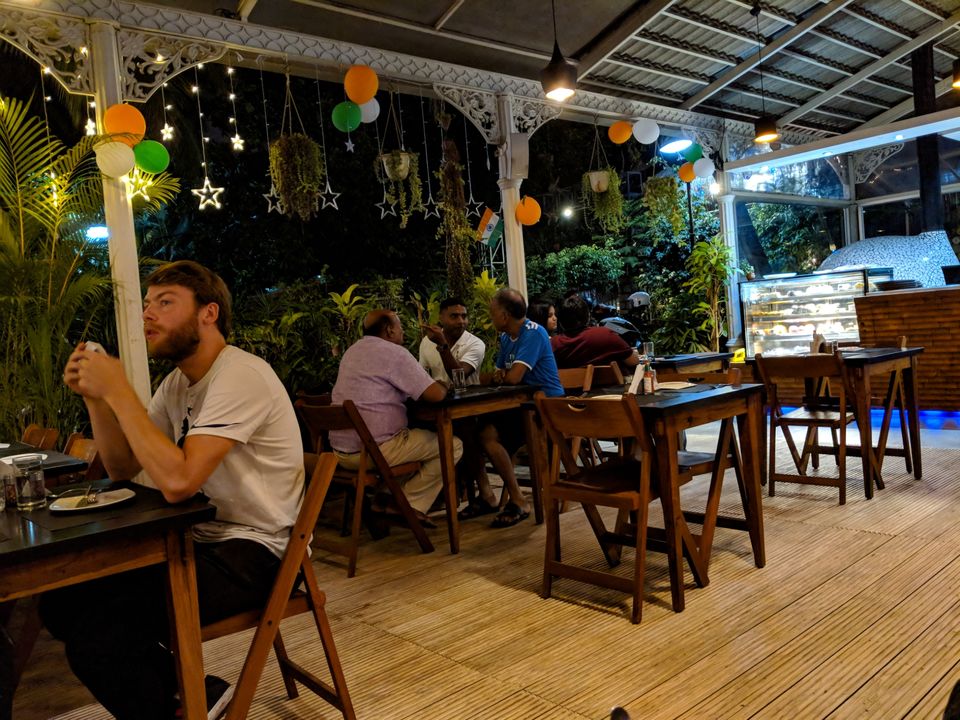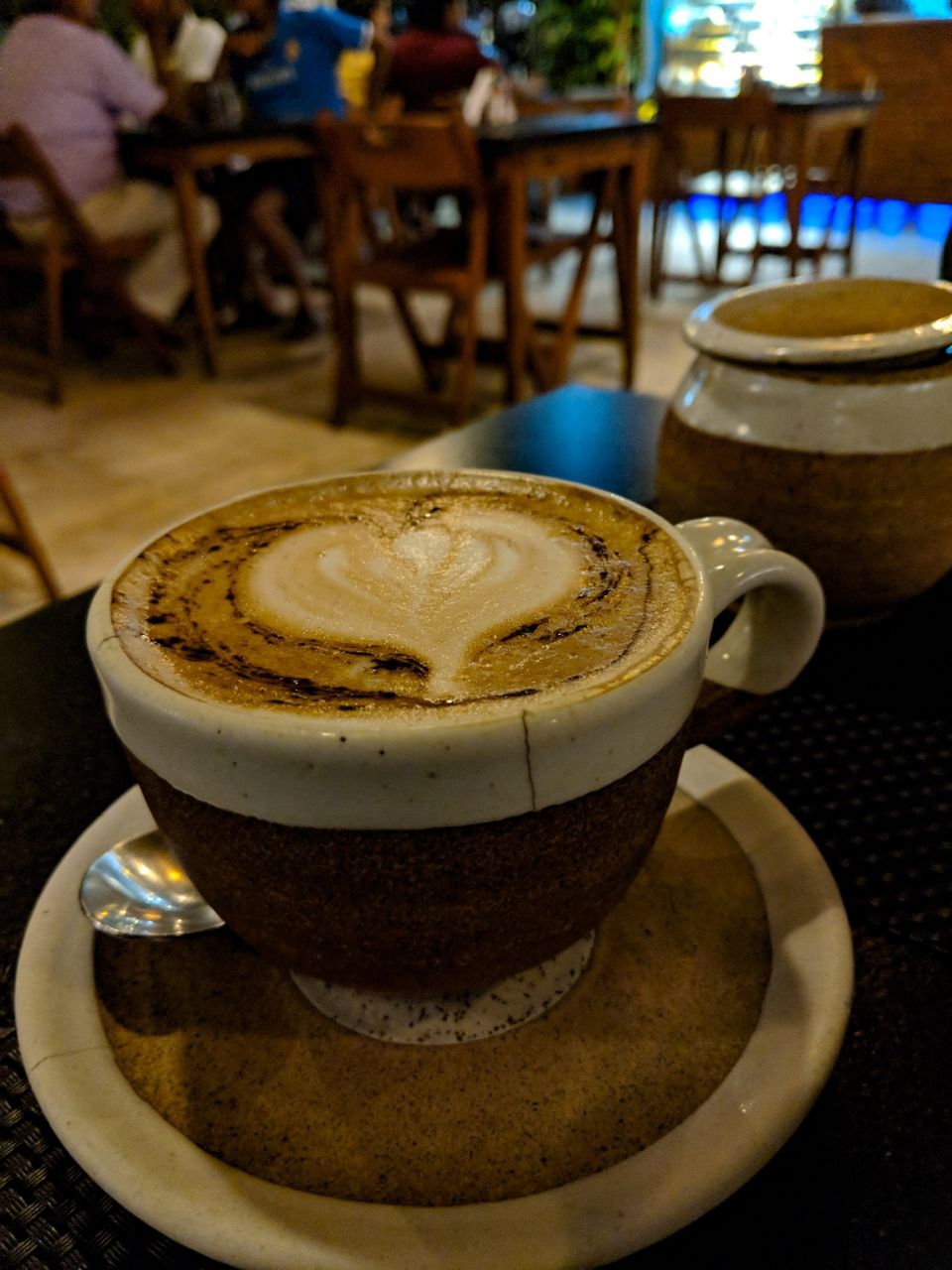 We woke up early, ate as much complimentary breakfast as we could, and headed towards Bangalore. It was a beautiful day with pleasant weather and positivity. As we drove around 83kms from Mysore, we came across a signage saying 'Welcome to Channapatna- The city of toys', and the child inside me started jumping with fascination. We decided to give this city a look and turned our bike inside the city.
All this while I was not aware of the fact that, Channapatna is famous for its lovely wooden and lacquered toys. These toys are very colourful and elegant. I bought as much as 30 of them, and it costed me not more that ₹2000. A general tip to all my friends would be to visit the city inside and buy toys. On the highways the price is too expensive.
With huge shopping bag filled with environment friendly wooden toys, to carry back home and no space to adjust it in our bike, I decided to hold it in my hand and sit at the back.
After a drive of few minutes, we reached 'Kamat', the place where we planned to have our lunch for the day. This Mysore-Bangalore highway restaurant is worth the trek for meals, dosas and coffee.
We had decided to have breakfast at this place on our way to Coorg. However we were lost and went to wrong Kamat. So please be aware, there are many hotels nearby with the same name. The easy way to distinguish the authentic one is to read it full name i.e. Kamat Lokaruchi.
Old Mangalore style tiles don the roof of little gazebo that make up the most of this restaurant. They served food on a long banana leaf. The platter was luscious, all decked up with rice, daal, rasam, sambar, lofted, rayta, puranpulli, salad, chapati, and sabudana kheer. I ate everything with my hands and licking my fingers. We also ordered an idli-Wada platter. We were amazed to see the unique way the idli was served, wrapped in coconut leaf. The style of serving the food was really unique and filed with traditional wisdom. It was worth the visit to the restaurant. Bangloreans come this place just for having breakfast, as it is just a couple of hours drive. It's similar to Murthal near Delhi.
With all the adventure that welcomed us in this trip, we were now tired and just wanted to head back home and sleep like hogs. We reached Bangalore with lots of recollections to share. It was a journey of a lifetime which will always make me smile.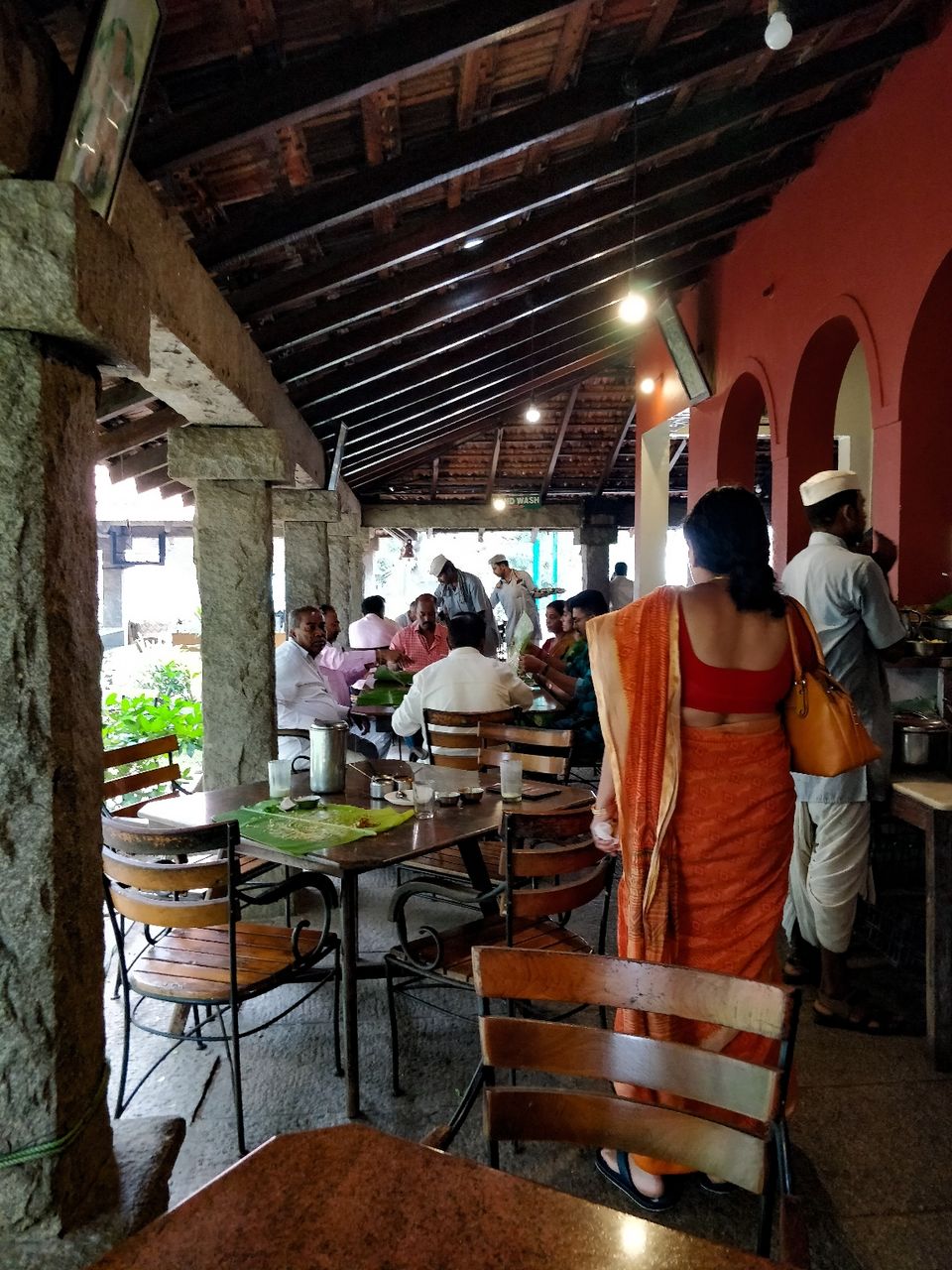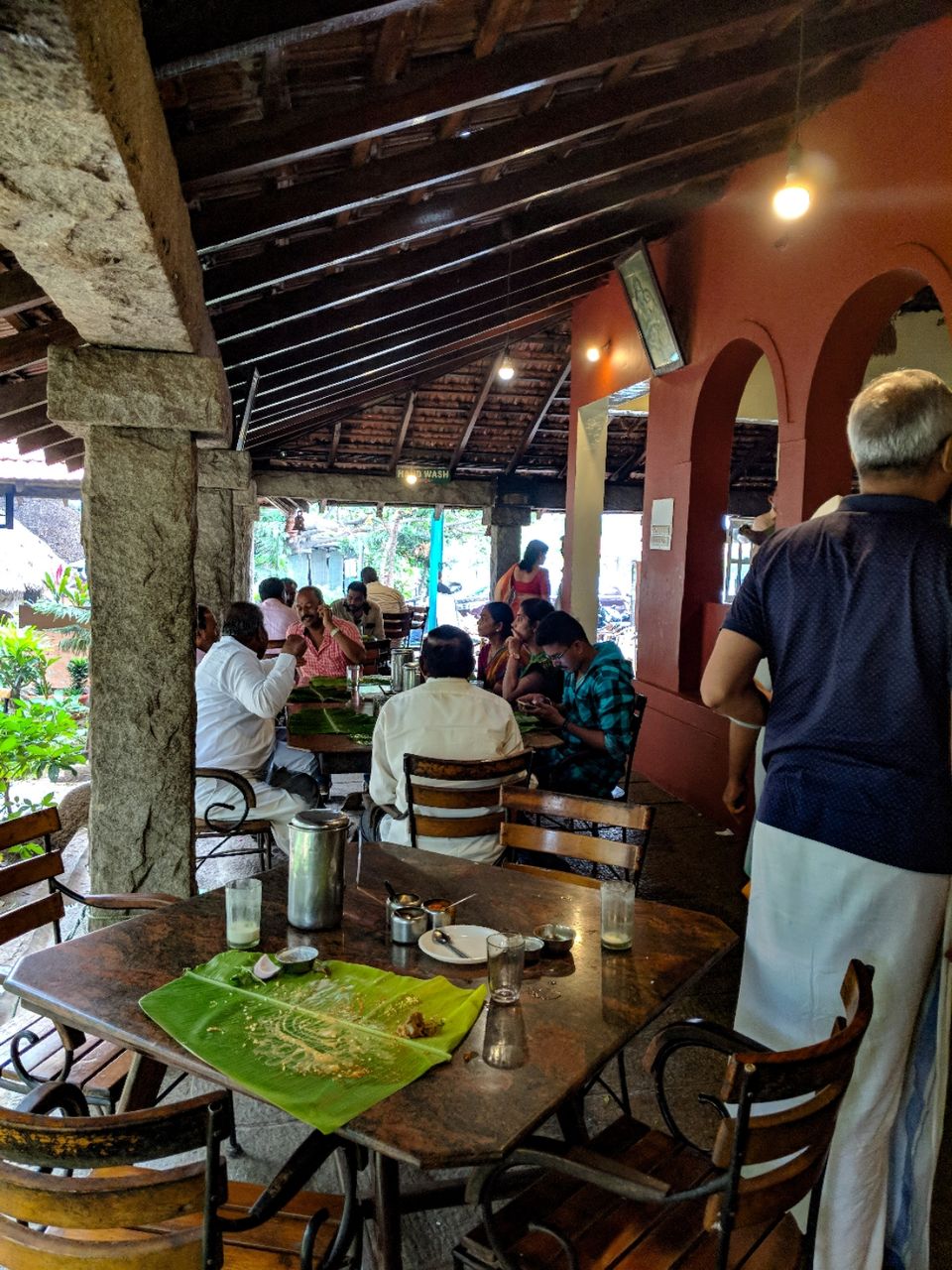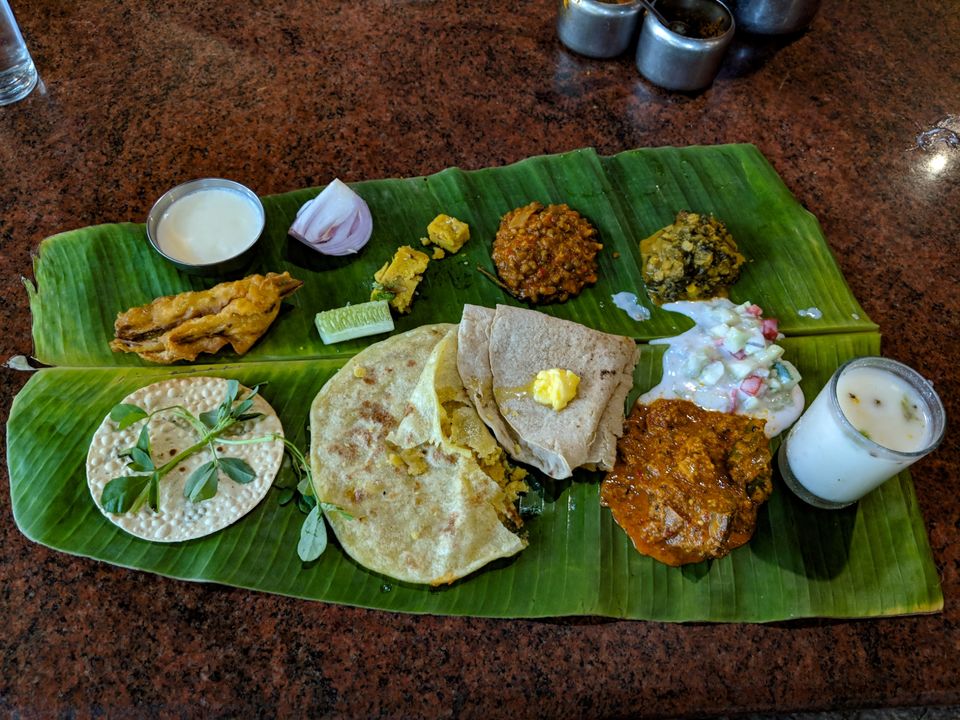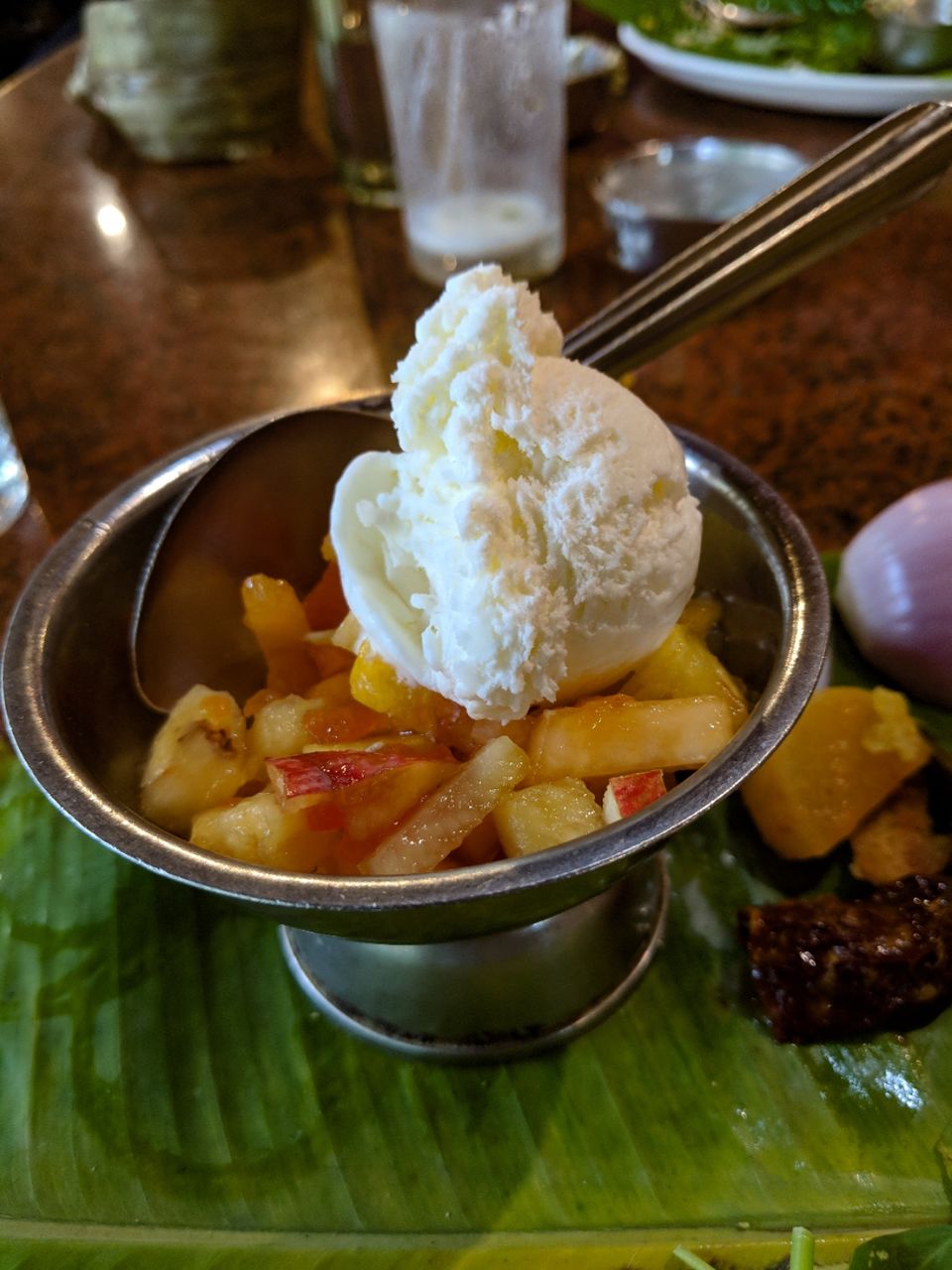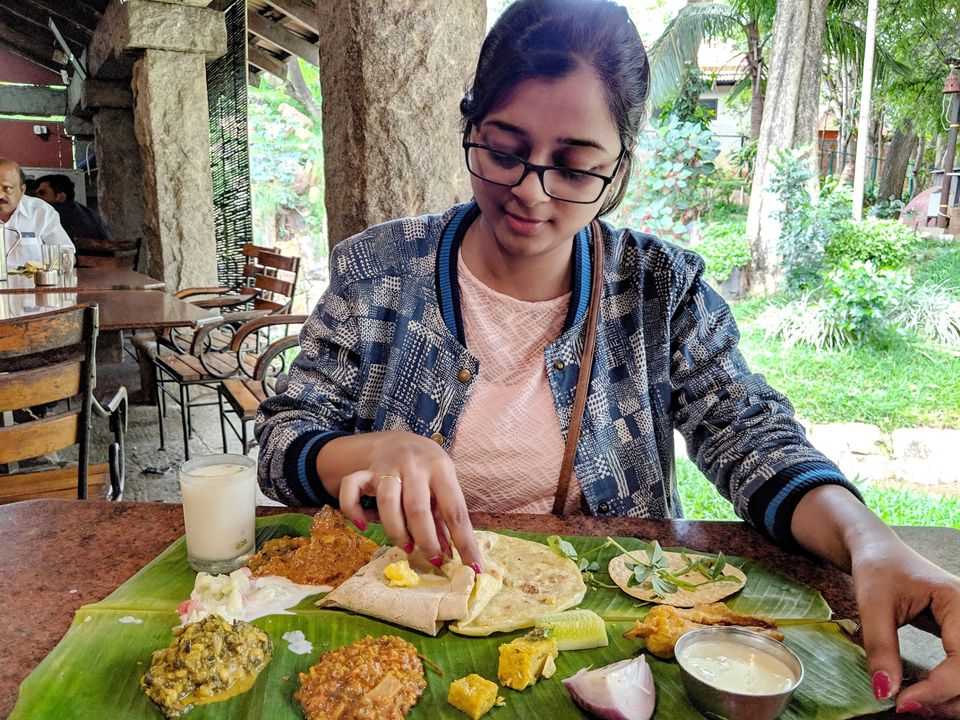 Glittering royal heritage and magnificent buildings, Mysore is always a fun place to visit. We were on a road trip on motorcycle to Coorg this monsoon. While on our way back to Bangalore, our bike suddenly stopped somewhere in the exteriors of Mysore, and all our arduous efforts to re-boost life in this heavy machine were going in vain. After some long hours of dragging it on the Mysore – Bangalore Highway, we finally found a mechanic. But the battery was drained and we were told that it will take at-least 2 hours to start. It was already 8:00 P.M. in the clock and we were totally exhausted. So we searched for a 'Dhaba' nearby and sat there for recharging our batteries too.
All wet and tired, we ordered everything we could, from hot coffee to daal tadka, dum aloo to laccha paratha. Irrespective of the fact that everyone was staring at us, I kept eating unaffected, as if I had never seen food before, with my hands shivering in cold and my tongue numb enough, not to taste anything. We were all drenched due to heavy shower in Coorg.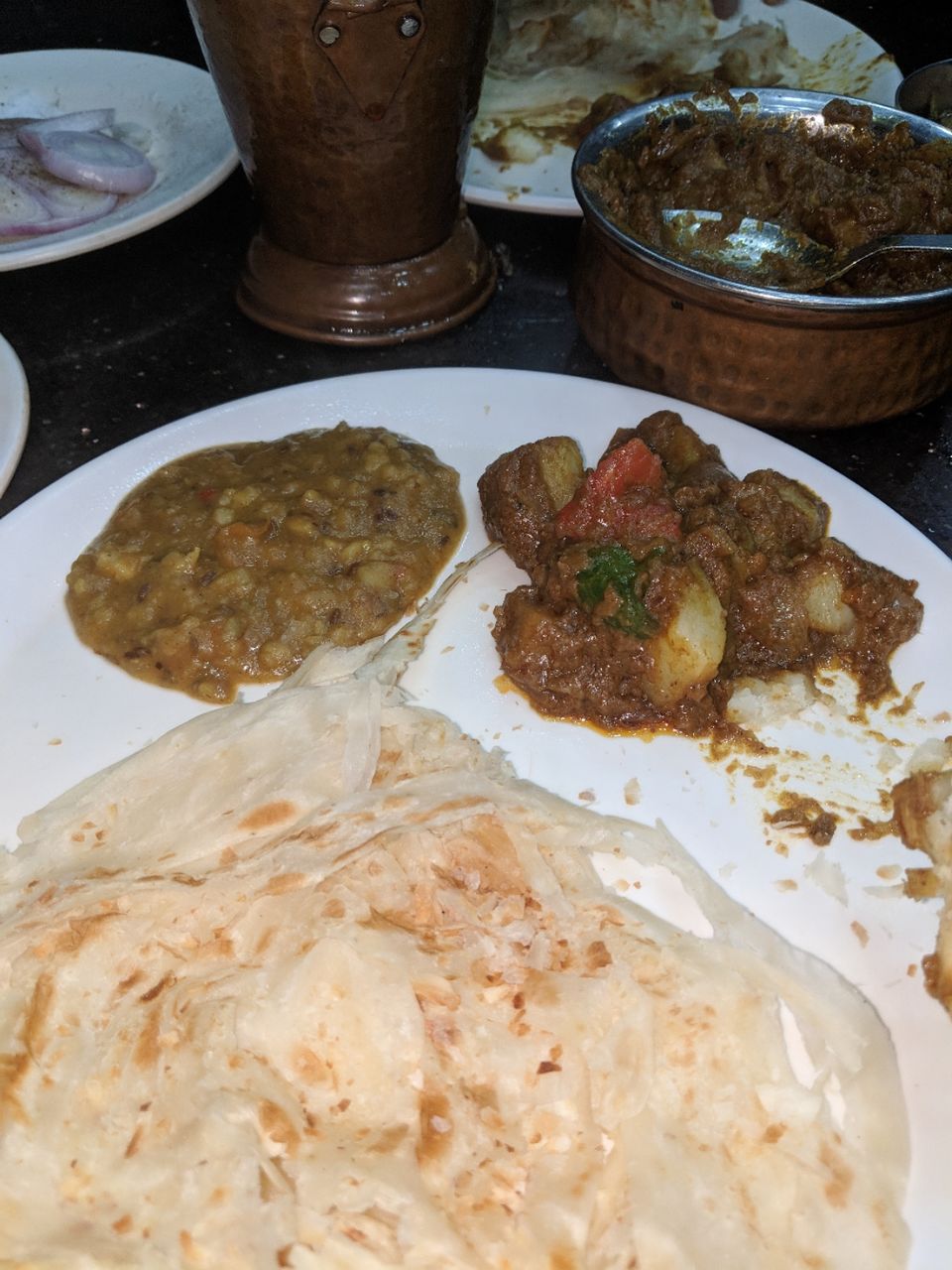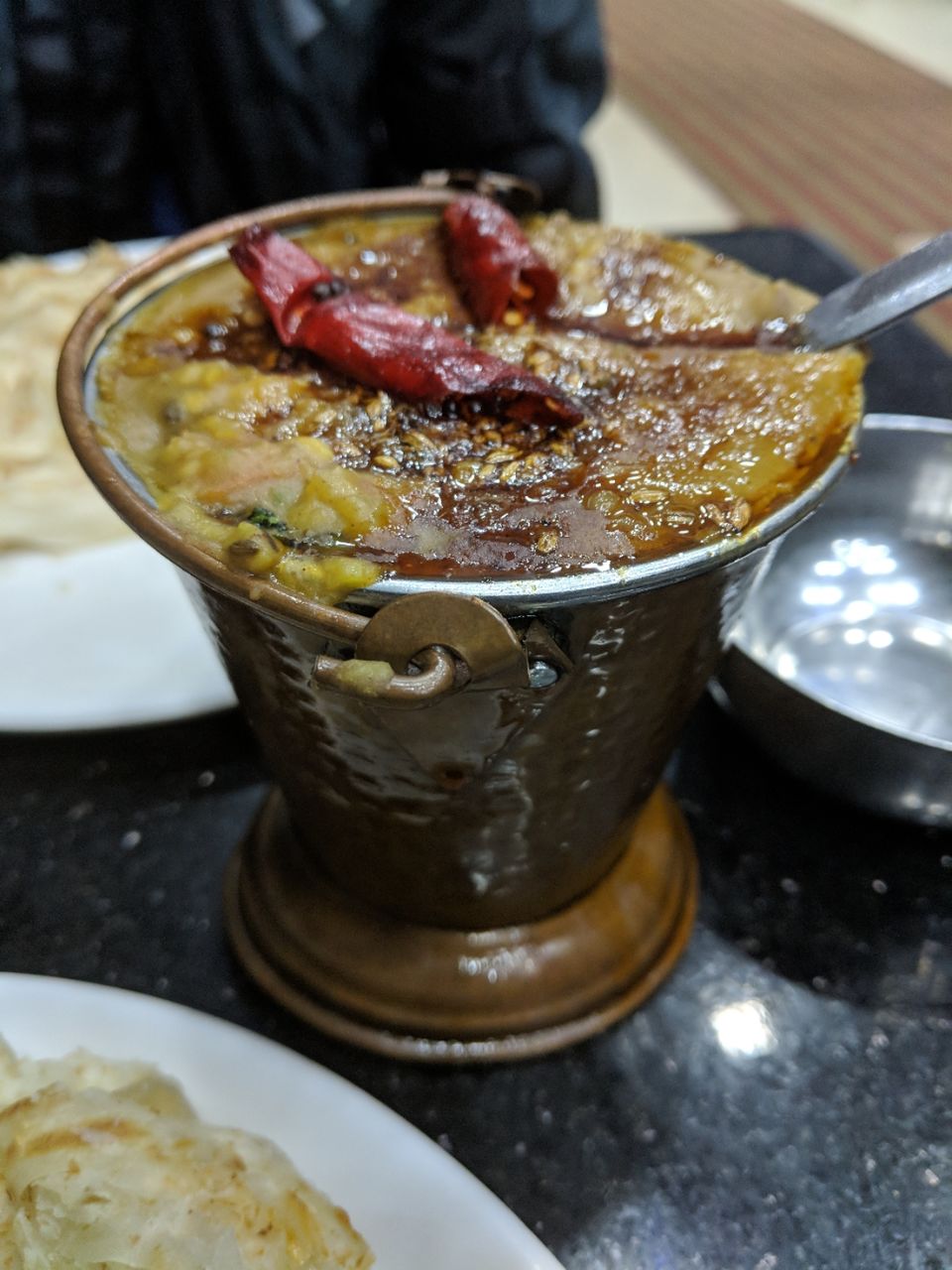 After recharging our batteries we finally realised that it will not be wise to head to Bangalore late at night and therefore we decided to spend our night in Mysore. We booked the hotel and decided to explore Mysore next day, before leaving for Bangalore. By somewhere around 11:00 P.M. we reached our hotel, unloaded our saddle bags and dropped on our bed like dead animals.
The next morning after having as much complimentary breakfast as we could, we started our day with Royal Mysore Palace. It was just 4 kms from our hotel, so we thought to give it a walk. Being a North Indian who was on her first trip to South, approximately 2100 kms away from my home, everything seemed different, fascinating and exciting to me. I was totally in love with the new surroundings, be it lovely weather, rich greenery, coconut trees, magnificent architecture or the attire of locals (specially the 'Gajras'). I was anxiously looking around like a happy kid, trying to capture everything I could in my camera.