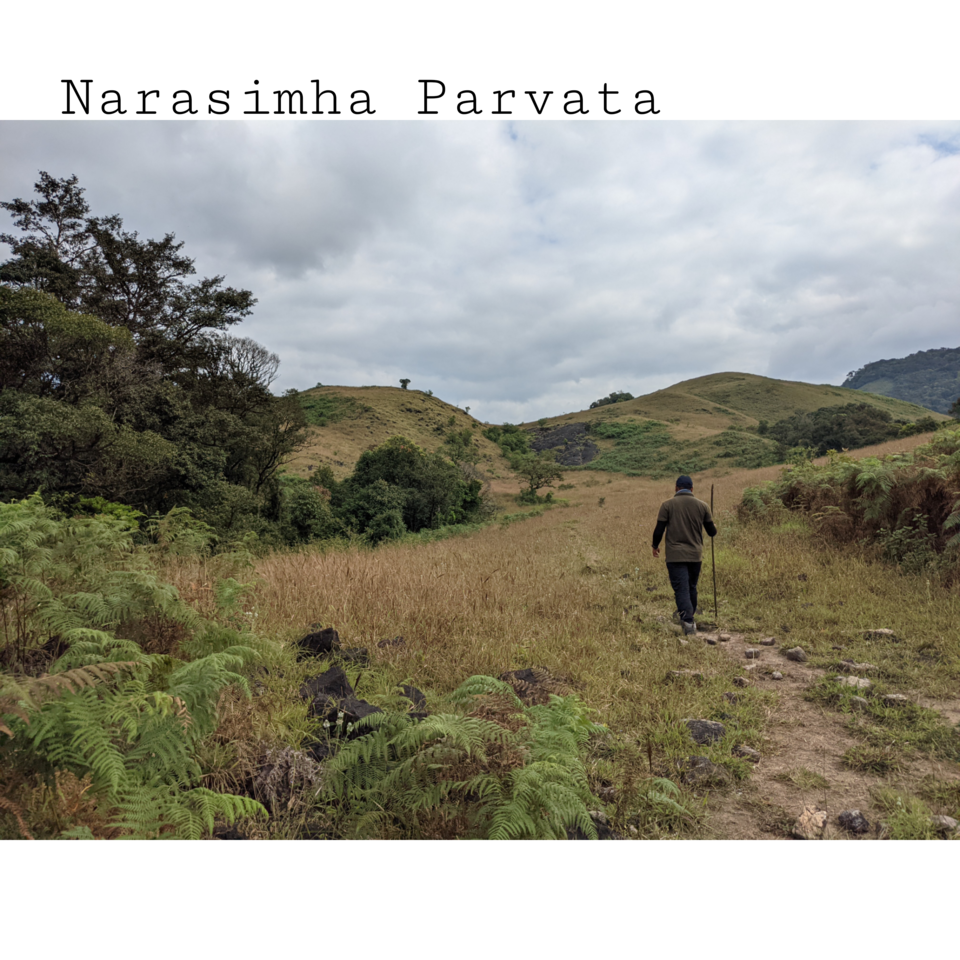 Was eyeing to get to the highest peak in Agumbe range for almost a year now, all that needed to ignite the fire was a mere phone call from my buddy- Raghu. I was already finding myself reading the blogs and getting all prepped for the trek. I was just dealing with my travel withdrawal post my KP trek from November. I couldn't have asked for a better trek than this. That too a trek, that starts from the evergreen forests of Agumbe- Cherrapunji of south India.
It appeared as if Raghu had already done the bus booking, just like that after a 2 mins, a phone call had our itinerary set for the weekend. Ever ready doctru- Vishwa, Super energetic- Babu and our Delicate darling- Sumanth agreed to join us on this exciting trek with us.
From my previous visit to Agumbe, I had a local contact there, who helped us get in contact with one of the KFD authorized forest guide there. As I always say, mountains and people live in the mountains have always something special in them, you might have observed, all the malenadu and pahadi people are so warm and welcoming. Every time I visit one of the homestays or guest houses in the mountains, I feel like I have come to Grandma's house, and yes! I'll be fed well too, Haha.
With that said, on Saturday morning we were already there in the heart of Malenadu, Agumbe (As I would love to call it as AgumBae) No wonder namma Shankranna chose Agumbe to film Malgudi days. Agumbe is a beautiful village, surrounded by rainforests – a hot zone for King Cobra. And Agumbe's world famous sunset needs absolutely no introduction.
A bumpy ride of 5km from the bus stand in a local auto took us to Mallandur. As I said, our guide was kind enough to serve us delicious breakfast. Mangaluru kadambuttu (Rice dumplings) and chutney tasted never better, we sat by the paddy field, and had the tough to crack, tasty Kadambuttu while taking in all the vitamin D from morning sun. We knew that the day's gonna be long, we made sure to eat tummy full.
Within no time, we packed our lunch for the trail, and we were there hiking up to Narasimhaparvata already. The initial part of the trail was flat and easy, took us slowly into the deeper part of the forest. Morning rays were just piercing through the thick canopy of Agumbe rainforests had to offer. The Sita River winds through this path. I was learnt that many small streams flow around the trail during monsoon making the trail near to impossible. Also, Agumbe rainforest is home unique, special, and elusive flora and fauna.
As we marched further, the forest got thicker and the trail more inclined. The Sita River narrowed down, plunging down a gorge to become the Barkana waterfall. The total trek distance from Mallandur to this waterfall is around 6 km. Next moment, me and Vishwa navigated around the rocks to reach the top of this waterfall. The rocks were slippery, and one misstep could be fatal and there are chances that even rescue team would not find your mortal remains. As we reached the top, it was a glimpse of water cascading down from a height of 2200ft. The roaring waterfall amidst the silent dark green valleys gave me a spinal shiver. I had to redefine my definition of "Rudra Ramaneeya" at the very moment. From that point we could see thick, dense rainforests till infinity, as if the Agumbe rainforest has spread her wings all the way till horizon.
From here onwards, the trek became tougher, as the trail is steep until we reach the end of forest. This three-kilometer trek took us easily around 2 hours to navigate. The trails were slippery, steep, and full of leeches. There we found a water source, and thought it'd be a perfect place for our lunch, Puliyogare never tasted better. (Amma should have seen me hogging into that bland saltless puliyogare, haha). Post lunch we continued our quest to mighty Narasimha Parvata.
Once we reached the end of forest, there was a sudden change in the landscape. The forests gave way to beautiful grasslands, with shrubs dotting the path all the way to the peak. After the heat and humidity of the forest, the cool wind of the high grasslands was a great welcome change. From the grasslands, the peak is around 3 km away and it took around 2 hours to navigate to the top. From this point we could see the peak, this was no time to slow down, me and Vishwa wanted to be in the peak so badly, we didn't bother to leave the team behind. With very less to no break, and with the heartrate of 155, we were already at the peak.
Under the scorching sun, there was feeling of accomplishment and happiness in the air.
A beautiful view of Kudremukh ranges greets you at the top. One can see a clear change in vegetation from thick, dense evergreen forests to shola forests and grassland kind of vegetation. Was jealous of a hawk flying there, as it'd get the opportunity to witness this changeover the whole time. Unfortunately, KFD no more gives the permission to camp at the peak of Narasimha parvata due to the recent increase in animal activity in the region.
After clicking some super happy, borderline insane photos, we started our descent towards Kigga. Descent was a narrow, steep path and is strenuous with slippery rocks and dry leaves covering the path. The descent trail was a mixture of Shola forests and grasslands. After 5 km of utter descent, we finally had Sri Rishyashringa temple of Kigga in our sights. We had almost arrived, it was just what needed for our sore calves and knees.
Within no time we were walking in the paved road of Brahmin's Agrahara of Kigga village. Our next stop was to visit Dakshinamnaya Sri Srigeri Sharada Peetham, managed to arrange a local transport, An auto. Sringeri is about 9 km's from Kigga, as we were riding through that bumpy road, and I got to speak with Mr. Suresh Sharma, our chauffeur. On hearing that, we were just returning from Narasimha parvata, he mentioned of a legend, who lived at the peak of Narasimha parvata for three years surviving just on Atthi hannu (cluster fig fruit). She apparently was the disciple of Sri Sridhara Swami.
A thought still intrigues me, an echo inside my head, what would she have undergone living there at the peak of Narasimha parvata by herself? What thoughts would she be pondering? Is she the one who knew it all? The one who achieved self-actualization? Is this what we call submission? Is this the true act of self, to lose and gain, all in a single breath, the act of submitting to the higher power/soul/spirit?
Though I'm too much of an alpajnani, am still happy with the thought that I at least could pose few questions towards life.
#travelkarnataka #trekking #westernghats #teampixel