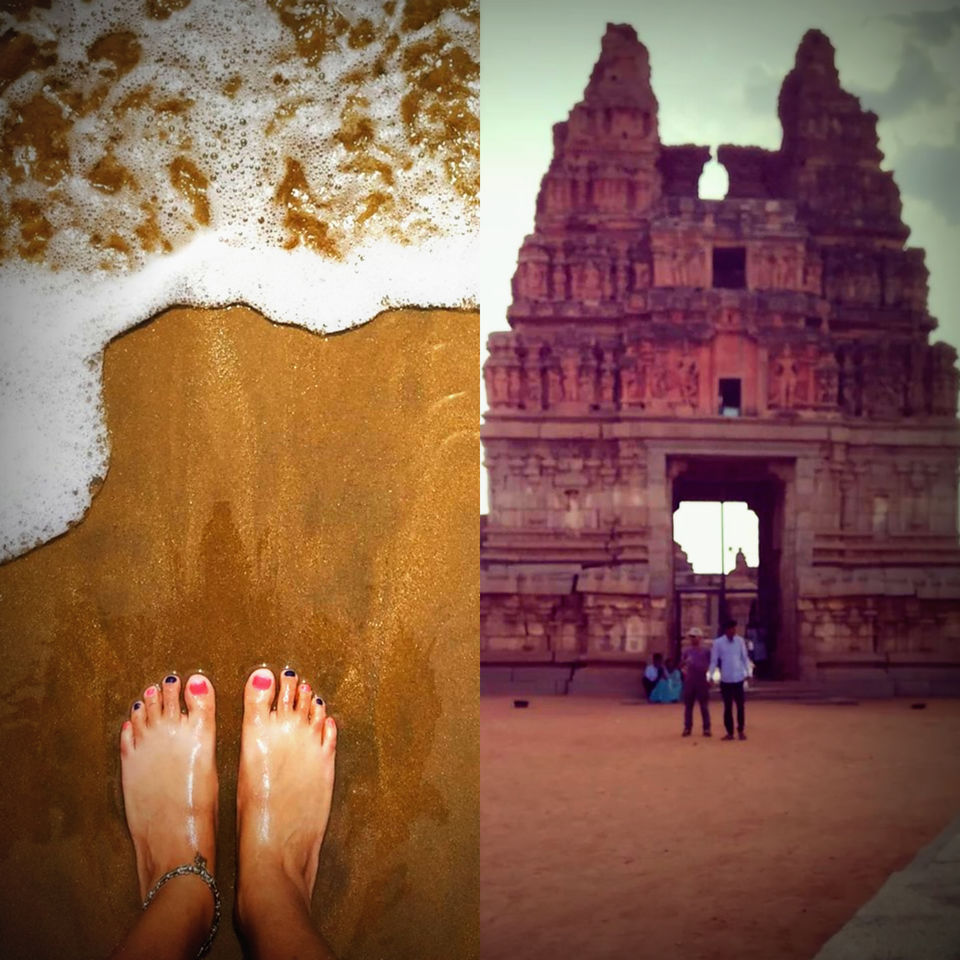 "My Eleven Eager Days" were coming to an end and I was still left with a lot to see. Having a strong love for beaches, it was quite obvious for me to travel to Gokarna. I couldn't stop imagining myself getting soaked in the beauty of its beaches. Along with that, I was also very much excited to see Hampi- a dreamy world of rocks and ruins. Its monuments comprise the UNESCO world heritage site, and I was absolutely ready to walk on those super-ancient paths and observe how it feels to do that.
In the last 4 days, I treated my eyes with a lot of diversity. Ranging from peaceful beaches of Gokarna to the archaeological remains in Hampi, my strolling shoes took me to a lot of fantastic places. In my final blog of the Karnataka series, know what all you can do and see when going there.
I can't say whether I am a 'Beach Person' or a 'Mountain Person', but the fact is that I ended up spending my whole day at this scenic beach. I couldn't even think of leaving this place to go somewhere else. This is a must visit for every beach lover. This beach has a long stretch of white sand that adjoins a rocky terrain. And in the evening, you have to watch the most beautiful sunset here.
The beach is shaped as two semi crescents joined together to form the shape of 'Om'. Apart from taking a stroll here, you can also enjoy water sports including banana boat ride, surfing, jet skiing, parasailing, bumper boating, speed boating, etc.
By any chance if you are a beachcomber like me, then you would love to collect shells and other signs of sea life here. There are plenty!
Whether you are with your spouse or whole family, the beautiful location of the beach surrounded by coconut groves makes it a perfect spot to enjoy the sun, the sand and the sea. Let the enchanting waves caress your soul!
P.S. Don't forget to spend some time at the famous Namaste Café. Excellent location (terrace seating recommended), cosy vibes, good food!
This beach is located only a few minutes' walk from Gokarna Beach and Om Beach. If you are someone like me, who love quietude while travelling, then this beach is all yours. Enjoy a sunset in a serene atmosphere, take a walk along the shore or simply look at the crashing waves. A complete recluse, Kudle beach is preferred for morning and evening walks as well as for pactising yoga. Except for the peak season (November to February), this beach is perfect for solitude and privacy.
If you know swimming, then it's safe enough to enjoy a bath, or you can simply wet your feet at the shoreline. This gorgeous beach hiding behind a hillock is a haven for sea lovers. The shacks are open even during the off season. If you are of the adventurous type, then you can spend a night here in a small hut listening to the waves.
Entry fee
Rs 40
Ideal time
Three hours
Entry closes 30 minutes before sunset
After spending two days lazing at the beaches, it was time for me to go back in time and see the ruins of temple complexes from the Vijayanagara Empire. To experience exceptional architecture and unmatched craftsmanship, I visited the famous Vijaya Vittala Temple. Built in the Dravidian style, it has traits of typical south Indian temple architecture. Would you believe that the group of monuments has a total of 83 monuments? Imagine the vastness of the place!
Located near the banks of the Tungabhadra River, the iconic temple is popular for the spectacular stone chariot. Other main attractions of Vitthala Temple include Maha Mantapa, Ranga Mantapa, etc.
Imagine wandering through the monuments that were built between 1336 and 1570 CE! Walking slowly to capture the splendor of the ruined town made me feel as if a time machine had transported me back to the past.
Welcome to the hippie island side of Hampi!
Hampi is not only for history lovers. It is equally perfect for nature lovers as well. For a change of scene from the ruins to the natural beauty, I went to see this beautiful lake surrounded by stunning boulder hills. It is a secret attraction around Hampi and you will not find a huge tourist crowd here. This lake is quite deep and thus, a paradise for swimmers and cliff divers. If you just want to chill and cherish the beauty of this wonderful lake, then you can go for a coracle ride.
My tip: Apply your judgment if you are a solo traveller because Sanapur is relatively a remote place. Also, there are warnings of crocodiles in the water, but the boatmen say that story is just to keep the mischievous locals away. So, I am not sure if that's true.
Older than Hampi, this village is also a part of the World Heritage Site because of its ancient forts and temples. But my interest to visit this place was completely different. I went there to know about the Kishkinda Trust (TKT) Banana Fibre Cottage Industry. It made me understand what the term 'Women Empowerment' actually is. I saw a number of women creating a range of products (baskets, ropes, tea coasters, mats, bags, hats, boxes, photo frames, etc.) using banana fibre. They were busy doing their work and in between chatting with each other and smiling occasionally. The eco-friendly initiative has definitely given them wings because with this, they are able to contribute to the finances at their home.
For those who love to learn something new while travelling, this place is a must visit. It will give you a real perspective to livelihood opportunities for women. Moreover, you can buy those unique products from here itself.
That's how I spent eleven days in Karnataka, covering Bangalore, Mysore, Coorg, Gokarna and Hampi. This has been among my best journeys so far. I got to see palaces, flora and fauna, beaches and archaeological sites. The diversity of this south Indian state is unique, and you have to go there and see it for yourself at least once.
Check out my complete Karnataka trip here:
11 days in Karnataka (Part 1): From Beaming Bangalore to Mesmerising Mysore
Coorg: 2 Days of Coorgi Hospitality, Elephants, Coffee and Spirituality in Scotland of India
Keep travelling!
If this hasn't inspired you enough, then you should check out my Instagram page strolling_shoes and follow my adventures around the world!
Get travel inspiration from us daily! Save our number and send a Whatsapp message on 9599147110 to begin!
Explore the best of travel inspiration on Tripoto Instagram!