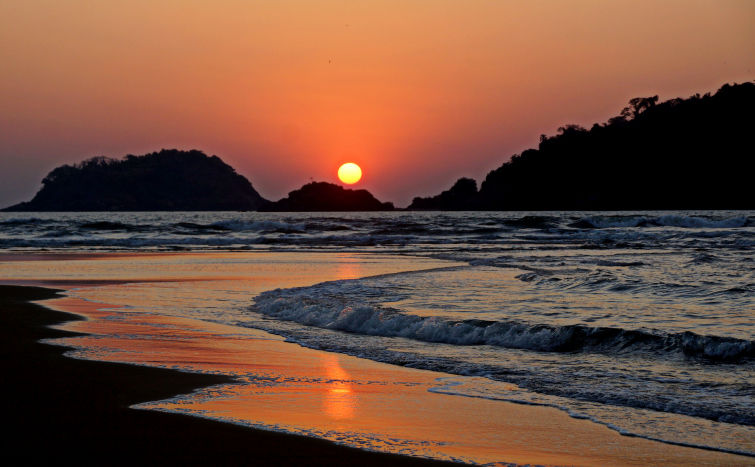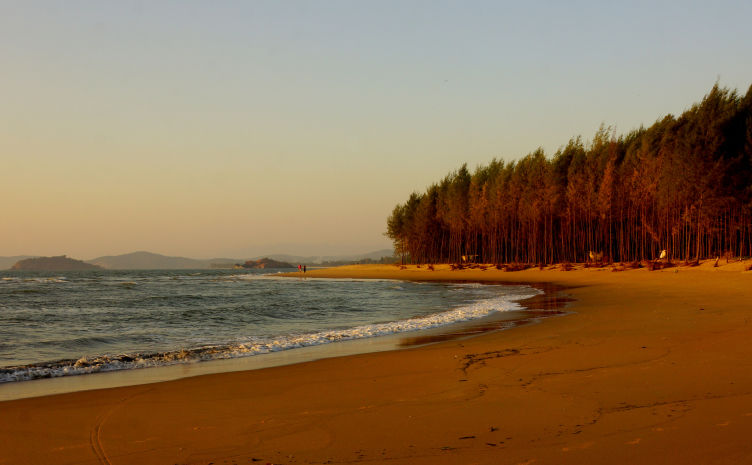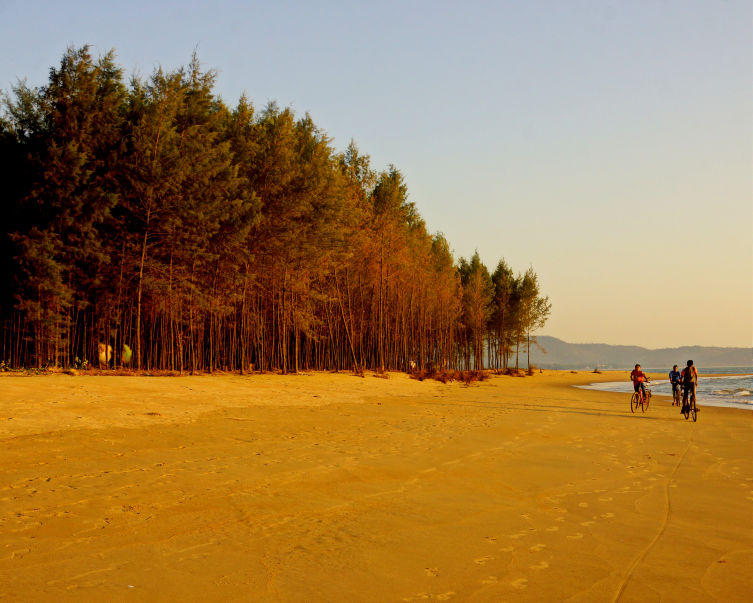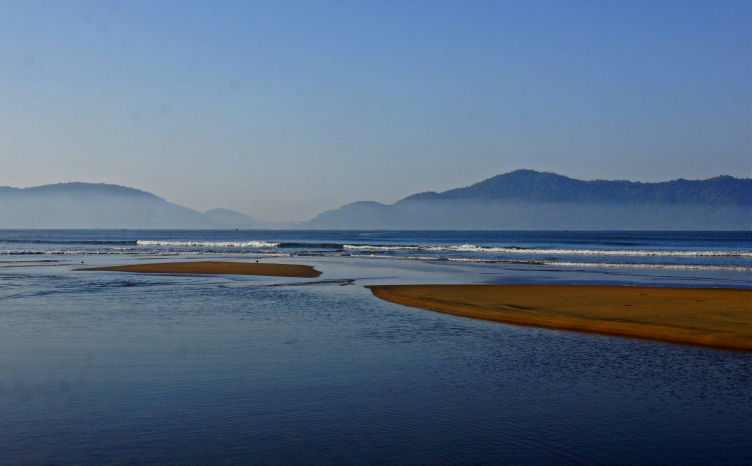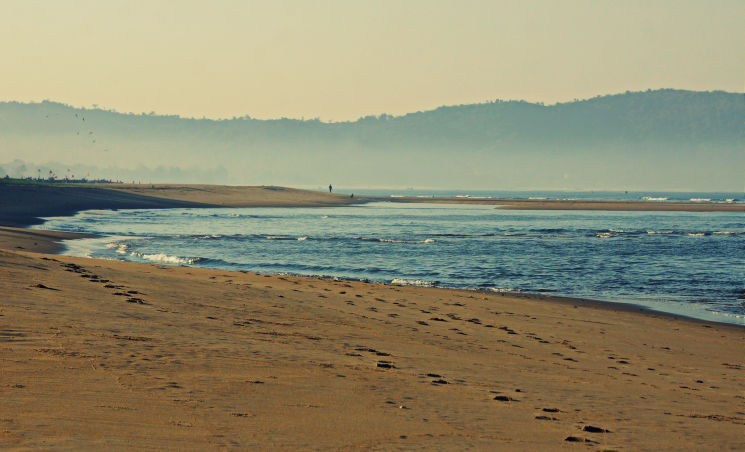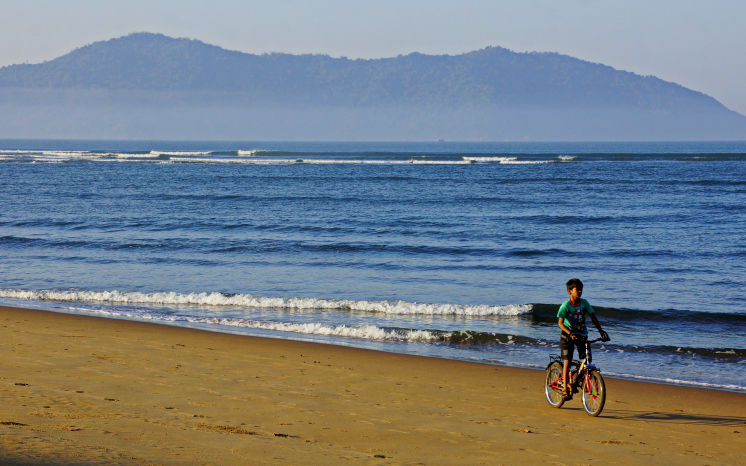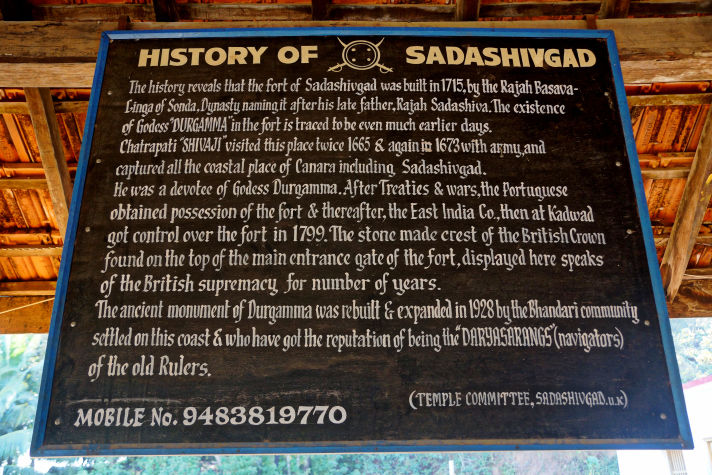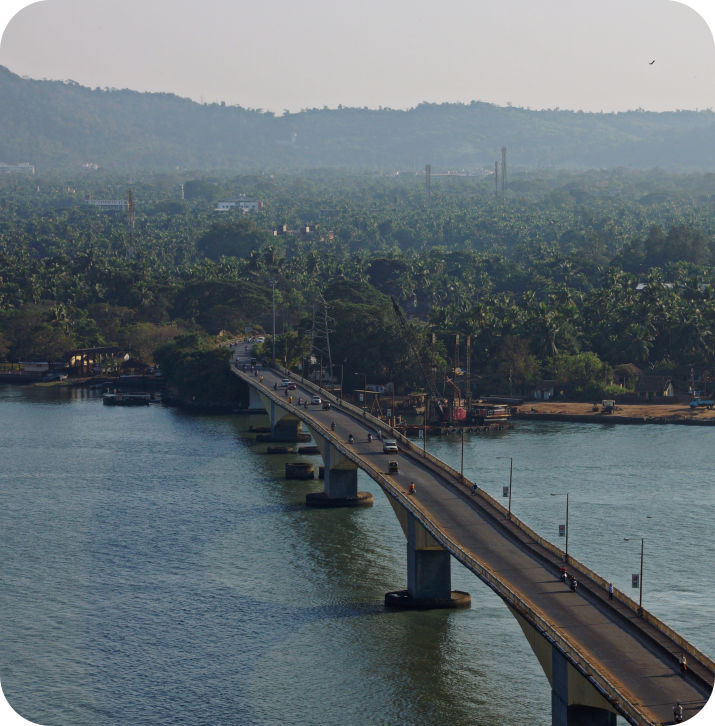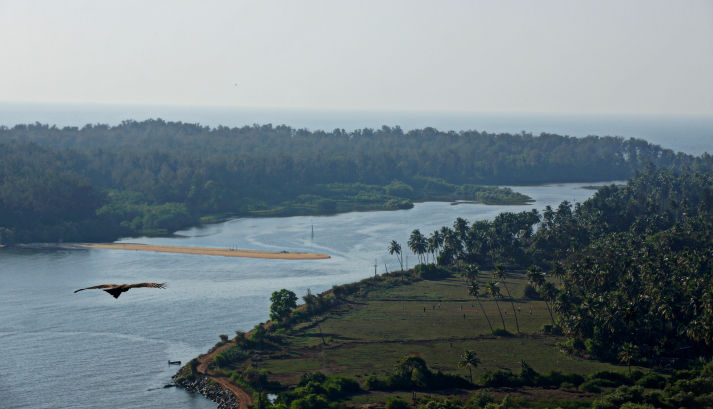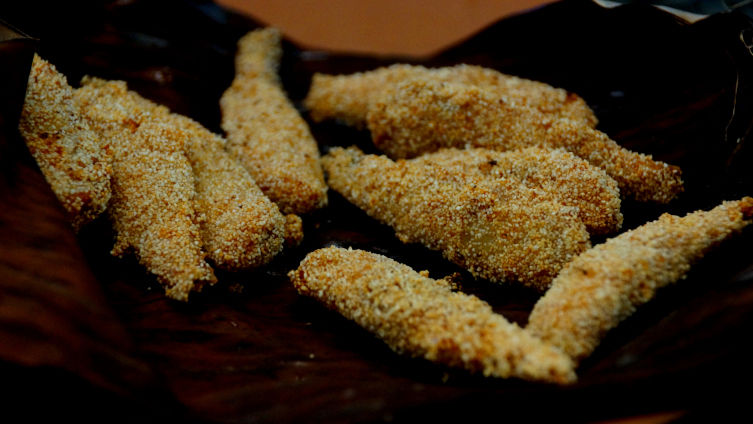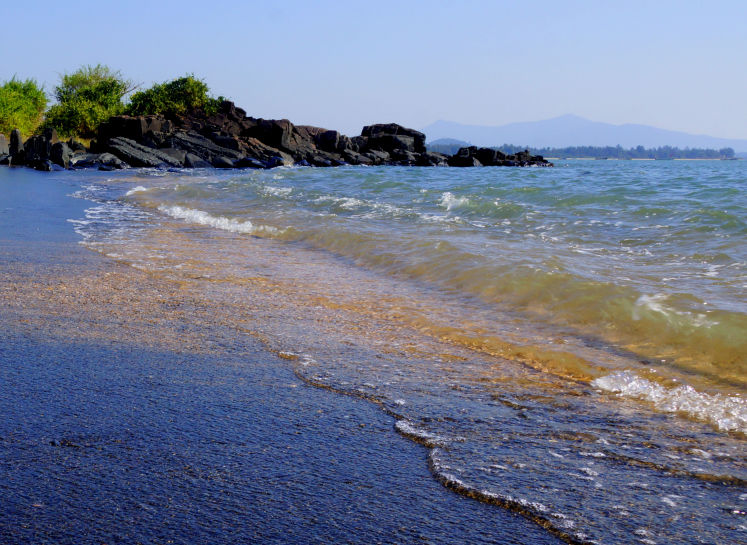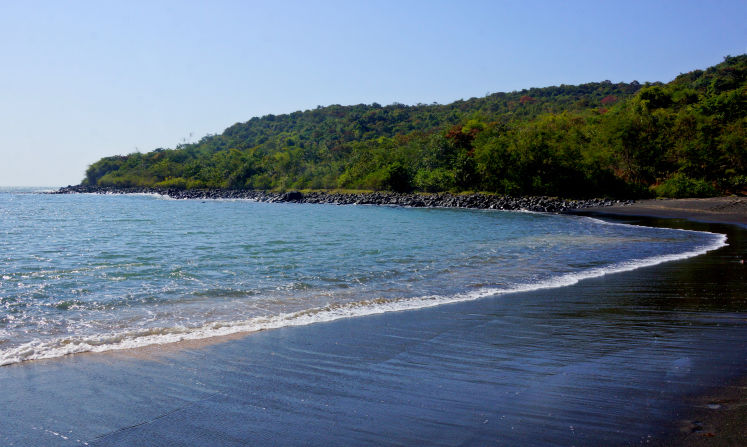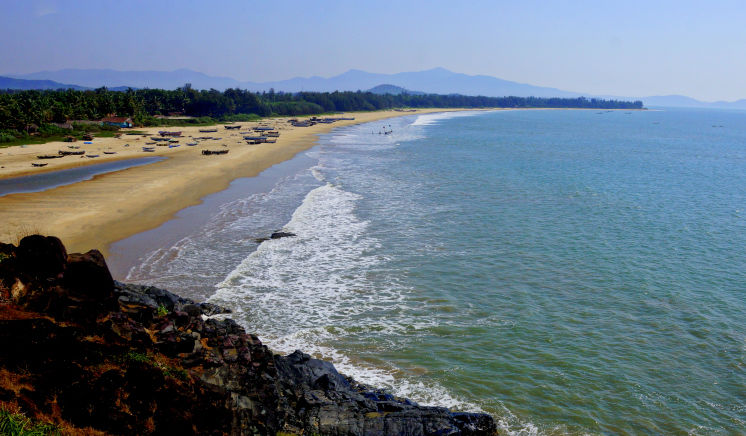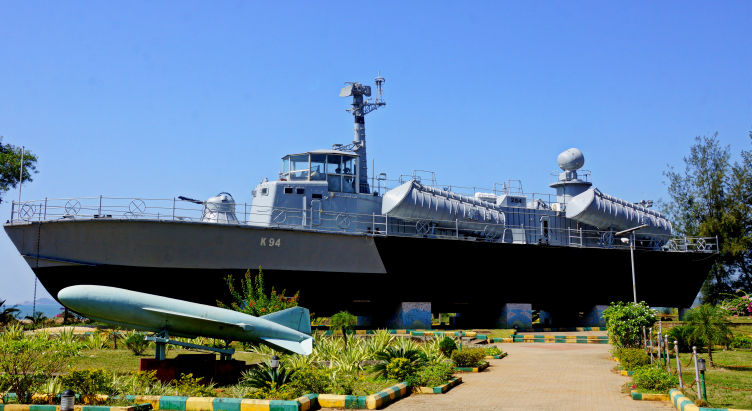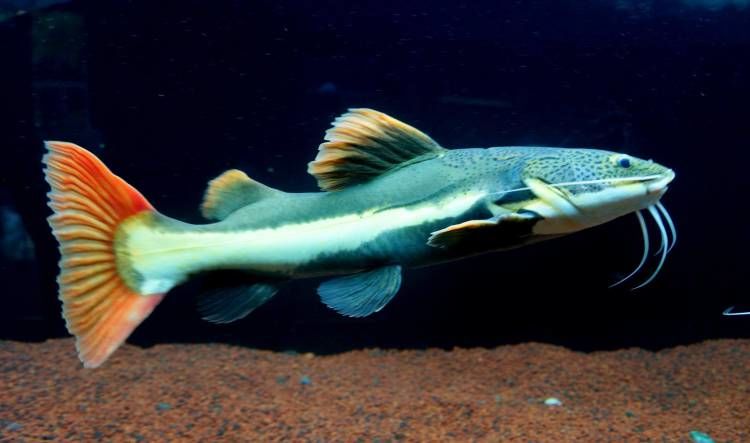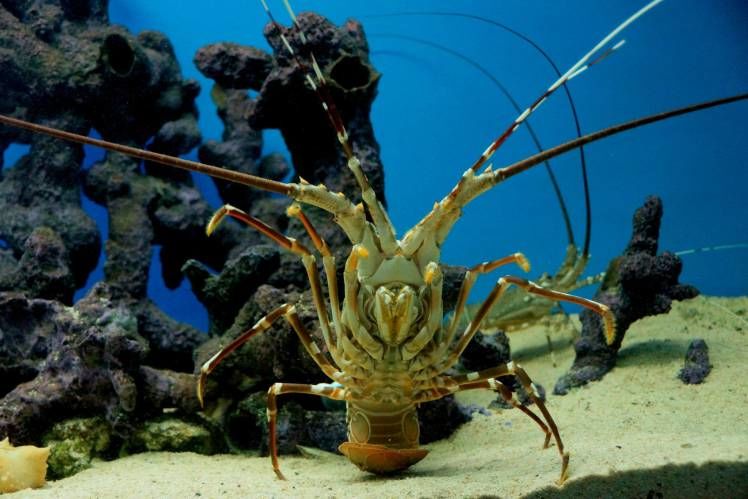 What do you crave for throughout the semester? Exams kab khatam honge :/
What is the first thing that comes to your mind when exams are over ? Where is the damn vacation!
What type of vacation do you desire? Most probably a beach vacation!
What place do you go all the time when you crave for a beach vacation? Goa!
What makes Goa your preferred destination? A party place and good beaches!
Now, Having done the 5 WHAT(Lol :P) Analysis, What if I told you that only an hour's drive away from Madgaon, you would find amazing picture perfect beaches? That you would get to eat delicious seafood ? That you can laze away and even go skinny dipping(and I mean it) with no one for miles around ? That you could enjoy the local life passing by at your own pace ? Don't quite believe it ? Nor did I when I went there for the first time. But as time passes by, its charm entices you and you keep longing to come back again and again.

From the origin of the Kali river to the beaches which inspired Rabindranath Tagore, Karwar has it all. Seeped rich in history, many men from Karwar have served in the army as well as the navy and still religiously do. The first thing which hits your eye when you enter Karwar are the 2 islands in the sea which give it a unique appeal. All the water sports that you enjoy in Goa are also available to be enjoyed in Karwar and at a cheaper rate. Karwar is not for those who want to party hard but for those who want to relax their nerves in the company of the soothing sea waves.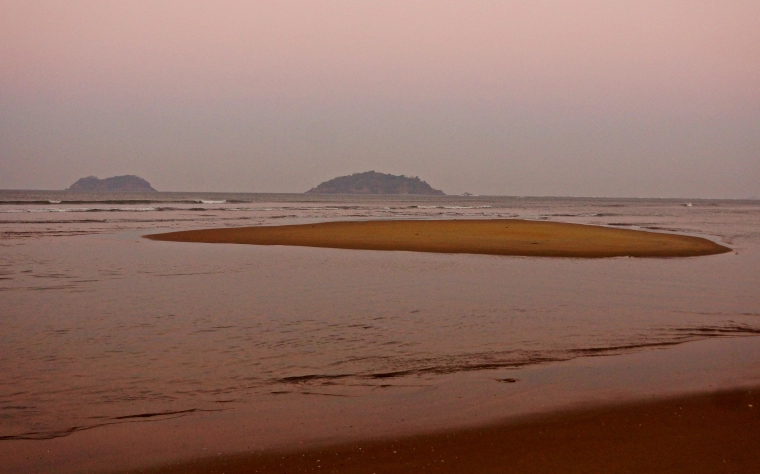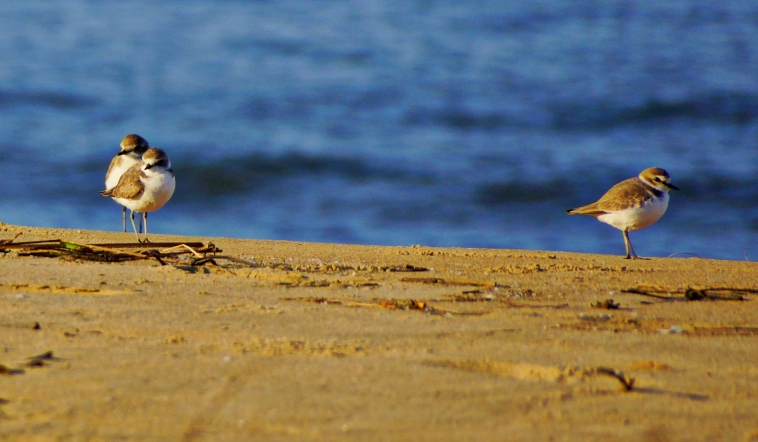 When to Go:
November to February since sandbanks are formed in the Sea and the Sunset at Devbag beach is spectacular at this time. Also the heat subsides, giving way for chilly nights.
How to Reach:
By Air : Goa Dabolim Airport lies at a distance of 100 kms from Karwar.
By Rail: All Major trains running on the Konkan Railway Route, halt at Karwar.
Where to Eat:
Karwar is the only place in India where I have eaten Bangda (Mackerel) and will keep eating here only and I love it to the core, since Mackerel catch is fresh from the sea at Karwar. You are in for a gastronomic delight – Belunji, Iswan, Bangda, Pomfret, Prawns, Tisrya – You name it and you get it FRESH.
1. Swetha Lunch Home – Authentic Seafood Restaurant with Karwari Delicacies. Just love the food here. Simple Eatery but amazing taste.
2. Parvati Lunch Home – This is another lunch home I love in Karwar. Almost similar in quality to Swetha Lunch Home.
3. Amrut Restaurant – It is a restaurant with a good ambiance and decent food. Go here for the relatively better ambiance.
Where to Stay:
1. Jungle Lodges – Devbag Beach Resort
2. Leisure Vacations Tarang – Devbag Beach
3. Aditi Comforts (Serviced Apartments)
4.Leisure Vacations Westend (In the town)
5. Emerald Bay – A Sterling Resort
As I write this blog, I vividly remember all my memories attached to the place. The sleepless nights spent at the beach, the beach hopping days and the food hogging spree – I fondly remember it all. Karwar hasn't fallen prey to the circle of tourism yet and I wish it remains the same for years to come. So that a simple person like me who loves seclusion and the serenity of the beaches, can go there as much as I want without being disturbed by anyone else. But HELLO, it is OK if any of you join me on my travels. I will be utterly delighted :-)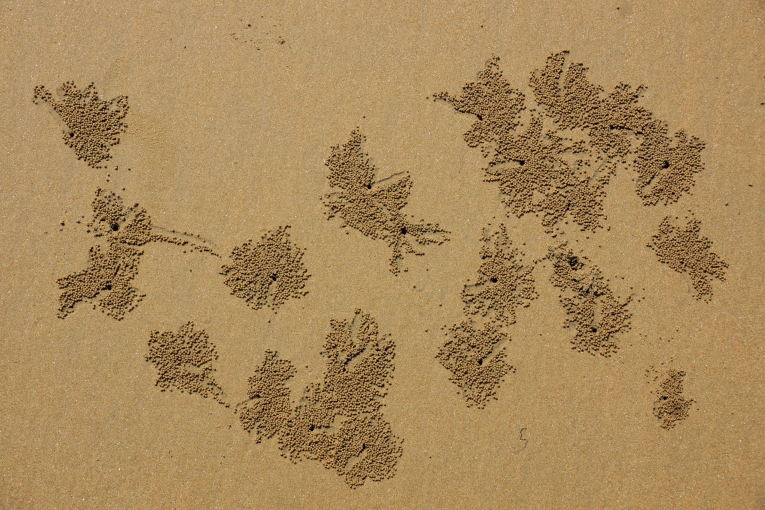 Signing off with these very apt lines penned down by the great literary (Nowhere else but in Karwar)-
"Where the universe is expressing itself in the magic of its laws it may not be strange if we miss its infinitude; but where the heart gets into immediate touch with immensity in the beauty of the meanest of things, is any room left for argument?"
–Rabindranath Tagore.

Devbag beach is undoubtedly the best beach in Karwar. Imagine long stretch of beach sprinkled with golden sand and no one around. Yes, that is Devbag beach for you. Whenever you just want to become one with nature, just come to Devbag beach and relax. It sure won't disappoint you. Laced with Casuarina trees, the beach provides a visual treat to anyone who comes there.View of the sunset is breathtaking in winters when a small sandbank is formed in the sea and the sun goes down between the 2 islands. You just want to stay there for as long as you can, and not budge at all. Such a lovely place this is. Jungle Lodges has a resort here named Devbag Beach Resort in the Casuarina forest with a view to kill for. Surely going to stay there some day soon.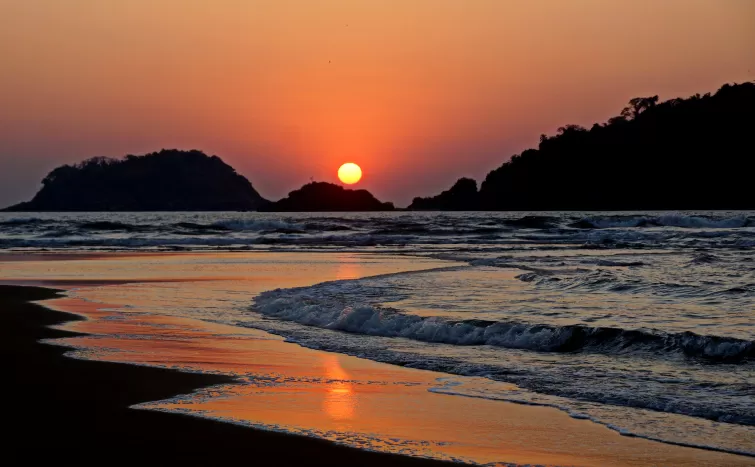 The resort is near Devbagh Beach and a totally amazing one. You can hire a bicycle for roaming around. The rooms are simply furnished and the resort has various amenities for entertainment from a swimming pool to various outdoor games.
Kurumgad Island is one of the two major islands you see from almost any beach in Karwar. It is a good 20 mins boat ride away from Kodibag Beach. Unfortunately, we could not reach there since the tides were high and terrifying. At any moment, the boat could have capsized and I wanted to be alive to write this blog. But, a visit there is imminent in the near future. Great Outdoors has a resort on the island. You can stay with them though they also organize day trips. You can go Scuba diving and snorkeling too in winters. Seems one amazing visit to come.
It is a stretch of the beach which is said to have inspired Tagore. It was here in Karwar that he wrote Prakritir Pratishodha, Nature's Revenge, a dramatic poem. He was very much in love with the beach town and used to frequent it often in search of solitude and when he faced a writer's block. An annual fest is held here every year. I am yet to experience that though. I was here at dawn and the view of twilight was breathtaking. Slowly, the sun awakened the town and fishermen came out in full display of their fishing skills. It is great to just relax by the beach and introspect on your life. It is a different feeling altogether.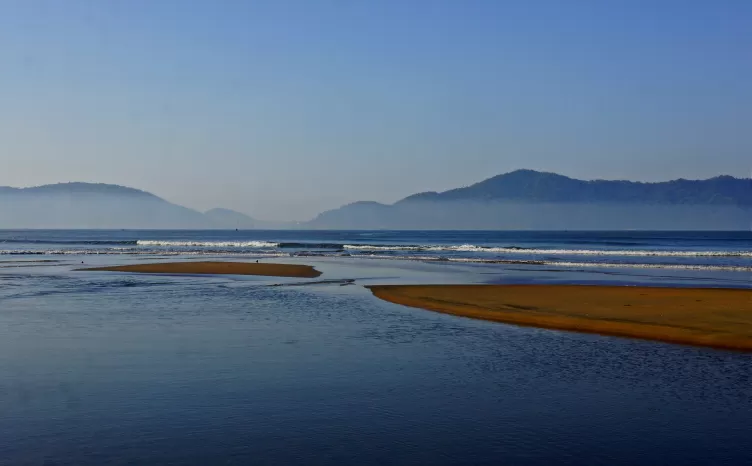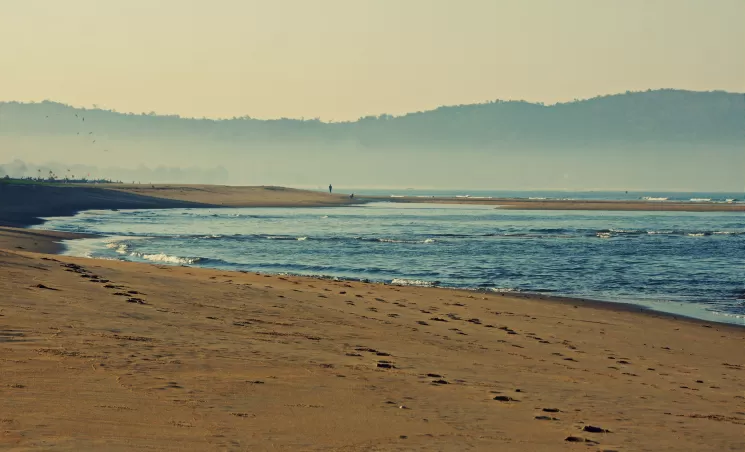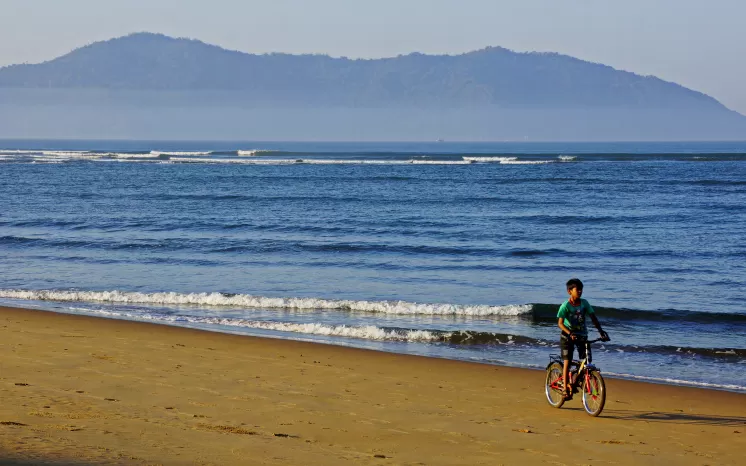 The fort is in ruins and a resort called Estuary View Resort is being run there. You get an amazing view of Kodibag Beach as well as the Bridge over the River Kali. Nothing remains of the fort now, but go there for the views.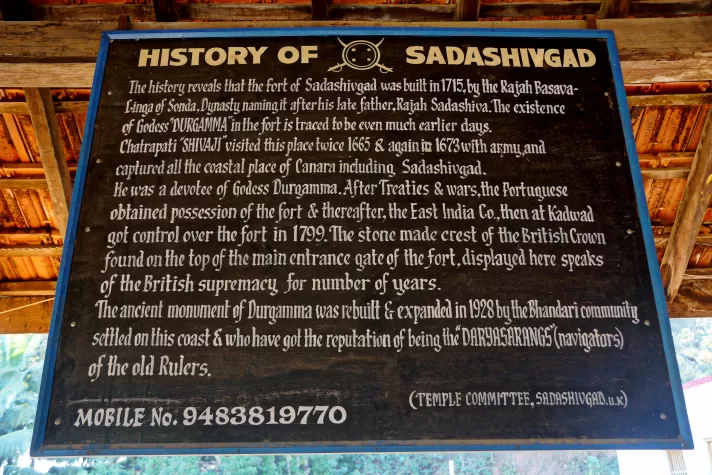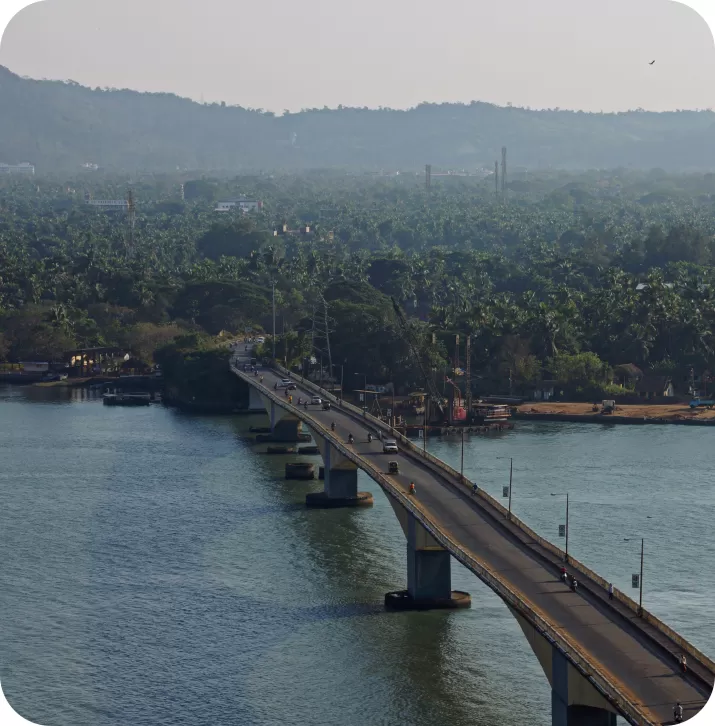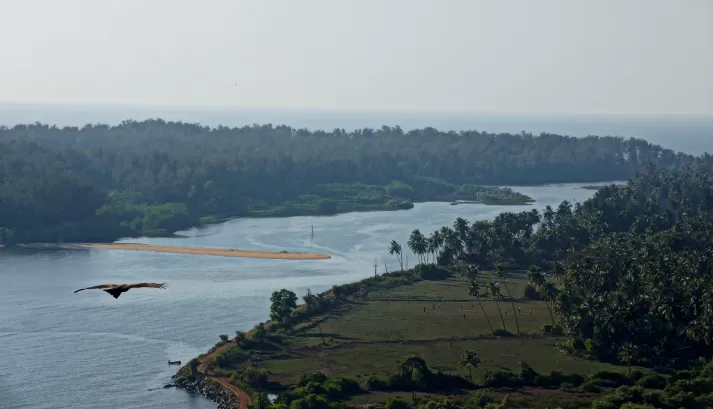 Authentic Seafood Restaurant with Karwari Delicacies. Just love the food here. Simple Eatery but amazing taste.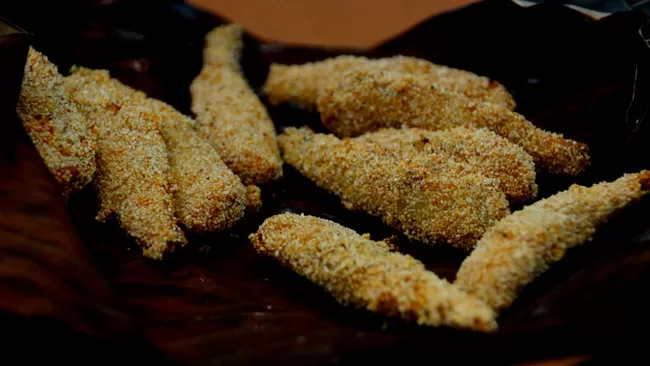 While wandering around, I came to the village of Majali and was just walking around the beach, when I met a local. He informed me that if I cross the mountain, I would reach a hidden black sand beach (Locally known as Tilmati Beach) in about 30-35 minutes of trekking. The trek itself was breathtaking, all along the cliffs. And when I reached the beach, I could not believe what I saw. The beach was totally secluded from the rest of the world and there was no way someone could come there unless he/she knew about it. There was no sign of someone having come there since ages and I enjoyed my time there thoroughly. Shells were strewn all across and I reveled in collecting as many as I could, being reminiscent of my childhood. I had totally lost track of time, when I realized that it would soon turn dark and I should probably get going. Surely a place to go with your loved one to spend some quality time.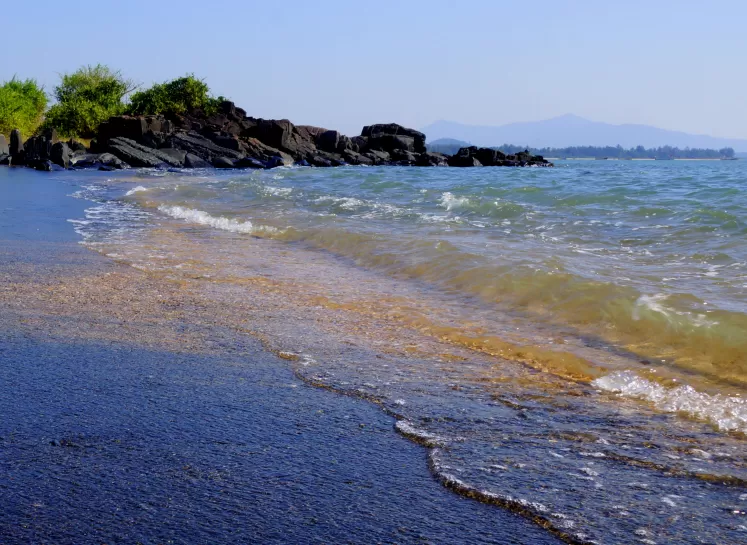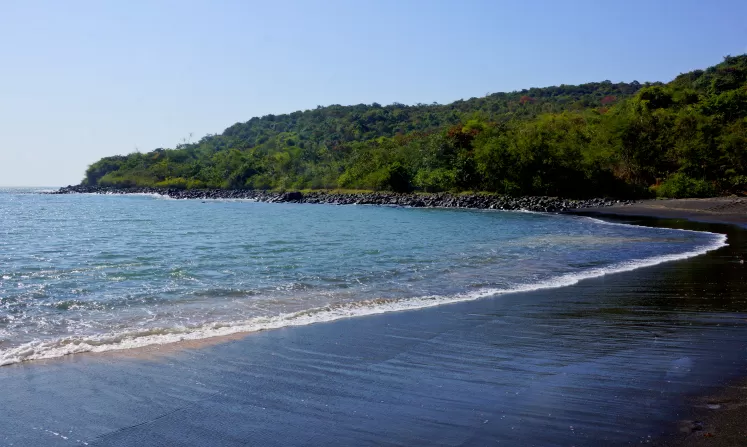 INS Chapal is a warship which has been converted into a museum and now open for visitors. You are shown a short film about the life on the voyage and you get to explore the entire width of the ship to get a glimpse of the voyager's life. Alongside is the Karwar Aquarium which houses a wide variety of fish. I initially thought it would be nothing great but the sheer variety surprised me. Both these are just on the Tagore Beach, so you could couple a visit to these places along with the beach.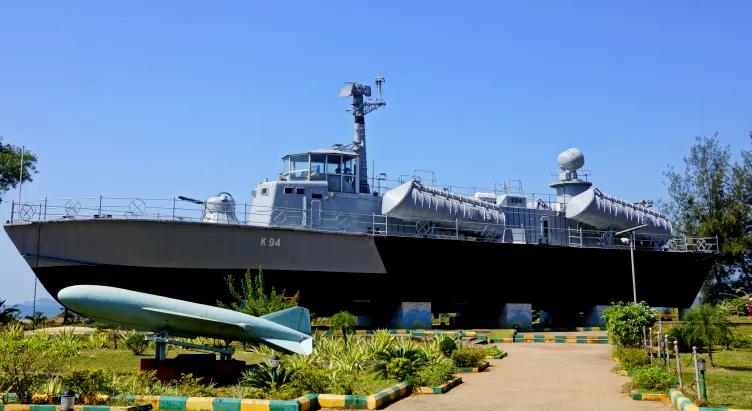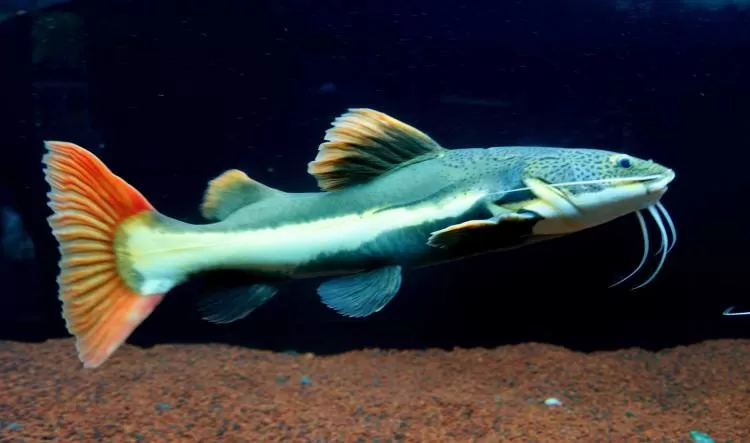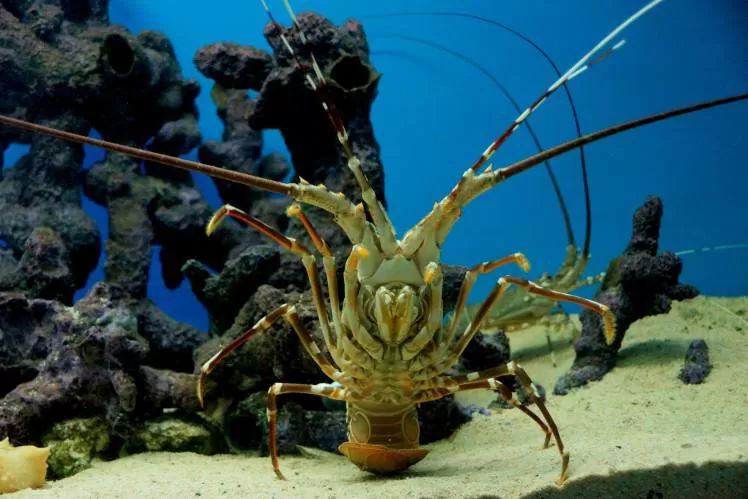 It is a restaurant with a good ambiance and decent food. Go here for the relatively better ambiance than Swetha Lunch Home.
Frequent Searches Leading To This Page:-
places near karwar, karwar in karnataka trip, where is karwar, history of karwar, karwar karnataka